A fan of hibachi-style cooking? Then you're going to love this hibachi chicken dinner, cooked in the Instant Pot quickly with very minimal effort!
Last month, we shared our Instant Pot hibachi steak recipe with you, and it went viral! So many people have made it, and loved it! Thanks to everyone who shared pictures, left feedback on the recipe, and asked questions, we realized that it was a good idea to try a chicken version in the Instant Pot. A few days later, my husband came home with the ingredients needed and started testing the recipe.
The result? AMAZING dinner made in just 20 minutes that tasted as good as the hibachi steak and hibachi shrimp! And my favorite part? We served it over the most amazing Instant Pot fried rice, homemade Yum yum sauce, and ginger sauce that you would get at a hibachi restaurant. And what if I tell you that a home-cooked hibachi meal for 4 cost me what I would pay per person at a hibachi restaurant?! 😍
And whether you prefer chicken, beef, or shrimp, now I have all versions posted on this website for you!
How to Make Instant Pot Hibachi Chicken
It doesn't matter if you're an experienced chef, or still a beginner. You're still going to really enjoy this! The flavors turn out just right, and everything is perfectly cooked.
Making this hibachi chicken in the Instant Pot is really easy. All you have to do is prep the veggies and cube the chicken, add the sauce ingredients along with the rest of the ingredients to the Instant Pot, and let it cook the dinner for you!
Start by slicing the onion, the zucchini, and the mushrooms. Cube the chicken, mince the garlic, and grate the ginger (if you don't have them fresh, you can use jarred paste).
As you do this, cook the rice so it's ready at the same time as the hibachi chicken. You can either make Instant Pot white rice (so easy and perfect every time!), or take it a step further and make hibachi-style Instant Pot fried rice! This is the reason why I have 3 Instant Pots in my kitchen 😆
Add the sauce ingredients to the bottom of the pot, followed by the veggies (leave out the zucchini for later if you like it crunchy), the chicken, and give everything a quick mix.
Cover with the lid, seal the vent and cook on high pressure for 3 minutes.
Once the cooking is finished, quickly release the steam and carefully open the lid.
Thickening the sauce is optional, but I highly recommend it.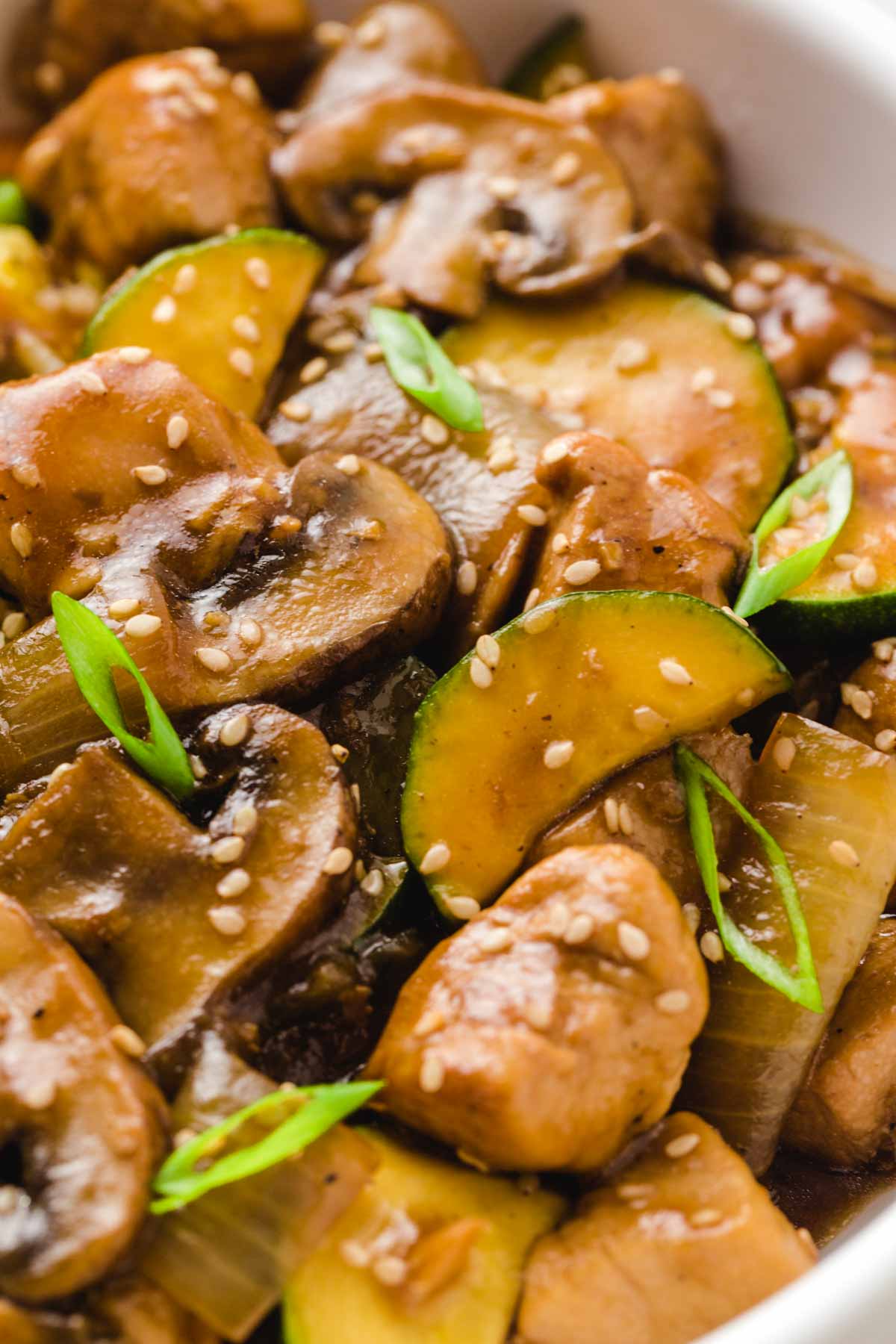 How to Thicken the Sauce
I take the veggies out of the pot if I'm pressure cooking the zucchini as it will become mushy when cooked for very long.
Press on the SAUTE setting and let the sauce simmer, then stir in the corn starch slurry (1 tablespoon of cornstarch mixed with 1 tablespoon of water), whisk the sauce with the cornstarch slurry until it's thickened. If it's not thick enough, add more cornstarch slurry and cook for 1 more minute. When you're done, put the veggies back in to serve.
Serve over rice, garnish with chopped green onion and sesame seeds.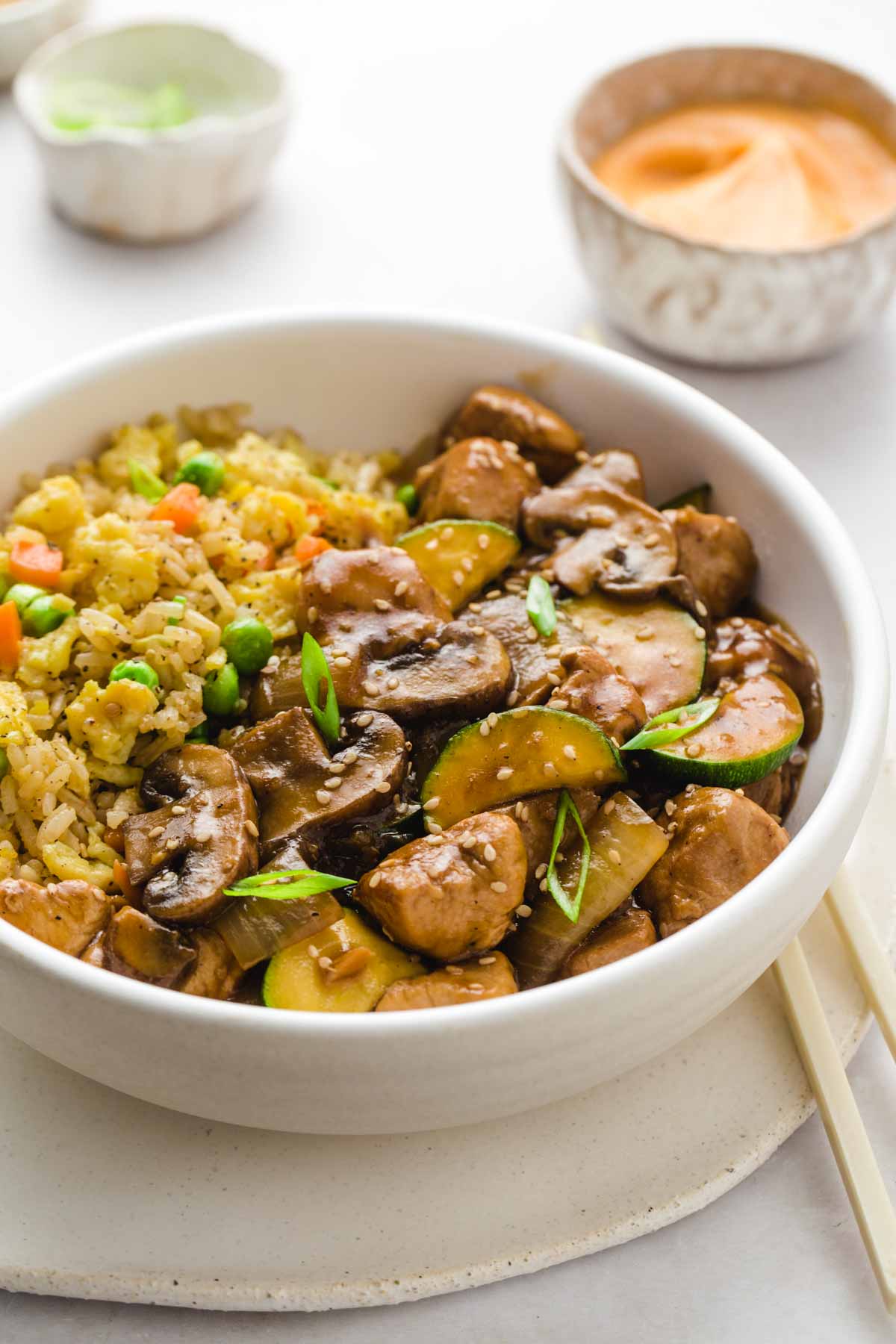 If You Like the Veggies With a Firmer Texture
Cooking the zucchini in the Instant Pot for 3 minutes will make it really tender. When our readers made our hibachi steak, some loved it, and others commented on the zucchini turned out mushy. If you don't mind tender veggies, then cook everything together as instructed in the recipe card below. If you like the zucchini a bit firmer, do not add it to the pot before pressure cooking and steam it separately, then mix it in with the rest of the ingredients after thickening the sauce.
Or just add in raw zucchini slices to the sauce as you're thickening it, and it should work fine.
Hibachi Sauces
If you've been to a Japanese steakhouse before, you probably already know and love these sauces:
Yum yum sauce – my favorite sauce at Hibachi restaurants!
Ginger sauce – a reader favorite, a 5-star recipe that you're gonna love.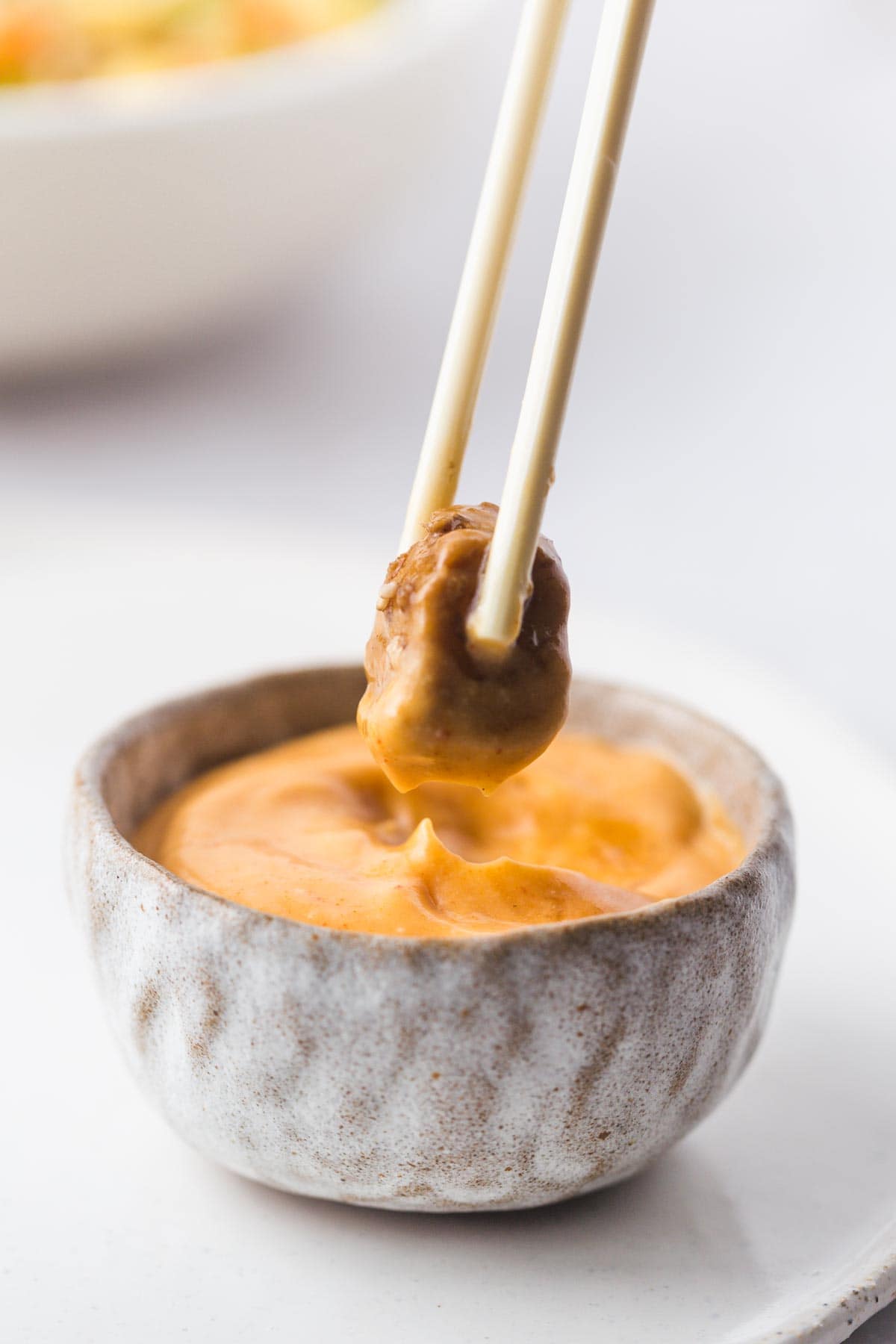 Recommended Tools and Ingredients
Join our private Instant Pot and Air Fryer Facebook group where we share exclusive recipes, and answer all of your IP and AF questions! We hope to see you there!
Instant Pot and Air Fryer Recipes and Hacks
Private group · 10,535 members
Welcome to the Instant Pot and Air Fryer recipes and hacks group! In this group we share great and some exclusive recipes that you can make in your In…
More Great Instant Pot Recipes
Subscribe to my Newsletter, and follow me on Facebook, Instagram, and Pinterest for more tasty recipes!
I don't feel like I say this often enough, or that I could ever thank you enough. But THANK YOU for all of your support, for visiting my blog, commenting, and sharing my recipes with your friends and family. I am SO thankful for you!
If you make this recipe or any of my recipes, then don't forget to rate it and leave a comment below. I would LOVE to hear about your experience and your comments just make my day!
I hope that you love every recipe that you make! – Diana x