Instant Pot Fajitas is a super easy and quick dinner that the whole family will love! Requires very simple ingredients and cooked in the Instant Pot in just 10 minutes on high pressure.
For baked chicken fajitas recipe, follow this link.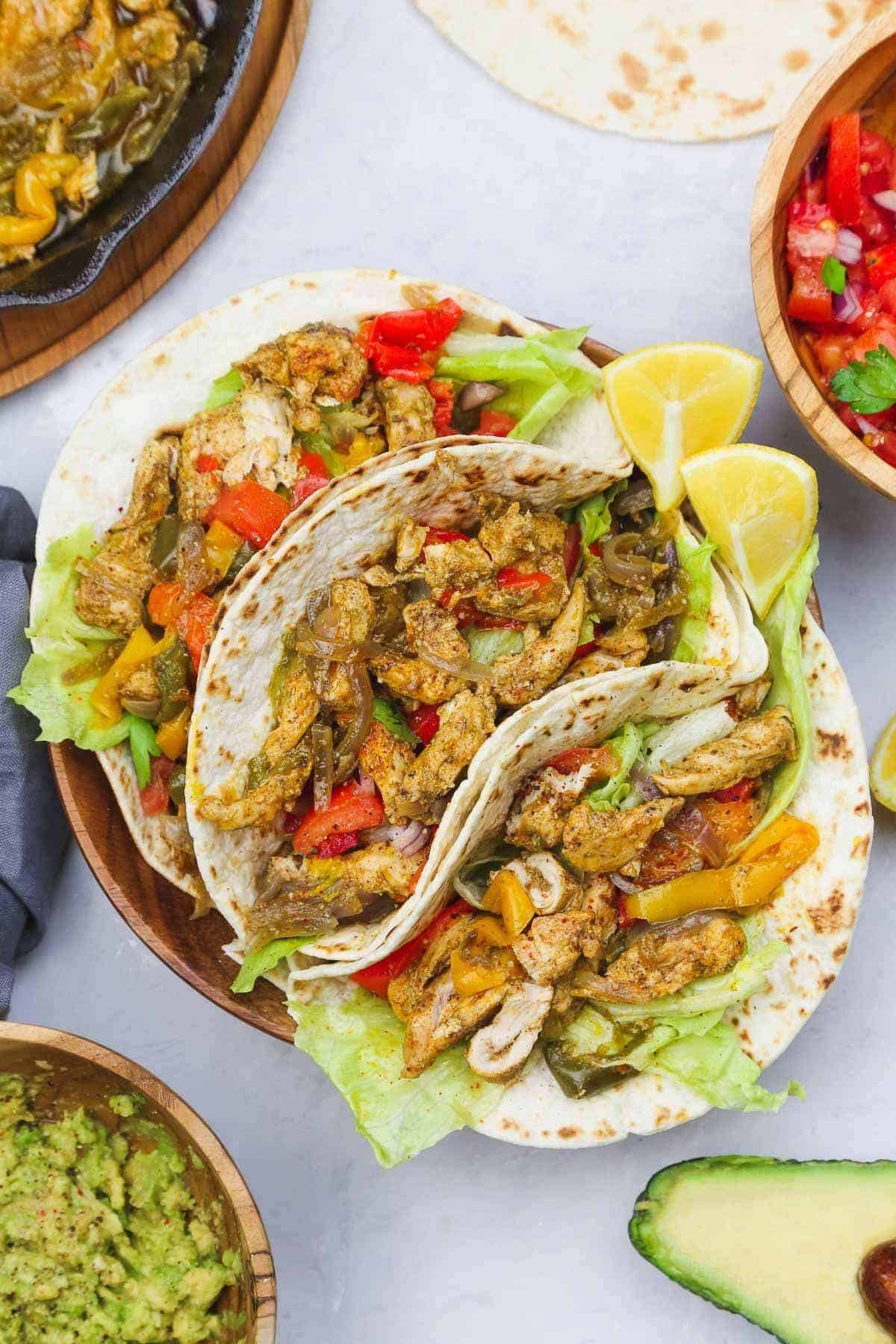 We LOVE chicken fajitas in our house, it's one of these meals that are so easy to make and everyone in our family loves. And as I got an Instant Pot last year, I quickly became obsessed and wanted to cook every single meal in it including these fajitas.
ALSO, MAKE SURE TO CHECK OUT MY INSTANT POT STEAK FAJITAS AND MY INSTANT POT FAJITA RICE!
INSTANT POT FAJITAS
The Instant Pot chicken fajitas are perfect for super busy weeknights when you have so little time to spend in the kitchen, and it's one of these "dump and go" recipes that all IP fans love.
The chicken fajitas cooked in the electric pressure cooker turn out so delicious, they're juicy and full of flavor. But you should also know that the fajitas cooked in the IP are not the same as chargrilled fajitas made on the grill.
Join our private Instant Pot and Air Fryer Facebook group where we share exclusive recipes, and answer all of your IP and AF questions! We hope to see you there!
Instant Pot and Air Fryer Recipes and Hacks
Private group
FAJITA SEASONING
I almost never buy store–bought fajita seasoning as I find it much healthier making my own mix at home. I mean if you look at the back of the fajita seasoning pack, you will find so many weird chemical ingredients that you cannot even pronounce.
So why not make your own fajita seasoning at home with spices that you already have on your spice rack?
I use this spice mix for not just fajitas, but also for tacos and other chicken recipes. I store the seasoning in a jar and use it whenever I need to, it also helps save some money and time especially on really busy weeknights when I just need a meal ready really quickly with very minimal effort.
To make the fajita seasoning you will need: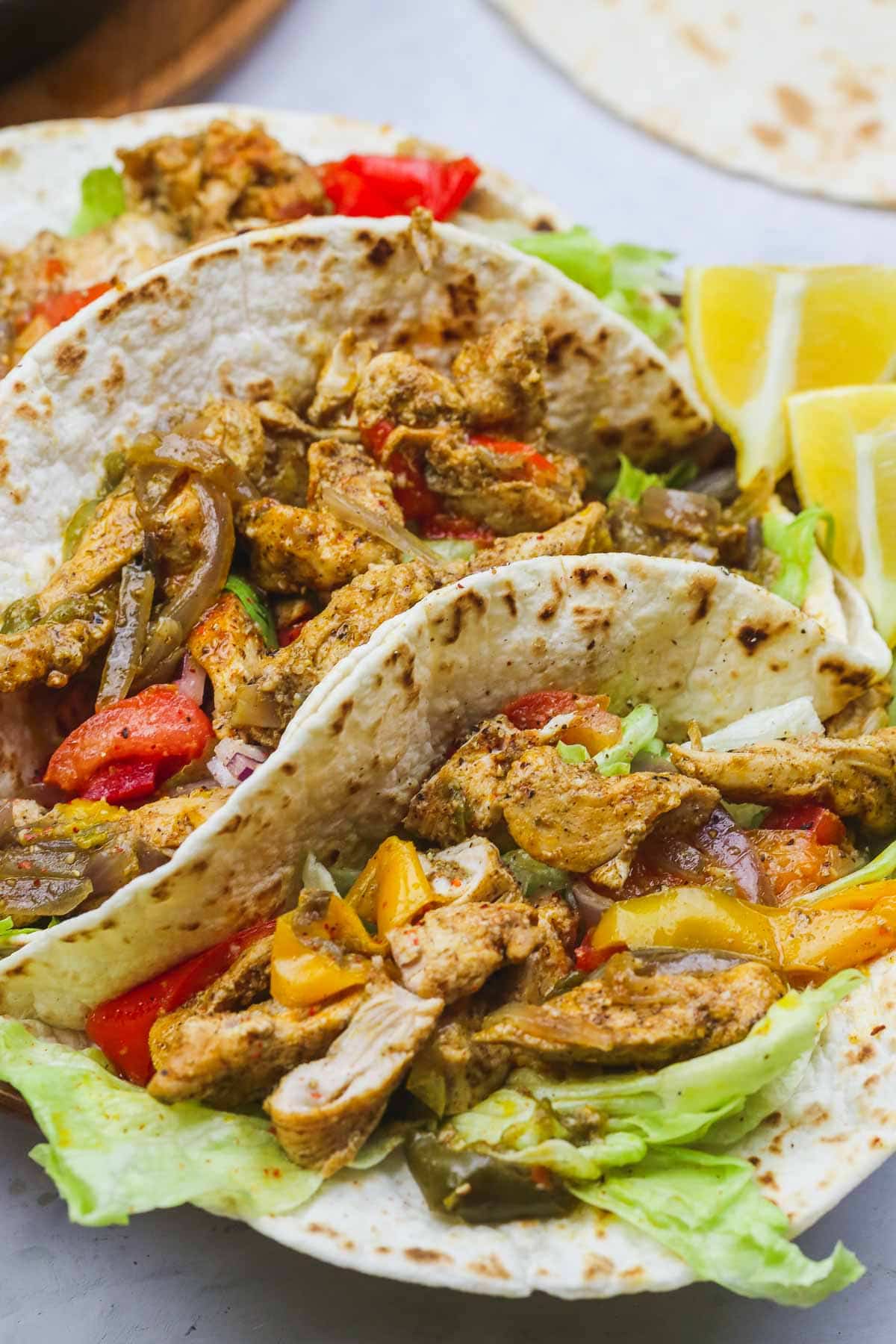 THINGS YOU NEED TO MAKE THE INSTANT POT FAJITAS
HOW TO MAKE INSTANT POT CHICKEN FAJITAS
Step 1.
You will need a boneless, skinless chicken breast, yellow onion, and bell peppers. You could use yellow, red, orange or green bell peppers.
Start by cutting the chicken breast in strips, and thinly slice the onion and the peppers (make sure that bell peppers slices are too thin as you don't want these to break while they are being cooked, so cut them a bit thicker than you usually do to maintain a good texture). Put the chicken and the vegetables in the IP.
Step 2.
Add the fajita seasoning and olive oil.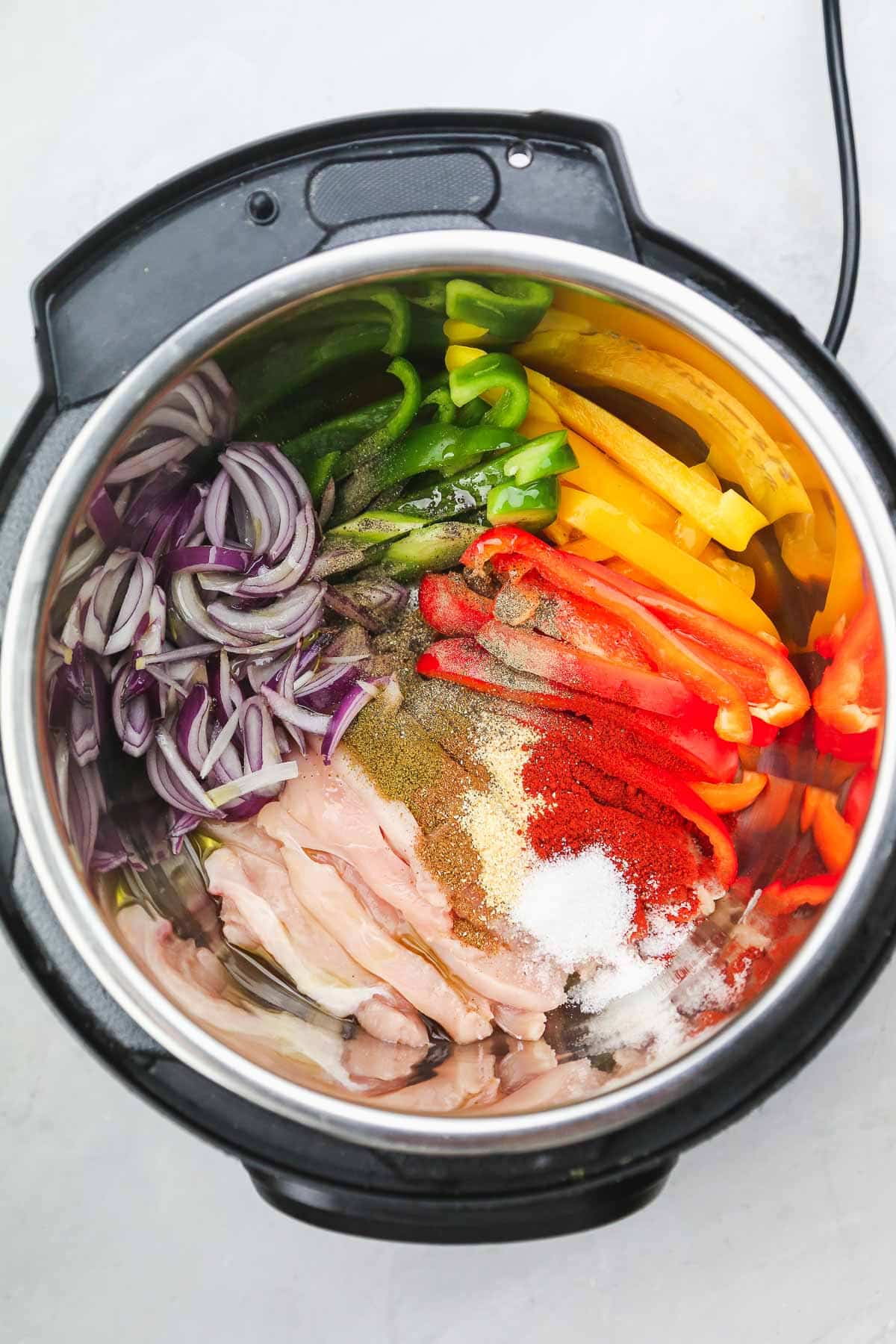 Step 3.
Using metal kitchen tongs, toss all of the ingredients together for the spices to coat the chicken and the vegetables.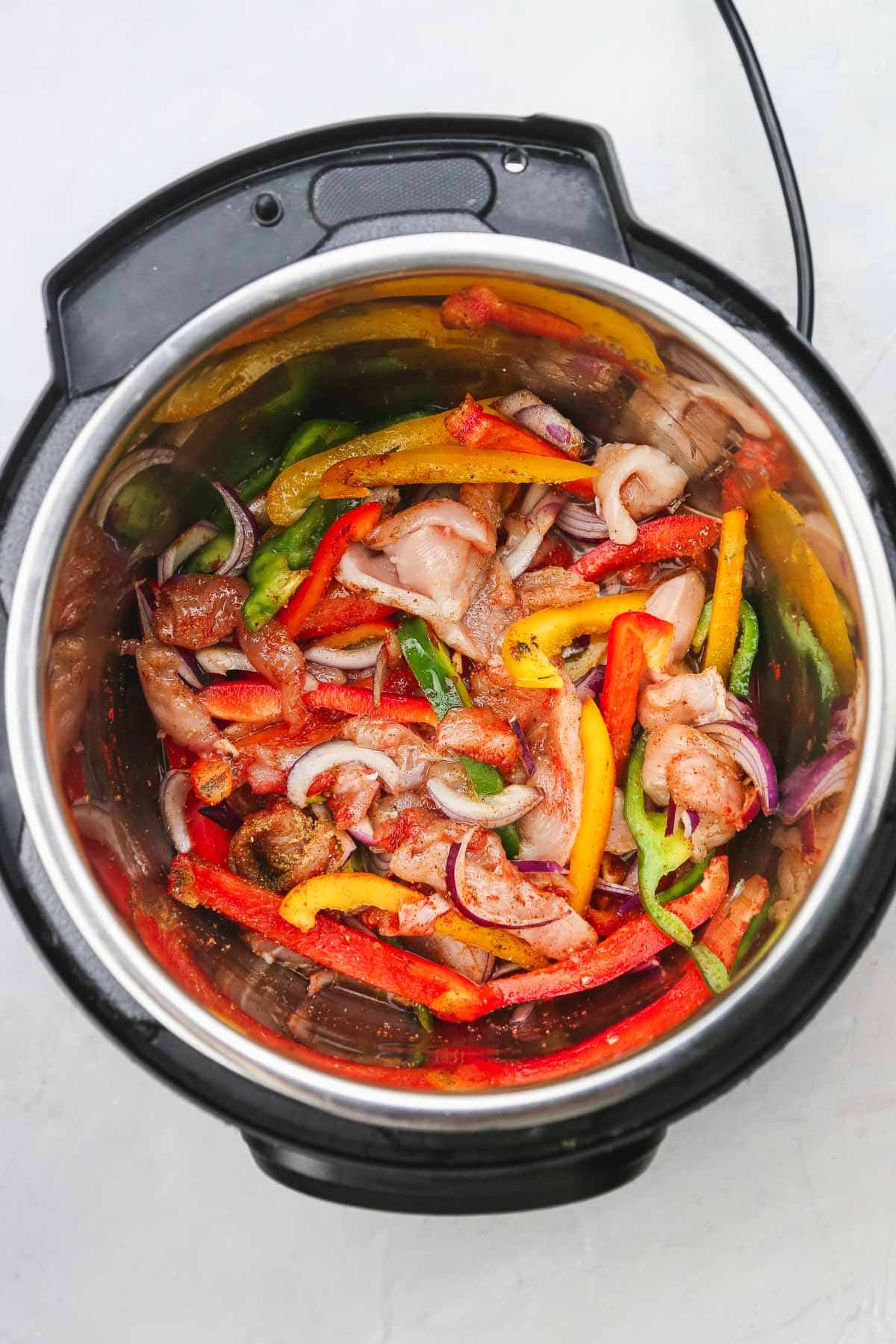 Step 4.
Add 1/2 cup of water (which is the recommended minimum amount of water by IP), close the lid and set the valve to sealing position then cook on high pressure for 10 minutes.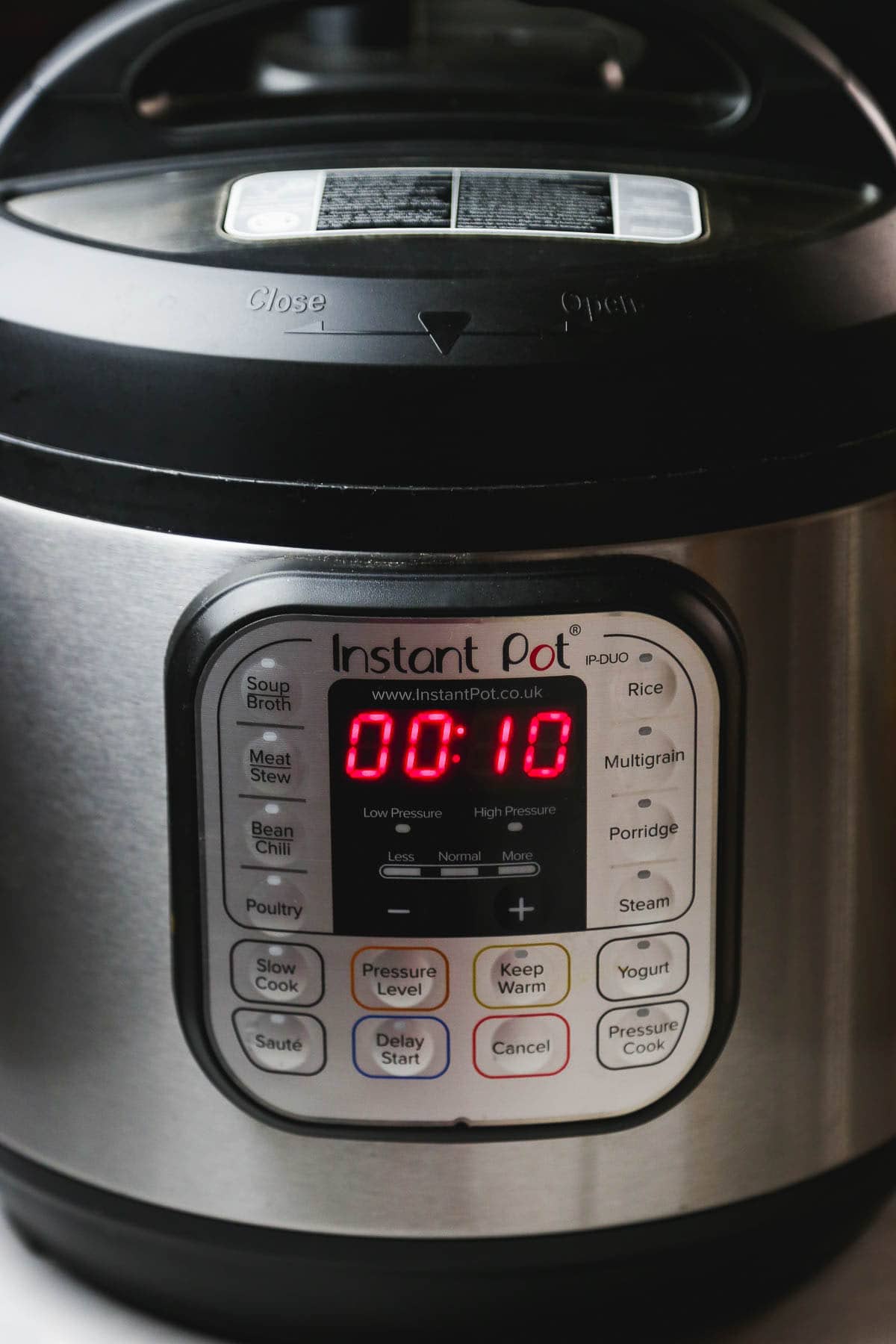 Once the Instant Pot is done with cooking, do a quick release, open the lid and serve the chicken on tortilla bread with toppings like guacamole, pico de gallo, sour cream, cheese, salsa, hot peppers, and parsley.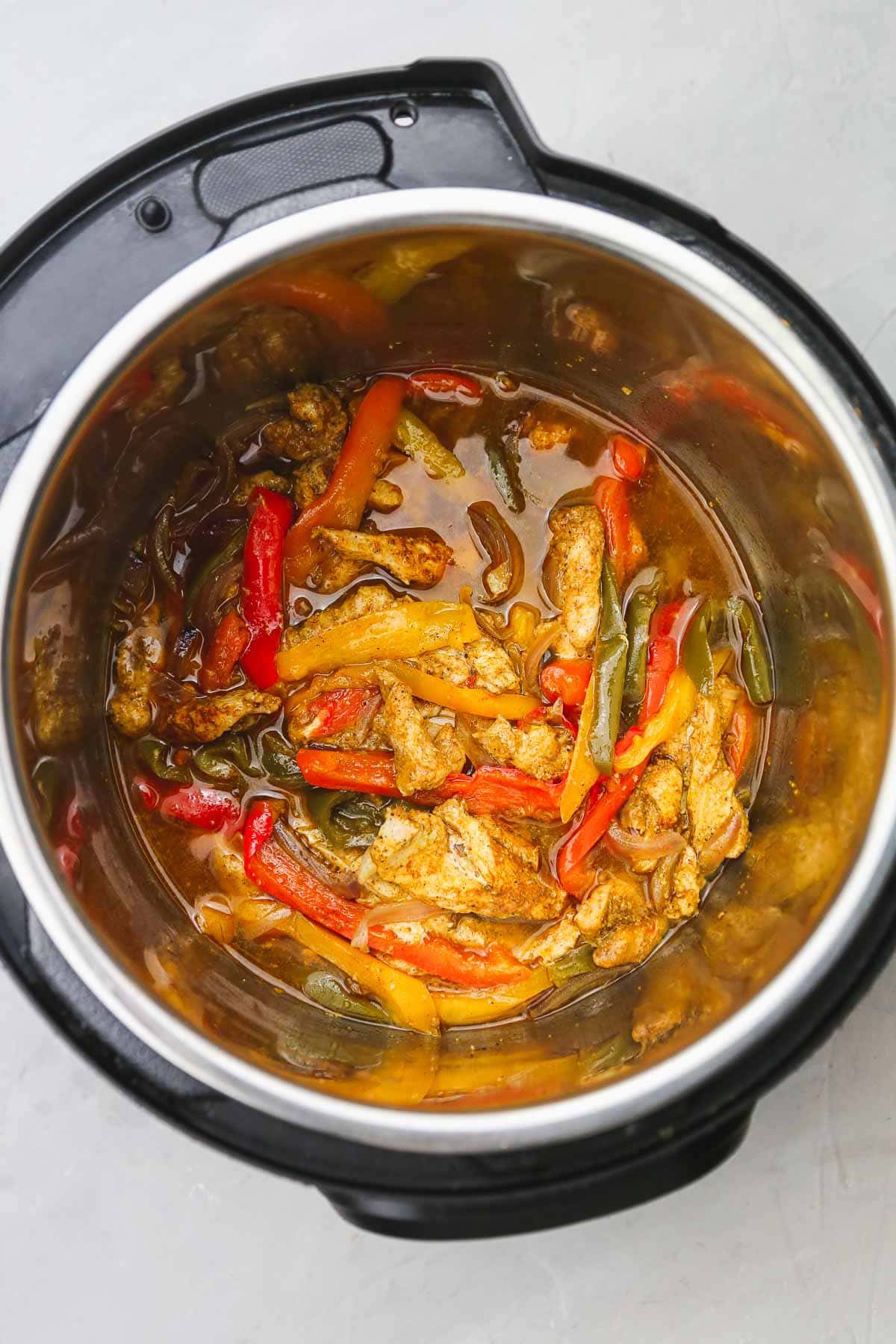 What if you don't own an Instant Pot, or you just want to make these chicken fajitas in your slow cooker…
CROCKPOT CHICKEN FAJITAS
Have you tried crockpot chicken fajitas before? I love cooking in my slow cooker on days when I have to leave the house in the morning, then come home tired for late lunch or dinner and need a meal to be ready by then.
Using the same recipe, cook on high for 3 hours or low for 6 hours.
If you're worried that the chicken might turn out too small, just quickly saute/brown the chicken before you start cooking it with the veggies and it will hold its texture better.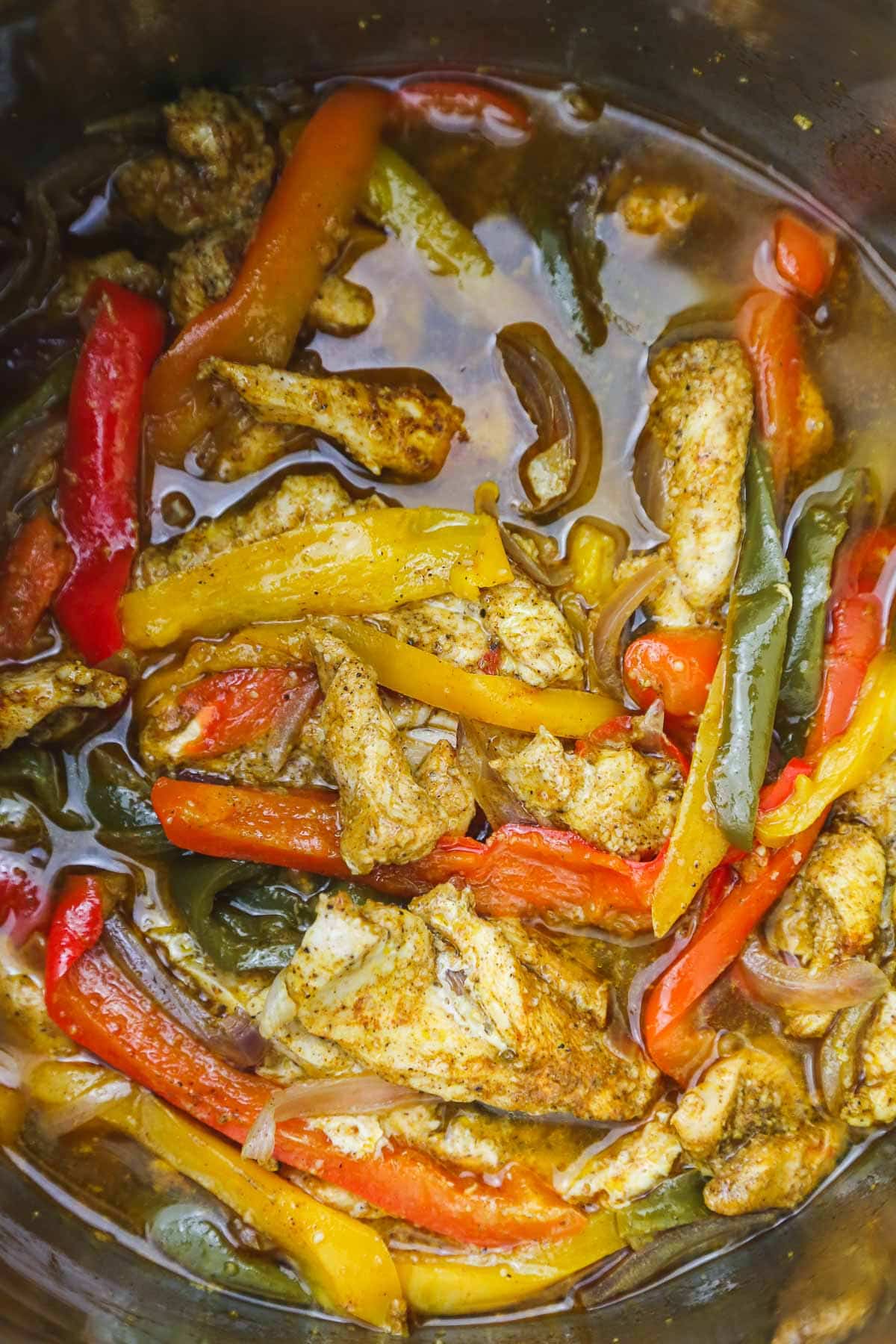 INSTANT POT SHREDDED CHICKEN FAJITAS
If you prefer shredded chicken fajitas, you can start by using skinless chicken breast instead of sliced and cook in the IP using the same instruction. Once the cooking is done, take out the chicken breast and shred it using 2 forks.
Return the shredded chicken to the IP, let it soak up the juices and the spices for a couple of minutes then serve. Here's a great recipe that you can follow.
INSTANT POT FAJITAS WITH FROZEN CHICKEN
You could also cook this recipe using frozen chicken, the instructions will remain the same just set the cooking time to 12 minutes instead of 10. I recommend not adding the bell peppers as cooking them for so long will make them really tender. Instead, add them after pressure cooking, cover with the lid and let them sit there and steam for a couple of minutes before serving.
WORRIED THAT YOUR VEGGIES MIGHT TURN OUT MUSHY?
You can saute the onions and the bell peppers first, then take them out of the pot and set aside. Cook the chicken as per the instructions provided, and mix everything together before serving.
ARE THESE INSTANT POT CHICKEN FAJITAS GLUTEN FREE?
The fajitas are 100% gluten-free if you're using a GT tortilla bread.
CAN I MAKE THESE FAJITAS OVER THE STOVE?
Absolutely! In a bowl, toss the chicken slices and the spices until the chicken is well coated.
Heat 1 tbsp of vegetable oil in a skillet over high heat, then add the vegetables and cook for 6-7 minutes or until soft. Remove from skillet.
Add the chicken slices into the skillet, and cook until it's cooked through (about 4-5 minutes). Add the vegetables back into the skillet and cook for one more minute. Serve in warm tortillas.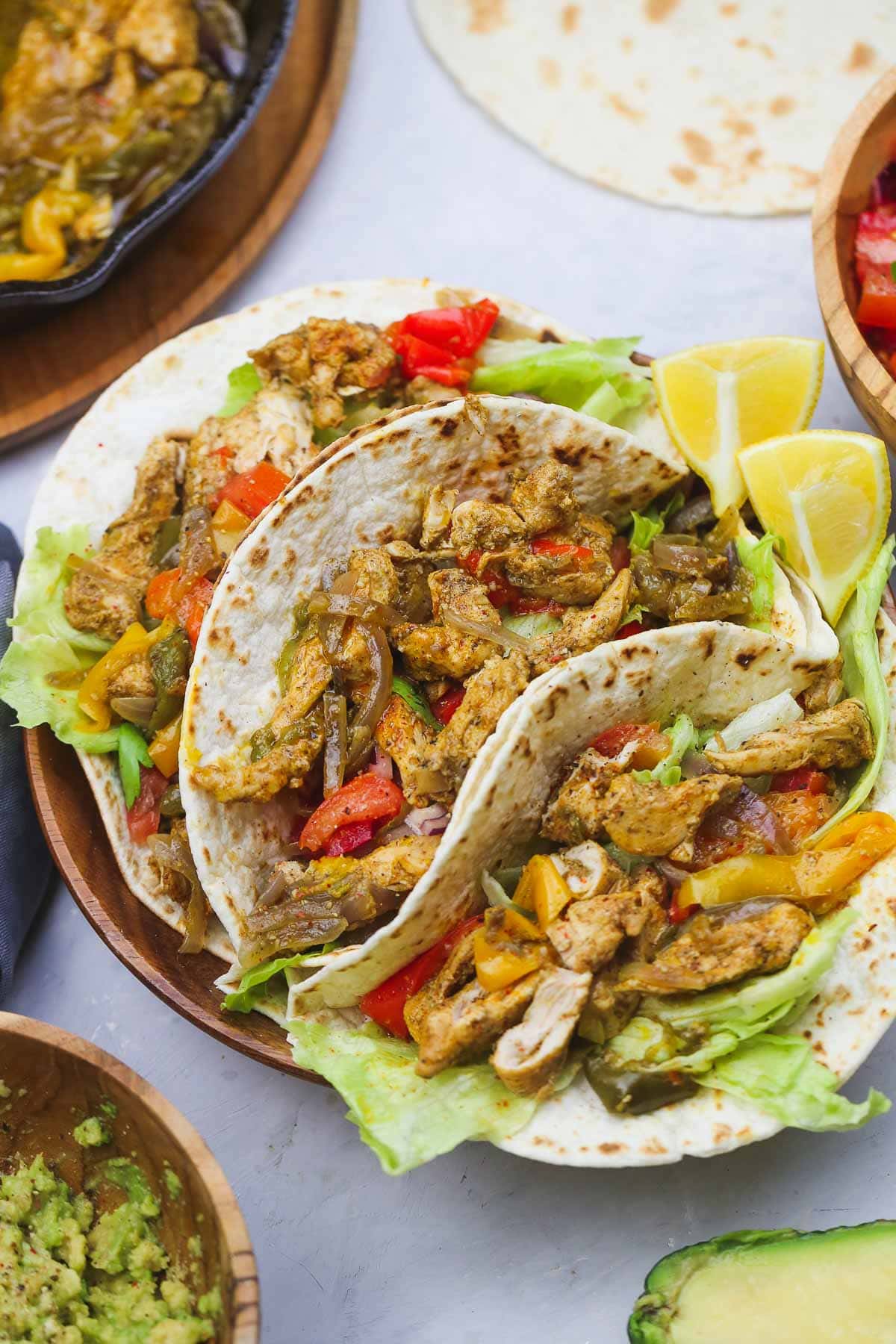 You could also do some food prep during the week to save some time on a busy weeknight by preparing the ingredients beforehand. Slice the chicken and leave it in the fridge if you're planning to make this within 2 days, or put it in the freezer if you're going to use it within a couple of days.
You can also slice up the veggies to use later, and of course, making your own fajita seasoning will save a lot of time!
FREEZER MEAL PREP
I always make sure that I have at least a couple of freezer meal fajitas in my freezer. This is so easy to do, and a great way to be able to have a healthy meal on a busy weeknight!
It also can save you a lot of money, as you can buy chicken and veggies in larger quantities for cheaper or when they're on sale, prep and freeze to use later.
When you're ready to cook the fajitas, simply take out the freezer bag out of the freezer and cook in your instant pot, crockpot, oven or stovetop!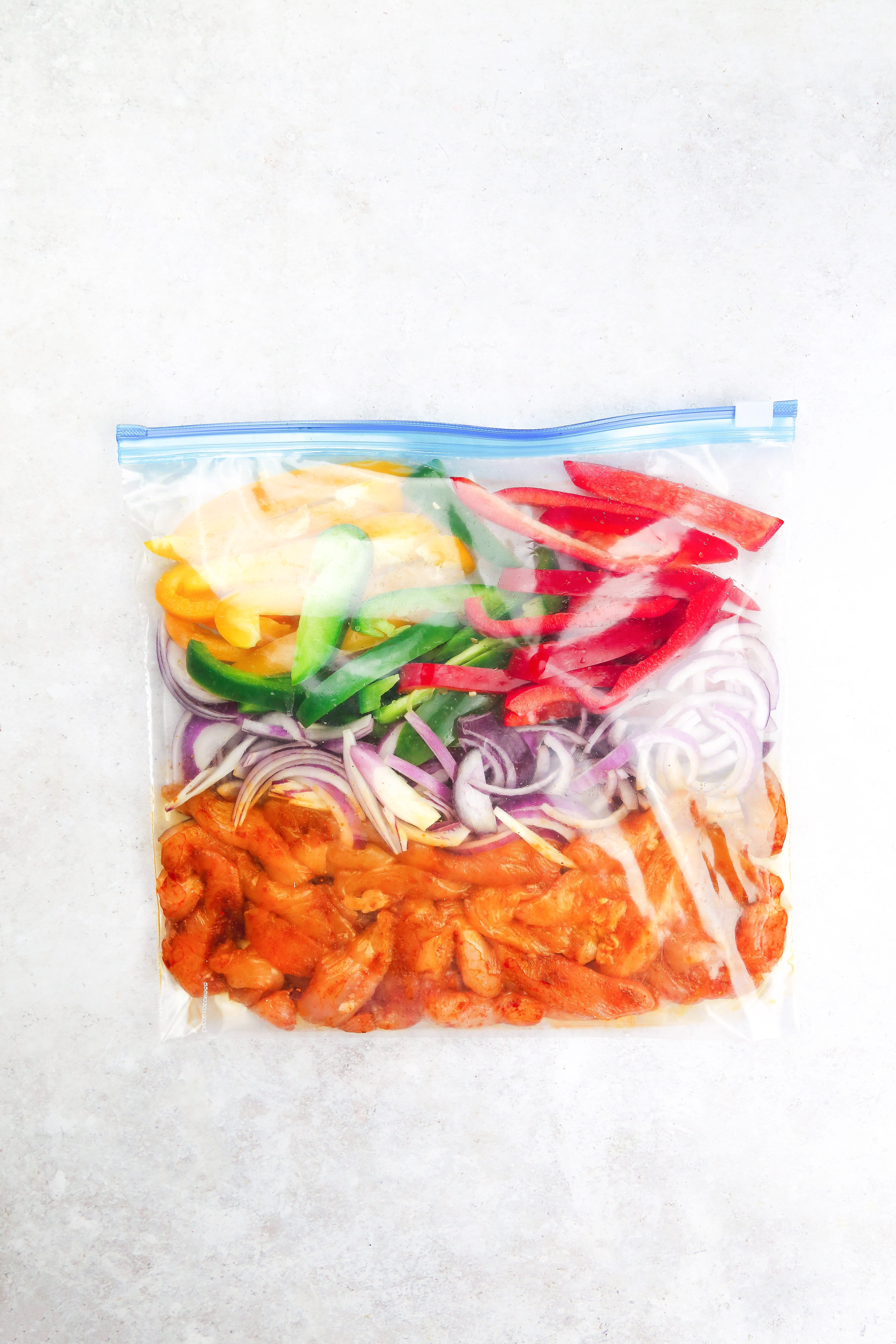 Slice the chicken and the veggies, season the chicken and put everything in a freezer bag. Keep in the freezer for up to 3 months.
You can either thaw the fajita ingredients by placing them in the fridge the night before and then cook in the IP, or cook straight from frozen. The time will remain the same.
WEIGHT WATCHERS POINTS: 5 SMARTPOINTS PER PORTION ON WEIGHT WATCHERS FREESTYLE PLAN
MORE GREAT INSTANT POT RECIPES
You should also give these chicken fajita quesadillas a try, make these fajitas in the Instant Pot then just add some cheese and make quesadillas!
If you make this recipe, please don't forget to rate it and share a picture on social media. Tag #LittleSunnyKitchen in your posts as I would really love to see what you make!
Thank you for supporting Little Sunny Kitchen, so I can keep sharing my family recipes with you for free.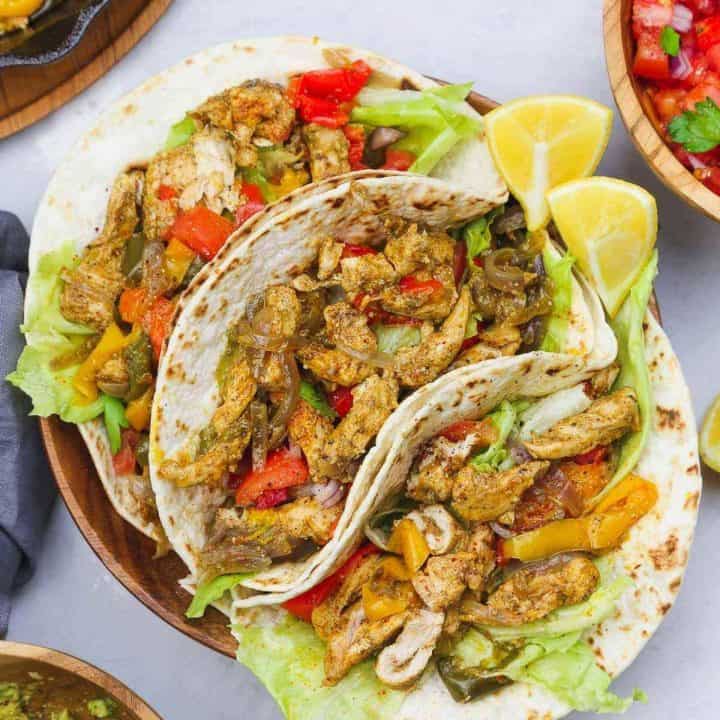 Instant Pot Chicken Fajitas
Instant pot chicken fajitas are so easy to make and require very simple ingredients. Cooked in just 10 minutes in the Instant Pot.
Print Recipe
Ingredients
2

large

chicken breasts

1

large

onion

sliced

1

red bell pepper

sliced

1

yellow bell pepper

sliced

1

green bell pepper

sliced

1

tbsp

vegetable oil

optional – for taste

3

tbsp

fajita seasoning

1/2 cup

(125 ml)

water
Instructions
Place all of the ingredients in the Instant Pot, mix everything so that the chicken and the peppers are well coated in the spices.

Seal the lid, and make sure that the valve is in sealing position. Choose manual or pressure cooker on high for 10 minutes. Once the cooking is finished, do a quick release and serve on warmed tortilla bread (Use Gluten free tortillas if following GF diet) with pico de galo (or simple tomato onion salad), avocado, cilantro leaves and lime or lemon juice.
Diana's Tips
For a freezer meal, slice the chicken and the veggies, season the chicken and put everything in a freezer bag. Keep in the freezer for up to 3 months.
The bell peppers WILL become really tender, so if you prefer crunchy peppers then only add them AFTER pressure cooking. Cover with the lid, and let them steam for a couple of minutes before serving.
You could also cook this recipe using frozen chicken, the instructions will remain the same just set the cooking time to 12 minutes instead of 10 and I recommend not adding the peppers before pressure cooking as they'll become mushy.
Nutrition facts
Calories:
135
kcal
|
Carbohydrates:
6
g
|
Protein:
17
g
|
Fat:
4
g
|
Saturated Fat:
2
g
|
Cholesterol:
48
mg
|
Sodium:
486
mg
|
Potassium:
461
mg
|
Fiber:
1
g
|
Sugar:
2
g
|
Vitamin A:
1175
IU
|
Vitamin C:
80.4
mg
|
Calcium:
14
mg
|
Iron:
0.9
mg