Rasta pasta is creamy pasta tossed with Caribbean style jerk chicken and sauteed bell peppers. This dish is so full of flavor, and makes a great weeknight dinner that can be made in just half an hour! It's creamy, rich, spicy, and cheesy.
What is Rasta Pasta?
I used to think that Rasta pasta came from the Rastafari culture in Jamaica but my readers told me that it's not the case. This dish is Jamaican inspired with the 3 colored bell peppers and the jerk seasoning, it's a very comforting pasta dish that has all the cream and cheese that you need to feel good. It also has a strong flavor, and a lovely spicy kick that will make you want to have this pasta all the time!
The bell peppers are either sauteed or roasted, and they're just tossed along with the cooked pasta and grilled chicken in a creamy and cheesy sauce. This rasta pasta recipe makes the perfect summertime dinner dish that you will love!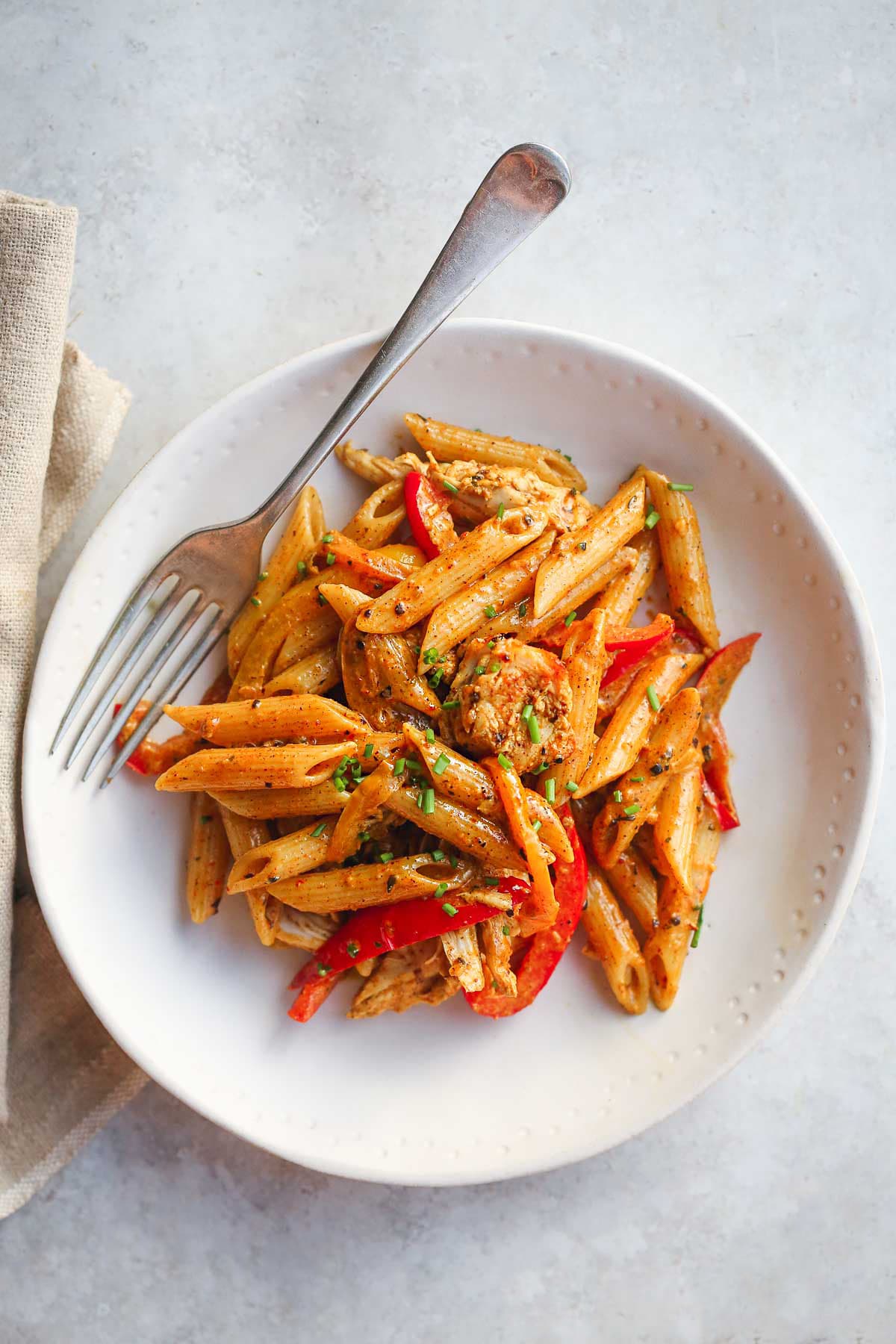 Recipe Video
While this recipe is easy to make, it always helps to watch a quick video. Give it a watch below!
How to Make Pasta Rasta
Making this dish is really quick and easy to make, so if you're looking for an easy comforting dinner that you can quickly whip up then this recipe is for you!
The Ingredients
Chicken – either cooked or raw. Whatever you have on hand works. I usually use leftover rotisserie chicken.
Bell peppers – I like to use red, yellow and green bell peppers but it depends on what I have available.
Pasta – use any type of small pasta. I like to use penne, fusilli or even bow tie pasta.
Green onions – or scallions. Optional but they give a lovely flavor to the dish.
Jerk seasoning – homemade or store-bought, just make sure that it's a really good one. Low-quality jerk seasoning will result in bland tasting sauce and pasta.
Heavy cream and parmesan cheese – The 2 ingredients that will make your rasta pasta super creamy and delicious!
Garlic, oil and vegetable stock.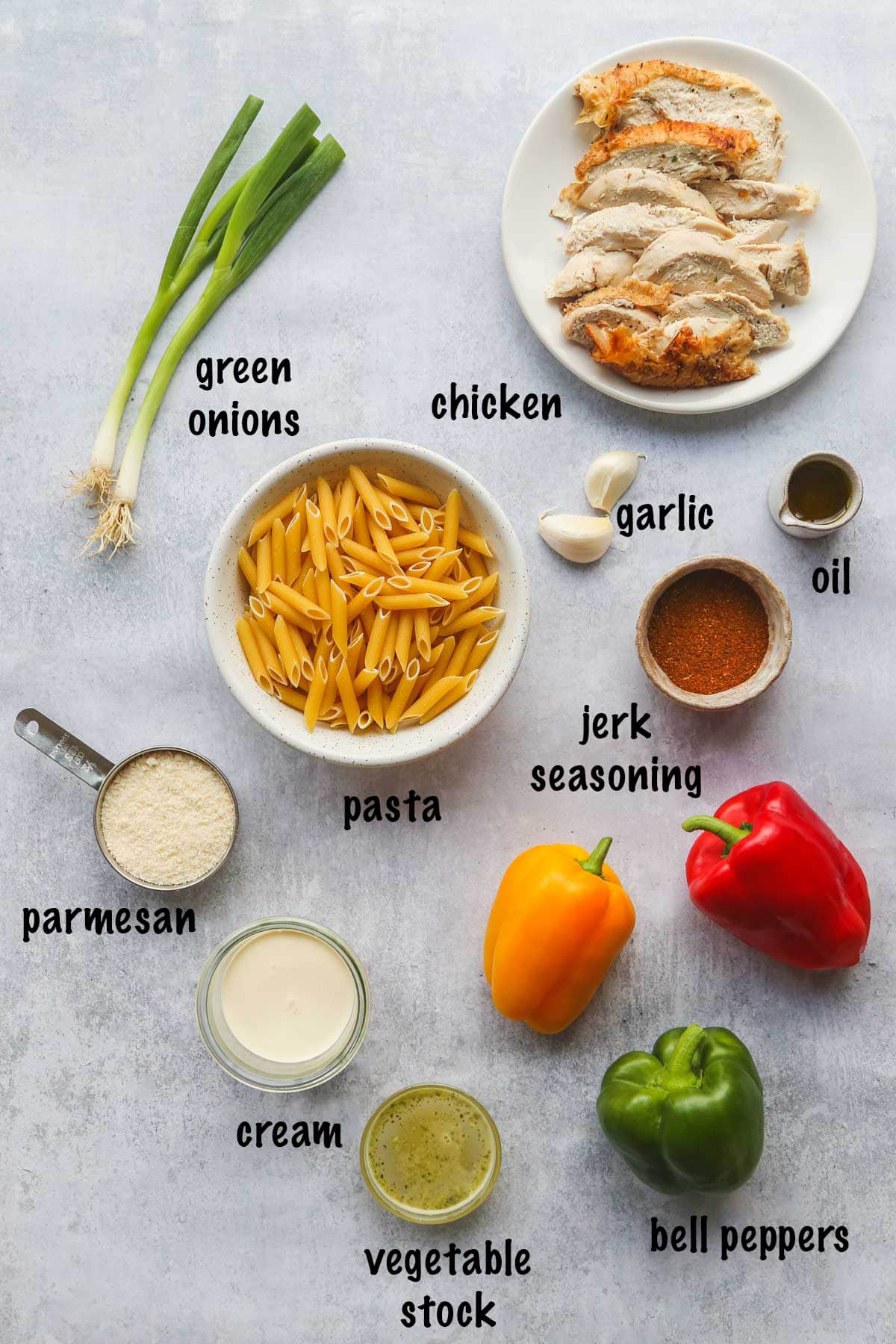 I also posted an Instant Pot Rasta Pasta version, so make sure to check it out!
The Directions
Cook pasta in salted water according to the package instructions, take it out at "al dente" as you will cook it more in the next steps. Tip: I'm using rotisserie chicken in this recipe, but if you would like to use a raw chicken breast then cube it, toss in jerk seasoning and cook until it's golden and cooked through. Then remove from the pot, and set aside to use later.
Prep the veggies: Slice the bell peppers (you can use different colors of peppers), green onions, and garlic.
Add vegetable oil to a heavy-bottomed pot, and saute bell peppers with green onions. Add the minced garlic and cook until it's fragrant.
Add jerk seasoning to the pot.
Add the heavy cream, and chicken or vegetable stock to the pot. Simmer for a few minutes or until the sauce thickens.
Add parmesan cheese to the pot, and stir until it melts in the sauce. Then finally add the chicken pieces and pasta and give everything a good mix so the ingredients are well coated in the sauce.
Garnish with chopped chives or parsley and serve.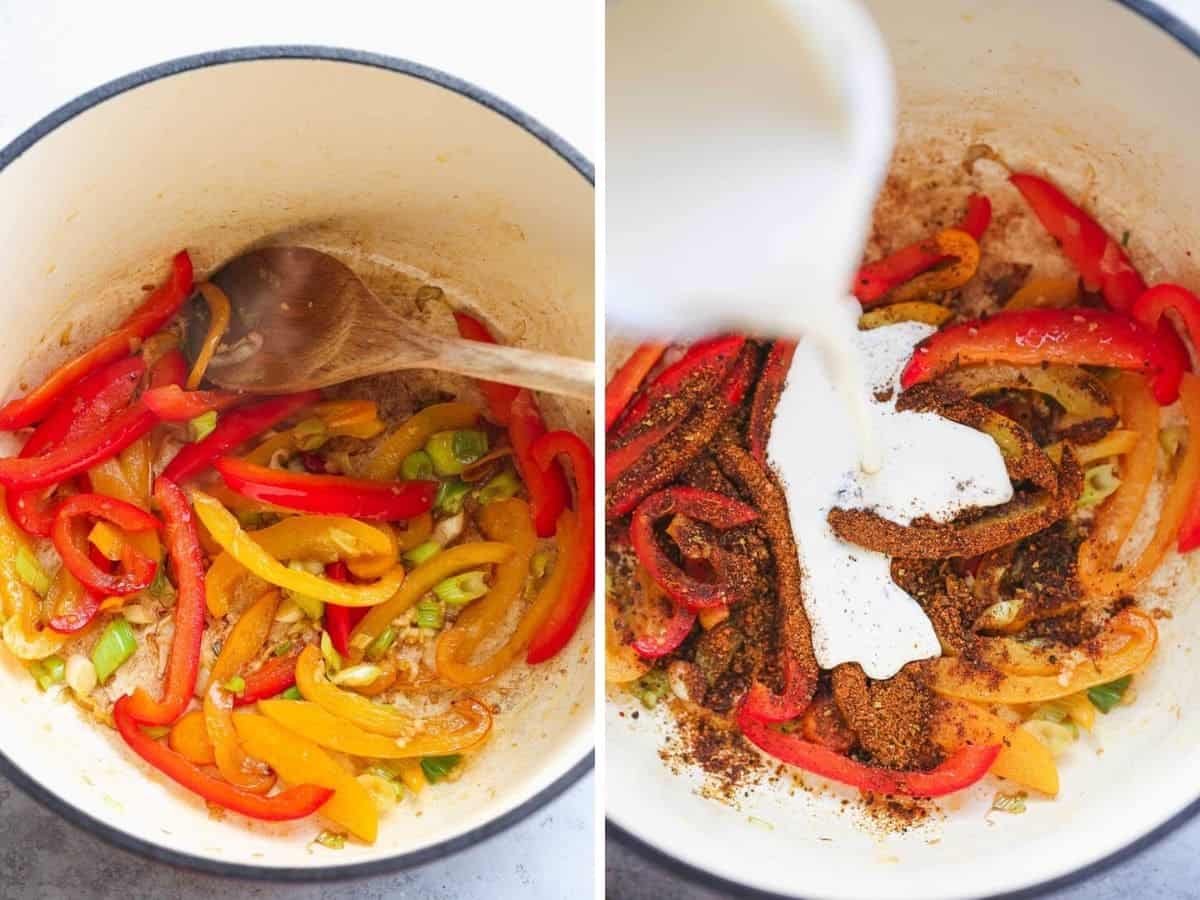 Also, feel free to either use shrimp instead of chicken or add both chicken and shrimp to this Rasta Pasta recipe.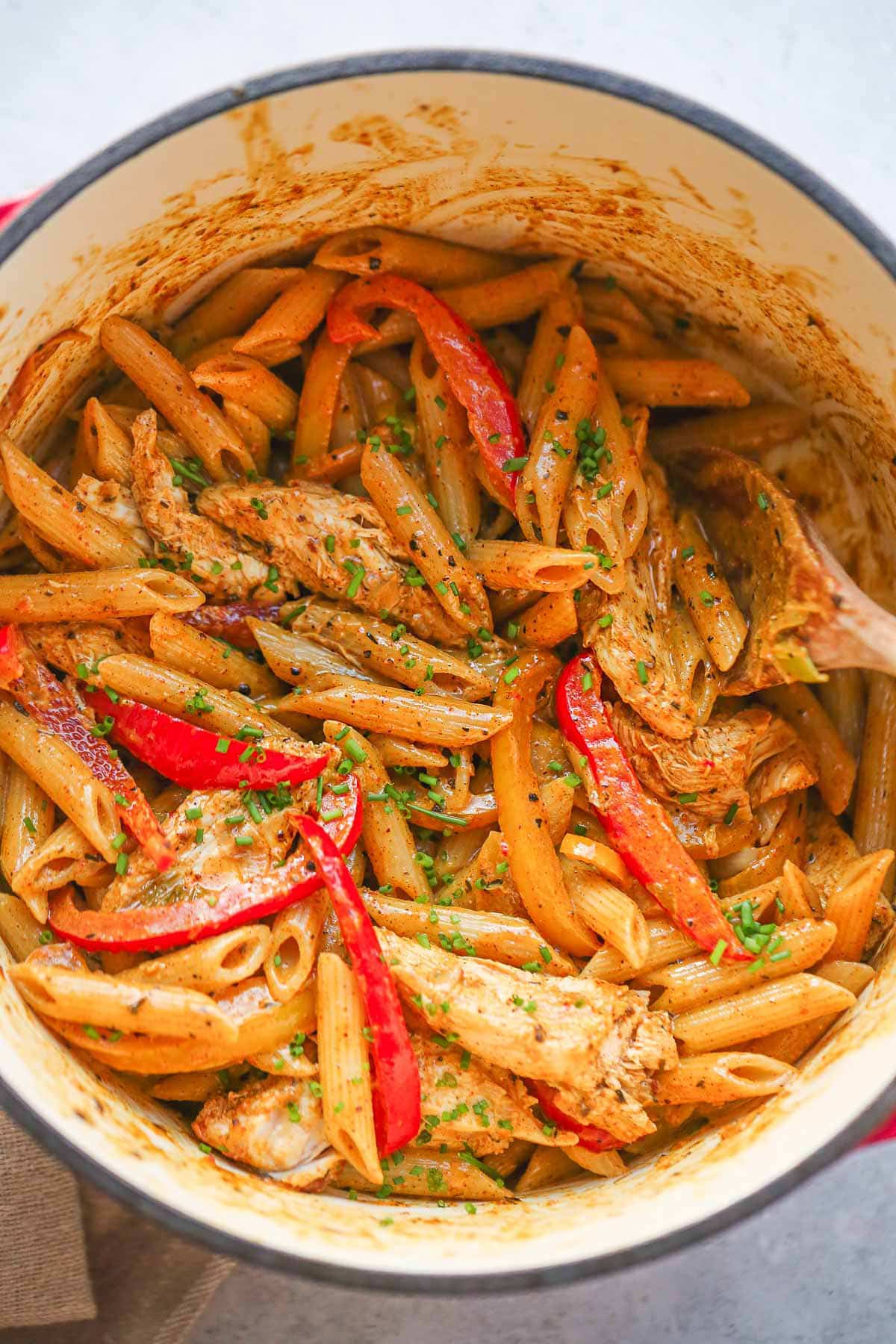 What Kind of Chicken Shall I Use?
I usually use air fryer rotisserie chicken leftovers in Rasta Pasta and other recipes. It's very convenient and the chicken tastes amazing. If I don't have any rotisserie chicken, then I just use a raw chicken breast that I cut into strips and shallow fry with jerk seasoning and a little bit of oil.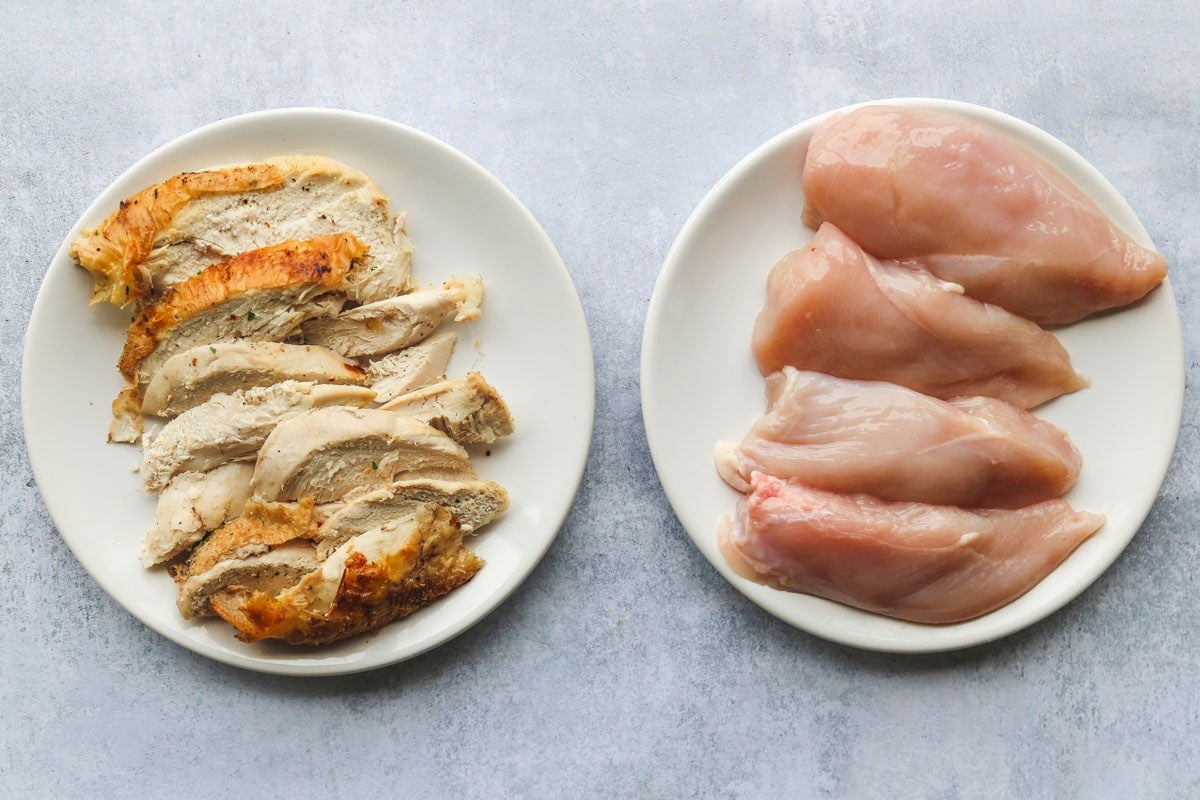 Make It Dairy-Free
To make this rasta pasta recipe dairy-free, can omit the heavy cream, and use full-fat coconut milk or crushed tomatoes instead.
Recipe Variations
There are many different variations of rasta pasta out there, and here are a few:
With chicken
Without chicken
A vegan version
Chicken on the side (not tossed with the pasta)
With grilled or fried shrimp
What Kind of Pasta Shall I Use?
I recommend using penne, rigatoni, or bucatini in this rasta pasta recipe, but you could also use pasta shapes like fusilli or macaroni.
Also, make sure to check out this amazing cornmeal porridge, and the all-purpose green seasoning that you can use to marinate all kinds of meat and fish.
Subscribe to my Newsletter, and follow me on Facebook, Instagram, and Pinterest for more tasty recipes!
I don't feel like I say this often enough, or that I could ever thank you enough. But THANK YOU for all of your support, for visiting my blog, commenting, and sharing my recipes with your friends and family. I am SO thankful for you!
If you make this recipe or any of my recipes, then don't forget to rate it and leave a comment below. I would LOVE to hear about your experience and your comments just make my day!
I hope that you love every recipe that you make! – Diana x