Healthy air fryer chicken tenders that are so crispy and flavorful. Cooked with the fraction of the oil that you'd normally use. Crispy from the outside, juicy and succulent from the inside and they're dairy free and taste amazing! This is a family-friendly recipe that you can make in just 20 minutes!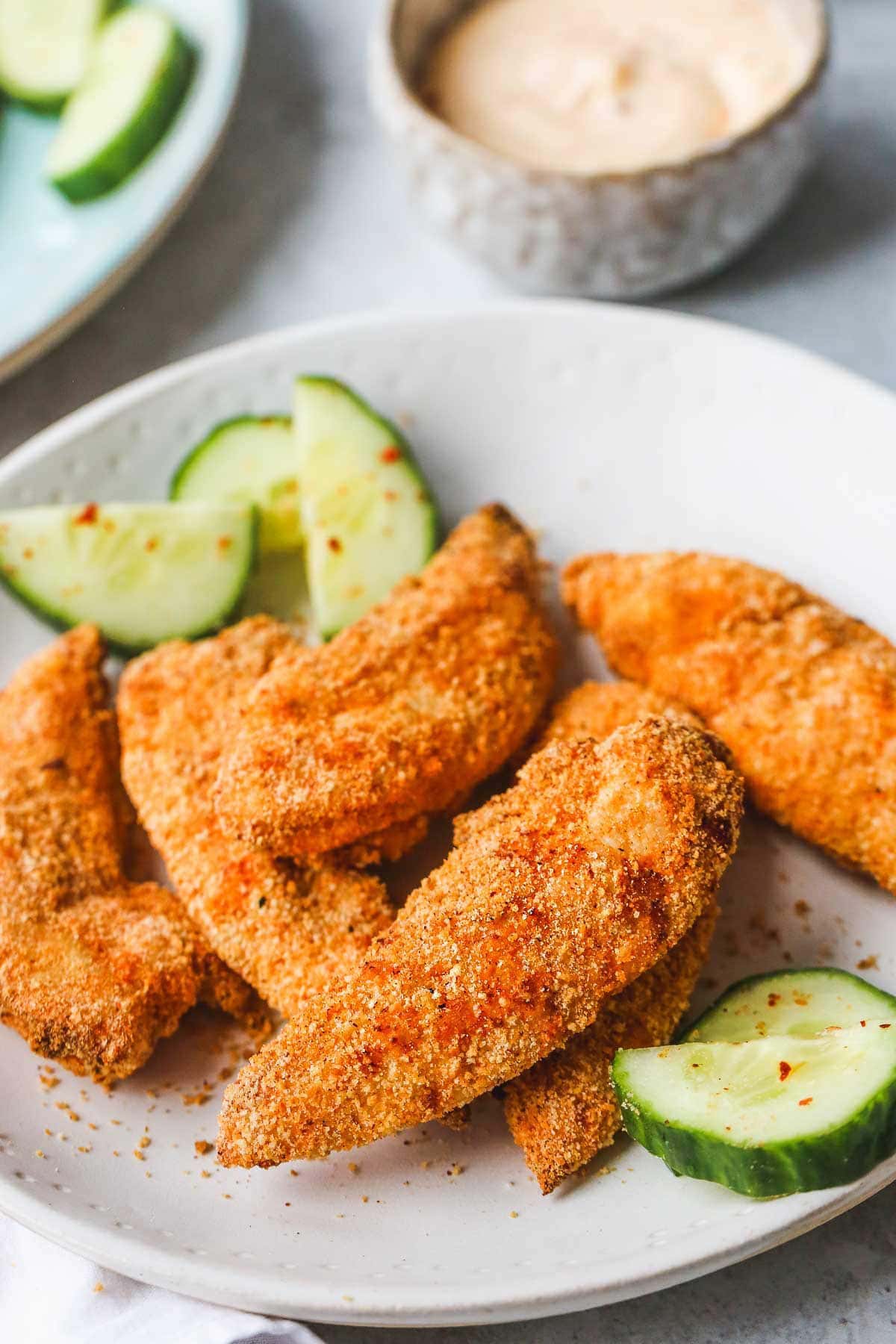 You guys LOVED my Crispy Air Fryer chicken breast recipe, and have been asking me about making chicken tenders in the air fryer. We make chicken tenders the same way as the chicken breast recipe, they're just cooked faster as they're much thinner. So here's the best Air Fryer chicken tenders recipe that you'll find on the internet! And I hope that you love it as much as we do!
AIR FRYER CHICKEN TENDERS
Chicken tenders are usually marinated in buttermilk, and then deep fried in hot oil or baked in the oven. When it comes to coating chicken or fish, I try to avoid the egg/milk coating as I find it time-consuming, it also means that I'm cutting down the calories and the fats.
Especially when I'm making something in my Air Fryer, I try to make a healthier version of the recipe as I can get away with using just a little bit of oil. For these air fryer chicken tenders, the chicken is coating in a little bit of olive oil for the breading to stick, then it's coating in a seasoned breading mix and it's air fried till perfection!
The chicken tenders turn out crispy from the outside, full of flavor, and juicy from the inside. Sounds perfect, right? Let's jump in the recipe!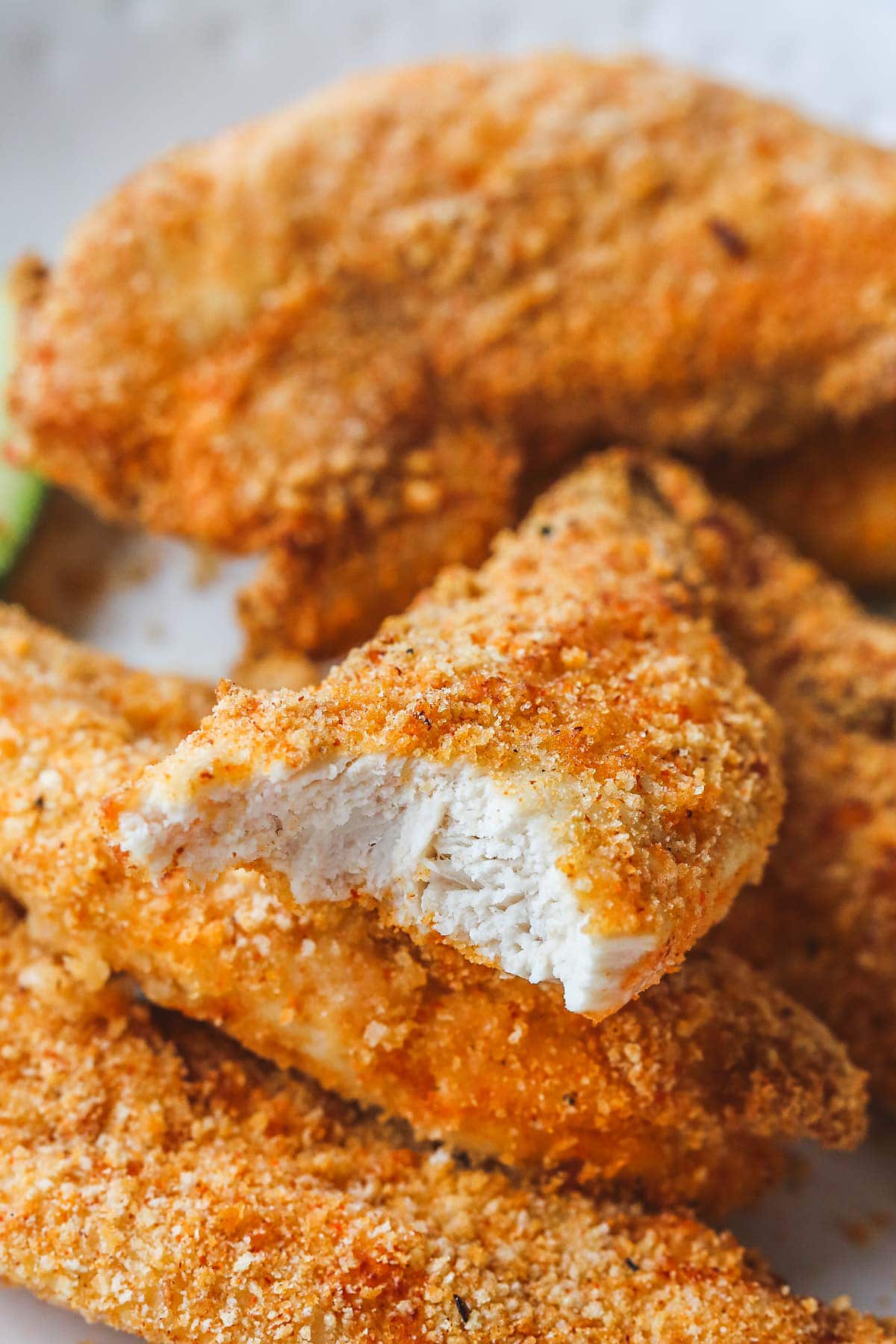 TOOLS NEEDED TO MAKE AIR FRYER CHICKEN BREAST
An Air Fryer. This is my favorite air fryer.
I can't live without this non-stick grill pan accessory, I use it all the time!
I love these stainless steel measuring cups and use them every time I cook, as well as those measuring spoons.
These are the mixing bowls that you see in all of my pictures, they're honestly the best!
This air fryer magnetic cheat sheet is very handy, it contains cooking time and temperature to cook 66 most common ingredients which I find very useful.
I also really like these air fryer parchment liners, they're not just for steaming and you can use them for cooking things like fries or chicken without worrying that the food will stick to the basket. They're also quite cheap and there are 100 pcs in a package.
And for a full set of air fryer accessories, I recommend this set.
HOW TO BREAD AIR FRYER CHICKEN
You can either coat the chicken with seasoned bread crumbs, or use the egg and flour method.
Seasoned breadcrumbs, then drizzle some olive oil over the chicken strips and make sure that they're coated. Then coat each chicken strip in the breading. The oil will help the breadcrumbs stick, and also help the chicken get that crispy and crunchy exterior.
Or you could use the egg and flour method which will result in a thicker coat of breading, it's time-consuming but also delicious.
Whichever way you choose, you have to make sure to season the coating (the breadcrumbs or the flour depending on which method you decided to go with) as that's where most of the flavor comes from. And make sure that it's salted enough for your liking.
HOW TO MAKE CRISPY AIR FRYER CHICKEN TENDERS
Step 1. Start by cutting the chicken breast in thin strips.
Step 2. Drizzle the chicken with one tablespoon of olive oil, and mix so the chicken is well coated in the olive oil.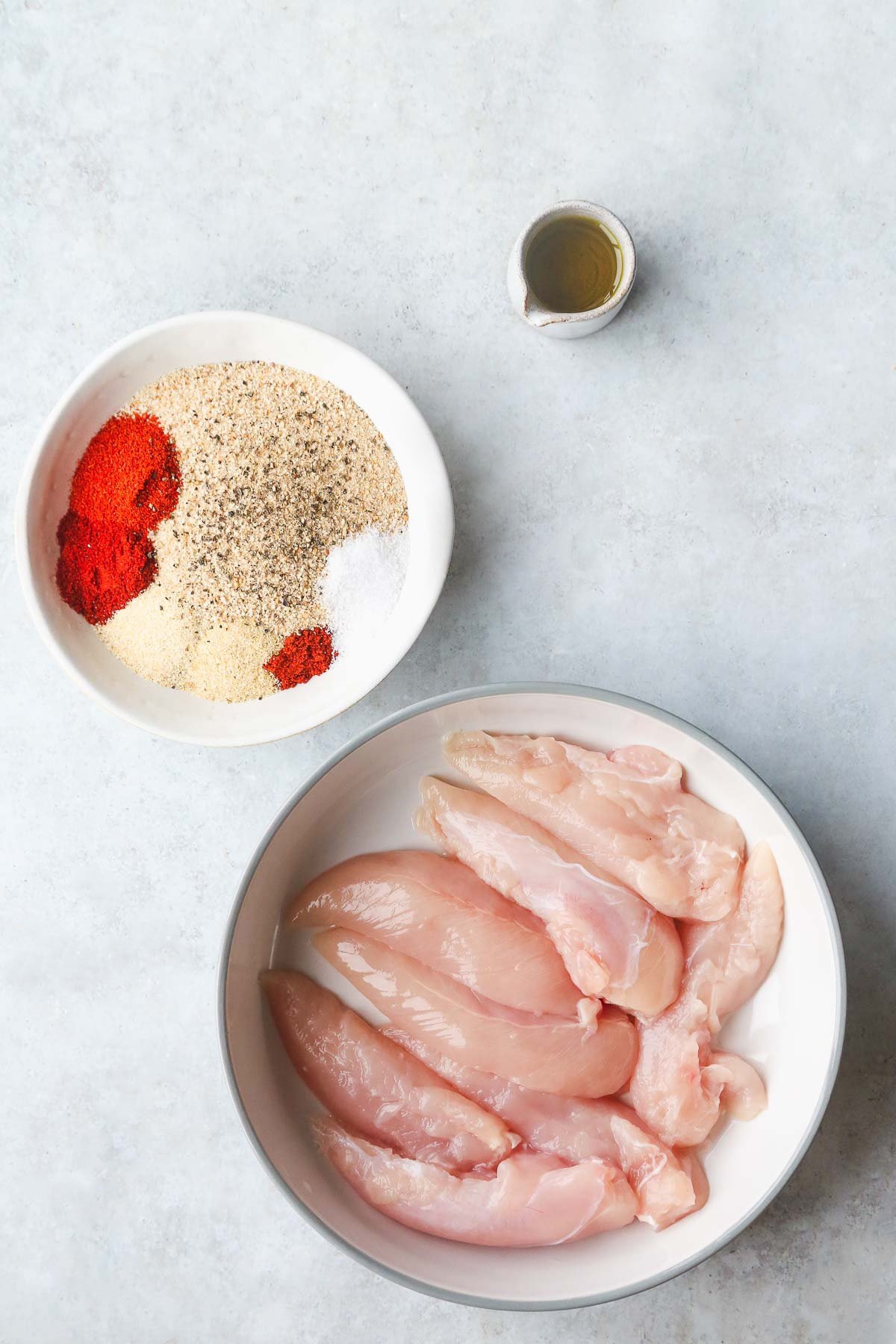 Step 3. Collect the seasonings for the coating.
In a bowl, mix bread crumbs with all the seasonings that you're using. I like to add chilli powder, paprika, garlic and onion powders, cayenne, black pepper and salt. You could also add smoked paprika and herbs if you like.
Mix the spices well with the bread crumbs.
Step 4. Take each chicken strip and coat it in the seasoned bread crumbs from both sides. Lightly shake off any excess and set aside.
As for the bread crumbs used, you can either use fine or coarse bread crumbs whichever you prefer. I normally use fine bread crumbs for this recipe.
Step 5. Preheat your air fryer at 390F or 200C. I usually switch it on about 5 minutes prior to cooking. This ensures that the chicken does not dry out.
Step 6. Arrange the chicken tenders in the air fryer basket, and make sure that they're not overlapping. I have the 4.2-litre air fryer and could fit 6 chicken tenders at once.
Cook on 200c (400f) for 10-12 minutes. Some liquids will burst and create darker and crispier patches on each piece and that's okay.
HOW TO CHECK IF FRIED CHICKEN IS COOKED THROUGH
After 10-12 minutes of cooking, the air fryer chicken tenders should become golden and crispy. You can check the doneness of the chicken by using a fork and a knife and cut through a small piece to see if the meat is well cooked.
The best way to check is with a kitchen thermometer as it will ensure that your chicken is now safe to eat. Simply insert the thermometer in the centre of the chicken piece, and the internal temperature of the chicken should be read 165F or 75C. If it hasn't reached that temperature, just put the chicken piece back in the air fryer and cook for an additional 2-3 minutes and check again.
AIR FRYER FROZEN CHICKEN TENDERS
If you have store-bought frozen chicken tenders that you want to cook in the air fryer, you can do so by cooking them at 200c (400f) for 13-15 minutes.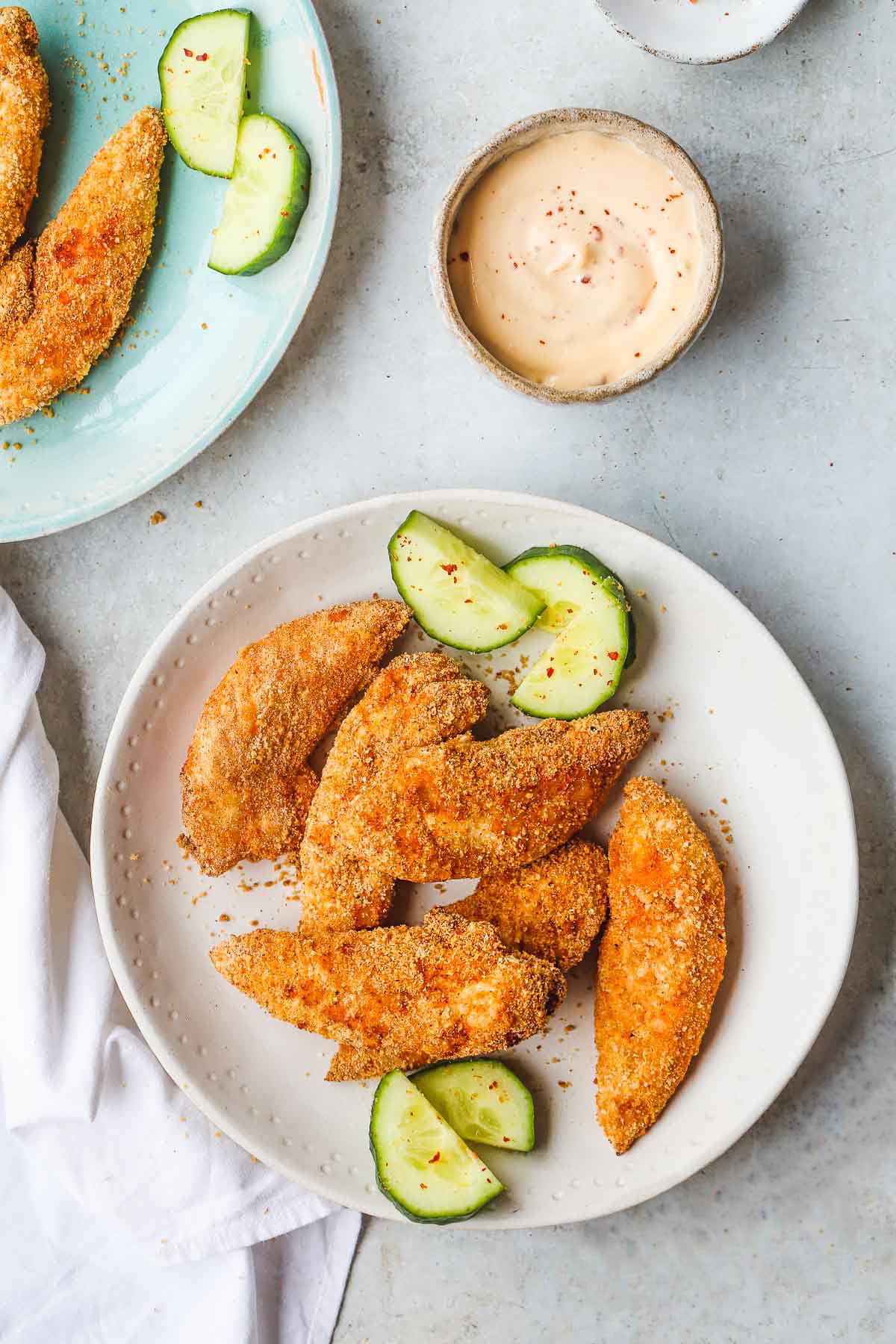 SWEET CHILLI MAYO DIPPING SAUCE
Do you know what's the best thing you can dip chicken tenders in? Tons of sweet chilli mayo! YUM!
To make it, in a small bowl, mix mayo with sweet chilli and sriracha sauce. Tastes like HEAVEN!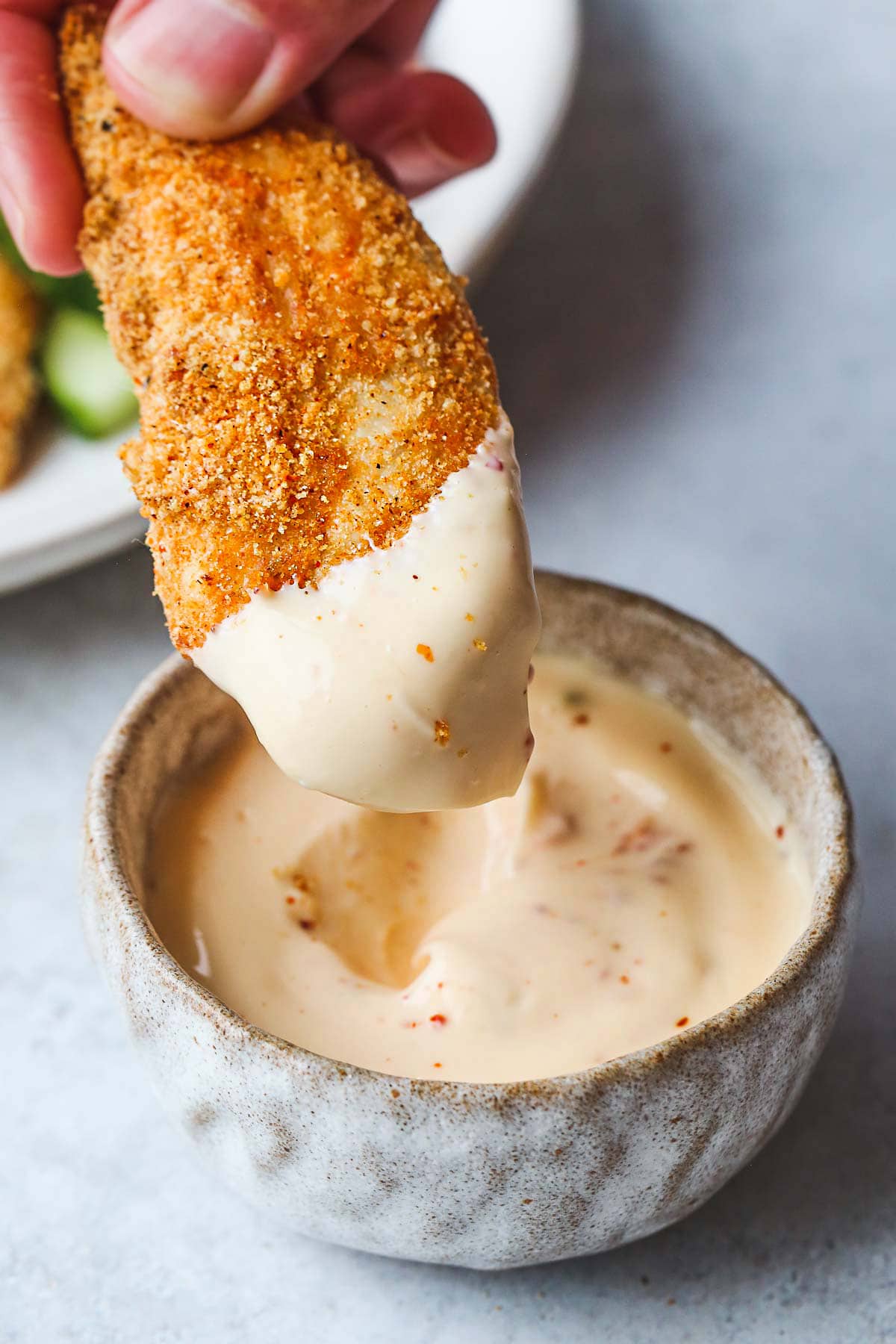 WHAT TO SERVE AIR FRYER CHICKEN TENDERS WITH?
The best ever oven baked fries
Middle Eastern Batata Harra
Cheesy mashed potato cakes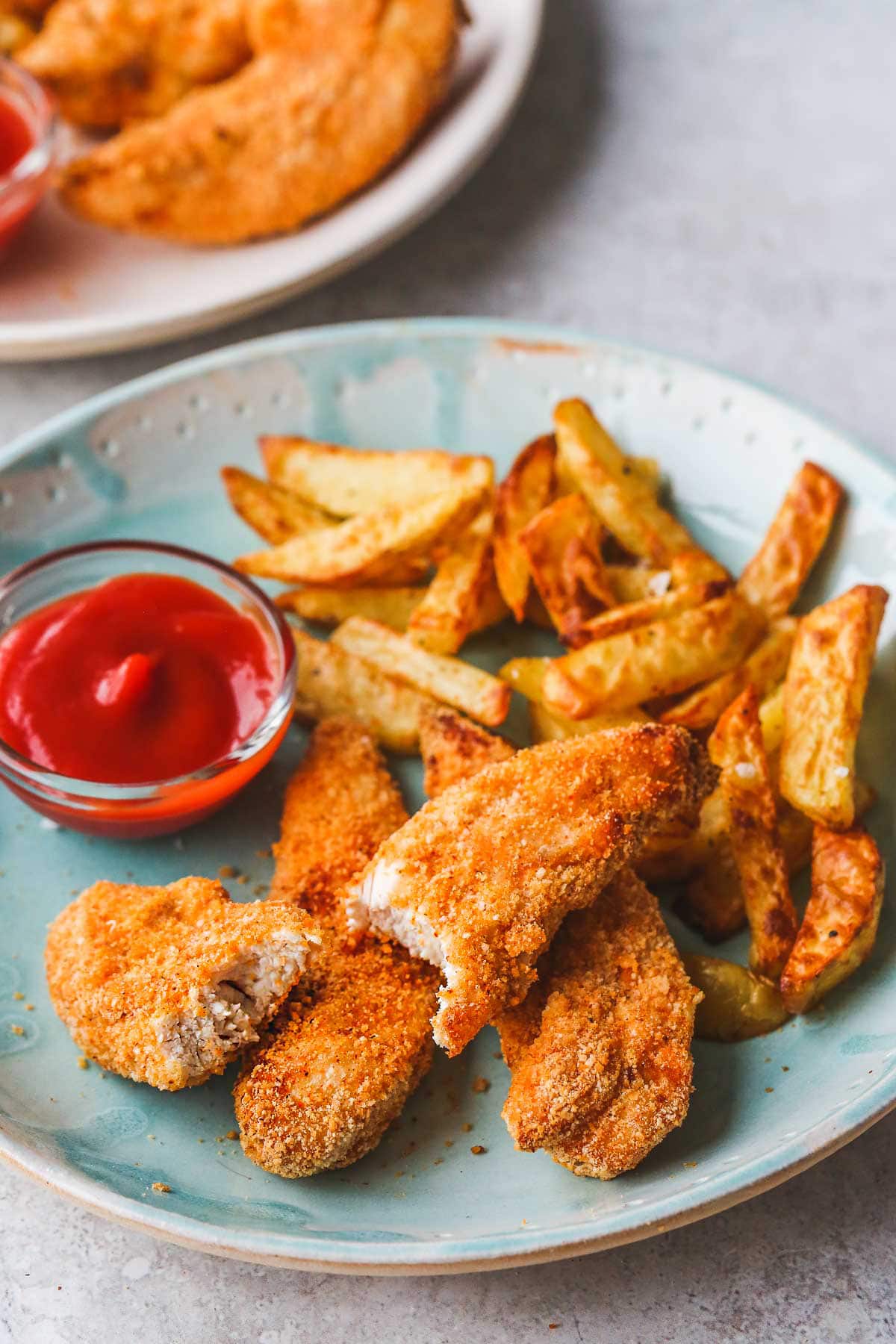 WEIGHT WATCHERS POINTS: 3 SMARTPOINTS PER PORTION ON WEIGHT WATCHERS FREESTYLE PLAN
If you make this air fryer chicken breast, please don't forget to rate this recipe and share a picture on social media. Tag #LittleSunnyKitchen in your posts as I would really love to see what you make! Thank you for supporting Little Sunny Kitchen, so I can keep sharing my family recipes with you for free.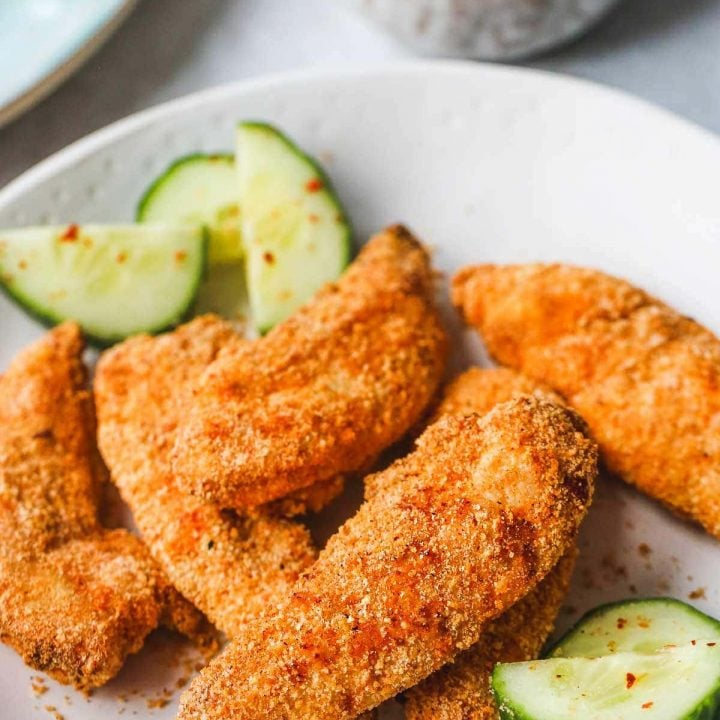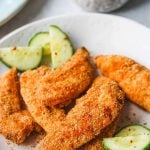 Crispy Air Fryer Chicken Tenders
Healthy air fryer chicken tenders are so crispy and flavorful. Cooked with the fraction of the oil that you'd normally use.
Print Recipe
Ingredients
2 large

chicken breasts

cut into strips

1

tbsp

olive oil

½ cup

(25 grams)

bread crumbs

½

tsp

paprika

¼

tsp

dried chili powder

¼

tsp

ground black pepper

¼

tsp

garlic powder

¼

tsp

onion powder

¼

tsp

cayenne pepper

½

tsp

salt
Instructions
Put the chicken strips in a bowl and drizzle with olive oil, mix the chicken to make sure that it's well coated with oil.

In a shallow dish, mix the bread crumbs with the spices until well combined.

Coat each chicken strip in bread crumbs, and transfer to your air fryer basket.

Cook in the air fryer at 390F or 200C for 9-11 minutes. After the first 7 minutes, open the air fryer and flip the chicken on the other side then continue cooking (cook for 3 minutes, depending on the thickness the chicken used).
Nutrition facts
Calories:
163
kcal
|
Carbohydrates:
1
g
|
Protein:
24
g
|
Fat:
7
g
|
Saturated Fat:
1
g
|
Cholesterol:
72
mg
|
Sodium:
423
mg
|
Potassium:
418
mg
|
Fiber:
1
g
|
Sugar:
1
g
|
Vitamin A:
220
IU
|
Vitamin C:
1.3
mg
|
Calcium:
6
mg
|
Iron:
0.5
mg
Some of the links above are affiliate links, which pay me a small commission for my referral at no extra cost to you! Thank you for supporting Little Sunny Kitchen.