Super easy Instant Pot chicken wings perfectly cooked in the pressure cooker, then broiled for a few minutes until crispy and dipped in a homemade buffalo sauce.
The chicken turns out so tender and juicy, and the sauce is bursting with flavors! Cooked quickly with no fuss, no deep-frying, and no need to clean the entire kitchen afterward! This recipe is definitely a keeper.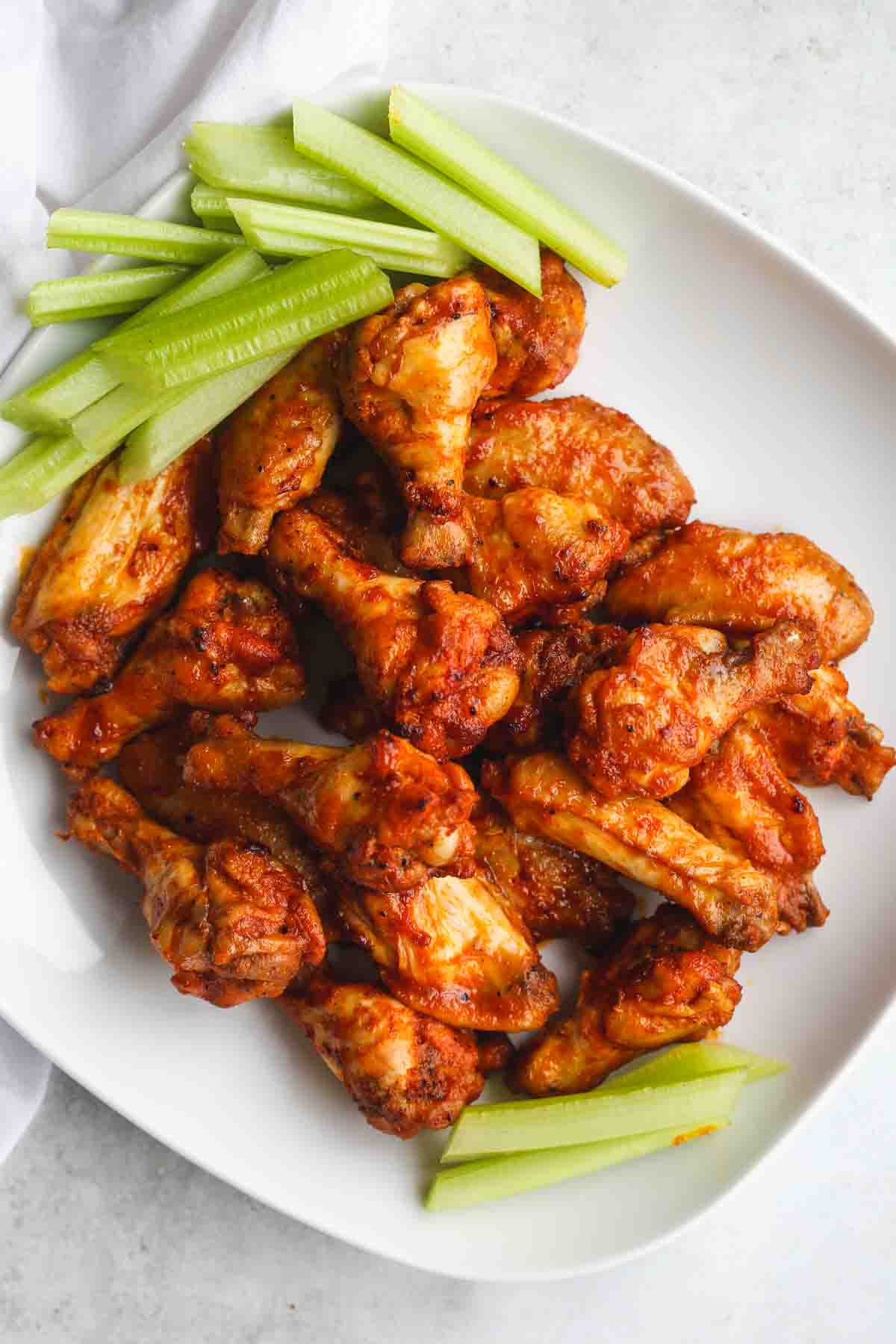 I'm worried that I might soon become one of these people that want to cook EVERYTHING in the Instant Pot. I'm not kidding. I honestly have no idea how did we survive so long without an Instant Pot, it's an absolute game-changer and believe it or not, but we currently have THREE electric pressure cookers in our house!
Sooo, my husband recently made chicken wings in the Instant Pot, and says that those are the best chicken wings that he has ever had! I was a bit skeptical about that until I tried them, and oh my god, how did we not know about this before? To be fair, it took him 3 tries to get the recipe right, but once he got the recipe right, it turned out AMAZING! So all credit goes to him!
Why Would You Cook Chicken Wings in the Instant Pot?
Let me tell you why…
You will get juicy and tender fall of the bone meat, with crispy skin wings tossed in an insanely delicious buffalo sauce.
Made in just half an hour (if you were to bake the chicken wings, you'd at least need an hour to make them).
A healthy recipe, no deep frying involved!
Great for a quick appetizer when you're not bothered to stand in the kitchen for long, or on busy weeknights, or when someone unexpectedly comes over and you want to make something quickly!
These chicken wings are DELICIOUS!
Convinced now? Okay, let's talk about the things that you will need to get/know to make it.
Recommended Tools and Ingredients
An Instant Pot. My favorite is this Instant Pot.
I love these stainless steel measuring cups and use them every time I cook, as well as those measuring spoons.
Sheet pan – I use these Aluminum half sheets all the time.
Chicken wings, cut into wingettes and drumettes. You might be able to buy chicken wings that are already cut into pieces and the extra skin is already trimmed off. However, if you can't find wings like that then you can easily do so by yourself. Using your hands, locate the area between both joints and cut through using a sharp knife. Then trim off the ends and the extra skin. Here's a useful tutorial if you need it.
Garlic powder and onion powder (optional but strongly recommended).
Paprika (optional but strongly recommended).
Black pepper and salt.
Melted unsalted butter.
BBQ sauce – I use BBQ honey sauce (optional)
Honey (if you're using plain BBQ sauce), or use sugar (white or brown) instead.
Celery or carrot sticks to serve on the side, blue cheese dip or ranch dip.
How to Make Instant Pot Chicken Wings
Step 1.
Prepare the chicken wings, cut into wingettes and drumettes and trim any extra skin if needed, pat dry using paper towels. Then put them in a bowl.
We usually buy a tray with 10 chicken wings, and then we cut them into 10 drumettes and 10 wingettes.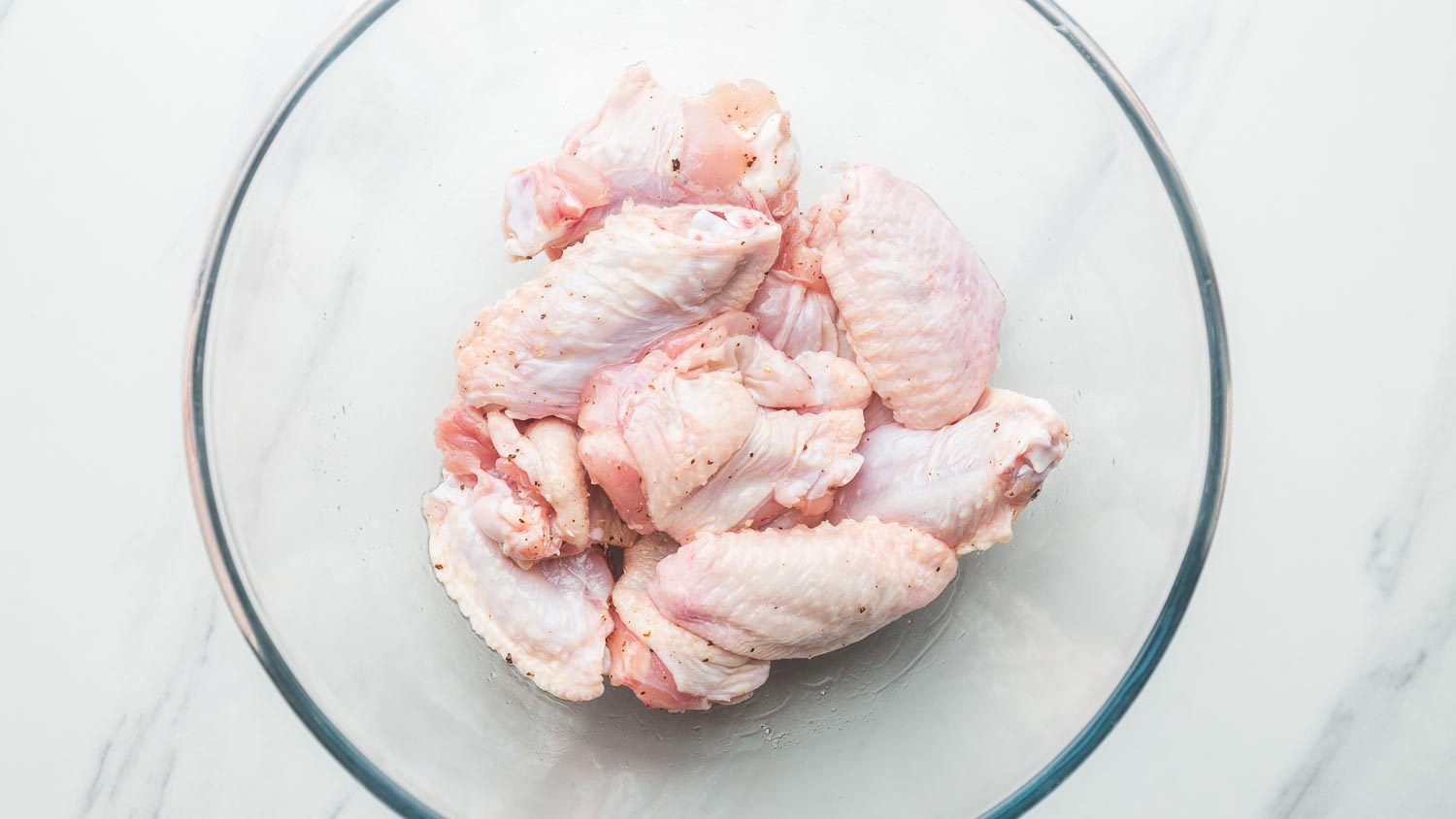 Step 2.
Season the wings. It's up to you what you would like to use, we usually go for garlic powder, onion powder, paprika, black pepper, and salt.
You can use any flavored salt that you like. I sometimes use this cajun salt, it's amazing!
Step 3.
Put the trivet at the bottom of the pot, and add a half cup of water. Then place the seasoned chicken wings on the trivet, cover with the lid and make sure that the vent/valve is in sealing position.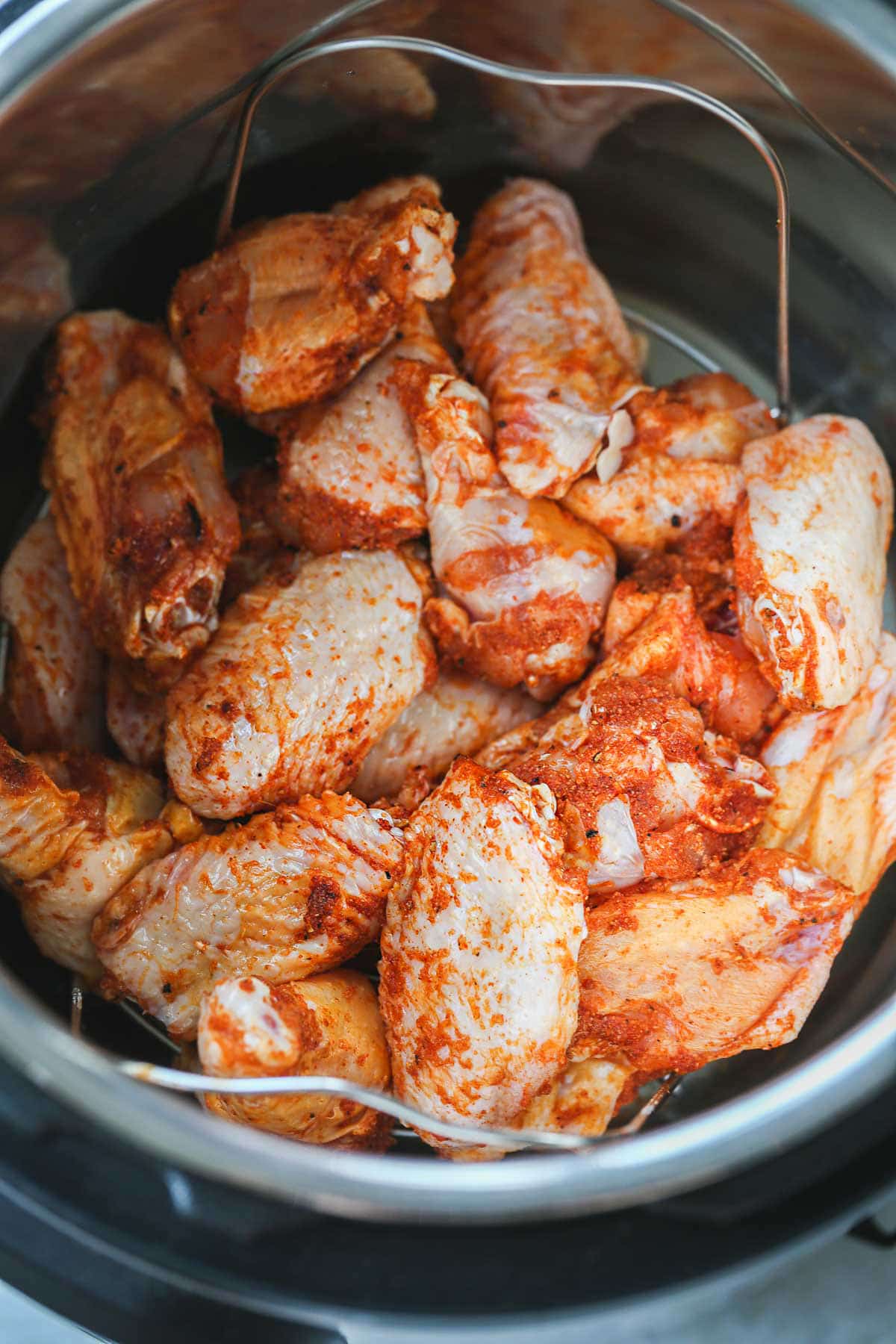 Step 4.
On the Instant Pot press on "Manual" or "Pressure cooking" – this depends on what model of Instant Pot you're using. Make sure that it's set on HIGH pressure, and choose 5 minutes. Switch off the "Keep warm" setting, and let the Instant Pot do its thing.
It will take about 10 minutes to come to pressure, and then cook for 5 minutes as it counts down to zero.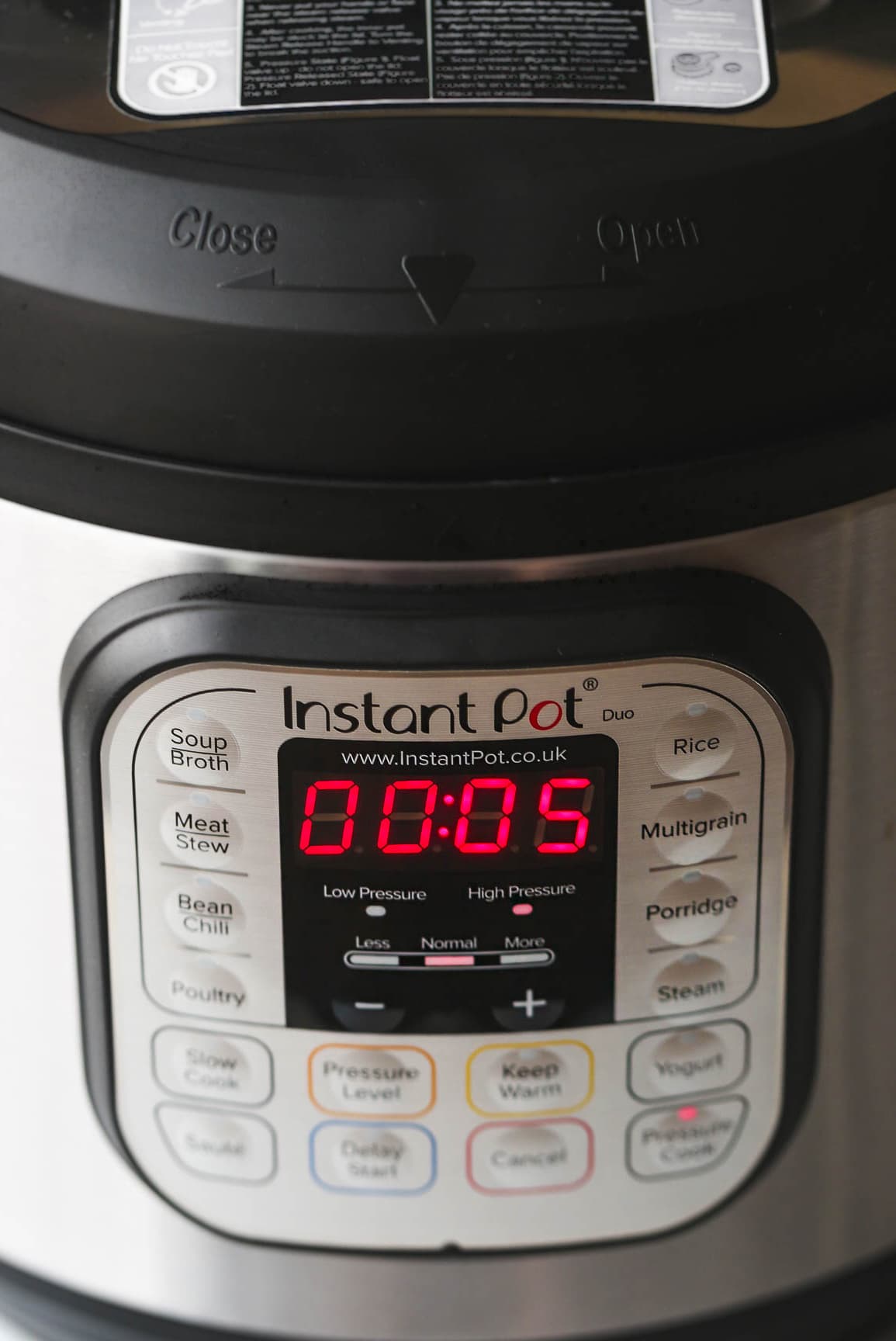 Once the cooking is finished, quickly release the steam and open the lid.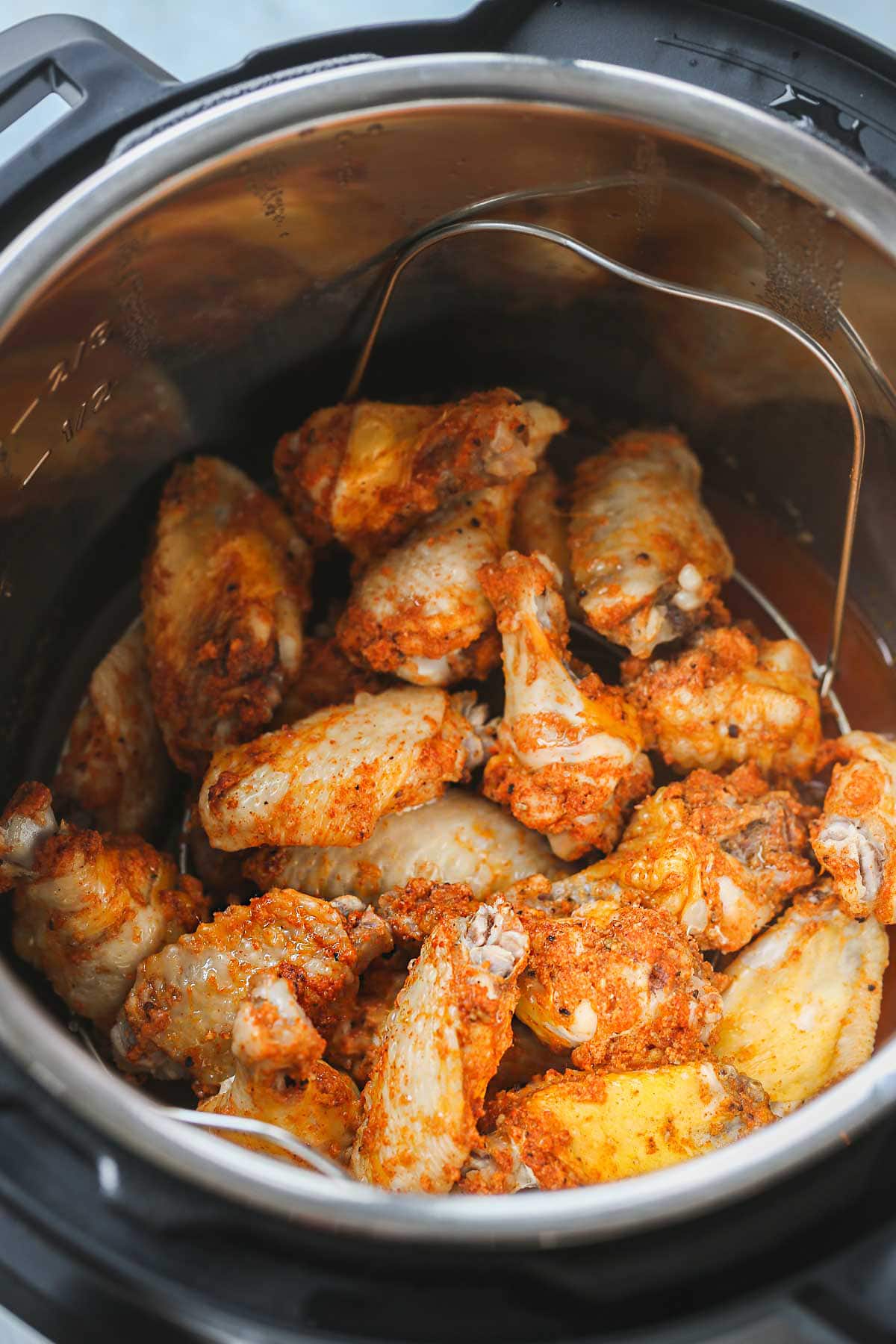 Step 5.
Now comes the fun part! While the wings are being cooked, make homemade buffalo sauce.
Melt butter and mix it with hot sauce (I use Frank's hot sauce) and a little bit of honey or sugar (adjust the amount of honey/sugar to your preference). Find my full buffalo wing sauce recipe here.
Put the chicken wings in a bowl, pour the sauce over them and make sure that they're well coated. You will be using ¾ of the sauce here.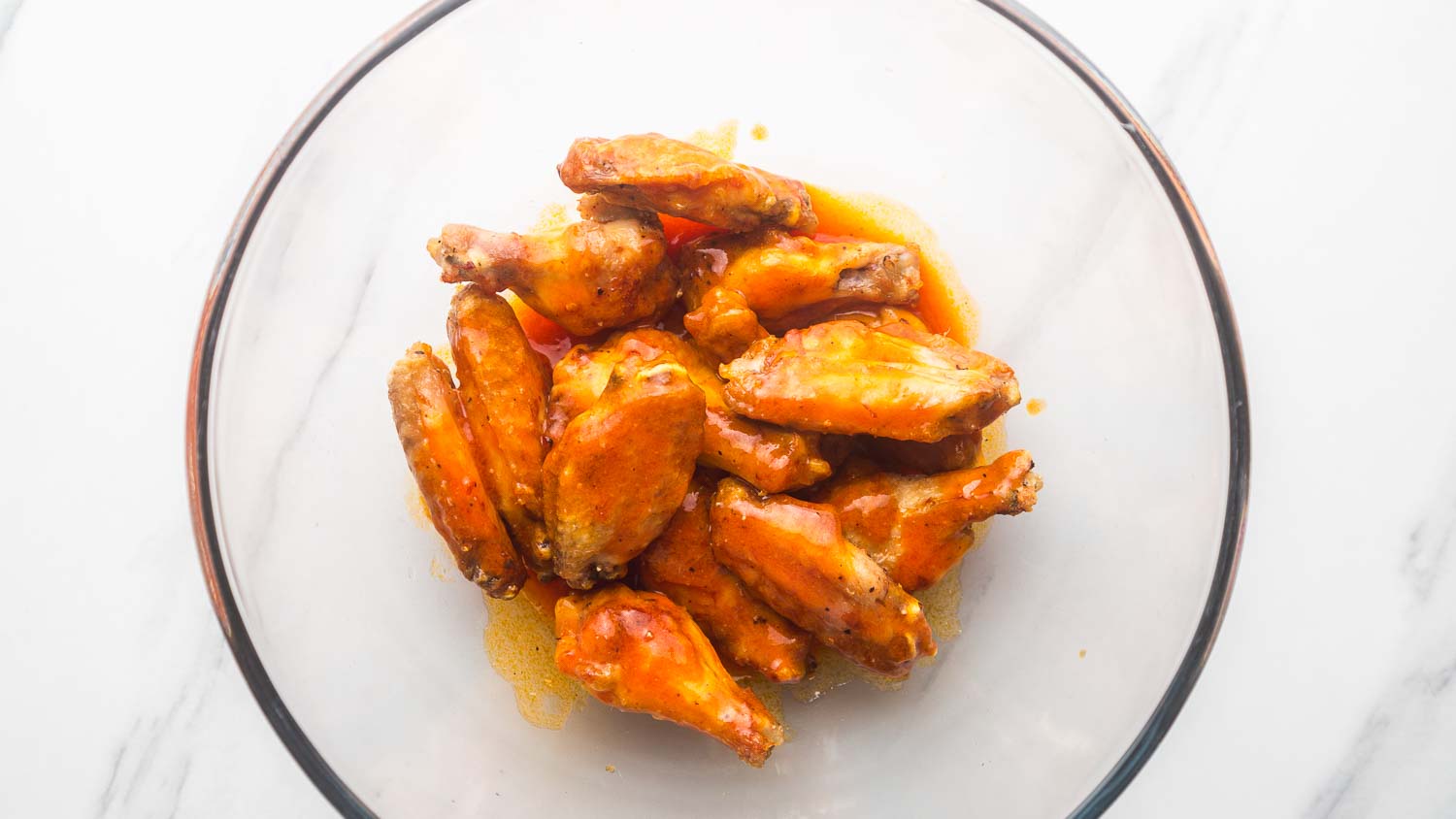 Step 6.
To make washing up easier, you could line the sheet pan with foil or parchment paper.
Place the chicken wings on the sheet pan and make sure that they're not overlapping (leave about an inch between each piece), you could brush over a little bit more sauce if you wish.
Make sure that the oven rack is adjusted to the upper-middle position, and set at 220°C (450°F).
Then broil for 4 minutes on each side (8-10 minutes in total with flipping halfway through) or until the wings are golden brown and crispy.
Pour/brush more sauce over the wings when they're ready and piping hot.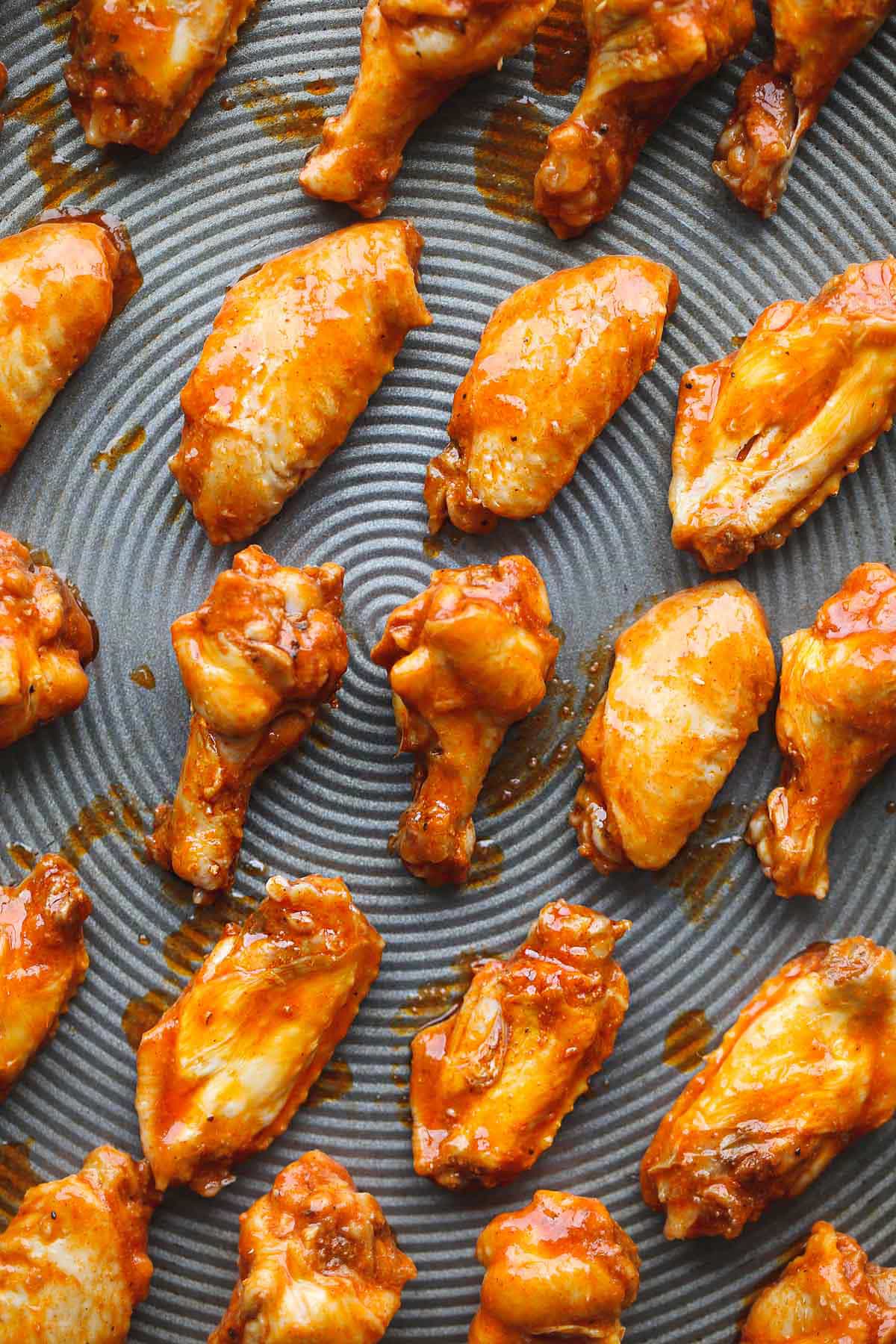 Serve immediately with celery (and/or carrot) sticks. Blue cheese dip, or ranch dip.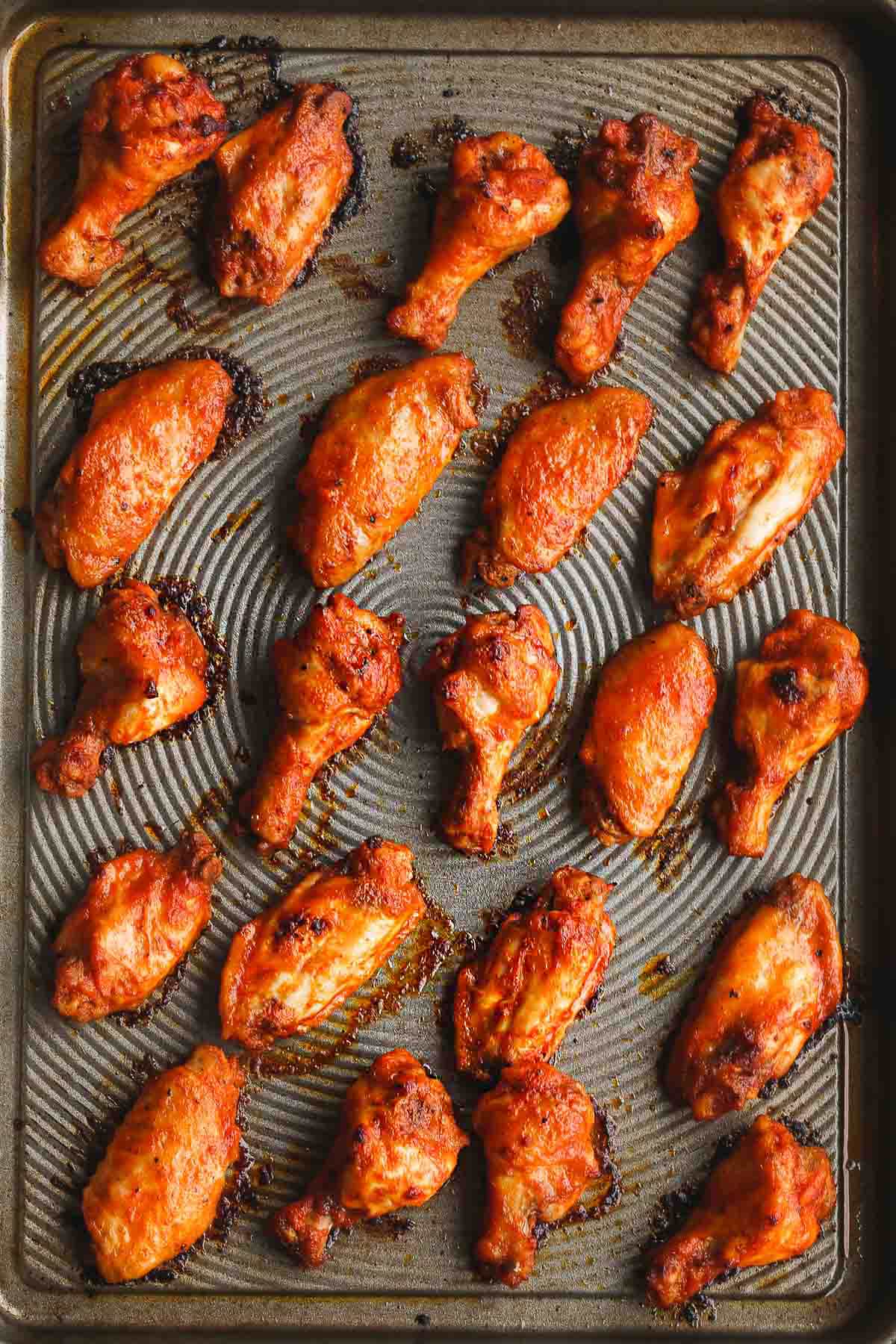 Can I Skip Broiling?
You sure can, but I strongly recommend that you do this extra step for great-tasting and crispy chicken wings. But in case if you don't want to broil them or don't have an oven/broiler, then cook on high pressure for 5 minutes and leave the steam to naturally release for 10-15 minutes. Remember doing this won't result in crispy chicken wings.
A Family-Friendly Recipe
When my nieces and nephews are around, I leave some chicken wings on the side without dipping in sauce and serve them with BBQ sauce so that they can enjoy these tasty chicken wings as well.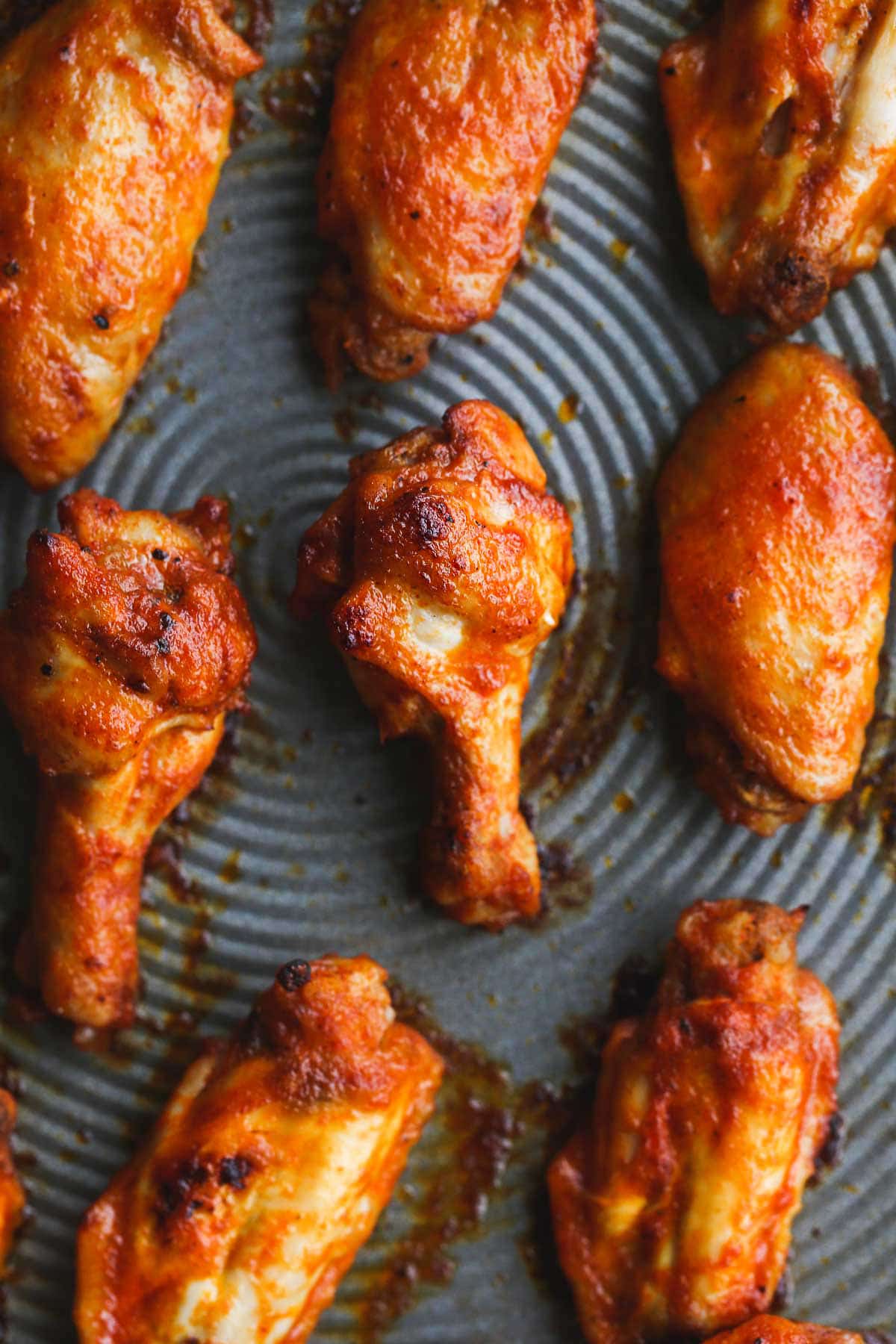 How to Check If the Chicken Wings Are Cooked Through and Safe to Eat?
You can check the doneness of the chicken by using a fork and a knife and cut through a small piece to see if the meat is well cooked or if it's still pink (if you're cooking extra-large wings, it might need a little bit longer).
The best way to check is with a kitchen thermometer as it will ensure that your chicken is now safe to eat. Simply insert the thermometer in the center of the chicken wing, and the internal temperature of the wing should be read 165°F or 75°C. If it hasn't reached that temperature, just put the chicken wings back on the baking tray and cook for an additional 2-3 minutes and check again.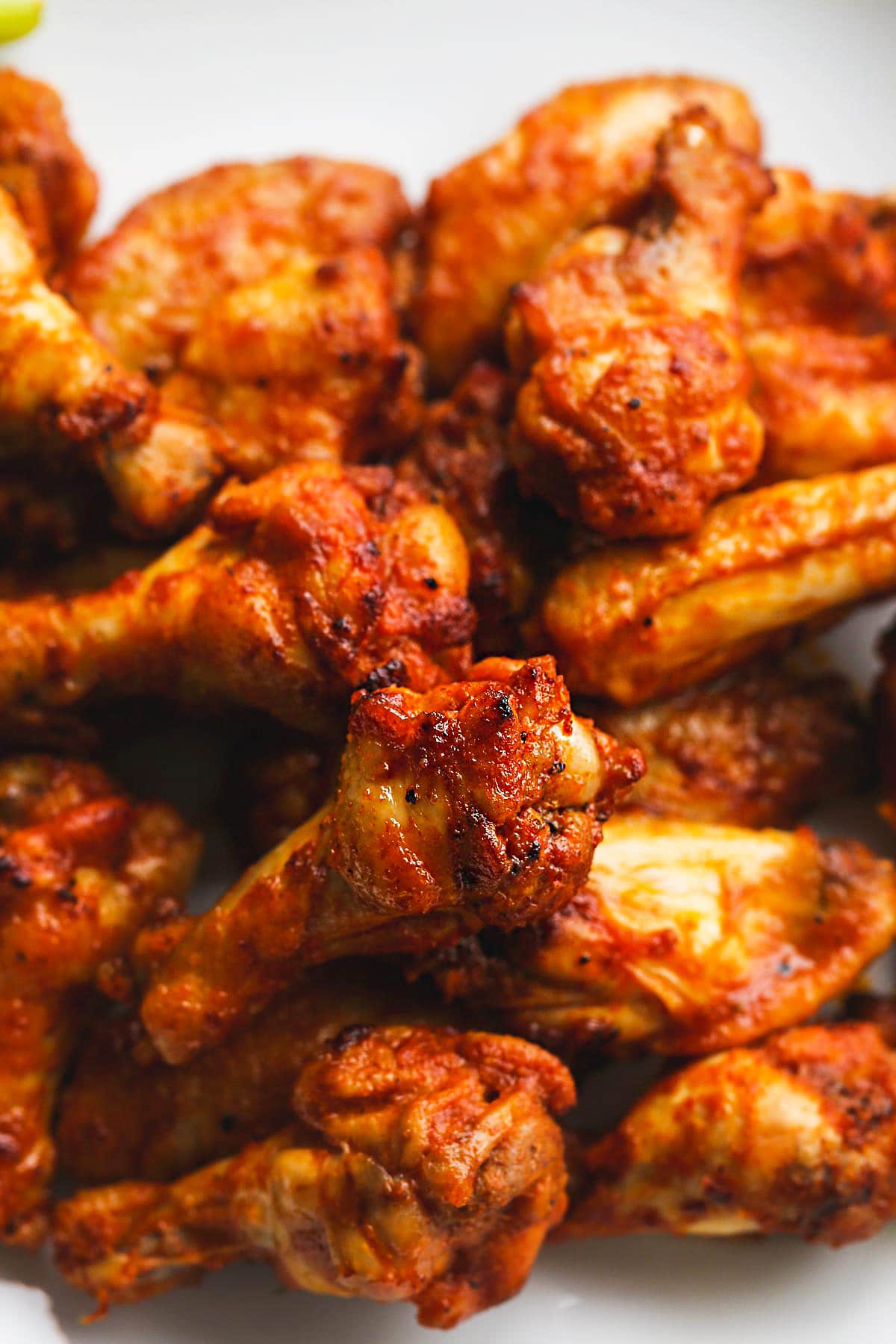 More Great Instant Pot Recipes
Or check out my Instant Pot recipe collection!
Subscribe to my Newsletter, and follow me on Facebook, Instagram, and Pinterest for more tasty recipes!
I don't feel like I say this often enough, or that I could ever thank you enough. But THANK YOU for all of your support, for visiting my blog, commenting, and sharing my recipes with your friends and family. I am SO thankful for you!
If you make this recipe or any of my recipes, then don't forget to rate it and leave a comment below. I would LOVE to hear about your experience and your comments just make my day!
I hope that you love every recipe that you make! – Diana x
Instant Pot Chicken Wings
The world's best pressure cooker chicken wings made buffalo and BBQ style. Juicy and tender meat that falls of the bone, covered with crispy and full of flavor exterior. This recipe is definitely a keeper!
Print
Pin
Rate
Ingredients
10

chicken wings

10 wingettes and 10 drumettes

1

teaspoon

garlic powder

1

teaspoon

onion powder

2

teaspoons

paprika

½

teaspoon

ground black pepper

1

teaspoon

salt
For the Buffalo sauce
½

cup

unsalted butter

melted

½

cup

hot sauce

such as Frank's hot sauce

¼

cup

BBQ sauce

optional

1

tablespoon

honey
Instructions
Prepre the chicken wings and pat dry with kitchen towels. Put in a large bowl, and season with garlic powder, onion powder, paprika, black pepper and salt. Make sure that the wings are evenly and well coated with the seasoning.

Place a trivet in the Instant Pot, and add ½ cup of water to the bottom. Then add the seasoned wings. Cover with the lid, and make sure that the vent/valve is in sealing position.

Cook on high pressure for 5 minutes. When the cooking is finished, quickly release the steam, take out the chicken wings and put in a bowl.

To make the buffalo sauce: In a small bowl, whisk all of the sauce ingredients until well combined. Mix in BBQ sauce if using.

Pour the buffalo sauce over the chicken wings (save some to brush over the wings after broiling if you like). Give them a good toss until the wings are well coated.

Arrange on a sheet pan, and broil for 4 minutes on each side. Brush over more buffalo/BBQ sauce if desired.
Nutrition
Calories:
69
kcal
|
Carbohydrates:
1
g
|
Protein:
5
g
|
Fat:
5
g
|
Saturated Fat:
2
g
|
Cholesterol:
22
mg
|
Sodium:
426
mg
|
Potassium:
53
mg
|
Fiber:
1
g
|
Sugar:
1
g
|
Vitamin A:
195
IU
|
Vitamin C:
4.6
mg
|
Calcium:
3
mg
|
Iron:
0.3
mg