Super creamy 4-ingredient Instant Pot Rice Pudding topped with sweet caramel sauce. This failproof recipe guarantees that dreamy creamy texture and an amazing taste!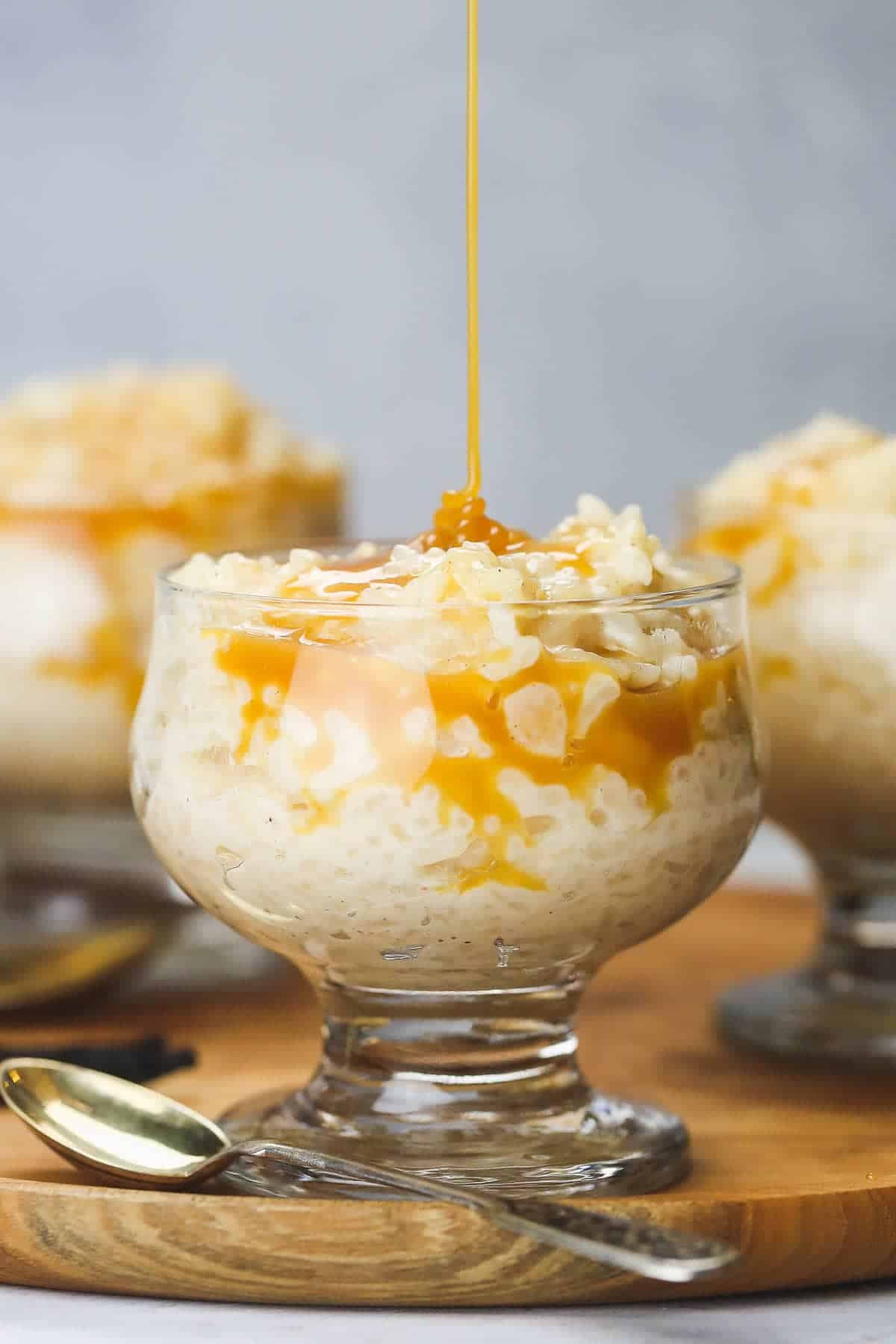 INSTANT POT RICE PUDDING
Everyone loves a bowl of creamy rice pudding, it's one of these desserts or even breakfasts that can be made with very basic ingredients that you can always find in your kitchen. Making rice pudding over the stove top requires lots of stirring, but with the Instant Pot, you can make it at just a click of a button!
This recipe guarantees that your rice pudding is never burnt, and has the right consistency.
And my favourite part? It uses condensed milk for some extra creaminess and awesome taste!
I love making this when unexpected guests come over and I need something ready really quickly, as all I need to do is dump everything in the Instant Pot and I get a lovely dessert ready in no time. The kids love it too, my niece always requests this creamy rice pudding and tops it with jam!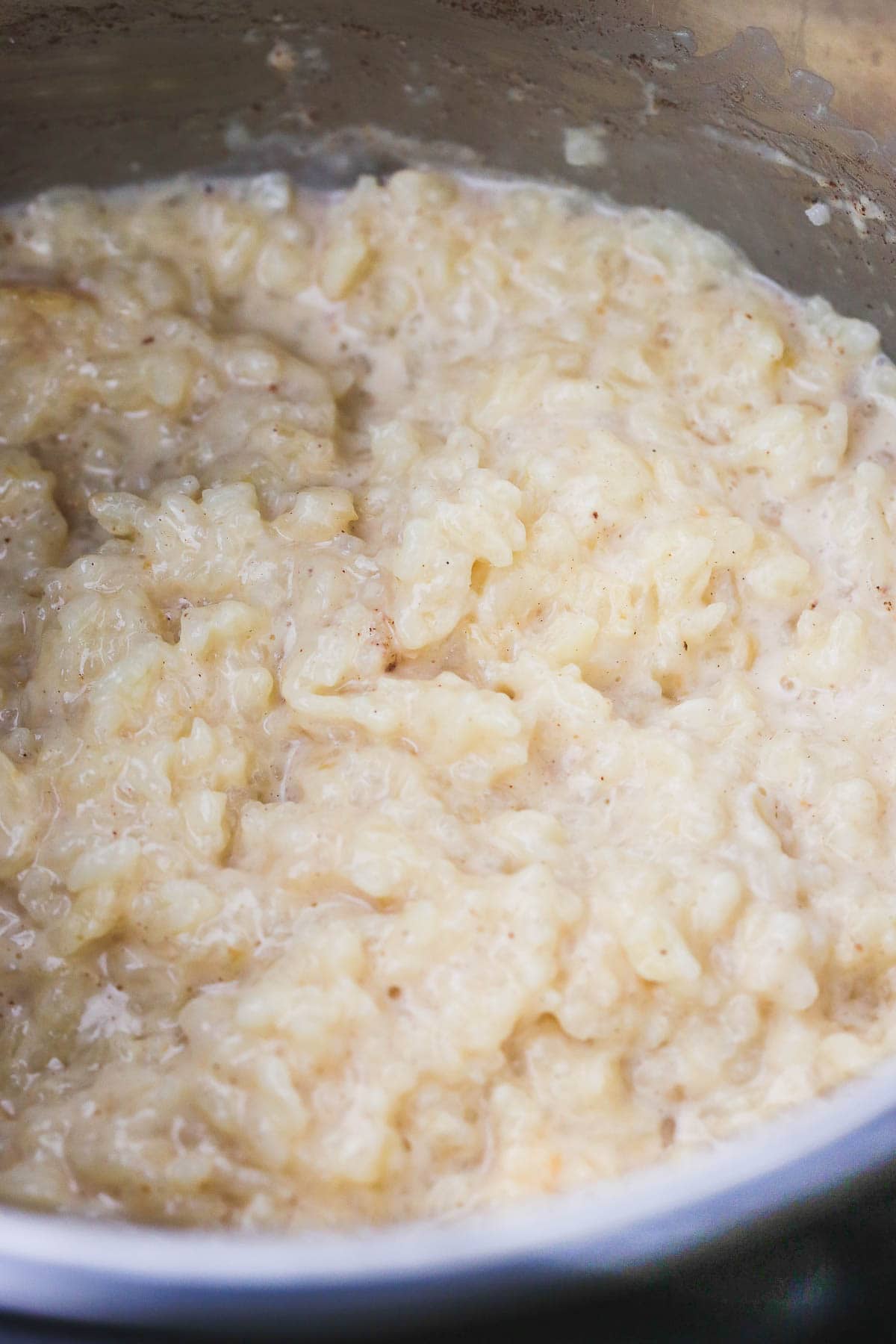 TOOLS NEEDED TO MAKE AN INSTANT POT RICE PUDDING
First of all, you need an Instant Pot (obviously!). I have Instant Pot Duo 6 Qt 7 in 1, it's my favorite.
You will need a ladle, I have this stainless steel ladle and I use it for everything from soups to making sangrias and desserts like this.
These stainless steel measuring cups are great and I use them every time I cook, as well as those measuring spoons as they ensure that you get the recipe right and it's consistent every time you make it.
I keep my rice pudding in the IP before serving, so I use this genuine IP glass lid. I find this lid very handy as it's a see-through lid, and keeps my food warm until I want to serve it.
If I have some leftover food in the IP ceramic of metallic pot, I just cover it with a silicone lid as it creates an airtight seal and keeps my food fresh in the fridge.
Glass serving bowls, I use this set (it's the ones that you see in my pictures).
WHAT KIND OF RICE TO USE?
To make this rice pudding, I used white short grain rice. You could use any type of short grain rice such as sushi rice or arborio rice. Arborio rice is a starchier kind of rice and is usually used to make risotto.
The reason why short grain rice works so well in this recipe is that it absorbs the liquids better which results in a creamy texture. You could use long grain if that's what you have available, however, you won't get the same consistency and texture.
INGREDIENTS NEEDED TO MAKE THIS RICE PUDDING
The ingredients are very basic and you most probably already have them on hand. You will need:
Rice – I use white long grain rice.
Milk – I don't recommend using skimmed milk, as whole milk makes the rice pudding creamier and that's what you want to achieve.
Sweetened condensed milk – for extra creaminess and sweetness!
Cinnamon – I always add a touch of ground cinnamon as it gives a really lovely flavor to the rice pudding. One can never add too much cinnamon, right? You could also add things like vanilla bean, allspice, ground nutmeg, ground cloves, star anise, anything that you like really…
THE SECRET TO THE PERFECTLY CREAMY RICE PUDDING
RINSE THE RICE! To get the perfect texture, you MUST rinse the rice! It's definitely not a step that you should ignore if you want to get that lovely creamy texture. I mean, you can, if you don't want that extra work but I really recommend that you rinse the rice before you cook it. Trust me, that extra step is worth it!
You will need to keep rinsing the rice under running water until the water is completely clear, this will take a minute or 2.
HOW TO MAKE RICE PUDDING IN THE INSTANT POT
Rinse the rice under cold water until the water becomes clear, and strain.
Add rice to the Instant Pot, followed by milk, water, spices, and salt.
Stir to combine the ingredients, and close with the lid and seal. Cook on manual/high heat for 20 minutes.
When cooking is done, do a natural release for 10 minutes then open the vent and let the steam come out. Open the lid, stir in the condensed milk. Mix well until combined and creamy, add your favorite toppings and serve.
RECIPE TIPS
It's preferable that you use short grain rice
Completely rinse the rice
Play around with spices, I usually go for ground cinnamon and nutmeg. But free to add any other flavours that you like, you could add things like anise, cloves, allspice…
You can cook this on either manual or porridge setting, but avoid the rice setting.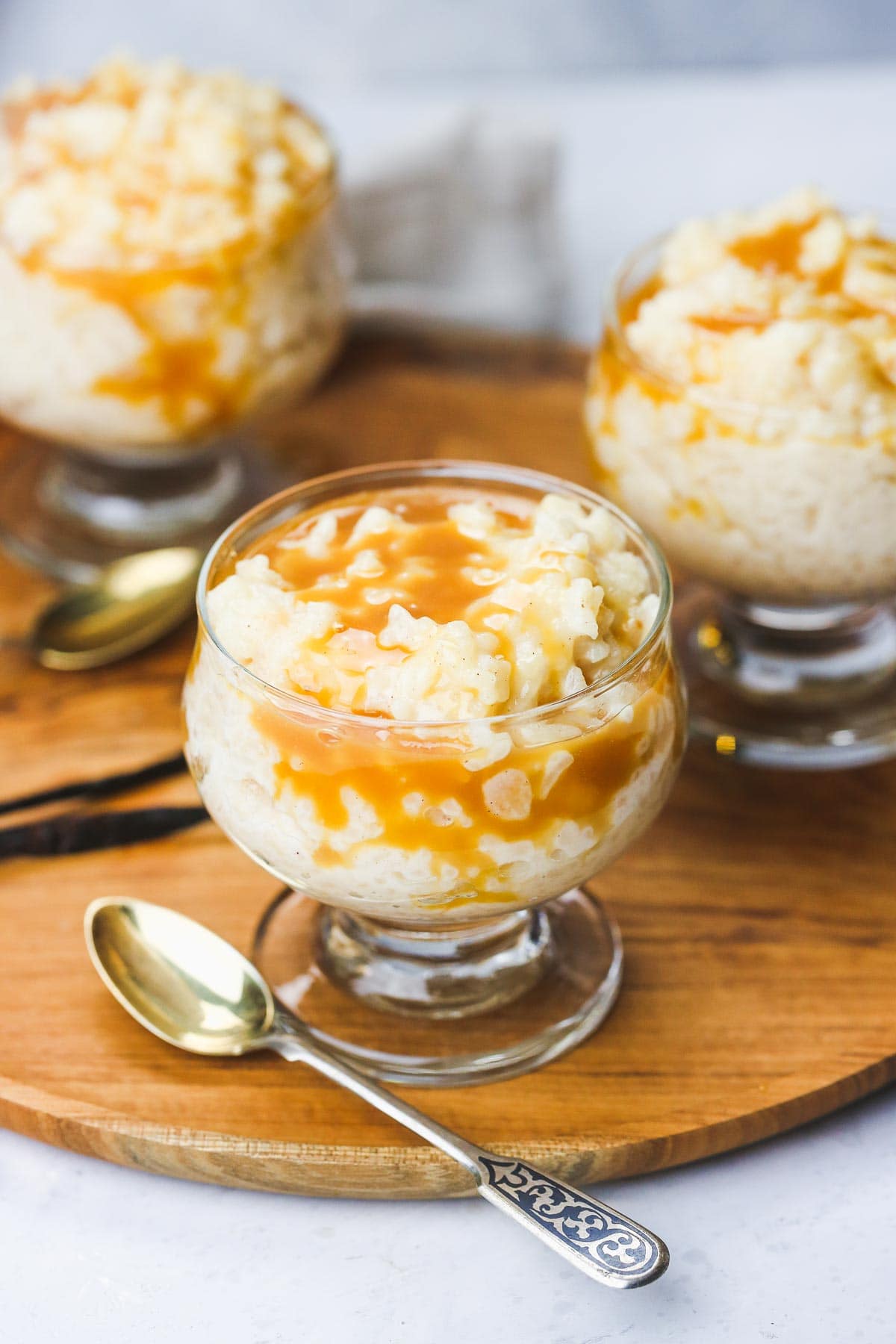 HOW TO SERVE THIS RICE PUDDING
You can either serve this pudding warm or cold. I personally prefer having it warm, it's very comforting and that's how we're used to having it in my family. You could serve it cold if you like, but keep in mind that this rice pudding will thicken once it's chilled. So if you plan on serving it cold, then add a little bit more liquid to the Instant Pot before cooking. Or mix in some extra milk when the pudding is still warm in the IP.
TOPPING SUGGESTIONS
A sprinkle of ground cinnamon
Strawberry or berry jam
Maple syrup or honey
Fresh fruit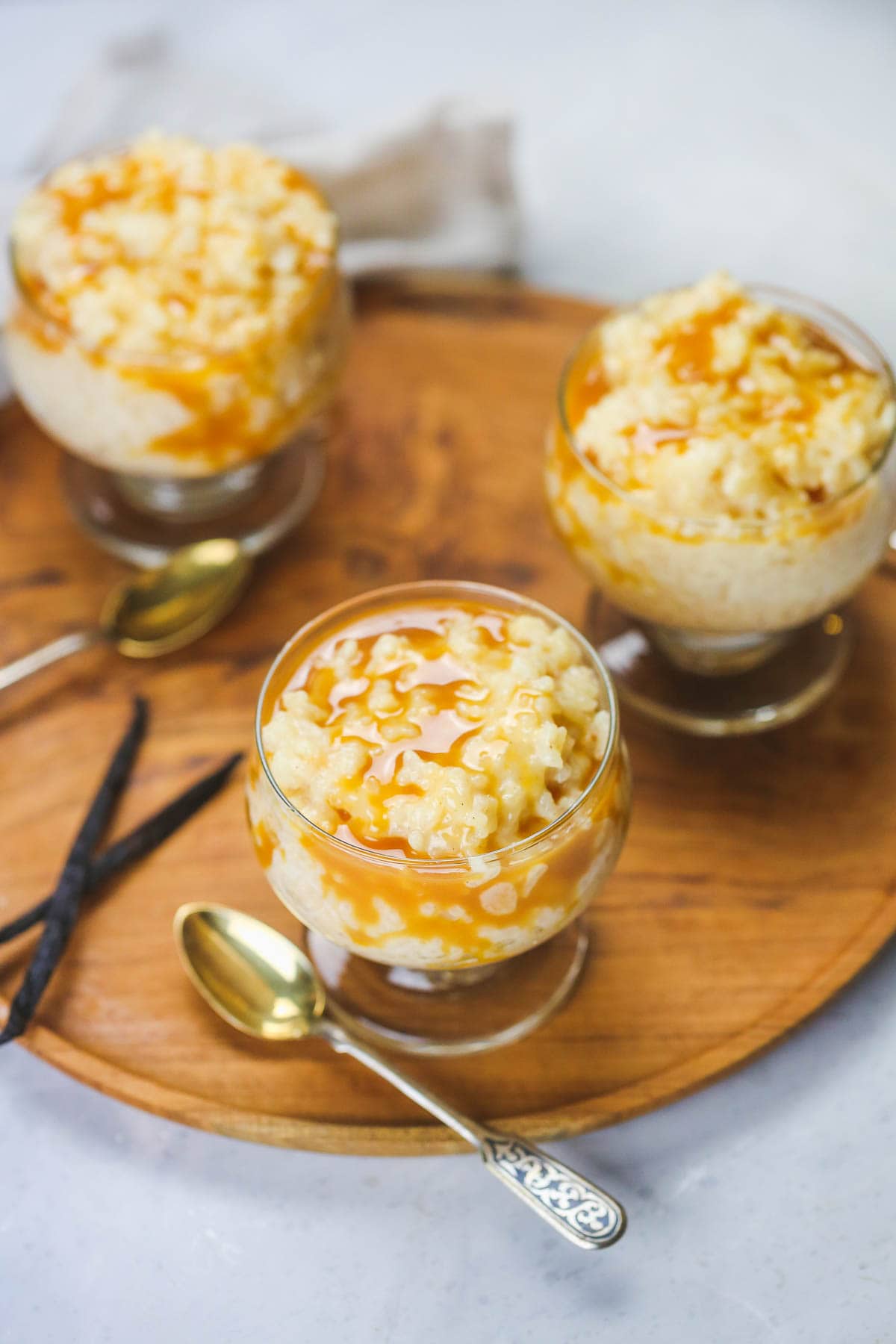 HOW TO VEGANIZE THIS RECIPE?
You can make vegan rice pudding, all you need to do is use nondairy milk (I recommend using creamy coconut milk) and vegan condensed milk. For a vegan condensed milk, you can use this coconut condensed milk it has a wonderful texture and tastes amazing!
HOW TO STORE THIS PUDDING
Make sure that your rice pudding is completely chilled before you put it in the fridge. Store in an airtight container for up to 3 days. Please be aware that the pudding will thicken, so when reheating it just stir in some more milk and give it a good mix.
LOOKING FOR MORE GREAT INSTANT POT RECIPES?
Try:
How to make pumpkin puree in the Instant Pot
Instant pot shrimp linguine pasta
WEIGHT WATCHERS POINTS: 13 smart points per portion on weight watchers freestyle plan.
If you make this recipe, please don't forget to rate it and share a picture on social media. Tag #LittleSunnyKitchen in your posts as I would really love to see what you make! Thank you for supporting Little Sunny Kitchen, so I can keep sharing my family recipes with you for free.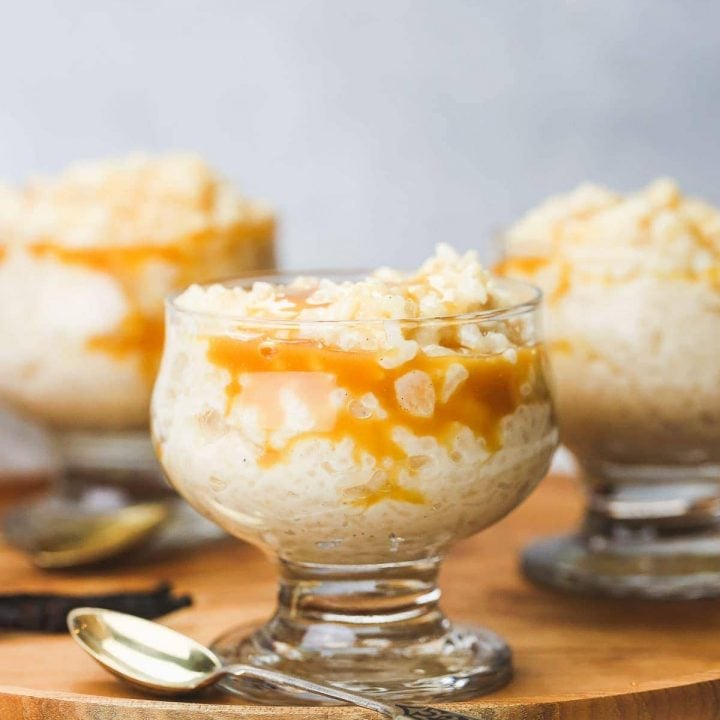 Instant Pot Rice Pudding
Failproof creamy Instant pot rice pudding recipe.
Print Recipe
Ingredients
1 cup

(175 grams)

short grain rice

or long grain rice

2 cups

(500 ml)

whole milk

1 1/2 cups

(375)

water

1

tsp

ground cinnamon

1/4

tsp

ground nutmeg

1

tsp

vanilla extract

1/2

tsp

salt

1 can

(397 grams)

condensed milk
Instructions
Start by rinsing the rice under cold water and strain.

Add rice to the Instant Pot, followed by milk, water, spices, and salt.

Stir to combine the ingredients, and close with the lid and seal. Cook on manual/high heat for 20 minutes.

Do a natural release for 10 minutes, then open vent and let the steam come out. Open the lid, stir in the condensed milk. Mix well until combined and creamy and serve.
Nutrition facts
Calories:
288
kcal
|
Carbohydrates:
50
g
|
Protein:
7
g
|
Fat:
6
g
|
Saturated Fat:
3
g
|
Cholesterol:
22
mg
|
Sodium:
237
mg
|
Potassium:
283
mg
|
Sugar:
30
g
|
Vitamin A:
230
IU
|
Vitamin C:
1.3
mg
|
Calcium:
214
mg
|
Iron:
1.2
mg