The best original hummus recipe. This hummus is creamy, garlicky, healthy, vegan, and delicious!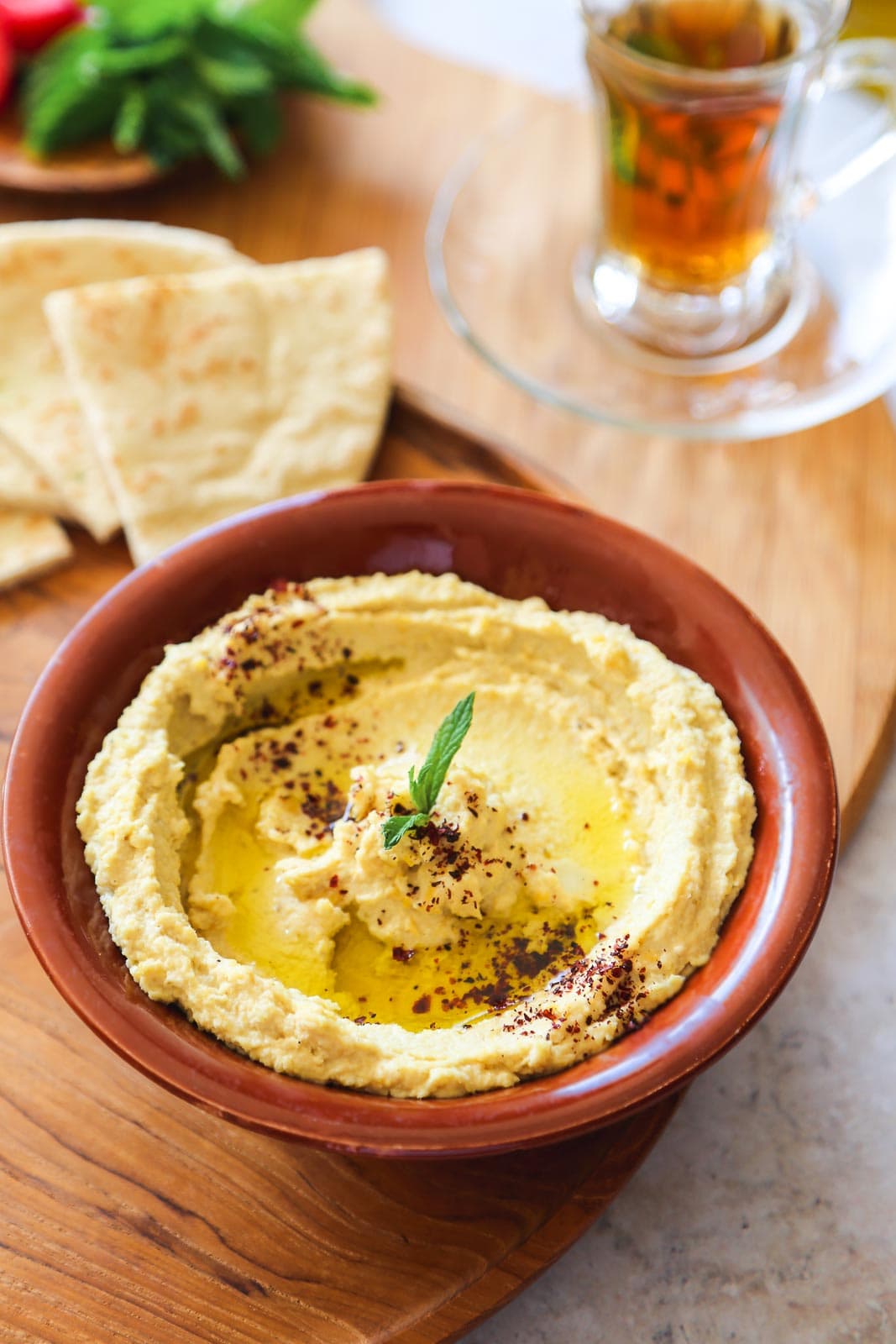 The other day I realised that I never blogged the original hummus recipe. I don't know how did that happen especially that I share on this blog so many Middle Eastern recipes, and hummus is one of these things that I eat at least twice a week if not more!
You probably have tried many different variations of hummus, but have you ever tried the REAL Middle Eastern hummus? The one that you would be served if you go to a traditional restaurant in Amman or Cairo or Damascus? Trust me, after trying this recipe you will never want to get store bought ever again!
ORIGINAL MIDDLE EASTERN HUMMUS
Hummus is an Arabic word that literally means chickpeas, and as this recipe is mainly made with chickpeas it was called that. It's one of these really simple and old recipes that my grandparents in Jordan used to make from dried chickpeas. And you can literally find this recipe in any traditional restaurant in Jordan, there are even many little restaurants in Jordan that only make Hummus, Falafel, and a couple of more things to go. So can you imagine how much hummus did I eat as I grew up in Jordan? The answer is LOTS!
As I moved to the UK, I started seeing different variations of hummus. Some of them were good, some were not. But I have never seen the original classic hummus being sold anywhere in Europe that tasted just like the original hummus dip or had the same texture!
HOW TO MAKE THE BEST HUMMUS
Because this is the original classic hummus recipe, it requires very basic ingredients. You will need either dried chickpeas that are cooked in water with cumin and salt until they're soft, or a can of chickpeas that is drained and rinsed.
I personally prefer using dried chickpeas as they're healthier, but you will need to soak them in cold water overnight or hot water for at least 3o minutes and then cook them until they're soft.
You will also need extra virgin olive oil, tahini, lemon juice, garlic, cumin, and a pinch of salt.
All of the ingredients go to a food processor and are turned into a silky smooth dip that you will fall in love with! You could also add a little bit of water to reach the desired consistency. However, I like to leave my hummus dip a tiny bit chunky.
Finish the hummus with a drizzle of good quality olive oil, and sprinkle some sumac.
WHAT TO SERVE HUMMUS WITH
Hummus is usually served with pita bread, and very often paired with falafel. It is great in falafel (and pita) sandwiches, along with a simple tomato tahini salad. And of course, a cup of sweet black tea with fresh mint leaves.
Hummus is also great in buddha bowls, lunch boxes, or just eaten as a dip with breadsticks, or cucumber and carrot sticks.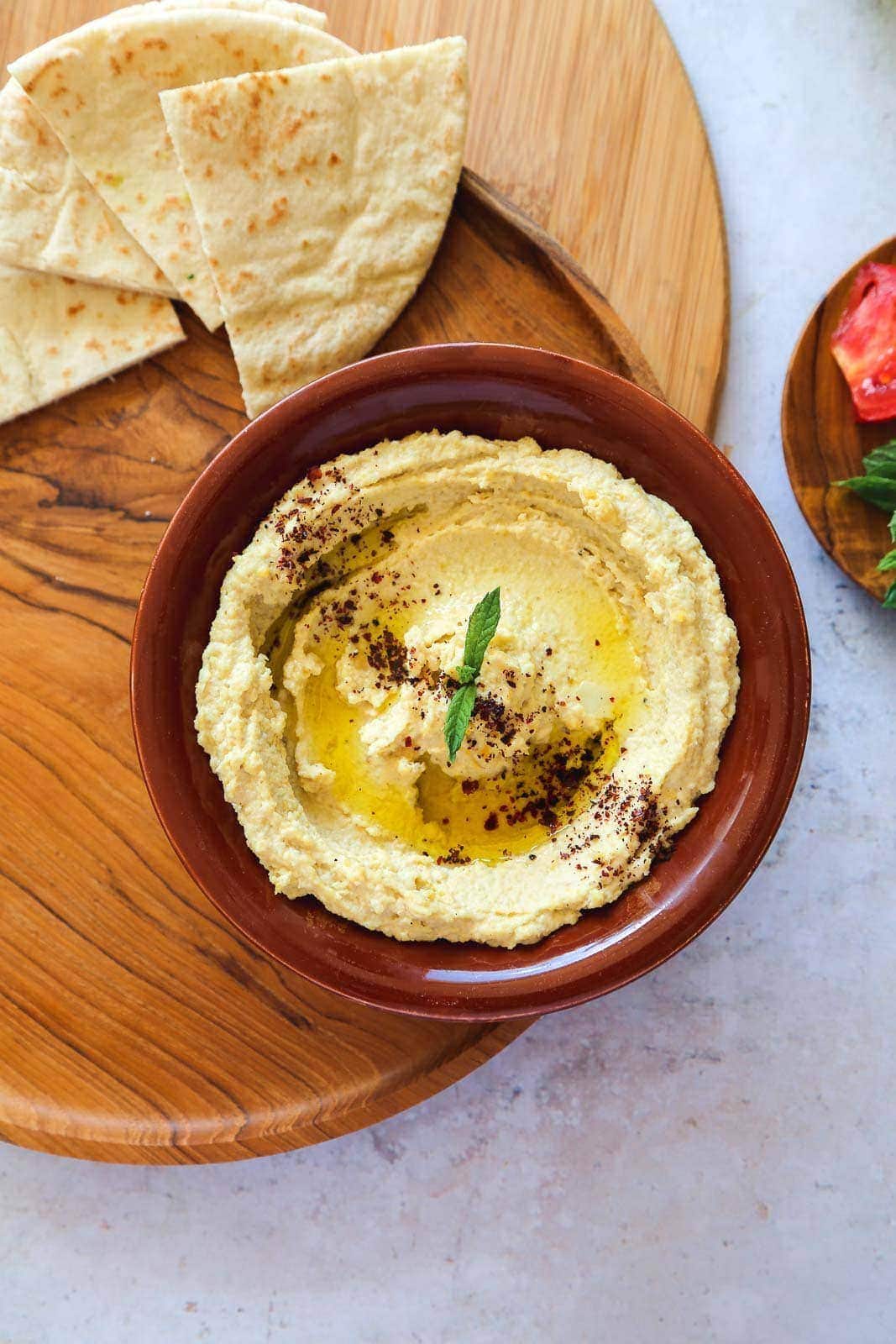 INTERESTING VARIATIONS OF HUMMUS
The most common hummus recipe is this original classic hummus dip. But you might also love this creamy beet hummus made with beetroots (this hummus is to die for!). For avocado lovers, this avocado hummus is so silky and smooth! And in the Autumn, I LOVE this pumpkin hummus, I'm sure that you will too!
If you make this recipe, don't forget to rate this recipe and share a picture on social media. Tag #LittleSunnyKitchen in your posts as I would really love to see your creations!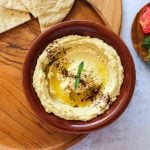 Classic Hummus
The original Middle Eastern classic hummus recipe.
Ingredients
1

can

chickpeas

drained and rinsed

2

cloves

garlic

1

tbsp

olive oil

1

tbsp

tahini

1/2

tbsp

lemon juice

1/2

tsp

ground cumin

salt
Instructions
Place all ingredients in a food processor and blitz until the mixture is smooth. You can add water to reach the desired consistency and texture.

Serve in a semi shallow dish, drizzle with olive oil and sumac.
Nutrition Facts
Classic Hummus
Amount Per Serving
Calories 38
Calories from Fat 27
% Daily Value*
Total Fat 3g 5%
Sodium 1mg 0%
Potassium 11mg 0%
Total Carbohydrates 1g 0%
* Percent Daily Values are based on a 2000 calorie diet.