Frozen Yogurt Bark topped with mixed berries and crushed pistachios is super easy to make and tastes really good! This no-cook recipe is perfect for breakfast, a snack, or dessert. It's a cool way to enjoy a tasty treat without spending a lot of time in the kitchen.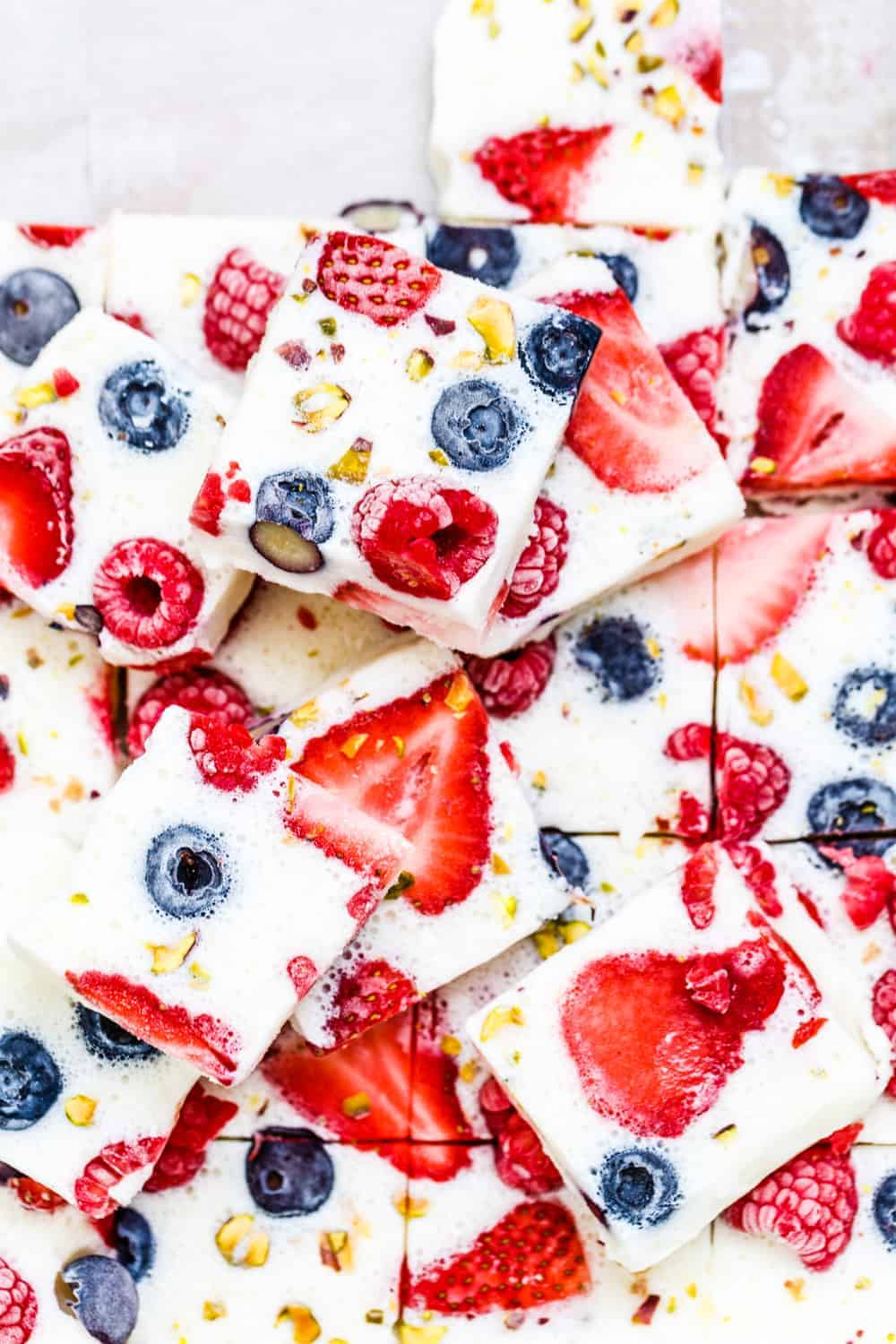 Frozen yogurt bark is a fun and simple snack that you can enjoy in many different ways. It's made with yogurt, which is really good for you because it has things like calcium and good bacteria that help keep your tummy happy. Then it's topped with delicious ingredients like fresh or frozen fruit, granola, seeds, or crushed nuts.
Ingredients and Substitutions
Yogurt: For the creamiest and yummiest frozen yogurt bark, it's best to use full-fat yogurt. Vanilla yogurt makes a great base because it adds a hint of sweetness and flavor, but feel free to use any flavor you enjoy.
Fruit: Adding fresh strawberries and blueberries not only makes the bark look pretty but also adds a burst of flavor. It's a fun way to include some healthy fruits in your snack. Don't limit yourself to just these fruits; you can also try using mango pieces, raspberries, or kiwi slices to mix things up (more ideas below)
Crunchy Toppings: If you like a bit of crunch in your snack, adding nuts and/or granola is a great choice. You can try making your own granola at home or pick up your favorite kind from the store (or try my tasty peanut butter granola recipe!). If granola isn't your thing, you can swap it for other crunchy options like nuts, seeds, or even a sprinkle of chocolate chips for a sweet touch!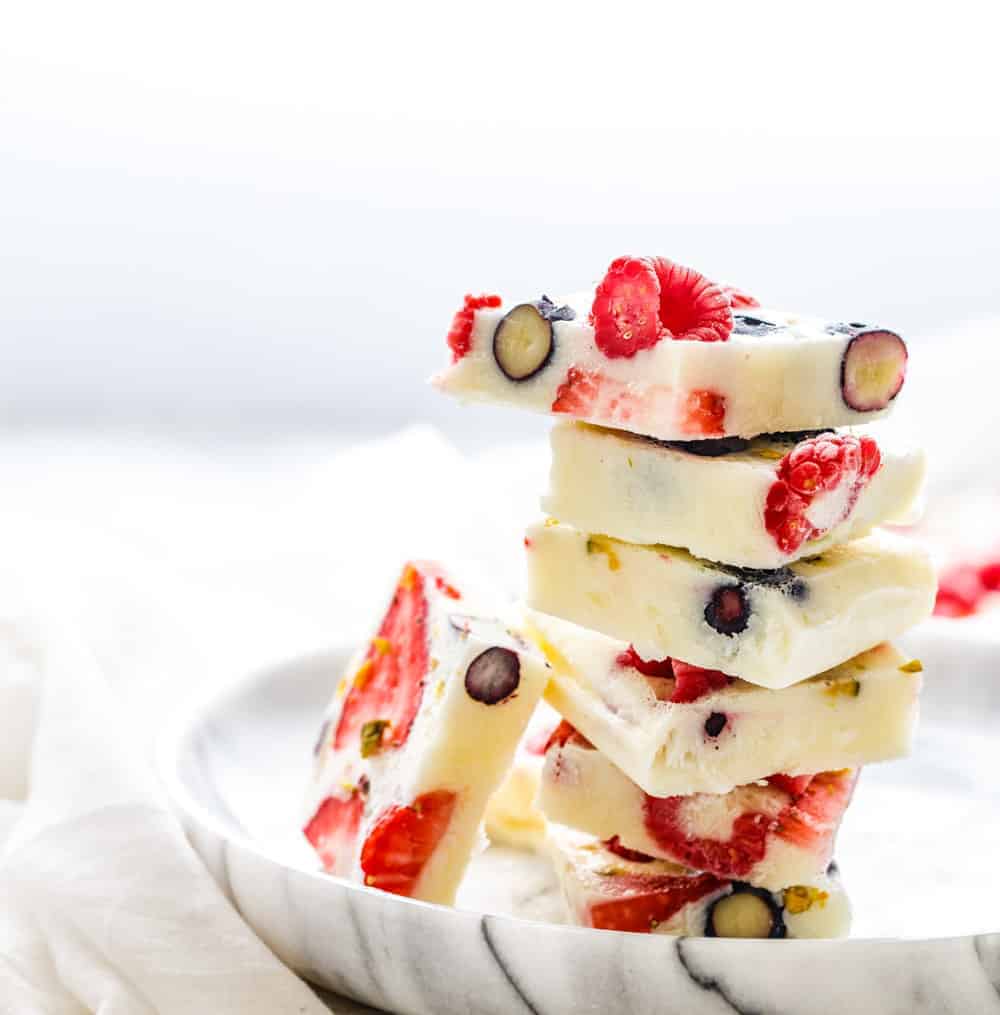 How to Make Frozen Yogurt Bark
Get the Tray Ready: First, grab a rimmed baking sheet and line it with parchment paper.
Prepare the Yogurt: Now, it's time to get your yogurt ready. If you want to add a little sweetness, mix a bit of maple syrup directly into the yogurt container. Stir it well until it's nicely mixed. Then, spread the yogurt evenly onto the prepared baking sheet.
Spread it Out: Use a spoon or a spatula to spread the yogurt out evenly on the tray. Try to make a thin layer so it freezes evenly and you can enjoy it sooner.
Time for Toppings: This is the fun part! Grab your berries, chopped nuts and any other toppings you're adding, and sprinkle them all over the yogurt.
Freeze it: Slide the tray into the freezer and let it sit for a few hours until it becomes all frozen and firm. This step is important to make sure your bark breaks into nice pieces later.
Enjoy Your Snack: Once it's completely frozen, take the tray out of the freezer. Use a knife to cut the bark into squares or you can just break it into pieces with your hands. You can eat it right away or store it in the freezer in a container to enjoy later.
Recipe Tips
Making frozen yogurt bark is pretty easy, but here are some tips to make sure it turns out great every time:
Smooth Base: Make sure to blend the yogurt until it's really smooth. This will help it freeze evenly.
Thin Layer: When you spread the yogurt on the tray, try to make it a thin layer. This way, it will freeze faster and you can enjoy it sooner!
Creative Toppings: Don't be afraid to get creative with your toppings. You can try different combinations to see what you like best.
Freezing Time: Be patient and let it freeze properly. It's usually best to leave it in the freezer for a few hours or overnight to make sure it's fully set.
Cutting the Bark: Use a sharp knife to cut the bark into pieces. This way, you'll get nice clean cuts.
Storing the Bark: If you don't eat it all at once, you can store the leftover bark in an airtight container in the freezer for up to a month.
Try These Fun Toppings!
Making frozen yogurt bark is super fun because you can try lots of different toppings each time you make it. Here are some cool ideas to get you started:
Fruits: Add slices of bananas, chunks of mango, or kiwi pieces for a fruity twist.
Crunchy Bits: Sprinkle some granola or your favorite cereal on top for a nice crunch.
Sweet Treats: For a little extra sweetness, add a few chocolate chips or tiny marshmallows.
Nutty Flavors: If you like nuts, try adding some almonds or walnuts.
Seeds: Sprinkle some chia seeds or sunflower seeds for a healthy touch.
Remember, the best part is mixing and matching different toppings to make your very own unique frozen yogurt bark!
I hope you have a blast making and enjoying this frozen yogurt bark! If you give this recipe a try, I'd love to hear what you think. Don't forget to rate and review it, Your feedback helps others too!
If you're on Pinterest, feel free to pin this recipe to your favorite recipe board. And hey, if you snap any pictures of your yummy creations, share them on Instagram and tag us so we can feature them on our stories. We can't wait to see your awesome yogurt bark variations!
Did you make this? Be sure to leave a review below and tag me on Facebook, Instagram, or Pinterest!
Recipe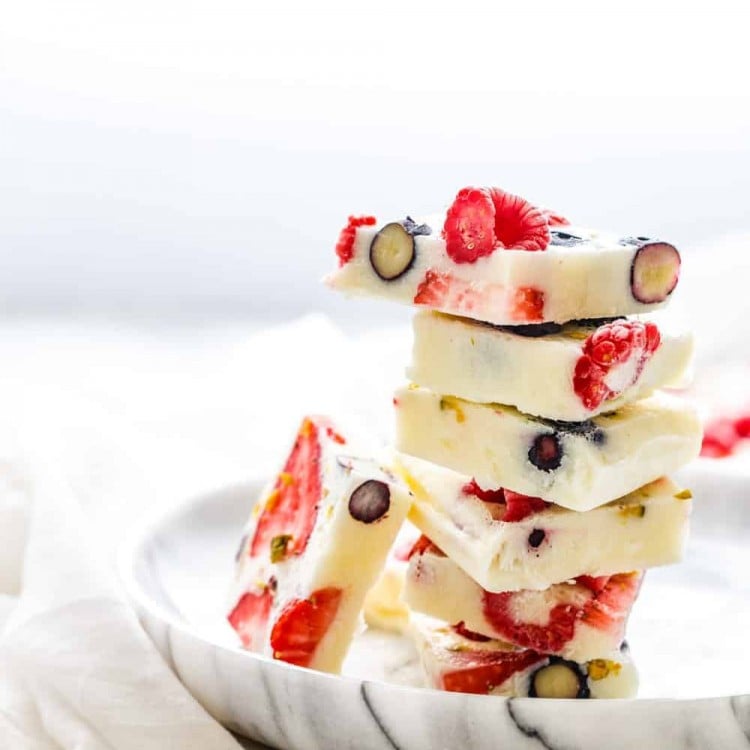 (Click stars to rate!)
Yogurt Bark with Berries and Nuts
Get ready to make a super cool and yummy snack with this frozen yogurt bark recipe! It's really easy to make and you can add your favorite toppings to make it even more fun.
Get ready to make a super cool and yummy snack with this frozen yogurt bark recipe! It's really easy to make and you can add your favorite toppings to make it even more fun.
Ingredients
1

pound

(

450

g

)

yogurt

whole milk natural, or Greek yogurt

1

tablespoon

(

15

ml

) maple syrup

optional
Toppings
8

ounces

(

225

g

)

berries

like strawberries or blueberries

1

ounce

(

30

g

)

nuts

crushed
Instructions
Line a rimmed sheet pan with parchment paper.

In a bowl, mix the yogurt with a bit of maple syrup if you want it to be a little sweet. If not, just use the yogurt as it is.

Spread the yogurt onto the tray using a spoon. Make sure to spread it thinly so it freezes well.

Sprinkle the fruit, chopped nuts, and any other toppings you're using all over the yogurt.

Transfer the tray to the freezer and wait for a few hours (at least 3) until it's all frozen and firm.

When it's all frozen, take it out of the freezer and cut it into squares. You can eat it right away or save it in the freezer to eat later. Serve cold.
Notes:
Storage: Store leftover yogurt bark in an airtight container in the freezer for up to 3 months.
Toppings: Feel free to experiment with different toppings such as various fruits, nuts, or a sprinkle of chocolate chips.
Yogurt Varieties: You can use different flavors of yogurt to change the taste of your bark.
Nutrition Information
Calories:
26
kcal
,
Carbohydrates:
3
g
,
Protein:
1
g
,
Fat:
1
g
,
Saturated Fat:
0.5
g
,
Polyunsaturated Fat:
0.2
g
,
Monounsaturated Fat:
1
g
,
Cholesterol:
2
mg
,
Sodium:
9
mg
,
Potassium:
43
mg
,
Fiber:
0.4
g
,
Sugar:
2
g
,
Vitamin A:
23
IU
,
Vitamin C:
0.3
mg
,
Calcium:
25
mg
,
Iron:
0.1
mg
This website provides approximate nutrition information for convenience and as a courtesy only. Nutrition data is gathered primarily from the USDA Food Composition Database, whenever available, or otherwise other online calculators.
© Little Sunny Kitchen