Falafel is one of Middle East's most popular dishes, it's naturally vegan, healthy and incredibly delicious! Here's an authentic falafel recipe exactly how it's made in Arab countries. Simple, nutritious, frugal and loved by everyone!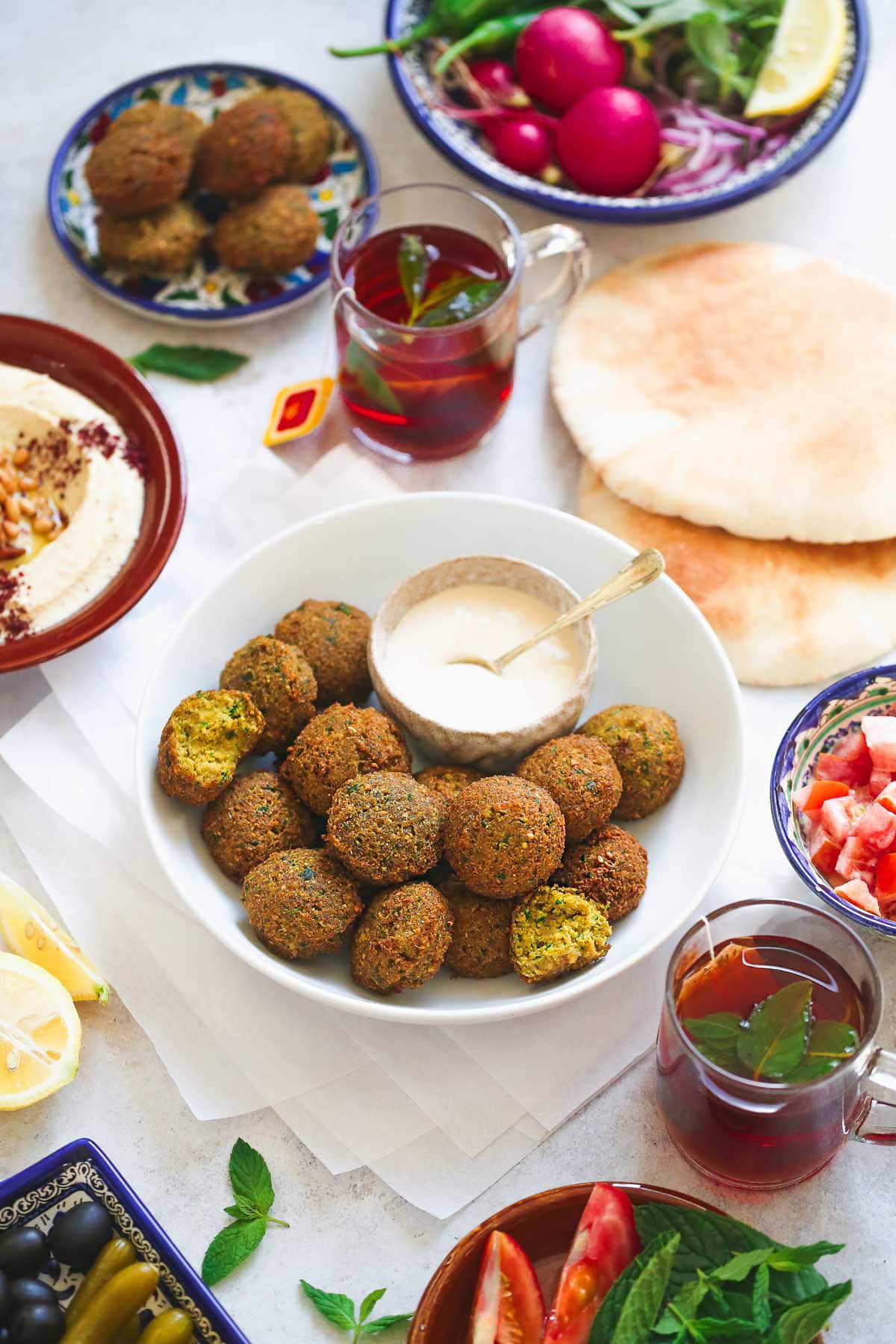 I grew up in Jordan, and every Friday we would have this phenomenal breakfast that every Jordanian/Palestinian/Syrian/Lebanese family would start their Friday with! It's just a Friday thing that every family does. On the table, you will find fresh falafel, hummus, fattet hummus, foul mudammas, baba ganoush, freshly baked flatbreads and sweet mint tea.
As the weekend in Jordan is Friday and Saturday, we always looked forward to Friday as it meant a day off to spend with the family, and Friday vibes that started with a big breakfast of falafel and hummus.
Falafel became so popular all over the world, especially amongst vegans! The crunchy from the outside, but soft from the inside chickpea balls are a true vegan's dream. So here I am sharing today, one of my favourite Middle Eastern recipes that I grew up with.
What Is Falafel
Chickpea balls that are usually deep fried (and sometimes baked), the mixture is often made with dried and presoaked chickpeas, ground cumin, onion, garlic, parsley and spice. This Falafel version is Jordanian/Palestinian/Syrian/Lebanese.
I've seen so many different versions of falafel on the internet, and so many sold here in the supermarkets and in little cafes. But this recipe that I'm sharing with you is the authentic falafel recipe. I think that the other versions are also great (such as butternut squash falafel), but this simple chickpea recipe is definitely the best!
Now let's talk about what's in falafel?
Falafel Ingredients
Dried chickpeas, Yellow onion and garlic.
Chilli, ground cumin, ground coriander, fresh parsley.
Baharat seasoning, baking soda, salt, and vegetable oil for frying.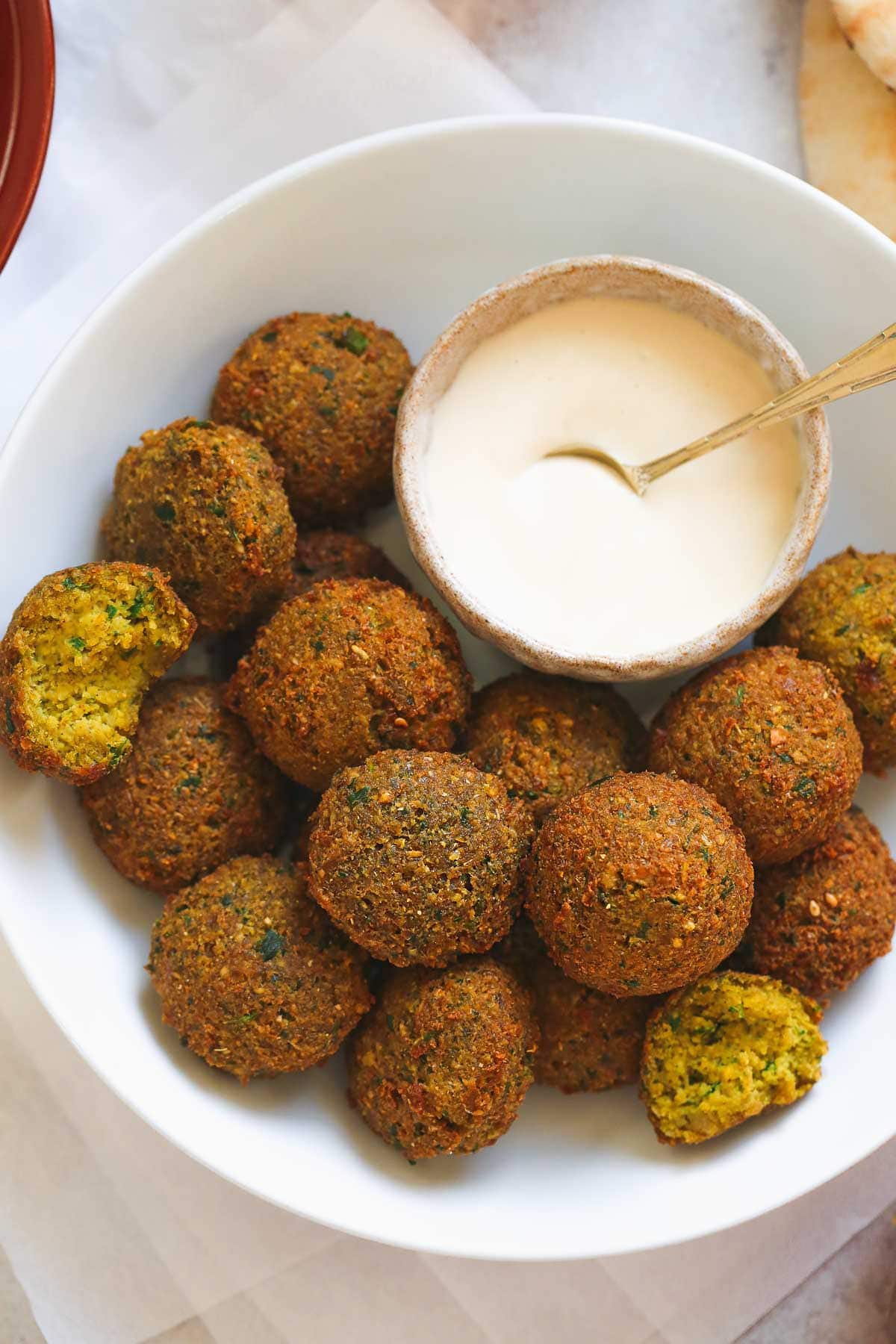 Canned or Cooked Chickpeas Do Not Work!
And do NOT let anyone tell you otherwise! I've seen so many recipes on the internet with canned or cooked chickpeas, and trust me, these content creators have no idea what they're talking about!
Making falafel using cooked chickpeas will turn into mush that will fall apart in the oil as you fry it and crumble if you choose to bake it.
So if you see a recipe on the internet that calls for cooked chickpeas, close it right away! It will only waste your time and ingredients.
To make falafel, you MUST use dried chickpeas and soak them in water for at least 8 hours but preferably overnight.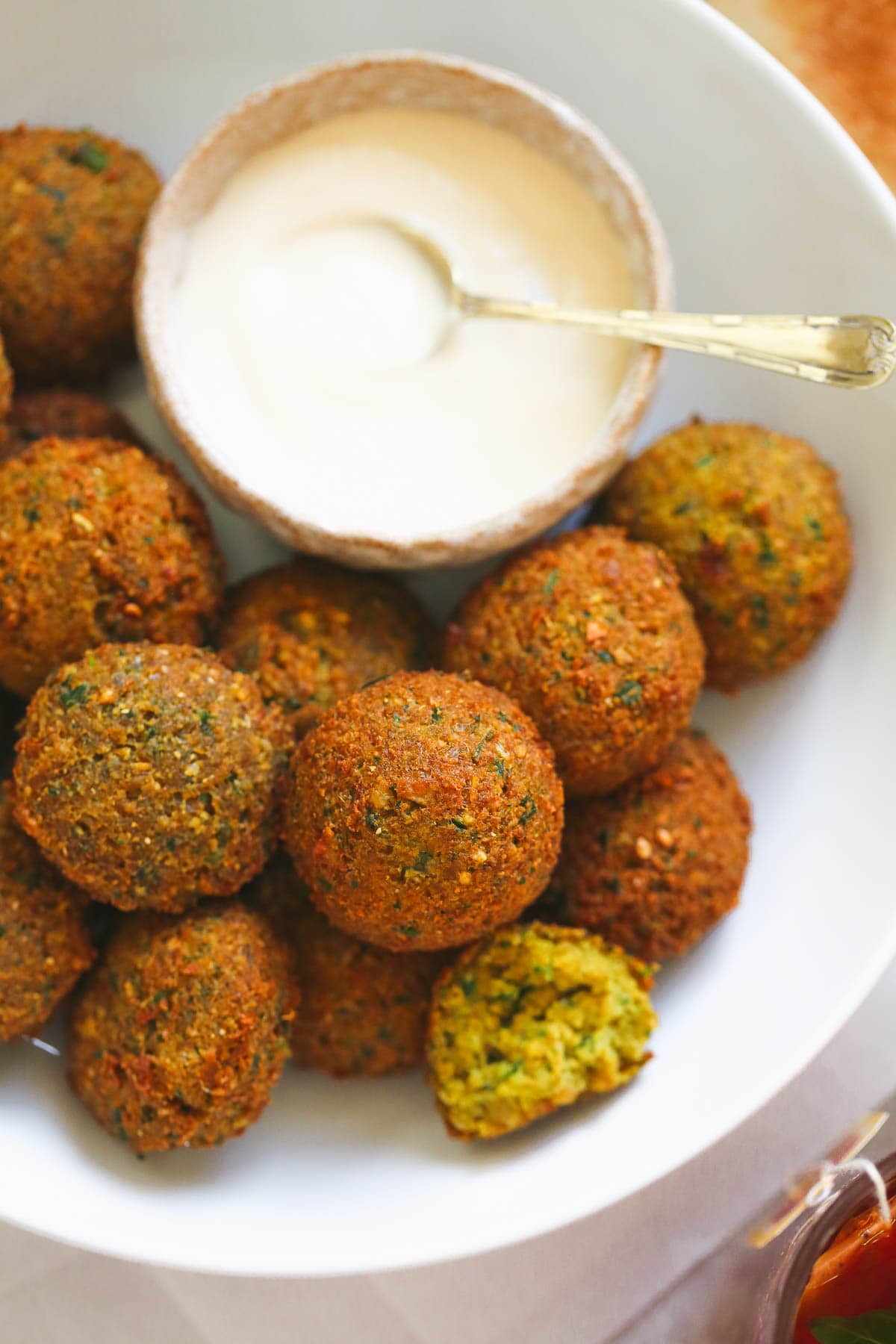 How to Make Falafel
I know it can sound a bit complicated, but trust me, making falafel is quite easy as long as you remember to soak your chickpeas overnight!
You will need to put all of your ingredients in a food processor, and blitz until you get a crumbly consistency.
This is what sort of texture you want (see image below). You can go a bit further and get a smoother texture if you like.
If you're planning to freeze the mixture to fry later, or even refrigerate it to make on the next day, then DO NOT add the baking soda. The baking soda is meant to be added just 5-15 minutes before frying!
If you don't have baking soda, then use baking powder instead. Don't skip this ingredient as it helps your falafel become airy and soft rather than tough and dense.
Now it's time to shape the balls. There are 3 ways to shape falafel balls depending on what you have available:
The traditional way using a falafel scoop, and that's how it's done in the Middle East if you go any falafel shop (see picture below). The shape is not exactly round, I call them "falafel tablets" but once they're fried they will puff up a little and become round-ish. That's also what I've used to make the falafel that you can see in the pictures for this recipe.
Use a 1 tbsp round measuring spoon. This also works great, not as fast and efficient as using a falafel scoop but it does the job. It also ensures that you get falafels that are even in size.
Use your hands! Take a little bit of the mixture, and shape small balls with your hands.
Traditional falafel scoop[/caption]
How to Fry Falafel
Heat vegetable oil in a wok or a dutch oven and let it reach 170-180°C (340-350°F). If the hot is not hot enough, the falafel can start breaking apart so checking the oil temperature using a kitchen thermometer really helps. If the oil is too hot, you might end up with centers that are too moist and undercooked while the outer part is already brown and can't stay longer in the oil.
Drop the falafel balls in hot oil (bring them close to the oil before dropping them), and fry every 4-6 falafel balls at once.
Don't step away while frying the falafel as they can burn easily and make sure that the temperature of the oil is consistent. When they're ready, dry them on kitchen towels so that the excess oil is absorbed. Serve warm.
Falafel Tahini Dip – Tartoor Sauce
Falafel and tahini is a match made in heaven! You can dip warm falafel balls in hummus, but a tahini dip is a must!
You can either dip falafel balls in the tahini balls when eating or if you're making a sandwich then simply drizzle the sauce over the falafel. Now what's even more traditional, is to make a tahini salad for the falafel sandwiches. This salad can be made with cucumber and tomato along with the tahini sauce, but the more traditional way is to make it with tomato and omit the cucumber. So the call is yours, whichever you choose to make, I promise you, it will be super delicious!!
Now back to the tartoor sauce, this silky smooth sauce is a falafel dip but to be honest it goes SO well with so many things! Like roasted veggies for example, YUM!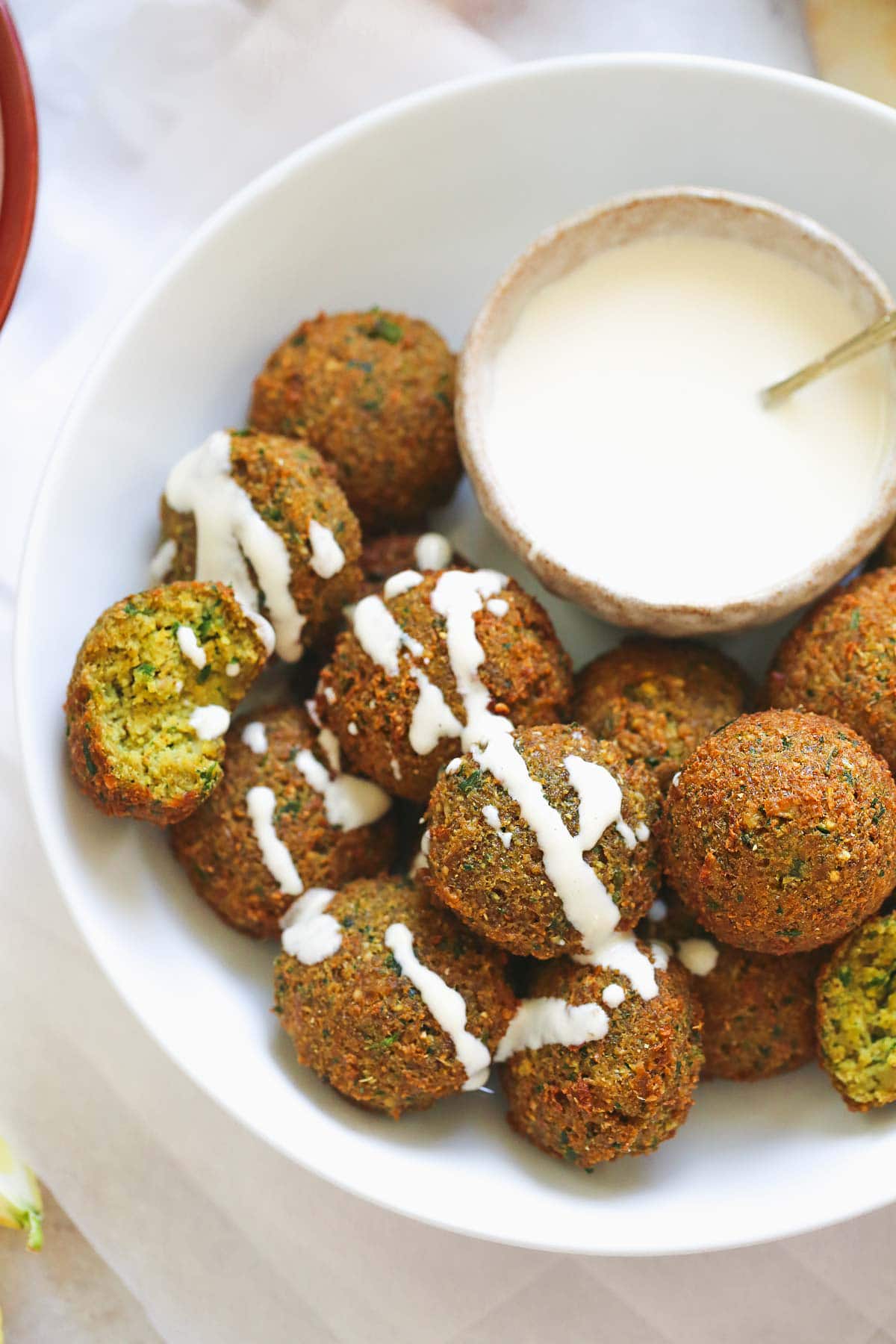 Serving
Falafel can be enjoyed in different ways, preferably warm.
On their own served on a small plate, with mezze plates such as hummus, foul mudammas, tabbouleh salad, fattet hummus, mutabbal, freshly baked flatbreads, and sweet mint tea.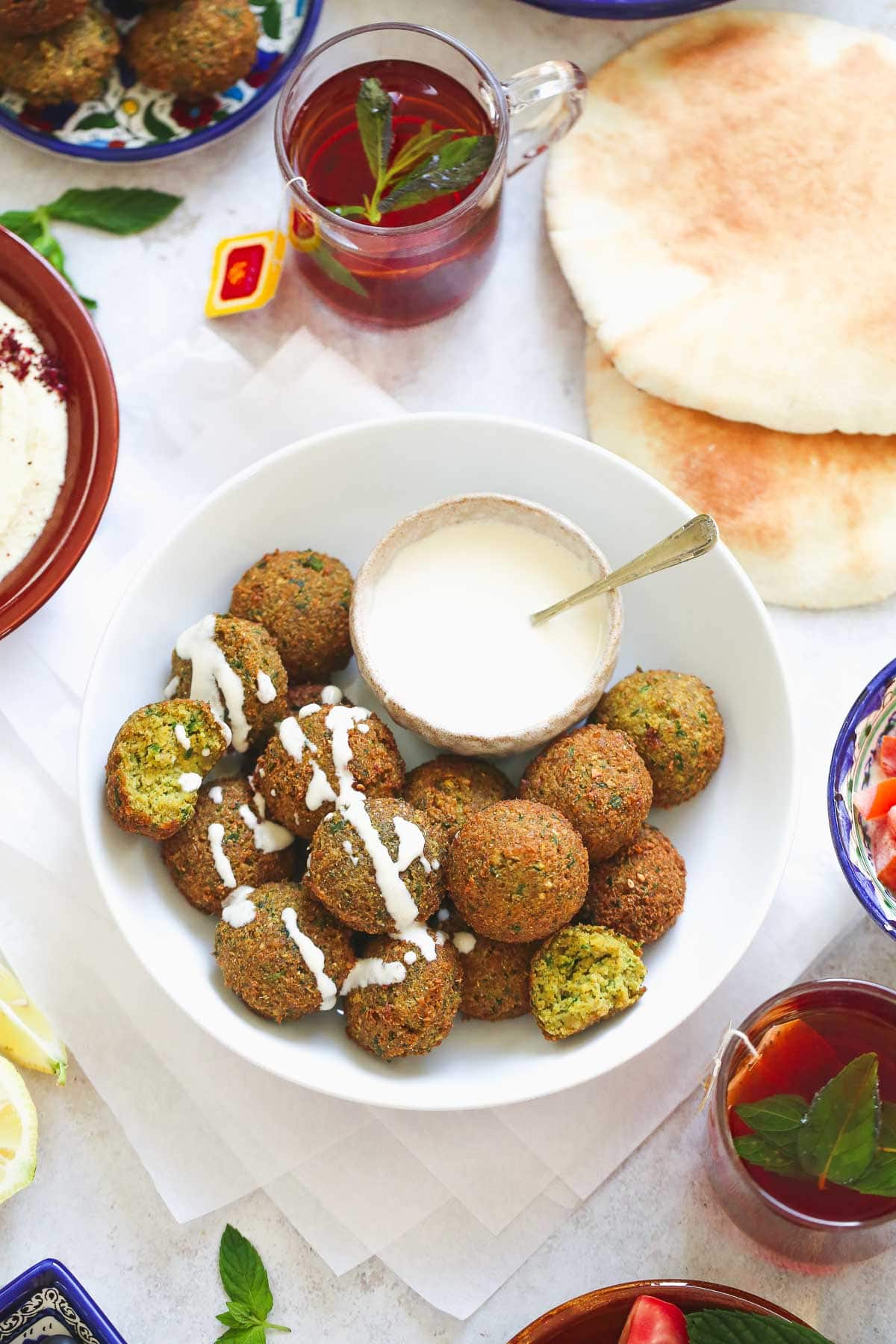 Falafel Wraps
A falafel wrap or a falafel sandwich is another favourite. In a fresh pita bread, spread a little bit of hummus, add a few falafel balls (lightly smash them with a fork!), tahini salad, sliced gherkins, some fresh mint leaves and a couple of fresh lemon slices. BEST THING EVER!
You can also use bigger pita bread and make wraps with the same ingredients.
If you're buying a falafel sandwich in the Middle you may also find the following traditional falafel toppings to be added to your sandwich:
Shallow fried/baked cauliflower
Shallow fried/baked eggplant or aubergine
Lettuce
Pickled Turnips
Pickled chilli peppers
Tomato slices
Hot sauce
Chopped parsley
Sumac
In the West, I've seen more toppings that are not traditionally used in the Middle East but they're also very delicious, such as:
Julienned carrots with lemon and olive oil
Couscous salad
Sweet corn
Chickpea salad
Onion rings
Red cabbage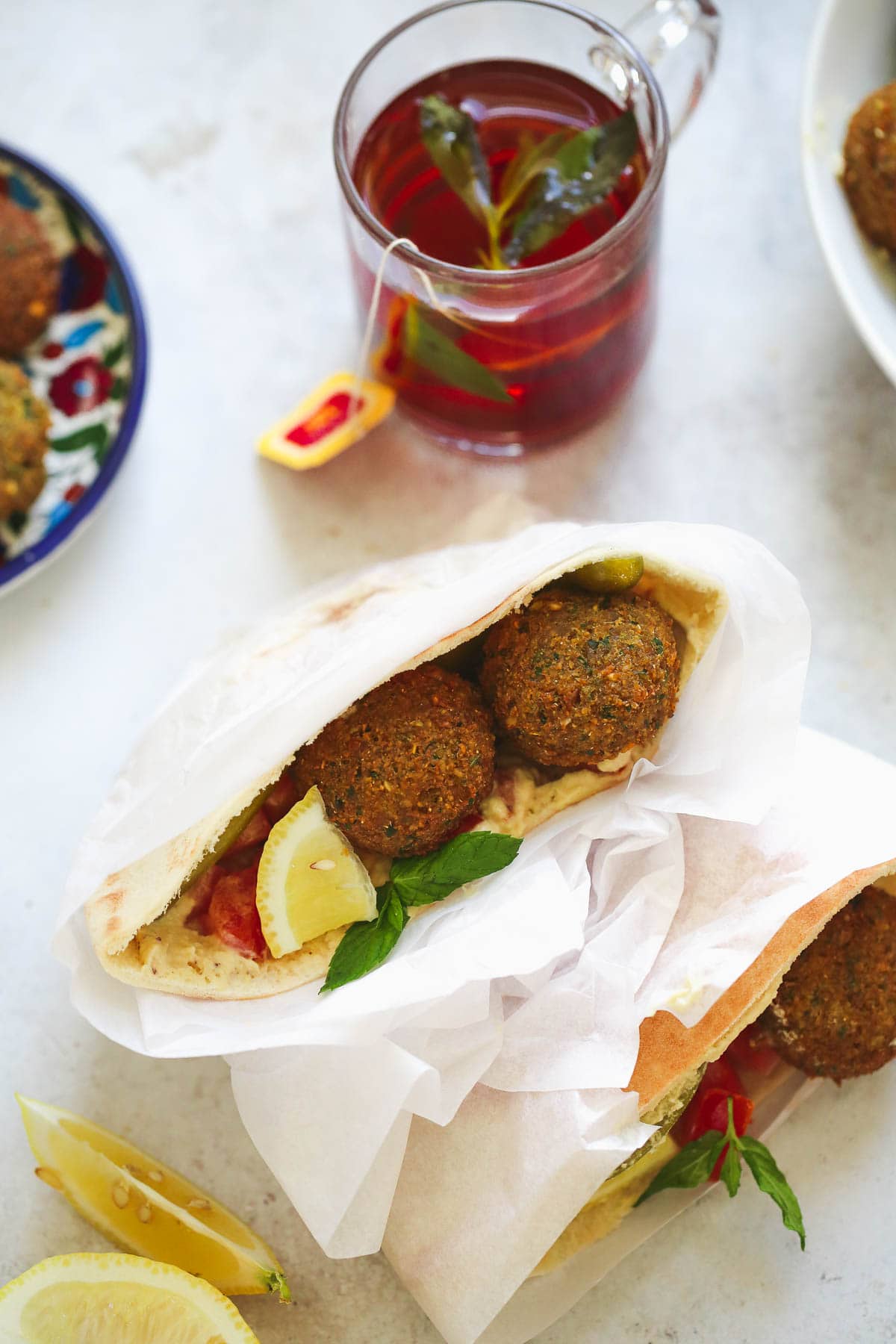 Falafel Salad Bowl
If I'm having falafel for lunch or dinner, I make a falafel salad bowl. Bits of everything go into a bowl and it's absolutely heavenly!

Falafel Must Be Eaten Warm!
Arabs eat their falafel warm, if there are leftovers then they will be used to make something like Manakeesh falafel (see picture below). And that's the reason when you go to buy falafel, they quickly fry it in front of you!
I personally eat cold falafel if we have any leftovers left, and sometimes even make some for our meal prep.
Manakeesh Falafel
On pizza dough, spread tartoor sauce (recipe is in the recipe card below) crumble falafel and press down diced tomato. Bake in the oven until the dough is cooked through and the edges are crispy.

Falafel Calories
There are about 57 calories in each falafel ball. That's a rough estimate, for more nutrition values check the recipe card.
Weight watcher points: 6 WW smart points in one portion of falafel (3-4 falafel balls, depending on size).
Subscribe to my Newsletter, and follow me on Facebook, Instagram, and Pinterest for more tasty recipes!
I don't feel like I say this often enough, or that I could ever thank you enough. But THANK YOU for all of your support, for visiting my blog, commenting, and sharing my recipes with your friends and family. I am SO thankful for you!
If you make this recipe or any of my recipes, then don't forget to rate it and leave a comment below. I would LOVE to hear about your experience and your comments just make my day!
I hope that you love every recipe that you make! – Diana x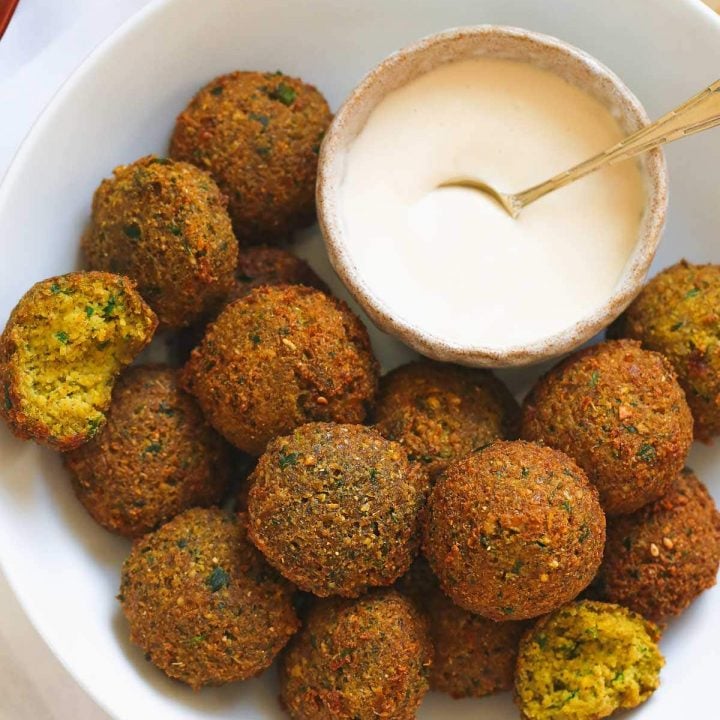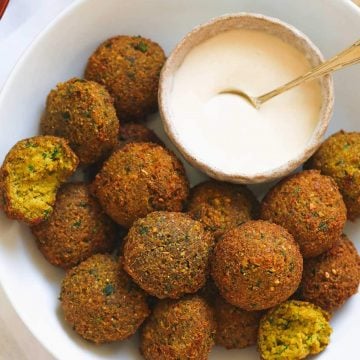 Falafel
Falafel is one of Middle East's most popular dishes, it's naturally vegan, healthy and incredibly delicious!
Print
Pin
Rate
Ingredients
For the falafel:
1 pound

(450 grams)

chickpeas

soaked in water overnight (not cooked)

1

onion

2

cloves

garlic

½

green chili

½

cup

parsley

1

tablespoon

ground cumin

1

teaspoon

baharat spice mix

2

teaspoons

ground coriander

1

teaspoon

salt

½

teaspoon

baking soda

or baking powder

sunflower or corn oil

for frying
For the tahini dip (tartoor sauce):
½

cup

tahini

½

cup

water

you might need to add more (preferably cold)

3

tablespoons

lemon juice

1

clove

garlic

crushed

½

teaspoon

salt
Instructions
To make the falafel
In a food processor, blitz all of the falafel ingredients (except for the baking soda) until you get a smooth consistency.

Chill the mixture in the fridge for 15 minutes. Then take it out and fix in the baking soda.

Heat the oil in a wok or a dutch oven, let it reach 170-180°C (340-350°F) then create a ball shape falafel and drop them in the hot oil. Fry every 4-6 falafels at once.

Don't step away while frying the falafel as they can burn easily and make sure that the temperature of the oil is consistent. When they're ready, dry them on kitchen towels so that the excess oil is absorbed. Serve warm.
To make the tahini sauce (tartoor dip)
In a small bowl, add tahini with water and mix using a spoon. The tahini will absorb the water. Then add lemon juice, and whisk. This is when the sauce will brighten up. Mix in garlic, and add salt. Add more water if the sauce is too thick.
Notes
Only add the baking soda 5 minutes before frying. If you don't have baking soda, you can use baking powder instead. Don't skip this ingredient as it helps your falafel become airy and soft rather than tough and dense.
If you plan on freezing the falafel mixture, don't add the spices or the baking soda.
If your falafel starts falling apart while frying, it means that your oil isn't hot enough.
Fry 4-6 pieces together at most at a time.
You can change the amounts of the seasonings used if there is a particular taste that you like.
Nutrition
Calories:
57
kcal
|
Carbohydrates:
1
g
|
Protein:
1
g
|
Fat:
1
g
|
Saturated Fat:
1
g
|
Sodium:
127
mg
|
Potassium:
15
mg
|
Fiber:
1
g
|
Sugar:
1
g
|
Vitamin A:
5
IU
|
Vitamin C:
1.6
mg
|
Calcium:
4
mg
|
Iron:
0.2
mg