Baba Ganoush is a Middle Eastern vegan aubergine/eggplant dip that not only tastes great but also has a lovely texture that you will fall in love with! It's made with roasted smoky aubergine/eggplant, tomatoes, onion, garlic, olive oil, lemon juice, parsley, and salt!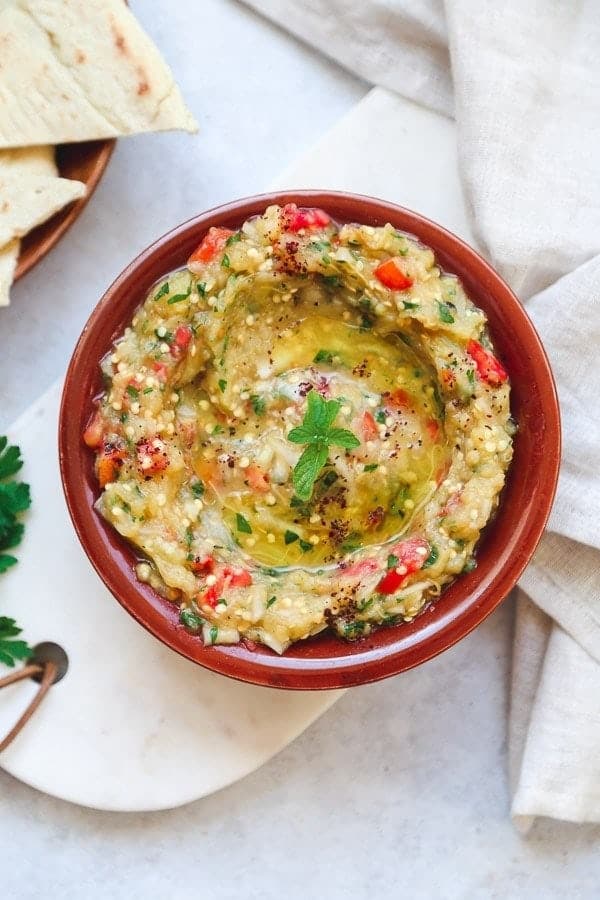 If you're looking for a creamy tahini aubergine dip recipe, then you must be looking for Mutabbal not baba ganoush.
People often confuse Baba Ganoush with Mutabbal, and it kinda drives me insane! If I go on Google and type "Baba Ganoush" I get Mutabbal recipes instead. The original Baba Ganoush recipe DOES NOT contain any tahini! I wonder who started this?
MIDDLE EASTERN MEZZE
One of my favourite things about the Middle Eastern cuisine is the Mezze. Mezza means a collection of different great tasting little dishes, that you would normally eat with pita bread and are served as appetisers before the main course arrives. Of course, there is cold mezze and warm mezze, some dishes are vegan or vegetarian but others are meaty. In general, mezze contains a lot of vegetables which is always a win!
I post Middle Eastern mezze recipes quite often on the blog, so here's baba ghanoush to be added to the list.
THE DIFFERENCE BETWEEN BABA GANOUSH AND MUTABBAL
Baba Ghanoush is often confused with Mutabbal, and I really feel the need to explain the difference between these two Middle Eastern appetisers. Mutabbal is made with eggplant, garlic, lemon juice, olive oil, and tahini (sesame sauce). While Baba Ghanoush is made with eggplant, onion, tomato, garlic, lemon juice, olive oil, parsley, and no tahini! They look very different, the texture is different, and the taste is also very different. If you ask me which one is my favourite, I'd say both!
HOW TO MAKE BABA GANOUSH
Preparing this recipe is much simpler than it looks. You have to roast an eggplant, mash it, add chopped onions, tomatoes, parsley. And then add lemon juice, olive oil, garlic, and salt. You could also add pomegranate molasses. Give the mixture a good mix, add all the garnishes and serve! This dish is eaten with freshly baked pita bread, not necessarily but usually along with other mezze dishes.
HOW TO ROAST AN AUBERGINE/EGGPLANT
There are many ways to roast an eggplant:
Roast it by placing it directly over the stove top and turn it side to side until the skin is burnt and pulp or flesh is soft and tender.

Bake it in the oven. Score the aubergine using a knife, then wrap with foil and bake for 40-50 minutes. Turn it around twice while cooking.

Slice your eggplant in half then place it on a baking tray and bake on 180c for 50 minutes.
I find that the easiest way to roast the eggplant is by placing it directly over the stovetop as it only takes 15 minutes (but then you'll have to clean the stove! ). You will get that lovely smoky taste if you roast it on the stove.
HOW TO ROAST AUBERGINES/EGGPLANTS ON THE STOVE
My favourite and easiest way to roast an aubergine is by placing it directly over the flame on the stove top. It takes just 15 minutes to roast and gives a very lovely smoky taste to the aubergine/eggplant.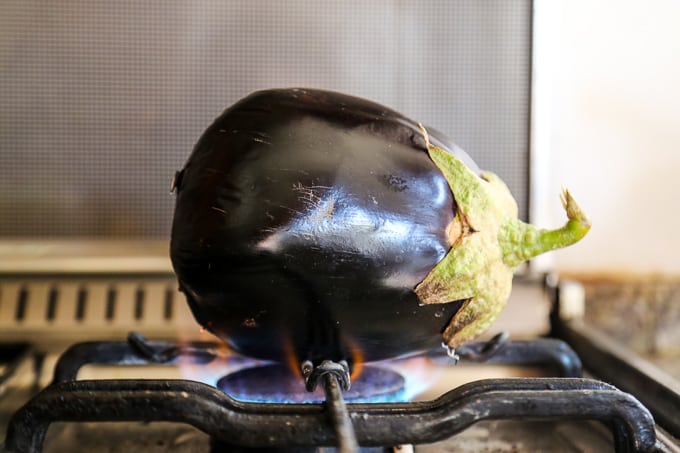 Start by placing the aubergine directly over the flame. If roasting 2 aubergines, then roast each on a separate flame.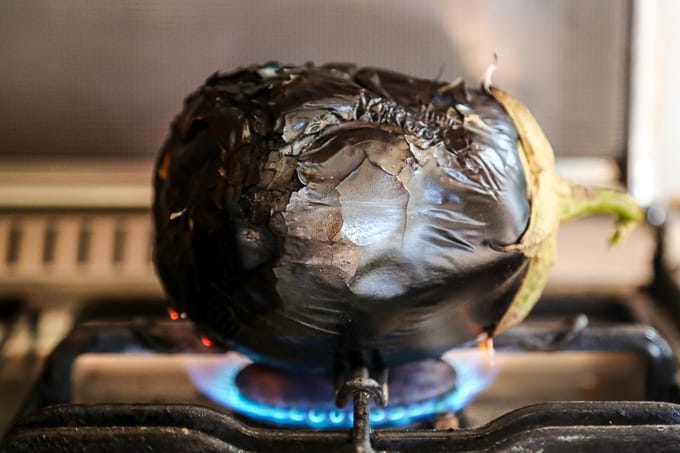 The aubergine/eggplant will start to cook, so use metal tongs to turn it over occasionally so it's cooked evenly from all sides. If you have an induction hob, it works exactly the same way.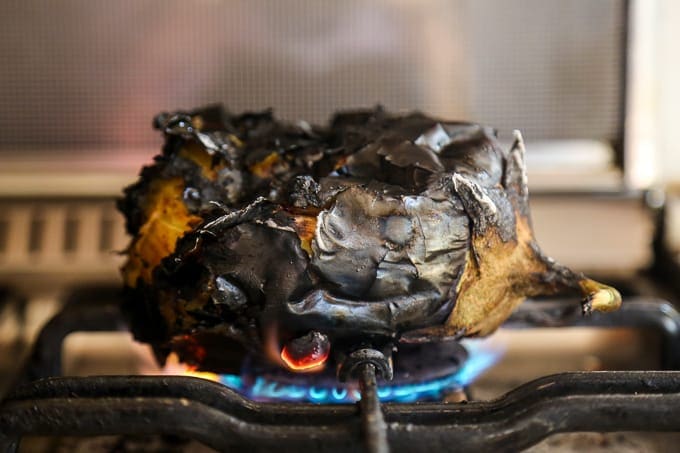 When the aubergine/eggplant becomes flaky from the outside, but the flesh is soft, it means that the aubergine is ready. The skin will be burnt, and the juices will start coming out but that's okay.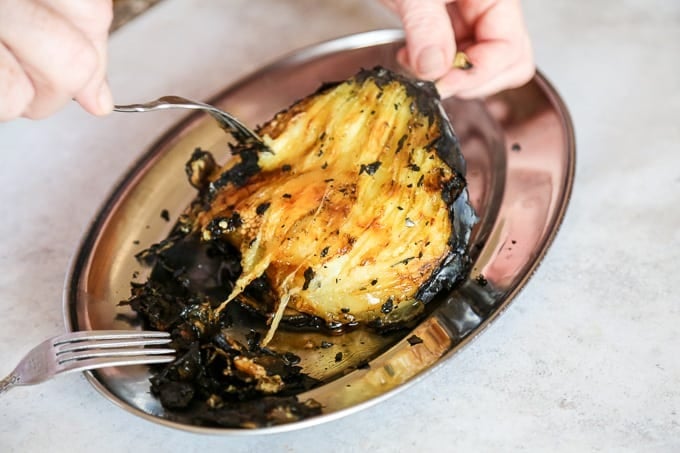 Remove the aubergine from the stove, and set aside on a metal tray and let it cool down slightly. You will have to peel the burnt skin off while the aubergine/eggplant is still warm, as it becomes a bit too difficult to peel once the aubergine cools down completely. I like to use a fork to remove the burnt skin.
HOW TO MAKE BABA GANOUSH FROM SCRATCH (STEP BY STEP

TUTOPRIAL

)

As your aubergine/eggplant is roasted and ready, you will need to put it in a medium bowl and see if any burnt skin is left and take it out. The small bits are okay and give a lovely flavour, but if you find any large ones you will need to get rid of them.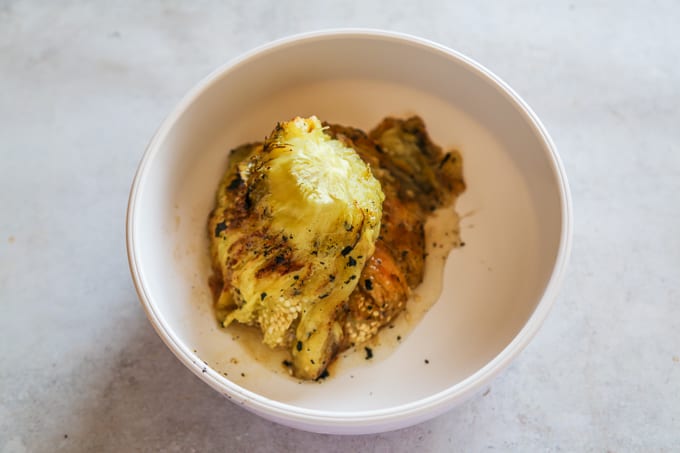 Using a knife, a mashed or an electric blender, mash the cooked aubergine. I like to keep mine a little chunky and never use a blender to do this.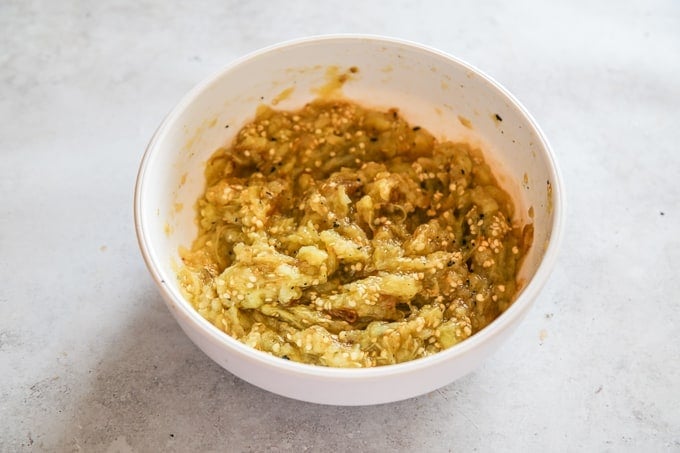 Dice a tomato, an onion, chop some parsley and crush some garlic cloves.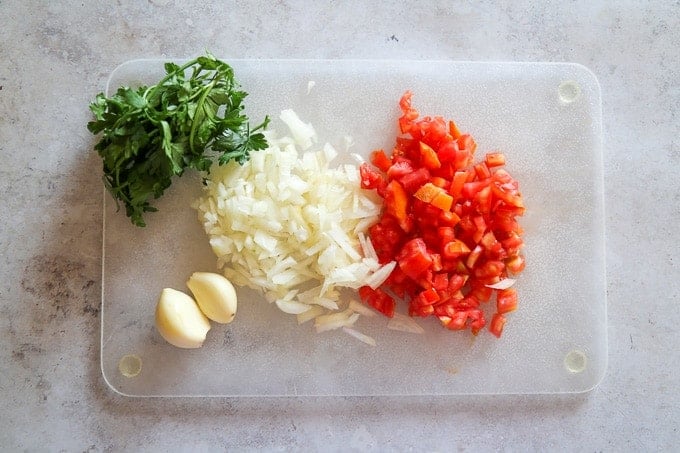 Add the vegetables to the aubergine and give it a good mix.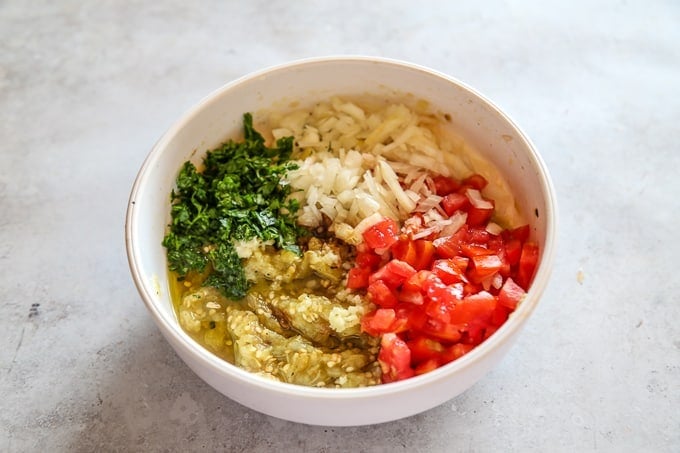 Add some olive oil, lemon juice, and salt. Mix again, and your baba ganoush is ready to be served!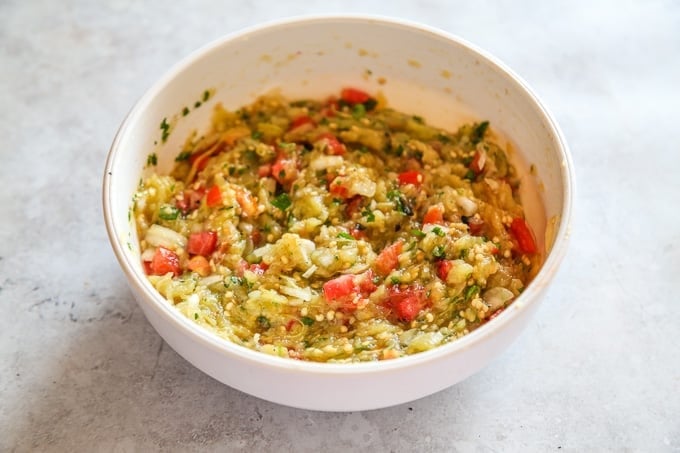 Serve in a bowl, or an Arabic mezze dish, drizzle with olive oil and season with sumac if desired. Serve with pita bread like a dip.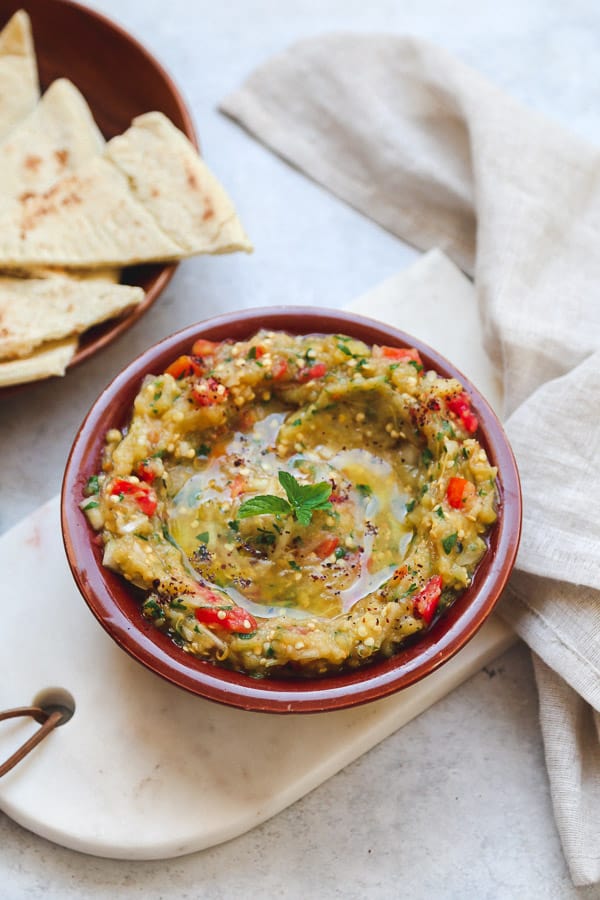 If you make this Baba Ganoush dip, please don't forget to rate this recipe and share a picture on social media. Tag #LittleSunnyKitchen in your posts as I would really love to see what you make! Thank you for supporting Little Sunny Kitchen, so I can keep sharing my tasty recipes with you for free.
Baba Ganoush
A Middle Eastern eggplant dip made with tomato, onion, garlic, parsley, olive oil, pomegranate molasses, lemon juice and salt.
Print
Pin
Rate
Ingredients
1

eggplant/aubergine

1

tomato

diced

1

onion

diced

2

cloves

garlic

2

tbsp

parsley

1/2

lemon

juiced

1

tbsp

olive oil

1/2

tsp

salt

1

tbsp

pomegranate molasses

sumac

optional

mint leaves

optional
Instructions
Roast the eggplant by placing it directly over the flame on your stove top. Roast it for about 15 minutes by turning it from side to side until the skin is burnt and the pulp is soft and tender.

Once the eggplant is roasted, peel off the skin then mash it using a fork or a potato masher.

Add tomato, onion, garlic, parsley, lemon juice, olive oil, salt and give it a good mix. You can add pomegranate molasses if you wish.

To serve, drizzle with a little bit of olive oil, and garnish with Sumac and parsley or mint leaves. Serve warm or cold with pita or taboun bread.
Notes
Roasted eggplants freeze very well and can stay in the freezer for up to 6 months.
Nutrition
Calories:
47
kcal
|
Carbohydrates:
10
g
|
Protein:
1
g
|
Sodium:
5
mg
|
Potassium:
375
mg
|
Fiber:
4
g
|
Sugar:
6
g
|
Vitamin A:
280
IU
|
Vitamin C:
9.2
mg
|
Calcium:
22
mg
|
Iron:
0.4
mg