Mtabbal is a Middle Eastern silky, lemony, garlicky, smoky, eggplant dip…

MTABBAL
Also know as Mutabbal, it's a very popular Middle Eastern dish that is made with roasted eggplants, garlic, tahini (sesame paste), lemon, and a pinch of salt! Usually served as a one of the starter dishes as a part of the Arabic Mezza. But I'd snack on this dip, and eat it with some freshly baked pita bread.
It looks very similar to hummus, in fact when I was little I was a very picky eater and I would never try things like Mtabbal or Baba Ganoush. So I never really knew the difference between hummus, fattet hummus, baba ganoush or mtabbal. Even though I grew up in Jordan, I only found out the difference when I grew up. And that was when I understood how I was missing out!
The texture of Mtabbal is silky, smooth and it's very creamy. It is much lighter than hummus and tastes completely different.

MIDDLE EASTERN MEZZA
You will always find Mtabbal along with Baba Ganoush in any restaurant in Jordan, Syria, or Lebanon as a part of the traditional Middle Eastern Mezza. It's usually served as a side dish, in the Middle East people usually start with Mezza which is basically a table that is full with different sides dishes, some are served warm while other dishes are served cold. Mtabbal has recently became one of my favourite! People enjoy Mezza while sipping drinks and happy chattering and only after that the main dish is served.
HOW TO MAKE MTABBAL
This is much simpler than it looks, basically you have to roast an eggplant, mash it, add tahini sauce, lemon juice, garlic, and salt. And voila you're done! There are many ways to roast an eggplant
You can roast it by placing it directly over the stove top and turning it side to side until it turns dark black and pulp is soft and tender
Bake it in the oven by making holes in the eggplant using a fork, then wrap it with foil and bake for 45-50 minutes
Slice your eggplant in half then place it on a baking tray and bake for 50 minutes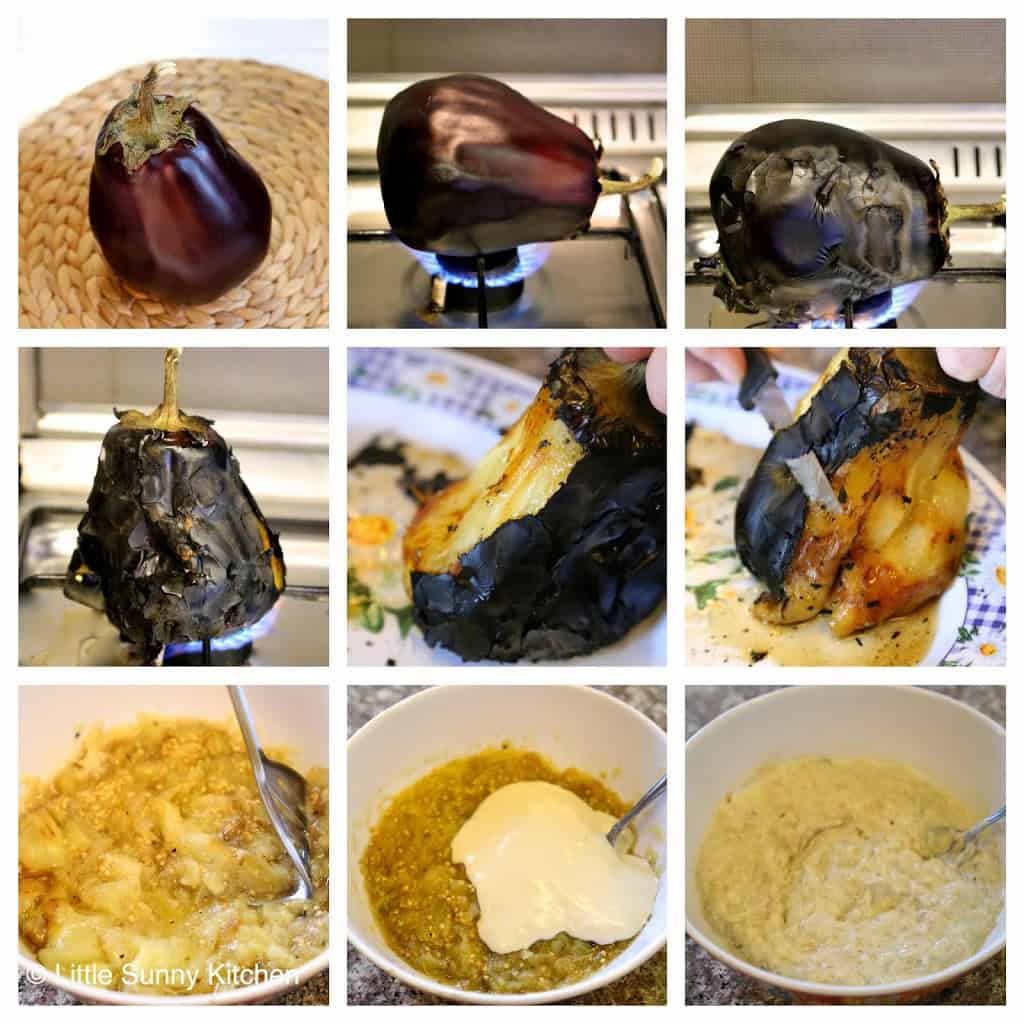 Above are pictures of how to roast an eggplant on the oven top step by step, and then adding the tahini sauce. Roasting an eggplant on the hob is my favourite way to do it, because it gives the eggplant that lovely smokey taste. But keep in mind that it might get a little bit messy, as you will have to wipe clean the hob after you are done (which I don't mind doing as it's sooo worth it!)
Ingredients
1

fresh eggplant

aubergine

2

cloves

of garlic

2

tbsp

tahini

sesame sauce

juice of a lemon

a pinch of salt

olive oil

summaq

optional

parsley or mint leaves

optional
Instructions
First you need to roast the eggplant by placing it directly over the fire on your stove top. Roast it for about 15 minutes by turning it from side to side until it's black and the pulp is soft and tender.

Once the eggplant is done, you need to peel off the skin, and then mash it using a fork or a potato masher.

Add minced garlic, salt, and juice of a lemon, mix. Then add the Tahini sauce (which is made by mixing the tahini paste with cold water and lemon juice - unless you have used all of the juice in the previous step)

When serving, drizzle with a little bit of olive oil, and garnish with Summaq and parsley or crushed mint leaves. Serve warm or cold with pita or taboun bread.
Notes
Roasted eggplants freeze very well and can stay in the freezer for up to 6 months.