Foul Mudammas is a Middle Eastern broad bean or fava bean dip made with tomato, onion, garlic, lemon, and tahini. Served as a breakfast food or part of the Middle Eastern Mezze.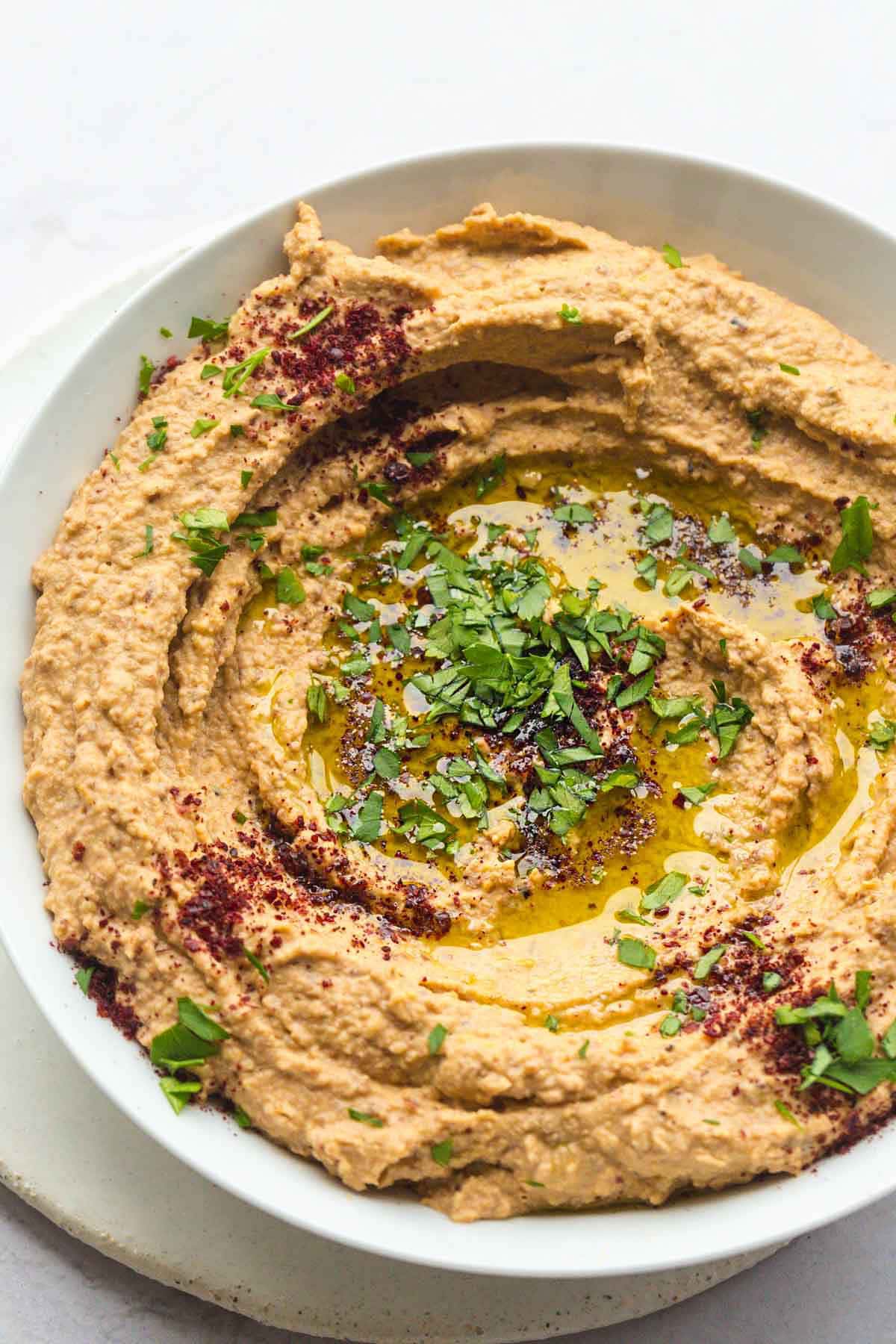 As I grew up in Jordan, Foul Mudammas was always a staple food in our house. Every Friday, my mother would send one of my brothers to the local "Falafel restaurant" with a couple of bowls to bring a bowl of Hummus and another with Foul Mudammas along with a paper bag filled with falafel balls.
Fridays are family days in Jordan, and breakfast always had to be Hummus with Falafel and Foul Mudammas. And that is also the way it was in every other Jordanian household. It's a Jordanian tradition.
However, we always cooked Foul Mudammas at home quite often using either canned broad beans or dried ones. As we moved to the UK, my husband and I always make this lovely bean at home to have not just for breakfast but also for lunch or dinner.
Foul Mudammas Recipe
Pronounced as "Fool Mda-mas". Fool Medamas is not just a Jordanian thing, it's also very popular in Egypt, Syria, Palestine, and Lebanon. In Syria, Palestine, and Lebanon it's prepared the same way as we, Jordanians, do. In Egypt, I believe that more veggies are added to the mixture and it's topped with boiled eggs.
My preferred way to make foul is to start with dried broad beans and soak them overnight. Soaking them overnight will result in a softer velvety dip and I also find the presoaked beans easier to digest.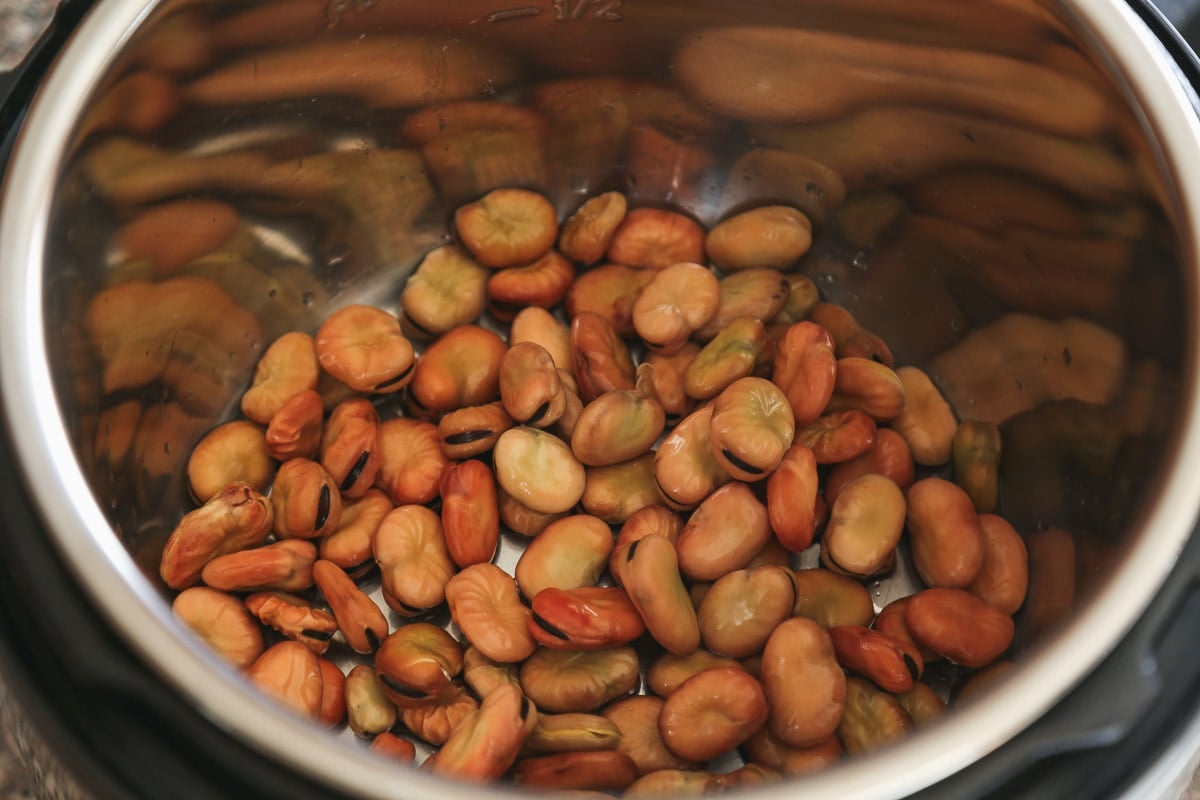 Dried Fava Beans
I usually use dried fava beans, and pre-soak them overnight before cooking. When there's no time to soak the beans, I use canned.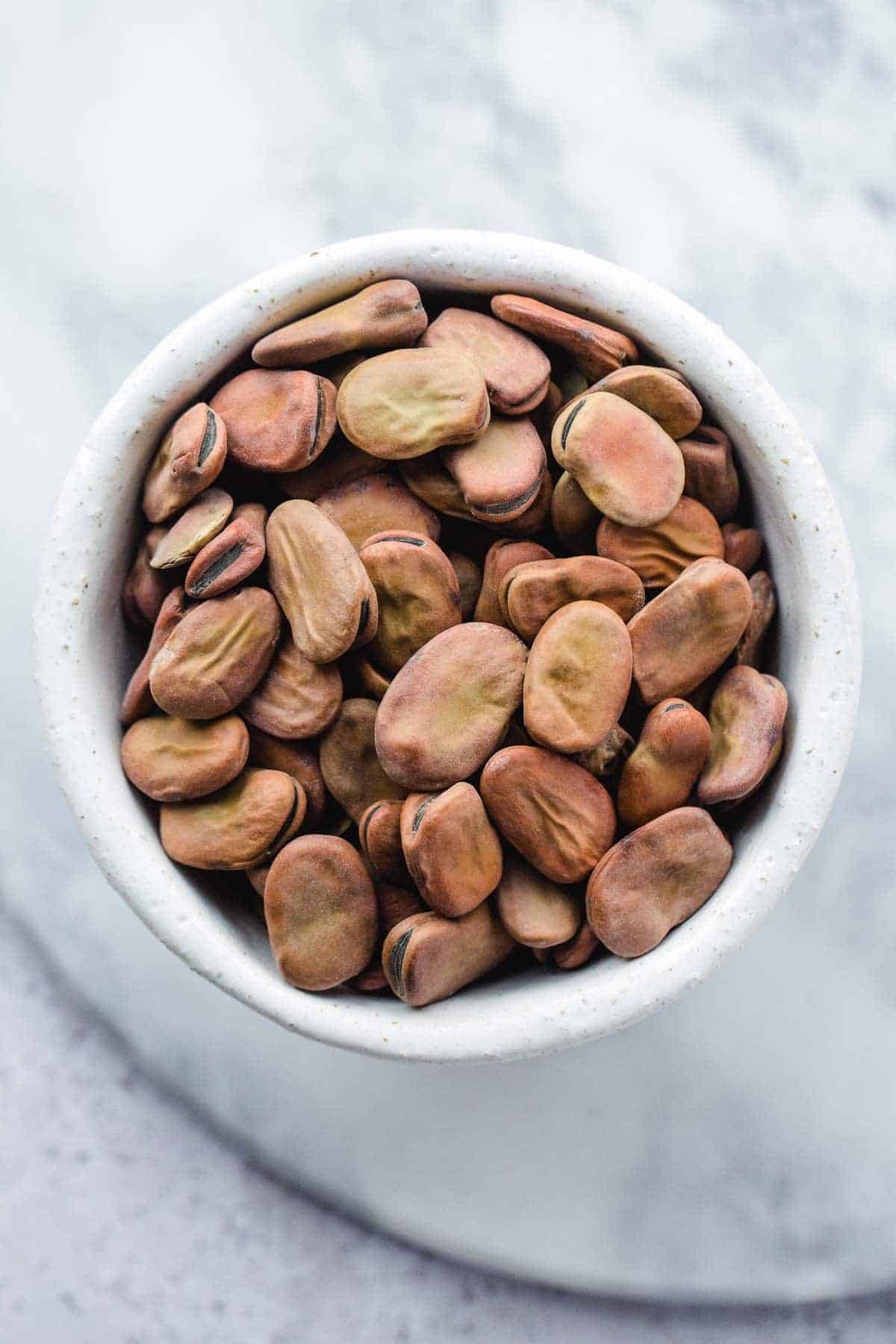 There are 2 kinds of dried fava beans, small fava beans and larger ones. The small ones seem to taste a bit sweeter than the large ones and they're also cheaper. The bigger beans are more common.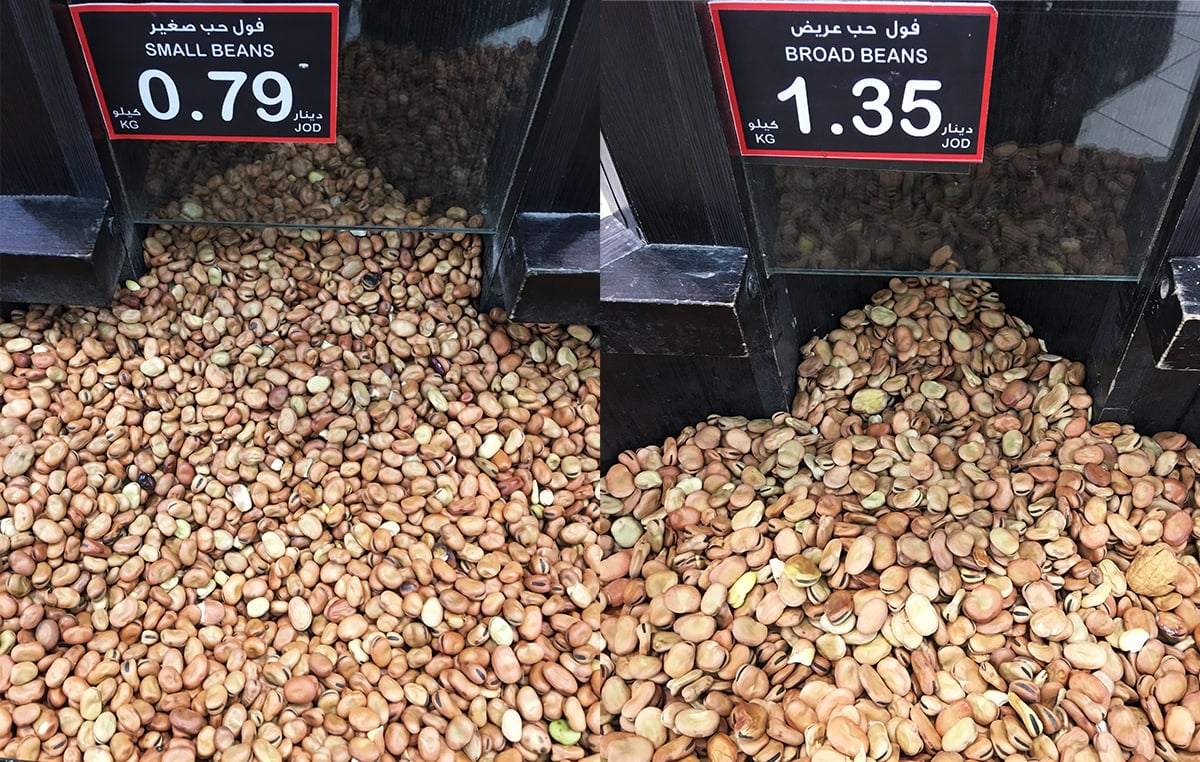 How to Cook Broad Beans/Fava Beans From Dried in a Pressure Cooker
If you're using dried beans then you will need to soak them overnight or for at least 5-6 hours, then cook them either over the stovetop or in a pressure cooker (I use my Instant Pot) until they're soft and mushy. Cooking beans in the Instant Pot is much faster than cooking them over the stovetop.
Add onion wedges, a bay leaf, cumin and salt to the water before cooking.
In the Instant Pot, cook the broad beans for 20 minutes on HIGH and do a quick release.
Tip: Soaking beans overnight makes them easier to digest, so if you are planning to make this dip in advance then soak some beans in water the night before and leave them until the next day.
How to Cook Prepare the Canned Broad Beans for Foul Mudammas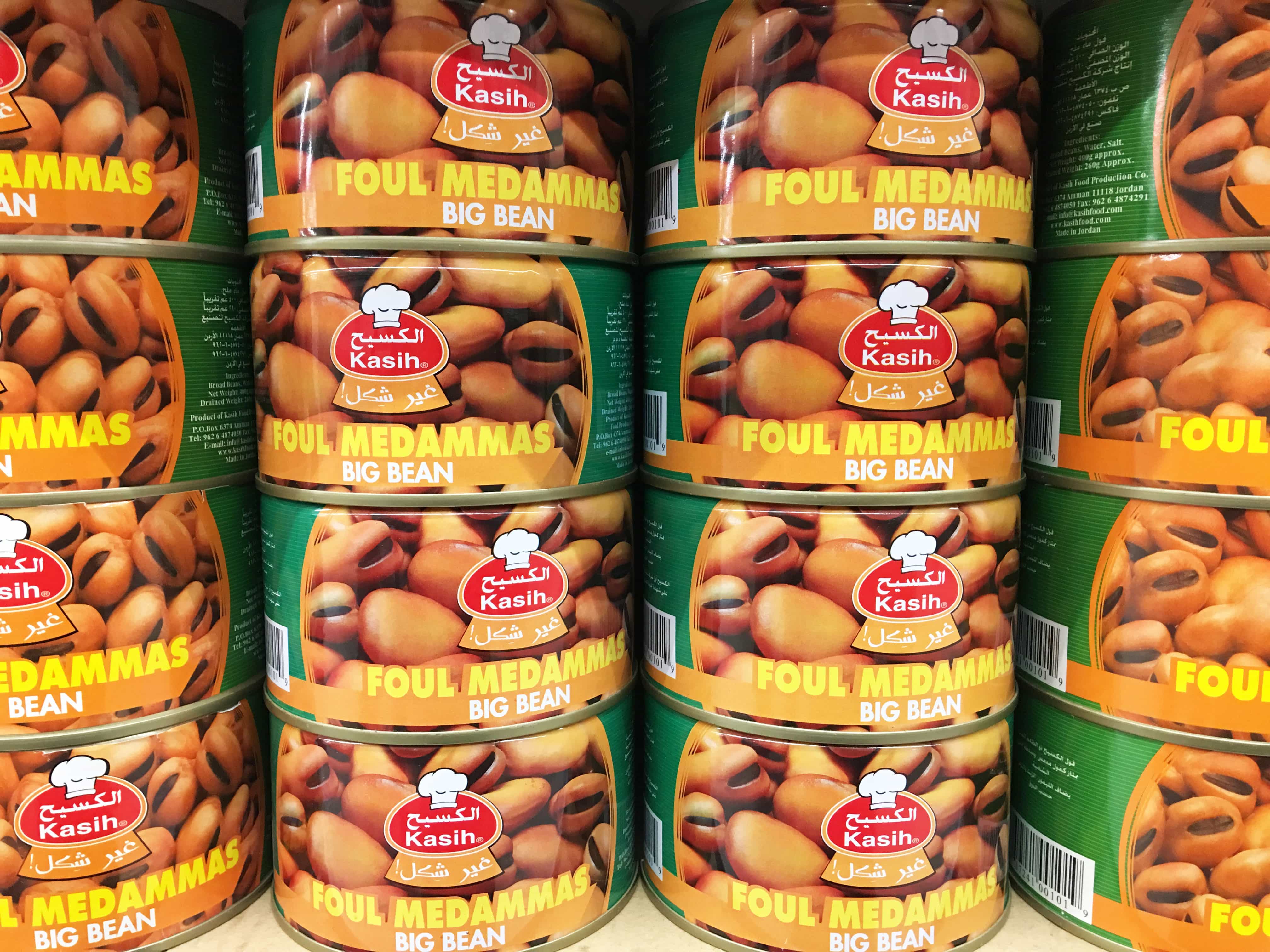 If you're using canned broad beans, then the easiest way to do it is to either open the can and place the can directly over the stovetop to reheat it (this is how it's usually done in Jordan), but if you're worried about food safety then just add the beans to a saucepan and heat them, or to a microwave safe bowl and reheat in the microwave.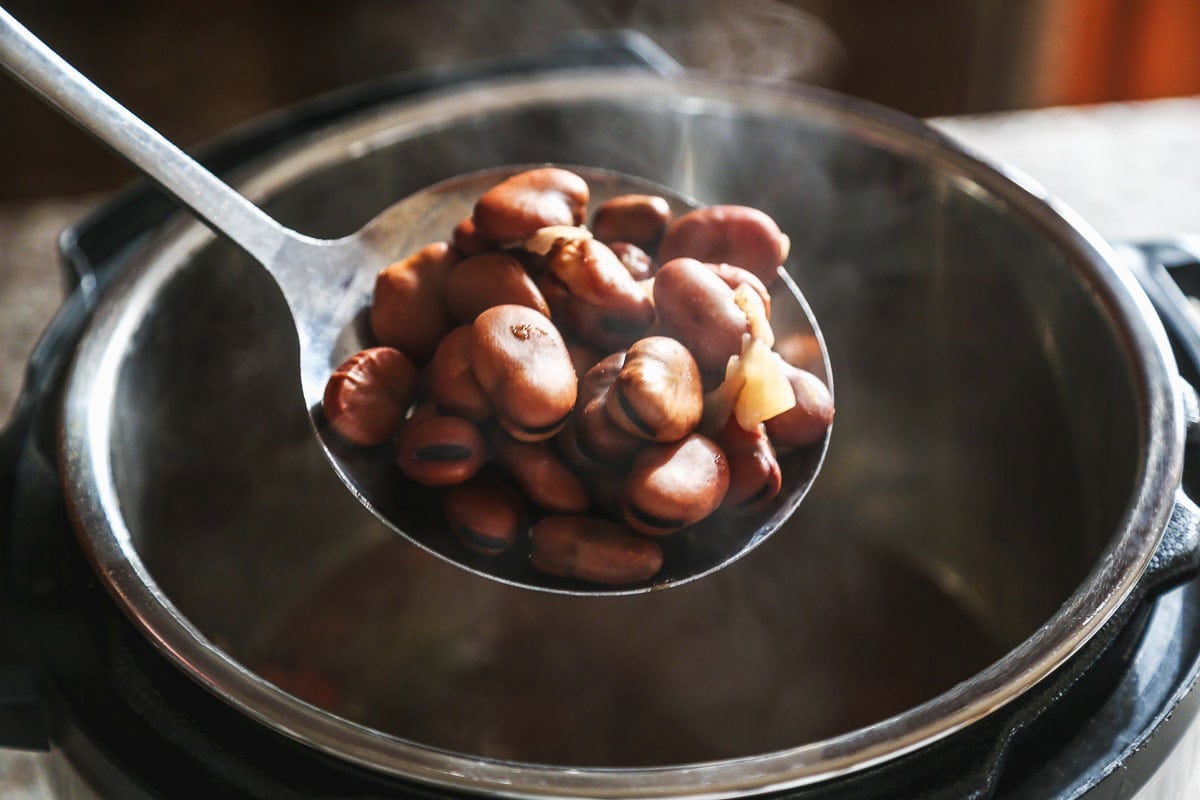 How to Make Foul Mudammas
This is very easy! You will need the following ingredients:
Cooked broad beans (+ water and bay leaf for cooking the beans)
Garlic, tahini, lemon juice, onion, tomato
Ground cumin, salt to taste, and olive oil to garnish
To make the broad bean dip, simply place all of the ingredients in a food processor and whizz until you get a creamy mixture.
Add some water if needed (or some of the reserved water from cooking dried beans) depending on how thick you want your dip to be. Have a little taste and see if you need to adjust the seasonings.
To get a super smooth broad bean dip, either use a high-speed blender or a food processor.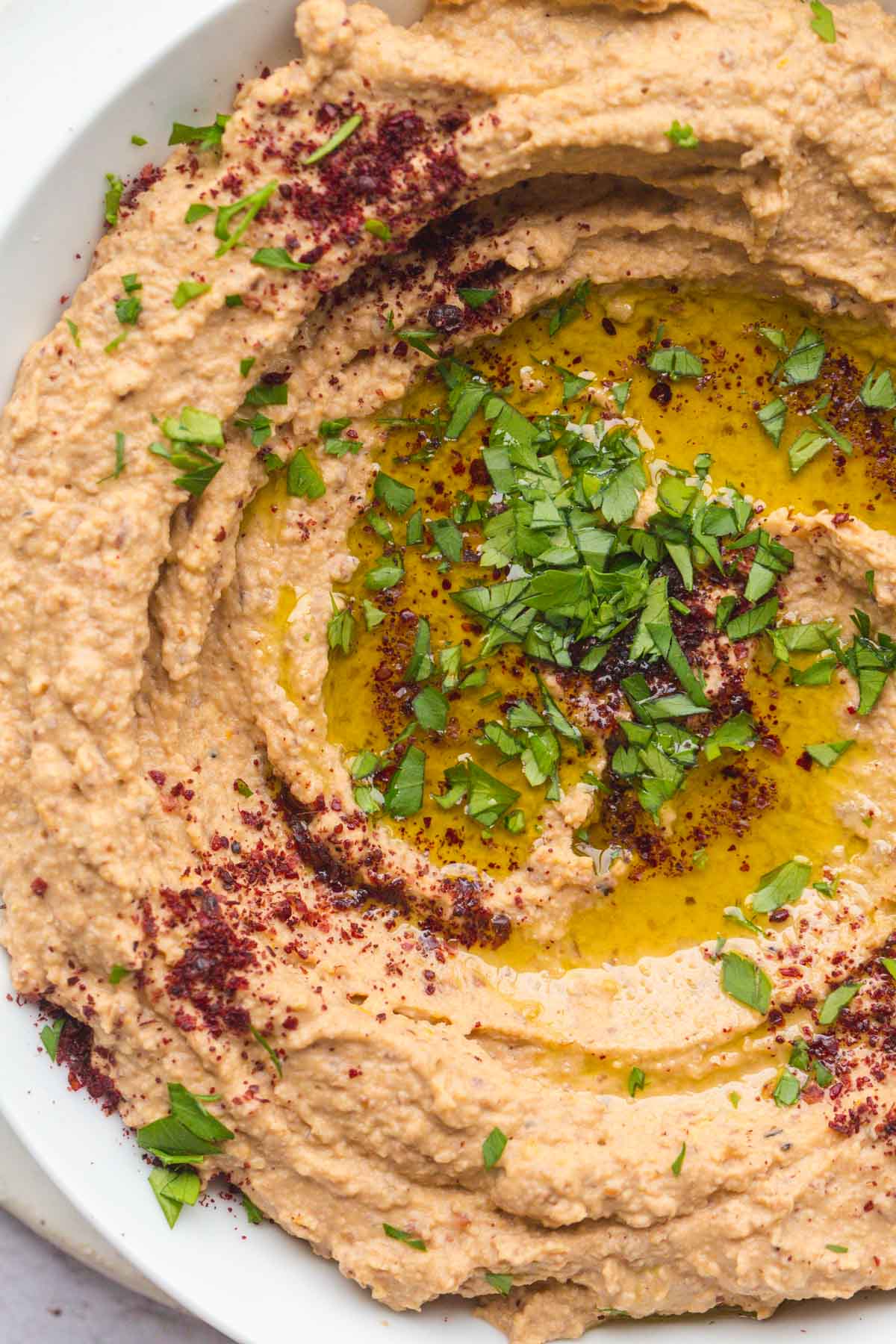 Middle Eastern Mezze
In Jordan, we LOVE our mezze! Mezze means a set of small plates with different appetiser-like dishes that are served before the main meal arrives. There are many vegetarian and vegan mezze plates like this Foul Mudammas, but a few are meaty.
Popular Middle Eastern Mezza includes:
And many more…
I hope that you love this recipe as much as I do, and don't forget to check out more of my Middle Eastern Recipes.
Subscribe to my Newsletter, and follow me on Facebook, Instagram, and Pinterest for more tasty recipes!
I don't feel like I say this often enough, or that I could ever thank you enough. But THANK YOU for all of your support, for visiting my blog, commenting, and sharing my recipes with your friends and family. I am SO thankful for you!
If you make this recipe or any of my recipes, then don't forget to rate it and leave a comment below. I would LOVE to hear about your experience and your comments just make my day!
I hope that you love every recipe that you make! – Diana x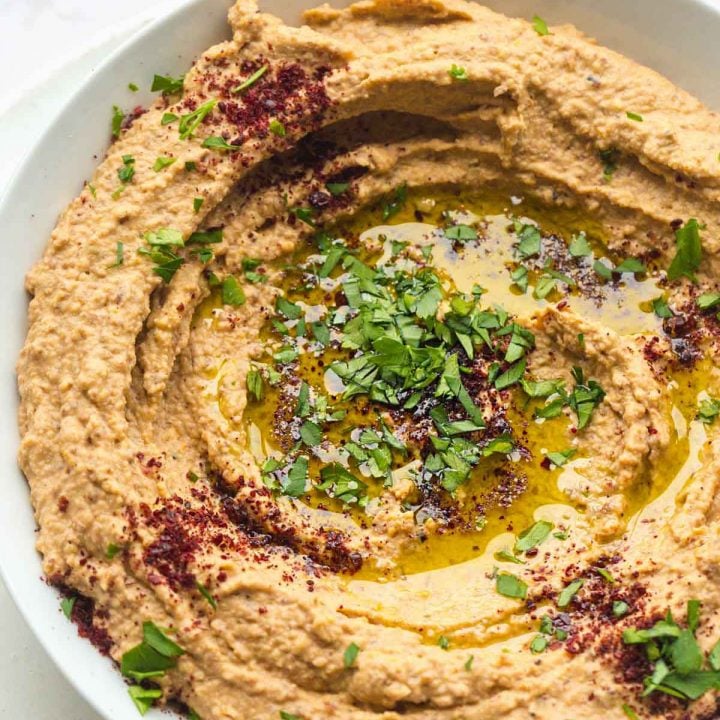 Broad Bean Dip (Foul Mudammas)
Foul Mudammas is a Middle Eastern broad bean dip made with tomato, onion, garlic, lemon and tahini. Served as a breakfast food or part of the Middle Eastern Mezze.
Print
Pin
Rate
Ingredients
To cook the broad beans
1 cup

(200g)

dried broad beans/fava beans

½

yellow onion

wedges

2

bay leaves

1

teaspoon

ground cumin
To make the dip
2

cloves

garlic

2

tablespoons

tahini paste

1

lemon

juiced

1

medium

yellow onion

1

medium

tomato

1

teaspoon

ground cumin

1

teaspoon

salt

or to taste

1

tablespoon

olive oil

to garnish
Instructions
Soak the beans overnight or for at least 8 hours, then cook them in a pressure cooker for 20 minutes. Add onion, bay leaves, and ground cumin to the water before cooking. Cook until they're soft and mushy. Reserve some of the liquid to use later.

In a food processor, place the cooked broad beans along with garlic, tahini, lemon, onion, tomato, cumin, and salt. Add some of the reserved liquid, but not too much so you don't get a runny dip. Blend until a creamy dip forms.

Serve in a bowl, drizzle some olive oil, and top with a few cooked whole broad beans. You could also garnish with sumac, chopped parsley, chili and, paprika. Serve with pita bread.
Nutrition
Calories:
159
kcal
|
Carbohydrates:
21
g
|
Protein:
8
g
|
Fat:
5
g
|
Sodium:
396
mg
|
Potassium:
413
mg
|
Fiber:
7
g
|
Sugar:
3
g
|
Vitamin A:
185
IU
|
Vitamin C:
15.3
mg
|
Calcium:
54
mg
|
Iron:
2.5
mg