Muhalabieh is a creamy Middle Eastern milk pudding infused with rose water, and topped with crushed pistachios…
MIDDLE EASTERN DESSERTS
In the Middle East people like to add roses to desserts. Rose petals, rose syrup, rose water and even rose jam are used. Pistachios are also very commonly used, they are either sprinkled over desserts or added to make cookies, baklava, yoghurts and ice cream.
This recipe is my Mum's recipe. Although my Mum is Russian but she lived in Jordan for a while now. She loves the Middle Eastern cuisine and in Jordan she learned how to cook delicious levantine dishes. I remember when I was a child my mum used to make this Middle Eastern milk pudding recipe infused with rose water, and always generously topped it with pistachios. This dessert is called Muhalabieh.
MUHALABIEH
The recipe is very frugal and simple. It's made from ingredients that you probably already have in your cupboards. It's basically made with milk, sugar, rose water and corn starch. Cooking these 4 ingredients together will result into this exotic dessert with a hint of rose water and the most beautiful garnishes. I adore the colour of the crushed pistachios with the rose petals, but the garnishes can of course be altered. You can add almonds, decicanted coconut, pomegranate seeds or even cocoa nibs!
a2 Milk™
My sister, Natalia, recently wrote a post about a2 Milk™ and how it changed her life. We were introduced to a2 Milk™ last year, and my sister who always avoided dairy because of the discomfort that she felt after consuming milk, found that a2 Milk™ really worked for her and she is now able to enjoy dishes that are made with milk again. For her favourite no-bake desserts like this Muhalabieh, we use a2 Milk™ so she can enjoy them with us as well.
a2 Milk™ comes from cows that produce A2 Protein only. Many people who think that they are lactose intolerant without being diagnosed with it are probably intolerance to A1 Protein. A1 Protein is more difficult to digest and can cause the feeling of discomfort to some people which was the case for my sister.
In this post I'm sharing the traditional recipe with you, it's the recipe that we usually make at home and very similar to what you would get if you order it at a restaurant or a cafe or buy it from a store. However, if you are trying to cut down on calories and make a lighter version, reduce the amount of sugar to 2 tbsp instead of 100 grams and use fresh semi-skimmed a2 Milk™.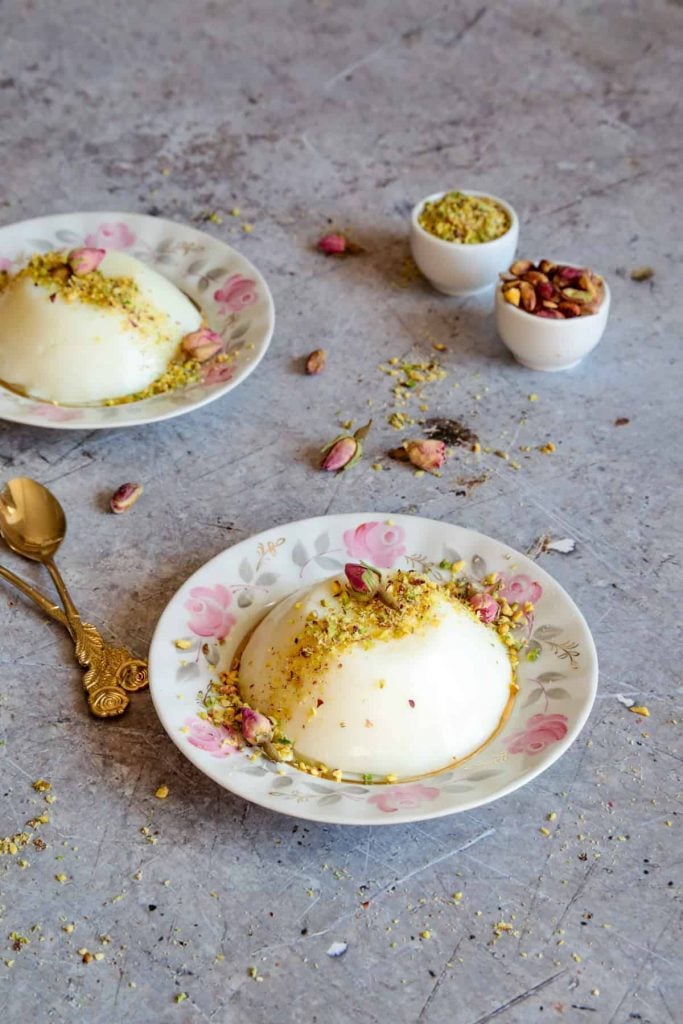 I personally like to eat Muhalabieh when it's chilled, but some people like to have it warm right after it's cooked. I also created this video to show you step by step how I make Muhalabieh.
If you make this lovely Middle Eastern dessert, please post a picture on Instagram and tag it with #LittleSunnyKitchen and @a2Milk_UK as we would love to see your creations!
Muhalabieh (Middle Eastern Milk Pudding Dessert)
Creamy Middle Eastern milk pudding infused with rose water, and topped with crushed pistachios.
Print Recipe
Ingredients
500

ml

a2 Milk™

100

g

sugar

3

tbsp

cornflour

1

tbsp

rose water

pistachios and rose petals for garnish
Instructions
In sauce pan over medium heat, pour the milk.

Add sugar, cornflour and rose water.

Whisk continuously until the milk starts thickening.

Remove from heat, the cream won't be very thick at this point but don't worry it will thicken when it's chilled.

Prepare 4 (completely dry) glass dishes, and divide the cream between them.

Let the cream cool down at room temperature for about half an hour, then transfer to the fridge and chill for at least 2 hours.

When the pudding is completely chilled, flip over on a plate and garnish with chopped pistachios and rose petals if desired.
Nutrition facts
Calories:
162
kcal
|
Carbohydrates:
36
g
|
Protein:
4
g
|
Cholesterol:
2
mg
|
Sodium:
53
mg
|
Potassium:
195
mg
|
Sugar:
31
g
|
Vitamin A:
255
IU
|
Calcium:
153
mg
Please pin me…
Disclaimer: a2 Milk™ is not suitable for cows' milk protein allergy. If you have been medically diagnosed with any milk intolerance, seek advice from your doctor before use.
This is a commissioned post for a2 Milk™. Thank you for supporting the brands that make Little Sunny Kitchen happen. All opinions are my own.