Healthy vegan cranberry bread that's made with whole wheat and fresh cranberries! This is very similar to focaccia but has a bread texture. The cranberries are topped with fresh rosemary leaves and sea salt.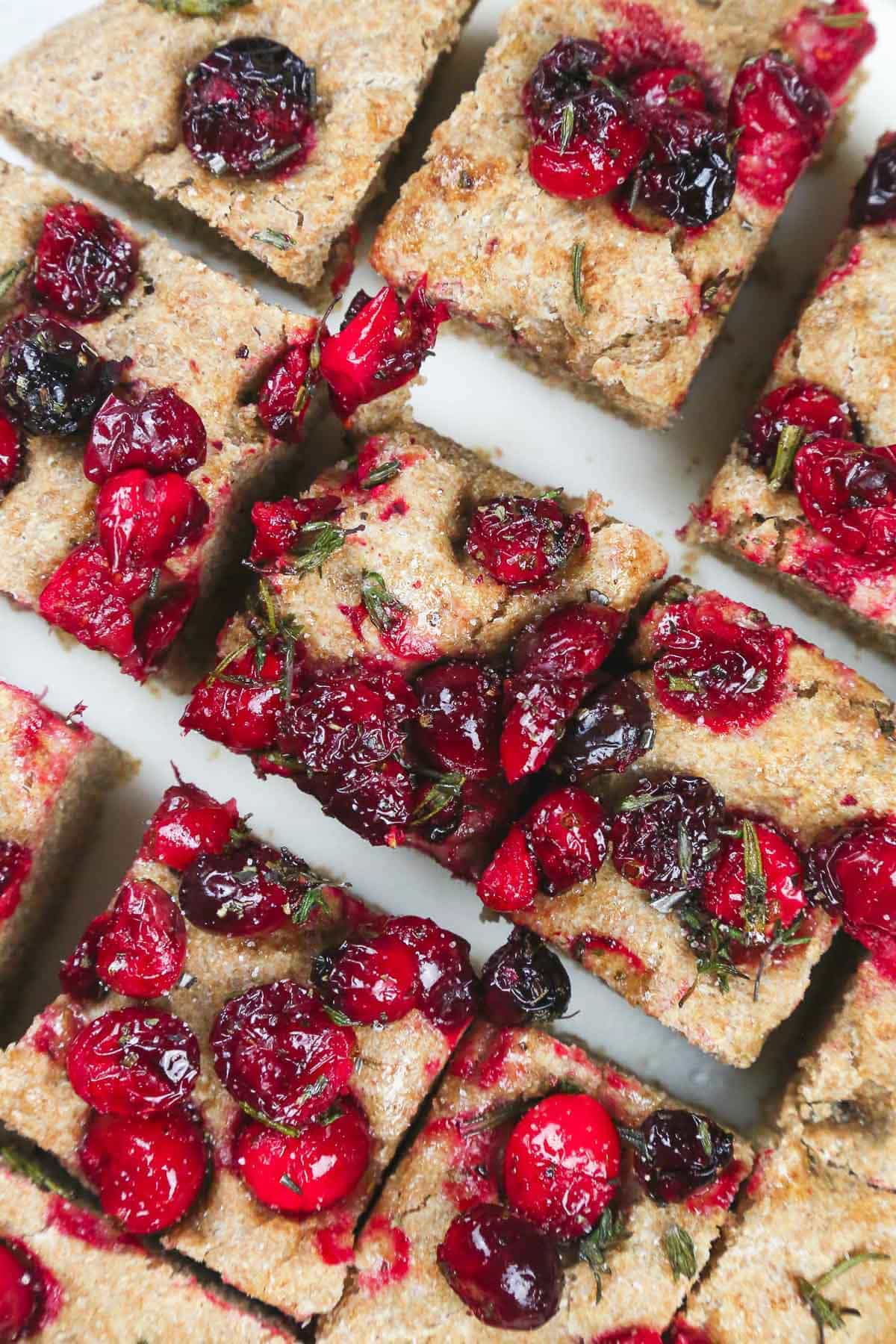 I love homemade bread. Bread is one of these things that I find very difficult to eliminate from my diet no matter what. Especially when it's homemade… I mean how can anyone resist homemade bread? Ever since I got into baking, I have always baked my own bread at home. It's the fact that I can add anything that I like to it that I really like, seeds, nuts, fresh fruits, raisins, caramelised onions etc…
VEGAN CRANBERRY BREAD
We're done with Christmas, and as we don't tend to overindulge over the festive period I baked this savoury rosemary cranberry bread today, and it was gone when it was still warm. The whole family loved it! It's a recipe that we've been using for years and makes a great addition to our buddha bowls or to be served on the side with a meal.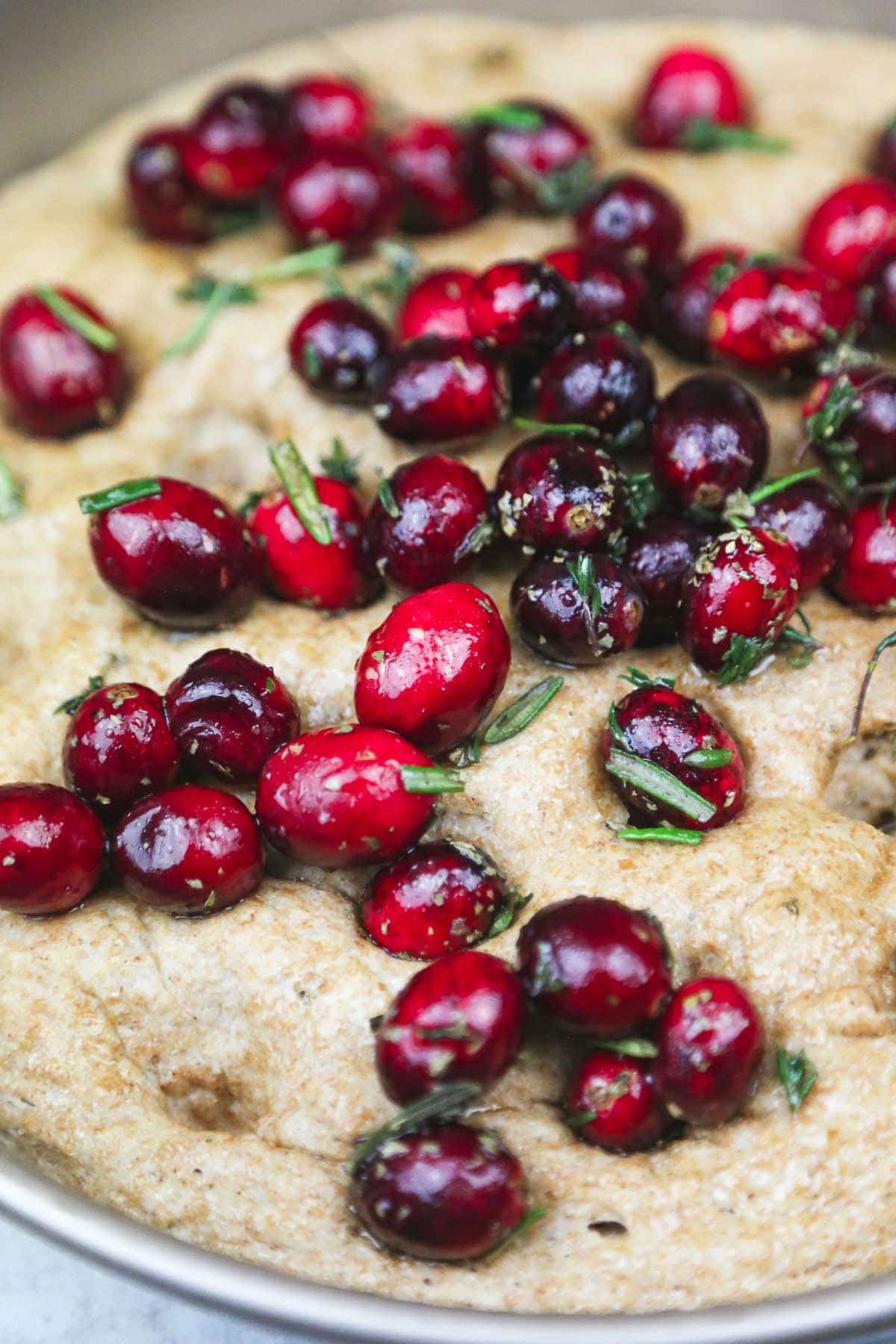 I love the fact that this bread is vegan and is made with very simple ingredients. The dough recipe is the same recipe that I use to make pasties and bread using all purpose flour. I just subbed the all purpose flour with whole wheat flour and added the cranberry rosemary topping.
CRANBERRY BREAD INGREDIENTS
To make this vegan cranberry bread, you will need:
Whole wheat flour (or all-purpose flour)
Instant yeast
Warm water
Sugar
Fresh cranberries
Fresh rosemary
Sea salt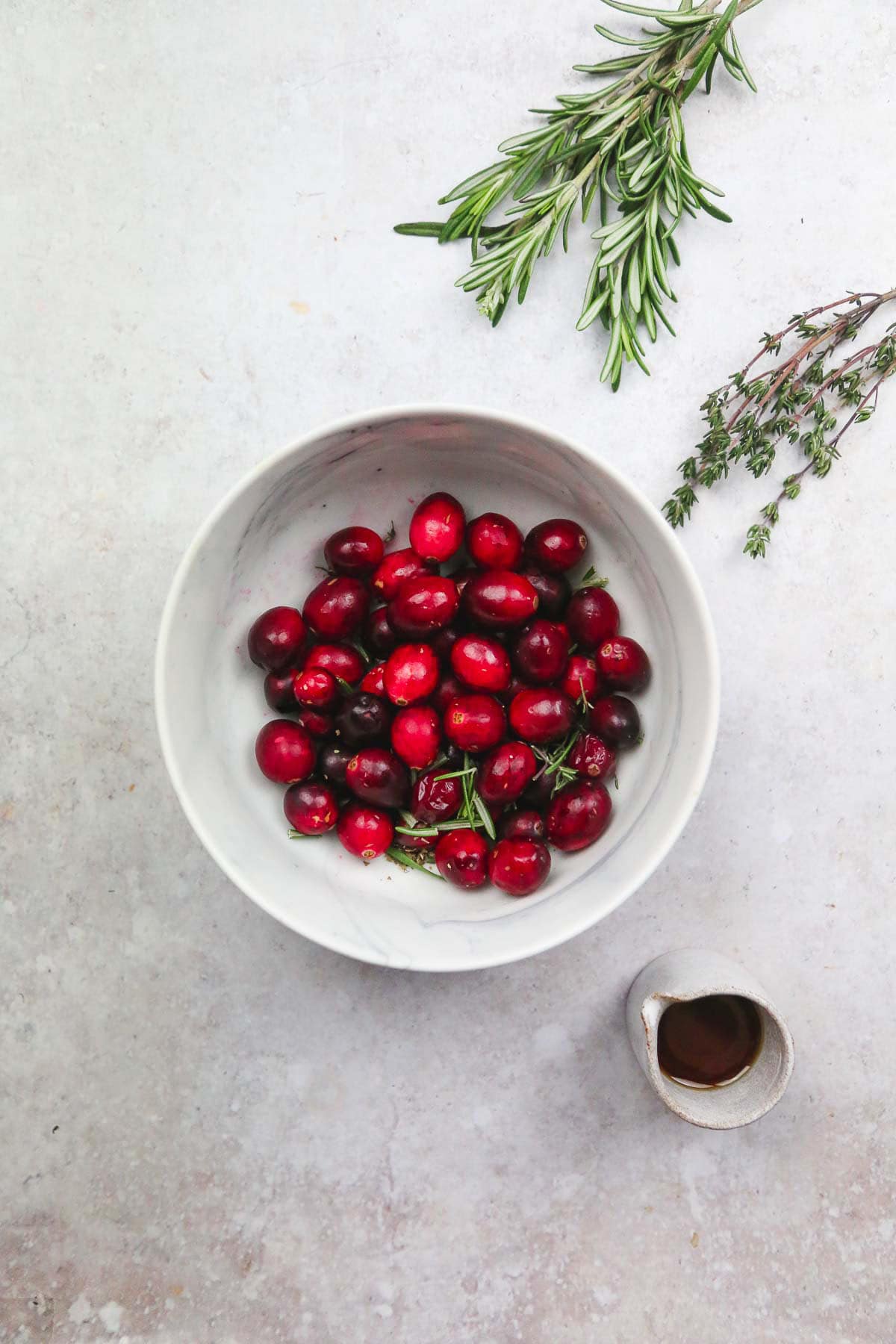 HOW TO USE INSTANT YEAST IN BREAD MAKING
Using fast rising yeast to make this bread, the instant yeast must be dissolved in lukewarm water.
The temperature of water needs to be between 23c (75f) and 54c (130f), but the recommended temperature needs to be around 43c (110f). The yeast feeds on sugar to become active and will start working in your dough.
Once the yeast is added to the water, it needs to be stirred to be dissolved. The mixture will need to sit to start foaming (around 10 minutes) preferably in a warm place.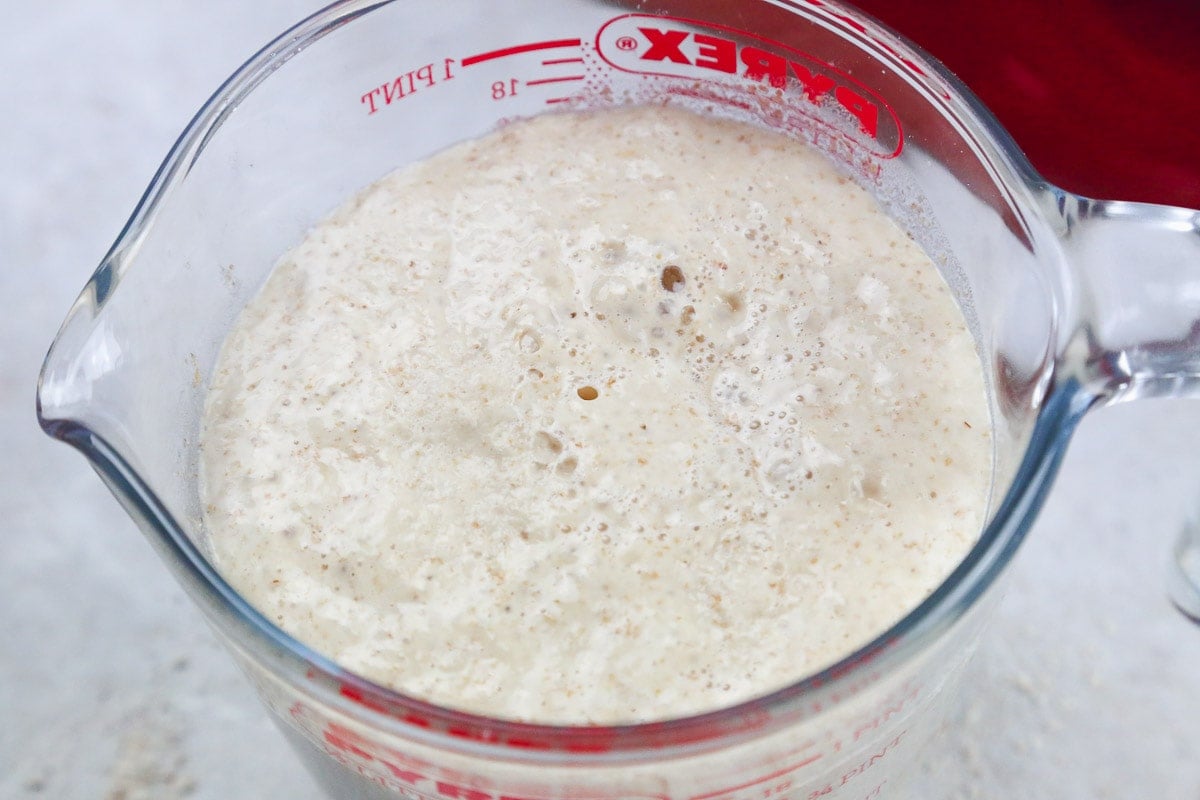 If your yeast mixture is not bubbling, it means that it might be a bit too old and not active.
HOW TO KNEAD DOUGH TO MAKE BREAD
My Mum taught how to knead bread by hand when I was little, and I've done it for my baking for so long but I have to be honest with you. You will need to knead your dough for 10-12 minutes by hand until the dough ball is soft, and it can be a hassle considering that it needs really strong hands to get that lovely elastic dough ball.
About a month ago, I got a new KitchenAid Artisan Stand Mixer from ao.com and I no longer knead dough with hands! I've been dreaming of this mixer for so many years now, and you have no idea how in love I am with it! It's every food blogger's dream to own one of these gorgeous red KitchenAid stand mixers! It can tackle anything from light frosting to heavy dough, and it makes such a beautiful addition to my kitchen.
With the mixer's 300Watt power, it's so powerful to knead 2 kilograms of dough for bread or homemade pasties. And the 3-liter stainless steel bowl is perfect for all the baking that I do. I've used it to beat egg whites to make meringue and could fit 12 egg whites at once in the bowl. I've also used it for kneading bread, and it can take up to 2 kgs of dough. It's also great for baking cakes, cookies and making frosting and buttercream.
The mixer comes with 7 accessories to choose from; stainless steel mini bowl, dough hook, flat beater, flex edge beater, pouring shield and a wire whisk.
The speed can be changed depending on what you're using the mixer for. But I love the fact that I can adjust the speed and knead the dough on low speed, but also beat butter and sugar on very high speed when needed.
AO.COM
I got this KitchenAid Stand Mixer from ao.com; the online appliances retailer. They stock everything from small kitchen appliances, to dishwashers, fridge freezers, computers, and even TVs and phones. You can pretty much find everything that you need on ao.com.
Their website is user-friendly, informative and easy to use. And their service is top notch! They will deliver your shiny new product fast and for free, and they will help you install your new product should you need that.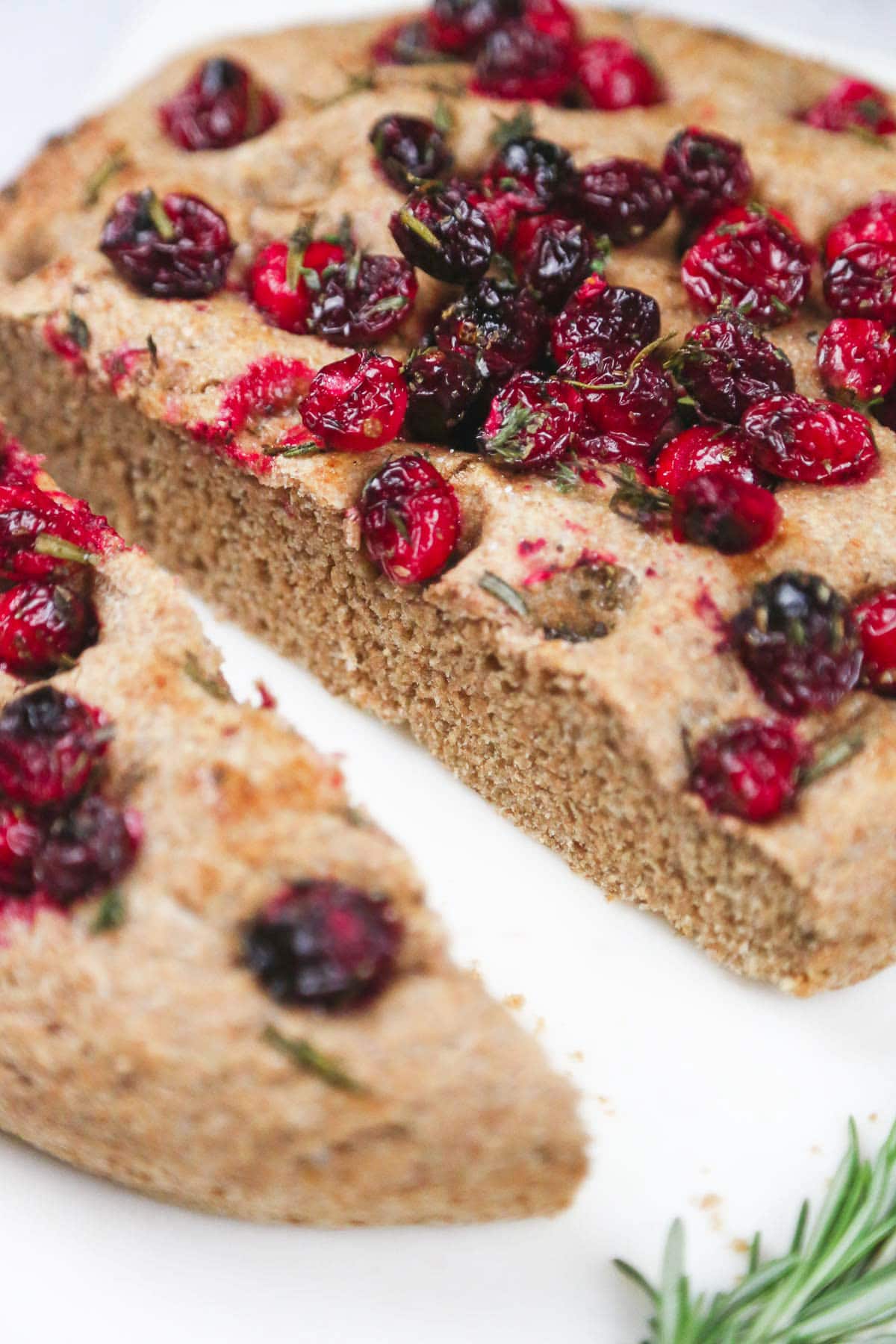 WHAT TO SERVE THIS CRANBERRY BREAD WITH
This cranberry bread is great on it's own, the flavours are really balanced as the bread is quite dense and filling, but has a lovely crust. The cranberries are a bit sour, paired with fresh rosemary leaves for the flavour to really stand out.
And the sea salt is not an ingredient that can be skipped!
I love adding this savory cranberry bread in a buddha bowl as you can see below. It's great when paired with a veggie stir-fry, salad, perhaps baked sweet potato and a lovely chickpea filling.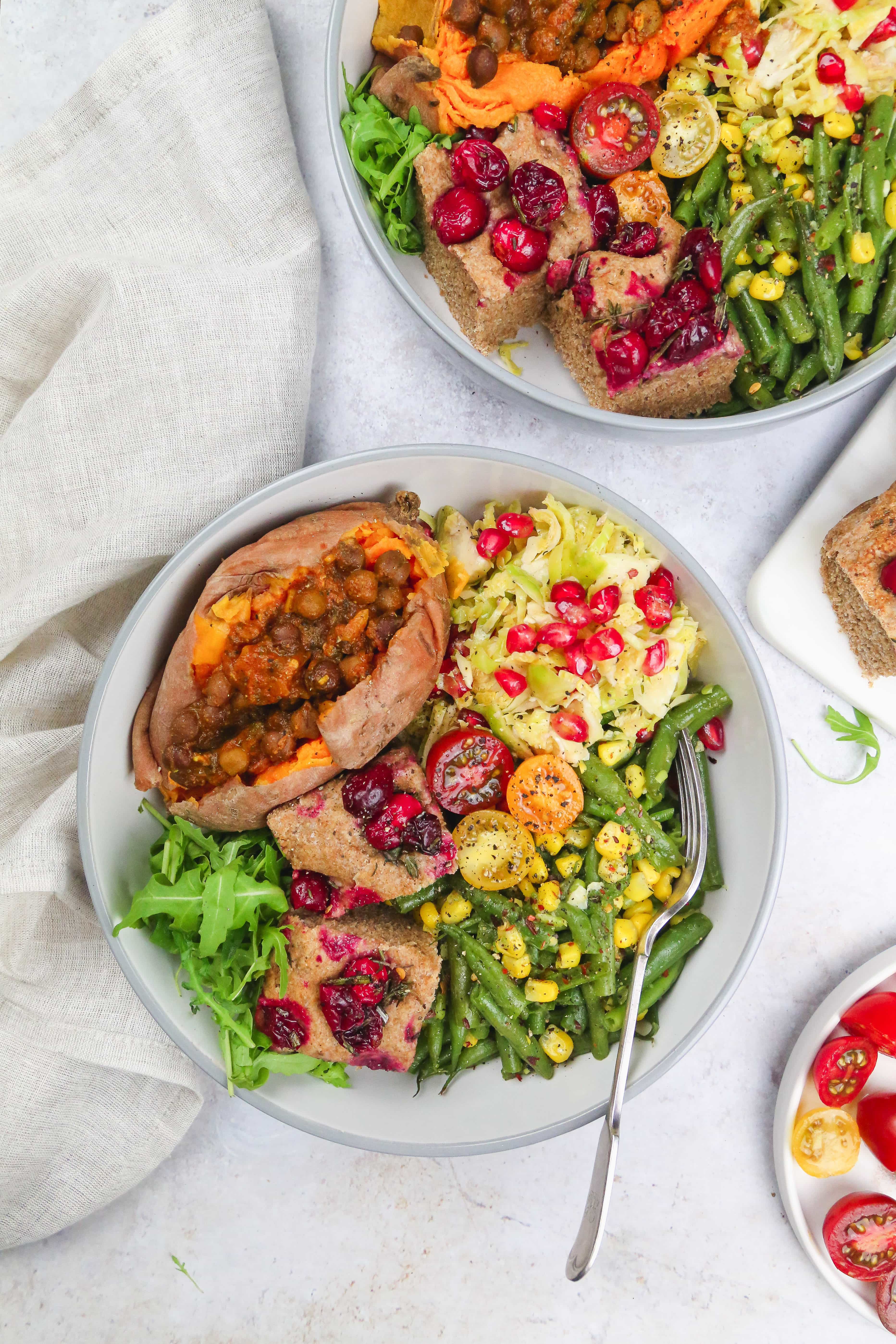 The cranberry bread is also perfect when paired with homemade hummus dip.
To serve, slice the bread into squares when it's still warm. It's great for sharing!
If you make this cranberry bread using my recipe, please don't forget to rate this recipe and share a picture on social media. Tag #LittleSunnyKitchen in your posts as I would really love to see what you make! Thank you for supporting Little Sunny Kitchen, so I can keep sharing my tasty recipes with you for free.
Savory Cranberry Bread
Print Recipe
Ingredients
1

tbsp

instant yeast

1

tbsp

sugar

300 ml

1.25 cup

warm water

1

tsp

salt

320 grams

2.5 cups

all-purpose flour

80 ml

0.3 cup

vegetable oil

100

grams

cranberries

1

tbsp

rosemary

dash

sea salt

1

tsp

fresh thyme

optional
Instructions
To activate the yeast, dissolve the yeast and the sugar in the water. Set aside, and let the mixture foam/bubble (this will take around 5-10 minutes).

Using the stand mixer bowl, add the flour, salt, vegetable oil, and the yeast mixture. At medium speed, beat the dough until a soft and elastic dough ball forms. Add more flour if needed.

Transfer the dough ball to the baking pan, cover with a damp cloth and let the dough rise (for about 20 minutes). It will double in size.

Use your fingers to poke deep dents in the dough. Top with fresh cranberries, rosemary, thyme if using and sea salt.

Bake for 20 minutes or until the dough is slightly golden and cooked through. When it's ready, slice and serve warm.
Nutrition facts
Calories:
166
kcal
|
Carbohydrates:
22
g
|
Protein:
3
g
|
Fat:
7
g
|
Saturated Fat:
5
g
|
Sodium:
195
mg
|
Potassium:
45
mg
|
Fiber:
1
g
|
Sugar:
1
g
|
Vitamin A:
15
IU
|
Vitamin C:
1.2
mg
|
Calcium:
8
mg
|
Iron:
1.4
mg