Shrimp and broccoli stir-fry is an easy and healthy mid-week meal that can be on your table in under 20 minutes!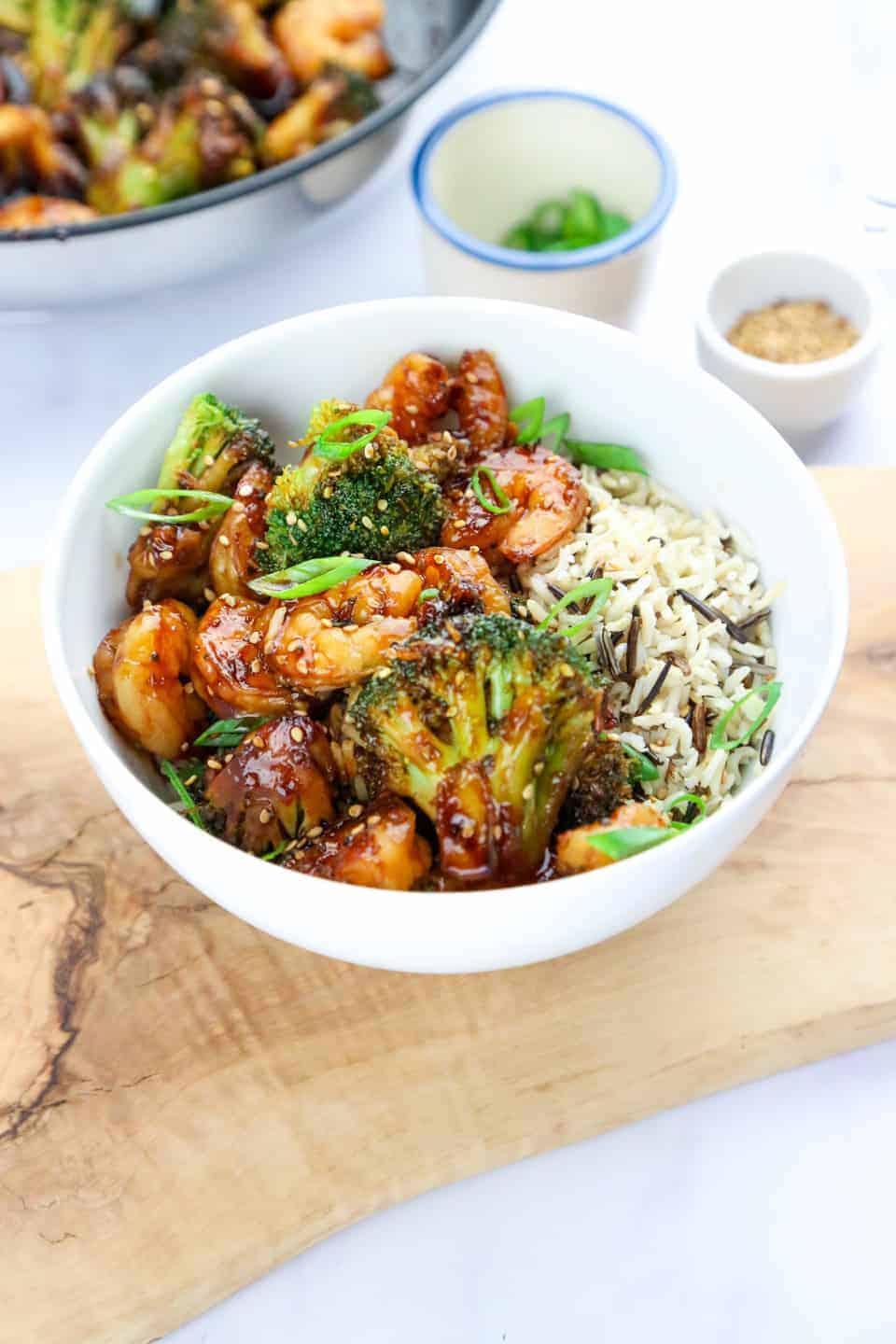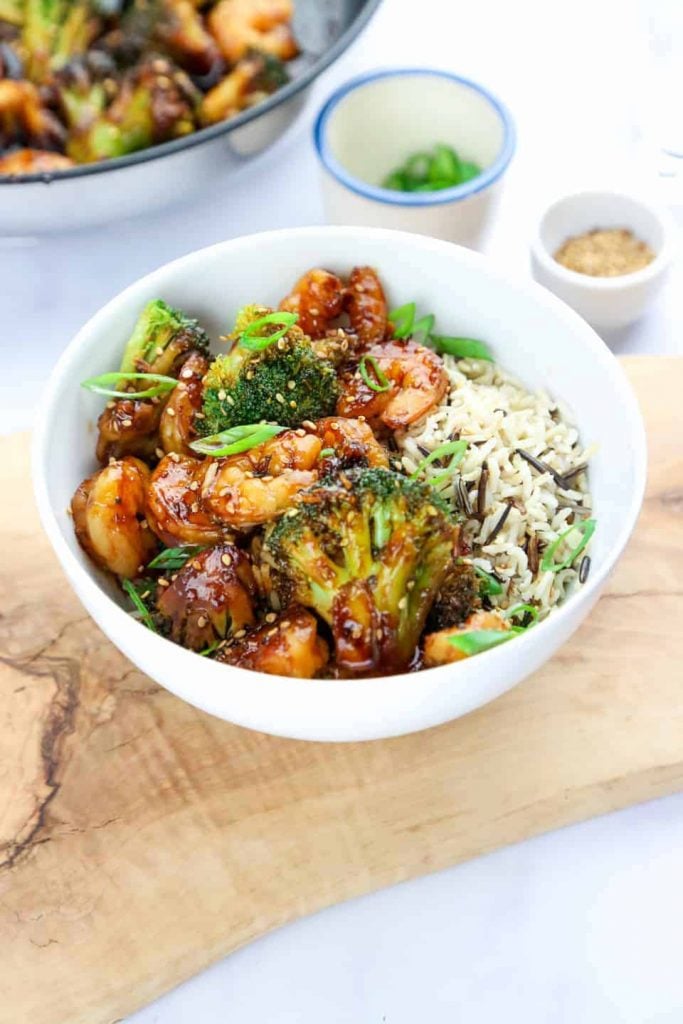 I've taken some time off the blog, and today I'm officially back to work and fully recovered from Christmas and the holidays! You guys won't believe the amount of the amazing food that we've had over Christmas.
My Mum cooked the most amazing stuffed turkey, while my sister and I made the sides and the desserts. Followed by the amazing family breakfasts, and holiday desserts…
Every year, I tell myself that I won't feel guilty about all the food that I've eaten during the holidays but it doesn't really work that way. I, of course, have written down my New Year's resolutions, and (of course) one of these resolutions is to lose weight and eat healthier in general! So I'm currently working on that even though it's cold outside and all I want to do is snuggle on the couch with lots of comfort food!
Another New Year resolution that I've written down is to start planning my meals in order to help reduce food waste. So this is what I'm going to do this January to eat well and get back on track after the holidays!
MEAL PLANNING
When you're leading a busy lifestyle, it gets difficult to be able to cook yourself a healthy meal every day because there is simply not enough time to cook or shop every day for the ingredients that you need.
One of my New Year's resolutions is to start planning our meals ahead of time. So every Saturday I will be making a list of dishes that we will be eating throughout the week and a list for our grocery shopping. This will save me a lot of time, it will help me eat healthier, and reduce food waste.
5 TIPS TO HELP YOU EAT HEALTHIER THIS YEAR
Aim to eat at least five servings of fruit and vegetables every day.
Plan your meals ahead of time. This will help you stay on track, and avoid eating lots of junk instead of healthy food.
Buy frozen fruit and vegetables (I shop at Iceland Foods). Frozen means fresher produce with more vitamins and nutrients locked in, it will also help you reduce food waste.
Buy frozen smoothie bags to make quick and healthy smoothies in the morning. These come in small portion bags for convenience. I love Iceland Foods Smoothie bags, they're so convenient and they taste great!
Eat more fish. Fish is a good source of protein and omega 3 that can help prevent heart diseases. Aim to eat at least 2 portions of fish a week. I like to buy frozen fish as it's much fresher and healthier than fresh fish.
EASY SHRIMP AND BROCCOLI STIR FRY
This easy shrimp and broccoli stir fry is a great recipe to kick-start the new year if you also want to eat healthier, save time by planning your meals and reduce food waste.
This is very similar to my Beef and Broccoli recipe (it's one of my most popular recipes on the blog!), but this recipe uses shrimps or prawns instead of beef. What I really like about this recipe is that it only requires heating up if you decide to eat it a day or 2 later.
One portion of this shrimp and broccoli contains as little as 252 calories and 31 grams of protein. And I usually serve it with either white rice or a mix of brown and wild rice for a healthier option and that lovely crunch.
What makes this shrimp and broccoli dish so flavorful is, of course, the sauce. The sauce is quite easy to make, I mix soy sauce, with oyster sauce, sesame oil, fresh ginger, fresh garlic, vinegar, agave syrup and cornstarch.
The sauce is then poured over the shrimps or prawns with the broccoli florets and is left to cook for a couple of minutes.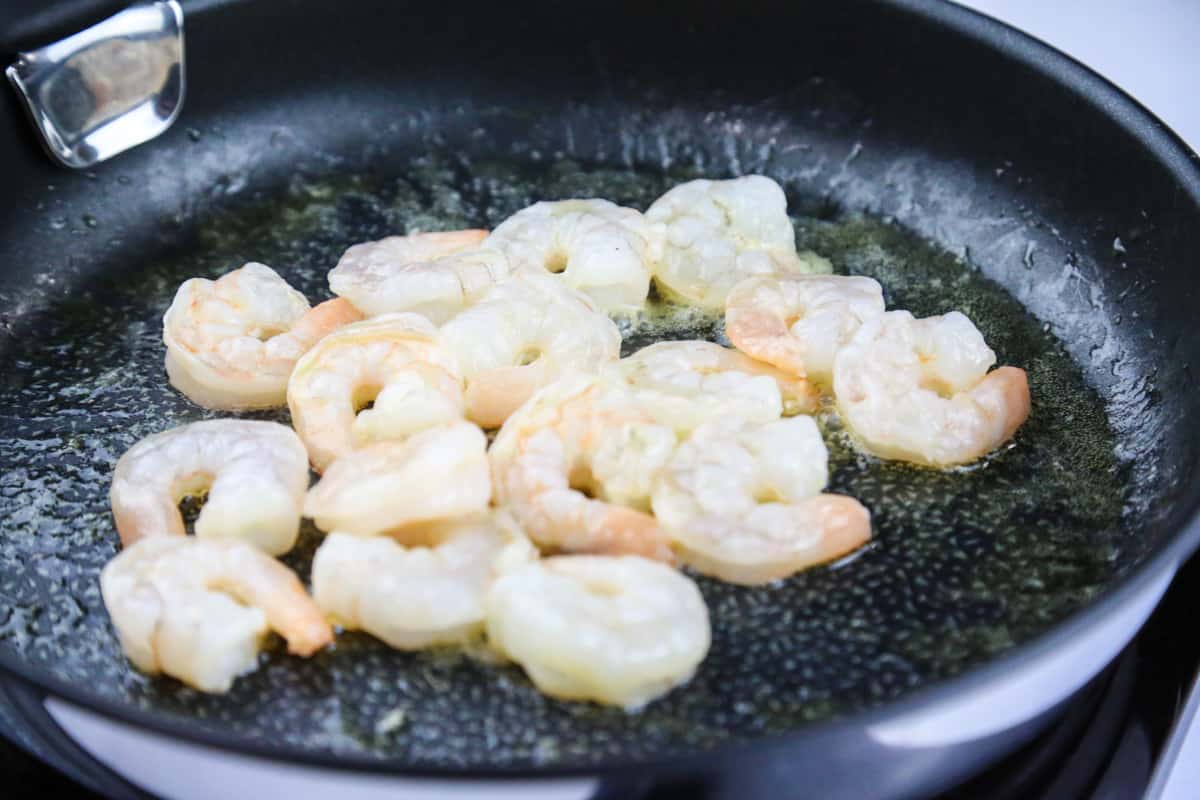 I always make sure that I'm stocked up on frozen broccoli as it's one of my favorite vegetables, and I add it to many dishes that I make. These frozen broccoli bags from Iceland Foods are great as each floret is frozen individually and that allows me to take the exact amount that I need for the dish that I'm making.
The Broccoli is fresher when it's frozen, and I find these frozen bags very convenient as it means that I can always make sure that I'm stocked up on broccoli.
So here's a video and a recipe for you to try a new recipe and start eating well! This recipe makes 2 portions, so it's perfect if you're cooking for two!
I hope that you will give this recipe a try.
If you make this shrimp and broccoli stir-fry, please don't forget to rate this recipe and share a picture on social media. Tag #LittleSunnyKitchen in your posts as I would really love to see your creations!
Shrimp and Broccoli Stir Fry
Super easy and quick shrimp and broccoli stir fry served with a bowl of brown rice.
Print Recipe
Ingredients
250

grams

prawns or shrimp

250

grams

broccoli

1

tsp

sesame seeds

1

green onion

sliced
For the sauce
2

tbsp

soy sauce

low sodium

1

tbsp

oyster sauce

1

tsp

white vinegar

1

tbsp

agave syrup

1

tbsp

ginger

grated

1

clove

garlic

grated

1

tsp

sesame oil

1

tsp

cornstarch
Instructions
For the the Sauce
Mix all sauce ingredients together and give it a mix
For the Stir Fry
Heat olive oil in a medium pan

Add frozen raw prawn or shrimp and cook until it turns pink

Add broccoli and keep stirring until the broccoli is soft

Pour the sauce over the broccoli and the prawn/shrimp and cook for 3 minutes

Serve with brown and wild rice
Nutrition facts
Calories:
252
kcal
|
Carbohydrates:
21
g
|
Protein:
31
g
|
Fat:
5
g
|
Cholesterol:
315
mg
|
Sodium:
2266
mg
|
Potassium:
533
mg
|
Fiber:
3
g
|
Sugar:
9
g
|
Vitamin A:
840
IU
|
Vitamin C:
118.2
mg
|
Calcium:
250
mg
|
Iron:
4.1
mg