Juicy Lucy Burgers! A thick, pan-seared, juicy hamburger stuffed with melty, gooey American cheese is as delicious as it is fun to eat.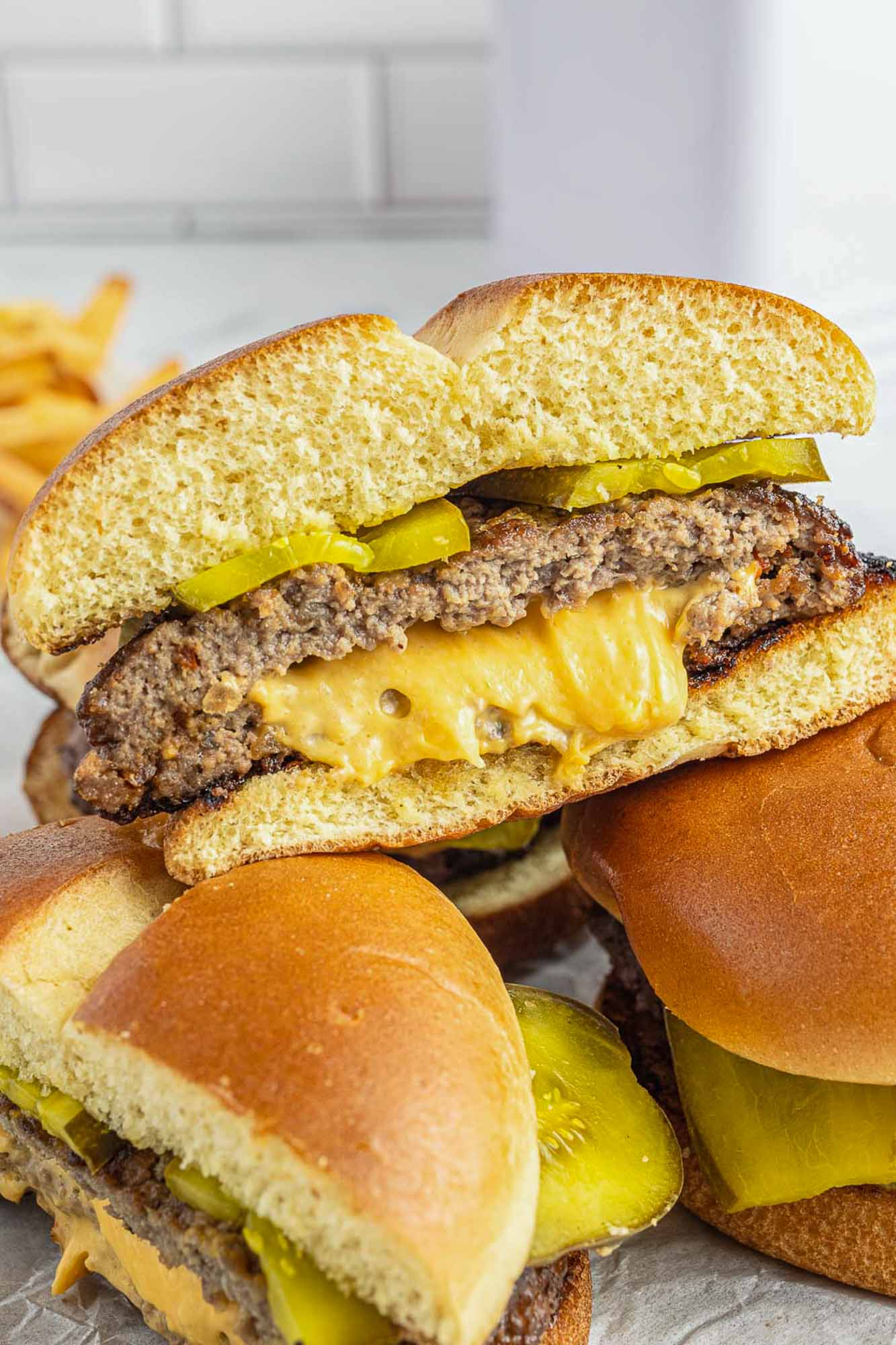 What is a Juicy Lucy Burger you ask? This cheese-stuffed masterpiece was said to have originated in Minneapolis, Minnesota, where it is now a common dive bar or diner food offering.
A thick beef burger is simply seasoned and stuffed with plenty of melty American Cheese. Then it's cooked in a skillet so that it forms a beautifully browned outer crust.
Add that to a buttery, slightly sweet, brioche bun, add some toppings if you like, and get ready for the magic to happen!
When you bite into a perfectly cooked Juicy Lucy Burger, you'll find that it's packed full of delicious, creamy, and melted cheese that just oozes out!
These burgers may get your hands a bit messy, but I promise it's worth it.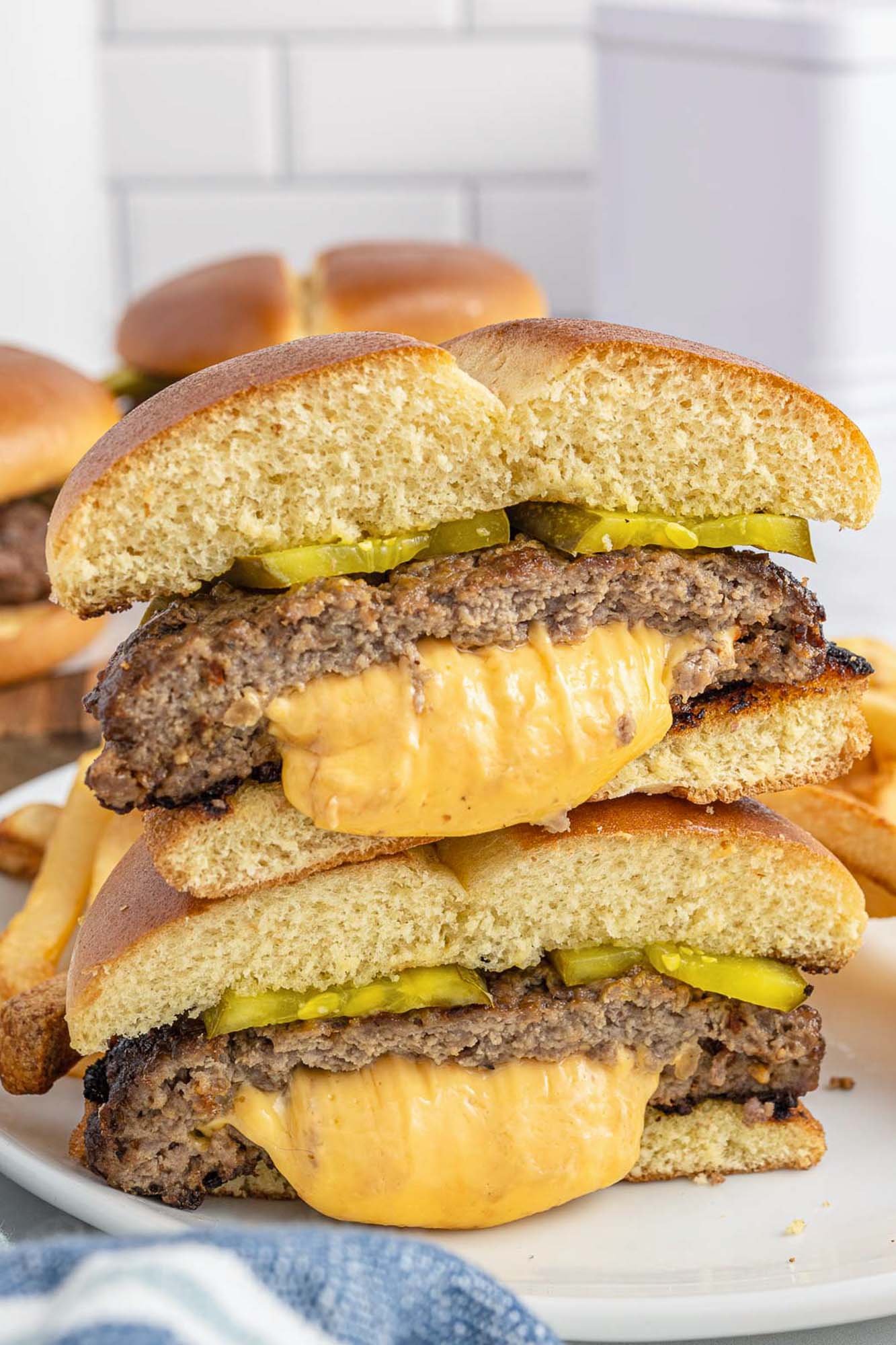 Why You'll Love This Juicy Lucy Recipe
Save Money – A cheesy stuffed burger like this one will easily cost you $10-15 dollars at a restaurant. Make Juicy Lucy burgers at home with just a handful of ingredients and serve the whole family for way less cash.
An American Classic – The only food better than a cheeseburger is a burger with tons of American cheese INSIDE of it! Just like a Patty Melt Sandwich, this is a fun spin on a classic that's popular in diners and dives all across the country.
Versatile Recipe – You can play with the ingredients in this juicy lucy recipe to come up with your own fancy gourmet burgers. Try different cheeses, toppings, and bread options – you might be surprised at what you can create!
Ingredients In Juicy Lucy Burgers
Here's what you need to make these juicy burgers that will explode in your mouth with cheesy goodness:
Complete list of ingredients and amounts can be found in the recipe card below.
Ground Beef: These are going to be some big burgers! You'll use a pound and a half of ground beef to make 4 juicy lucy hamburgers. I suggest using a 70/30 or 80/20 blend (muscle to fat ratio).
Hamburger Seasoning: There are some great pre-mixed burger seasoning options out there. Find one that you like (this one is good!). You can also season the burgers simply with salt, pepper, and garlic powder.
American Cheese: You will need at least 4 slices to make four burgers, or you can double it up to make yours extra cheesy.
Vegetable Oil: For cooking the burgers.
Brioche Hamburger Buns: These are my favorite. Look for them at Aldi or your local grocery store. You can use any other type of hamburger or sandwich buns that you enjoy!
Burger Toppings: I'm not going to tell you what to put on your burger! I'm sure you already know what you like. Sliced dill pickles and ketchup are a good start.
How To Make Juicy Lucy Burgers
Make Hamburger Patties: Mix the ground beef with the hamburger seasoning, then divide into 8 equal portions. Form each portion into a flat patty, then place one or two folded slices of American cheese on half of them.
Stuff with Cheese: Cover with the other beef patties, and carefully pinch the edges to be sure that the cheese is safely inside of the hamburgers.
Cook: Heat oil in a skillet (preferably a 12-inch cast iron skillet) and pan fry each Juicy Lucy burger for about 6-8 minutes on each side, or to your desired doneness.
Serve: Allow the burgers to rest for a few minutes so that the cheese in the center can cool down a bit. Then serve on toasted brioche buns with your favorite burger toppings.
Tip!
It's important to let the burgers cool a bit before biting into them! That melted cheese will be super hot, and you don't want to burn your mouth. You can cut them open instead, but still give them a few minutes, or all of that cheese will flow right out onto your plate.
Recipe Tips
I like to use a lean ground beef for homemade burgers, but you can use any type of ground meat (try turkey, vegan burger meat, or game meat!) to make juicy lucy burgers. Keep in mind that fattier meat will shrink down more than lean ground beef will.
To make extra cheesy stuffed burgers, use two slices of cheese inside each of them!
Use this method to make all different kinds of stuffed cheeseburgers. Choose your favorite cheese, and include other toppings like sauteed onions or mushrooms, crumbled bacon, or jalapeno peppers.
Do you know what they call a Juicy Lucy that's stuffed with blue cheese? A Bluecy!
What Kind of American Cheese Should I Buy for Burgers?
Look at the packaging when shopping for American cheese. There are various types, and they all kind of look the same.
The best American cheese slices are labeled as "pastuerized process cheese" or pasteurized processed cheese food". Typically these cheeses are also labeled as "deluxe". The sliced cheese you get at the deli falls into this category too. These slices melt really well and have a pleasing texture.
Anything labeled as a "cheese product" (Kraft singles are this type) is only about 50% cheese. Other American cheese products labeled as just "american slices" may not include any cheese at all. The texture can vary based on brand, but the lower-cost versions of these individual sandwich slices can be a bit plastic-y.
For stuffing a Juicy Lucy, I suggest buying an American cheese that you already know you like, and that melts well. If you aren't sure, head to your deli and ask them for their best sliced American cheese.
If you aren't in the US, but still want to make these American cheese stuffed burgers, your best bet is to use a combination of mild cheddar and Colby jack cheese. This is the type of cheese typically used to make American cheese, and it's melty enough to work.
Storing Tips
Leftover Juicy Lucy Burgers can be stored in an airtight container in the fridge for up to three days. Reheat them in the microwave at medium power, or warm them through on the stove.
What To Serve With Juicy Lucy Burgers
These are my favorite side dishes to serve with hamburgers. I know you'll find a few new favorites here!
Fries: You can make crispy homemade french fries, oven baked fries, baked potato wedges, or air fryer tater tots.
Sauces: Put one of these tasty sauces on the burgers, and you'll definitely want to dip your fries into it too. Copycat Chick Fil A sauce, classic creamy fry sauce, or homemade mayonnaise.
Diner-style Side Dishes: You can make some of your favorite homestyle diner foods at home. Try my Velveeta mac and cheese (more American cheese can't hurt, right?), baked beans, or Tuna Pasta Salad.
How to Make a Juicy Lucy Burger Low Carb
This is an easy one to make over into a healthier, lower-carb meal. Skip the hamburger bun and enjoy your Juicy Lucy bun-less or wrapped with lettuce leaves.
Or, serve with a hearty salad or your favorite steamed veggies on the side.
FAQs
Who Invented the Juicy Lucy Burger?
There are a couple of bars in Minneapolis that have a bit of a rivalry going about who was the first one to make a Juicy Lucy burger. Not sure anyone will every know for sure, but if you're ever in MN, check out Matt's Bar or the 5-8 Club and see what all the fuss is about!
Can I make Juicy Lucy Burgers on the Grill?
Yes, You can cook these cheese stuffed burgers on a charcoal or gas grill if you want to. Cooking them in a cast iron pan replicates the flat top that they are traditionally made on though, and gives the burgers a delicious outer crust.
Is American cheese real cheese?
The short answer is, that American cheese is a processed cheese that's made from melting down cheddar, colby, and other cheeses. Milk and other additives are mixed in to create the smooth, meltable product that we all love.
How can I tell if my Juicy Lucy is cooked properly?
Because the outer patties of these burgers are thin, you are going to end up with a burger that is medium well to well done. In order for the cheese to melt, this is just the way that it needs to be. Avoid poking or cutting into the burgers to check for doneness, because then all the cheese will spill out. Just trust that they are ready when the outside of the burgers starts to crisp up.
Juicy Lucy Burgers are so amazing and easy to make! Save this recipe for the next time you want to really impress your family with a cheesy surprise!
Did you make this? Be sure to leave a review below and tag me on Facebook, Instagram, or Pinterest!
Recipe
(Click stars to rate!)
Juicy Lucy Burgers
Thick, pan-seared, Juicy Lucy Burgers are stuffed with melty, gooey American cheese. They are easy to make and fun to enjoy!
Thick, pan-seared, Juicy Lucy Burgers are stuffed with melty, gooey American cheese. They are easy to make and fun to enjoy!
Ingredients
1 ½

pounds

ground beef

1

tablespoon

hamburger seasoning

4-8

slices

American Cheese

1

tablespoon

vegetable oil

4

brioche hamburger buns
Instructions
Mix the ground beef with the hamburger seasoning, then divide into 8 equal portions.

Form each portion into a flat patty, then place 1 or 2 folded slices of American cheese on one patty, and cover the cheese with a second patty. Seal each patty by pinching the edges.

Heat oil in a skillet (preferably 12 inch cast iron), and pan fry each for about 6-8 minutes on both sides or to your preferred doneness.

Allow to rest for a few minutes, then serve in toasted brioche buns with your favorite toppings.
Notes:
You can use any type of ground meat to make these burgers. Keep in mind that fattier meat will shrink down more than lean ground beef will.
If you can't find hamburger seasoning, just season your meat with salt, pepper, and some garlic powder or your favorite spices.
Avoid cutting into the juicy lucy patties right away. Allow them to rest for a few minutes so that the cheese doesn't all fall out.
Use one slice of cheese per burger, or use two to make them extra cheesy!
Nutrition Information
Calories:
870
kcal
,
Carbohydrates:
39
g
,
Protein:
43
g
,
Fat:
60
g
,
Saturated Fat:
28
g
,
Polyunsaturated Fat:
1
g
,
Monounsaturated Fat:
17
g
,
Trans Fat:
2
g
,
Cholesterol:
285
mg
,
Sodium:
849
mg
,
Potassium:
487
mg
,
Sugar:
1
g
,
Vitamin A:
918
IU
,
Calcium:
298
mg
,
Iron:
4
mg
This website provides approximate nutrition information for convenience and as a courtesy only. Nutrition data is gathered primarily from the USDA Food Composition Database, whenever available, or otherwise other online calculators.
© Little Sunny Kitchen