This homemade Nutella recipe is creamy, nutty, chocolatey, and completely irresistible. It's also gluten free, dairy free, and vegan. Learn how to make healthy Nutella from scratch using this simple recipe.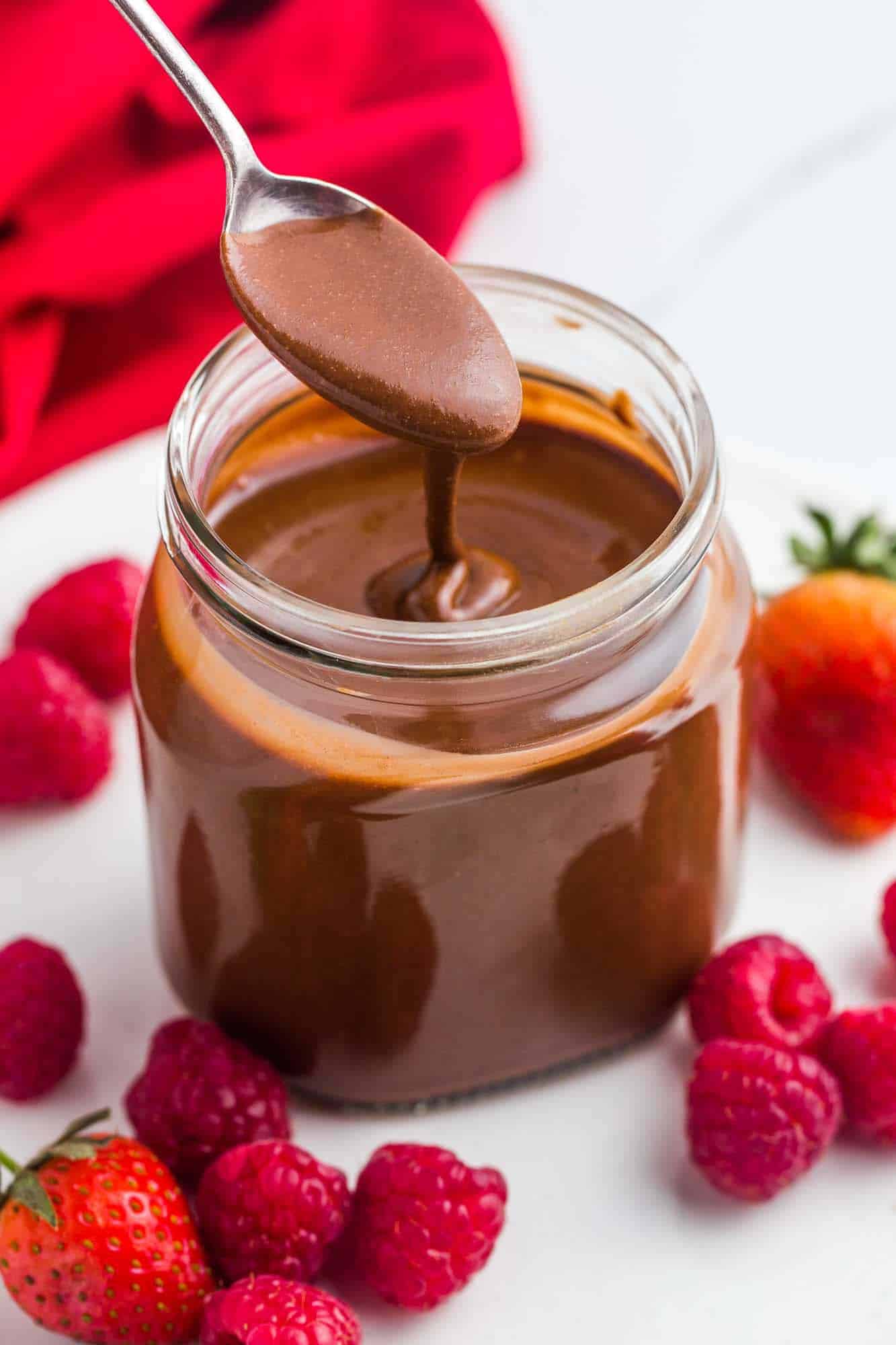 Nutella is a staple in many households. It's perfect for topping toast or pancakes, and even more perfect for curing a chocolate craving with just a spoonful. Homemade Nutella is not quite as easy as putting a spoon in a jar, but the flavor of this homemade version is well worth a few extra, simple steps.
My version of homemade Nutella is dairy free, palm oil free, preservative-free, and vegan. This makes it safer for anyone with allergies or food preferences than store-bought hazelnut spreads and it's healthier too.
Everytime I make it, it's gone within a day or two! And trust me, once you make it, you will never buy store-bought Nutella ever again!
Love this recipe? You should also try making my homemade almond butter!
Why You'll Love This Nutella Recipe
Homemade Nutella tastes amazing and is full of the natural flavors of roasted hazelnuts, pure vanilla, sea salt, and cocoa powder. It's perfectly sweet and not overbearing.
Coconut oil gives this spread the perfect consistency.
Homemade Nutella comes together quickly in a high-speed blender or food processor.
Where Did Nutella Come From?
This delicious chocolatey spread must have originated somewhere, right? I did a little research.
Nutella was originally created by Pietro Fererro, a pastry maker in Italy in the late 1940's. If that name sounds familiar, it's because the Fererro company is responsible for other delicious things, like those Ferrero Rocher chocolates.
During the war, there was a shortage of cocoa, and a need to make it go further. He decided to blend a small amount of cocoa with hazelnuts to create a spread. The original name for this product was SuperCrema Gianduia (see image below). The Nutella name wasn't coined until 1964. Nutella spread from Italy, across Europe, and eventually across the world to become the breakfast staple that it is today.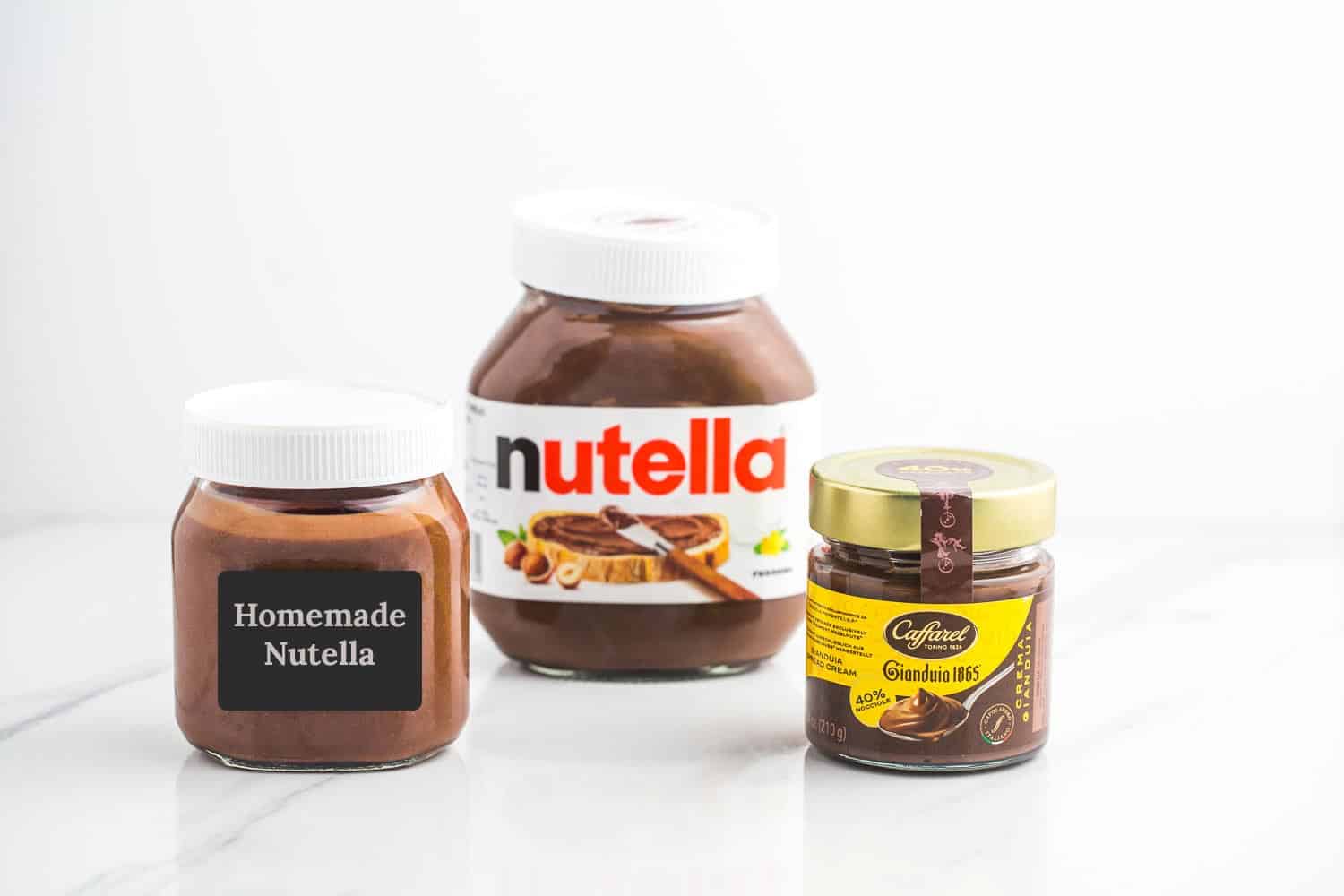 No offense to all of that amazing history, but I think my version of homemade Nutella tastes even better than the original!
Do I Have to Roast the Hazelnuts?
Roasting the hazelnuts has multiple benefits to this recipe.
Roasted hazelnuts taste better. They get nuttier, richer, and more delicious when they are browned and start to release their oil.
Roasting the nuts will loosen the skin, if you're using unblanched nuts. You'll want to remove the skin before blending.
Roasting softens the hazelnuts so that they are easier to blend.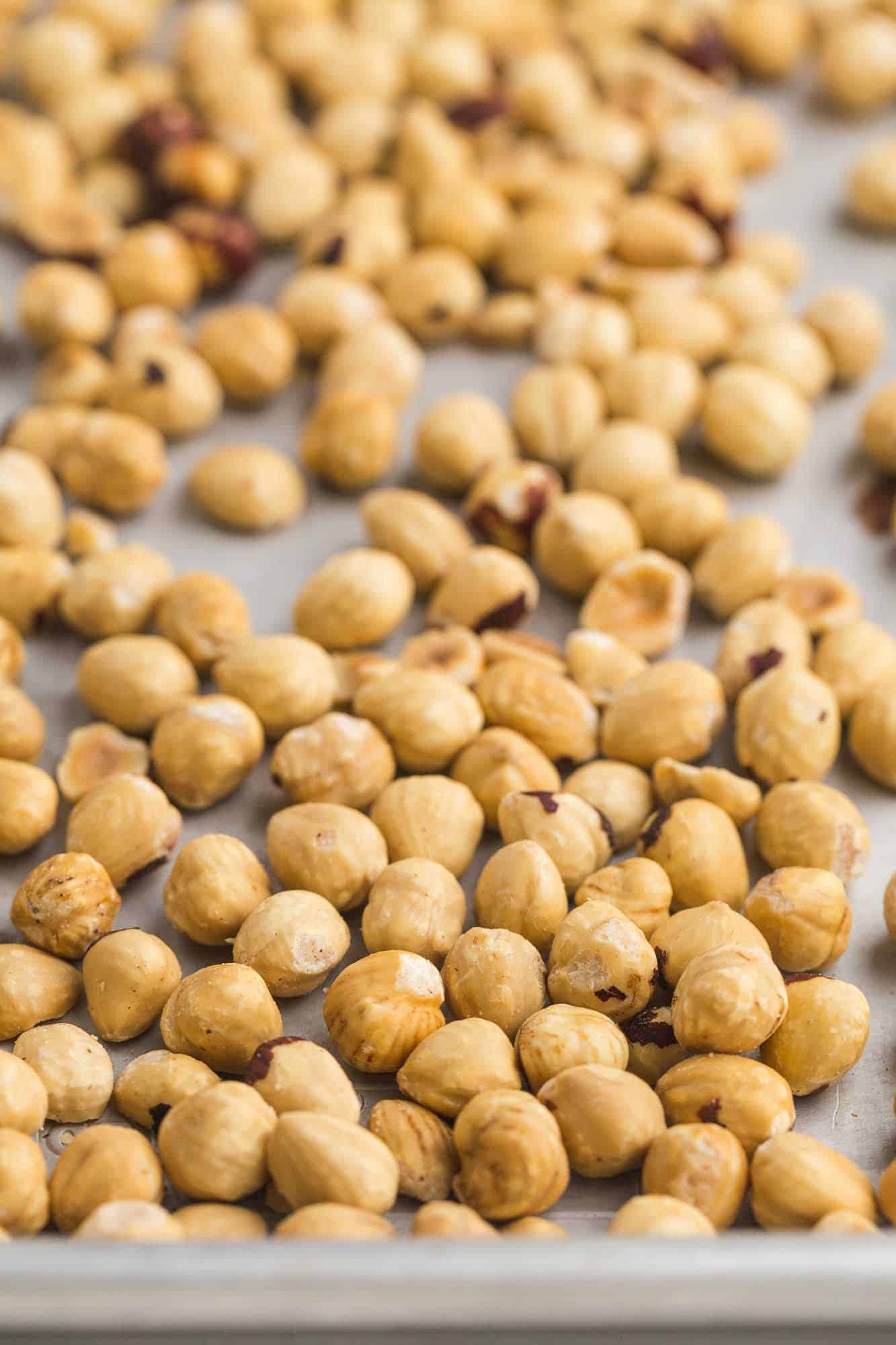 Ingredients in Homemade Nutella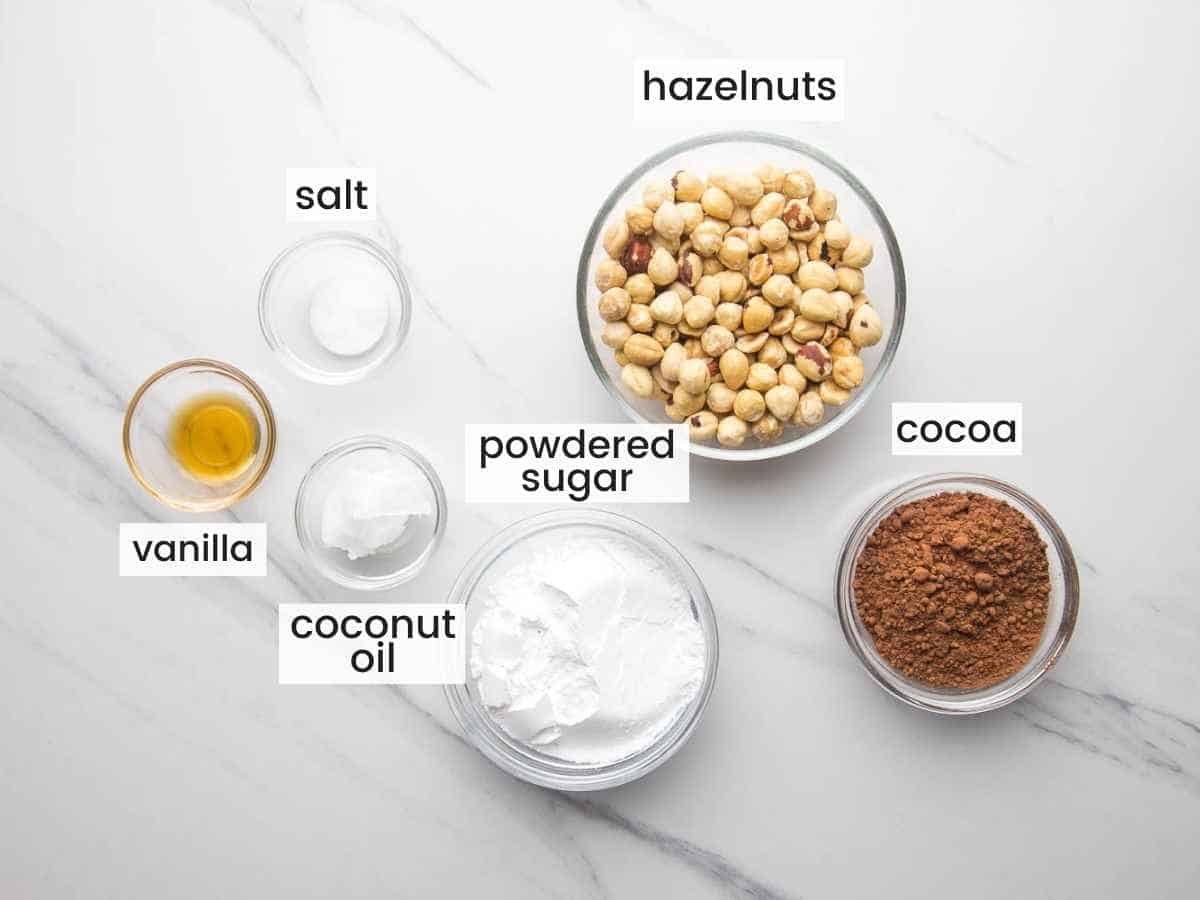 Complete list of ingredients and amounts can be found in the recipe card below.
Hazelnuts – My preference for this recipe is to use raw, unsalted, blanched hazelnuts. We'll be roasting them ourselves. If your hazelnuts aren't blanched and still have their skins, the roasting step will help the skins loosen so you can remove them.
Coconut Oil – Traditional Nutella uses palm oil to get a smooth, spreadable consistency. We're using coconut oil.
Powdered Sugar – This finely milled sugar adds sweetness and helps thicken up the spread. You can add more or less to control the thickness.
Cocoa Powder – This is the flavor star of our homemade Nutella recipe. Use a good quality cocoa powder for best results.
Sea Salt – A good pinch of salt balances out the sweetness and enhances the chocolate flavor.
Pure Vanilla Extract – To get the proper Nutella flavor, we need both chocolate and vanilla. Use your favorite high-quality pure vanilla extract.
Tip!
Buy hazelnuts from the bulk area of your grocery store to get the best price. They are much more expensive when they are pre-packaged.
How To Make Homemade Nutella
On a sheet pan, roast the hazelnuts until they are slightly browned and fragrant.
Transfer the roasted hazelnuts to the bowl of a food processor and blend until the hazelnuts turn into hazelnut butter.
Add the powdered sugar and cocoa powder and blend again until well combined. Scrape the sides of the bowl as needed.
Add in the coconut oil, vanilla extract, and salt. Blend until the spread is liquified (if it's too thick, add a little bit of water). Remember, the mixture will firm up as it cools down.
Top Tips
How To Make Homemade Nutella Extra Chocolatey
If you desire to make your homemade Nutella extra decadent, you can add additional chocolate to the mix. Add in melted and slightly cooled, high quality semi-sweet or dark chocolate after mixing in the coconut oil. This will make your spread thinner at first, but firmer after cooling.
I don't find that this recipe really needs extra chocolate added to it, so make it as the directions describe first, and then melt chocolate and add it if you prefer.
How Do I Store Homemade Nutella?
Your vegan Nutella will stay fresh for up to two weeks. It's up to you where you store it. This can be stored in the fridge or at room temperature in a glass jar with a lid.
Storing at room temperature will make the Nutella softer and easier to drizzle or spread, depending on the temperature of your room. In the fridge, it will be firmer but will soften as you add it to hot toast. This is because we're using coconut oil in our Nutella recipe. Coconut oil is generally solid at room temperature, but if it gets just a little bit warm it will liquify.
Can I Make Homemade Nutella in a Blender?
The smoothness of your finished homemade Nutella will depend on the strength of your food processor or blender. I find that a regular large food processor does a very good job of getting smooth final produce. A blender can be used as well, particularly a high speed blender like a Vitamix (I love mine so much!).
A regular blender might not work as the process of making nut butter is a tough one. You may find that your blender gets gummed up, overheated, and it might even break.
The short story is, You should use a high-powered blender or food processor to make homemade Nutella.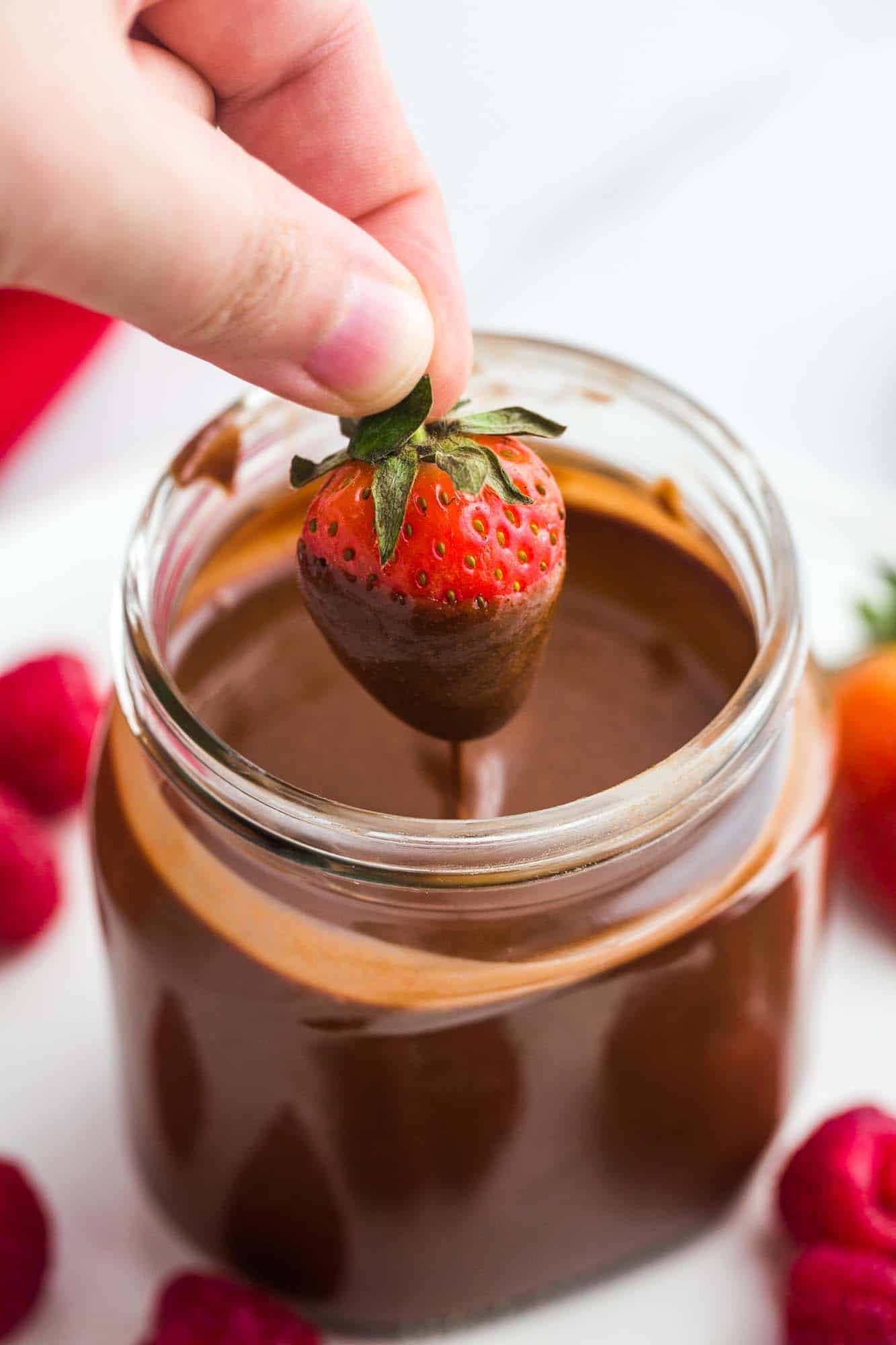 What to Serve with Homemade Nutella
For me, homemade Nutella just screams to be added to breakfast dishes. Try this chocolate hazelnut spread drizzled over:
Imagine: In twenty-ish minutes you'll be enjoying a fresh, homemade, vegan Nutella spread that you made yourself! I know you'll be making this regularly, because a jar rarely makes it in my house longer than a week. Make sure that you Pin this healthy Nutella recipe for more people to enjoy.
Did you make this? Be sure to leave a review below and tag me on Facebook, Instagram, or Pinterest!
Recipe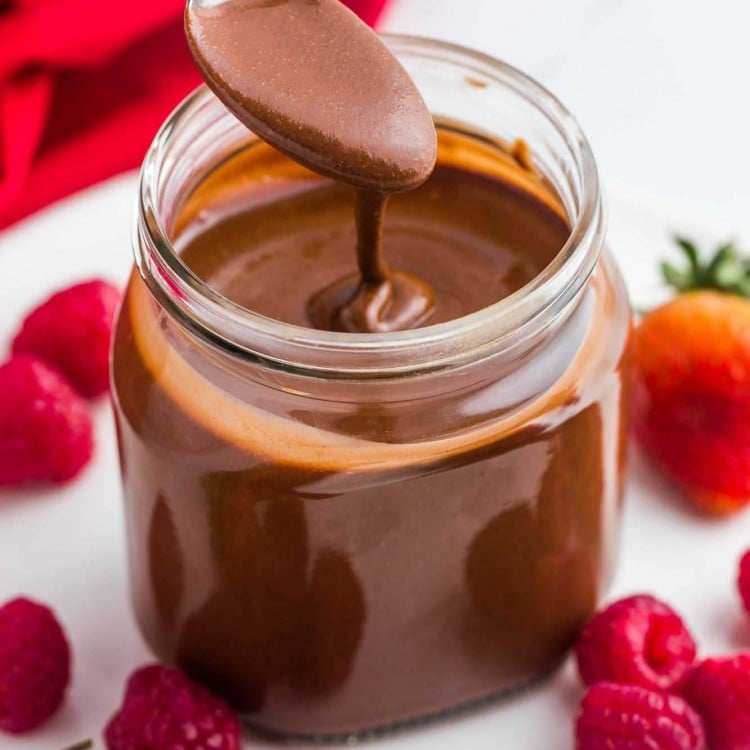 (Click stars to rate!)
Homemade Nutella Recipe
A homemade nutella recipe that is vegan, gluten free, and dairy free is made with simple ingredients and tastes better than the original.
A homemade nutella recipe that is vegan, gluten free, and dairy free is made with simple ingredients and tastes better than the original.
Instructions
Preheat oven to 350°F/180°C Fan oven 160°C.

Scatter the hazelnuts on a sheet pan and roast for 10-12 minutes.

Transfer the roasted hazelnuts to a bowl of a food processor, and blend for 90-120 seconds (time depends on how powerful your food processor is). The hazelnuts should turn into butter.

Add the powdered sugar and cocoa powder, and blend again for 90 seconds. Scrape the sides as needed.

Add in the coconut oil, vanilla extract, and salt. And blend until the spread is liquefied but not too thin. Total blend time is usually around 5-6 minutes.

The mixture will firm up as it cools down.

Store in a glass jar in the fridge or at room temp for up to 2 weeks.
Notes:
The creaminess of your Nutella will depend on how powerful your food processor. A high-powered blender can also be used (Vitamix). A regular blender might not work as it can become too hot, or might break.

This homemade Nutella is vegan, dairy-free, and gluten-free.

This recipe can be easily doubled or tripled but don't halve it.

If using unblanched hazelnuts, when you take them out of the oven, let them cool down until they're cool to the touch then transfer to a clean kitchen towel and rub them. The skins will easily come off.

The more sweetener/powdered sugar you add, the thicker your spread will be.

If your Nutella is too thick, just add a little bit of water and blend again.

High-quality melted chocolate can be added – I don't find it necessary so I don't add it but if you prefer a more chocolatey flavor then go for it.
Nutrition Information
Calories:
140
kcal
,
Carbohydrates:
9
g
,
Protein:
3
g
,
Fat:
12
g
,
Saturated Fat:
3
g
,
Sodium:
98
mg
,
Potassium:
139
mg
,
Fiber:
2
g
,
Sugar:
6
g
,
Vitamin A:
3
IU
,
Vitamin C:
1
mg
,
Calcium:
20
mg
,
Iron:
1
mg
This website provides approximate nutrition information for convenience and as a courtesy only. Nutrition data is gathered primarily from the USDA Food Composition Database, whenever available, or otherwise other online calculators.
© Little Sunny Kitchen