We all know there has to be turkey on the table for Thanksgiving, but if you are like me, you find turkey in the oven kind of dry. This succulent Smoked Turkey is the perfect recipe for your Thanksgiving dinner! You may not have any leftovers!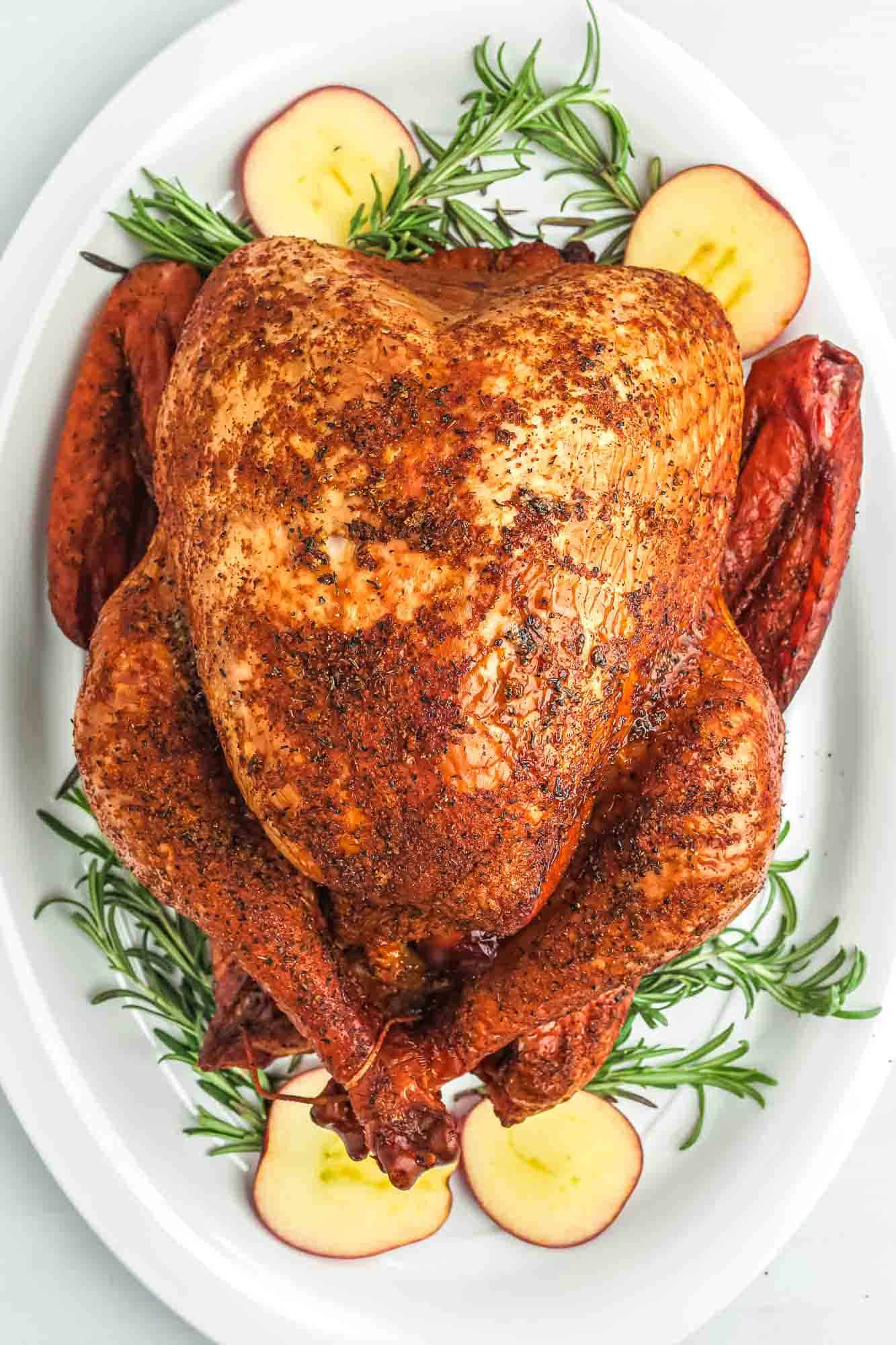 Complete list of ingredients and amounts can be found in the recipe card below.
As you get older, you have to spend Thanksgiving with your family and your spouse's family. Who wants to eat the same type of turkey twice in one week? I know I sure don't. This succulent smoked turkey has truly livened up our Thanksgiving dinners.
Although you need to start this turkey a few days ahead of time, its succulent flavor and crisp skin is perfect for your Thanksgiving dinner, but it is also perfect as leftovers because it doesn't lose its flavor and dry out.
Did you also know that you can grill a turkey? I have an excellent Grilled Turkey Recipe that you will love!
Be sure to check out my Roast Turkey Recipe as well, my recipe adds tons of flavor to the turkey and ensures that the turkey is never dry!
Why You'll Love this Recipe
I personally love this recipe because it is tender, moist, and delicious every single time. But, here are a few other reasons you will love it too!
3 layers of flavoring. First you brine the turkey, then you season it with rub, and finally you smoke it. This gives your turkey 3 layers of flavor making it lip smacking good.
Leftovers make great sandwiches. You can literally buy smoked turkey in the store for sandwiches, but with this recipe, you can use your leftovers instead!
You can make it anytime. Because it's not a traditional turkey, you can make it anytime to use as a dinner or take to a potluck to use for sandwiches.
So here's a wonderful smoker turkey recipe that I hope you enjoy as much as I do!
Smoked Turkey Ingredients
To make this recipe as succulent as it sounds, you will need some good seasonings and ingredients. Make sure you have the following: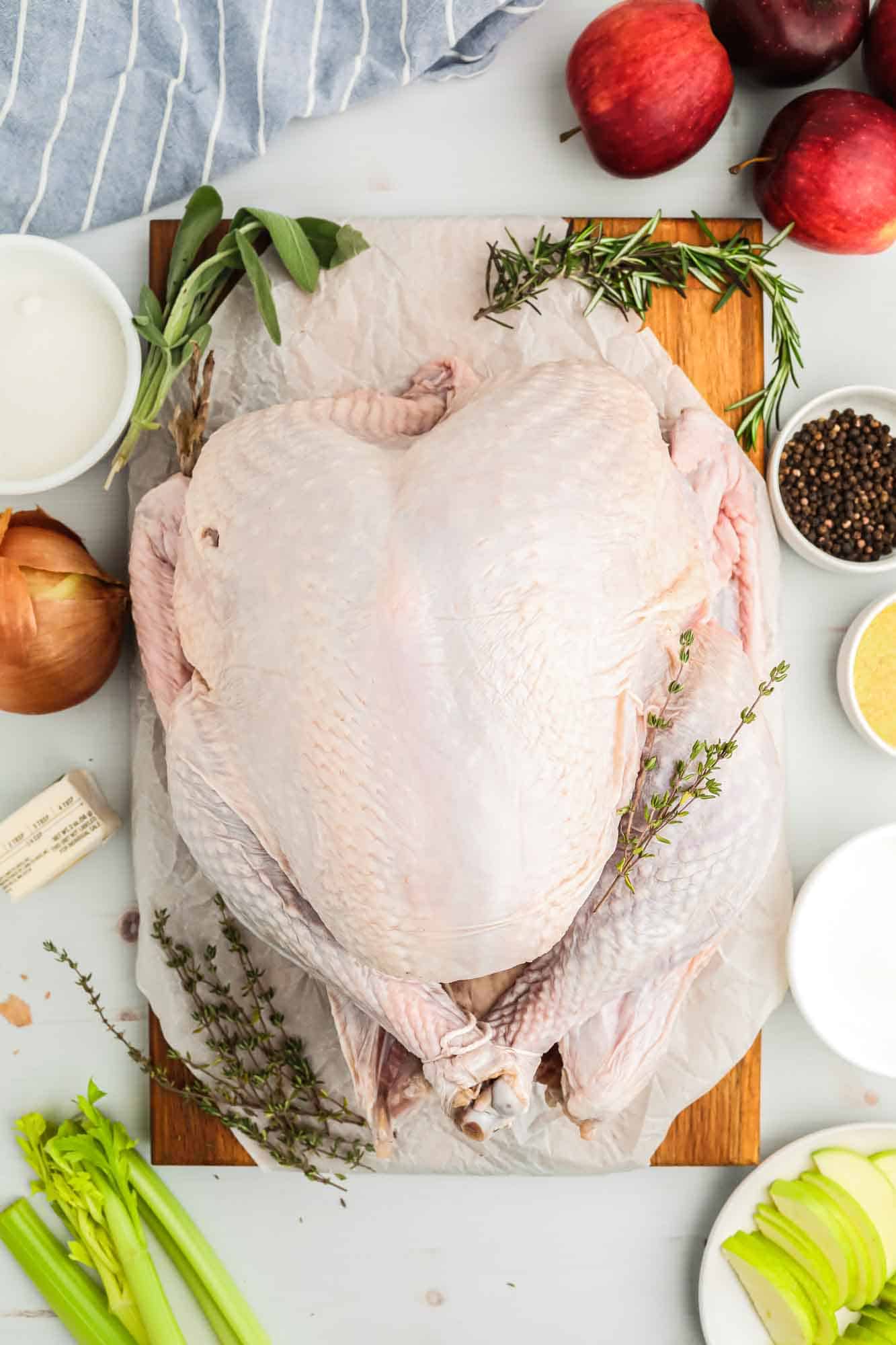 Complete list of ingredients and amounts can be found in the recipe card below.
Supplies Needed for Making Smoked Turkey
In addition to needing the right ingredients, you will also need a few supplies before beginning this recipe. Here's what you need:
Do I Need to Plan Ahead?
You absolutely have to plan this turkey ahead of time. This is a 5 day process. The process is as follows:
This recipe takes about 12 hours of prep time, 6-8 hours of cook time, and a total of 18-20 hours. But, it's totally worth it!
How to Make Smoked Turkey
When making this deliciously succulent smoked turkey, you will need to break it down into 3 sections. First, you will want to thaw the turkey for about 3 days in the refrigerator. Then, begin the steps below!
Step 1: Prepare the Brine
First, simmer 2 quarts of water, whisk in sugar and salt until combined. Then, add peppercorn, sliced tart apple, sprigs of rosemary, and simmer the brine for 15 minutes.
Step 2: Brine the Turkey
Allow the brine to cool, and then submerge your turkey in the brine (add more water as needed to cover the turkey, I had a total of 2 gallons of water including the brine). Make sure that the brine has completely cooled, you can either place it in the fridge to cool down or use ice for fast cooling.
You can use a large Ziploc bag for brining the bird, then place it in the fridge or a separate cooler with ice packs for at least 10-12 hours. To really get a great flavor, allow it to be submerged for 24 hours.
To learn more about brining a turkey, I have a complete guide and a slightly different recipe for a Turkey Brine so make sure to check it out.
Step 3: Air Dry the Bird
After you have completed the brining, remove the turkey from the brine, drain, and pat dry with paper towels. Allow the bird to air dry for about an hour. I recommend that you place it on a rack for better air circulation.
Step 4: Stuff the Bird
Stuff the bird with the sweet apples, celery, onion, sage, rosemary, and thyme.
Step 5: Add Seasonings
Brush the turkey with melted butter or canola oil all over the outside of the bird before applying the seasonings to help them adhere to the bird. Then season the outside with salt, ground pepper, and garlic. You can also do a sprinkling of my Turkey Seasoning for a herby finish.
Step 6: Tie Legs and Wings
Tie the turkey legs and wings with butcher twine. Or, just tuck the wings under the bird so that they do not burn.
Step 7: Prep the Smoker
Stock your smoker with wood chips, chunks, or pellets, and fill the steam pot with water. This depends on what type of smoker you have, so make sure that you're getting it right.
Step 8: Smoke the Turkey
You will want your smoker to be set at about 275°F/135°C degrees. Place the turkey breast side up and smoke for about 6-8 hours or until it reaches an internal temperature of 165°F/74°C degrees for the breasts and 175°F/80°C degrees at the thighs. Be sure to rotate it halfway for even cooking and smoking.
Tip!
You might need to tent the breast area, part of the breast, or the whole bird if it's getting dark too quickly. It can get dark quickly, so you might think that it's done while it's not.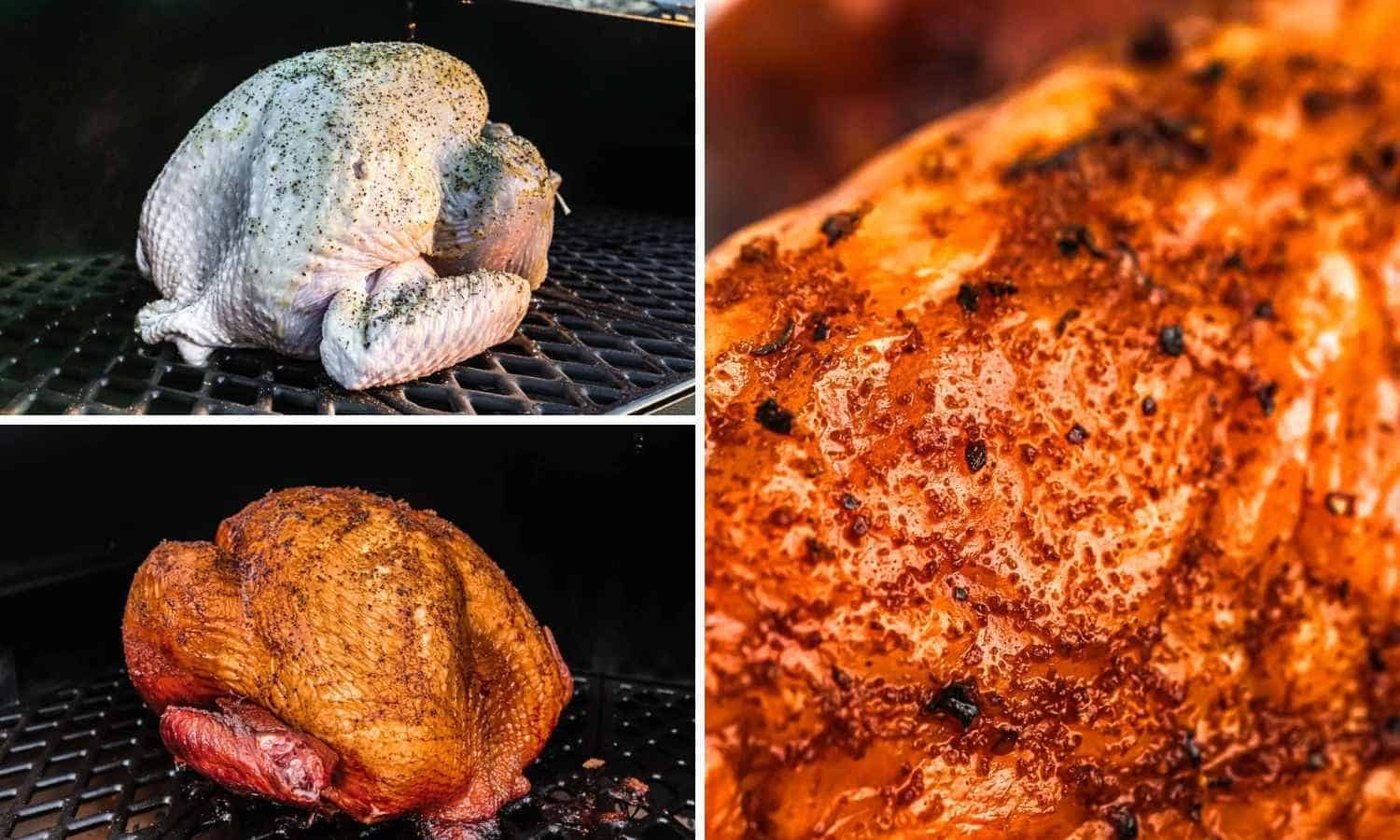 Step 9: Let Turkey Rest
Once your turkey is done, allow it to rest for 30 to 40 minutes before carving. Carve and enjoy your turkey! Here's how you carve a turkey.
Smoked Turkey Tips and Tricks
Along the way, I have learned a few tips and tricks to make this succulent smoked turkey even better. Here's a few you will want to check out:
Brine for 24 hours. For the best flavor, I suggest you brine the turkey for 24 hours making sure the entire bird is submerged.
Use another brine for different flavors. For a sweeter turkey, you can use 1 ½ cup of kosher salt, 1 cup brown sugar, ½ cup honey, 1 cup molasses, ⅓ cup BBQ rub, 3 bay leaves, black peppercorns, and fresh thyme.
Probe the turkey at 2 hours. You want to check the internal temperature at 2 hours because different turkeys cook at different times. You don't want to overcook it.
Don't skip putting on the melted butter. You can use canola oil if you like as well, but the oil or butter helps the seasonings to adhere to the bird.
You can use other seasonings. If you don't like the above rub, you can rub your bird with other seasonings such as turkey seasoning, poultry seasoning, barbecue seasoning (use a shaker like this one), or granulated garlic.
Smoke low and slow. Smoking it on low and super slow allows the flavor of the seasonings and the wood chips to really penetrate the meat, packing it with a juicy flavor.
Always check the steam pot. Make sure it is filled with water as it's needed. It is important to maintain high moisture in the smoker for the best flavor.
FAQs
How long to smoke a turkey?
The general rule of thumb is every pound of turkey needs about 30 minutes of smoking. But it also depends on the weight of your turkey, for a 16-lb turkey, I usually smoke it for 6-8 hours but it could take up to 10 hours. So always plan 1 hour extra just in case.
What kind of wood do I use?
Always smoke with hardwood and never with softwood, the difference is that softwood comes from evergreen trees while hardwood comes from trees that lose their leaves in the autumn. Softwood burns faster and contains more moisture, and that produces black smoke. Use hardwood for clean smoke that tastes amazing!
You can use any kind of wood chunks or wood pellets that you prefer in your smoker. For this recipe, we used apple smoked wood chunks. Each wood variety has its own unique flavor that you will love!
How to store smoked turkey?
This turkey is so succulent that you may not even have any leftovers. But, if you do, you can store it in an airtight container in the fridge for 3 to 5 days.
Can I serve smoked turkey warm or cold?
Once your turkey is smoked, you can eat it hot or you can put it in the fridge and eat it cold! In fact, we absolutely love to use cold turkey leftovers for sandwiches.
Other Smoked Recipes to Try
If you loved this smoked turkey recipe as much as I do, check out some of my other favorite smoked recipes, below:
Additionally, make sure you check out my Ultimate Guide to Thanksgiving Turkey post for tips and tricks on how to choose a bird, prep it, carve it, and more!
This smoked turkey recipe is perfect for any holiday, but it's also great throughout the year! You will love how moist and tender the meat turns out after smoking the turkey. It's an easy recipe that just requires a bit of time, but it's totally worth it! Don't forget to pin this recipe to Pinterest for others to enjoy!
Did you make this? Be sure to leave a review below and tag me on Facebook, Instagram, or Pinterest!
Recipe
(Click stars to rate!)
Smoked Turkey
Prepare a better turkey for Thanksgiving. Nothing says delicious quite like this succulent smoked turkey.
Prepare a better turkey for Thanksgiving. Nothing says delicious quite like this succulent smoked turkey.
Ingredients
For the brine:
2

quarts

water

plus more for the brine

1

cup

granulated sugar

1 cup

and 2 tablespoons

kosher salt

divided

2

teaspoons

black peppercorns

1

medium

tart apple

sliced (I used Granny Smith)

fresh rosemary

16

lb

whole turkey

fresh or completely thawed
To prep the turkey:
4

sweet apples

quartered

4

stalks

celery

1

medium

yellow onion

quartered

fresh sage
fresh thyme

4

tablespoons

butter

melted

2

tablespoons

granulated garlic

2

tablespoons

ground black pepper
Instructions
Prepare the brine for the turkey by simmering the 2 quarts of water.

Whisk in the sugar and 1 cup of salt, until well combined.

Add the peppercorn, sliced tart apple, and a few sprigs of rosemary. Bring to a simmer for 15 minutes.

Allow the brine to cool (or add a few bits of ice) before submerging the turkey and allowing it to brine 10-12 hours but preferably for 24 hours.

Remove the turkey from the brine, drain, and pat dry.

Stuff the turkey with sweet apples, celery, onion, sage, rosemary, and thyme.

Brush on melted butter over the outside of the turkey before seasoning with the remaining 2 tablespoons of salt, ground black pepper, and garlic (the butter helps the seasonings stick).

Tie the legs and wings with butcher twine or just tuck the wings underneath the bird so they don't burn.

Stock the smoker with wood (chips, chunks, pellet, or whatever your smoker is designed for) and fill the steam pot with water.

Smoke the turkey for about 6 hours at 275°F/135°C, until the internal temperature reaches 165 degrees at the breast and 175°F/80°C degrees at the thighs. Rotate the turkey within the smoker as needed, so the skin doesn't get too dark. (please see page 3 of this document under "cook" for better instructions on how to smoke the turkey)

Allow the turkey to rest for 30-40 minutes before carving.
Nutrition Information
Calories:
484
kcal
,
Carbohydrates:
1
g
,
Protein:
70
g
,
Fat:
21
g
,
Saturated Fat:
7
g
,
Trans Fat:
1
g
,
Cholesterol:
239
mg
,
Sodium:
386
mg
,
Potassium:
744
mg
,
Fiber:
1
g
,
Sugar:
1
g
,
Vitamin A:
272
IU
,
Vitamin C:
1
mg
,
Calcium:
40
mg
,
Iron:
3
mg
This website provides approximate nutrition information for convenience and as a courtesy only. Nutrition data is gathered primarily from the USDA Food Composition Database, whenever available, or otherwise other online calculators.
© Little Sunny Kitchen