Whether you're an Instant Pot pro or a complete newbie, I've compiled an easy to read and quick to reference guide for using your Instant Pot.
Oh, the Instant Pot! One of my absolute favorite kitchen appliances, alongside my air fryer and slow cooker. I love my smaller electric appliances for everything that they can do to help me get things done in the kitchen. They don't heat up the kitchen, they use less resources, and they often get food cooked more quickly than traditional methods.
I've talked to readers who are reluctant to use their Instant Pots for various reasons. Some are not exactly sure how to use them or are afraid of using them wrong. Others just don't see the benefit of using a whole new appliance. Wherever you might be with your own Instant Pot relationship, I know that this guide will clarify both how to use the instant pot and how it will help you in your kitchen.
All of the below information comes from my experience and the actual manual that came with my Instant Pot, but I've broken it down into just the parts that you really need in order to cook confidently with this small appliance. Bookmark or Pin this post to refer back to later and check out this list of 45 Instant Pot Recipes for Beginners.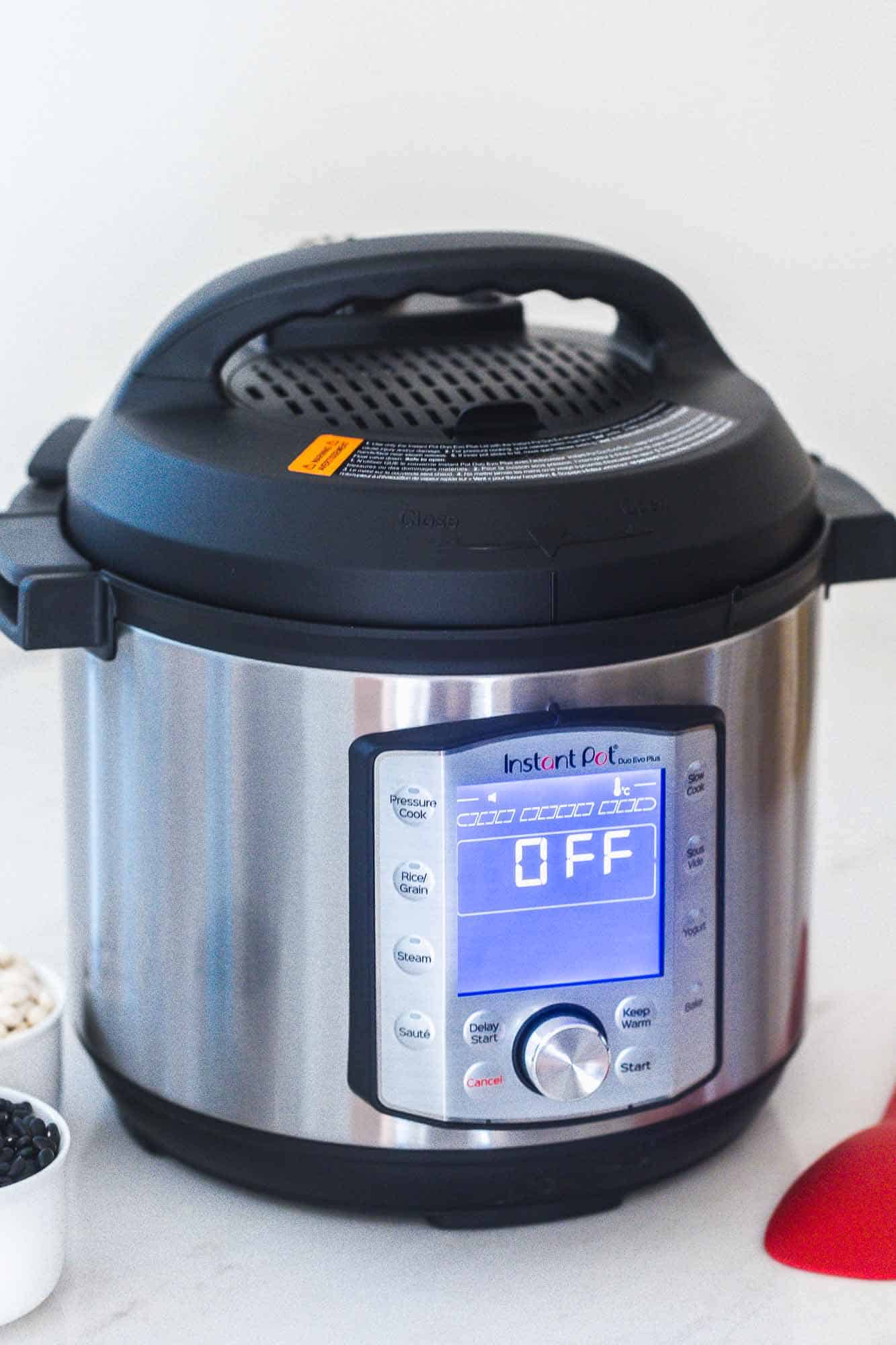 What Is An Instant Pot?
Put very simply, an instant pot is an electric pressure cooker. Pressure cooking is the Instant Pot's main function, but most models also have the ability to act as a slow cooker, steamer, rice cooker, food warmer, and yogurt maker.
Benefits of Using An Instant Pot
Multiple functions in one appliance. Use just this one machine as a slow cooker, rice cooker, pressure cooker, steamer, or yogurt maker.
Easy to use. Once you understand how the Instant Pot works, you will want to use it every day!
Energy Efficient. The Instant pot is an electric appliance and requires no gas or propane to use.
Little Radiant Heat. Running your instant pot will not heat up your whole house like an oven will.
Large Meals – Thick cuts of meat, roasts, or large meals are done more quickly in the pressure cooker than by using traditional cooking methods.
Great for Travel or Apartments – Use the instant pot anywhere where you don't have access to a full kitchen, such as when camping, traveling, or if you live in a small space.
General Instant Pot Tips
These tips are great to read over a few times and commit to memory, or may just hang up the list on your fridge. Remembering these things will serve you well if you need to troubleshoot on the fly.
Never fill the Instant Pot above the MAX line. It's there for a reason. Don't push it.
You must add liquid to the instant pot in order for it to work. IP recommends 1 cup of liquid for the 6-quart model. I've tested and found that generally ½ cup of liquid is enough. Similarly, they recommend 1.5 cups of liquid in the 8-quart model, but I find that 1 cup is generally enough.
Make sure that the silicone ring in the lid is fitted firmly and properly to create an airtight seal between the lid and the cooker base, so it should stay put without moving around. Keep two separate silicone rings (you only need one at a time). Use one for savory and meat dishes, and the other for things like yogurt or baking (You don't want your yogurt to taste like the beef stew you cooked the other day!)
Keep two separate silicone rings. Use one for savory and meat dishes, and the other for things like yogurt or baking (You don't want your yogurt to taste like the beef stew you cooked the other day!)
Always release all of the pressure before attempting to remove the lid. Never attempt to remove the lid without releasing the pressure fully.
Open the lid carefully. Hot steam will come out, so open carefully and tilt the lid so that the steam is pointed away from your face.
After sauteeing anything in the instant pot, make sure you deglaze with some liquid and scrape the bottom of the pan before pressure cooking. If you skip this, you're likely to get a BURN message.
If you do get a BURN message, press CANCEL. Then release any pressure. Remove the lid, add enough liquid and continue with your recipe.
Using the Instant Pot as a Pressure Cooker
The main function of the Instant Pot is pressure cooking, which is used to cook meats, meals and grains.
Pressure cooking uses steam pressure to raise the boiling point of water above what it is normally. This is why it cooks things so quickly. There are three stages to the pressure cooking process: Pre-heating and pressurization, Cooking, and Depressurizing.
The pre-heating stage is often surprising if you aren't used to using a pressure cooker. This step takes time, often up to and above 20 minutes, and isn't always outlined in the recipe times you'll see, so keep that in mind.
The cooking stage is the number of minutes that the food cooks after the pot has come to the correct pressure.
Depressurizing happens after the cook time is ended and the pot releases all of the pressure that it's built up.
Quick Release vs. Natural Release
In all Instant pot recipes, it should tell you how to release the pressure from your instant pot after cooking. There are only two ways, and each has its own benefits.
Natural Release – This means that you are allowing the pot to naturally release pressure all on its own. Natural release takes longer, but it's often beneficial to allow the food to continue to cook a bit while the pot pressures down. It's also necessary for things like soups, becaue if you quickly release the steam while the soup is in a rapid boil, you are likley to get spills out of the pressure valve.
While waiting for a natural release, you'll see the floating valve start to lower. Once it's all the way down you will know that all the pressure is gone and you can open the lid.
Quick Release – This release method requires you to manually release the pressure by turning the venting knob on the instant pot. You will use this method when cooking things that you don't want to overcook, such as a tenderloin or a pasta dish. Quick release is the best way to end the cooking process quickly.
TIP: Be Careful! With the quick release method, steam will shoot out of the vent quickly. Liquid may even sputter and squirt out. I like to use a thick towel or oven mitt to be safe and keep my hands from getting burned by steam.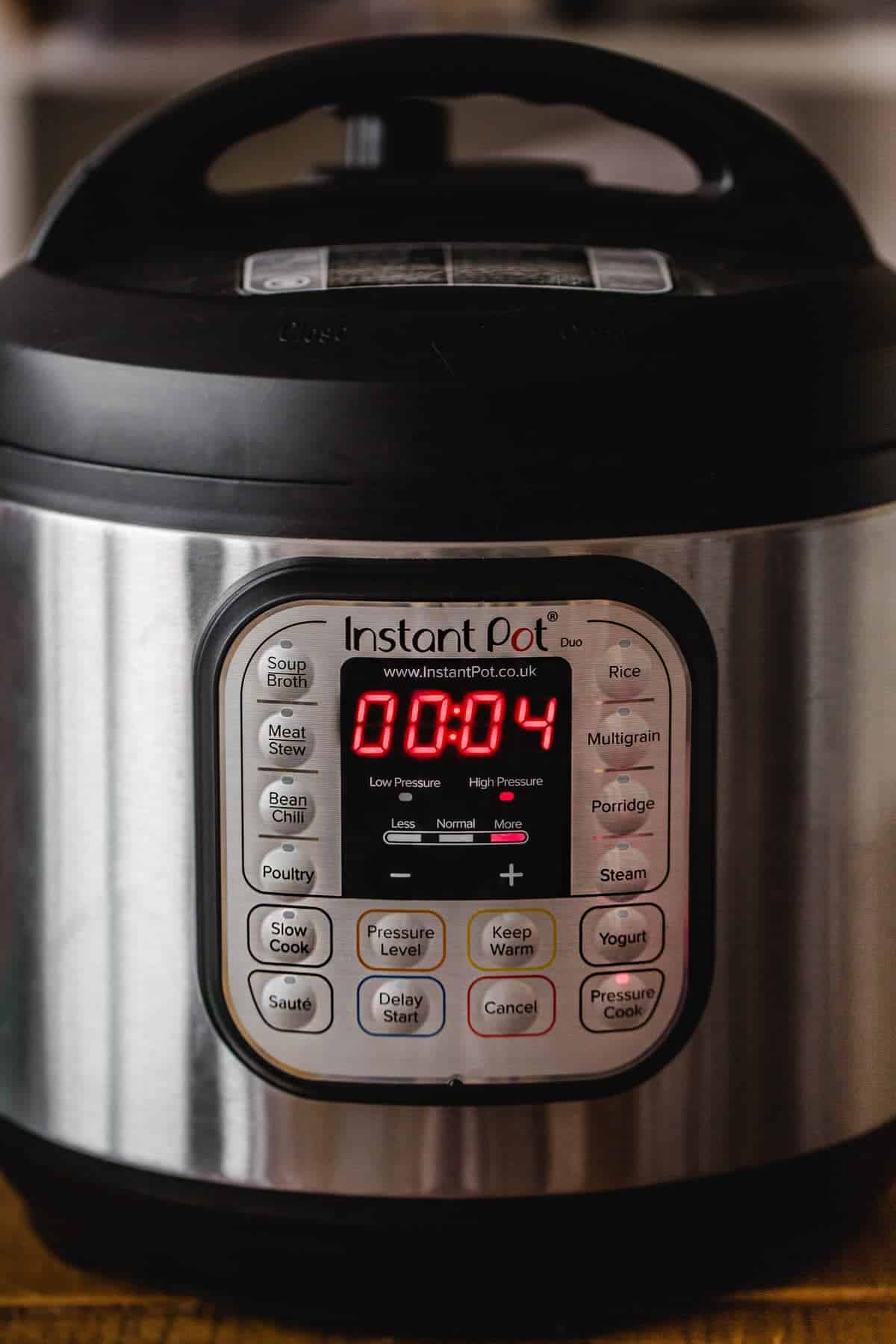 Common Instant Pot Cooking Times
We've compiled this list from the official IP website. These are the most common items that you might want to cook in your Instant Pot.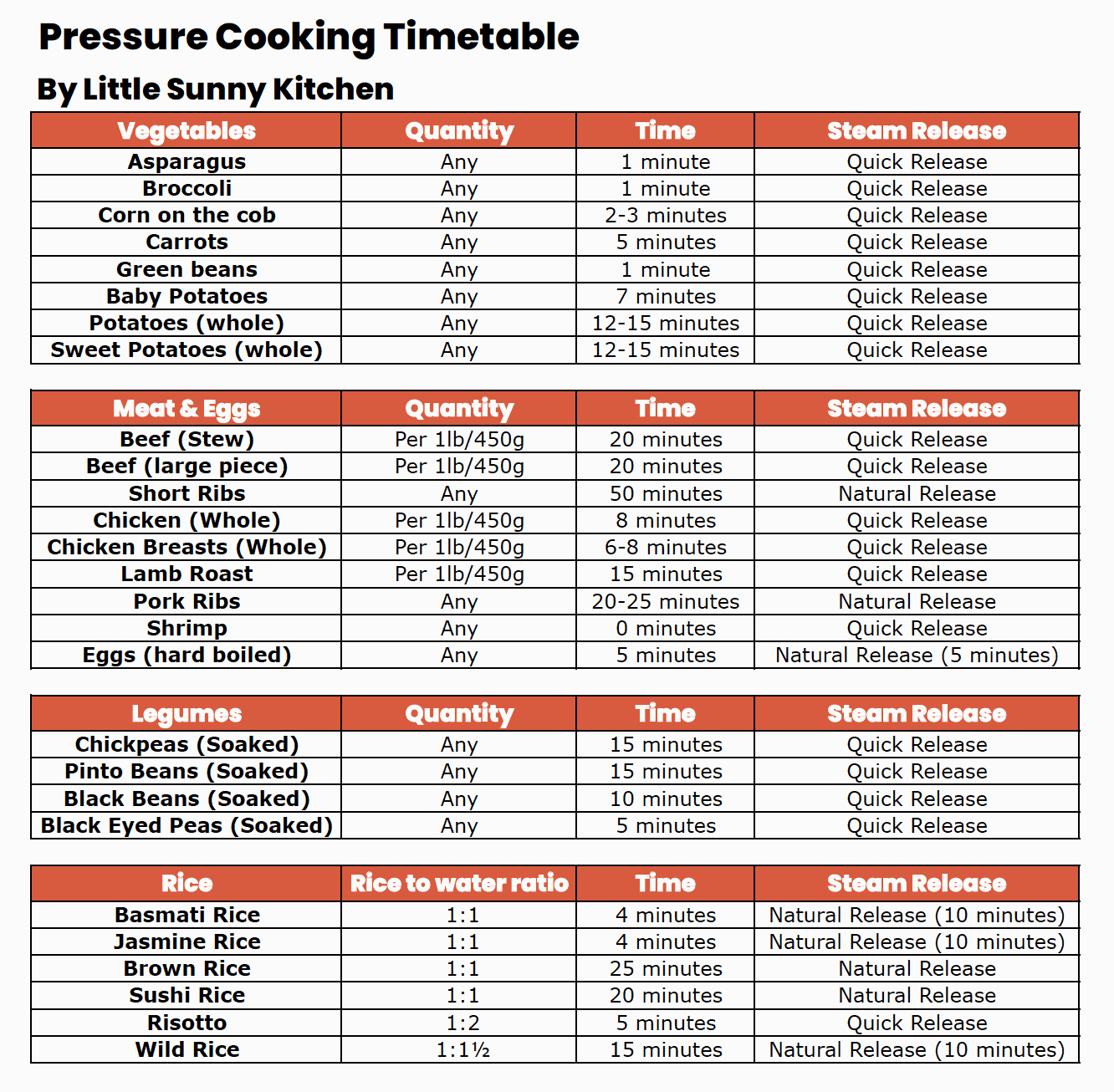 Other Useful Non-Pressure Functions of the Instant Pot
One of the best things about using the Instant Pot is that it is so versatile. It has many other functions that aren't pressure cooking. These are called Smart Programs. Here is a quick rundown.
Smart Program: Bake
You can bake anything that will fit inside of the Instant Pot. This function can even be used to both proof and bake bread. Use a metallic baking dish set on top of the steam rack in the pot. Press the BAKE button to start the program and use the dial to select the CUSTOM preset. Then use the dial again to choose the cook time. The IP will then ask you to set the pressure. Set it to NONE and then it will allow you to set the Temperature. Detailed instructions for this are in the manual.
Smart Program: Steam and Slow Cook
These two things have the same process. Slow cook just uses a lower temperature for a longer amount of time than Steam does. When steaming, ensure that you start by placing the steam rack in the bottom of the pot. Add your ingredients per your recipe, close and vent the lid, and choose either STEAM or SLOW COOK. Use the dial to select from the preset options that match your food.
Smart Program: Saute
This program is just like using a frying pan on the stove. The pot will get hot so that you can saute your foods either on their own, or before pressure cooking or slow cooking them. You don't use the lid for this process. Simply press SAUTE and then use the dial to choose first the cook time and then the temperature – Custom, Low, or High. Custom allows you to choose from 6 levels of heat. Play around with them to find which works best for you, or follow your recipe.
Smart Program: Sous Vide
Sous Vide is a French cooking term that describes cooking vacuum sealed food at a controlled temperature. The instant pot can be used to do this! To access this program, close the lid on the instant pot and choose SOUS VIDE, then use the dial to choose a preset option. Press start to allow the water to begin heating. Once the water temperature is reached, the IP will display the word HOT. At this time you can remove your lid and place your vacuum sealed food inside. Close lid to complete the sous vide process.
Smart Program: Yogurt
The yogurt function is a non-pressurized mode that will allow you to ferment both dairy and non-dairy recipes. For best results, follow a good recipe when making yogurt. It will walk you through all the steps.
Care and Cleaning of the Instant Pot
Cleaning the Instant Pot is not hard! Clean it after each use, and always make sure that it's unplugged and has cooled down to room temperature before you clean it.
I wash the inner pot, lid, float valve, and silicone ring in the dishwasher. The cooker base just needs to be wiped with a damp cloth. Make sure to let all surfaces dry thoroughly before use and storage.
Instant Pot FAQs
Is an Instant Pot really worth it?
I say Yes, absolutely! The instant pot is useful for so many different recipes. You'll save money by using less energy and not heating up your house when cooking.
Do I double the cooking time if I double the recipe?
No, do not double the cooking time if adding more food. The instant pot will generally adjust the pressure to accommodate the extra food.
What is the best thing to cook in the Instant Pot?
I think that the best things to cook in the instant pot are large cuts of meat (think whole chickens, beef roasts), soups and stews, and rice, since the IP doubles as a rice cooker. I have a huge collection of tested Instant Pot recipes for you to try.
Can you put frozen meat in an Instant Pot?
Yes you can put frozen meat in an Instant Pot, and it's safe to do so since the IP cooks meats so quickly. Generally, cook time doesn't need to be adjusted, it will just take longer for the pot to come up to pressure.
What should you not cook in an Instant Pot?
While the Instant Pot can cook a lot of things, it is not meant for fried food, creamy sauces, pizza, or things like pie. Those items would just get too messy in the instant pot and are easier to cook using other methods.
What is the best Instant Pot for a Single Person?
The 3-quart instant pot is the best size for smaller portions, but keep in mind that some recipes will need to be adjusted as it requires less liquid to come to pressure.
Using the Instant Pot is really so easy once you get some practice using it. I hope you find this post helpful and that it inspires you to go do some Instant Pot Cooking. Need some recipes to get started? See all of my Instant Pot Recipes here.
Want to learn more about how to get started with your Instant Pot? Subscribe here to receive my free email series which walks you through 5 secrets to Master the Instant Pot!