Grilled Spatchcock Chicken is the best summer recipe to impress at your next cookout! Use this homemade spice blend to flavor your roasted chicken recipe on the grill that's ready in less than an hour.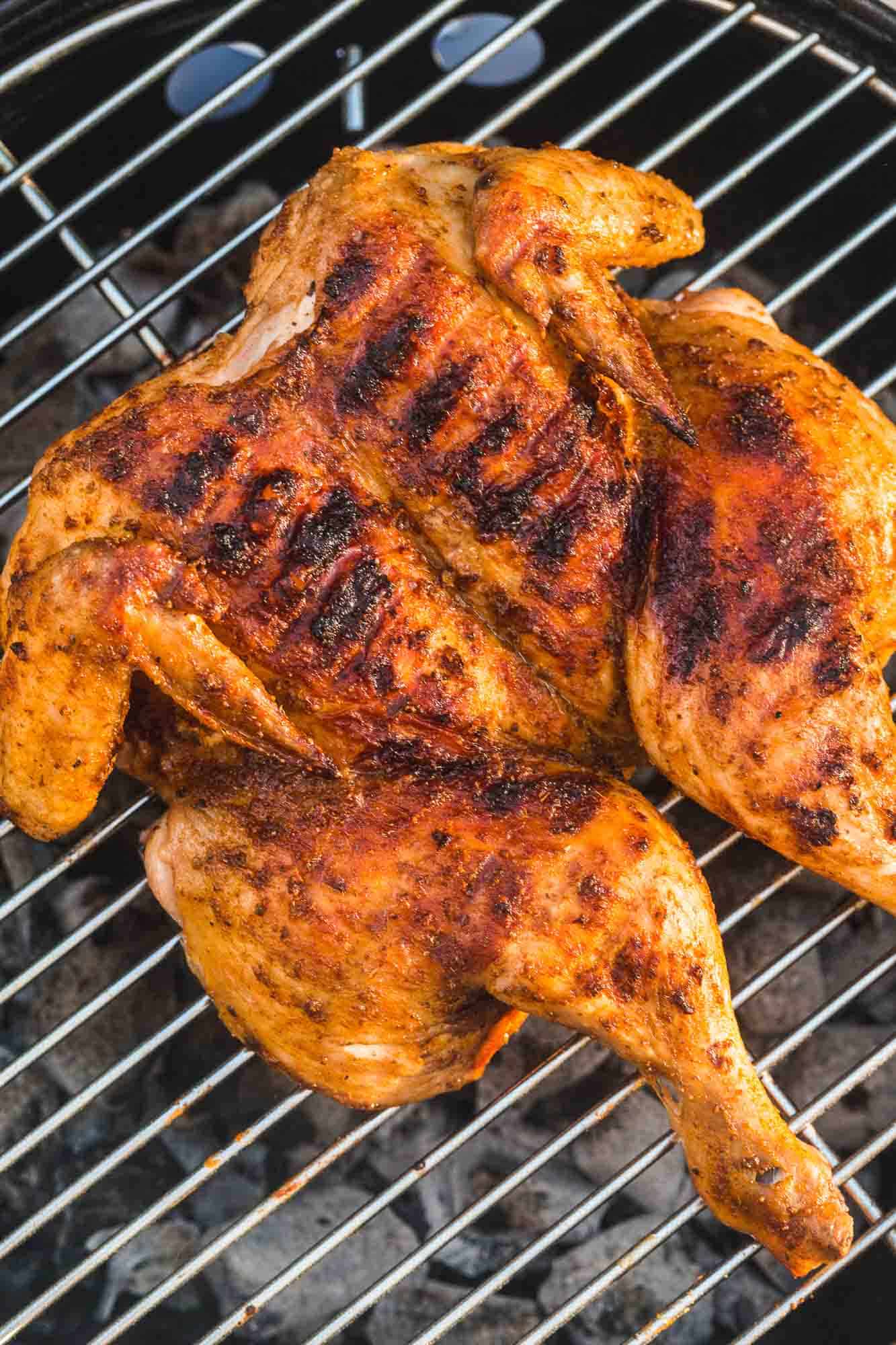 Summer is made for grilling, and grilled chicken is one of the best! This Grilled Spatchcock Chicken is packed with flavor and so easy to make. No need to roast for hours or break up a whole chicken with this summer recipe.
Grilled chicken breast recipes are great too, but there's something magical about a whole roasted chicken. The crispy skin and juicy meat are ready in about 45 minutes with that dreamy smoky char on the charcoaled chicken.
If you've never spatchcocked a chicken, don't be intimidated! I have a full tutorial to teach you how to spatchcock a chicken. Once you get it, you'll be buying whole chickens all the time to roast in the oven or grill when the weather is warm. It's such a cheap way to make an amazing dinner.
What Are the Benefits of Spatchcocking a Chicken?
Simply put, spatchcocking means removing the spine of a chicken, turkey, or a Cornish hen, so the bird lays flat for cooking. It may look strange, but there are tons of reasons this is one of the best ways to cook chicken!
It can be hard to evenly cook a whole chicken, but spatchcocking helps every piece cook together quickly. It also helps get your seasonings even on all pieces and get a crispy skin with no floppy sides.
I also love using this technique for Thanksgiving turkeys! It saves oven space and cooks more evenly. No raw surprises when you're spatchcocking!
Check out my spatchcocked Cornish hens recipe, and I also have a spatchcock turkey recipe that you're going to love!
Why You'll Love this Recipe
It's so easy to make. You only need 15 minutes to spatchcock a chicken! It's so much easier to cook chicken evenly when it's butterflied. Plus, you get that delicious grill char on every single inch!
Impress your guests with a whole roasted chicken made at home! The show-stopping presentation of this grilled spatchcock chicken is perfect for dinner parties or a Sunday family dinner.
I've got a basic seasoning blend below, but this recipe is so versatile and easy to change up with different seasonings or marinades. Or make my Peruvian chicken with green sauce, I butterfly a whole chicken and cook it on the grill or in the oven and the result is to die for!
You can serve this roasted chicken with pasta salad, coleslaw, baked beans, or any favorite summer side dish. I've got plenty of ideas below!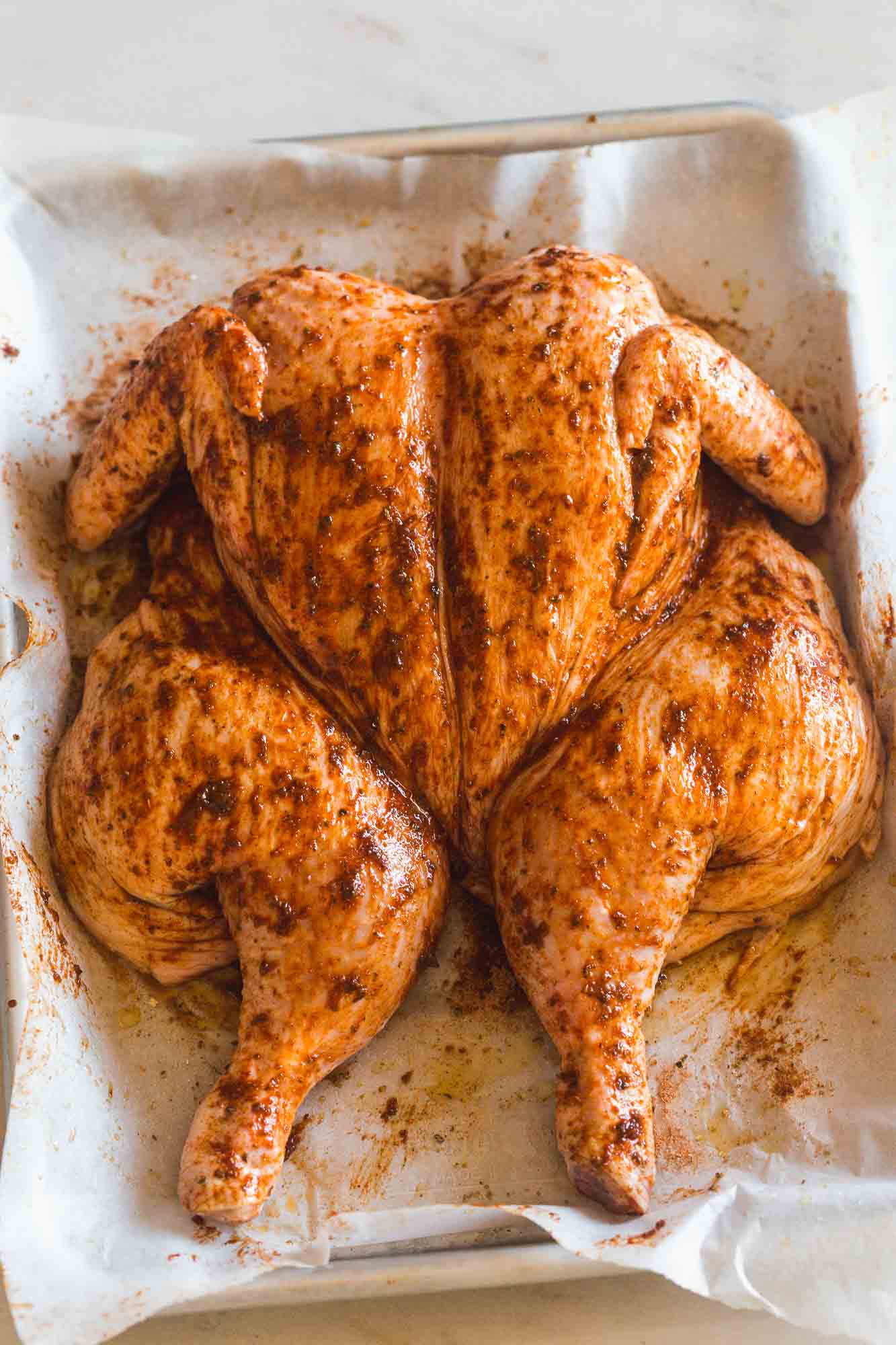 Ingredients Used
Whole Chicken: I love roasting whole chickens at home because it's a delicious and healthy budget-friendly meal. For the most moist bird, use a homemade chicken brine before spatchcocking. I add lemon juice to my brine for an extra bright flavor.
Oil: For super crispy skin, you'll need a little olive oil or any neutral oil you love. It also helps the spice blend stick to the grilled chicken skin.
Seasonings: I love a simple spice blend of cumin, paprika, oregano, garlic powder, and salt. You could always add some black pepper, onion powder, or even a pinch of cayenne if you're looking for even more flavor. Prefer to marinate your chicken? Try this amazing Mexican chicken marinade with lime juice!
Grill: I used a charcoal Weber Smokey Joe grill for this recipe. It's fairly small compared to most grills, but it's great for cooking something small and for adding that delicious smoky flavor to family dinner.
Meat thermometer: Whenever you're working with chicken, you want to make sure your thermometer registered 165 degrees F before you're done cooking. That way, you get perfectly juicy and safe chicken every single time! I like this kitchen thermometer.
Complete list of ingredients and amounts can be found in the recipe card below.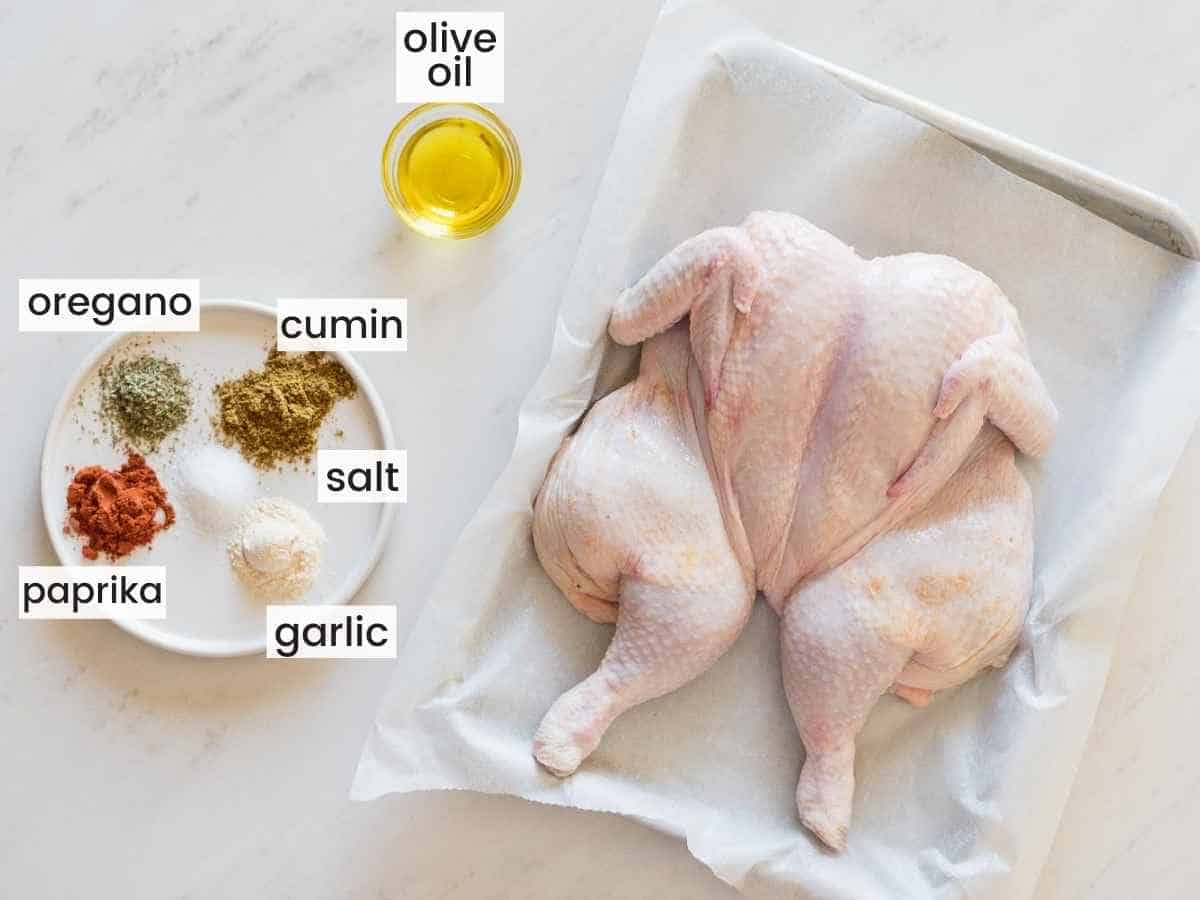 How to Make Recipe
Follow these steps for the best grilled whole chicken:
Preheat your grill. First, be sure to warm up your grill. If yours has a thermometer, aim for 350°F degrees when cooking chicken. If not, just let it run for about 10 minutes.
Mix spices. Then, combine the cumin, smoked paprika, oregano, garlic powder, and salt in a small bowl.
Prep the chicken. Now, spatchcock the chicken by cutting out the backbone with kitchen shears. Lay the chicken flat skin side up on a baking sheet or cutting board. For a full tutorial and a video, check out my how to spatchcock a chicken guide.
Season the chicken. Drizzle olive oil all over both sides of the chicken and sprinkle with your seasoning blend.
Prep the grill. I always oil my grill grates even if they're nonstick. It helps keep your chicken from ever sticking.
Grill the spatchcocked chicken. Put the chicken breast side down and close the lid. If it starts to brown too quickly, set it over indirect heat. This is just briefly to get a nice char on top.
Flip it. Now, flip the chicken skin-side up and keep grilling for at least half an hour until an instant read thermometer inserted into the thickest part of the breast reads 165°F degrees. If you flip the chicken too soon, the skin will tear, so let it get a little crispy first! Patience is a virtue when grilling a chicken.
Rest and carve. When the chicken is cooked, take it off the grill and let it rest before carving it into pieces and serving.
Tips and Tricks
Whether you're grilling a whole chicken for the first or 15th time, here's some tips for the best chicken every time:
Let the chicken warm up slightly. This sounds dangerous, but trust me. About 30 minutes before roasting the chicken, take it out of the fridge and let it sit at room temperature. This will help it cook quickly, evenly, and result in better browning. Do not start with a cold chicken.
Mix up the seasonings! This is a basic recipe that uses just salt and pepper, but feel free to mix up the seasonings and add more herbs, fajita seasoning, taco seasoning, shawarma seasoning, baharat, and even old bay! You can also marinate the chicken in your favorite chicken marinade.
Let it rest. There's nothing worse than cutting into a perfectly cooked chicken and watching all the juicy flavor run out onto the plate! Let the chicken rest at least 10 minutes before carving to keep your roasted chicken moist.
What to Serve with Grilled Chicken
My favorite cookout food is definitely grilled chicken. It's so simple but it's got that quintessential summer flavor I just love. These are some of my favorite whole chicken or chicken breast side dishes!
Keep your whole dinner on the grill with these yummy grilled baked potatoes! They're pillowy soft on the inside with super crispy skin. Or try these grilled veggie kabobs with all your favorites.
Watermelon is the king of summer fruits. This watermelon feta salad is the perfect salty, sweet, savory, fresh appetizer or side dish. If you've never tried watermelon, feta, and a little arugula together, I promise you'll love it.
Skip the deli for your next barbecue and make the best coleslaw at home! The perfect coleslaw must be creamy, crunchy, sweet, and tangy. This hits all the marks.
Storing Tips
The leftover chicken can be stored in the fridge for up to 5 days in an airtight container. Or frozen in a freezer-safe container for up to 3 months.
Other Easy Summer Recipes I Love
Now that you're a pro at spatchcocking chicken, you're ready to impress all your friends at your next cookout! Feel free to play with the spice blends to make the most flavorful chicken for any theme night. Make sure to Pin this recipe so more people can enjoy it too!
Did you make this? Be sure to leave a review below and tag me on Facebook, Instagram, or Pinterest!
Recipe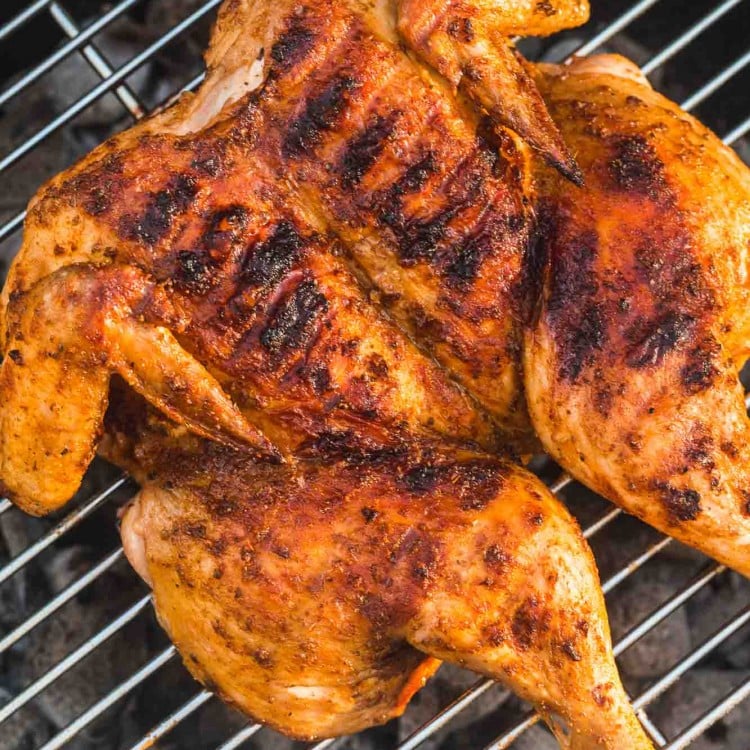 (Click stars to rate!)
Grilled Spatchcock Chicken
Grilled Spatchcock Chicken is the best summer recipe for your cookout! Use this homemade spice blend for a delicious chicken recipe on the grill.
Grilled Spatchcock Chicken is the best summer recipe for your cookout! Use this homemade spice blend for a delicious chicken recipe on the grill.
Instructions
Preheat your grill to 350°F/180°C.

In a small bowl, combine all of the seasonings (cumin, smoked paprika, oregano, garlic powder, and salt).

Spatchcock the chicken by cutting out the backbone using kitchen shears, and laying the chicken flat.

Drizzle both sides with olive oil, and season with the seasoning that you prepared.

Oil the grill to prevent the chicken from sticking.

Place the chicken on the grill breast side down on direct heat, and grill for 6-8 minutes.

Flip the chicken (if you flip it too soon, it might be stuck to the grill and this can tear the skin), and cook for 30-40 more minutes or until the internal temperature of the thickest part of the breast is at least 165°F/74°C.

Pull off the grill, allow the chicken to rest for 10 minutes then carve and serve.
Notes:
A 2 ½ to 4 pound whole chicken will serve approximately three to four people.
Always oil your grill grates even if they're nonstick. It helps keep your chicken from ever sticking.
Let the chicken rest at least 10 minutes before carving to keep your roasted chicken moist.
Nutrition Information
Calories:
308
kcal
,
Carbohydrates:
1
g
,
Protein:
44
g
,
Fat:
13
g
,
Saturated Fat:
3
g
,
Trans Fat:
1
g
,
Cholesterol:
206
mg
,
Sodium:
509
mg
,
Potassium:
566
mg
,
Fiber:
1
g
,
Sugar:
1
g
,
Vitamin A:
329
IU
,
Vitamin C:
1
mg
,
Calcium:
33
mg
,
Iron:
2
mg
This website provides approximate nutrition information for convenience and as a courtesy only. Nutrition data is gathered primarily from the USDA Food Composition Database, whenever available, or otherwise other online calculators.
© Little Sunny Kitchen