Easy apple crumble with a delicious twist! This recipe calls for just 6 ingredients, and takes 45 minutes to prepare and bake! Perfect on a cold and rainy day. Serve on its own, top with vanilla custard or with a scoop of ice cream.
This post is sponsored by Hello Fresh.
I LOVE apple desserts, especially when apples are paired with cinnamon. It's a match made in heaven! Can you think of anything else that goes so well with apples? Caramel? Chocolate? Both!
In the past couple of months, we have been baking a lot with apples. My Mum is obsessed with my vegan apple pie, and I honestly think it's the best apple pie that I've ever made and had! But I also love a good apple crumble, it's a classic that I fell in love with when I was little.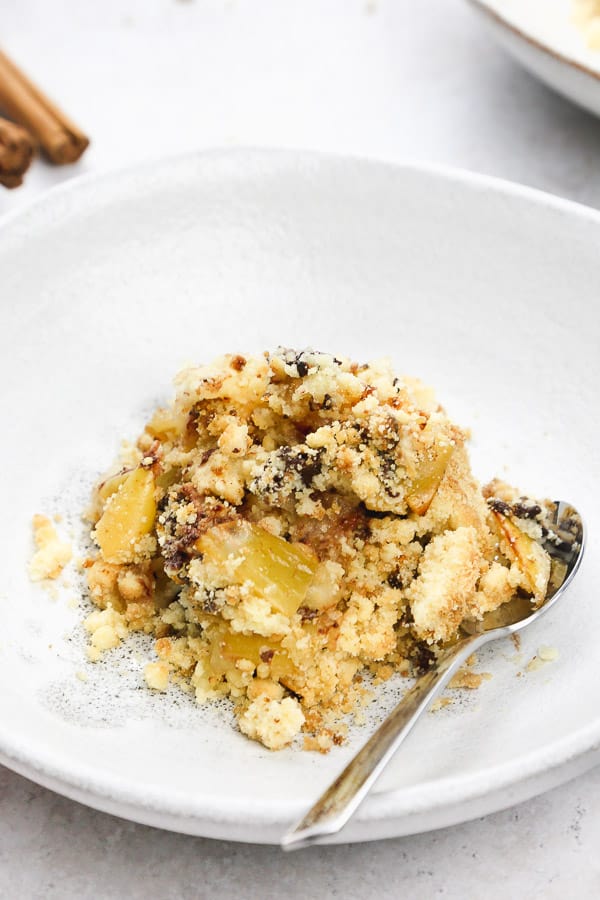 APPLE CRUMBLE INGREDIENTS
To make this easy apple crumble with chocolate, you need very simple ingredients. You will need just 6 ingredients in total:
Bramley apples (or any other medium to soft apples that are available where you live)
Sugar
Dark chocolate (this is optional but strongly recommended, especially if you love chocolate!)
Cinnamon (I also like to add a little bit of nutmeg)
Flour
Salted butter
HOW TO MAKE AN EASY APPLE CRUMBLE – STEP BY STEP TUTORIAL
Step 1. Start by preparing your apples. You need to peel, core and slice them into 1-2cm chunks.
Use Bramley apples, they're the best for this recipe. However, if you can't find Bramley apples where you are just use medium to soft apples and they should work fine.
When cutting the apples, place the sliced chunks in a bowl of water. This will stop them from ruining/browning.
On the Hello Fresh website, the recipe calls for stewing the apples until they become mushy before going in the oven. This will result in soft and delicious apples, with a crunchy crumble which will make a lovely contrast. However, I chose to leave my apples raw as they were soft already.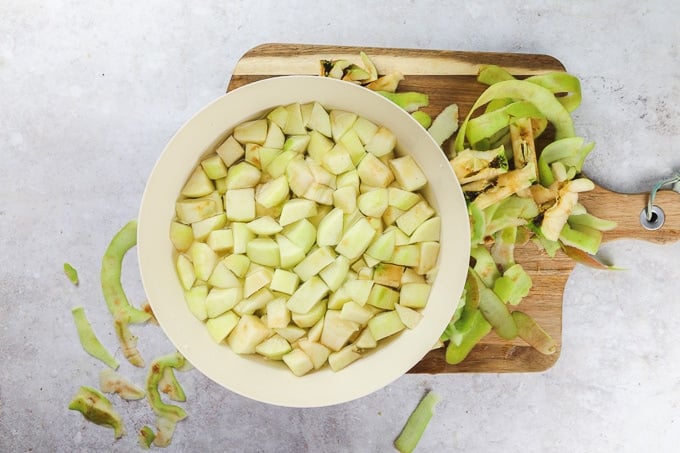 Step 2. To make the crumble, you will need flour, sugar and salted butter.
You need to be very precise with the amounts of the ingredients provided to get the perfect apple crumble. I wouldn't recommend doubling the recipe as that will result in a thick layer of crumble that might not cook through, and it won't be as crunchy and nice.
You will need 150 grams of flour, 100 grams of sugar and 75 grams of salted butter.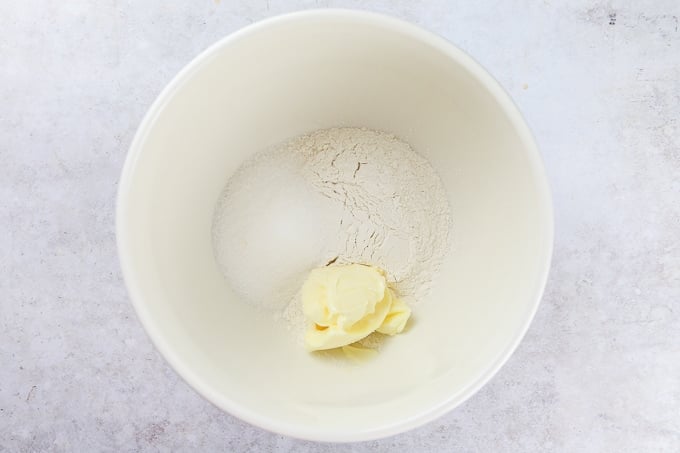 Step 3. Using your hands, mix all of the ingredients in a bowl. You will get a crumbly breadcrumb like texture. (See picture below.)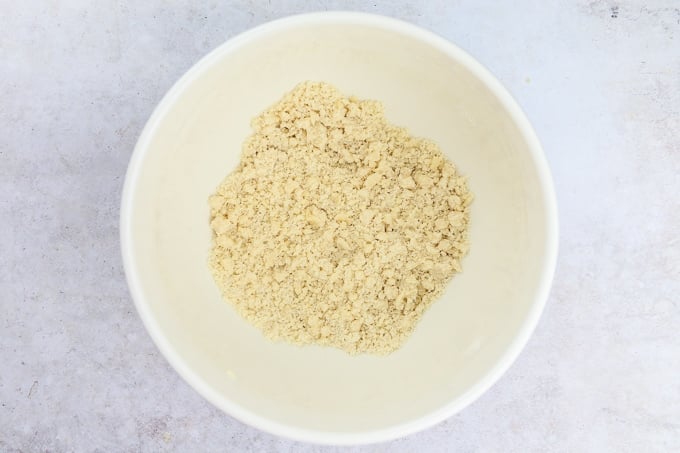 If you don't follow the exact amounts given for the crumble mixture, you won't get the texture right.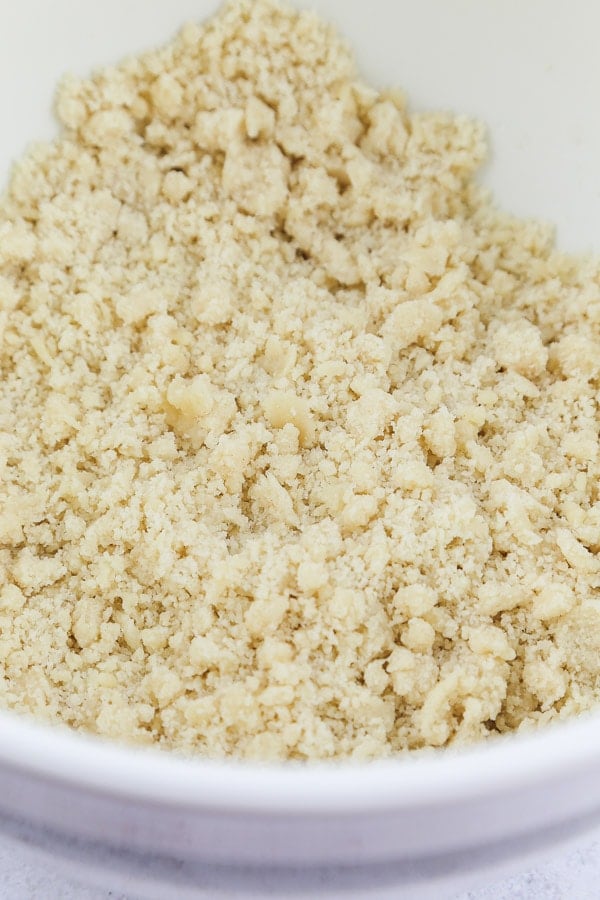 Step 4. Grease an ovenproof dish with a small piece of butter, then put your apples in the baking dish.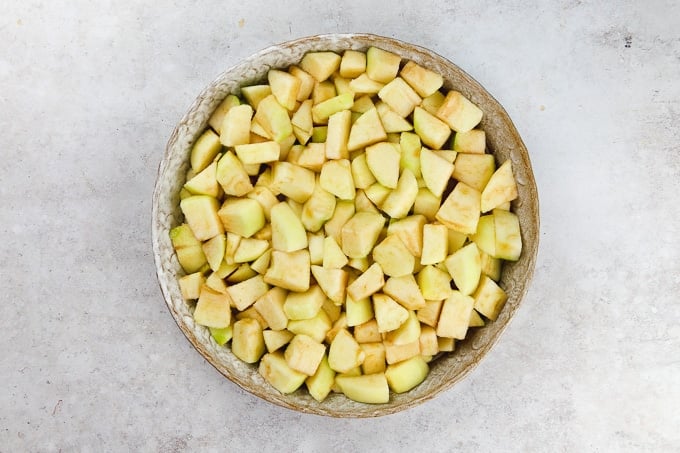 Followed by dark chocolate chunks.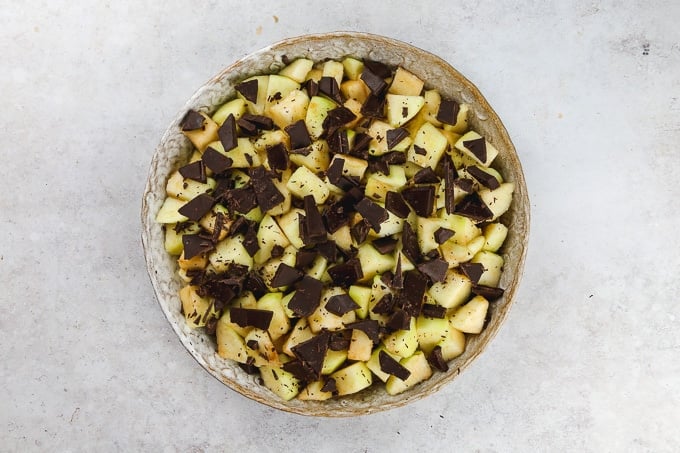 And finally, top with the crumble mixture. Don't press it down, as leaving the crumble loose will help you get that perfectly crunchy crumble.
HELLO FRESH RECIPE BOXES
I got this recipe from Hello Fresh website. Have you heard of Hello Fresh before? They offer a range of recipe boxes with fresh pre-portioned ingredients that you need to cook weekly recipes along with recipe cards, delivered to your door.
It's great for busy professionals who don't have time to shop, or people who just want to try new and exciting recipes! Signing up is simple, you just need to choose what sort of recipes you would like to receive, for how many people you're cooking, and you'll start receiving a weekly recipe box delivered to your door. Easy!
What I love about Hello Fresh boxes, is that the all ingredients are pre-portioned. Which means that you there's ZERO food waste and that's a very important point.
WHAT TO SERVE APPLE CRUMBLE WITH
You have 3 options:
– This apple crumble is totally delicious on its own.
– Serve with vanilla custard, especially if you're making this on a very cold day.
– Serve with a scoop of your favourite ice cream. My favourite flavours that go well with this apple crumble would be classic vanilla, salted caramel, and peanut butter cup.
Looking for more apple recipes? You should definitely try these Polish apple pancakes; they're one of my most popular recipes on the blog!
If you make this apple crumble, please don't forget to rate this recipe and share a picture on social media. Tag #LittleSunnyKitchen in your posts as I would really love to see what you make! Thank you for supporting Little Sunny Kitchen, so I can keep sharing my tasty recipes with you for free.
Apple Crumble
Easy apple crumble with a delicious twist! Just add dark chocolate before you top the apples with the crumble.
Print Recipe
Ingredients
4

Bramley apples

peeled, cored and sliced.

1 1/2

tsp

ground cinnamon

1/2

tsp

ground nutmeg

100

grams

granulated sugar

150

grams

all purpose flour

75

grams

salted butter

for vegan version, use non dairy butter

150

grams

dark chocolate
Instructions
Preheat oven to 180c (350F).

Prepare the apples. Peel, core and slice them into 1-2cm chunks. Place in a bowl filled with water so they don't change in colour.

Grease an ovenproof dish with a little bit of butter. Put the apples in the ovenproof dish, followed by the dark chocolate chunks.

Place flour, sugar and butter in a bowl. Then use your hands to mix everything until the mixture resebles breadcrumbs.

Top the apples and the chocolate with the flour, sugar butter mixture.

Bake in the oven for 30 minutes. Serve either warm or cold.
Diana's Tips
You can make this apple crumble a couple of days ahead, just prepare everything, cover with cling film and store in the fridge until you bake it.
Nutrition facts
Calories:
276
kcal
|
Carbohydrates:
38
g
|
Protein:
2
g
|
Fat:
12
g
|
Saturated Fat:
7
g
|
Cholesterol:
16
mg
|
Sodium:
57
mg
|
Potassium:
201
mg
|
Fiber:
3
g
|
Sugar:
21
g
|
Vitamin A:
235
IU
|
Vitamin C:
3.4
mg
|
Calcium:
23
mg
|
Iron:
2.6
mg