Homemade Chicken Parmesan is just as good, if not better than anything you'd order in a restaurant, and will be ready to eat in under 30 minutes!
Juicy chicken cutlets, breaded with parmesan cheese and seasoned breadcrumbs, are fried to perfection, then topped with marinara sauce and plenty of cheese.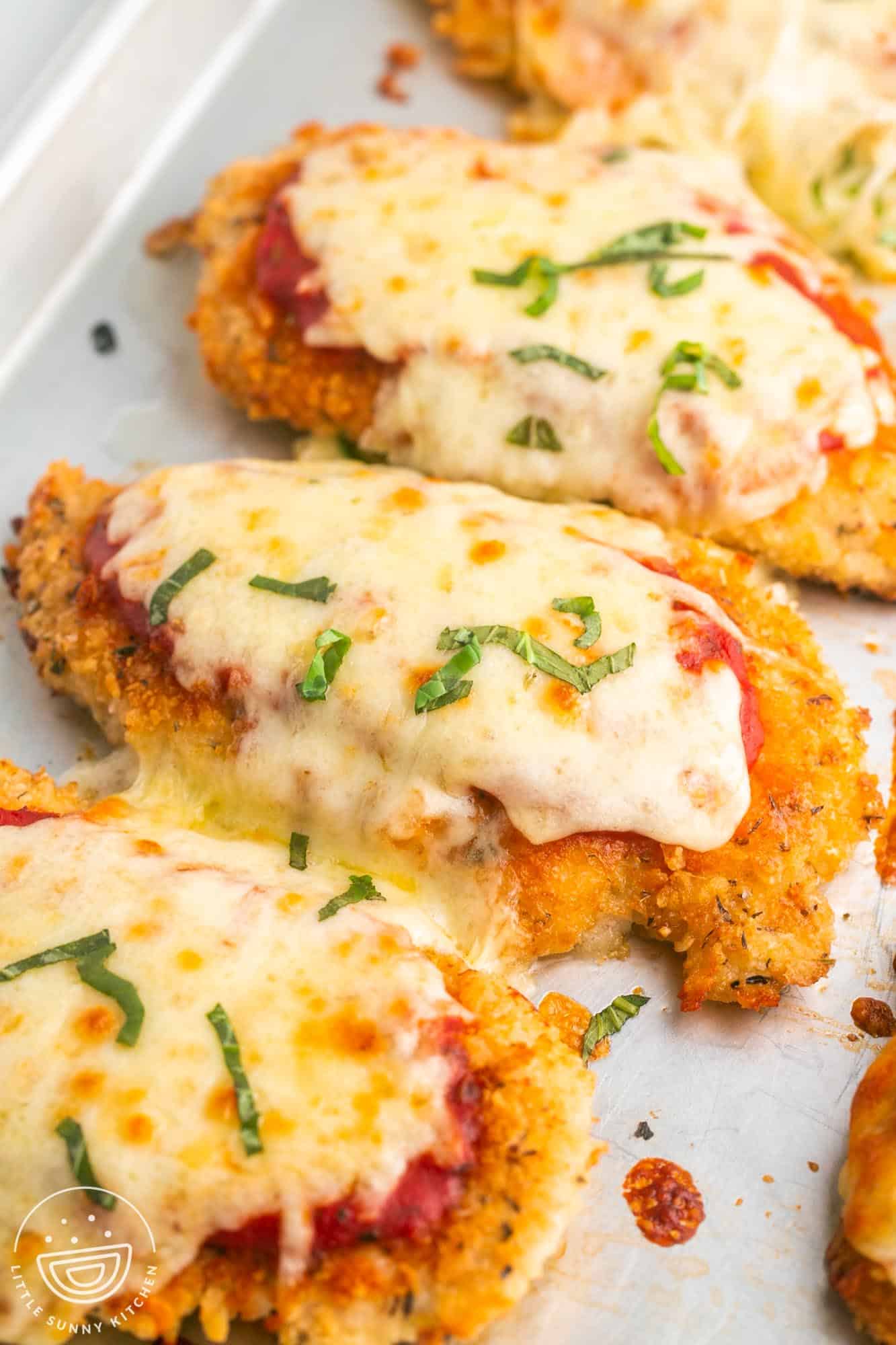 Every time I go to a new Italian restaurant, I have to try the chicken parmesan. I honestly don't think I've ever had a plate of chicken parm that I didn't enjoy, and that's because this recipe is perfect.
Crispy, tomato-y, salty, and savory flavors, melty cheese, and perfectly cooked chicken cutlets – what's not to love?
While it can be easy to order chicken parmesan at your local Italian eatery, it's even easier to make it yourself at home!
If you love Italian dishes, you need to try my Chicken Francese recipe. It's also made with fried chicken cutlets, but with a lighter breading and a delicious lemony sauce. Ravioli Lasagna is another favorite, it's hearty and cheesy, and simple to make!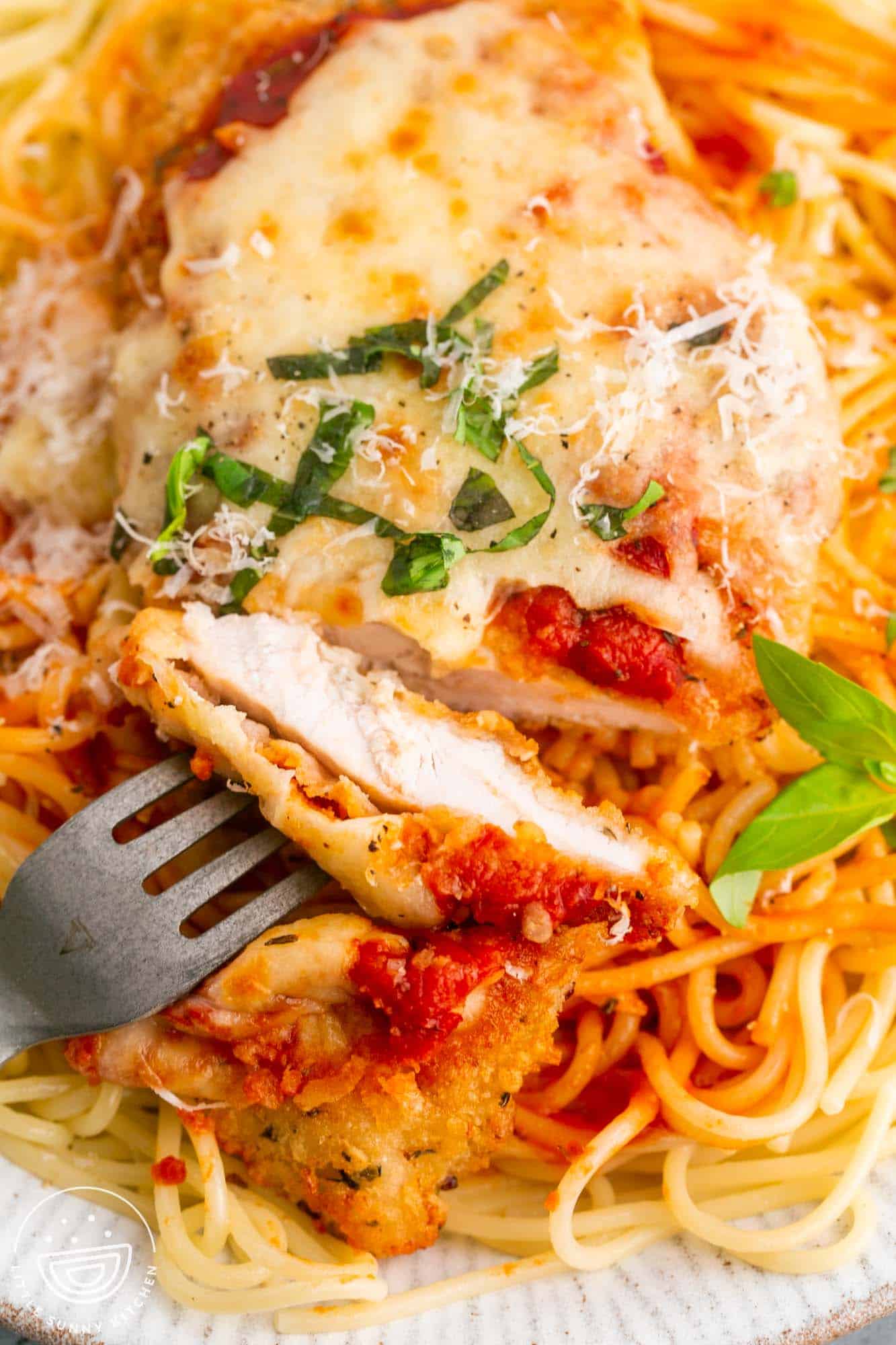 Why You'll Love This Recipe
Crispy Chicken. The best part of a good chicken parmesan is the crispy breading on the chicken. We'll be hand-breading these parmesan-crusted chicken cutlets with a blend of seasoned breadcrumbs and cheese and shallow frying them in oil so that they are perfectly crisp.
Money Saving. Making chicken parmesan at home will always be less expensive than ordering it in a restaurant. Save your money, and cook at home.
Flavorful Toppings. Marinara sauce, mozzarella cheese, and fresh basil leaves top the chicken cutlets and make this recipe for Chicken Parmesan completely mouthwatering.
Key Ingredients for Chicken Parmesan
Here's what you need to make this easy chicken dinner: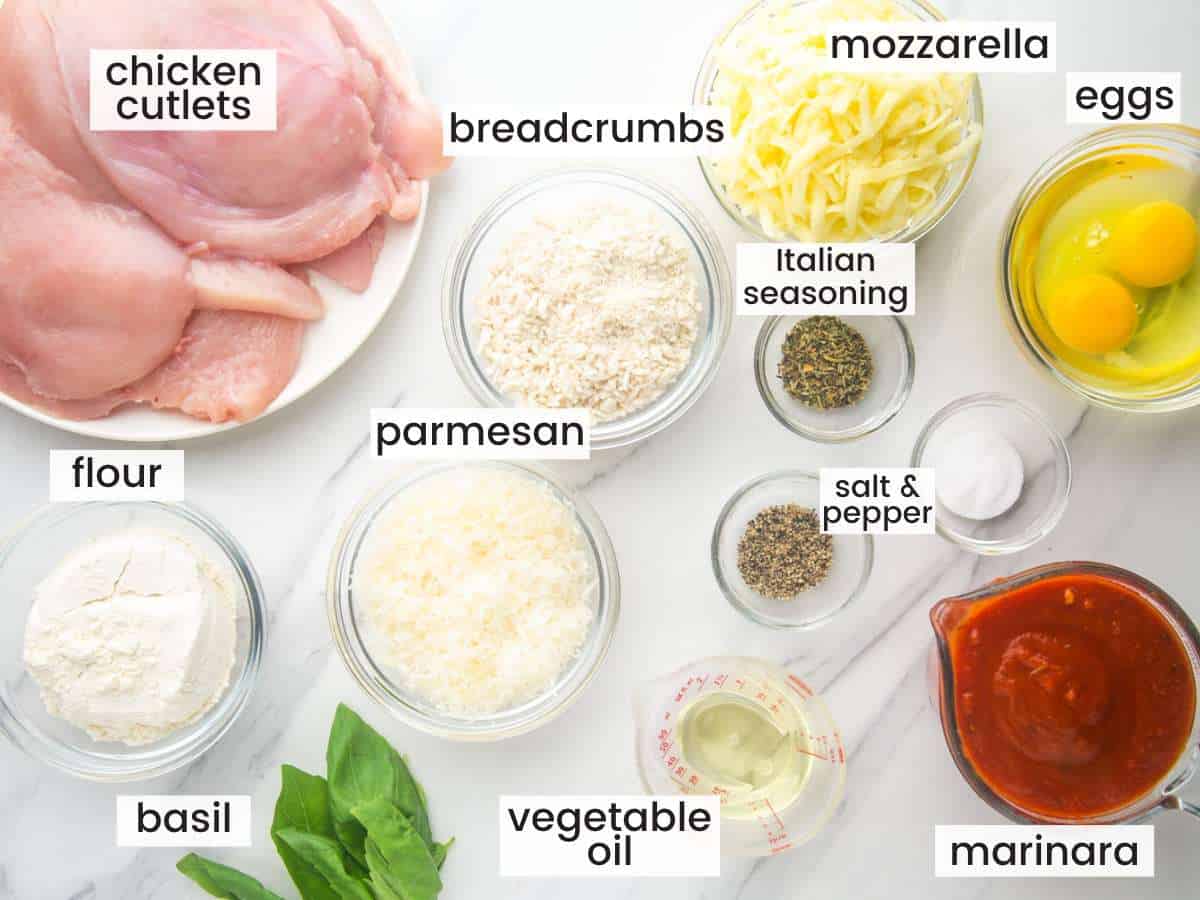 Complete list of ingredients and amounts can be found in the recipe card below.
Chicken Cutlets: Slice boneless skinless chicken breasts in half to create thin cutlets that will cook quickly and evenly.
Flour and Eggs: A three-part breading station will ensure that the cutlets are properly coated. Step 1 is seasoned flour. Step two is well-beaten eggs.
Bread Crumbs: Step 3 of the chicken parm breading station is breadcrumbs seasoned with Italian seasoning and freshly grated parmesan cheese. I prefer to use panko breadcrumbs for this recipe, but traditional ones will also work.
Oil: You need oil for frying, like vegetable or canola oil. My chicken parmesan recipe uses a small amount of oil and a non-stick pan, but you can use more oil to get a deep-fried texture.
Marinara Sauce: Use your favorite jarred marinara sauce, or make your own homemade tomato sauce. You need just under a cup of sauce for the chicken, but you'll probably want more to serve with pasta.
Mozzarella Cheese: I like to use low-moisture mozzarella cheese to top the chicken, but feel free to use thinly sliced fresh mozzarella if you have it.
Fresh Basil: In the images here, I sliced basil leaves into a chiffonade, which is just a fancy French way to say that I sliced them into thin ribbons. You can also just chop the basil, but I don't suggest skipping it. Fresh herbs make this recipe extra special.
If you love basil, you will love my recipe for Creamy Chicken Pesto Pasta, made with fresh basil pesto. Yum!
How To Make The Best Homemade Chicken Parmesan
Get ready by setting your oven to preheat at 375°F/190°C.
Set Up a Breading Station. I have a three part breading tray system, but you can also use three shallow dishes. Dish one will be a mixture of flour, salt, and pepper. Dish 2 will be the beaten eggs. Dish three will be breadcrumbs mixed with parmesan cheese and Italian Seasoning. Dredge each chicken cutlet through each dish in order.
Fry Chicken: In a nonstick skillet over medium-high heat, heat the oil. When you see it start to shimmer, it's ready. Fry the chicken in batches, cooking the cutlets for 2-3 minutes per side, until the breading is golden brown and the chicken is fully cooked to a temperature of 165°F/64°C. Add the fried cutlets to a small sheet pan.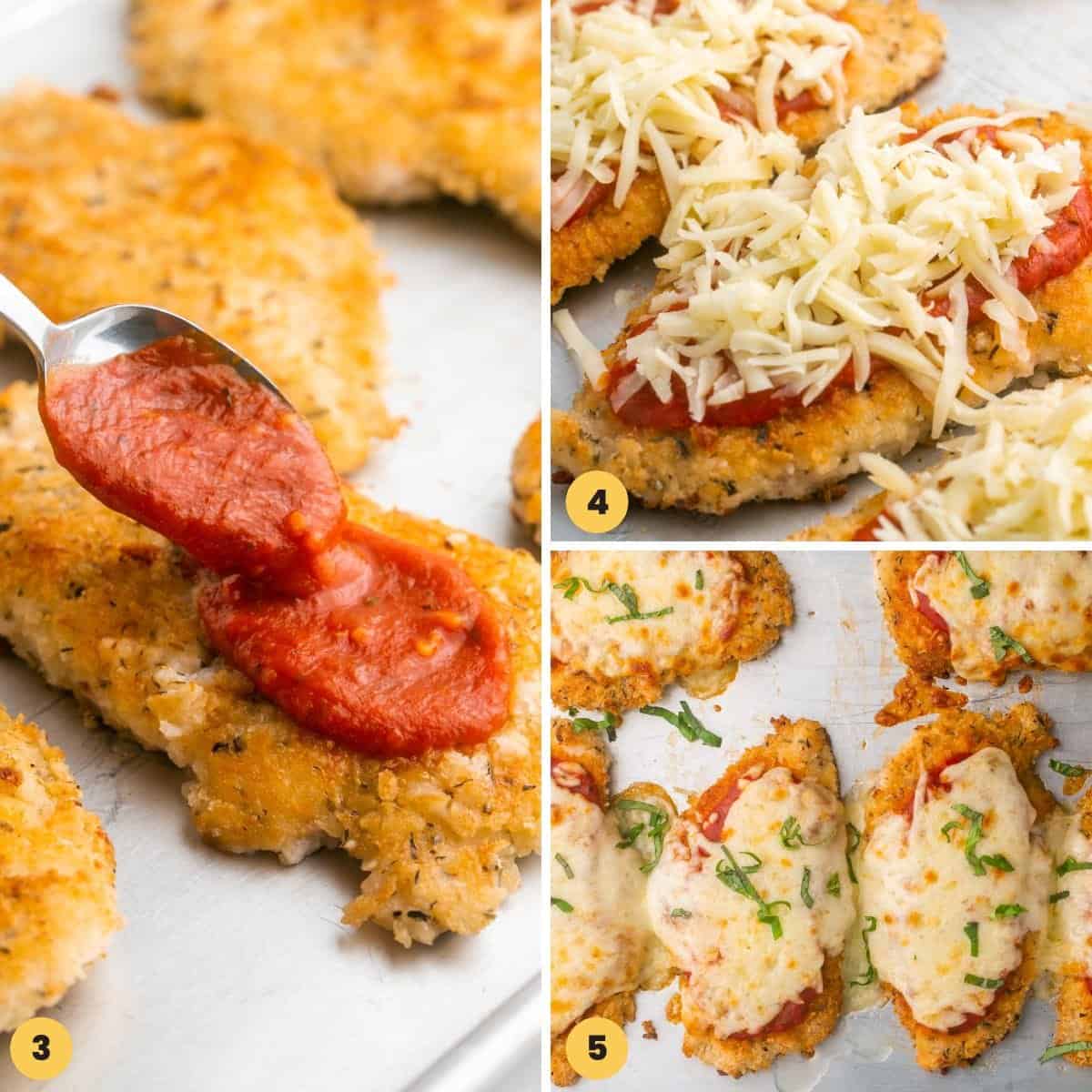 Sauce: Divide the marina sauce among the cutlets, spooning it on top of the chicken.
Bake: Top each cutlet with shredded mozzarella cheese and bake for 8-10 minutes, just until the cheese is melted.
Broil: Switch the oven to broil, and broil for 2 or 3 minutes to brown the cheese a bit.
Tip!
When breading the chicken cutlets, be sure to shake off any excess flour, and use your fingers to press the breadcrumbs in so that as many of them stick as possible.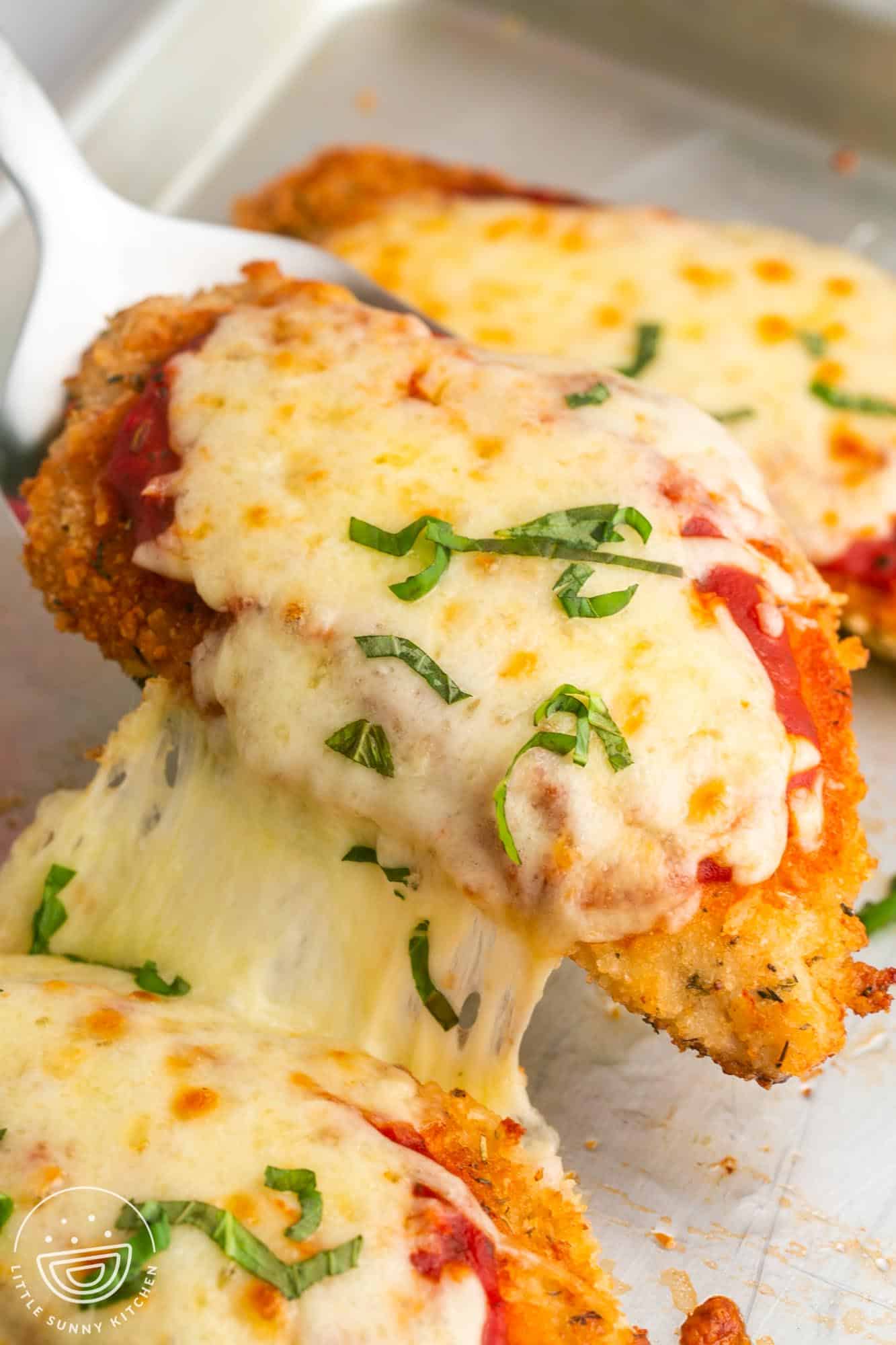 Recipe Tips
Don't Overcook the Chicken: There's nothing worse than dried out chicken! This dish spends a few minutes in the oven, so it's very important to fry the cutlets just until they're cooked, and not a minute longer.
Want Crispier Cutlets? Fry them in an inch of oil in a deeper pan rather than cooking in a non-stick pan as we are here.
An Alternate Set-Up: If you like your chicken parmesan saucier, you can bake it in a 9×13-inch dish. Layer marinara sauce, then the chicken cutlets, then more marina sauce, and the cheese. Bake for 15 minutes.
Prefer to bake the chicken rather than fry it? Follow my oven baked chicken tenders recipe. For cutlets, adjust the oven temperature to 350°/180°C, and bake for 15 minutes. After the tenders are baked, cover with sauce and cheese and bake again to get everything melty.
If you love this chicken parmesan recipe, be sure to check out my recipes for Chicken Parmesan Sandwiches and Instant Pot Chicken Parmesan too!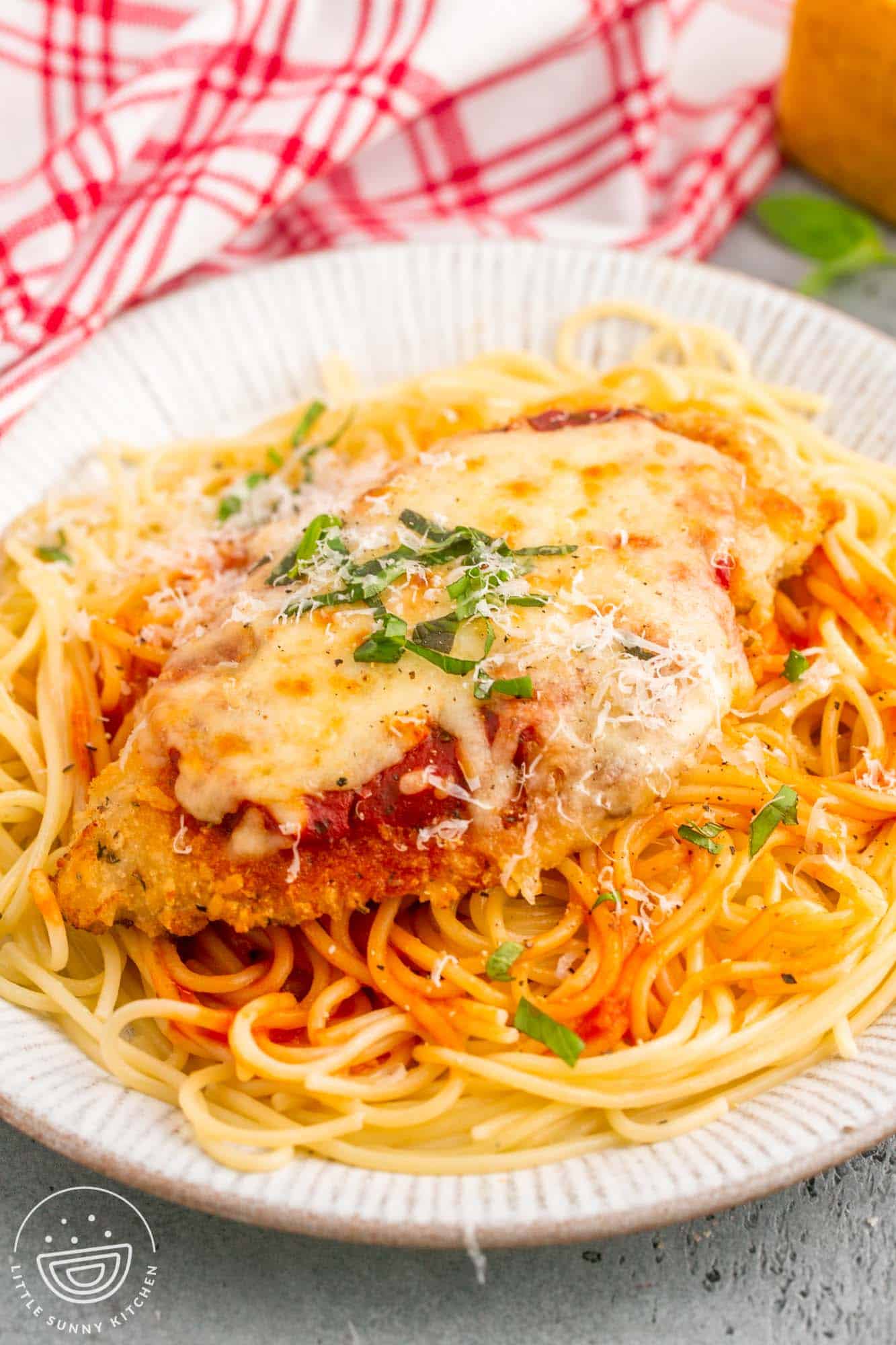 Storing Tips
Keep leftovers of chicken parmesan in the fridge and enjoy within 3 days.
How to Reheat Chicken Parmesan
I like to reheat chicken parmesan in the air fryer or toaster oven (at 350°F/180°C for 5 minutes or so) so that it gets crispy again, but it's still tasty if you microwave it too.
What To Serve With Chicken Parmesan
I love to serve this dish with buttered noodles (usually spaghetti) or garlic and olive oil pasta and extra marinara sauce on the side so everyone can have as much as they like.
This tasty Italian chicken dish goes great with any kind of pasta though!
Pasta with peas is a delicious way to get some extra veggies into your meal. Or try pasta with a classic alfredo sauce instead.
On the side, try a simple veggie like asparagus, broccoli, or green beans.
A simple salad or a creamy homemade Caesar salad will also be delicious.
Don't forget to make up some easy garlic bread too!
FAQs
Can You Make Chicken Parmesan in an Air Fryer?
You can! Use my air fryer chicken breast recipe to make crispy air fryer chicken cutlets. Leave the chicken in the air fryer basket, top with sauce and cheese, and continue air frying for 1-3 minutes or until the cheese is melted and starting to brown.
Is Chicken Parmigiana a dish eaten in Italy?
I'm sorry to say that it is not. Chicken parmesan is an Italian American dish that is thought to be a combination of concepts from traditional Italian eggplant parmigiana and breaded veal cutlet recipes. When those ingredients weren't readily available for Italian immigrants, they made up this delicious chicken meal instead!
How do I slice chicken cutlets from chicken breasts?
So that our chicken cooks fairly quickly and evenly, we want to cut it down into thin cutlets. To do this, place a chicken breast down flat on a cutting board. Hold one hand flat on top of the breast, and use a sharp knife to cut the breast in half, parallel to the cutting board.
Typically, that is all you need to do! The cutlets should be about ¼ inch in thickness. If they are thicker than that, use a meat mallet to pound them down thinner.
How do I keep the breading from falling off the chicken parm?
Here are a couple of tricks to try next time: 1. Dry the chicken with paper towels to ensure that there's no excess moisture. 2. Ensure that you aren't skipping any of the 3 breading stations. 3. Place the cutlets in the fridge for up to an hour after breading them. This can help solidify the breading so it won't fall off so easily.
Skip the restaurant, and make Chicken Parmesan at home to feed the entire family! Save this recipe for a busy weeknight, or serve it to guests – Chicken Parmesan is perfect for any occasion!
Did you make this? Be sure to leave a review below and tag me on Facebook, Instagram, or Pinterest!
Recipe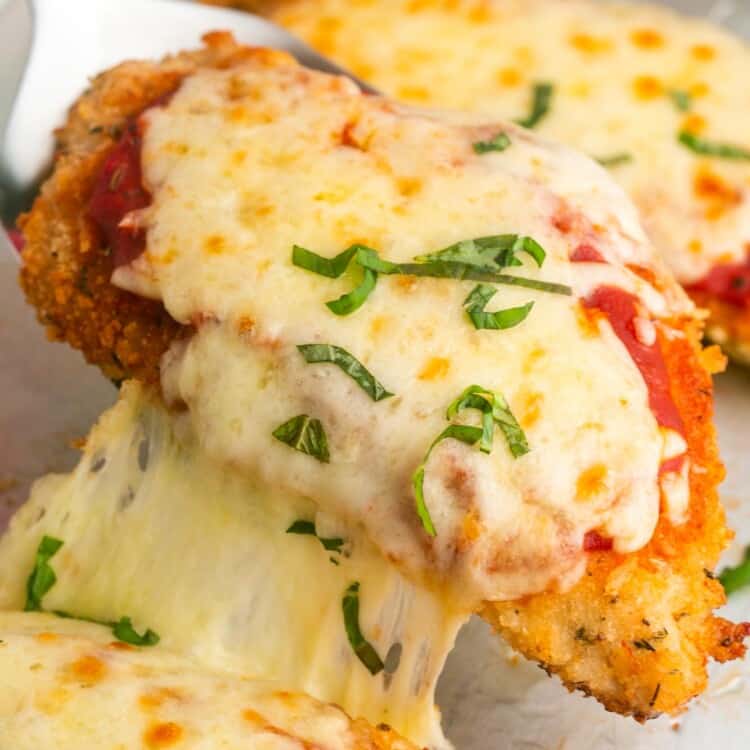 (Click stars to rate!)
Chicken Parmesan
Homemade Chicken Parmesan is better than anything you'd order in a restaurant, and will be ready to eat in under 30 minutes!
Homemade Chicken Parmesan is better than anything you'd order in a restaurant, and will be ready to eat in under 30 minutes!
Equipment
Half sheet pan (18 by 13 inches)
Ingredients
½ cup

(60g)

all purpose flour

½

teaspoon

salt

¼

teaspoon

ground black pepper

2

large

eggs

beaten until frothy

1½ cups

(180g)

breadcrumbs

regular, italian, or panko

¾

cup

freshly grated parmesan cheese

1

teaspoon

italian seasoning

skip this if using italian breadcrumbs

3

medium

chicken breasts

sliced into 6 thin cutlets

¼ cup

(60ml)

vegetable oil

for frying

¾ cup

(180ml)

marinara sauce

8 ounces

(225g)

shredded mozzarella (low-moisture)

or sliced fresh mozzarella cheese

1

tablespoon

fresh basil leaves

chopped or chiffonade
Instructions
Preheat the oven to 375°F/190°C, and have a half size sheet pan ready.

Set up a breading station with three shallow dishes. Add flour, salt and pepper to one section/shallow dish and mix. Beat the eggs until frothy, and add to the second dish. In the third dish, combine breadcrumbs with parmesan and Italian seasoning.

Dredge each chicken cutlet in flour, then dip in egg and shake off any excess, and dredge in breadcrumbs pressing the chicken a little to help the breadcrumbs stick. Repeat until all the chicken is coated.

In a non-stick skillet over medium-high heat, heat oil, and when it's shimmering, carefully add the chicken (cook in 2 batches) and cook on both sides until golden and the internal temp is 165°F/74°C. Remove onto a sheet pan, and place crispy chicken in a single layer.

Divide the marinara sauce between chicken cutlets, spreading it over the chicken.

Top with shredded cheese and bake in the preheated oven until the cheese has melted and is bubbling.

Switch to broiler, and cook for 2-3 more minutes or until the cheese starts to crisp up a little. Remove from the oven, and garnish with fresh basil.

Serve with buttered noodles and extra marina sauce.
Notes:
Panko bread crumbs will give you crispier cutlets than traditional bread crumbs will.
The chicken in this recipe is nice and crispy, but if you want it extra crispy, shallow fry it using more oil than called for here.
If you like your chicken parmesan saucier, you can bake it in a 9×13-inch dish. Layer marinara sauce, then the chicken cutlets, then more marina sauce and the cheese. Bake for 15 minutes.
To Store: Keep any leftovers in an airtight container and enjoy within 3 days.
Nutrition Information
Serving:
1
cutlet
,
Calories:
430
kcal
,
Carbohydrates:
24
g
,
Protein:
43
g
,
Fat:
17
g
,
Saturated Fat:
8
g
,
Polyunsaturated Fat:
2
g
,
Monounsaturated Fat:
5
g
,
Trans Fat:
0.02
g
,
Cholesterol:
165
mg
,
Sodium:
1060
mg
,
Potassium:
622
mg
,
Fiber:
2
g
,
Sugar:
3
g
,
Vitamin A:
623
IU
,
Vitamin C:
4
mg
,
Calcium:
398
mg
,
Iron:
3
mg
This website provides approximate nutrition information for convenience and as a courtesy only. Nutrition data is gathered primarily from the USDA Food Composition Database, whenever available, or otherwise other online calculators.
© Little Sunny Kitchen