Elevate your burger experience with my easy and delicious air fryer hamburgers! These perfectly cooked beef patties are crispy on the outside and irresistibly juicy on the inside. This recipe will become your go-to solution for convenience and flavor!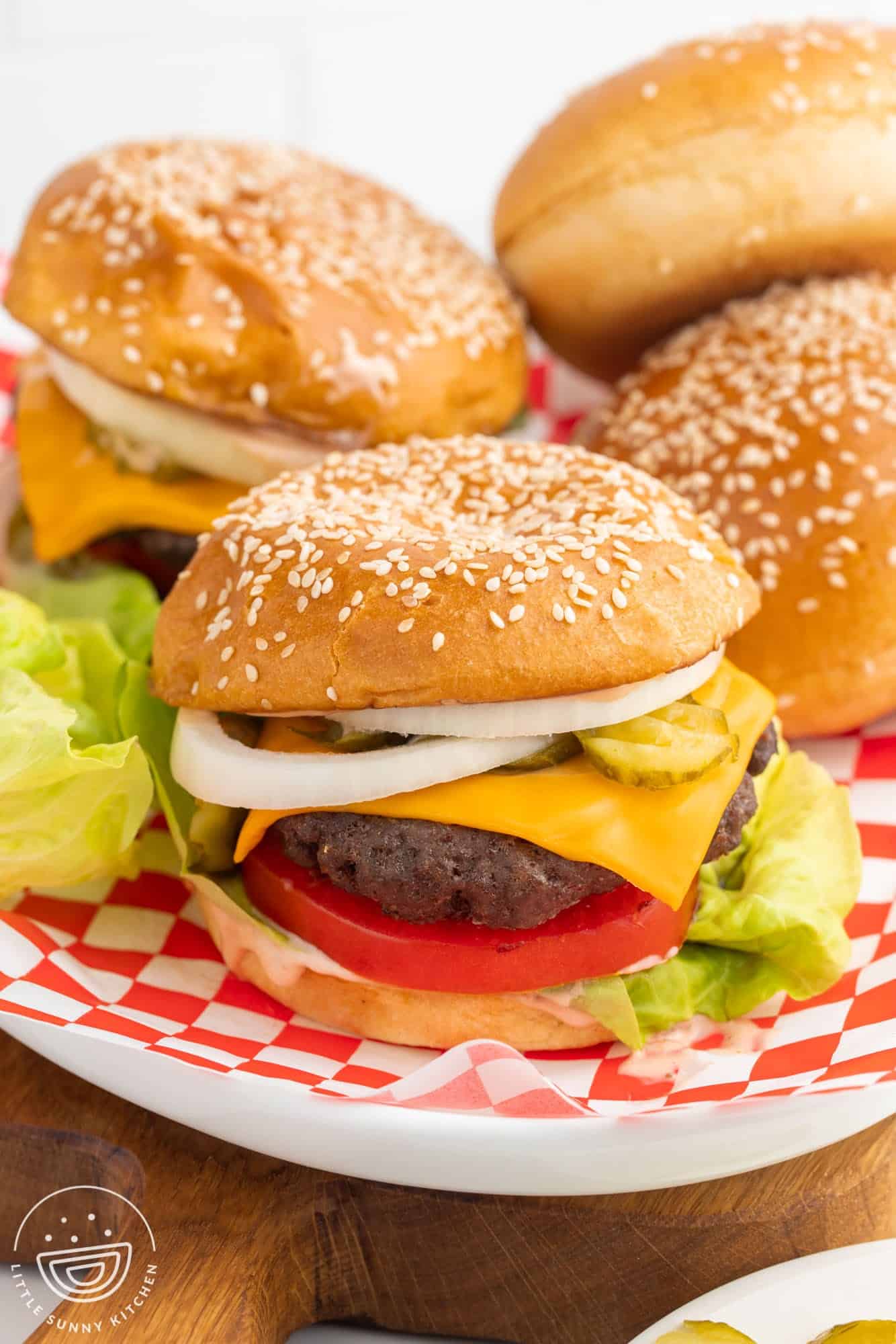 For a delicious and convenient dinner option, air fryer hamburgers are definitely worth a try! This quick method of cooking will give you juicy crispy burgers right from your own kitchen.
My Cosori Air Fryer gets a lot of action because I love how easy it is to use and the fact that I can use less oil in my cooking is a bonus! The large square basket lets me cook more things at the same time, and the cleanup is also a breeze, which is half the battle when it comes to cooking dinner.
These are classic beef burger patties that cook up perfectly without splatter. If you're concerned about the patties sticking, you can use parchment liners designed specifically for air fryers. They make the cleanup even easier!
You can top your burgers with all of the classic toppings or experiment with some new favorites. I give you some suggestions below that you can try.
And you can also use your air fryer to make these hot and crispy air fryer French fries to serve alongside your burgers. It's the perfect combination!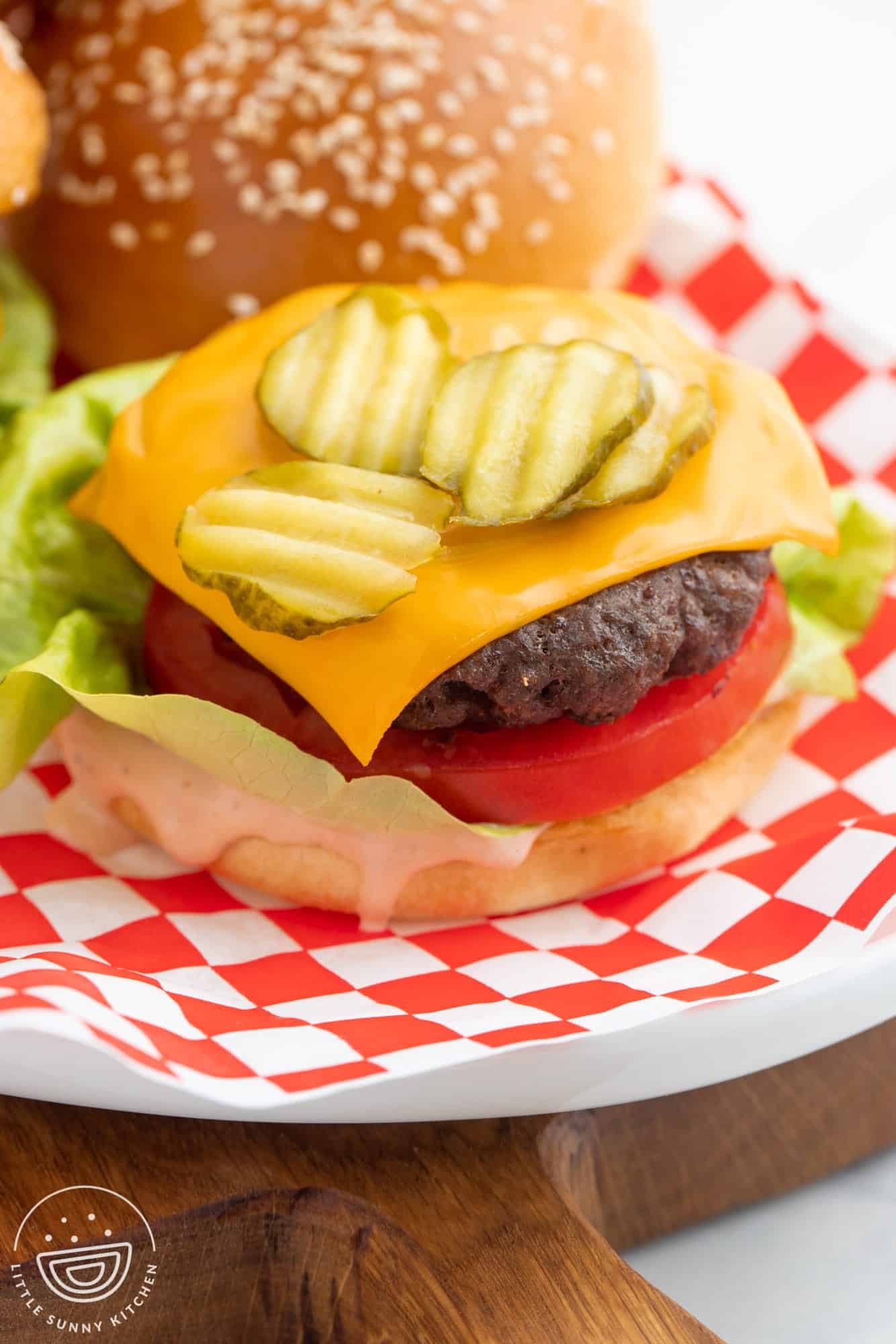 Why You'll Love This Recipe
Making air fryer hamburgers at home is so convenient! This magic machine cooks the patties quickly which saves you a ton of time in the kitchen. Plus, it makes the burgers incredibly juicy on the inside while making the outside wonderfully crispy. And since you don't have to use any oil, you have less mess to clean up at the end. It can't get any better!
key ingredients
These are easy beef patties with simple seasoning. Go ahead and swap out the seasonings to match your personal preferences.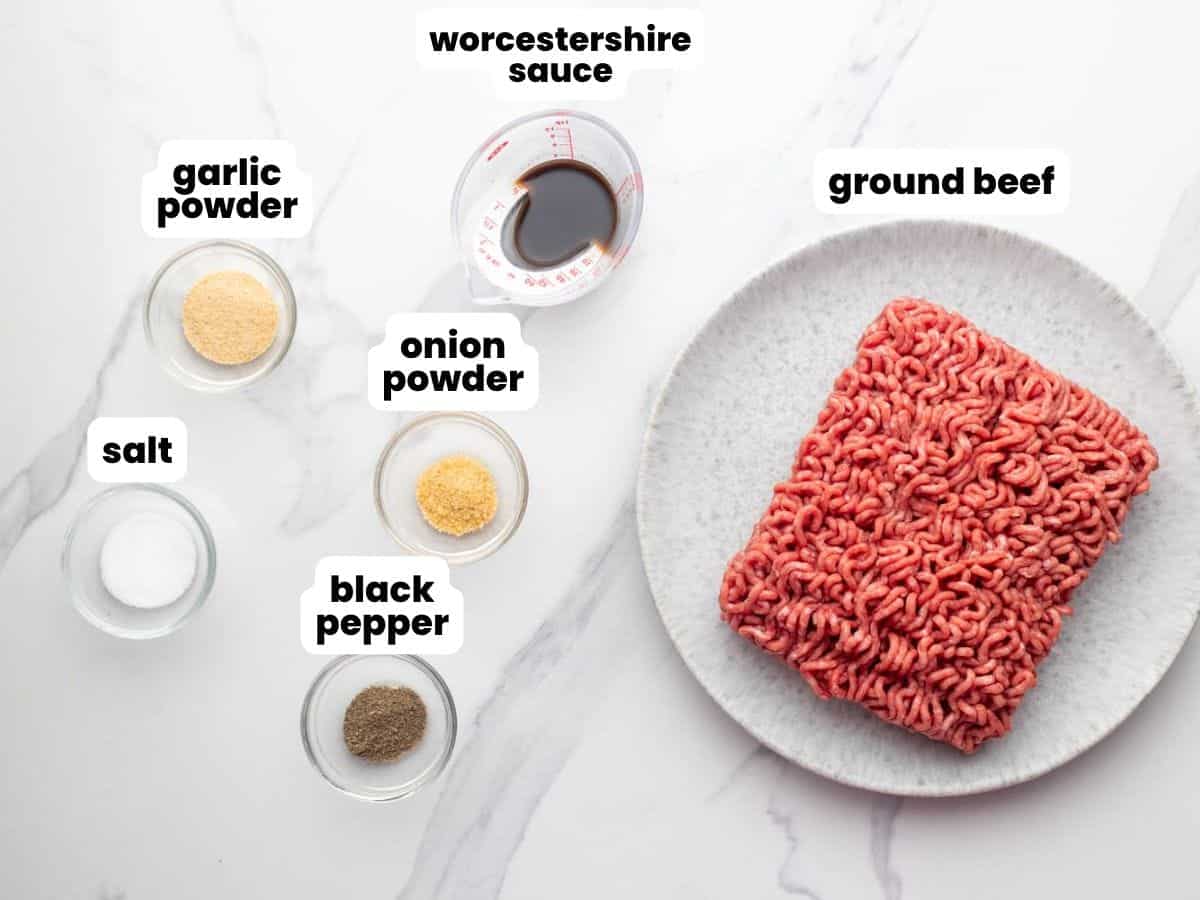 Ground beef: To kick things off, I use an 80/20 blend which means 80% muscle and 20% fat. Any leaner than that and your burgers might be a little dry. 1 lb of meat will give you 4 hamburger patties.
Seasoning: Don't be shy when seasoning the meat! I use Worcestershire sauce, (this gives the burgers a deliciously deep and slightly salty flavor), garlic and onion powders, and salt and pepper.
Complete list of ingredients and amounts can be found in the recipe card below.
Cooking Hamburgers in the Air Fryer
Air frying hamburger patties is a quick and mess-free way to enjoy burgers at home. It takes less than 10 minutes to cook the patties, so they make the perfect mid-week meal for busy nights.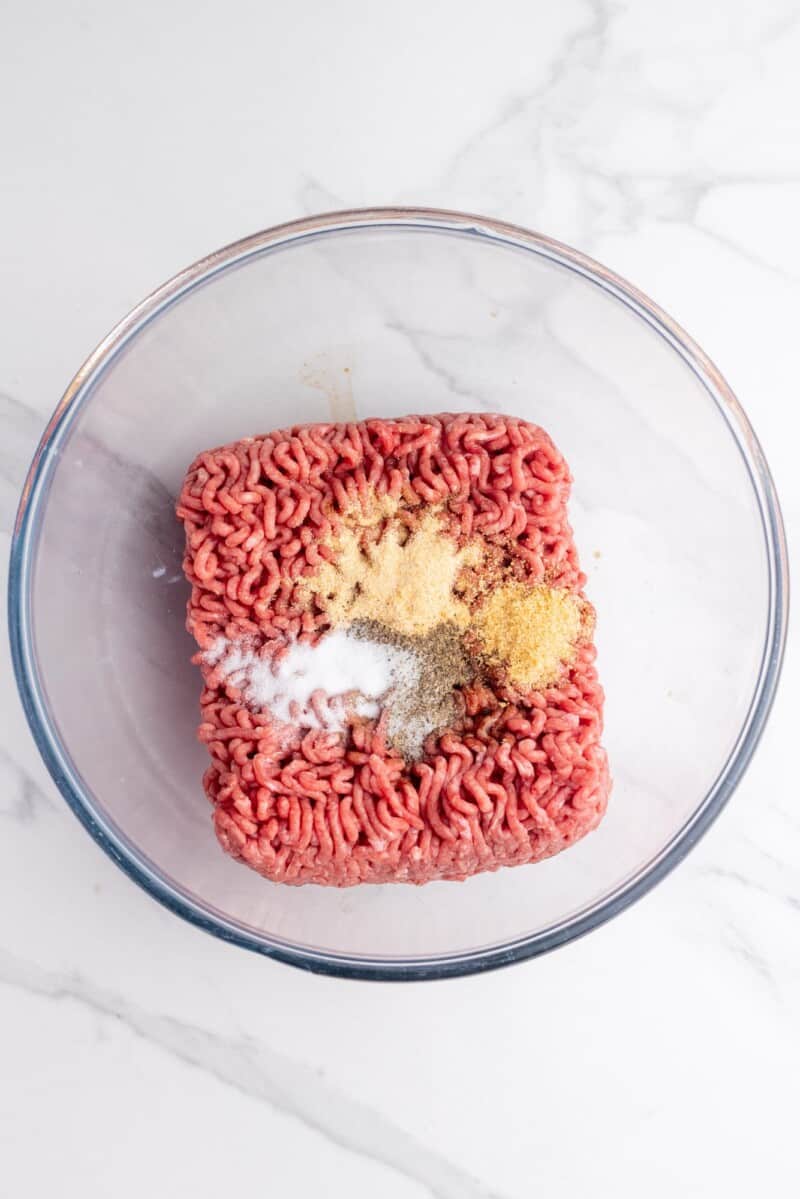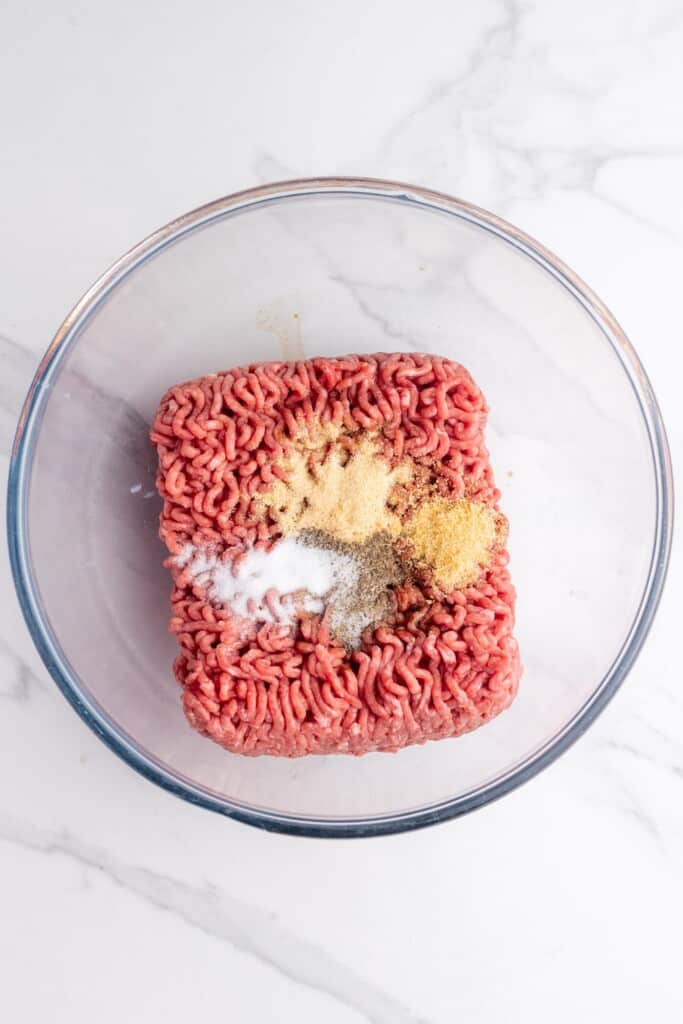 Make the beef mixture. Combine the ground beef and seasonings in a bowl and mix everything together until combined. I like to use my hands to do this because I can get a feel of the texture, but if you'd prefer to use a wooden spoon or spatula, then go ahead. Be careful not to overwork the mixture as it can result in tough and dry burgers.
Shape patties. Make 4 even-sized patties about a 1/2-inch thick and gently make an indent in each patty with your thumb or the back of a spoon. This indent prevents the patties from bulging up in the middle as they cook.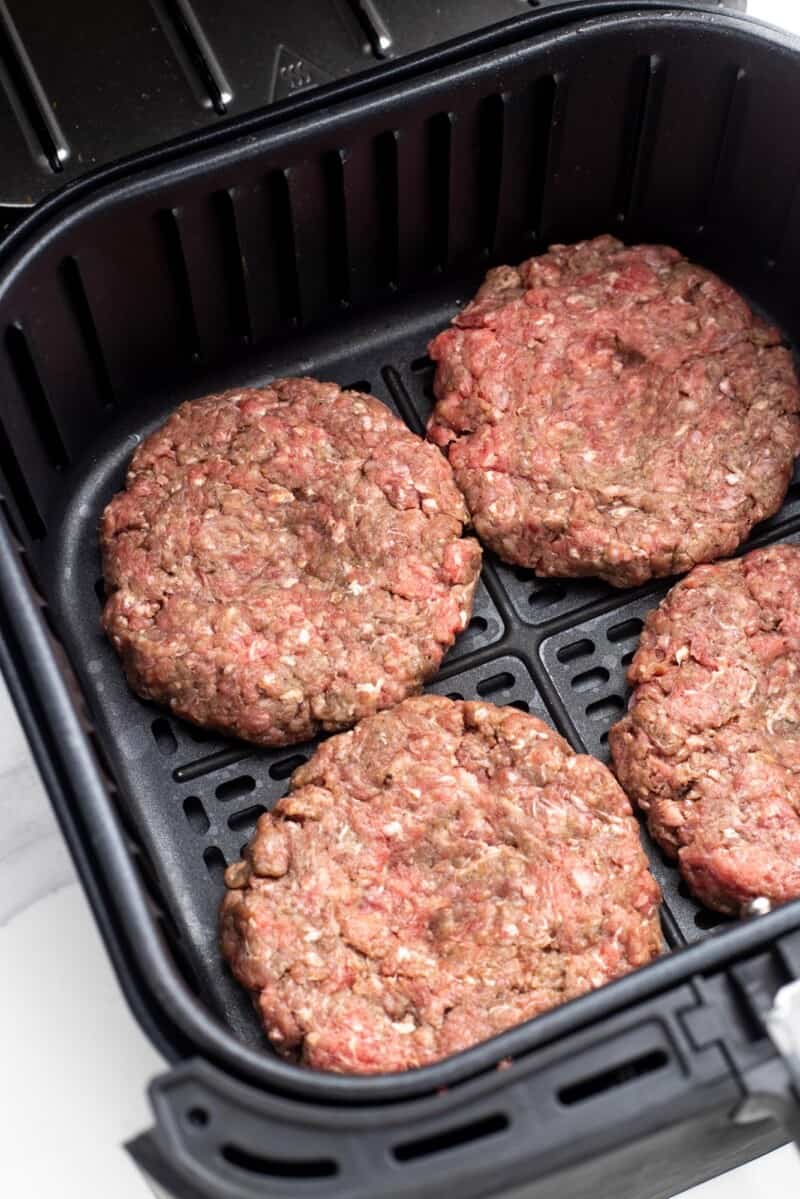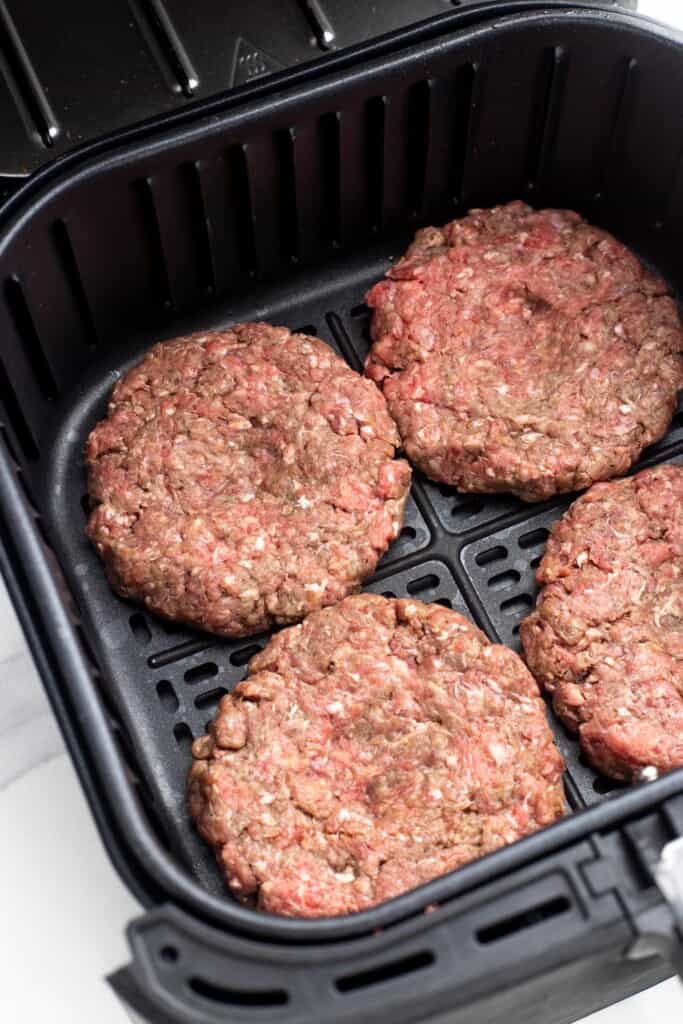 Air Fry. Preheat the air fryer to 370°F/190°C and place the patties in the basket and cook for 6 minutes, then flip them and cook for another 3 minutes.
Serve. Remove the burgers and let them rest for a minute or two before assembling with your favorite condiments.
Tip!
The best way to determine if your burgers are cooked to the desired level of doneness is by using a kitchen thermometer. Insert it into the center of the burger, and it should read at least 160°F/71°C for ground beef to ensure they're safe to eat. Check out this air fryer cheat sheet for more temperature guidelines.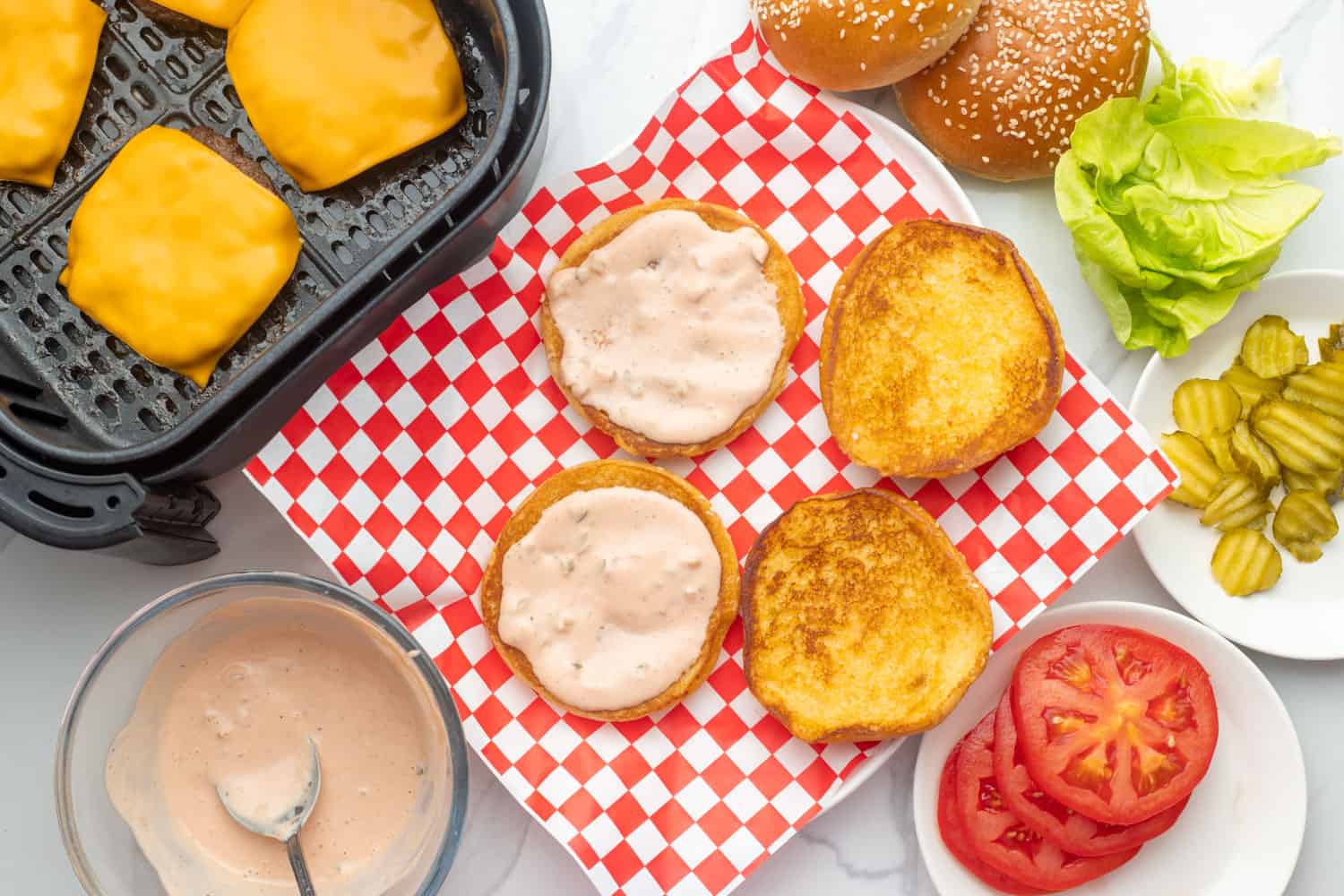 Toppings
The great thing about a classic hamburger is that there are so many options for toppings – the sky's the limit! Here are some ideas to make your own burger masterpiece:
Easy hamburger sauce: This is a great sweet and tangy sauce I love to use on top of my burgers. Mix together ¼ cup mayo, 2 tablespoons of ketchup, 1 teaspoon of sweet relish, 1 teaspoon of apple cider vinegar, ½ teaspoon of honey, and ¼ teaspoon of ground black pepper.
Cheeseburger: Top your air fryer burger with cheddar, Swiss, or American cheese and let it melt.
Bacon: Crisp up some bacon in the air fryer to add some smokiness to the top of your burger.
Spicy: Add some cayenne pepper to the seasonings and top your burgers with some pickled jalapenos for some added heat.
BBQ: Brush the burgers with some BBQ sauce to add a sweet and smoky flavor.
Mediterranean: Top your patties with sliced tomatoes, chopped red onions, and crumbled feta cheese for a fresh taste.
Mushroom and Onions: Sauté some mushrooms and onions and top your patties for more flavor.
Recipe Tips
Shaping your patties: Burger patties shrink slightly during cooking, so make them slightly larger than your bun for the perfect fit once they're cooked.
Give them space: Make sure to leave room between the burger patties in the air fryer basket to let the air circulate. If you overcrowd them, they could cook unevenly, and the outside might not get quite as crispy.
Let them rest: Give your burgers a minute or two of resting time before serving. This lets the juices settle back into the patties so each bite will be perfectly juicy.
Storing Tips
Store any leftover hamburgers in the refrigerator in an airtight container or wrap them tightly with plastic wrap. They will keep up to 3 days.
The easiest way to reheat them is to put them back into the air fryer! It's quick and will help to restore some of the crispiness. Heat your air fryer to 350°F/175°C and heat the burgers for 3 – 4 minutes, flipping halfway through.
You can also reheat them in a skillet over medium heat for 3 – 4 minutes, flipping halfway through, or place them on a microwavable plate and heat them in 30-second increments until warmed through.
On the Side
When it comes to serving air fryer hamburger patties, you have so many options for side dishes! A pile of golden and crispy French fries is the classic choice and sweet potato fries also made in the air fryer taste amazing with the savory burger.
For something a little lighter, you can try a refreshing coleslaw or a vibrant and crunchy Greek salad.
And while you have the air fryer out, why not try some air fryer corn on the cob? It's absolutely delicious with butter and salt and brings a real summery vibe to your burgers!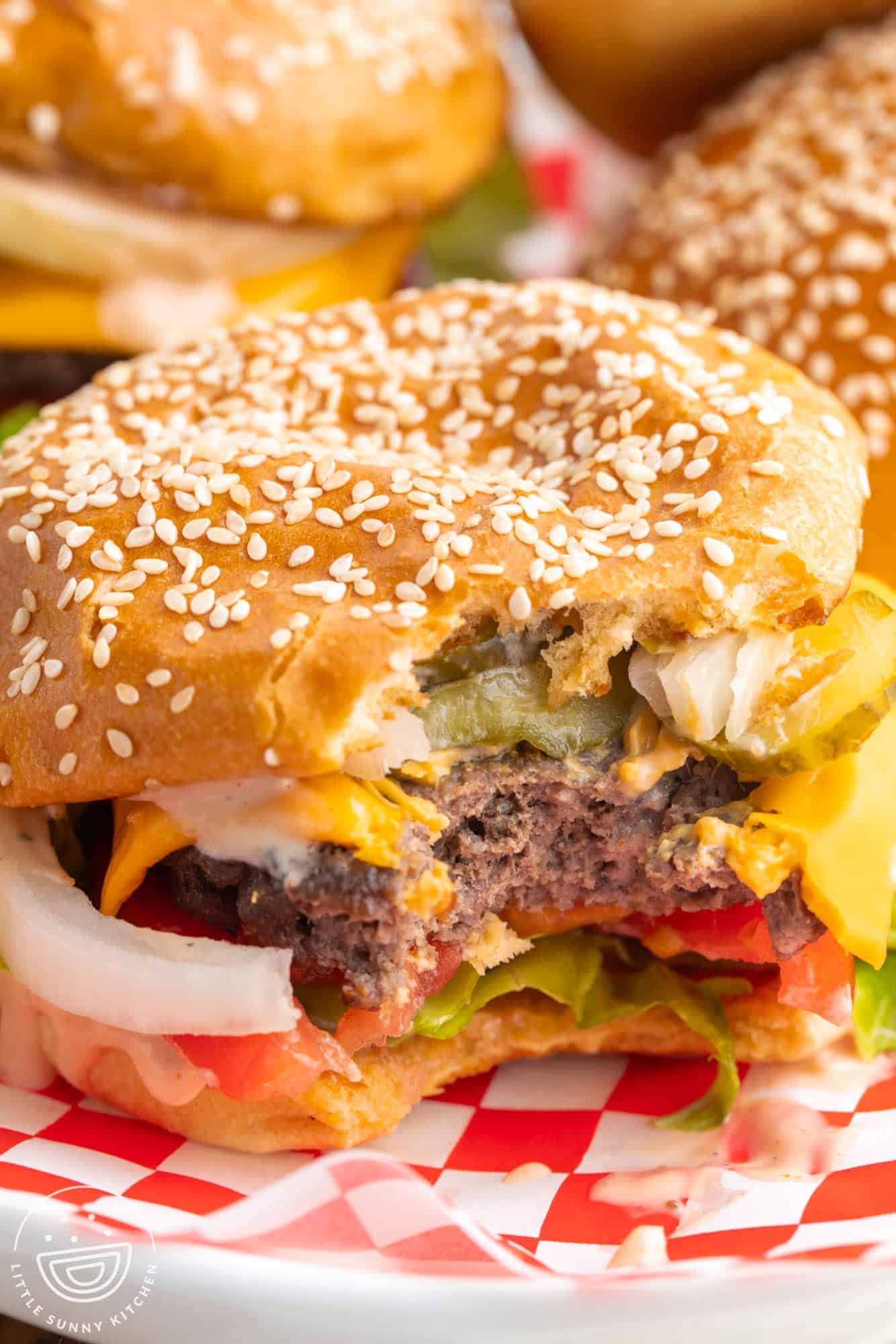 Recipe FAQs
Can I use a different protein for these burgers?
You can! Turkey or chicken are common leaner substitutions for burger patties. Keep in mind that they need to be cooked to an internal temperature of 165°F/73°C.
Is it ok to put cheese on the burgers in the air fryer?
Definitely! You can place a slice of cheese on top of the patties during the last minute or two of cooking and it will melt beautifully.
Do I need to flip the burgers in the air fryer?
Yes, flipping the burgers halfway through ensures you get an even cook all over.
Can I toast my hamburger buns in the air fryer?
For sure! Simply place the split buns in the air fryer for a minute or two until they become golden and lightly crispy. Keep a close eye on them to prevent burning.
I hope you enjoy these quick and easy air fryer hamburgers! Pin it for more people to enjoy too!
Did you make this? Be sure to leave a review below and tag me on Facebook, Instagram, or Pinterest!
Recipe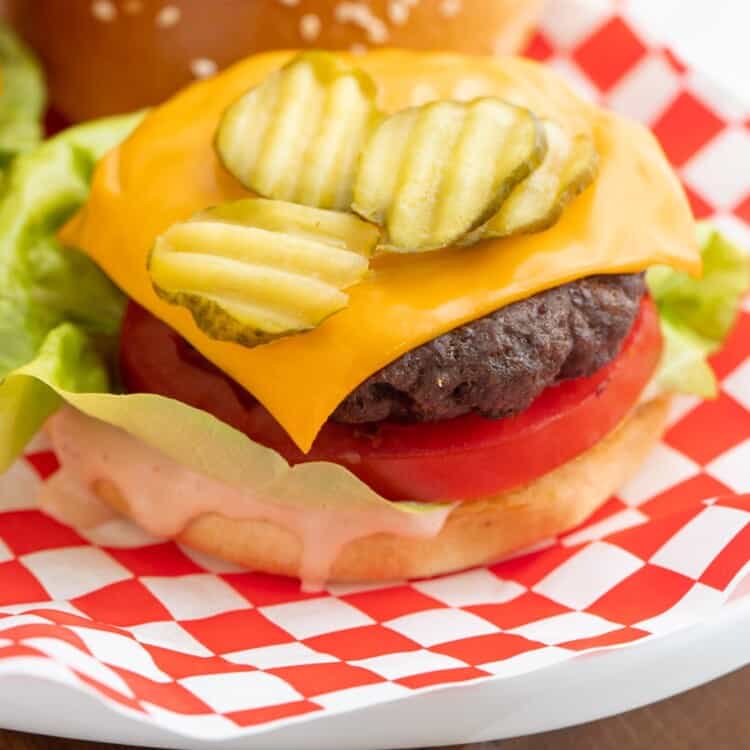 (Click stars to rate!)
Air Fryer Hamburgers
These beef patties are perfectly cooked in the Air Fryer, with a deliciously crispy exterior and an irresistibly juicy interior. Ready in just 20 minutes.
These beef patties are perfectly cooked in the Air Fryer, with a deliciously crispy exterior and an irresistibly juicy interior. Ready in just 20 minutes.
Ingredients
1

pound

(

450

g

)

ground beef

80/20

2

teaspoons

(

10

ml

) Worcestershire sauce

1

teaspoon

garlic powder

½

teaspoon

onion powder

½

teaspoon

ground black pepper

½

teaspoon

salt
Instructions
Preheat the Air Fryer to 370°F/190°C for 5 minutes.

In a bowl, combine ground beef with Worcestershire sauce, garlic powder, onion powder, salt, and pepper. Use your hands to combine well, but do not over work to get a better texture.

Divide the mixture into 4 portions (about half an inch thick), and gently flatten and shape into patties, making an indent in the center of each patty with your thumb or the back of a spoon.

Place the patties in the air fryer, and cook for 6 minutes, flip the patties and cook for 3 more minutes. Add cheese in the last minute of cooking if using.

Remove the patties, and assemble with your favorite condiments.
Notes:
Check the doneness of your hamburgers by inserting a cooking thermometer in the center of each patty:
Rare: 120-125°F (52°C)
Medium rare: 130-135°F (57°C)
Medium: 140-145°F (63°C)
Medium well: 150-155°F (68°C)
Well done: 160°F (71°C) – FDA recommendation
Easy hamburger sauce recipe: Mix together ¼ cup mayo, 2 tablespoons of ketchup, 1 teaspoon of sweet relish, 1 teaspoon of apple cider vinegar, ½ teaspoon of honey, and ¼ teaspoon of ground black pepper.
Nutrition Information
Serving:
1
patty
,
Calories:
294
kcal
,
Carbohydrates:
1
g
,
Protein:
20
g
,
Fat:
23
g
,
Saturated Fat:
9
g
,
Polyunsaturated Fat:
1
g
,
Monounsaturated Fat:
10
g
,
Trans Fat:
1
g
,
Cholesterol:
81
mg
,
Sodium:
406
mg
,
Potassium:
345
mg
,
Fiber:
0.2
g
,
Sugar:
0.3
g
,
Vitamin A:
4
IU
,
Vitamin C:
0.5
mg
,
Calcium:
26
mg
,
Iron:
2
mg
This website provides approximate nutrition information for convenience and as a courtesy only. Nutrition data is gathered primarily from the USDA Food Composition Database, whenever available, or otherwise other online calculators.
© Little Sunny Kitchen