Nothing beats a fresh slice of thyme bread with cheese and a cup of sweet tea on a saturday morning…
I'm one of those lucky people that own a bread making machine! My sister bought it from Paris a few years ago, my Mum used it a few times then it just sat in the kitchen sad and alone… Until I rediscovered it again! It is actually an amazing machine that is extremely easy to use, all you have do is add the ingredients, wait for 2-3 hours, and BAM you have a homemade, delicious, healthy, fresh loaf of bread made with high-quality ingredients.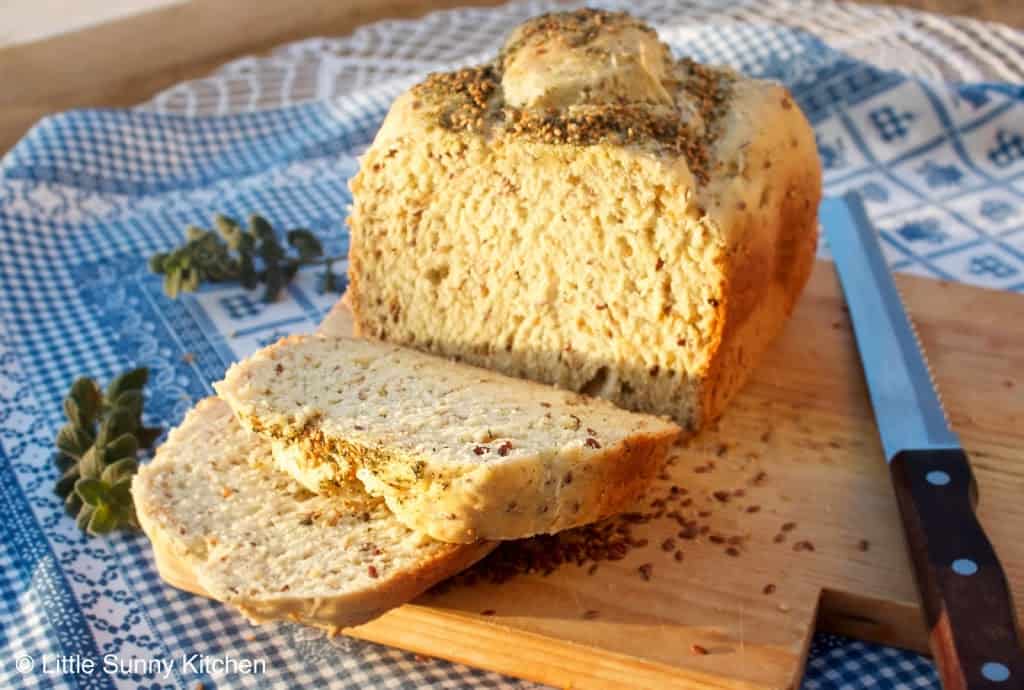 We now bake different bread loaves pretty often, almost every day. I'm not a big fan of ready bread loaves that you can purchase at any bakery, most of the time they add some weird chemicals to keep the loaf fresh and soft for a long time, and that's definitely not good.
This is probably my favourite savoury bread that I bake, I usually have it with a layer of butter and it tastes AMAZING. Or with dinner (for example soup!) You will love how crusty the golden crust is, and how soft it is from the inside.
If you try this recipe, leave me a comment and tell me how it did turn out. But I'm pretty sure that you will LOVE it.
Subscribe to my Newsletter, and follow me on Facebook, Instagram, and Pinterest for more tasty recipes!
I don't feel like I say this often enough, or that I could ever thank you enough. But THANK YOU for all of your support, for visiting my blog, commenting, and sharing my recipes with your friends and family. I am SO thankful for you!
If you make this recipe or any of my recipes, then don't forget to rate it and leave a comment below. I would LOVE to hear about your experience and your comments just make my day!
I hope that you love every recipe that you make! – Diana x
Ingredients
60

grams

butter

room temperature

2

tsp

salt

1

tsp

honey

310

ml

fresh milk

470

all purpose flour

1.5

tsp

instant yeast

2

tbsp

flax seed

2

tbsp

dried thyme

2

tbsp

sesame seeds

1

tsp

virgin olive oil
Instructions
Using an oven:
Preheat oven to 220°.

In a medium sized bowl beat butter with honey and milk, continue beating until combined.

In another bowl whisk together flour with salt, and yeast. (activate yeast by adding 2tbsp of lukewarm water and 1tsp of sugar)

Slowly stir the flour mixture to the butter and milk mixture, stir until just combined but do not over mix.

Let dough sit for 1 hour in a bowl covered with damp cloth in a warm place.

knead for 10-15 minutes, then add seeds to dough.

Line a loaf pan with wax paper and add the dough, add olive oil to top and sprinkle with dried thyme.

Bake until top is golden and bread is ready. Let it chill on a wire rack for half an hour and serve.
Notes
If you own a bread making machine, all you have to do is mix the ingredients in sequence above, choose dark crust, and size of 1000 grams (1kg), switch it on and let it do its thing.