Atayef or Qatayef are Middle Eastern pancakes that are filled with white cheese or nuts then fried or baked, and soaked in a rose sugary syrup. They are only made and served during the Holy month of Ramadan, and truly feel like a celebration!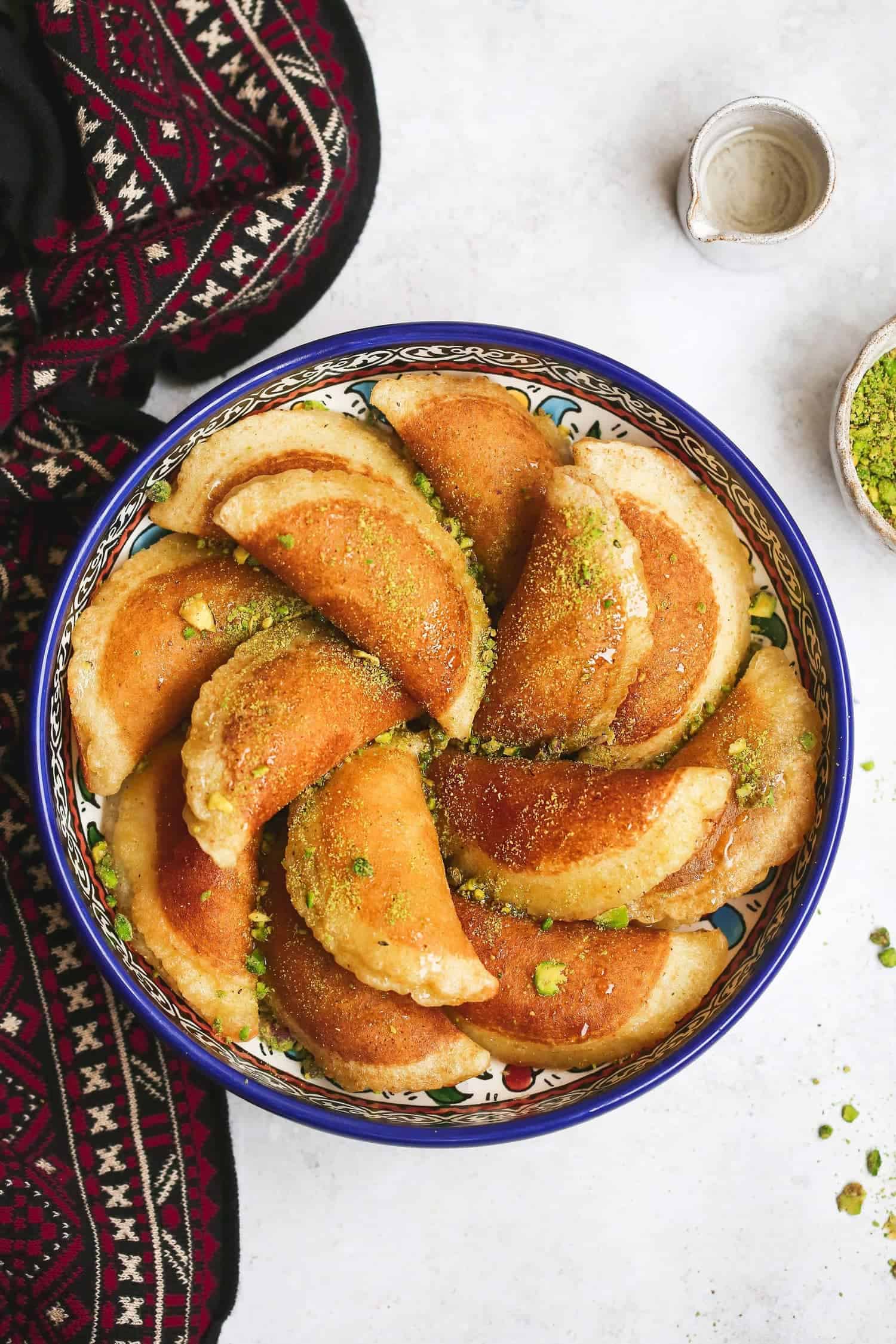 Here's a detailed recipe to make Atayef from scratch.
What are Atayef?
Once you try the Atayef – you will fall in love! I can guarantee you that! They're basically the Middle Eastern version of pancakes, and they're stuffed with lots of tasty fillings. Atayef (Qatayef) are usually prepared by street vendors in the streets of Jordan, Palestine, Syria, Lebanon, Morocco, and Egypt. They are also sold in bakeries nowadays, and some people prepare them at home. They're very popular, it's like you you have no choice and MUST have Atayef during Ramadan!
How to make Atayef from scratch?
Atayef are very similar to pancakes, they're made with flour, semolina, yeast, milk, baking powder, salt, sugar and you can also add vanilla or rose water if you like. They're usually fried on a nonstick pan or a griddle pan with no oil, but only fried from on side and folded which is very interesting because they're just like thin pancakes with 2 sides, one is lace-like, and the other side is velvety since it's not fried on that side and is filled with bubbles!
Our Trip to a Local Bakery in Madaba, Jordan.
My Mom and I went to a local bakery in Madaba, Jordan to see how traditional Atayef pancakes are made in bakeries nowadays. It was really interesting as we got to see the technique, and how the staff were working with great skill and speed. Below are some pictures for you to enjoy.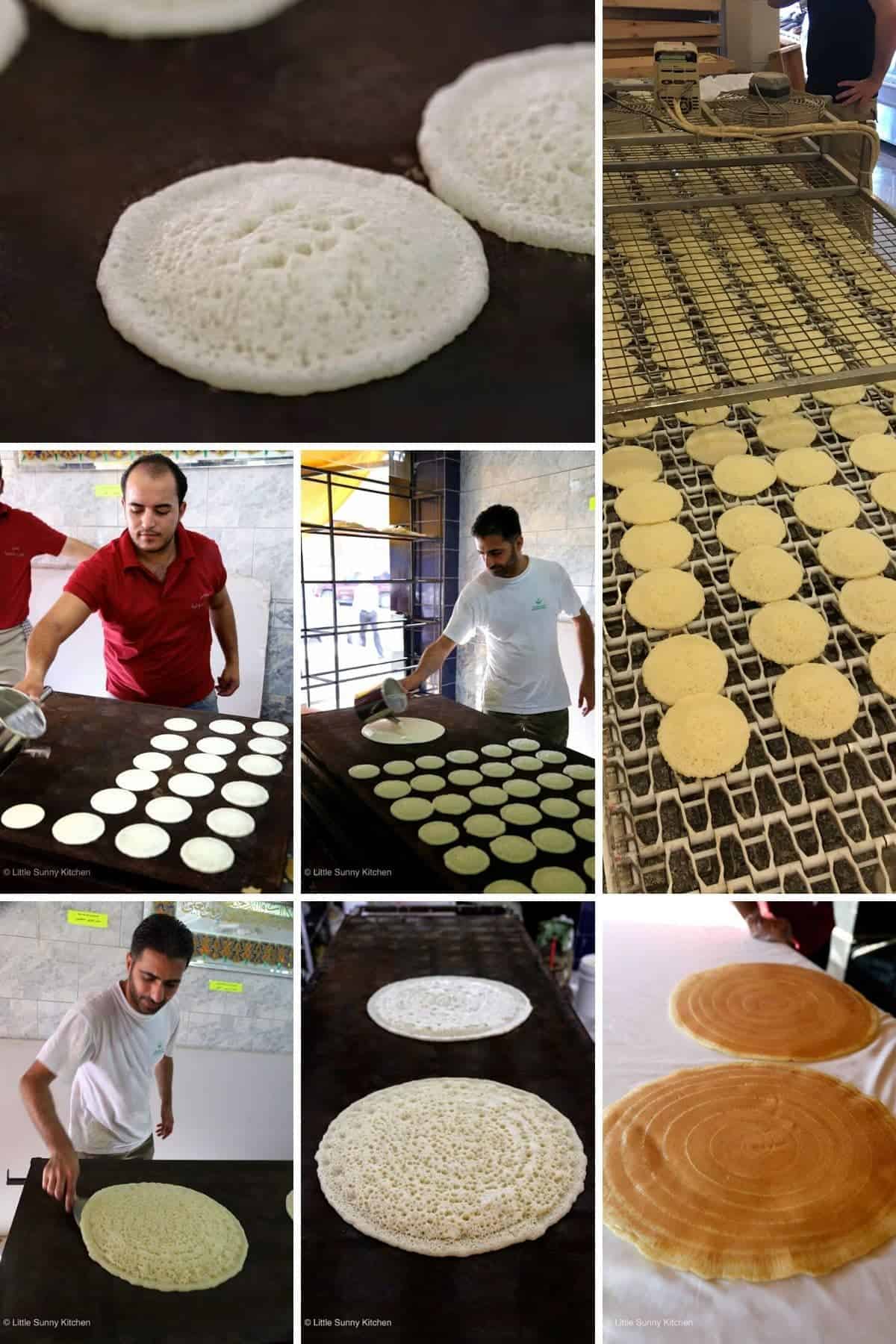 Mutaz (the guy in the red) was making regular medium-sized Atayef, I don't know how he did it but all of them were exactly the same size! and then Tareq (the guy in the white) showed me how to make a giant Atayef! I mean, how awesome is that?! I'm going to try and make this at home but then I need a giant pan to fit! The giant atayef are stuffed with cream and are not folded, it's just cover with another piece of atayef just like layering cakes.
Types of Atayef
Regular Atayef: they're usually bigger in size, crunchy from the outside, filled with either nuts (Walnuts, pistachios, or almonds) with cinnamon, or with white cheese (Ricotta can work) and then deep fried and soaked in (or drizzled with) a sugary rosewater syrup or less commonly is baked with a little bit of oil and then drizzled with the syrup.
Atayef Asafiri (or mini Atayef): they're usually smaller in size, and have a soft exterior, served without cooking or frying, and are commonly filled with cream and pistachios. Fillings for this kind of atayef can be fun, you can stuff them with Nutella, fresh fruits, nut butter, you name it!
Giant Atayef: they're huge (see picture above), usually filled with cream and nuts, but it can also be stuffed with white cheese and then drizzled with sugary syrup!
The technique is very important, it is very simple but you have to read the instructions carefully to understand it. You may need 1/2 – 1/4 cup more or less in the recipe that I'm sharing with you as it depends on what kind of flour and semolina you're using. The batter is sort of thin but the best way to know if you need to add more water or not is by cooking your first atayef pancake. If you get a fair amount of bubbles that means that your batter is perfect, if not then you will need to add more water to the mixture. This is a common mistake when it comes to making Atayef, working with a very thick batter.
How to make Atayef
To prepare the mixture, place all dry ingredients in a bowl and whisk. Then add the wet ingredients gradually to the dry mixture and whisk until well combined. Place in a warm place, cover with a damp cloth, allow your batter to rest for 15-30 minutes.
Heat a non-stick pan on medium heat, then pour the batter using a spoon (for small Atayef pour 1 tbsp of batter, for medium-sized ones add 2 tbsp, and 1/4 cup for large ones).
The Atayef pancake will start bubbling but make sure that you get loads of bubbles as if you don't then it means that your batter is way too thick. Each pancake should take about 1-2 minutes to cook but that also depends on the size of the atayef that you're making. When the last drop on the surface dries and isn't shiny, that means that they're done (remove from pan immediately).
Transfer to a tea towel and make sure that you fold down the towel to cover the pancakes, otherwise they will dry out really quickly (that can result into atayef that are difficult to fold and seal when you want to fill them).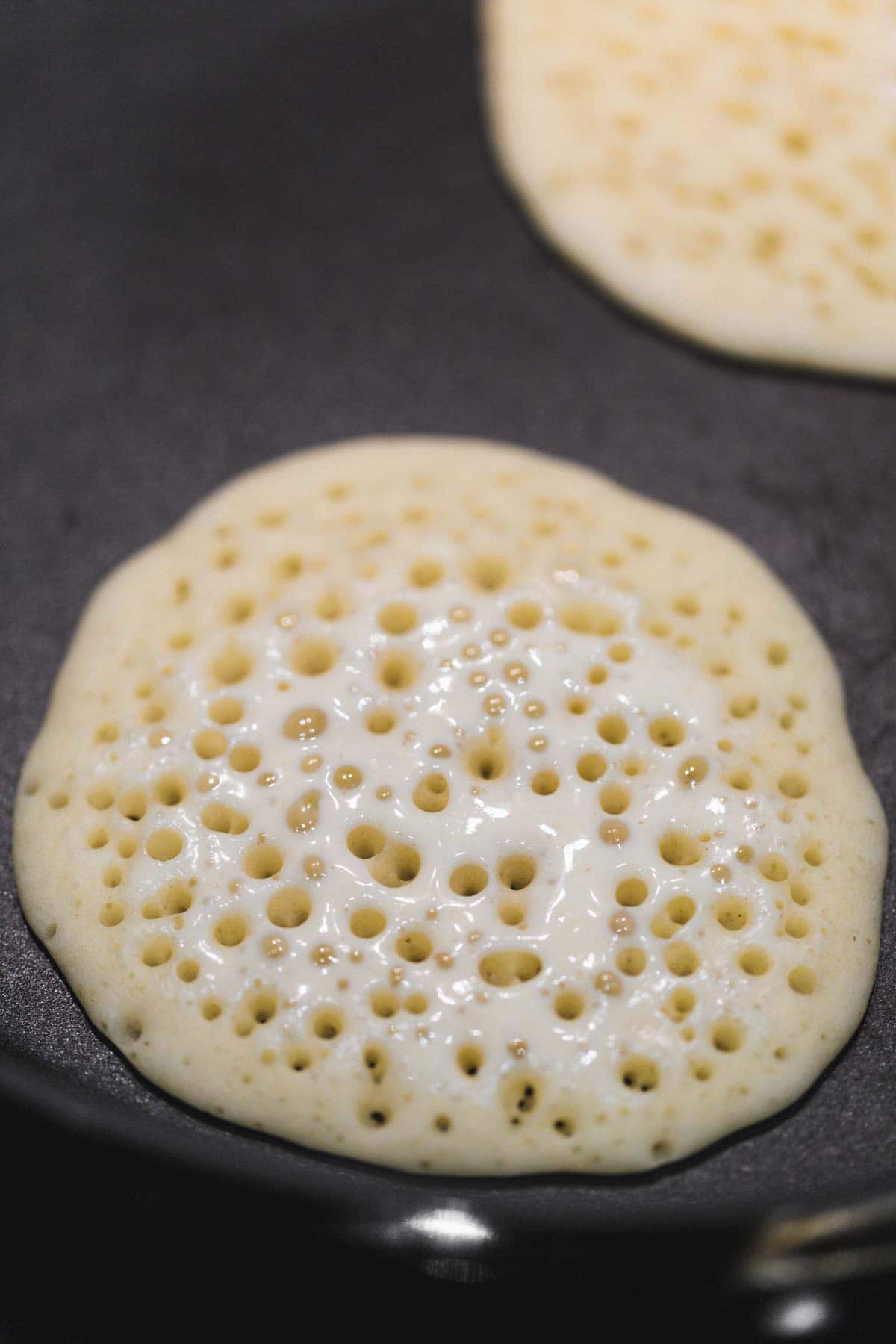 The atayef will become softer once they cool down, which is good because then they will be easier to fold and seal while you stuff them. If you don't want to fill them right away, you can store them in an airtight container or a plastic bag to avoid drying, but I highly recommend that you stuff them and eat them on the same day.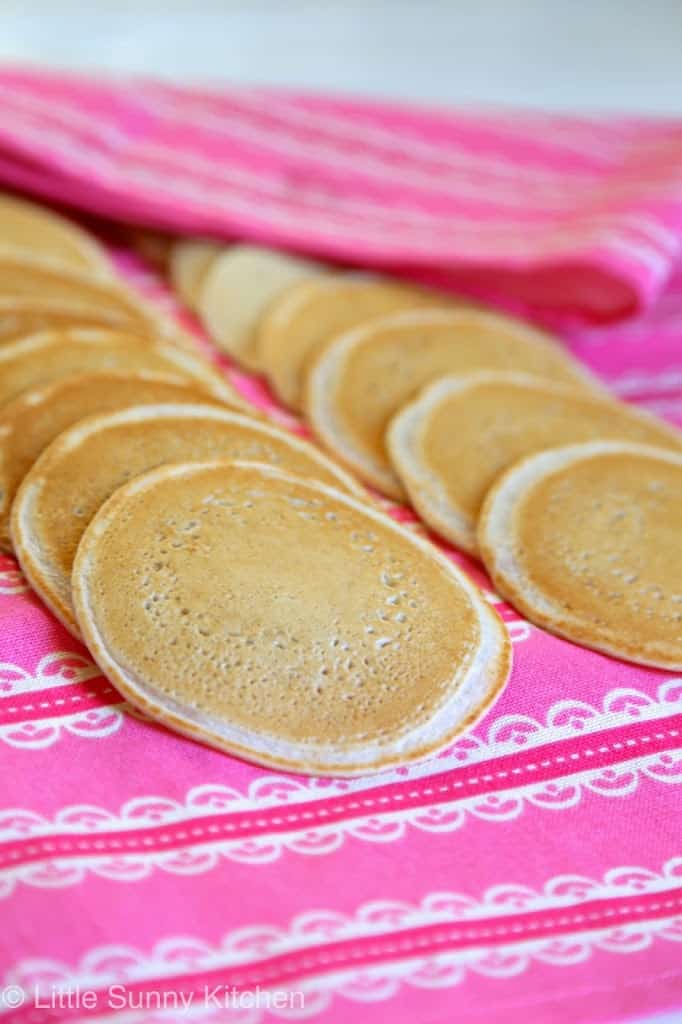 Filling Suggestions
The most popular fillings for Atayef are "joz" which is cinnamon walnuts, and "jibneh" unsalted white cow's cheese that has been soaked in water for days to get rid of the salt.
If you can't find white cheese, you can use ricotta with a little bit of sugar and rose water.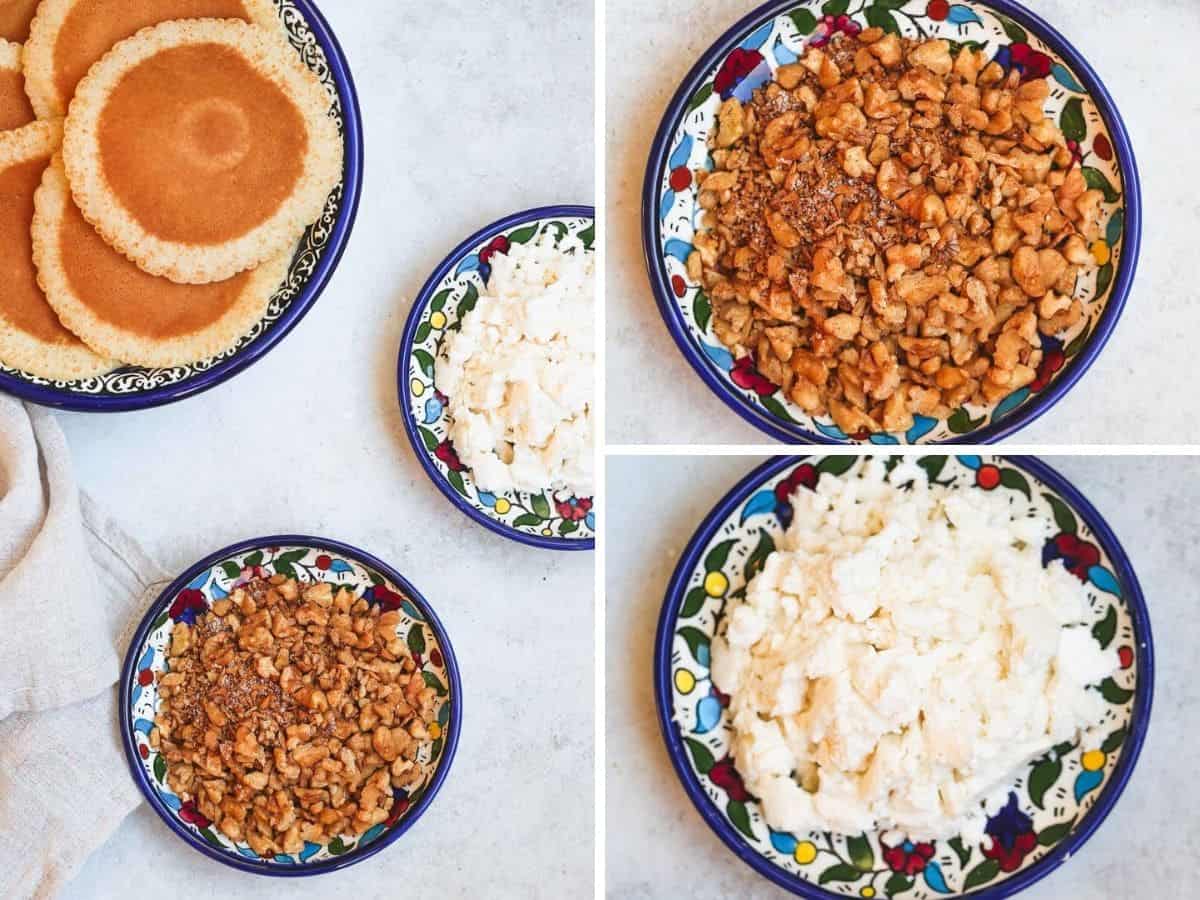 How to stuff the Atayef?
It's easy to stuff the Atayef, all you have to do is hold each pancake in your hand, fold it into a half-moon shape, then spoon in 1-2 tablespoons of the filling. Make sure that you don't overfill the Atayef so that you can seal them.
Pinch the edges of the pancake with your fingers to seal the pancake like a parcel until it's fully sealed.
If you overfill the Atayef, they might burst as they're being fried or baked. Repeat the process with each Atayef until you stuff them all.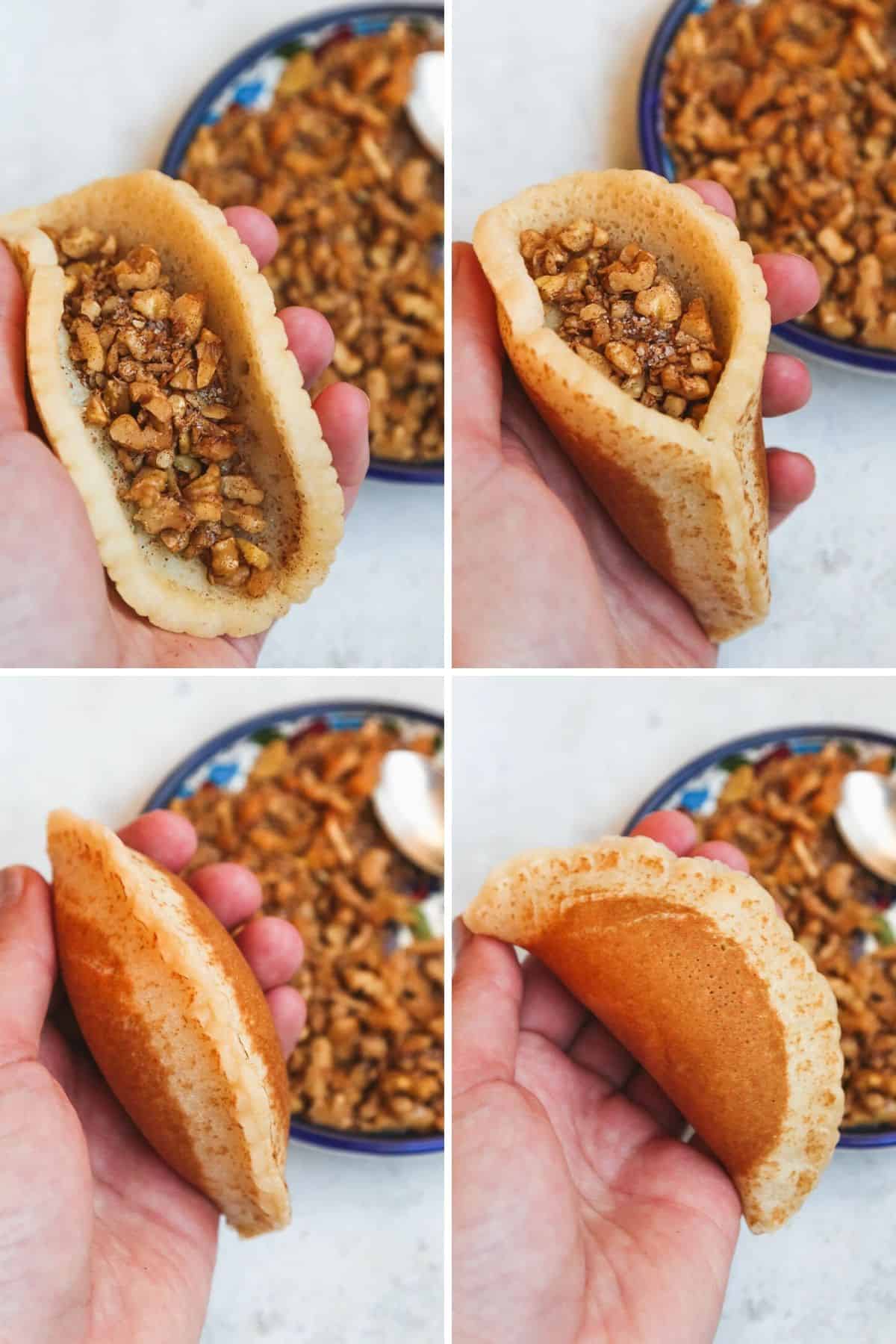 Atayef can be either fried or less commonly baked.
To fry: heat corn oil (about 1cm) on a pan, then start dropping the stuffed Atayef and fry until the edges are slightly golden brown and crunchy, remove from pan and soak them in the sugar syrup for a few seconds (or drizzle them with it).
To bake: place on a cookie baking sheet, then brush the Atayef with corn oil. Bake on 200°C (390°F) until golden and crunchy. Drizzle with the sugary syrup and serve.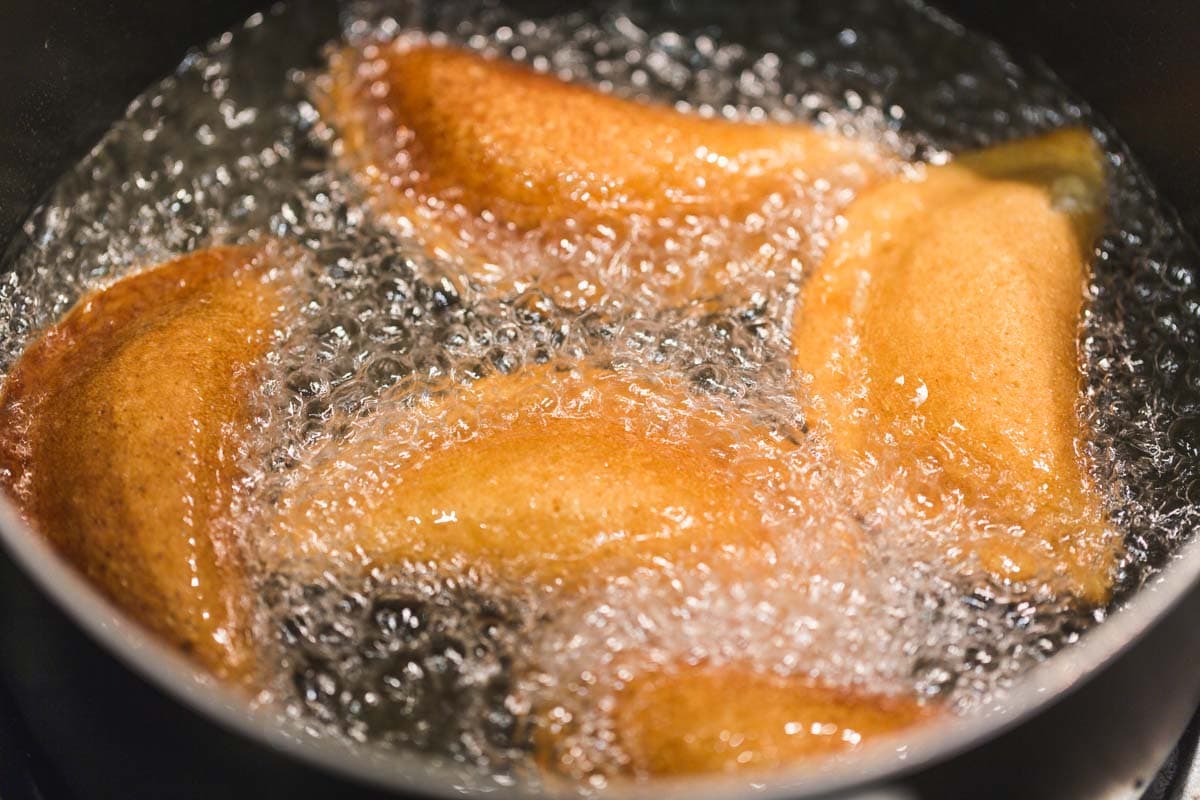 Did you make this? Be sure to leave a review below and tag me on Facebook, Instagram, or Pinterest!
Recipe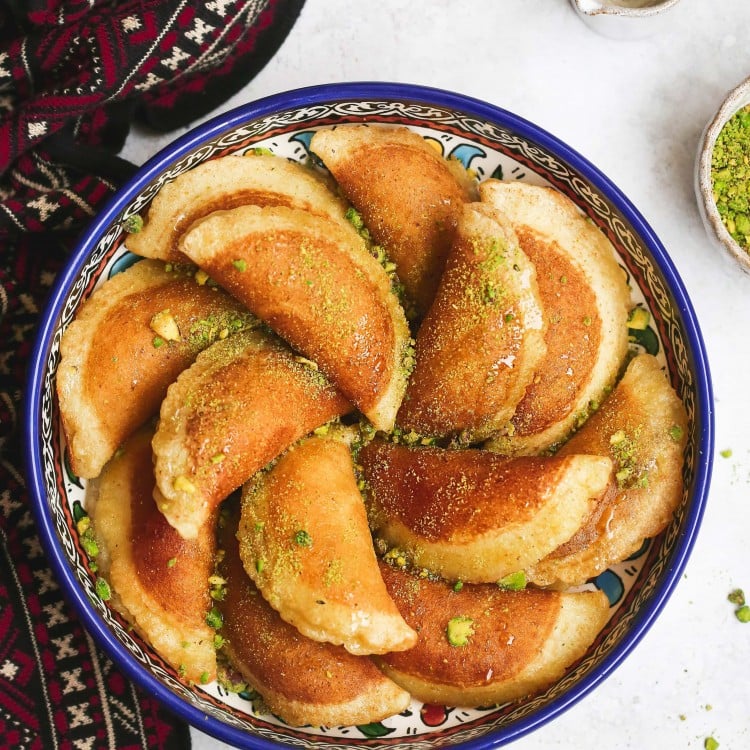 (Click stars to rate!)
Atayef
Atayef are pancake-like desserts that are stuffed with nuts and cheese, and served during the holy month of Ramadan.
Atayef are pancake-like desserts that are stuffed with nuts and cheese, and served during the holy month of Ramadan.
Ingredients
1

cup

all-purpose flour

1

cup

water

½

cup

milk

½

cup

fine semolina

1

teaspoon

baking powder

½

teaspoon

instant yeast

2

tablespoons

granulated sugar

2

teaspoon

pure vanilla extract

½

teaspoon

salt
Instructions
To prepare the mixture, place all of the dry ingredients in a bowl and mix.

With a whisk, mix the wet ingredients then gradually combine them with the dry ingredients. Give everything a good whisk until well combined.

Cover with a towel, and let the mixture sit in a warm place for 20-30 minutes.

Heat a non-stick pan on medium heat, then pour the batter from a jug or using a spoon to create little circles (for small Atayef pour 1 tablespoon of batter, for medium sized ones add 2 tablespoons, and ¼ cup for the large ones).

As the Atayef cook, lots of bubbles will appear. Keep cooking (do not flip) until these bubbles dry out (about 2 minutes). If no bubbles are appearing, you might need to add a little bit of more water as your batter is probably too thick.

When the bubbles dry out completely and are no longer shiny, it means that the atayef are done. Remove them from pan immediately, and repeat the process until you finish up the batter.

Transfer the atayef to a tea towel and cover very well so that they don't dry out (otherwise they will start breaking when you try to fold/seal them).

Stuff the Atayef with the filling of your choice (cheese, cinnamon walnuts, or almonds) then either deep fry them, or brush them with oil and bake until they're golden and crispy. Dip in sugar syrup or just drizzle with it (for best results, soak warm Atayef in cold syrup).
Notes:
For dairy-free Atayef omit the milk and add water instead.
You want your batter to be pourable if you put it in a jug, so use your best judgment and see if you need to dilute it with water.
You can freeze the Atayef in a freezer bag for up to 3 months.
Nutritional values are a rough estimate per 1 pancake without any fillings.
To make the sugar syrup:
Ingredients:
1 cup water, 2
½
cups sugar, 1 teaspoon lemon juice, 2 teaspoons rosewater, 1 teaspoon corn syrup (optional).
Instructions: Bring the water and sugar to boil then add the lemon juice, mix well. Lower the heat then leave it on low heat for 10 minutes. After you remove the mixture from heat, add the rose water then let it cool completely before using it.
Nutrition Information
Serving:
1
unstuffed pancake
,
Calories:
31
kcal
,
Carbohydrates:
6
g
,
Sodium:
2
mg
,
Potassium:
31
mg
,
Sugar:
1
g
,
Vitamin A:
5
IU
,
Calcium:
13
mg
,
Iron:
0.3
mg
This website provides approximate nutrition information for convenience and as a courtesy only. Nutrition data is gathered primarily from the USDA Food Composition Database, whenever available, or otherwise other online calculators.
© Little Sunny Kitchen