Sweet and fluffy Russian cinnamon buns that are perfect for any tea party!
I love sharing recipes from my childhood with you guys, and that's the reason why I have so many Russian recipes shared on this blog. One of these really great recipes that my Mum used to make all the time for us when we were little, is of these fluffy and soft cinnamon and sugar buns. In Russia, they are called Plushki.
WHAT ARE PLUSHKI
"Plushki" is a plural noun, so when referring to only one bun it's called Plushka! Plushki are simple yeasted buns made with very simple ingredients. The recipe is also perfect for people who just started baking so you don't need to be an expert, and it requires very little kneading time.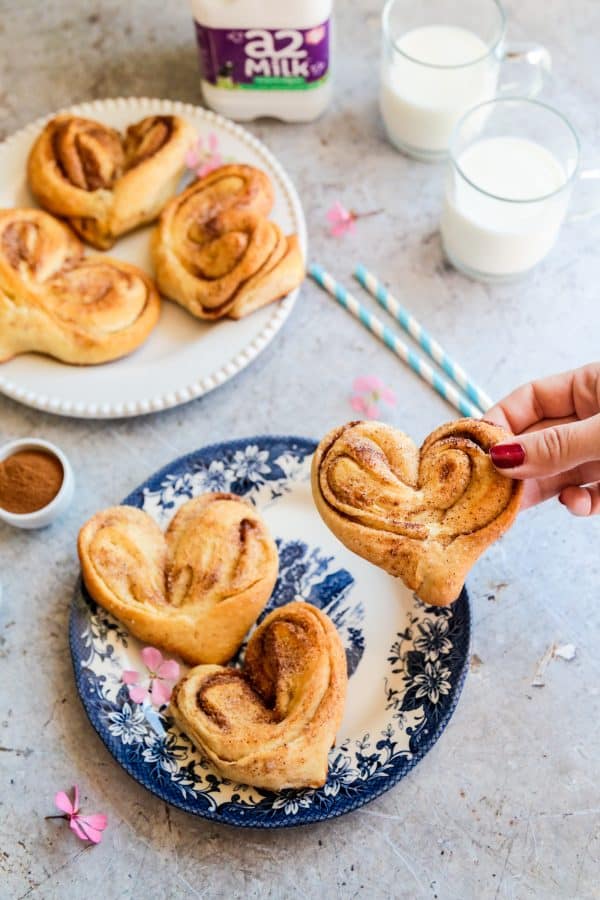 INGREDIENTS REQUIRED TO MAKE PLUSHKI
Ingredients that you need to make these Russian buns are very simple. You will need milk, egg, yeast, vegetable oil, flour, sugar, and a pinch of salt. To make the filling, you will need melted butter, ground cinnamon and sugar. Some people like to add sugar only, but Plushki with ground cinnamon are definitely my favourite!
WHAT IS A2 MILK
If you've been following our blog for a while, you probably read Natalia's post about a2 Milk™ and how it changed her life. We were introduced to a2 Milk™ last year, and my sister who always avoided dairy because of the discomfort that she felt after consuming milk, found that a2 Milk™ really worked for her and she is now able to enjoy dishes that are made with milk again. For her favourite recipes like these cinnamon and sugar buns or the Middle Eastern Muhalabieh recipe that we shared with you last month, we use a2 Milk™ so she can enjoy them with us as well.
a2 Milk™ comes from cows that produce A2 Protein only. Many people who think that they are lactose intolerant without being diagnosed with it are probably intolerant to A1 Protein. A1 Protein is more difficult to digest and can cause the feeling of discomfort to some people which was the case for my sister.
We baked these cinnamon buns with a2 Milk™ and they turned out perfect! a2 Milk™ tastes exactly the same as regular milk. You will never be able to tell the difference. It also works great in different recipes like various kinds of bakes, cakes, no-bake desserts, creamy pastas and soups.
These buns can also be made with sugar only, so you can omit the cinnamon if you want simpler tasting buns. They turn out so soft and fluffy. I would recommend enjoying them with a glass of a2 Milk™ or a cup of tea with milk! Now enjoy the video that I made for you to show you exactly how I make my Russian cinnamon buns!
Russian Cinnamon Buns (Plushki)
Pretty Russian cinnamon buns made with yeasted milk dough and cinnamon.
Print Recipe
Ingredients
15

grams

instant yeast

3

tbsp

sugar

+ 1 tsp

3

tbsp

lukewarm water

150

ml

Milk

1

egg

a pinch of salt

6

tbsp

vegetable oil

500

grams

all purpose flour

5

tbsp

granulated sugar

2

tbsp

ground cinnamon

2

tbsp

butter
Instructions
In a small bowl mix yeast with 1 teaspoon of sugar and water. Stir and set aside in a warm place to let it bubble.

In a medium bowl, beat the egg with a2 Milk™. Add salt, sugar, vegetable oil and dissolved yeast and give it a mix.

Gradually start adding the flour while whisking the mixture until it becomes a dough that you knead.

Knead the dough ball until it's soft and elastic. Put the dough ball in a bowl, cover with a damp cloth and set aside to let it double in size (this will take 30 minutes - 1 hour)

Take a small bowl, and mix sugar with the ground cinnamon to make the filling.

Melt the butter, and use it to grease your baking tin. And preheat the oven to 180c.

Take the dough ball, and cut into smaller balls (you should have around 6) but this depends on the size of the buns that you want.

On a floured surface, take a small dough ball and flatten it into a flat circle using your fingers. Brush it with melted butter, and sprinkle with the prepared cinnamon sugar filling to the centre of the Plushka staying away from the edges.

Roll the circle into a cylinder, and then press the right edge with the left edge.

With a knife cut in the centre of the plushka from the non edge side towards the edges leaving the end uncut.

Then spread each cut to create a heart shaped plushka.

Transfer to the prepared baking tin, and bake for 15-20 minutes.
Nutrition facts
Calories:
532
kcal
|
Carbohydrates:
77
g
|
Protein:
11
g
|
Fat:
19
g
|
Saturated Fat:
14
g
|
Cholesterol:
39
mg
|
Sodium:
58
mg
|
Potassium:
167
mg
|
Fiber:
4
g
|
Sugar:
11
g
|
Vitamin A:
200
IU
|
Calcium:
71
mg
|
Iron:
4.3
mg
Please pin me…
Disclaimer: a2 Milk™ is not suitable for cows' milk protein allergy. If you have been medically diagnosed with any milk intolerance, seek advice from your doctor before use.
This is a commissioned post for a2 Milk™. Thank you for supporting the brands that make Little Sunny Kitchen happen. All opinions are my own.