A super creamy one pot seafood risotto made with parmesan cheese, topped with delicious crispy sea bream…
Earlier this month I got invited to a wonderful event in London organised by Iceland Foods. They invited a number of bloggers and vloggers and we were spoilt rotten as we got to stay at a very lovely hotel in Clapham called The Windmill. They showed us their new flagship shop in Clapham Commons, where we got to finally see the frozen avocados that I cannot wait to try and a Mac n cheese pizza!
Then they took us to Cactus Kitchens to demonstrate the quality of their frozen fish and cook up lots of amazing fish dishes. Iceland's Head Chef, Neil Nugent showed us how to poach, steam, deep fry, bake en papillote, pan fry, pan griddle, risotto and sashimi the fish!
Iceland explained to us, that their frozen fish is always frozen within 24 hours of being caught. It then holds all of the freshness and nutrients in it, until we defrost it to cook with it. I also really love the fact that most of their fish is individually packaged into portions, which makes it convenient for me to defrost the fish in the fridge without having to worry about a smelly fridge! When you buy fresh fish, it usually it takes around 9-10 days from being caught to reach the consumer. Which means that the fish isn't as fresh as you think! So if you want fresh fish, buy frozen! In Iceland Foods you can find a wide range of frozen fish, from trout and salmon to tuna, sea bream and many more.
The crab and prawn risotto topped with sea bream was my favourite dish cooked by Neil Nugent at the day of the event, so I figured that I will share Neil's recipe (with his permission) with you guys.
The risotto is simple, quick and absolutely delicious! I also learned so many useful tips and tricks from Neil to make the perfect risotto, which I will be sharing with you in this post.
How to make the perfect creamy seafood risotto
The first tip that Neil shared was what type of pan do you need to use to achieve the perfect risotto. He recommends using a thick bottom pan which will make sure that the rice cooks through slowly until it's creamy as you will have to build it up with adding stuck gradually and let it reduce. It is best to fry the onions in olive oil and a bit of butter for that lovely creamy texture until the onions become soft and sweet, then add some grated garlic for a fragrant risotto. You could of course use minced garlic, but Neil chose to grate the garlic for speed.
Since it's a seafood risotto, stock can be made with either shells or lobster. To make the stock with shells, salt the shells, add some water, thyme, lemon and orange zest (the stock smelled incredible!). If making stock with lobster, you need to make sure that you simmer and not boil and you can even roast the lobster to caramelise it as it will add that depth of flavour to your risotto.
Some people like to add white wine to the risotto, the wine should be added to the onions and reduced. However, Neil decided not to add any wine saying that it wasn't really necessary.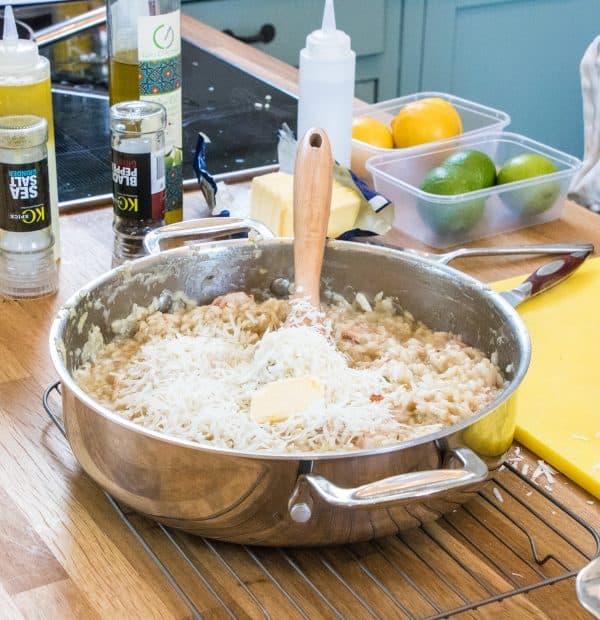 How to cook the risotto
As for the rice, it is cooked with the prepared stock. However, when you add the stock make sure that the stock is warm not cold. As if you add cold stock to the rice, it will stop the cooking procedure. It is recommended that you use homemade stock, instead of stock cubes for a wonderful taste.
Stock needs to be added gradually to build up the risotto. Do not by under any circumstances add the stock at once as you might end up with sloppy instead of creamy risotto. If you're thinking to salt the risotto, keep in mind that parmesan cheese is naturally salty so there is no need to add any salt to this dish. Neil also mentioned that he doesn't like adding any black pepper to the risotto either, as olive oil already gives a wonderful taste and adding black pepper might ruin the taste.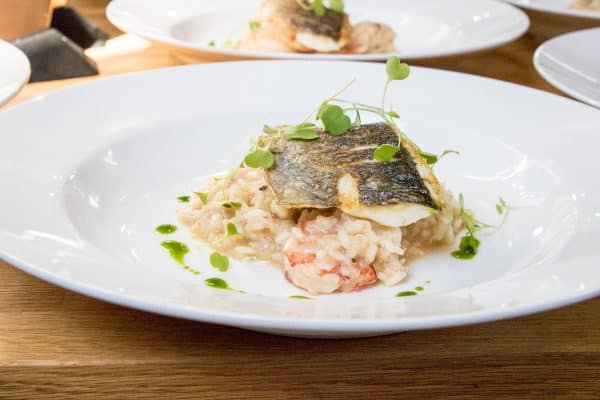 Once you achieve the creamy texture of the risotto. Add the cooked crab with more stock and let it reduce. Some Italians say that parmesan cheese and seafood do not pair very well together, but Neil loves parmesan cheese even with seafood. And I personally really liked the taste of parmesan in this risotto.
After adding the crab, add the prawns with lemon and orange zest for that wonderful zesty flavour. You can also add lemon juice and a tiny bit of stock at this point.
And finally, cook the sea bream. In a pan, add some sea salt and olive oil. Then add sea bream with skin down, and drizzle with a tiny bit of olive oil. If the fish is fresh, it will easily brown to a beautiful colour and you will know that it's ready and will beautiful go on your seafood risotto!
Of course, there are many ways to cook a risotto. I recently posted a great mushroom risotto recipe on the blog which you NEED to try. It's also quick and absolutely delicious!
Creamy Crab and Prawn Risotto
Super creamy crab and prawn risotto. This recipe is quick, easy and super delicious!
Print
Pin
Rate
Ingredients
10

grams

butter

1

tbsp

olive oil

1

onion

diced

2

cloves

of garlic

grated or minced

300

grams

arborio rice

500

ml

2¼ cups shell stock

200

grams

prawns

200

grams

cooked crab meat

Freshly grated parmesan cheese 20g

1/2 cup

4

sea bream pieces

2

tsp

lemon juice

lemon zest

orange zest
Instructions
In a thick bottom pan, heat butter with olive oil. Add diced onion and cook until onions are translucent. Add garlic and keep stirring, garlic cooks very quickly so make sure that it does not burn.

Add arborio rice, and warm stock. Keep adding the stock gradually and let it reduce until you achieve a creamy texture.

Add cooked crab and more stock, let it reduce again.

Add prawns, lemon zest and lemon juice and a little bit of stock. Let it reduce.

Add parmesan cheese, and a piece of butter and stir them in.

In a pan, add some sea salt and olive oil.

Add sea bream skin down and add a tiny bit of olive oil.

Cook on both sides for a few minutes until it's cooked through.

Divide risotto between bowls or plates, top with sea bream and serve immediately.
Nutrition
Calories:
773
kcal
|
Carbohydrates:
41
g
|
Protein:
123
g
|
Fat:
8
g
|
Saturated Fat:
2
g
|
Cholesterol:
377
mg
|
Sodium:
728
mg
|
Potassium:
2655
mg
|
Fiber:
1
g
|
Vitamin A:
280
IU
|
Vitamin C:
10.8
mg
|
Calcium:
181
mg
|
Iron:
5.3
mg
 Please pin me…
A big thank you to Iceland Foods for allowing me to share this recipe, sponsoring this post and inviting me to the event! As always, all opinions are my own.