A mouthwatering four-ingredient no-bake Nescafe cake! It's so easy to make, and every slice contains as little as 88 calories. This dessert can be made beforehand and tastes even better on the next day.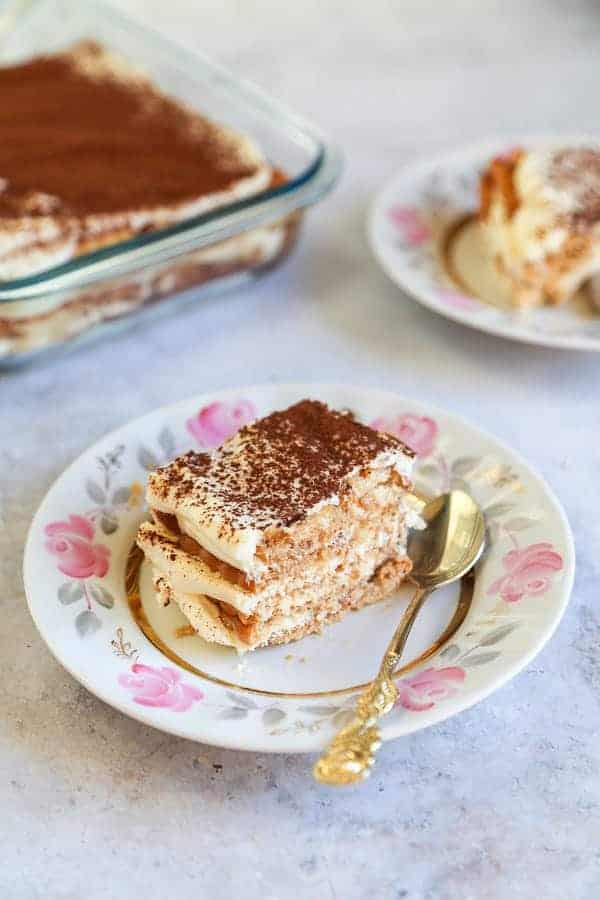 Nescafe cake is very popular in the Middle Eastern countries. In the Middle East, almost everyone knows what a Nescafe cake is. It's one of these very easy, and quick recipes that you only need four ingredients to make. So for all Nescafe lovers out there, I'm sharing this super simple and extremely delicious cake recipe with you today!
This Nescafe cake is quite similar to the Italian classic coffee tiramisu dessert. It's also made with coffee, crackers, whipping cream and it's very indulgent. For this Nescafe cake, I've used graham crackers but any kind of tea biscuits would work perfectly fine. You will also need whipping cream and condensed milk to make this.
What I really love about this cake is the texture, after the crackers/biscuits are quickly dipped in the coffee solution and the cake is left overnight when the crackers absorb the cream and the Nescafe, the cake becomes very soft and the texture really makes me feel as if I'm eating a cloud made with Nescafe and condensed milk. This is seriously AMAAAZING!
How to make Nescafe Cake
Don't you just love these super easy recipes, that require only a few ingredients? You don't need to be a desserts expert to be able to make this cake, so literally anyone with whatever cooking skills can create this indulgent dessert and then brag about it to their friends! I always thought that this cake was really impressive, and kind of difficult to make until I learned how to make it.
This is very simple. All you need to do is quickly dip tea biscuits or graham crackers in the Nescafe coffee solution (you have to work with this quickly as the biscuits become too soft a bit too quickly and might start breaking), and layer the ingredients alternating between soaked biscuits and whipping cream till several layers are formed. I usually make four layers, but keep making more layers until you run out of biscuits.
You can, of course, add sugar to the whipping cream instead of condensed milk, but I would really recommend going for the condensed milk. The condensed milk gives this creamy, smooth and distinctive flavour and texture while the sugar doesn't dissolve easily in the whipping cream.
The cake will then need to be refrigerated for a few hours, and preferably overnight before serving. Just wait for the biscuits to soak in the Nescafe solution and the cream before serving, and I promise you, you will totally fall in love with it from the first bite!
Different variations of Nescafe cake
The recipe that I'm sharing with you in this post is the classic Nescafe cake. If you are looking to make a fancy version of this cake, there are many things that you can add to this.
You can add crushed pistachios either to the layers of the cake or use them to top the cake for a Middle Eastern touch. The crushed pistachios will also give a lovely colour to the cake.
Top the cake with desiccated coconut, to give this cake a lovely crunch and a taste of coconut.
Top the cake with sliced almonds.
You can also decorate the cake by creating different patterns on the top using crushed Oreos or Galaxy bars, just like I decorated this Carpet Dessert (this is also one of the most popular recipes on my site, so make sure to check it out!)
Cream Caramel Nescafe Cake
As I'm a huge fan of cream caramel, I sometimes make this cake with cream caramel flavour by adding one sachet of cream caramel powder to the whipping cream before it's whipped. The whipped cream will taste amazing with the flavour of cream caramel. And I always make sure to decorate this version of Nescafe cake with crushed pistachios, as the combination of cream caramel and pistachios is one of the best things ever!
One last thing, can I call this Nescafe cake; coffee biscuit pudding? Or tea biscuit cake? Because that's basically what this delicious dessert is! I hope that you give it a try and love it as much as I do.
If you love Nescafe, then definitely check out my easy whipped coffee recipe! All you need is 3 simple ingredients that you already have, and 5 minutes. IT'S THE BEST!
Subscribe to my Newsletter, and follow me on Facebook, Instagram, and Pinterest for more tasty recipes!
I don't feel like I say this often enough, or that I could ever thank you enough. But THANK YOU for all of your support, for visiting my blog, commenting, and sharing my recipes with your friends and family. I am SO thankful for you!
If you make this recipe or any of my recipes, then don't forget to rate it and leave a comment below. I would LOVE to hear about your experience and your comments just make my day!
I hope that you love every recipe that you make! – Diana x
Nescafe Cake
A mouthwatering three ingredient no-bake Nescafe cake!
Print
Pin
Rate
Ingredients
2

tablespoons

Nescafe coffee

dissolved in 1 cup of hot water

1 cup

(240 ml)

whipping cream

whipped

2

tablespoons

condensed milk

optional

2

packs

graham crackers

or tea biscuits

1

teaspoon

cacao powder

optional for dusting
Instructions
Whip the whipping cream until fluffy. You can mix in condensed milk now if using.

Dip tea biscuits into Nescafe coffee solution for a few seconds and remove before they start breaking. Layer them on a 9×13 inch dish.

Or, you could layer the biscuits and then using a teaspoon you could add some Nescafe solution to let the biscuits soak.

Spread whipping cream evenly on the biscuits then repeat with another layer of soaked tea biscuits, followed by whipping cream. Dust with cacao powder if you wish.

Cover and refrigerate for at least 3-4 hours then serve cold.
Notes
For a stronger taste of coffee add more than 2 tbsp of Nescafe.
You can use any other Instant coffee brand as a substution for the Nescafe.
Nutrition
Calories:
88
kcal
|
Carbohydrates:
3
g
|
Fat:
7
g
|
Saturated Fat:
4
g
|
Cholesterol:
29
mg
|
Sodium:
16
mg
|
Potassium:
36
mg
|
Sugar:
3
g
|
Vitamin A:
310
IU
|
Vitamin C:
0.2
mg
|
Calcium:
30
mg