Everything you need to know about Lupini beans, plus a lupini bean Middle Eastern recipe – just how it's made in the streets of Amman!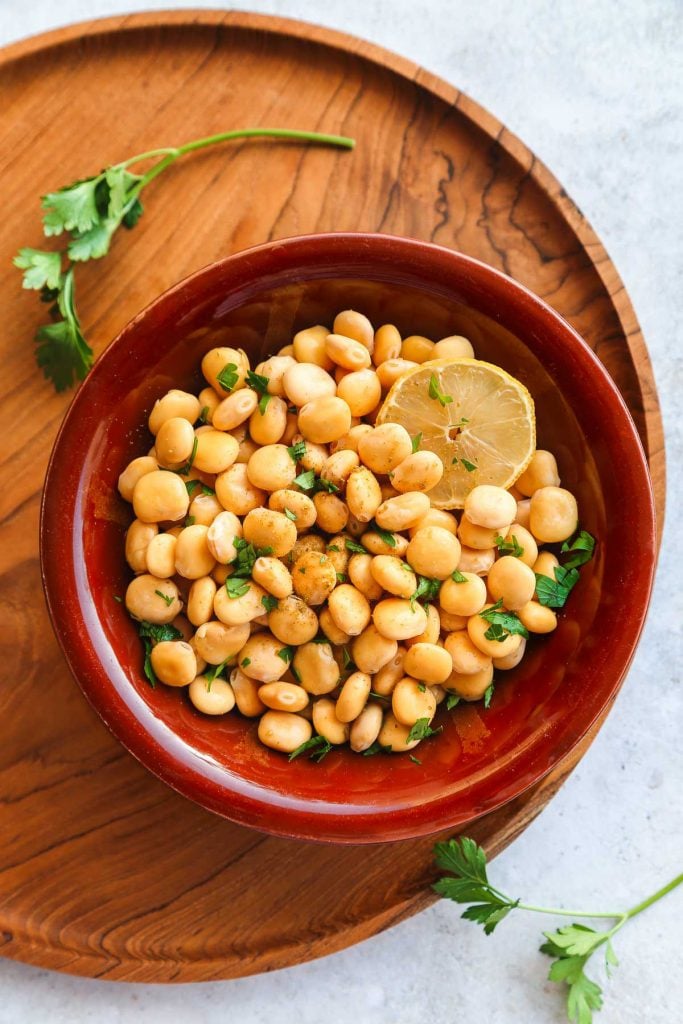 What are lupini beans?
Lupini beans or lupin beans (Turmus in Arabic) are very healthy beans that can be served as snacks or antipasti. They're very delicious and also really good for you!
These beans are legume seeds. They are popular in Mediterranean countries such as Greece and Italy, and they're also very well known in Middle Eastern countries like Jordan and Egypt. Usually served as snacks on their own or as antipasti, and popular street food in the Middle East.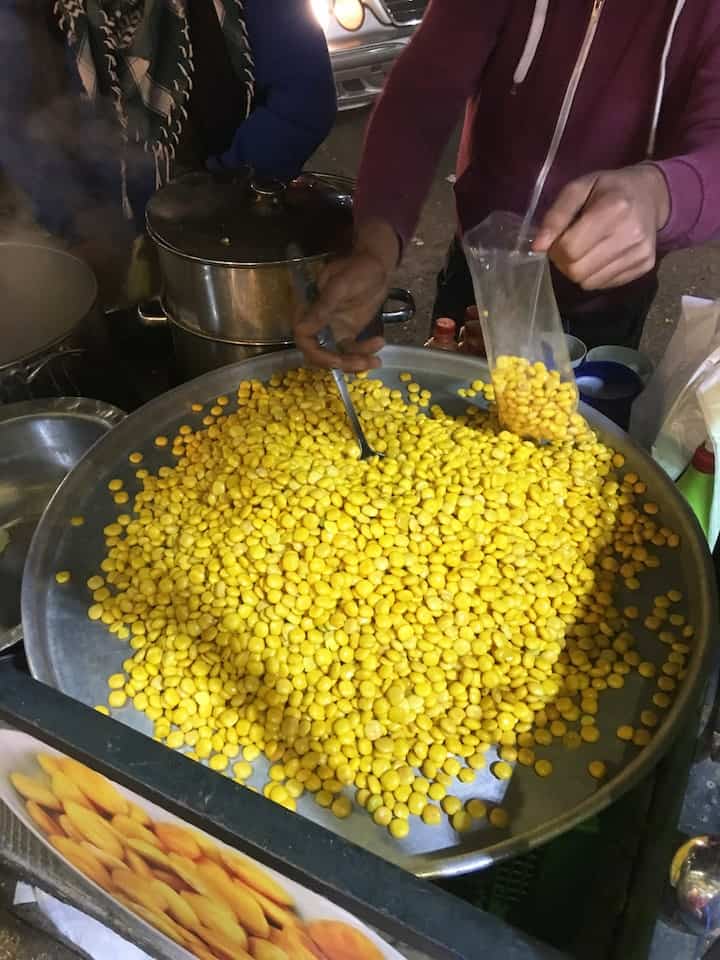 In Italy, lupini beans are mixed with olives to be served as snacks at Christmas time. They are also added to hot and cold salads (scroll down to see the picture).
In Jordan, Turmus is usually sold dried in the supermarkets. To prepare it, it needs to be soaked in water and then cooked until it's semi-soft. it's quite starchy and smells a little bit like potatoes.
Lupini beans are easy to find in the UK and in the US, I've seen them sold dried and canned in brine in oriental shops. I also ordered them from Amazon a few times.
Benefits of lupini beans
These beans are high in protein (40%), and fiber (40%). So every 100 grams of cooked lupini beans, contain around 40 grams of protein.
These beans aid in resorting and building cells, tissue and muscle in the human body.
As Lupin beans are high in fiber, they are able to lower the cholesterol in the body and clean the blood vessels. So they're also good for the heart.
And finally, these beans are packed with antioxidants and can help prevent inflammation.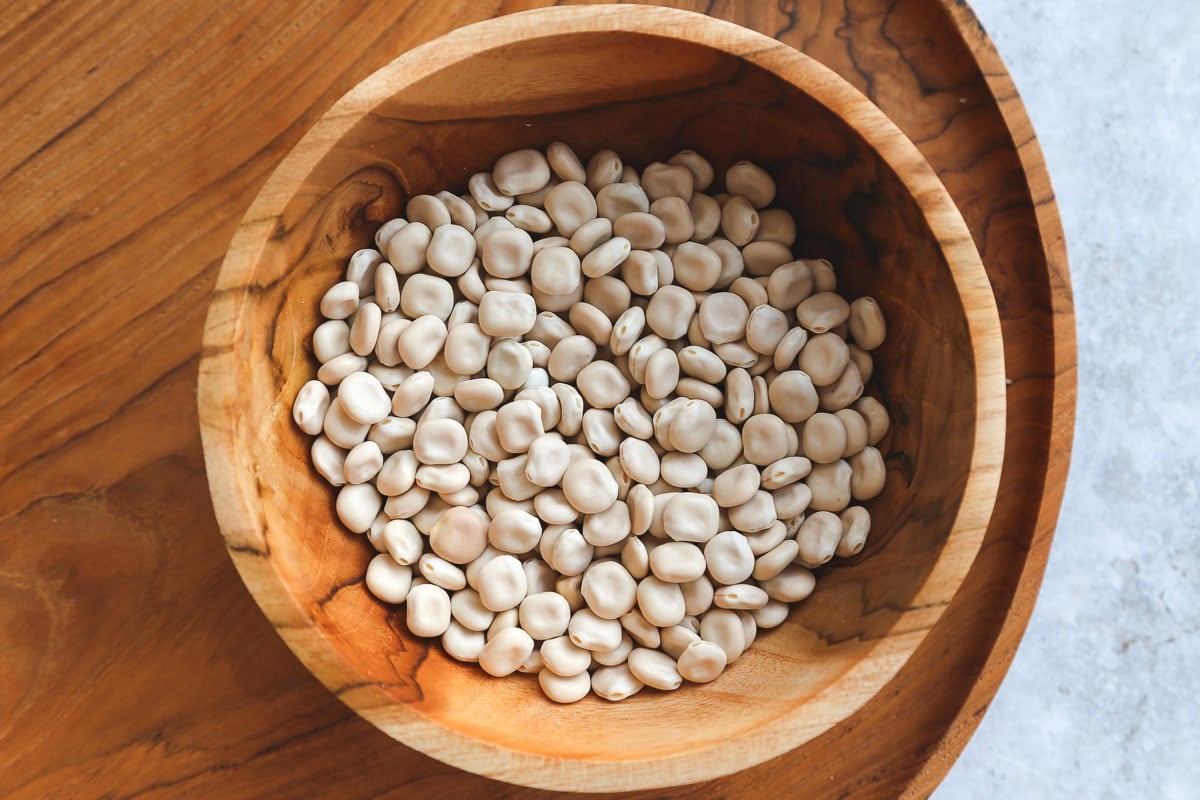 There are 2 kinds of dried lupini beans:
There's a bitter variety that takes longer to prepare as it needs to be soaked for several days in water, and water needs to be changed every few hours or at least every day. Then the beans need to be cooked, and if they're still bitter then they need to be soaked again in water.
The other kind of lupin beans is sweet, these beans are not literally sweet but they're not bitter either (the variety is just called sweet). They can be prepared quickly, by just soaking them in water for a few hours, then they're cooked for 30 minutes or until they're sort of soft and yellow in color.
How to cook dried lupini beans?
You can either cook Lupini beans from dried in a pressure cooker or over the stovetop. I prefer the pressure cooker method (I love using my Instant Pot!) as it saves a lot of time, and it's just more convenient as it means that I won't have to keep checking on the beans.
Depending on which type of Lupini beans you have, soak them in cold water (if you're using the bitter kind then soak for days and keep changing the water, if you're using the sweet variety then soak for a few hours of overnight and then cook).
Rinse the Lupini beans, transfer to a pot or pressure cooker and cover with the lid. If you're using a pressure cooker, then pressure cook on high for 20 minutes. If you're cooking them over the stovetop then they will take about an hour.
Middle Eastern Lupini Beans "Turmus"
In the Middle East, you will see many street vendors selling these tasty beans that are perfectly cooked, then seasoned with cumin, salt and lots of lemon juice. Many people cook beans at home in the Middle East. They are also usually paired with beer (like bar nuts) as they make a great snack.
The beans are first soaked in water, and then cooked in boiling water until they're soft enough to eat. Ground cumin is a very important ingredient, as lupini beans can cause bloating to some people and it's believed that ground cumin can prevent bloating. After the Turmus is cooked, add lemon juice. Then sprinkle with ground cumin and salt.
TIP: The beans are eaten cold and are stored in the fridge in an airtight container for up to 3 days.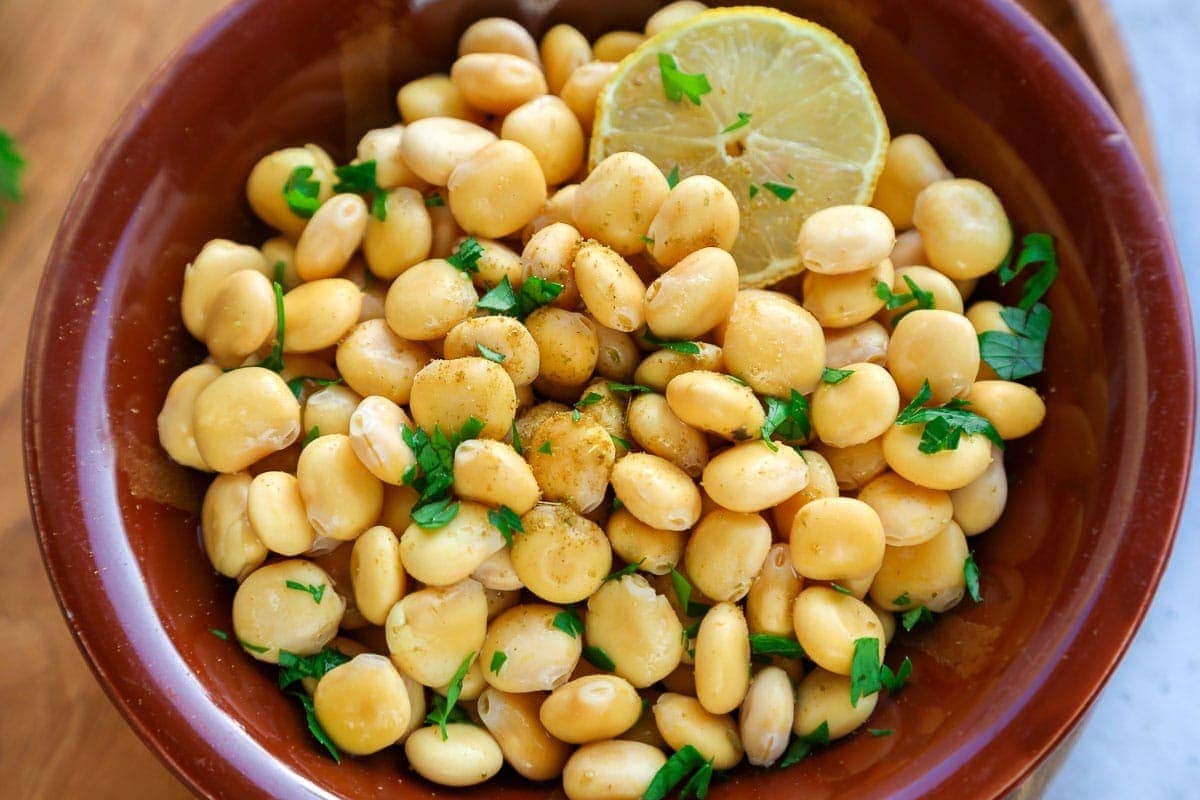 How to eat lupini beans?
Lupini beans are eaten one by one, by tearing the skin with your teeth and then popping the seed into your mouth.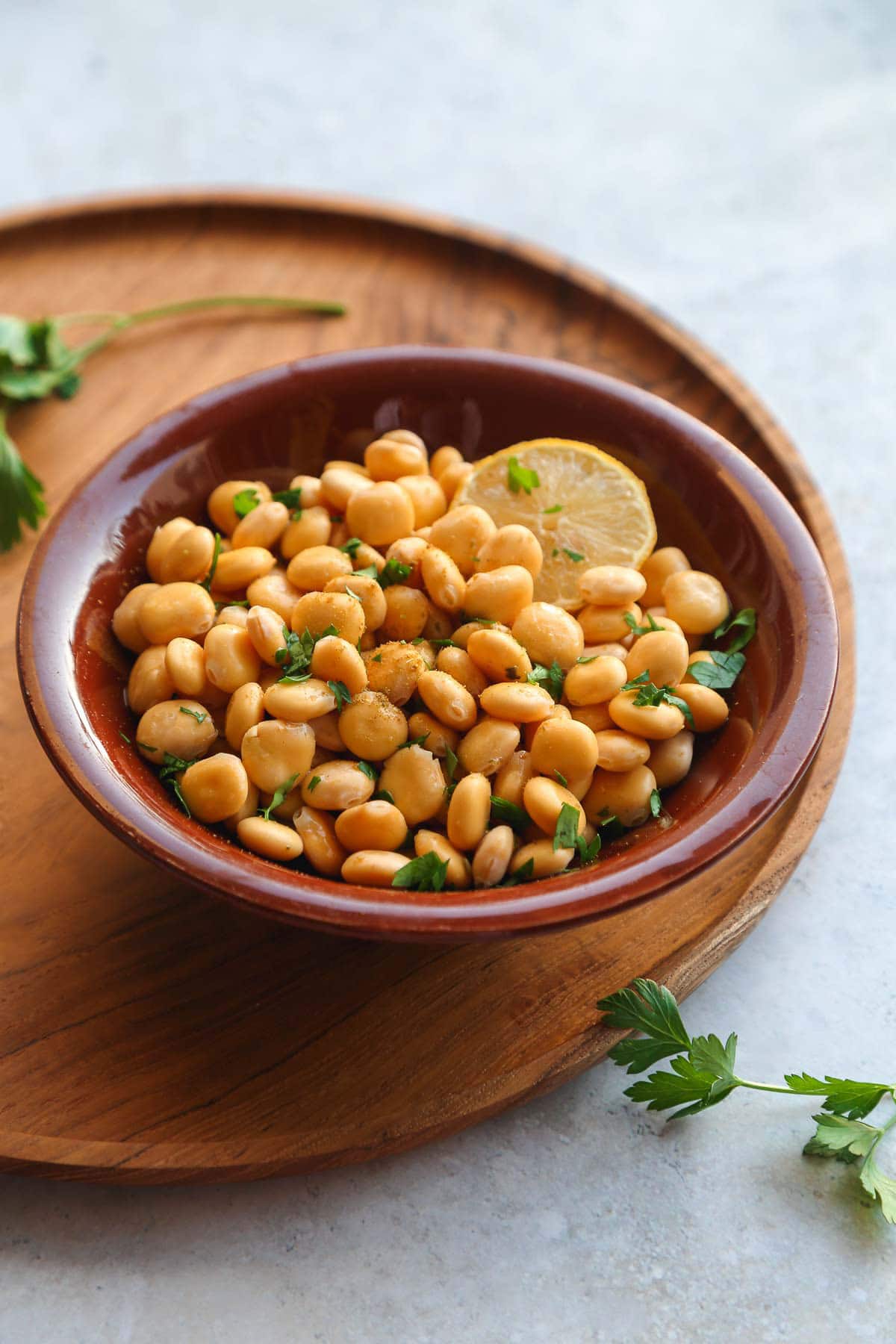 The beans are also used in making lupini flour, and even tofu!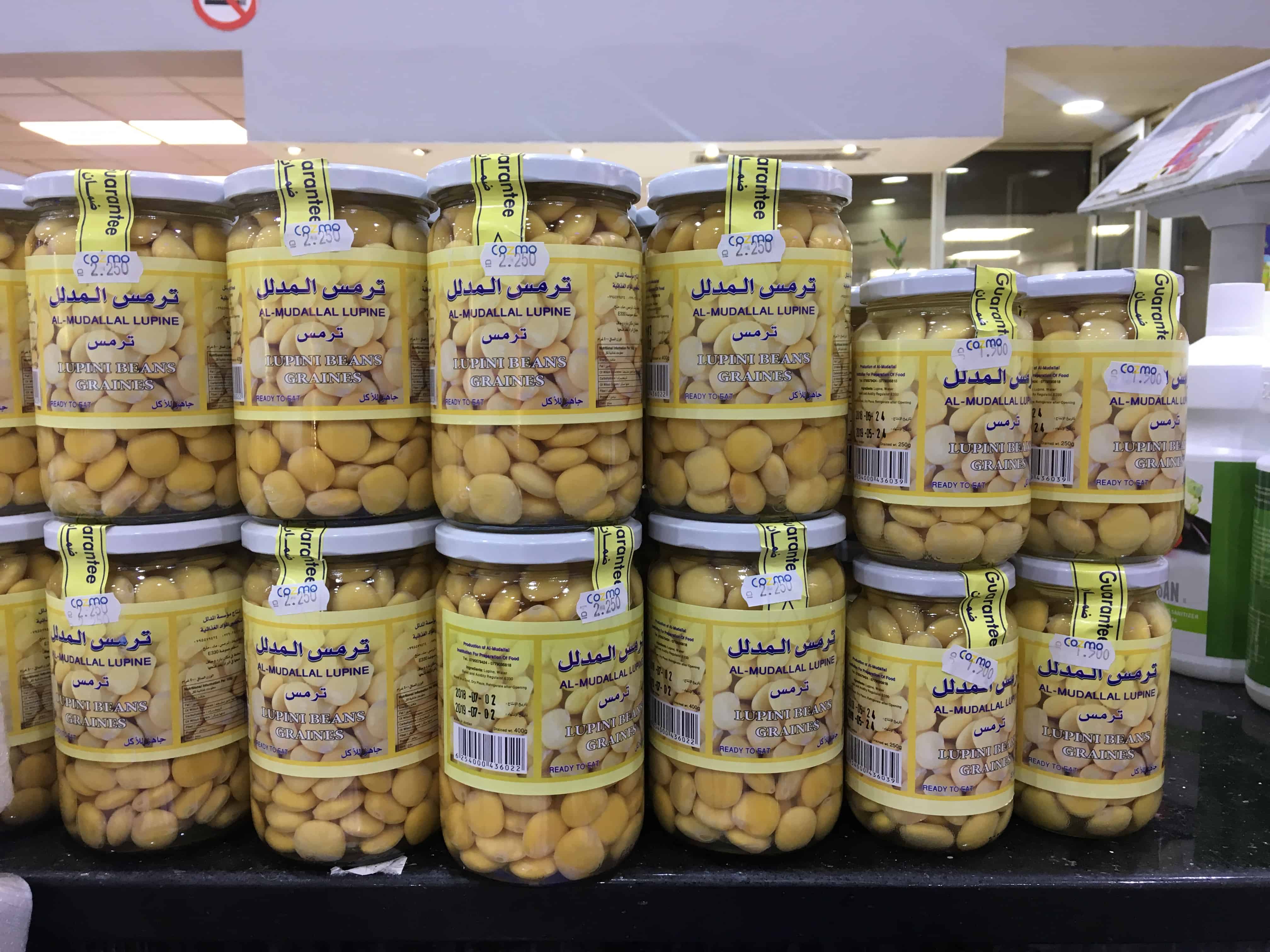 You can buy Lupin beans pickled, or canned in brine. They are also sold as dried beans.
Italian Lupini beans and olives
As I mentioned above, lupini beans are also popular in Italy. They're usually served at Christmas time as antipasti or snack. Often mixed with black or green olives with pits traditionally, however, I sometimes use pitted olives which makes my life easier.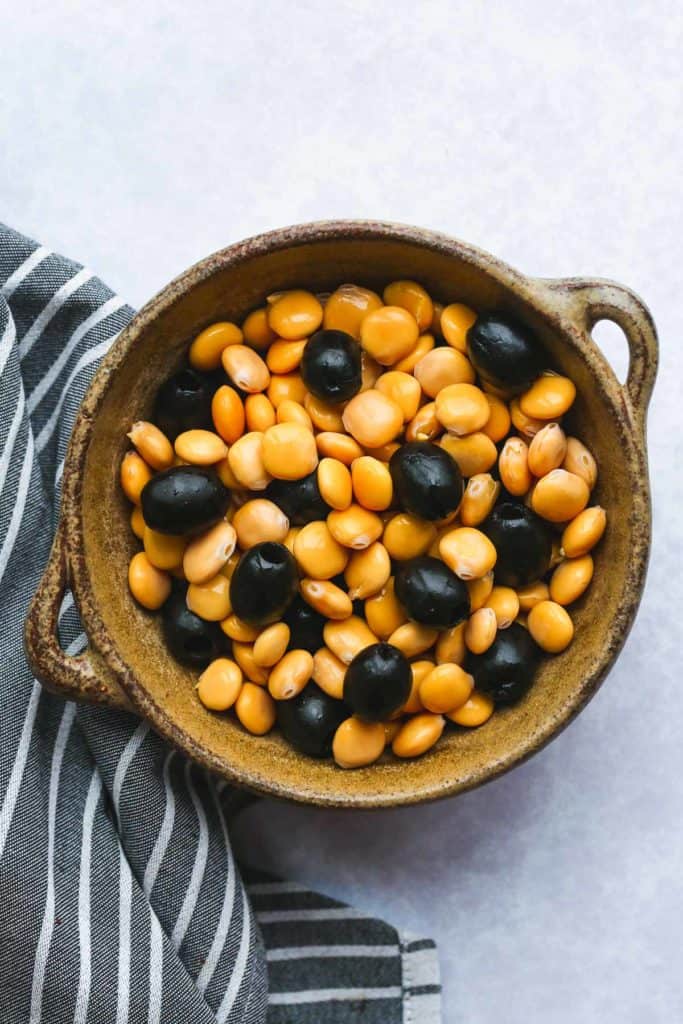 I also recently found out that Lupini beans are eaten as a snack in Spain (known as chocks or altramuces), and in Portugal (known as tremoços).
How to store dried lupini beans?
Dried beans can be stored for up to 24 months in an airtight container, stored in a dry place at room temperature.
Subscribe to my Newsletter, and follow me on Facebook, Instagram, and Pinterest for more tasty recipes!
I don't feel like I say this often enough, or that I could ever thank you enough. But THANK YOU for all of your support, for visiting my blog, commenting, and sharing my recipes with your friends and family. I am SO thankful for you!
If you make this recipe or any of my recipes, then don't forget to rate it and leave a comment below. I would LOVE to hear about your experience and your comments just make my day!
I hope that you love every recipe that you make! – Diana x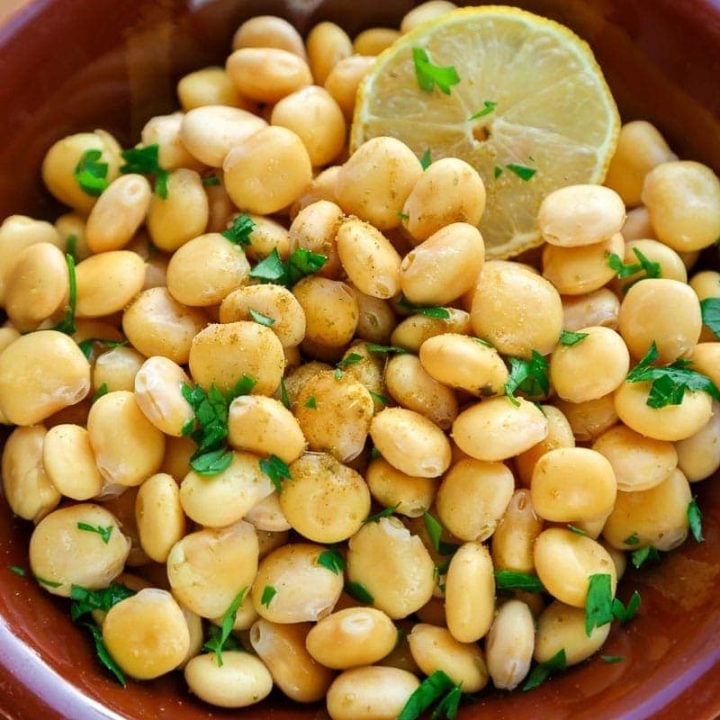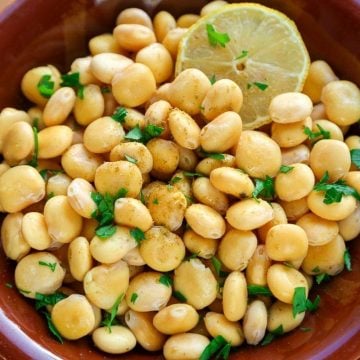 Middle Eastern Lupini Beans
Lupini beans the Middle Eastern way. They are cooked from dried, then seasoned with cumin, salt, and lemon juice.
Print
Pin
Rate
Ingredients
3 cups

(540g)

lupini beans

dried

1

lemon

juiced

1

tablespoon

ground cumin

20

grams

parsley

chopped

1

teaspoon

salt
Instructions
Soak lupini beans in water for a few hours.

Add to boiling salted water, and cook until they're soft enough to eat. This should take around 30 minutes but it depends on the variety of the lupini beans you're using.

Rinse the beans, then add lemon juice, ground cumin, and salt. Give it a good mix so cumin and salt and well distributed.

Sprinkle with chopped parsley and serve!
Notes
Lupini beans used in this recipe are "sweet" lupini beans that don't require to be soaked in water for days. If you're using a bitter variety, then you will need to soak them in water for days and keep changing the water twice a day.
If you are allergic to peanuts, double-check that you're not allergic to lupini beans as well before eating them.
The beans are eaten cold and are stored in the fridge in an airtight container for up to 3 days.
Nutrition
Calories:
172
kcal
|
Carbohydrates:
19
g
|
Protein:
16
g
|
Fat:
1
g
|
Saturated Fat:
1
g
|
Sodium:
196
mg
|
Potassium:
31
mg
|
Fiber:
1
g
|
Sugar:
1
g
|
Vitamin A:
147
IU
|
Vitamin C:
7
mg
|
Calcium:
9
mg
|
Iron:
1
mg