Middle Eastern BBQ lamb chops seasoned with very simple ingredients and grilled until juicy and tender.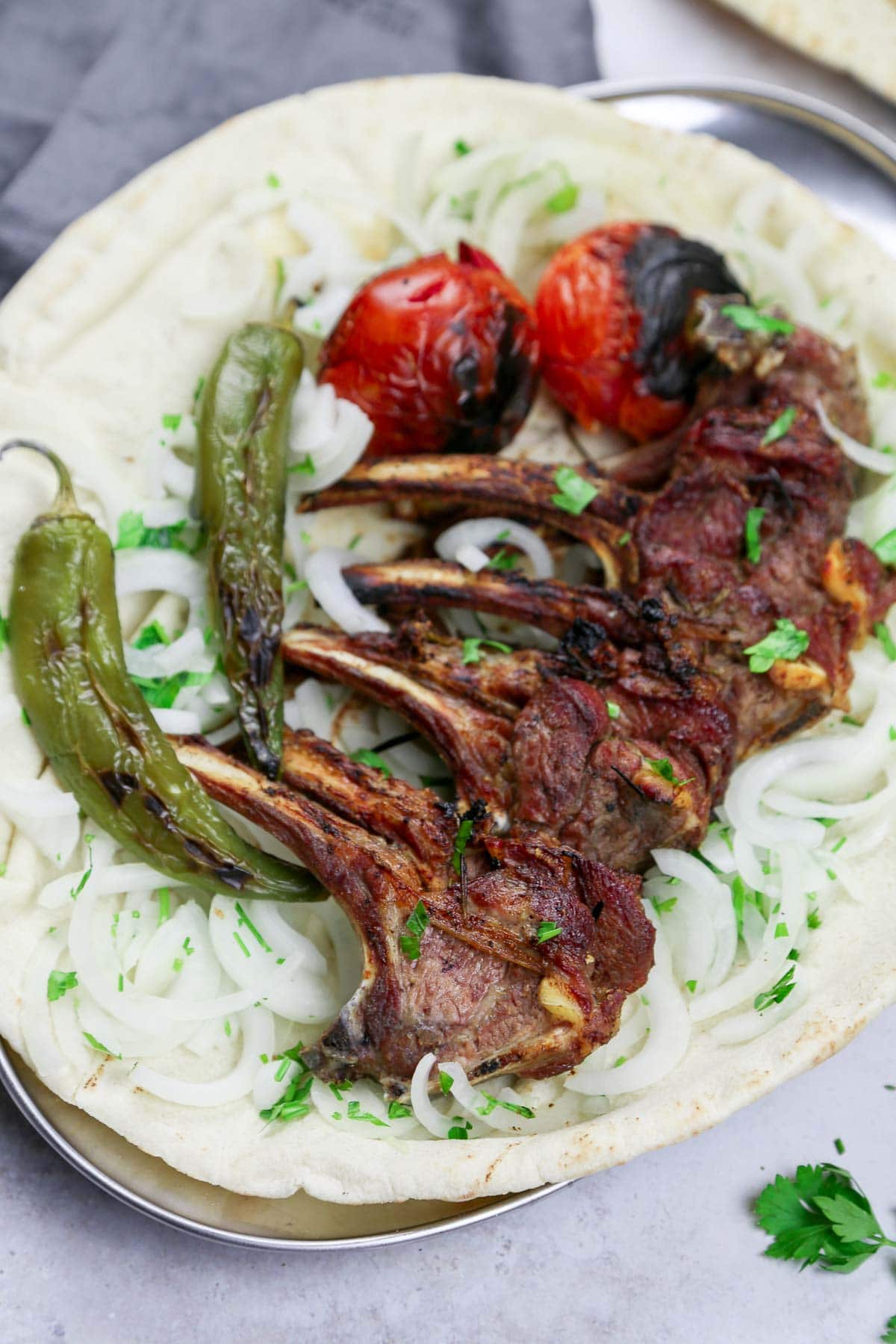 In my family, all men love BBQs and since the summer officially started they have been enjoying BBQs every single weekend! BBQ lamb ribs the Middle Eastern way is one of the dishes that make an appearance on our menu quite often. In this post, Yazeed (my husband) shares his perfect BBQ lamb ribs recipe.
Lamb Ribs Recipe
You might be more familiar with cooking lamb ribs in the oven, but barbecuing them is also a great option. People like eating lamb ribs because of the shape of the chops, and the tenderness of the meat. Lamb ribs also hold a lot of flavor although the amount of meat is not too big.
This recipe is very simple and flavourful. In the Middle East, people always prefer local meat (called Baladi) and don't add too much spice to it as they prefer it when the taste of the meat shows clearly. This Middle Eastern recipe is perfect for a BBQ or a garden party and takes very little time to prepare.
How to Make the Perfect Grilled Lamb Rib Chops
We usually go for cuts that are about half an inch thick to make sure that they cook quickly. All you need to do is to season the lamb chops very well by adding the following seasonings:
Salt
Ground black pepper
Fresh rosemary leaves
Extra virgin olive oil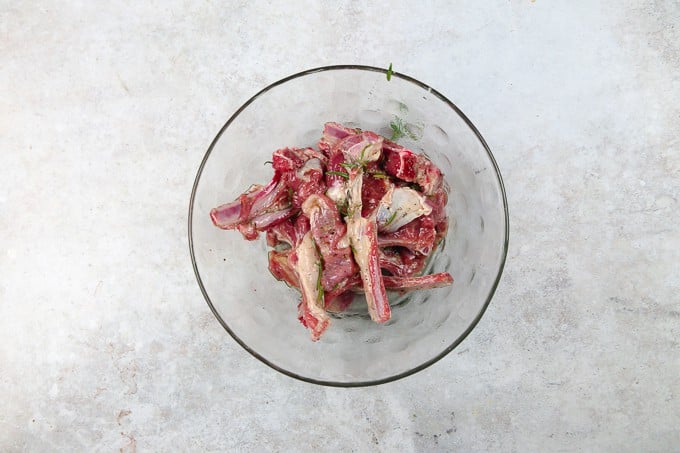 Let the lamb chops sit with the seasoning for 10 minutes, the olive oil will make the meat on the ribs tender and it ensures that it does not dry out when it's cooking on the barbecue.
Then transfer the meat to the grilling basket, and cook on the barbecue.
Depending on your barbecue grill and how hot it can get, but on our coal grill we cook the lamb chops for about 7 minutes on each side for well-done meat. You need to flip the grilling basket with the chops a few times to make sure that both sides are cooked evenly.
My husband uses the Thermapen cooking thermometer to check the doneness of the lamb chops. For well done, the Thermapen inserted in the center of the meat will need to show 80-85°C. If you're looking for medium-well meat, then 70-79°C would be perfect. And finally, 63-69°C for rare.
This Instant read kitchen thermometer is one of the most used kitchen gadgets that I love.
Using the Thermapen will ensure that you get perfectly cooked lamb chops. We also use the Thermapen when baking cakes, making candy, meringues, ice cream and cooking all kinds of meats.
Serve the barbecued lamb chops on fresh pita bread, sliced yellow onion with parsley, sumac and a pinch of salt. We also throw some tomatoes and chillis on the grill as we cook the lamb chops.
Alternatively, you can make these lamb chops in a cast-iron skillet.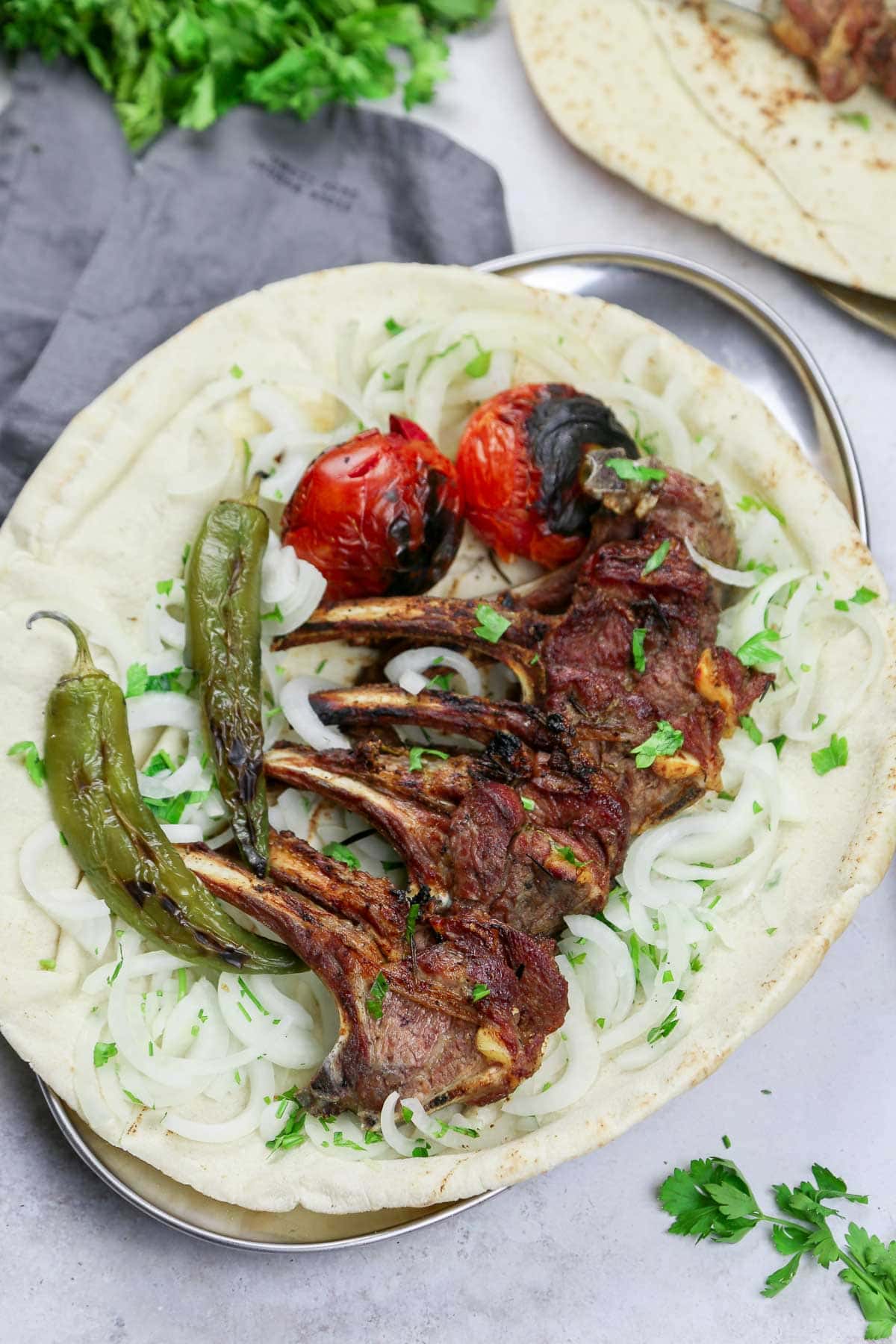 More Grilling Recipes
Subscribe to my Newsletter, and follow me on Facebook, Instagram, and Pinterest for more tasty recipes!
I don't feel like I say this often enough, or that I could ever thank you enough. But THANK YOU for all of your support, for visiting my blog, commenting, and sharing my recipes with your friends and family. I am SO thankful for you!
If you make this recipe or any of my recipes, then don't forget to rate it and leave a comment below. I would LOVE to hear about your experience and your comments just make my day!
I hope that you love every recipe that you make! – Diana x
Grilled Lamb Chops
Middle Eastern Grilled lamb chops seasoned with very simple ingredients and grilled under tender and juicy.
Print
Pin
Rate
Ingredients
2 lbs

(950g)

lamb rib chops

1

tablespoon

salt

1

teaspoon

ground black pepper

1

tablespoon

fresh rosemary

2

tablespoons

olive oil
Instructions
Start by seasoning the lamb chops. Sprinkle salt, ground black pepper, rosemary leaves and olive oil.

Coat the lamb chops with the seasoning very well. And set aside for 10 minutes.

Place the lamb chops in a grilling basket, and transfer to the barbecue grill.

Cook on each side for about 7 minutes for well-done. Keep flipping the grilling basket to make sure that the meat is cooked evenly on both sides.

Using your Thermapen kitchen thermometer, check the temperature of the meat. For well-done, the temperature should be 80-85°C. For medium-well, 70-70°C. And for rare, 63-69°C.

Transfer to warmed plates with pita bread.
Video
Nutrition
Calories:
488
kcal
|
Protein:
50
g
|
Fat:
30
g
|
Saturated Fat:
9
g
|
Cholesterol:
165
mg
|
Sodium:
1924
mg
|
Potassium:
662
mg
|
Vitamin A:
25
IU
|
Vitamin C:
0.5
mg
|
Calcium:
41
mg
|
Iron:
4.5
mg