How to cook buckwheat? Buckwheat is a delicious and gluten-free superfood that is very popular in Russia and very easy to make! In this post, I will explain how to cook buckwheat porridge (kasha) perfectly!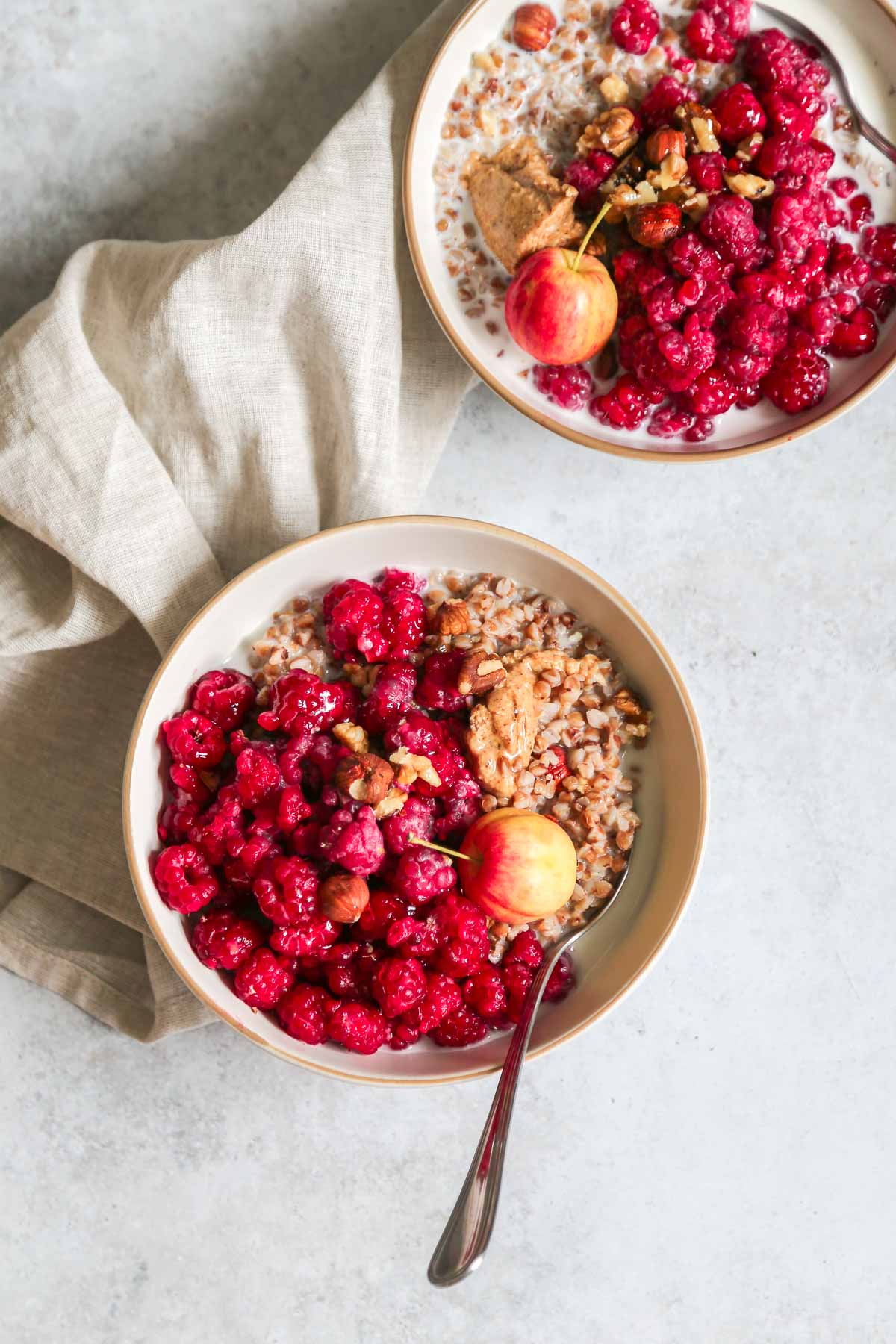 Buckwheat porridge takes just 20 minutes to prepare, and it's one of the healthiest breakfasts that you can have in the morning. It's naturally vegan (use plant-based milk), it's gluten-free and it's loaded with fiber, vitamins, and minerals.
For more healthy porridge recipes, check our my creamy cornmeal porridge and this amazing quinoa porridge!
Benefits of Buckwheat
It contains no gluten, therefore it's great for gluten-sensitive diets (and it is not a grain).
It has high-quality protein containing all 9 essential amino acids.
Buckwheat is rich in iron and antioxidants.
It is filled with many minerals and vitamins like zinc, copper, and niacin.
It keeps you full for longer.
Buckwheat's dietary fiber can reduce blood cholesterol levels.
It prevents colon cancer.
It helps reduce blood sugar levels.
Buckwheat aids liver function.
It helps with weight loss.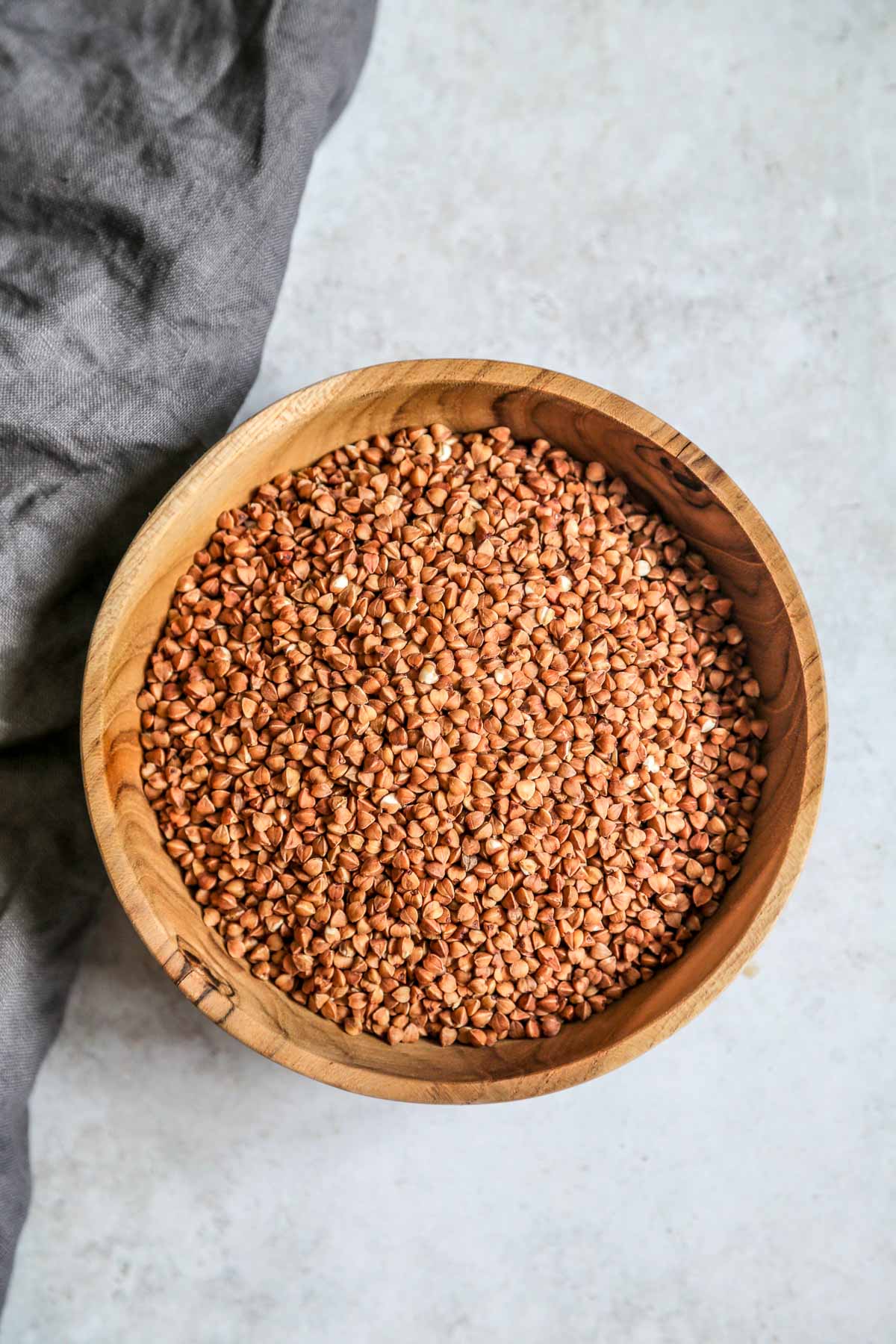 Buckwheat Porridge
Coming from a Russian background, we have buckwheat for breakfast quite often. In Russian, we call it Grechnivaya Kasha. This is a superfood that is very good for you and your health (and no it's not some kind of wheat), 1 cup of cooked buckwheat (170 grams) contains only 155 calories while being a great source of potassium, iron, fibre, protein, manganese, magnesium, copper, zinc and vitamin B6. Therefore, my advice to you, and if you haven't done so yet – you should start incorporating buckwheat into your diet as soon as possible!
Buckwheat is very versatile and can be eaten as a porridge in the morning, or in a savoury dish for lunch or dinner.
Having buckwheat porridge for breakfast is a great way to start the day, it is very nourishing and energizing and will keep you full for longer.
However, if you are looking for an amazing way to incorporate buckwheat in a meal that you can have for lunch or dinner, look no further, and make this delicious Russian Buckwheat Soup.
How to Cook Buckwheat
Buckwheat kasha is very easy to make. The ratio is 3:1 water to buckwheat groats.
In a saucepan bring water to boil. Add uncooked buckwheat groats. Cover the pot and simmer for 10 minutes (or until water is absorbed). Turn off heat, add the salt and let it sit for 10 more minutes.
I don't recommend adding any salt to the buckwheat at the beginning of the cooking process, as this might add a weird taste to the kasha. However, if you decide to cook the buckwheat to enjoy for lunch or dinner then add a little bit of salt after the cooking process is finished.
Overnight Raw Buckwheat Porridge
You probably have heard of an overnight buckwheat porridge or raw buckwheat porridge, it's one of my favourite methods to easily make kasha without having to worry about cooking it. This is how you make it:
The ratio is again 3:1 water to buckwheat groats.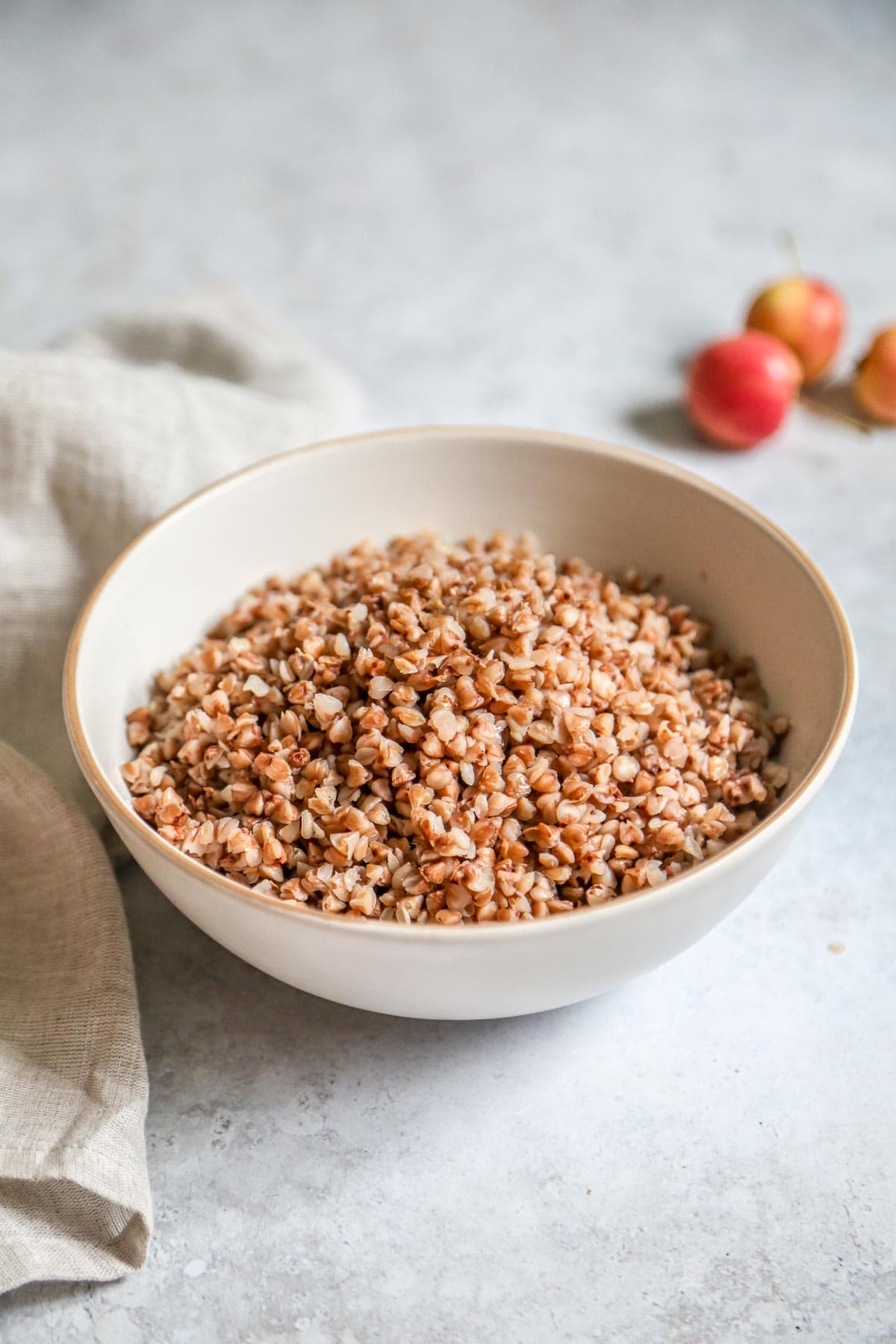 Take a bowl, add water and buckwheat groats and let it soak for the night in the fridge. In the morning the buckwheat grouts will look and taste as if they were cooked into a porridge. Add milk, top with fruits and enjoy!
Creamy Buckwheat Porridge
If you prefer a little bit of creaminess in your buckwheat porridge, just substitute the water with the milk of your choice. Full fat milk or plant-based milk, and cook the buckwheat groats.
I also add half buckwheat half oats sometimes and cook it in milk. The porridge will turn out very creamy and delicious but requires a tiny bit of more effort!
Tip: Add some cocoa powder to the buckwheat oat milk combination, and get an indulgent chocolatey porridge to enjoy in the morning!
Cooking buckwheat is very easy and not time-consuming, and it's almost just like cooking white rice! It can be eaten savory with a piece of butter, pickles on the side, vegetables, mushrooms, and meat. Or it can be eaten sweet with milk and agave syrup, fruits, chia pudding, nuts, seeds, you name it!
Subscribe to my Newsletter, and follow me on Facebook, Instagram, and Pinterest for more tasty recipes!
I don't feel like I say this often enough, or that I could ever thank you enough. But THANK YOU for all of your support, for visiting my blog, commenting, and sharing my recipes with your friends and family. I am SO thankful for you!
If you make this recipe or any of my recipes, then don't forget to rate it and leave a comment below. I would LOVE to hear about your experience and your comments just make my day!
I hope that you love every recipe that you make! – Diana x
Buckwheat Porridge
Learn how to make a simple buckwheat porridge
Print
Pin
Rate
Ingredients
1

cup

buckwheat groats

3

cups

water

1

tablespoon

unsalted butter (non-dairy for vegans)

optional

½

teaspoon

salt
If making milk porridge:
½

cup

plant-based milk

1

teaspoon

sweetener of choice

optional

fruit

optional
Instructions
In a saucepan bring water to boil. Add uncooked buckwheat groats. Cover the pot and simmer for 10 minutes (or until water is absorbed). Turn off heat, add the salt and let it sit for 10 more minutes.

Top with butter and serve warm in a savory dish, or as a porridge with milk and toppings.
Notes
The ratio of buckwheat to water is 3:1
Always wash the buckwheat groats before cooking, rinse under running water until the water runs clear.
Nutrition
Calories:
145
kcal
|
Carbohydrates:
30
g
|
Protein:
5
g
|
Fat:
1
g
|
Sodium:
300
mg
|
Potassium:
195
mg
|
Fiber:
4
g
|
Calcium:
13
mg
|
Iron:
0.9
mg