Kickstart your day with this amazing Strawberry Mango Smoothie, made with either fresh or frozen ingredients. This tropical blend is rich in vitamins, antioxidants, and vitamin C, making it perfect for breakfast, a quick afternoon snack, or a cooling treat on a hot summer day. This smoothie is gluten-free, vegan, and absolutely delicious.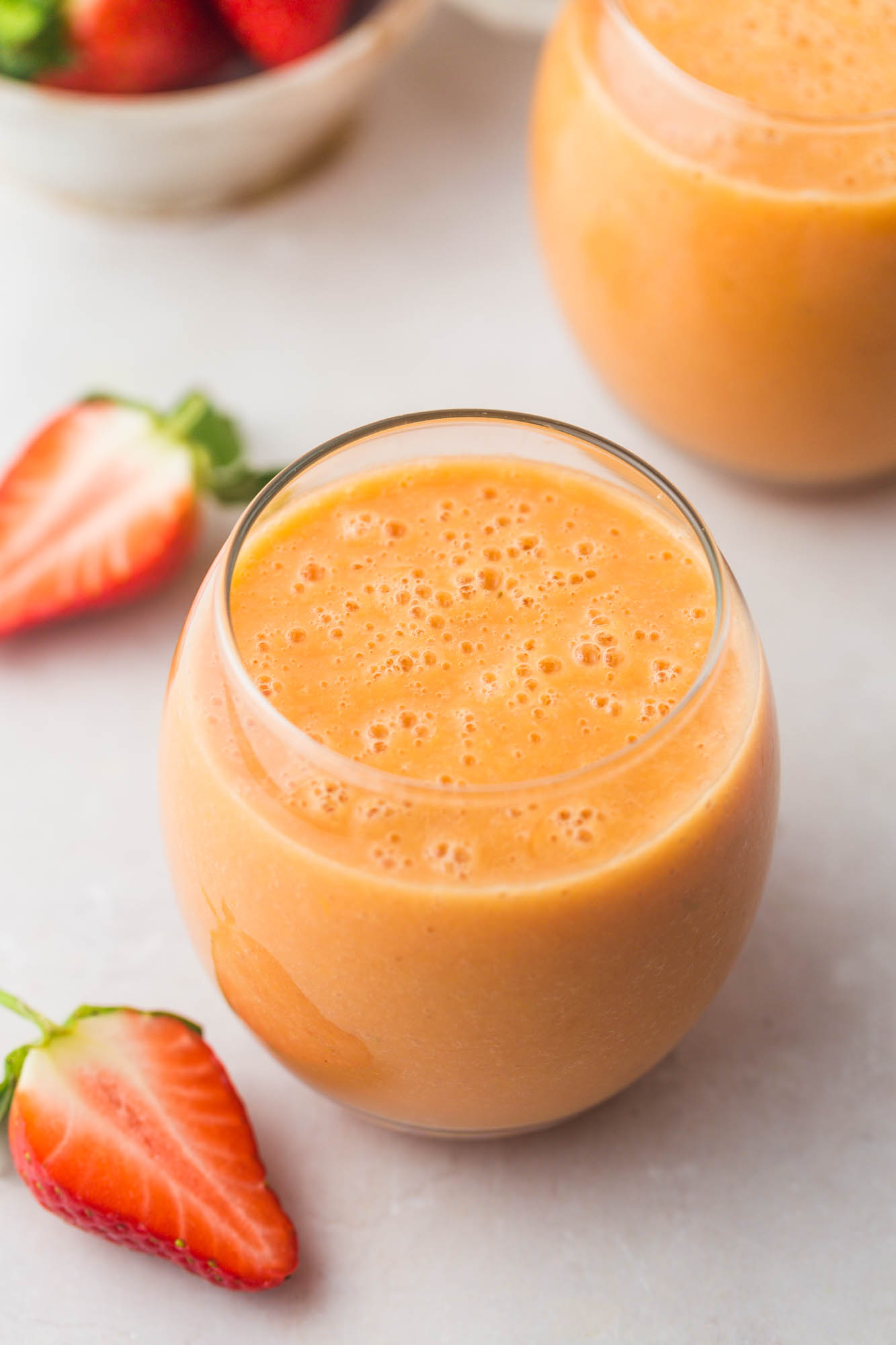 In our family, we're big fans of healthy smoothies, and this Strawberry Mango Smoothie is at the top of our list. It's a fruit smoothie that tastes like a tropical getaway in a glass.
Combining fresh or frozen mango chunks, strawberries, oranges, and your milk of choice, this smoothie serves up a creamy summer drink that is as refreshing as it is nutritious.
It's an energy-boosting, gluten-free, and vegan fruit smoothie that is not only simple to make but also bursting with flavor. Looking for more smoothie ideas? Check out my Kiwi Smoothie and the best ever Strawberry Watermelon Smoothie.
The ingredients
This smoothie is quite simple, and uses just 4 ingredients: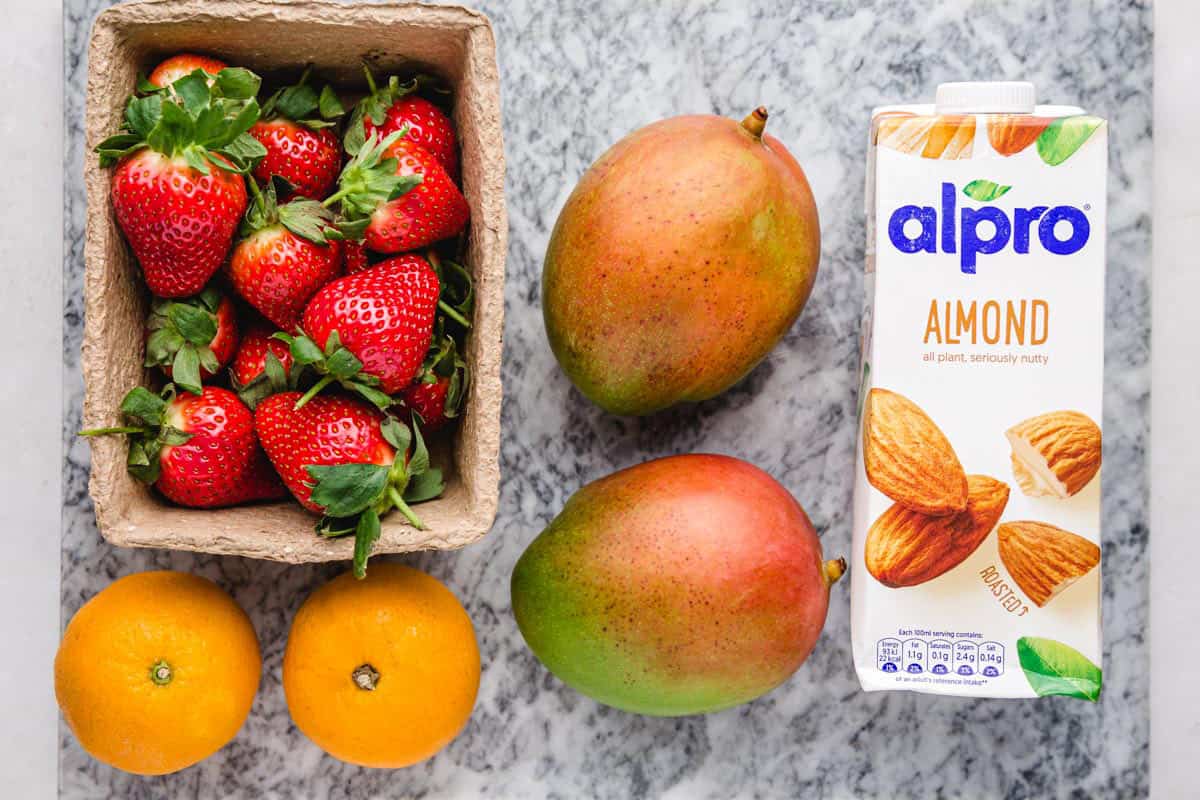 Strawberries and Mango: These two fruits combine to offer a vibrant, tropical taste that makes this smoothie a standout. Rich in vitamin C, folate, antioxidants, and fiber, these fruits not only taste great but also contribute to overall health.
Oranges: Adding a citrusy twist, oranges uplift the flavors of strawberry and mango. They also introduce a dose of vitamin C, enhancing the health quotient of the smoothie.
Plant-Based Milk: Whether it's almond, soy, or oat milk, milk lends a creamy texture to the smoothie while keeping it entirely vegan. Moreover, these plant-based milks are often fortified with essential vitamins and minerals, thereby adding to the nutritional value.
Optional additions for enhanced flavor and nutrition
Chia or Flaxseeds: A spoonful of these nutrient-dense seeds could add a punch of fiber, omega-3 fatty acids, and protein to your smoothie.
Protein Powder: If you're looking for a post-workout drink or a more substantial breakfast, add a scoop of your preferred protein powder.
Leafy Greens: Raw spinach or kale could be a great addition if you're looking to incorporate more greens into your diet. They blend well and don't overpower the fruity flavors.
Remember, the best part about smoothies is their flexibility. Feel free to adjust the ingredients as per your taste and dietary requirements.
Complete list of ingredients and amounts can be found in the recipe card below.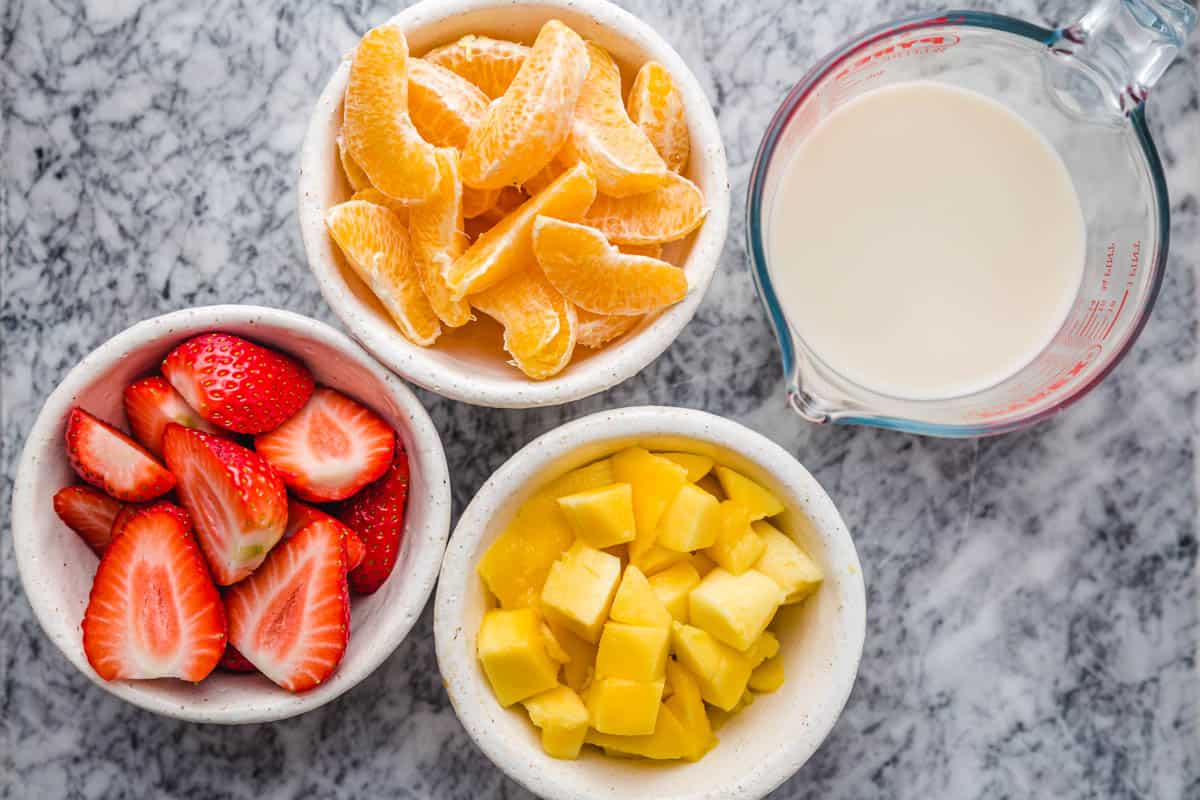 How to make strawberry mango smoothie
To make this smoothie extra creamy and smooth, you will need a high-speed blender. I love my Vitamix Blender, it isn't cheap but it's honestly a great investment. I use it to make smoothies, nut butters, dressings, soups, almond flour, and more!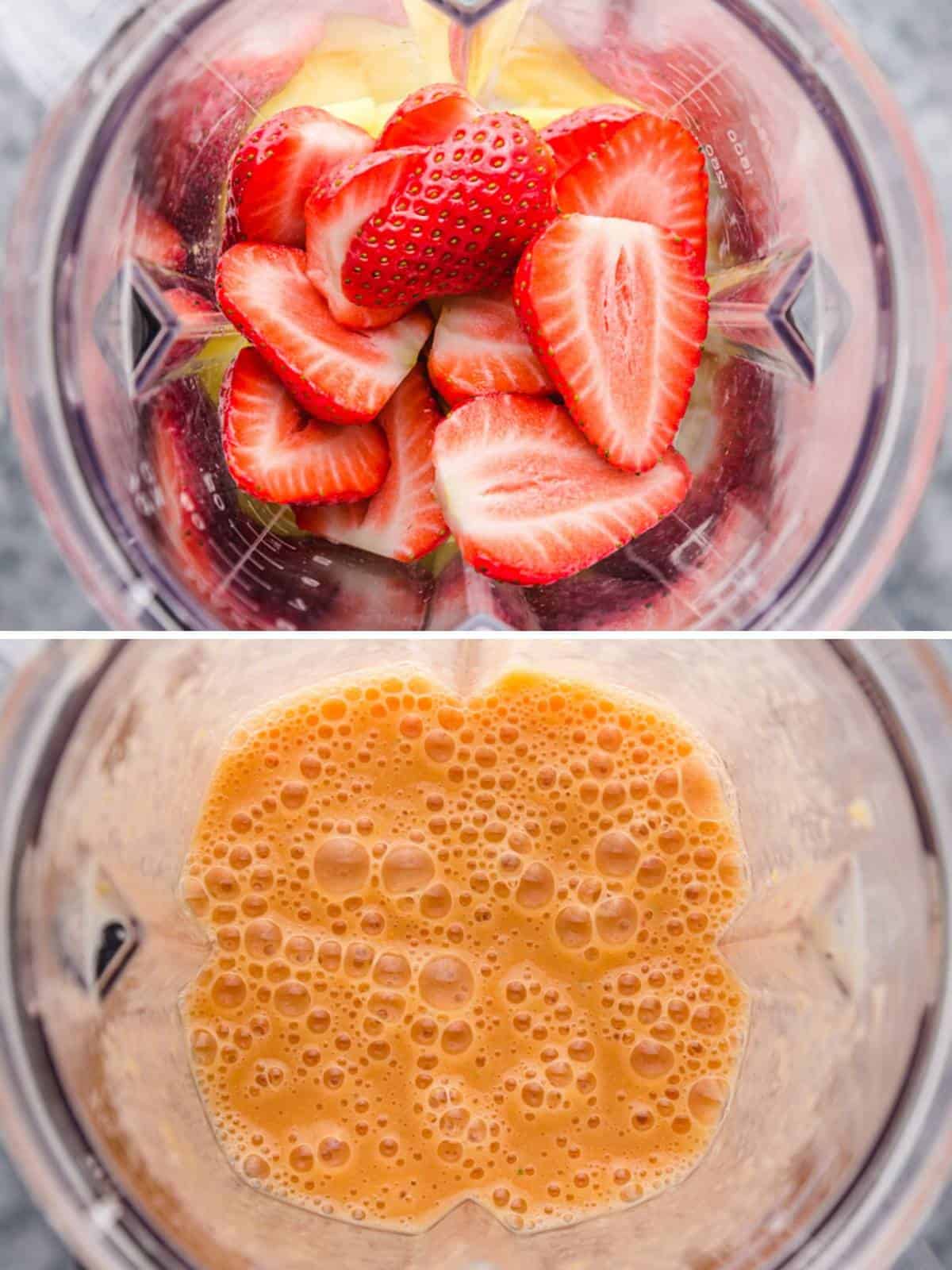 Wash and prep the ingredients if using fresh fruit. Peel the orange, and separate the segments. Peel and slice the mango, and hull the strawberries.
Blend. Add everything to a blender, and blend until smooth (about 60 seconds). If the smoothie is too thick, add more liquid and blend again.
Tip!
For a quick protein boost add a scoop of vanilla flavored protein powder to your smoothie! It will thicken your smoothie as well.
Recipe Variations and Tips
Smoothie Consistency: Love your smoothies with a bit more substance? Here's the secret – use frozen fruits! They give your smoothie a delightful, near ice-cream consistency. For an added thickening boost, consider a spoonful of chia seeds or a handful of oats. They don't just thicken the smoothie, but also bump up the fiber content. More on this below.
Protein Power-up: Want to level up your smoothie into a protein-packed snack? Simple, add a scoop of your preferred protein powder. Greek yogurt is another excellent option, contributing to both thickness and protein content.
Superfood Add-ons: Looking to enhance the nutritional profile of your smoothie? Think spirulina, matcha, or acai powder! Full of antioxidants, these superfood powders provide a unique flavor twist and a healthy punch.
Go Green: Add a handful of raw spinach or kale for an extra dose of nutrients. The robust flavors of mango and strawberry will mask the greens, ensuring your smoothie remains as fruity and sweet as ever.
Smoothie Bowl: Did your smoothie turn out too thick to sip? Turn it into an opportunity! Pour your thick smoothie into a bowl, and add granola, fresh fruits, and a drizzle of honey or nut butter for a wholesome smoothie bowl.
More Recipes: If you're looking for more refreshing and fruity options, try this thirst-quenching Strawberry Watermelon Smoothie. And for a berry-packed start to your day, don't miss this Mixed Berry Smoothie – it's a surefire way to kickstart your morning on a healthy note.
Thickening your smoothies
Sometimes our smoothies turn out a little too thin, and I find that annoying. I mean, I love juice, but a smoothie MUST be thick and creamy! Below are a few ideas on how to thicken your smoothies:
Use Frozen Fruit. This is the best way to thicken a smoothie, buy frozen pre-cut fruits and vegetables for your smoothies. Or freeze your own (I always buy brown bananas on sale and freeze them!). If your smoothie is too thin, add a few chunks of frozen fruit and blend again.
Add Ice Cubes. If you're not using frozen fruit, you can add ice cubes and crush them in the blender along with the rest of the ingredients. Or if your smoothie is thinner than what you aimed for, just throw in a few ice cubes and blend again.
Add Greek Yogurt. Adding Greek yogurt or dairy-free yogurt is a great trick to thicken a smoothie and add some extra protein.
Oatmeal. Adding oatmeal to your smoothie will thicken it up right away. Check out this Banana Oatmeal Smoothie for a perfect example of how oats can lend creaminess to your blend. Only add oats if you have a high-powered blender.
Adding vegetables to your smoothies
For extra fiber and a nutrient-dense smoothie, you can sneak in vegetables that you can't actually taste. For instance, you can add fresh carrots to this smoothie or go for frozen vegetables like spinach. Speaking of spinach, have you tried my Spinach Smoothie? It's another fantastic way to incorporate greens into your smoothie regimen.
Tip!
Want to make a smoothie bowl? It's simple! Just reduce the amount of liquid to ½ cup and serve in a bowl with your favorite toppings.
Recipe FAQs
Can I add protein powder to this smoothie?
Yes, adding a scoop of protein powder can transform this refreshing drink into a protein-packed smoothie, ideal for post-workout nutrition.
Can I add sweeteners to this smoothie?
This smoothie is naturally sweet from the fruits used. However, if you prefer it sweeter, you can add a bit of honey, agave syrup, or any sweetener of your choice.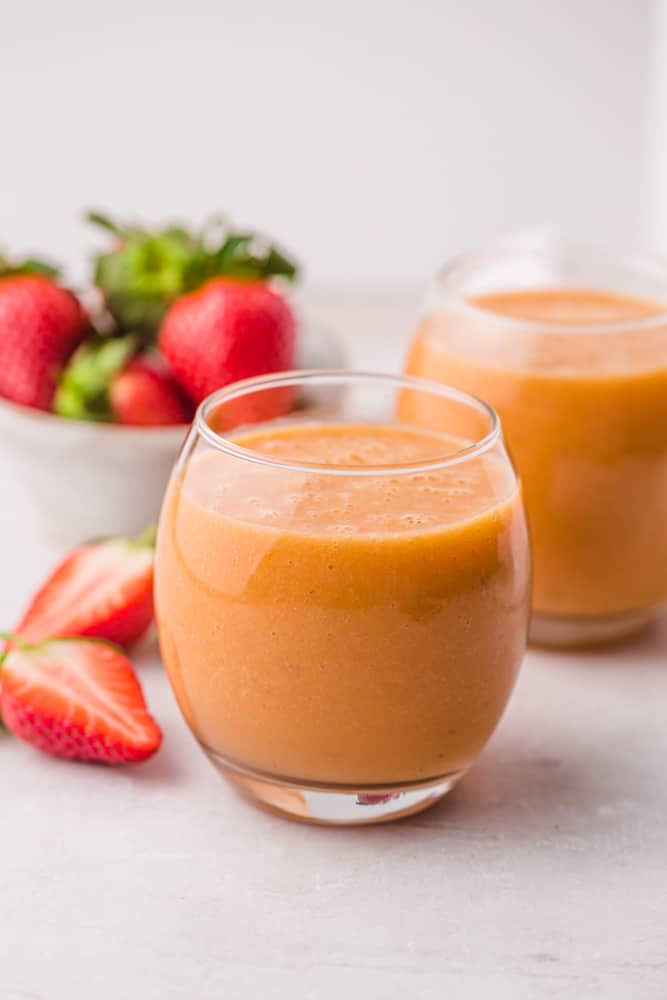 Storing Tips
Want to make this smoothie ahead of time or need to store leftovers? Here's how:
To Make Ahead: Prepare the smoothie, then pour it into an airtight, freezer-safe glass jar. You can store it in the freezer for up to 3 months. Thaw it in the refrigerator overnight before drinking.
To Store: If you have leftover smoothie, store it in the refrigerator in an airtight container. It'll stay fresh for up to 24 hours.
I hope this Strawberry Mango Smoothie becomes a refreshing addition to your healthy drink repertoire. Do share your feedback after trying it out by rating and reviewing the recipe. Don't forget to pin this recipe on Pinterest for easy access and to share it with others. Looking forward to hearing about your smoothie adventures!
Did you make this? Be sure to leave a review below and tag me on Facebook, Instagram, or Pinterest!
Recipe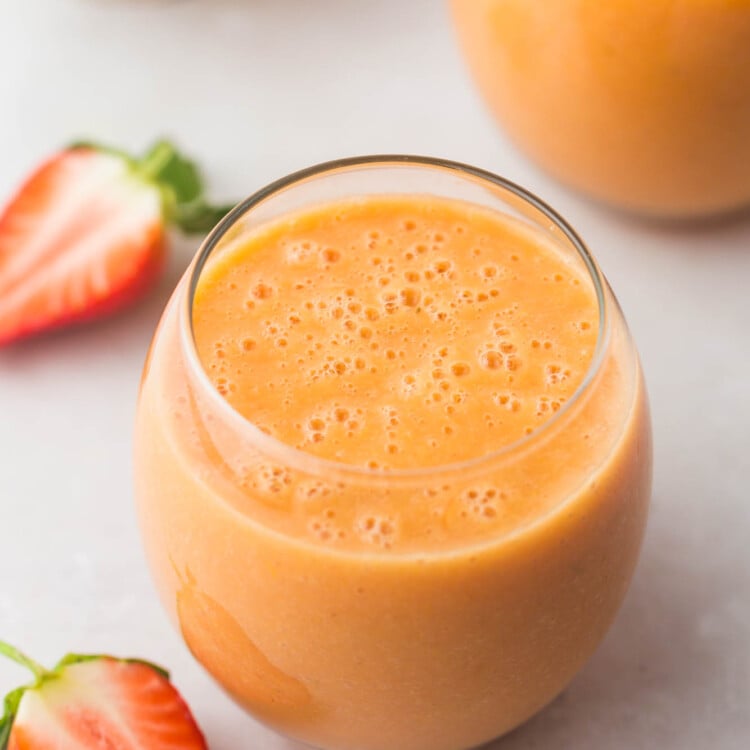 (Click stars to rate!)
Strawberry Mango Smoothie
Healthy and refreshing strawberry mango smoothie that can be made using fresh or frozen ingredients, in 5 minutes.
Healthy and refreshing strawberry mango smoothie that can be made using fresh or frozen ingredients, in 5 minutes.
Ingredients
2

cups

strawberries

2

cups

mango

2

cups

orange

peeled

1 ½

cups

(

375

ml

) Almond milk

or water
Instructions
Prep all of the fruit if needed, then add to the jug of a blender.

Blend on high until the ingredients are well combined and the mixture is smooth. If the smoothie is too thick for your liking, add a bit more liquid and blend again.

Taste the smoothie. If you'd like it to be sweeter, add honey or maple syrup to taste and blend once more. Pour the smoothie into a glass and enjoy it immediately.
Notes:
I used fresh fruit, but feel free to use frozen fruit instead. You will get a creamier texture.
Nutrition Information
Serving:
1
serving
,
Calories:
256
kcal
,
Carbohydrates:
58
g
,
Protein:
5
g
,
Fat:
4
g
,
Saturated Fat:
0.2
g
,
Polyunsaturated Fat:
2
g
,
Monounsaturated Fat:
1
g
,
Sodium:
247
mg
,
Potassium:
823
mg
,
Fiber:
10
g
,
Sugar:
47
g
,
Vitamin A:
2208
IU
,
Vitamin C:
240
mg
,
Calcium:
338
mg
,
Iron:
1
mg
This website provides approximate nutrition information for convenience and as a courtesy only. Nutrition data is gathered primarily from the USDA Food Composition Database, whenever available, or otherwise other online calculators.
© Little Sunny Kitchen