Heart–shaped herb roasted potatoes that are perfect for Valentine's Day dinner!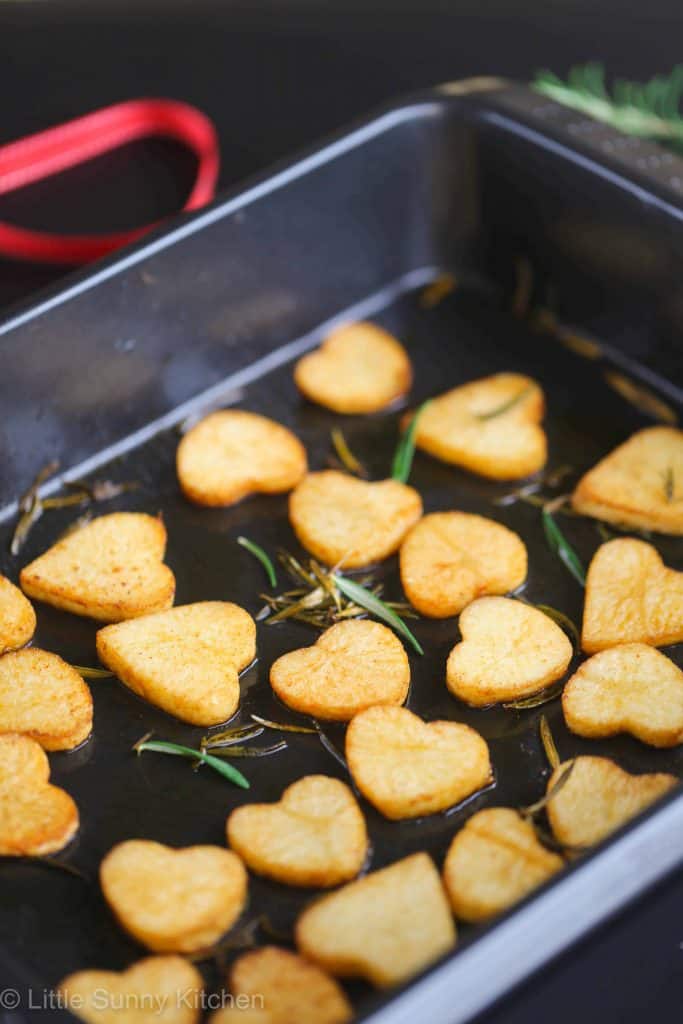 With Valentine's Day soon approaching, love is in the air, and all I can think of is Valentine's day recipes! I seriously love food when it's all decorated and pretty for Valentine's day!
The recipe that I'm sharing with you today is roasted herb potatoes, it's very easy to make, and tastes insanely good. Plus, who doesn't love potatoes? I love potatoes in all forms! Mashed, steamed, french fries, grilled, roasted, raw, with skin, and without the skin!
These potatoes are marinated in olive oil, paprika, salt, and rosemary leaves for about 5 minutes, and then roasted in the oven. Easy!
I do like to par-cook my potatoes before roasting them, as it does make things easier and quicker. Plus it does help create a lovely crispy shell around the potatoes. Now imagine how delicious those are!
You can of course just cut the potatoes into cubes, but I think that these heart shaped roasted potatoes are perfect for Valentine's dinner. Of course they will still taste the same, so it's up to you on what you're going to make.
Now you may wonder how did I manage to cut out all of these potatoes into heart shapes? I used a cookie cutter!
Subscribe to my Newsletter, and follow me on Facebook, Instagram, and Pinterest for more tasty recipes!
I don't feel like I say this often enough, or that I could ever thank you enough. But THANK YOU for all of your support, for visiting my blog, commenting, and sharing my recipes with your friends and family. I am SO thankful for you!
If you make this recipe or any of my recipes, then don't forget to rate it and leave a comment below. I would LOVE to hear about your experience and your comments just make my day!
I hope that you love every recipe that you make! – Diana x
Ingredients
4

medium potatoes

2

tbsp

olive oil

1

tsp

salt

1

tsp

ground paprika

2

tsp

rosemary leaves
Instructions
Preheat oven to 180c.

Brush your baking tray with olive oil.

Wash and peel your potatoes, then either cut out using a cookie cutter (by making slices using a knife, and then cutting out hearts using a cookie cutter) or cut into cubes using a knife. Use scraps to roast as well, or you can fry them, or boil them to make mashed potatoes.

Take a small pot, and fill it with water. Bring to boil and add 1 tsp salt. Reduce heat and simmer potatoes for about 3 minutes.

To marinate potatoes, combine olive oil with salt, paprika, and rosemary leaves. Pour over potatoes and let it marinate for about 5 minutes.

Spread potatoes over baking tray and roast for about 15 minutes, then open the oven and turn the potatoes to the other side. Roast for 10 more minutes or until golden brown.