Molokhia or Mulukhiyah is a Middle Eastern dish made with jews mallow/nalta leaves and chicken. Served over medium grain white rice, with sumac, onion, olive oil and lemon juice.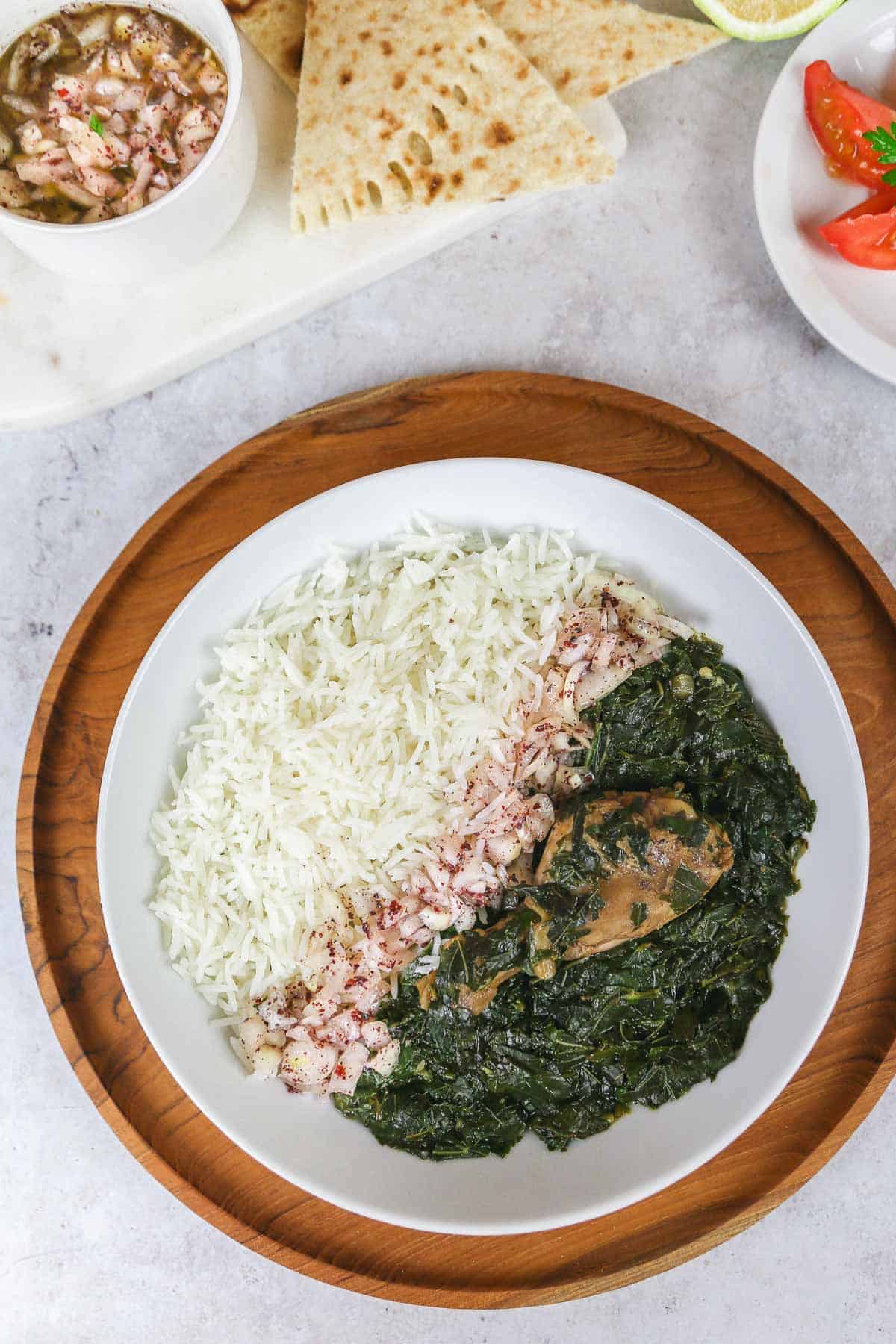 WHAT IS MOLOKHIA
A very delicious and nutritious Middle Eastern dish, Molokhia! This dish is very popular in the Middle Eastern countries including Jordan, Palestine, Syria, and Egypt. It's made from either fresh, dried or frozen Molokhia leaves (Jew's mallow or Jute leaves or nalta) that are used as a vegetable in this recipe.
The leaves are boiled in water or stock, resulting in a thick soupy liquid often served with white rice on the side. The slimy effect of the Molokhia when it's cooked is very similar to Okra. Speaking of Okra, you REALLY need to try my amazing Middle Eastern stewed okra that in Arabic we call Bamya.
There are many ways in which Molokhia is cooked in Jordan, it can be cooked with chicken, meat (mostly lamb), or left as a vegetarian or vegan dish. But the chicken version is definitely the most popular. It's usually served with rice, but sometimes we just eat it as a soup with a piece of pita bread skipping the rice.
This recipe that I'm sharing with you is the Jordanian version of Molokhia, and what I grew up eating. Egyptian Molokhiya is quite different, they remove the stem from the lead and then finely chop the leaves with garlic and coriander. I think that they also fry the leaves before cooking them to prevent them from becoming slimy (the slimy texture is what I really love about molokhia!).
Jute mallow or nalta jute leaves' scientific name is Corchorus olitorius. The plant grows in Asia and Africa as a wild plant or crop. I also recently learned that this plant is also popular in the North and South African countries, India, Japan, Brazil, and the Caribbean. It's not only used to make soups or stews, but tea could also be made from it. And sometimes it's just added to soups to thicken them.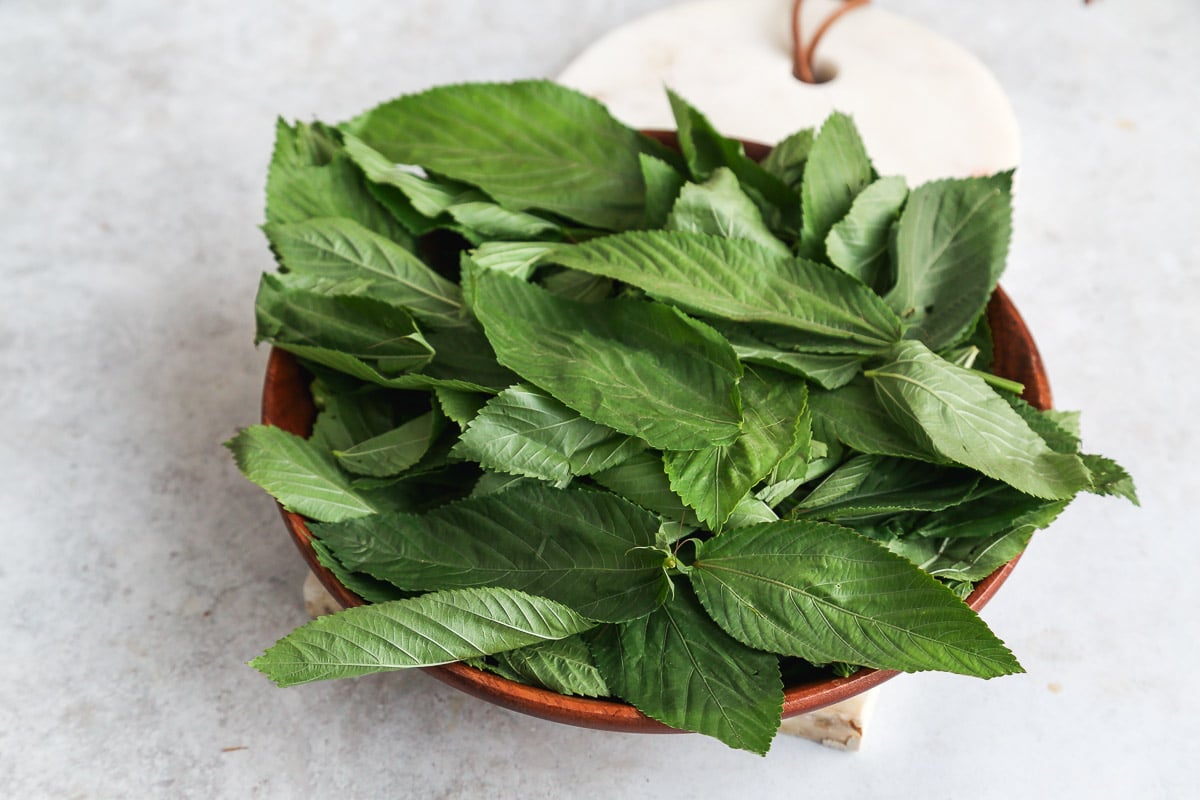 Jute leaves are rich in vitamin B6, potassium, iron, vitamin A and vitamin C.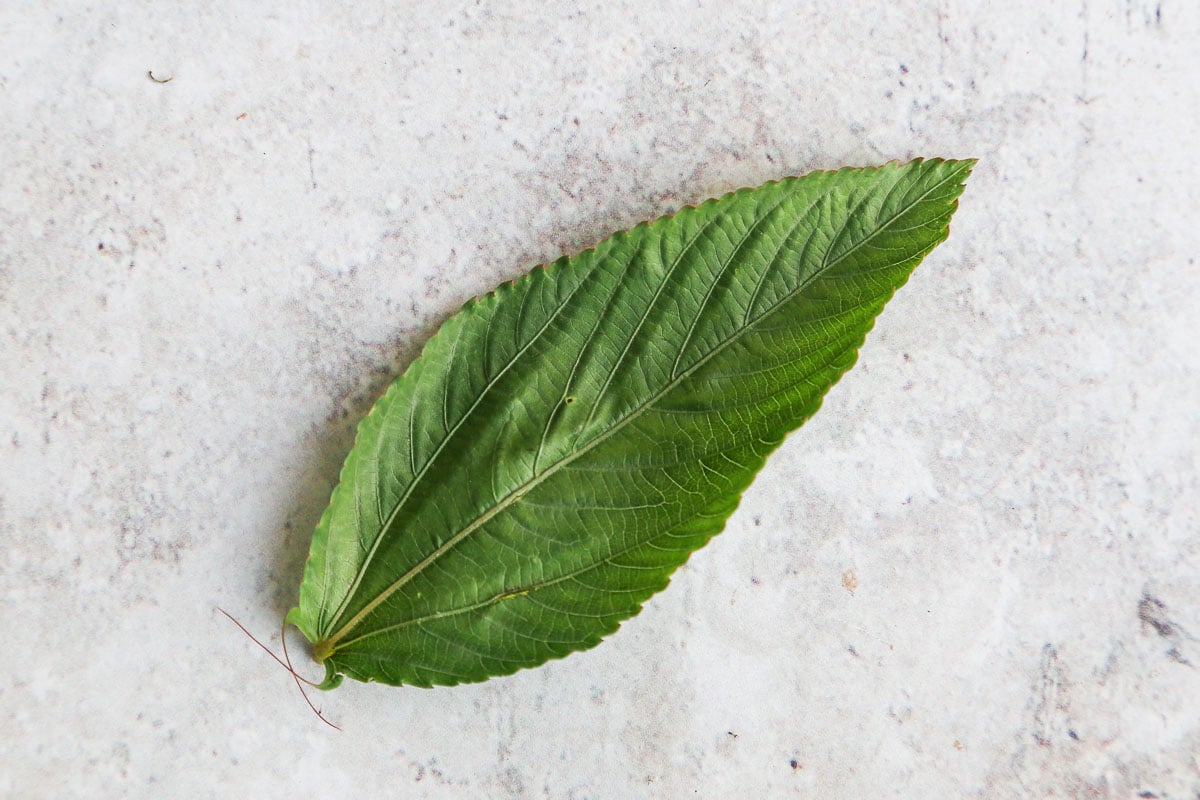 The green leaves are never eaten raw. When they're raw, they have a bitter taste. So they're always boiled before they're consumed.
MOLOKHIA SEASON
The leaves are usually harvested between 6 and 8 weeks, normally in the summer. So every summer, my Mum and I make sure that we buy lots of jute leaves and then spend a couple of days just removing the leaves from the stems and either dry or freeze them to stock up for the winter.
We also make sure that we stock up on bamya/okra and green beans as these vegetables are only available fresh in the summer, and your last chance to do that is mid-September. In the Middle East, this is what all women do, making sure that they have enough of these vegetables frozen or dried to be ready for the winter days. It's a part of the culture to freeze these vegetables at home buying local produce, rather than buying frozen store bought molokhia, okra or green beans.
HOW TO FREEZE MOLOKHIA
First, you will need to buy fresh molokhia and remove the leaves from the stems. The stalks are usually thrown away, and the leaves are left to be preserved and used later.
There are 2 popular methods to freeze molokhia:
1. Wash the leaves, then make sure that the water dries as much as possible. And vacuum seal portions of the leaves and then freeze. This is my favourite way to freeze molokhia, I also noticed that the leaves stay fresher this way and hold their colour.
You have the choice to either chop the leaves or leave them as they are but we always chop them as they're usually too big.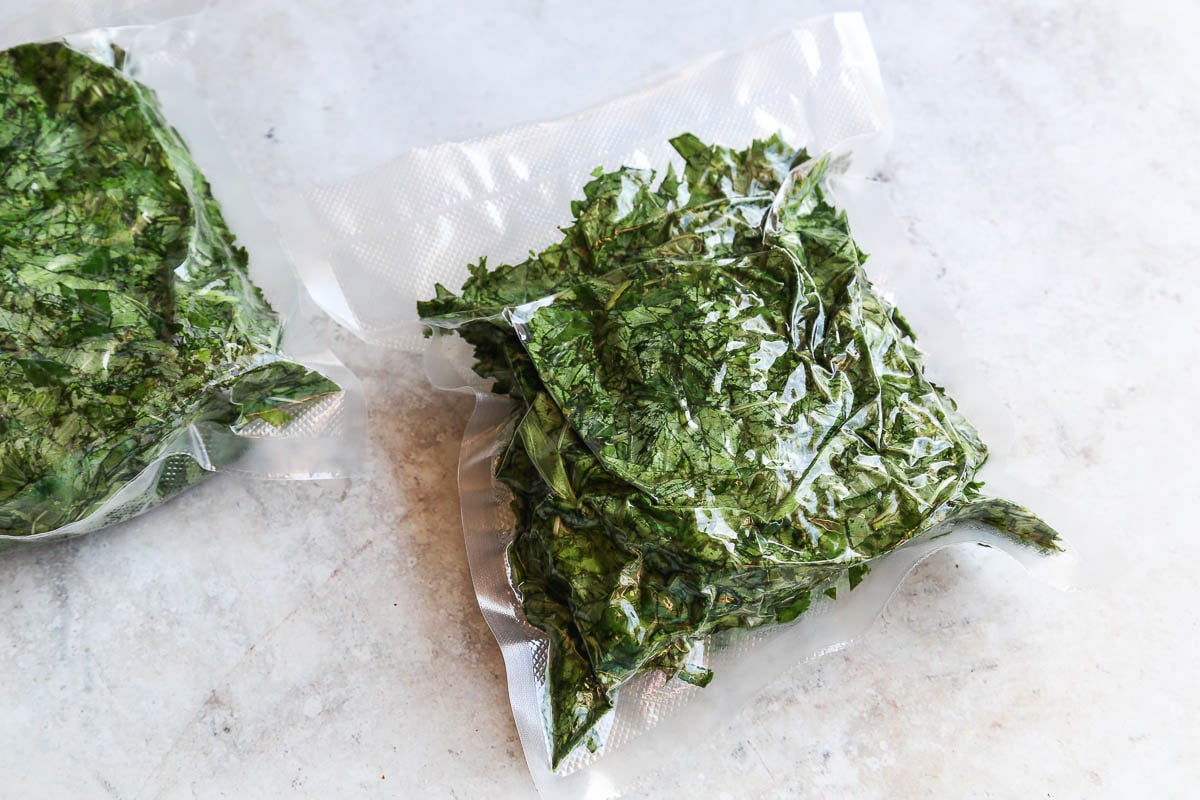 2. Wash the leaves, then take a huge pot and drop the leaves in there with a little bit of water. Using a wooden spoon stir the molokhia for a couple of minutes until the leaves are wilted. Remove from heat, let the leaves cool down and then pack in freezer plastic bags and freeze. (You have the choice to either chop the leaves or leave them as they are but if you choose to chop them then do that right after you wash them)
This method is also great, but I feel like it requires more effort but very similar result in cooking. So choose whatever you think is better, as both methods work and are great.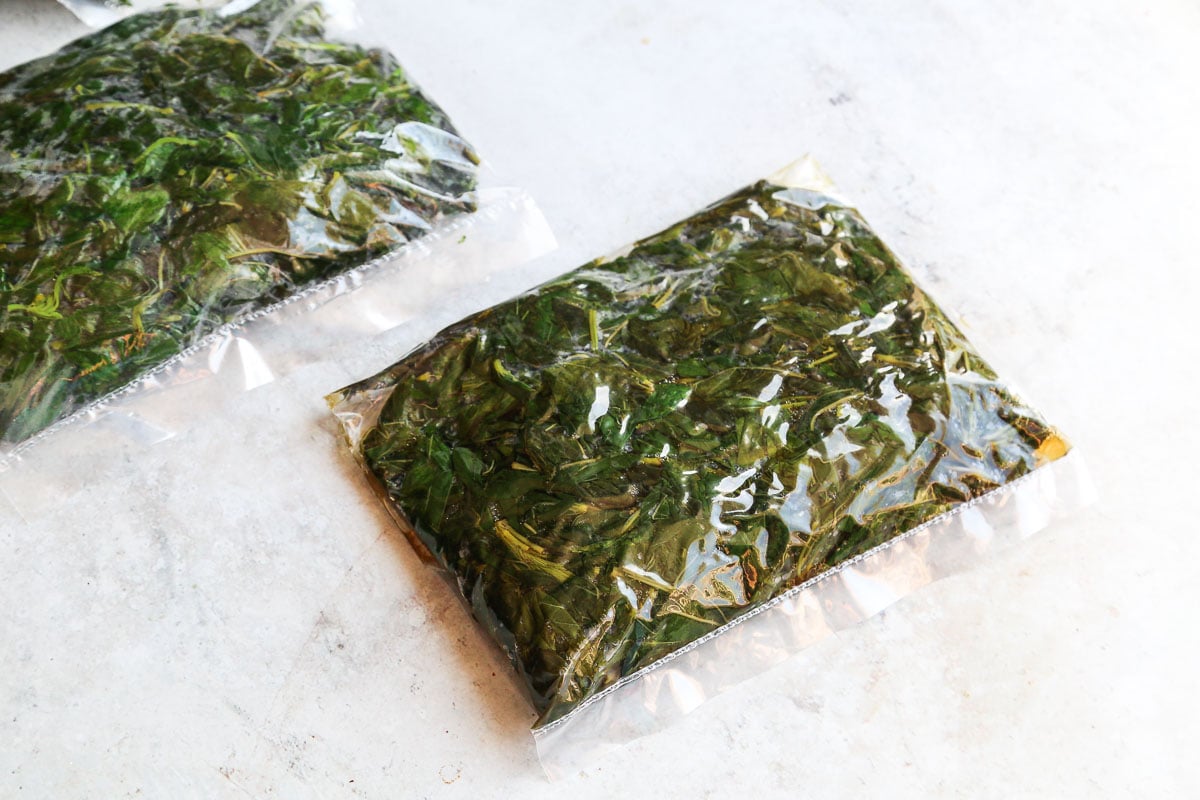 HOW TO MAKE MOLOKHIA – Step by step tutorial
Preparing this dish is not as difficult as it may look, it's actually pretty simple. you start by cutting up a whole chicken, and removing the skin (If you don't know how to do that, there's an excellent video on my Youtube channel for you to learn).
Then add salt, lemon, and vinegar to it, and let it sit for about 10 minutes. Add vegetable oil to a pot on medium heat, and lightly brown the chicken along with a whole peeled onion. Add boiling water to the pot, and let it boil for a bit until the water forms foam, remove the foam, then add the molokhia leaves (Fresh, dried, or frozen and thawed), and let it cook for about 30 minutes.
While cooking you have to check a couple of times if the consistency is too thick then add a bit of water, and you have to stir in case it's stuck to the bottom of the pot.
5 minutes before you remove the pot from heat, add 5 cloves of garlic, juice of 1 lemon, 1 tbsp of tomato puree, and salt. Cook for 5 more minutes and make sure that the chicken is done. You can also add about 4 tbsp of freshly chopped coriander but this is optional.
This recipe is enough for 6 persons, so I make about 2 1/2 – 3 cups of rice to serve with the mlokhiyeh. Serve with white rice, and then the molokhia soup and chicken can either be served in the same bowl/plate or in a separate bowl and top with onion sumac mix.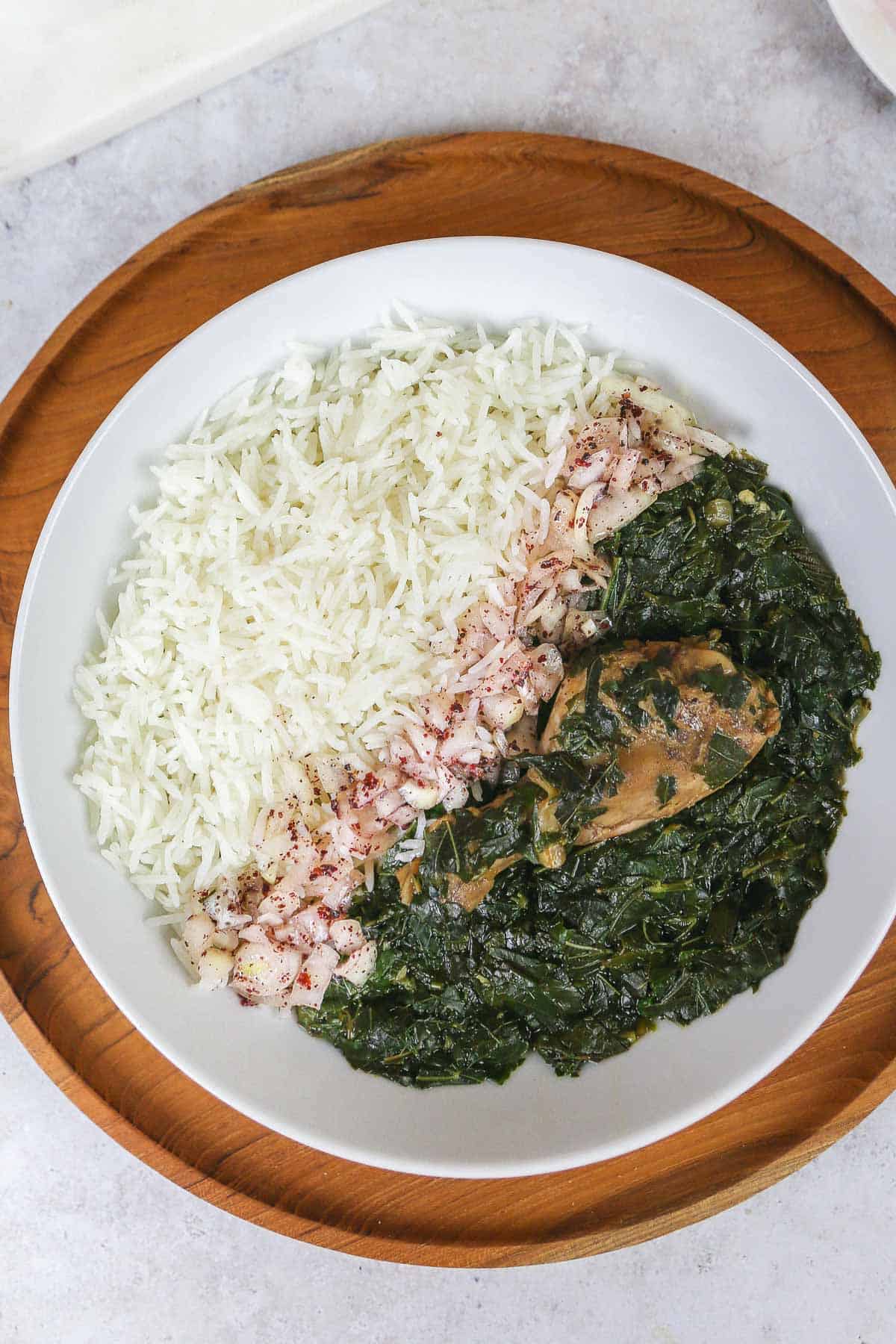 I would say that molokhia leaves are similar to spinach leaves, so if you're a fan of spinach you will like mlokhiyeh. The leaves can be found in most Oriental shops in the UK and are sold frozen. Lemon also pairs very well with this dish so I always add extra lemon juice to my plate over the molokhia when I'm about to eat, and I like to have this with a chopped onion mixed with sumac, olive oil and lemon juice. Best food ever!
VEGAN MOLOKHIA RECIPE
During the Christian fasting season in Jordan, fasting Christians make vegan versions of their favourite Arabic dishes. One of them is molokhia. I've made a vegan Molokhia so many times before and it's equally good especially when served with lots of freshly squeezed lemon juice or the onion sumac lemon version.
The vegan Mulukhiyah is cooked exactly the same way, just omit the chicken and use vegetable stock.
If you make this molokhia using my recipe, please don't forget to rate this recipe and share a picture on social media. Tag #LittleSunnyKitchen in your posts as I would really love to see what you make! Thank you for supporting Little Sunny Kitchen, so I can keep sharing my tasty recipes with you for free.
Molokhia
A traditional Jordanian dish made with molokhia leaves or jews mallow leaves and chicken then served with white rice and onion sumac lemon mix.
Print Recipe
Ingredients
1

whole chicken

cut up into pieces

1

onion

2

tbsp

vegetable oil

1/2

kg

molokhia leaves

fresh, dried, or frozen and thawed

1 1/2 - 2

liters

water

5

cloves

garlic

1

lemon

juiced

1

tbsp

tomato puree

4

tbsp

coriander

optional
For onion sumac mix:
1

onion

chopped

1

tsp

sumac

juice of half of a lemon

1/2

tsp

salt
Instructions
Cut up the chicken and remove skin, add lemon, salt and vinegar and let it sit for 10 minutes. (This is done to clean the chicken, so you can skip this step and just rinse it with water if you prefer)

In a pot add oil, and lightly brown the chicken. Add a whole onion and brown it as well.

Add boiling water, let it boil for a minute. It will bubble and there will form some foam, remove the foam.

Thaw molokheia leaves, and cut it or puree it using a blender with a little bit of water (you can also leave as whole leaves). The consistency should be sort of thick, let it boil and cook for 30 minutes. Keep checking and stirring the molokheia, if the soup is too thick add more water.

minutes before it's ready, add 5 cloves of garlic, juice of a lemon, tomato puree, and salt.

You can also add a bit of chopped fresh coriander.

Serve over calrose medium grain rice (2 1/2 cups), and chopped onions with sumac, lemon juice, olive oil and salt (mix together).
Diana's Tips
If you're making a veggie molokhia, add vegetable stock or water instead of chicken stock.
Nutrition facts
Calories:
339
kcal
|
Carbohydrates:
6
g
|
Protein:
24
g
|
Fat:
23
g
|
Saturated Fat:
9
g
|
Cholesterol:
95
mg
|
Sodium:
288
mg
|
Potassium:
393
mg
|
Fiber:
1
g
|
Sugar:
2
g
|
Vitamin A:
260
IU
|
Vitamin C:
22.1
mg
|
Calcium:
47
mg
|
Iron:
1.9
mg
This recipe was first published on Little Sunny Kitchen on April 11, 2016. It was updated with more pictures and information on Nov 27 2018. The recipe remained the same.