You're going to love Crock Pot Pinto Beans. Requiring no soaking, these beans are seasoned perfectly, full of flavor, and healthy too. Just dump the ingredients into your slow cooker and let it do the hard work!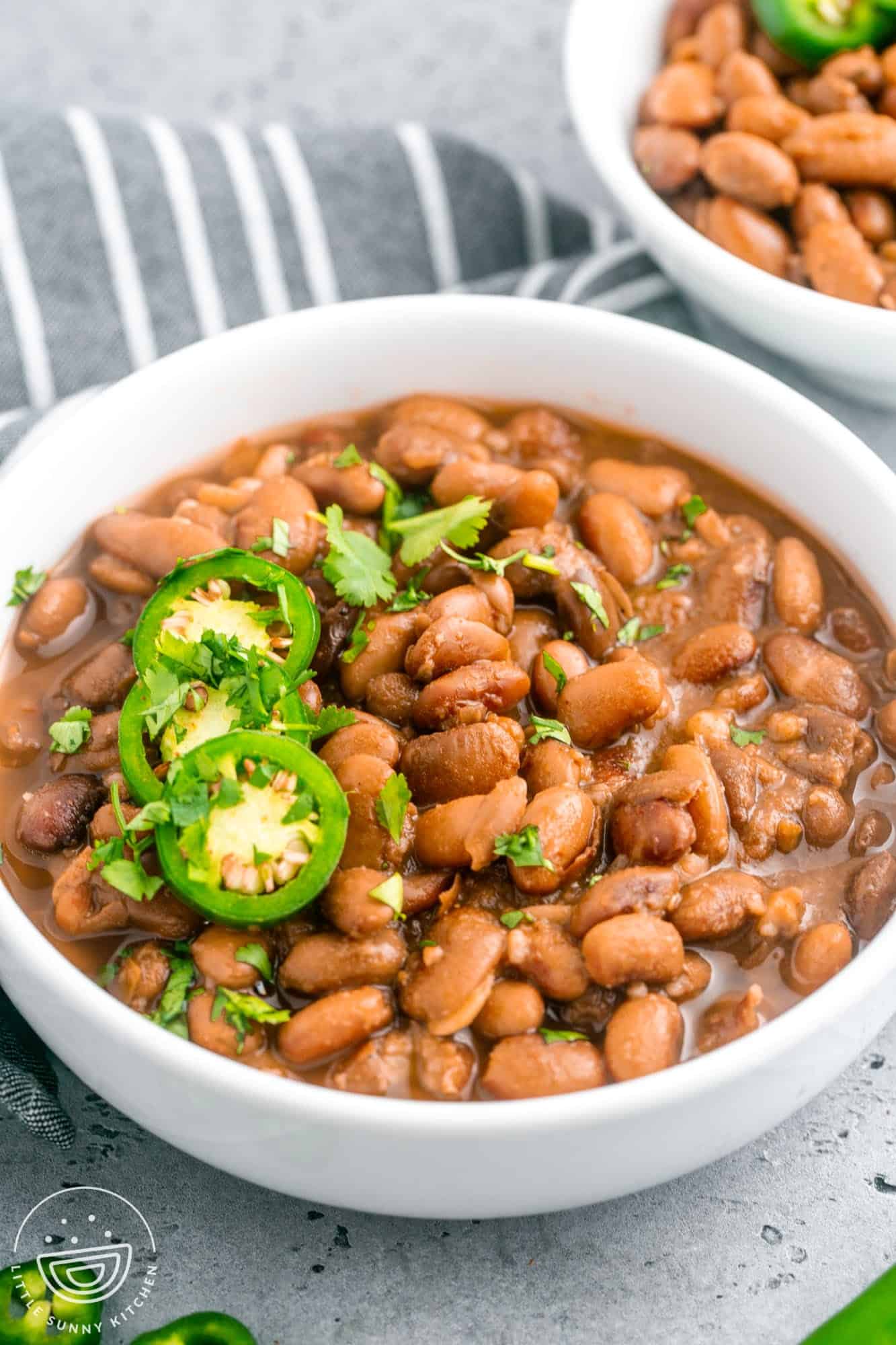 Pinto beans are a staple in many recipes due to their versatility and wholesome nature. This recipe is no exception. If you are familiar with my Instant Pot Pinto Beans recipe, you're going to find this one just as straightforward and delicious.
Why You'll Love This Recipe
Easy-Peasy: Do you like things simple? I bet you do! This recipe is as easy as it gets. All you have to do is put all the ingredients in the crock pot and set a timer. Then you can do your stuff – play, study, watch TV – and when you come back, voila, you have a yummy pot of pinto beans!
Play with Your Food: Not literally, but this recipe lets you be creative. You can eat these pinto beans all by themselves, or you can use them in other things like soups or burritos. You can even change the recipe a little bit by adding your favorite stuff. It's like a fun food project!
Super Healthy: Guess what? Pinto beans are really good for you! They have lots of protein which is great for your body and fiber which is good for your tummy. And there are other cool things in this recipe like garlic, onions, and spices that are also super good for you. So you can enjoy this tasty dish knowing you're doing something good for your body too!
Ingredients Needed
Here's what you need to cook pinto beans in the Crock pot: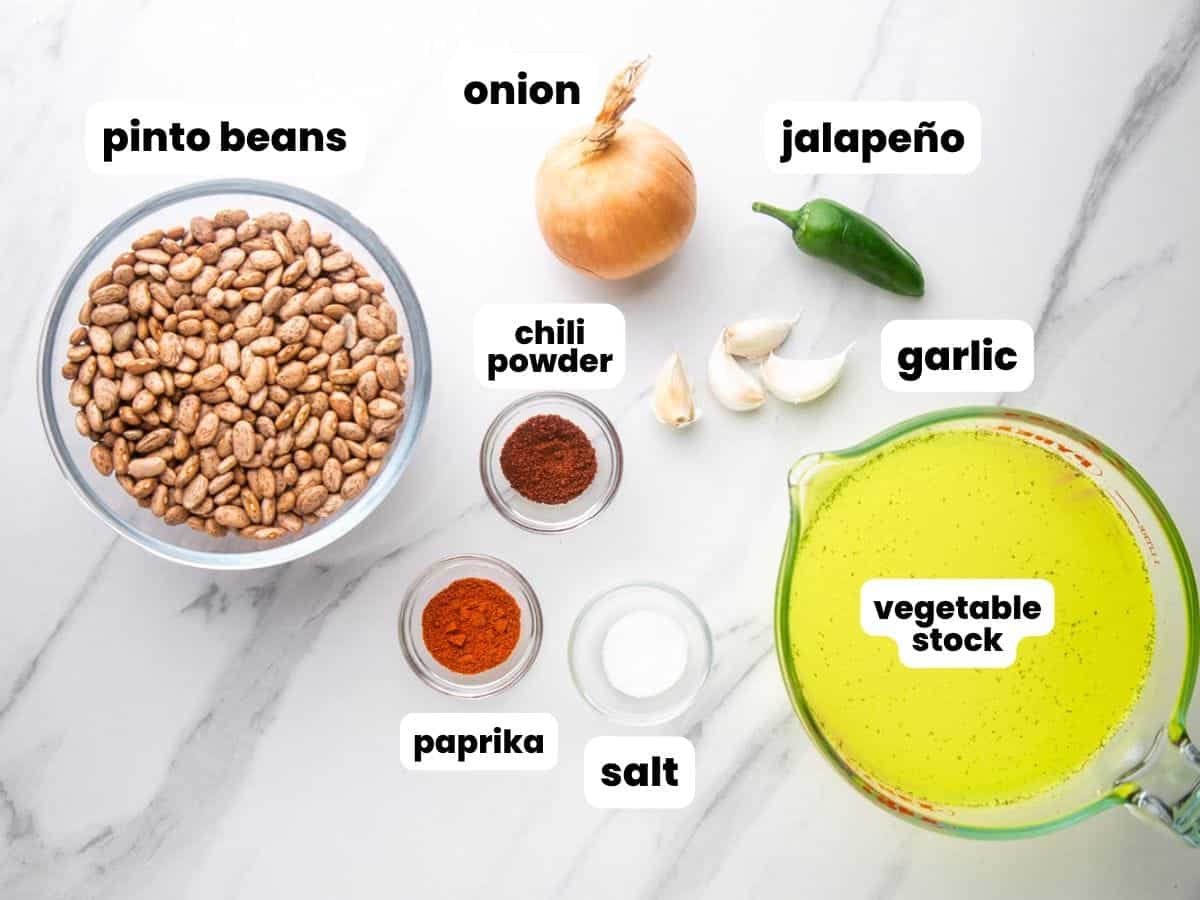 Pinto Beans: Pinto beans are a great source of protein and fiber. Dried beans usually taste better than canned ones and are cheaper too! If you're in a pinch, you can use canned pinto beans, but remember to rinse them thoroughly and reduce the cooking time as they're already cooked.
Vegetable or Chicken Stock: The stock you choose can add a lot of flavor to the beans. Vegetable stock will keep this dish vegetarian, but if you're not worried about that, chicken stock can also give a nice flavor. You can also use water if you prefer.
Yellow Onion: Onions are the base for many recipes because they add a great savory flavor. Make sure to dice your onion small so that it blends well with the beans.
Garlic: Garlic adds a wonderful aroma and flavor to your beans. When you mince the garlic, it helps release all those tasty juices that give your beans that extra zing.
Jalapeño: Jalapeño will add a bit of spice to your dish. If you don't like it too spicy, remember to remove the seeds and membrane inside the jalapeño as that's where most of the heat is.
Ground Cumin: Cumin adds a warm and earthy flavor. It's a common ingredient in Mexican recipes and pairs well with pinto beans.
Chili Powder: Chili powder gives your beans a mild heat and depth of flavor. Remember, it can vary in spiciness depending on the brand, so add according to your preference.
Paprika: Paprika adds a nice sweet and smoky flavor to the dish. If you want to make your beans a little spicier, you can use hot paprika instead.
Complete list of ingredients and amounts can be found in the recipe card below.
Tip!
If you're in the UK and you can't find pinto beans, don't worry! Look for borlotti beans. They're very similar and will work perfectly in this recipe.
How To Cook Pinto Beans in the crock Pot
Here's how you can make your own Crock Pot Pinto Beans at home: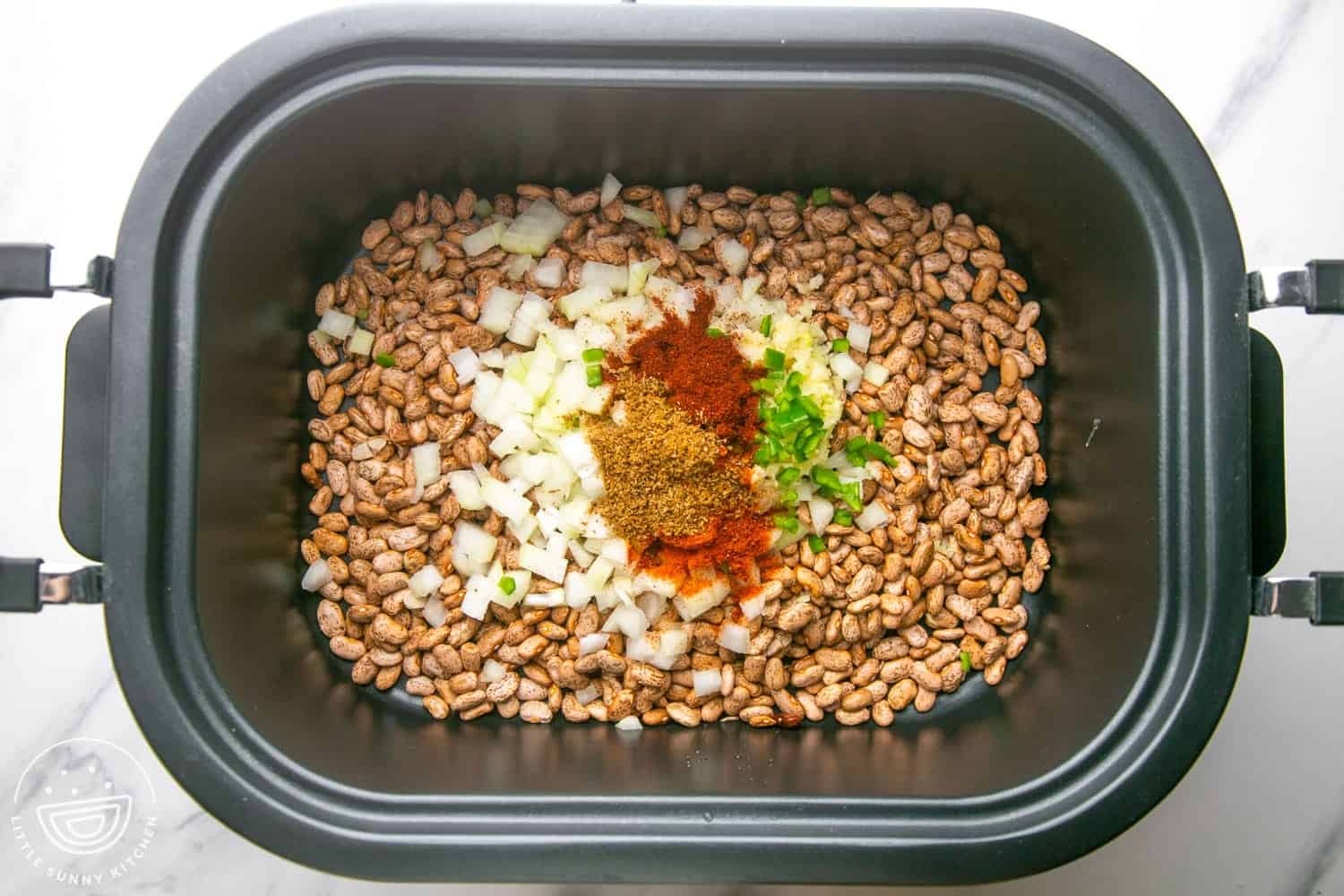 First, you need to wash your pinto beans. This step is important because it gets rid of any dirt that might be on the beans. Plus, this is a good chance to look through the beans and take out any that look bad or damaged.
Next, put the clean beans into your slow cooker. Then, add the chopped onion, garlic, jalapeño, cumin, chili powder, paprika, and salt. After adding all these ingredients, pour your chosen stock (either vegetable or chicken) over everything.
Finally, put the lid on your slow cooker. You can set your cooker to either low or high, depending on how much time you have. If you set it on low, it will take about 8 to 9 hours. If you set it on high, it should take about 5 to 6 hours.
Recipe Tips
Always rinse your beans: Rinsing removes any dirt or impurities and helps ensure you have a great-tasting dish.
Spice to taste: While the recipe provides specific quantities for spices, adjust according to your preference. Some like it hot, some not!
Use a large enough slow cooker: To avoid spillage or overflow, use a slow cooker that's 6-quart or larger.
Don't peek: Resist the urge to lift the lid during cooking. This lets out heat and can significantly extend the cooking time.
Adjust your liquids: If your beans seem too dry, add a bit more stock or water. If they're too soupy, next time, reduce the liquid a bit.
Storing Tips
Let your cooked pinto beans cool completely before storing in the fridge for up to 3 days.
To freeze, pack in ziptop bags and lay flat to save space. When you're ready to reheat, if they're frozen, thaw in the fridge overnight and warm up over the stovetop or in the microwave.
Ideas for Enjoying Your Beans
So you've cooked a big pot of these delicious slow cooker pinto beans, and now you're wondering what you can do with them? The possibilities are truly endless, but here are a few ideas to get you started:
Walking Taco Casserole: Add a hearty, beany twist to this Walking Taco Casserole recipe. Swap out the canned beans for your homemade pinto beans, and you've just elevated your casserole to a new level of yumminess!
Ground Beef Nachos: Who doesn't love nachos? And guess what? Nachos love beans. Layer your crunchy tortilla chips with seasoned ground beef and your slow cooker pinto beans. Follow this Ground Beef Nachos recipe, or make my Chicken Nachos instead!
Instant Pot Chili: Pinto beans make an excellent addition to chili. Their earthy flavor and creamy texture blend perfectly with the tangy, savory notes of a good chili. Try this Instant Pot Chili recipe and substitute some or all of the beans with your homemade ones.
Recipe FAQs
Can I use canned beans instead?
Yes, but adjust the cooking time. Canned beans are already cooked, so they just need to be heated through.
Can I use other types of beans?
This recipe can be used with other beans like black beans or chickpeas.
So there you have it: a simple and delicious recipe for Crock Pot Pinto Beans. They're easy to make, full of flavor, and super versatile.
When you try the recipe, don't forget to leave a review and rate it. And why not pin it to your Pinterest board, so you can easily find it next time you want to make it? Cooking can be fun and rewarding, especially when you make something as tasty as these Crock Pot Pinto Beans. Enjoy!
Did you make this? Be sure to leave a review below and tag me on Facebook, Instagram, or Pinterest!
Recipe
(Click stars to rate!)
Crock Pot Pinto Beans
These Crock Pot Pinto Beans are wonderfully easy to make, require no soaking, and come out perfectly flavorful every time. This recipe will become a staple in your kitchen!
These Crock Pot Pinto Beans are wonderfully easy to make, require no soaking, and come out perfectly flavorful every time. This recipe will become a staple in your kitchen!
Ingredients
1

pound

(

450

g

) dried pinto beans

that's 2 cups in total

4

cups

vegetable stock

or chicken stock or water

1

small

yellow onion

diced

4

cloves

garlic

minced

1

jalapeño

sliced or diced

2

teaspoons

ground cumin

1

teaspoon

chili powder

1

teaspoon

paprika

1

teaspoon

kosher salt
Instructions
Place the pinto beans in a colander, and rinse them well picking out any damaged beans.

Place the beans in a slow cooker (6 quart or larger), then add diced onion, garlic, jalapeno, cumin, chili powder, paprika, and salt. Cover with vegetable or chicken stock.

Cover with the lid, and cook on LOW for 8-9 hours, or on HIGH for 5-6 hours. Have a taste and adjust seasonings to your preference.
Notes:
Storing Tips
Fridge: Let the pinto beans cool completely (mashed or not), and place in airtight containers. Store them in the refrigerator for up to 3 days.
Freezer: You can also freeze pinto beans in freezer Ziploc bags and lay them flat to save space, or freeze for up to 3 months in small portions.
Reheat: If your pinto beans are frozen, then you will need to thaw them in the fridge overnight. Reheat over the stovetop or in the microwave, and you'll probably need to add a splash of water as the beans will be thickened when they're cold.
Nutrition Information
Calories:
351
kcal
,
Carbohydrates:
64
g
,
Protein:
21
g
,
Fat:
2
g
,
Saturated Fat:
1
g
,
Sodium:
614
mg
,
Potassium:
1415
mg
,
Fiber:
16
g
,
Sugar:
3
g
,
Vitamin A:
407
IU
,
Vitamin C:
8
mg
,
Calcium:
133
mg
,
Iron:
6
mg
This website provides approximate nutrition information for convenience and as a courtesy only. Nutrition data is gathered primarily from the USDA Food Composition Database, whenever available, or otherwise other online calculators.
© Little Sunny Kitchen