Caribbean chickpea and potato curry or chana aloo masala is a healthy vegan curry typically served over rice. It's a family-friendly recipe, so easy to make, and ready in under half an hour!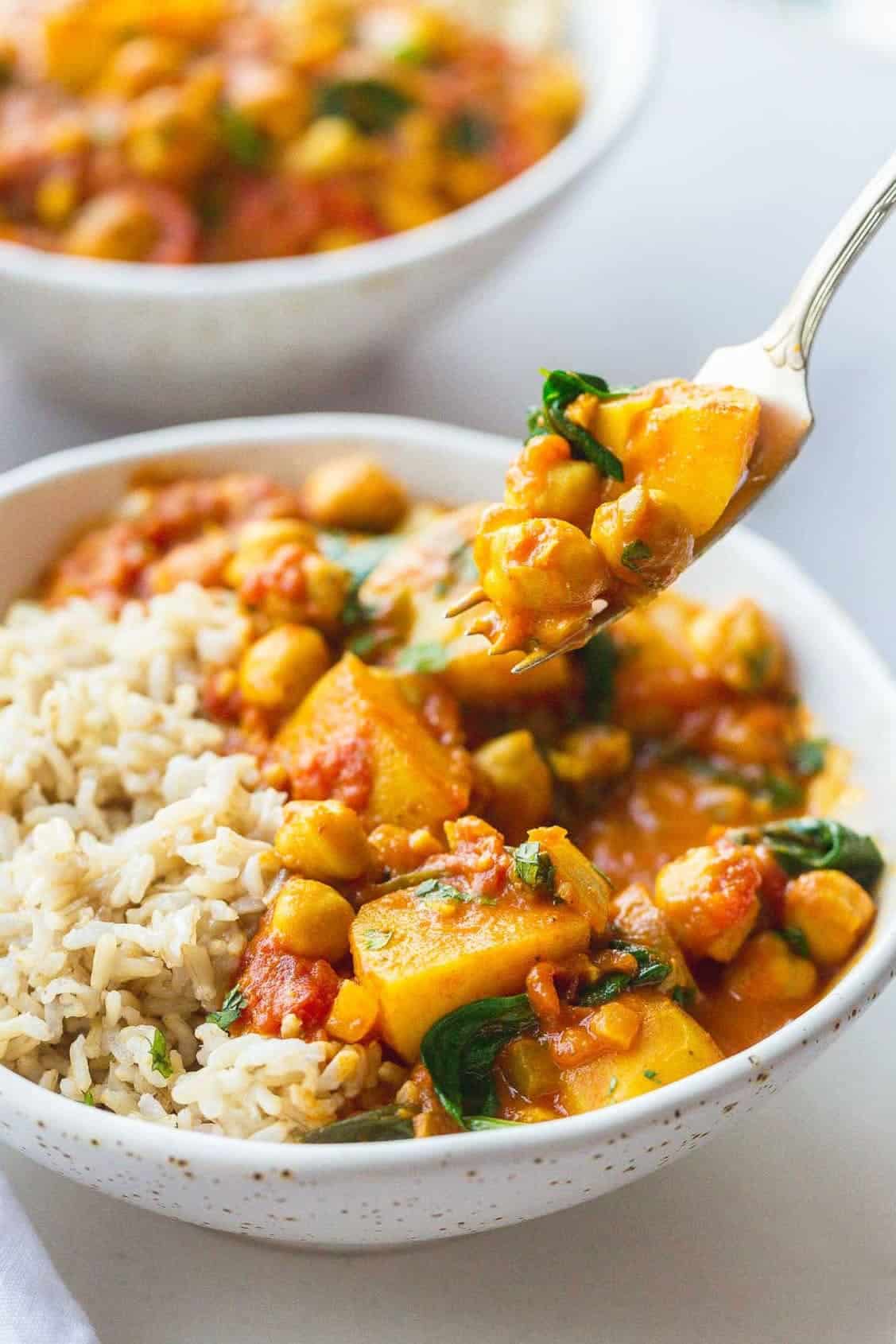 I really enjoy cooking with chickpeas. I like chickpeas in not just hummus, but also in stews, salads, and curries. These little beans are so healthy and nutritious and I believe that everyone needs to have them more often.
This chickpea and potato curry became a family favorite a few months ago when I first started making it, and we now have it at least every fortnight! As I like to keep the spices mild, this curry is suitable for adults and kids. However, if you prefer a spicier curry then I will provide you with what adjustments to make below.
This curry is healthy, easy and quick, and full of flavor. So I figured that it's time to share it on the blog.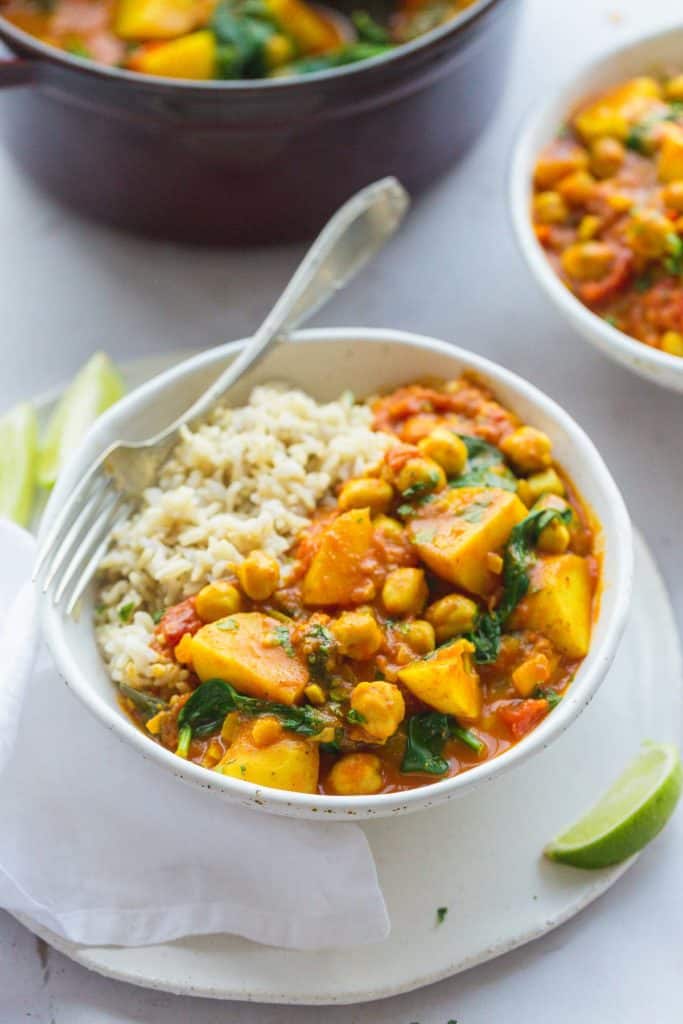 Chickpea and Potato Curry Ingredients
To make this chickpea and potato curry, you will need the following ingredients:
Chickpeas – You can either use tinned or dried chickpeas. If you're using tinned, then you will need to rinse and drain the chickpeas. But if you're using dried chickpeas, then you will need to soak them in water for minimum 3 hours (with 1 tsp of bicarbonate of soda) and then cook them in water with 1 tsp of ground cumin until they're soft.
Potatoes – Wash, peel, and cube the potatoes.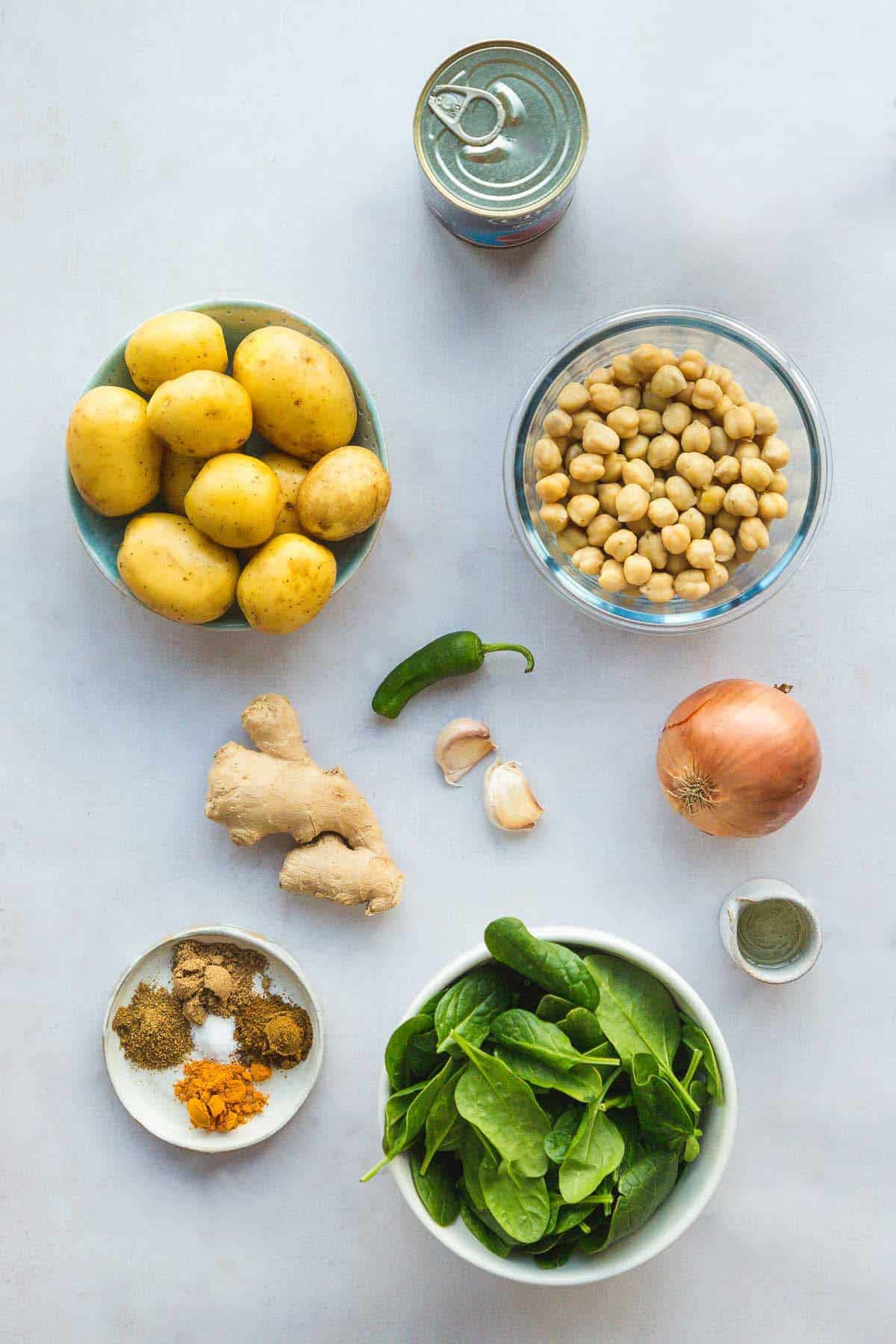 Olive oil, onion & garlic – Dice the onion and mince the garlic.
Spices include garam masala, turmeric, cumin, curry powder, and black pepper – Adding the spices right after cooking the onion and garlic will activate the spices and help infuse the potatoes and chickpeas.
Crushed tomatoes – The tomatoes add a little bit of acidity and help thicken the sauce, they also give this curry a vibrant color.
Salt – I always add the salt near the end of the cooking process, as that's when flavors settle and you will know how much salt do you need to add.
How to Make Chickpea and Potato Curry
Start by heating the olive oil in a large saucepan. Cook the diced onion for a couple of minutes, until it's soft and translucent. Add the garlic, and cook for one more minute while stirring until it's fragrant.
It is very important to add the spices at this stage, as this helps to activate them and they will easily infuse the vegetables that will give you more flavor. I've added different spices to my curry, but if you don't have one or two of them on hand that's not a problem. There's a different version of this curry that does not use garam masala, but I find the curry to be much tastier with the masala added. Turmeric will help bring out the taste in this curry and give it a vibrant color. However, if you don't have any ground turmeric on hand you can skip it.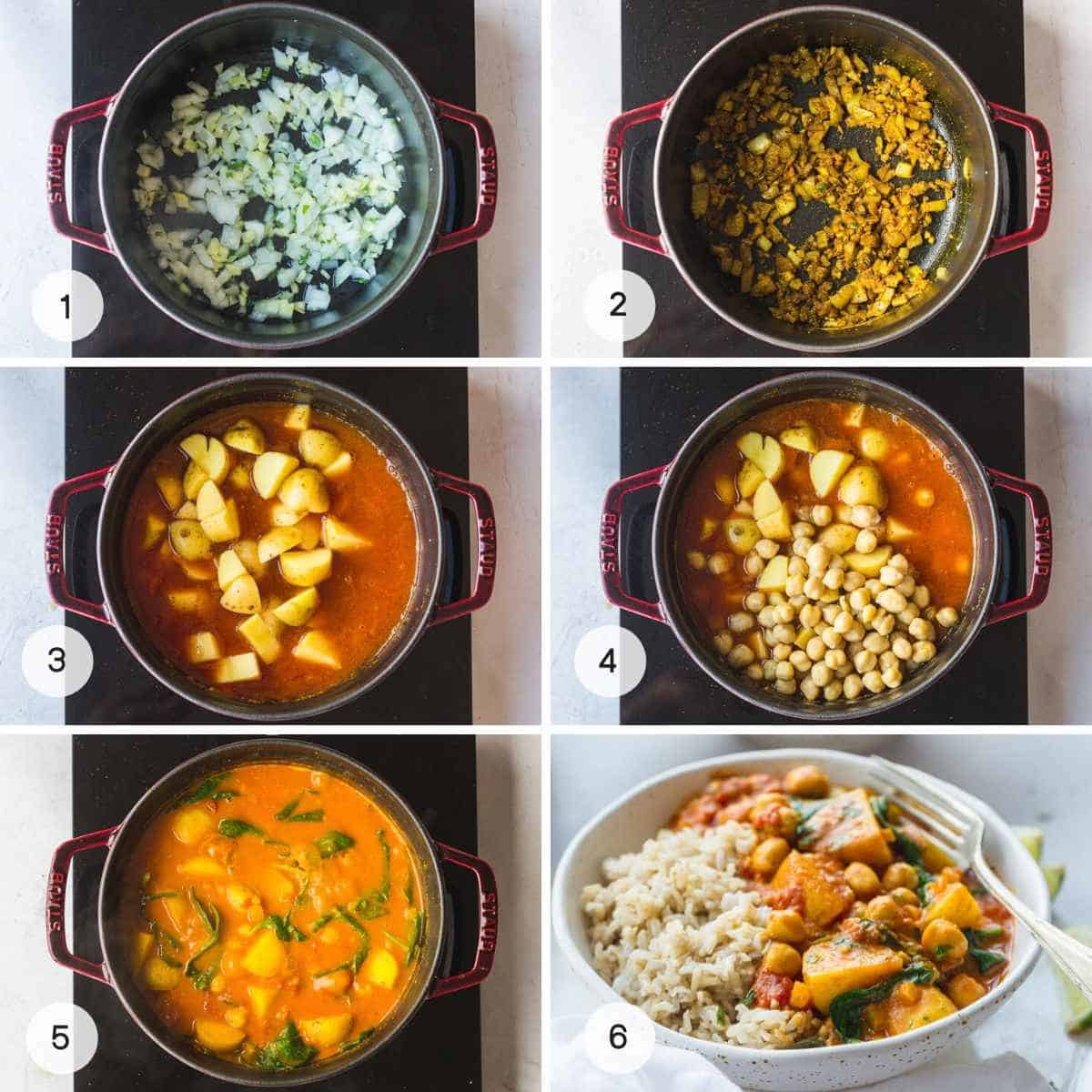 After adding the spices, and cooking them with the onion and garlic for a minute you can add the diced potatoes. Cook the potatoes for a couple of minutes before adding the chickpeas. The potatoes will start to crisp, but make sure not to cook the potatoes for too long as they can become mushy at the end of the cooking process.
Add the cooked chickpeas, vegetable stock, and crushed tomatoes. The stock needs to be hot so it doesn't stop the cooking process. Bring to a boil, cover with a lid and simmer. You can also add the salt at this point.
When the potatoes become soft, it means that the curry is cooked (this will take 5-10 minutes).
At this point, for extra creaminess, you can add half a can (200ml) of coconut milk if you like. This is not what the authentic chana aloo masala looks like, but I love adding coconut milk to my curries. Let the coconut milk simmer for 2-3 minutes.
And finally, add the spinach leaves and allow them to wilt.
Serve over white rice, and sprinkle with crushed toasted peanuts and chopped parsley. You could also serve this curry with homemade naan bread if you prefer.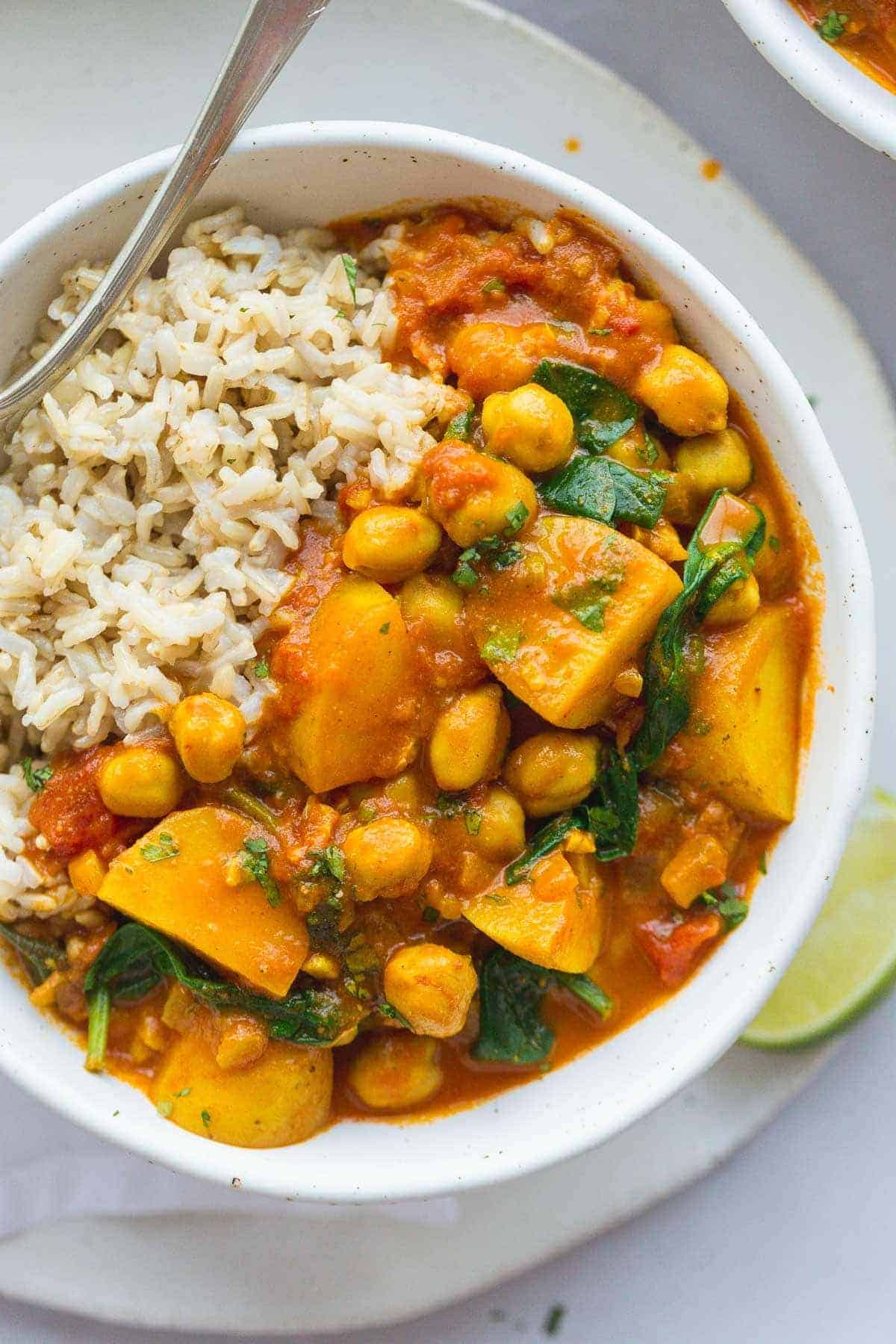 Video Tutorial
Slow Cooker Chickpea and Potato Curry
You could also make this curry in a slow cooker, just make sure that you prepare the veggies first by sautéing them and then put everything together with the vegetable stock and crushed tomatoes in a slow cooker.
Cook on low for 8 hours, or on high for 4 hours. Serve over white rice or with naan bread and top with crushed roasted peanuts and chopped parsley.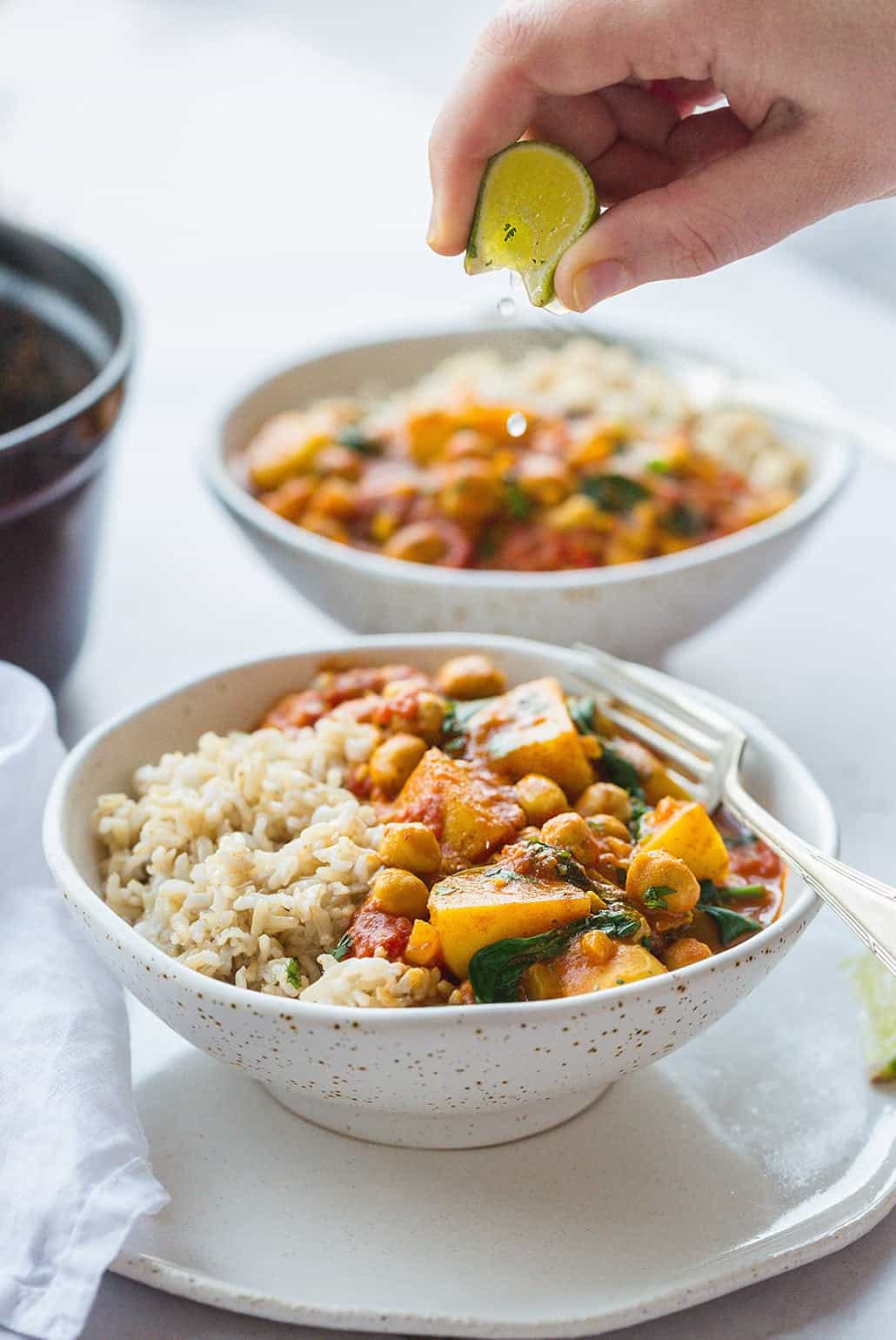 I make all kinds of curries! Below I'm listing my favorite vegan curries that you will also love:
Subscribe to my Newsletter, and follow me on Facebook, Instagram, and Pinterest for more tasty recipes!
I don't feel like I say this often enough, or that I could ever thank you enough. But THANK YOU for all of your support, for visiting my blog, commenting, and sharing my recipes with your friends and family. I am SO thankful for you!
If you make this recipe or any of my recipes, then don't forget to rate it and leave a comment below. I would LOVE to hear about your experience and your comments just make my day!
I hope that you love every recipe that you make! – Diana x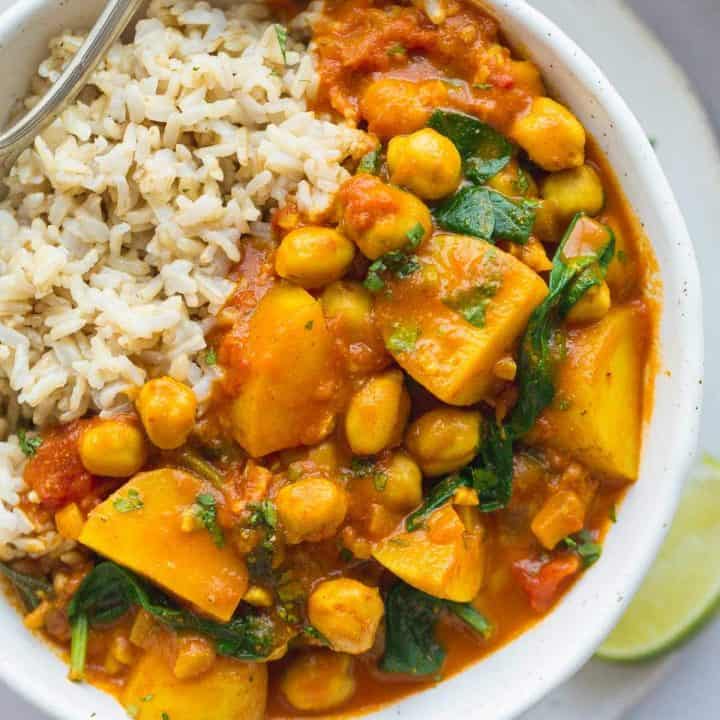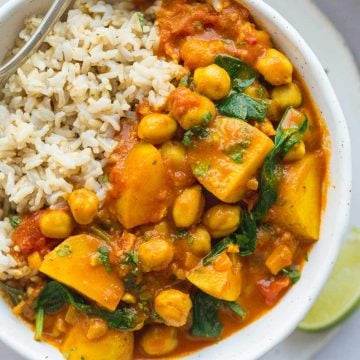 Chickpea and Potato Curry
Caribbean chickpea and potato curry or chana aloo masala is a healthy vegetarian curry served over rice.
Print
Pin
Rate
Ingredients
2

tablespoons

vegetable oil

or canola, corn, sunflower oil

1

onion

diced

2

cloves

garlic

minced

1 inch

(3 cm)

ginger root

grated

1

green chili

deseeded and diced

1

teaspoon

garam masala

½

teaspoon

turmeric

1

teaspoon

ground cumin

½

teaspoon

ground coriander

1 pound

(450 grams)

potatoes

peeled and cubed

1

cup

chickpeas

cooked

1

cup

water

1

can

crushed tomatoes

tinned

½

teaspoon

salt

2

cups

baby spinach leaves

packed

2

tablespoons

½

chopped
Instructions
In a large saucepan, heat oil and saute onions with ginger and chili until the onions are soft and translucent. Add garlic and cook for 1 more minute or until its fragrant.

Add the spices, cook and keep stirring for 1 more minute or until fragrant.

Add diced tomatoes, then refill the same can with water and add the water to the pot.

Add the potatoes and the chickpeas. Bring to boil, reduce the heat and let it simmer until the potatoes become soft. You can add half of a can of coconut at this point if you like (optional).

Wilt the spinach leaves by adding them to the curry and cook for a minute. Serve over rice and garnish with chopped parsley or coriander.
Notes
If you prefer spicier curry, then add 1 teaspoon of chilli powder.
For extra flavor, add ½ teaspoon of paprika or smoked paprika.
If you're opening a whole can of chickpeas and don't know how to use it up, by all means, add it to the curry!
Nutrition
Calories:
236
kcal
|
Carbohydrates:
35
g
|
Protein:
8
g
|
Fat:
9
g
|
Saturated Fat:
6
g
|
Sodium:
371
mg
|
Potassium:
921
mg
|
Fiber:
8
g
|
Sugar:
6
g
|
Vitamin A:
1695
IU
|
Vitamin C:
34
mg
|
Calcium:
117
mg
|
Iron:
7
mg