This elegant and creamy pastry-wrapped Brie En Croute appetizer will be a hit at your next party! It's so easy to make, and requires only 4 ingredients and 5 minutes of prep time. Perfect for the holidays and family get-togethers!
If you're looking for a crowd-pleasing appetizer, this puff pastry baked brie with jam is perfect! It is creamy, savory, sweet, and absolutely delicious!
Thanks to store-bought puff pastry sheets, this baked brie is a foolproof appetizer that will turn out perfect every time. You only need 4 ingredients to make it, and you'll find yourself making this delicious holiday appetizer every year.
For more holiday appetizers, check out my Christmas Tree Cheese Ball, Christmas Charcuterie Board, Cheesy Pull Apart Bread, and these Easy Cranberry Brie Bites.
Ingredients Needed
You only need 4 ingredients to make baked brie in puff pastry:
Complete list of ingredients and amounts can be found in the recipe card below.
Brie: This is the star of the dish. Brie is a soft, creamy cheese with a mild yet deeply satisfying flavor. It melts beautifully, making it perfect for this recipe. If you can't find Brie or want to try something different, Camembert is a great substitute. It's similar in texture and taste.
Jam: Raspberry jam adds a lovely sweet contrast to the creamy Brie. Its tartness complements the richness of the cheese and puff pastry. You can easily swap raspberry jam with other flavors like apricot, fig, or even spicy pepper jelly for a unique twist. The key is to choose a jam that pairs well with the creamy and savory notes of Brie.
Puff Pastry: Puff pastry is what gives this appetizer its delightful flaky texture. Most store-bought puff pastry comes frozen, so you'll need to thaw it before use. Just leave it in the refrigerator overnight or on the counter for for 15-30 minutes. Be careful not to let it sit out too long, as it can become sticky and difficult to work with. If puff pastry isn't available, you could use phyllo dough as an alternative, though the texture will be slightly different – more crispy than flaky.
Egg (for an egg wash): The egg wash is a crucial step. It gives the pastry a beautiful golden color and helps to seal the edges. Simply beat an egg and brush it over the pastry before baking. If you're out of eggs or prefer not to use them, you can use a bit of milk or cream for a similar effect, though the color might not be as rich.
How To Make Brie En Croute
Begin by preheating your oven to 375°F (190°C). Allow the puff pastry to thaw for about 15 minutes at room temperature until it's pliable enough to unfold.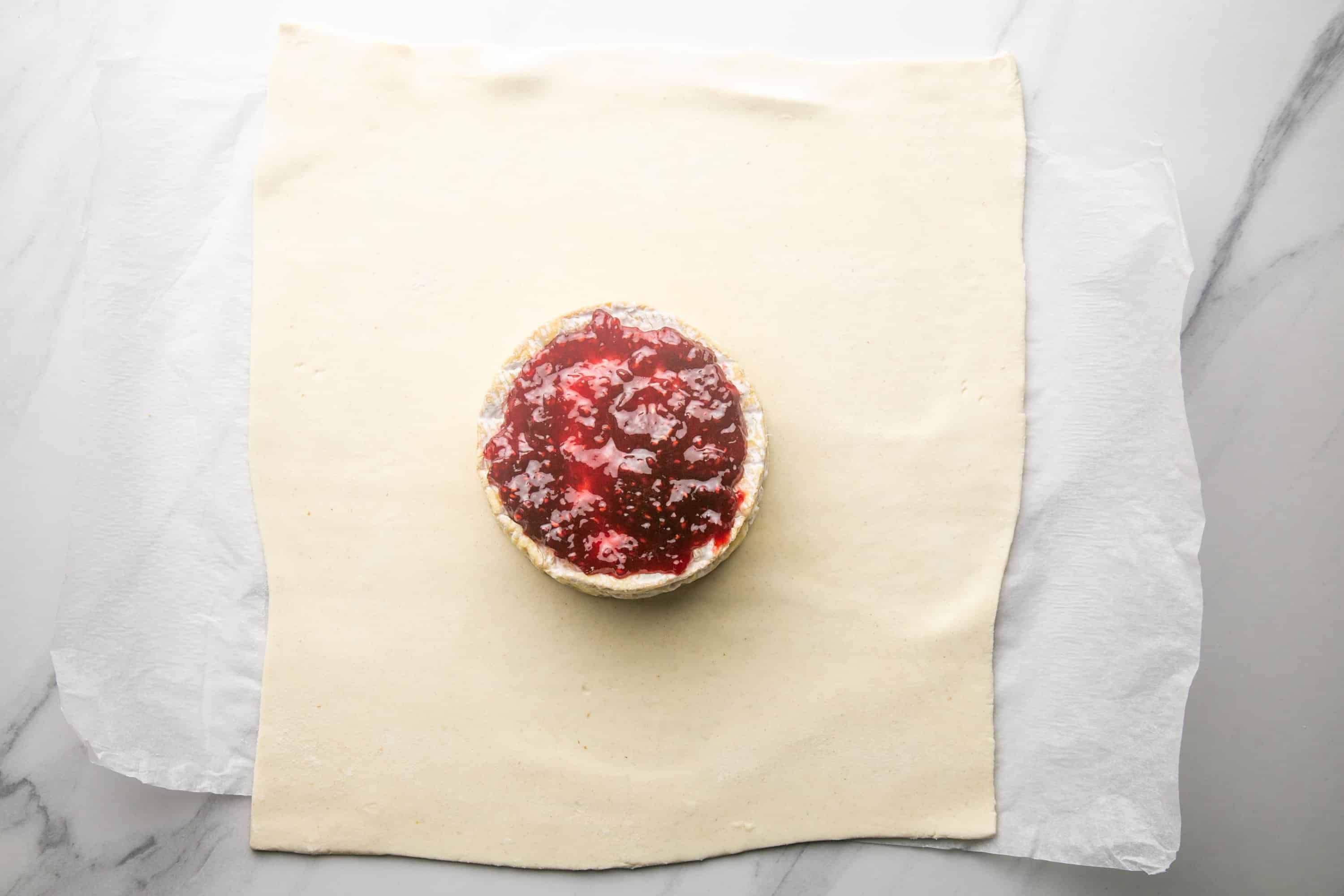 Spread your chosen jam evenly over the top of the Brie cheese (no need to remove the rind). This will add a sweet and fruity layer to the dish.
On a clean surface, lay out the puff pastry. Place the jam-topped Brie in the center of the pastry. Gently bring the edges of the pastry up around the Brie, ensuring to gather and pinch at the top to seal it well. This step is crucial to keep the Brie enclosed as it bakes.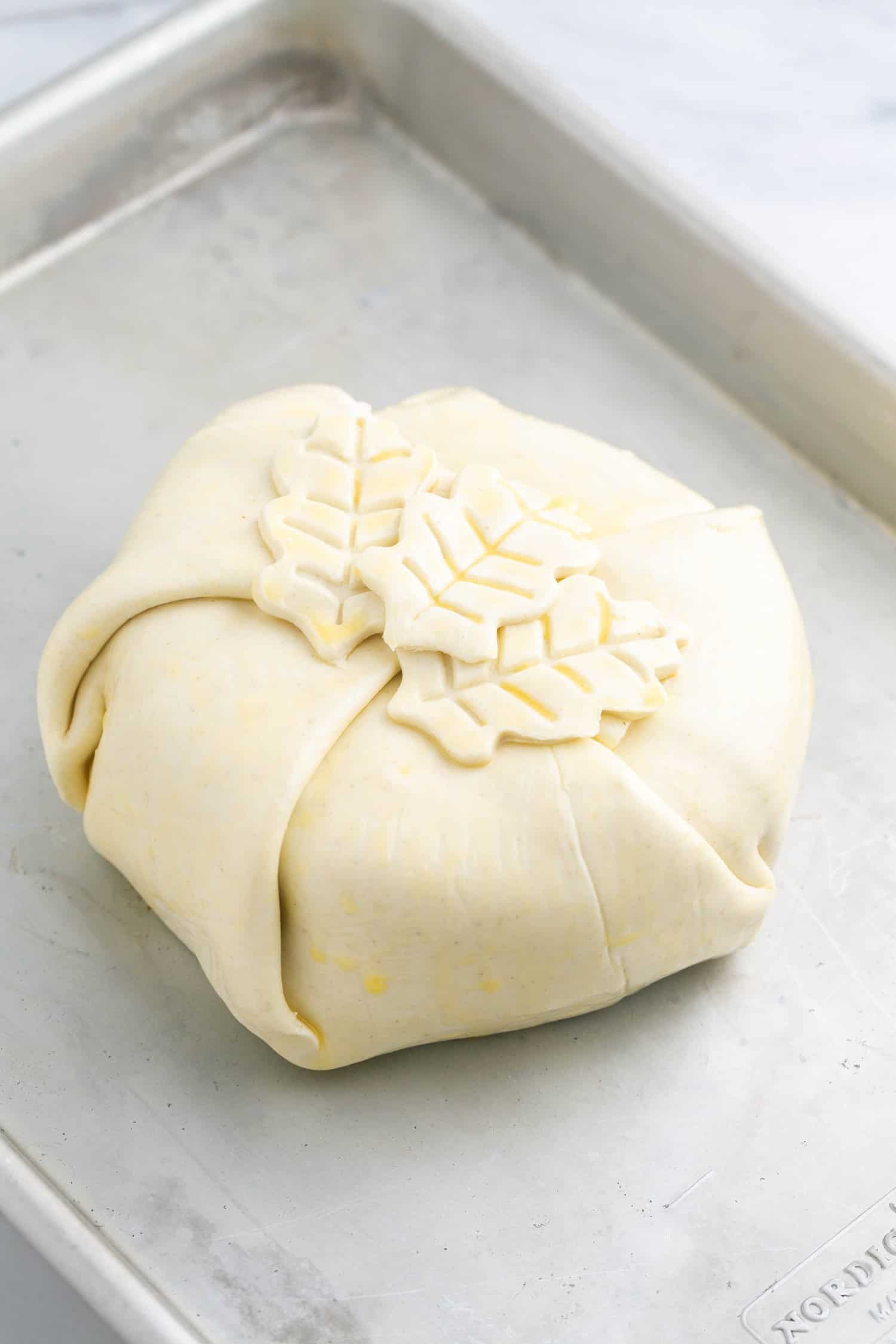 Brush the beaten egg over the entire surface of the pastry-wrapped Brie, covering both the top and sides. This will give the pastry a beautiful golden finish as it bakes.
Transfer the Brie onto a baking sheet lined with parchment paper. Bake in the preheated oven for about 20 minutes, or until the pastry puffs up and turns a rich golden brown.
Serve this delightful appetizer warm, accompanied by crackers and/or fresh fruit creating a perfect blend of creamy, sweet, and crisp textures.
Tip!
A Brie wedge also works here! But I think that a wheel of brie looks nicer if you're able to get one.
Recipe Tips
Egg Wash Application: Be generous with the egg wash. It not only helps in sealing the edges but also gives the pastry a beautiful golden color. Brush it evenly over the entire surface, including the sides.
Baking Temperature and Time: Keep an eye on your oven temperature and baking time. Ovens can vary, so start checking your Brie En Croute around the 15-minute mark. It's done when the pastry is puffed and golden brown.
Letting it Rest: Allow the Baked Brie En Croute to rest for a few minutes after taking it out of the oven. This resting period helps the cheese set a bit, making it easier to cut and serve without being too runny.
Decorative Touches: If you're using decorative pastry shapes, like leaves or stars, apply them gently but firmly to ensure they stick to the main pastry. You can also brush them with egg wash for a shiny finish.
Serving Suggestions: Serve your Brie with a variety of accompaniments like crackers, sliced baguette, apple slices, or grapes. This variety allows guests to enjoy different flavor combinations.
Experiment with Flavors: Don't hesitate to experiment with different types of jam or even honey for a different flavor profile. Each type of jam can offer a unique twist to the recipe.
Making Ahead & Storing Tips
Make-Ahead Tips:
Prepping the Night Before: You can assemble the Brie En Croute a day in advance. Wrap it in the puff pastry with the jam, seal it well, and then store it in the refrigerator overnight. Just remember to cover it tightly with plastic wrap to prevent the pastry from drying out.
Freezing: You can also freeze the assembled but unbaked Brie En Croute. Wrap it tightly in plastic wrap and then in aluminum foil. It can be stored in the freezer for up to 2 months. When you're ready to bake, there's no need to thaw; just add a few extra minutes to the baking time.
Storing Leftovers:
Refrigerating: If you have leftovers, they can be stored in the refrigerator. Wrap the Brie En Croute in plastic wrap or place it in an airtight container. It will keep for 3-4 days.
Reheating: To reheat, place it in an oven preheated to 350°F (175°C) for about 10 minutes or until it's warmed through. Microwaving is not recommended as it can make the pastry soggy.
Note on Texture
Keep in mind that the puff pastry will lose some of its crispness once refrigerated or frozen and reheated. It's best enjoyed fresh, but these methods can be used if you have leftovers or need to prepare ahead of time.
This Brie En Croute is an absolute showstopper! Perfect for any gathering, it's sure to be the centerpiece of your appetizer table. Remember to save this recipe by pinning it, and enjoy the smiles and compliments as your guests savor every bite. Don't be surprised if it becomes a requested favorite at all your future events!
Did you make this? Be sure to leave a review below and tag me on Facebook, Instagram, or Pinterest!
Recipe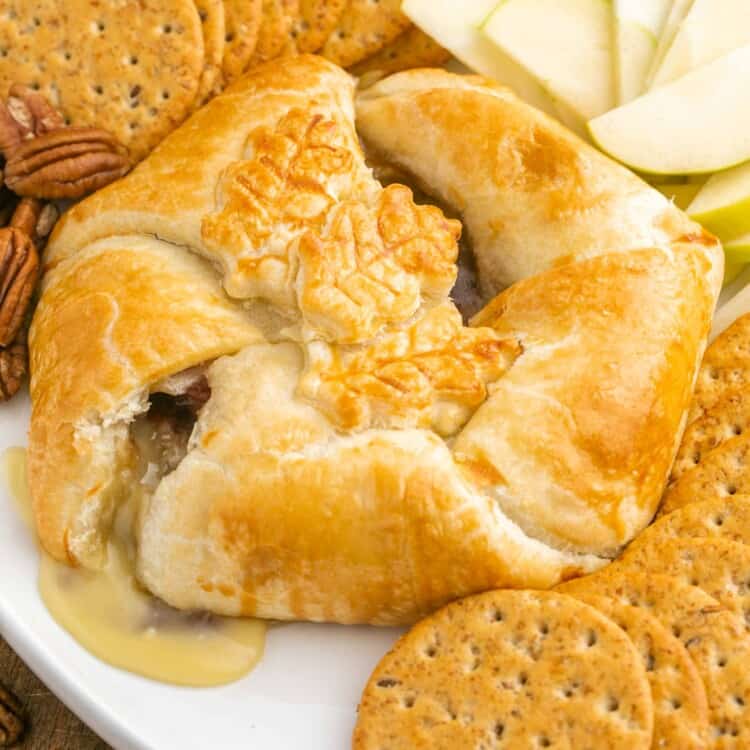 (Click stars to rate!)
Baked Brie En Croute
This Brie En Croute combines creamy Brie and sweet jam in a golden, flaky puff pastry, creating an irresistible appetizer perfect for any gathering. Simple to prepare with minimal ingredients, it's an elegant, crowd-pleasing dish that can be made ahead for easy entertaining.
This Brie En Croute combines creamy Brie and sweet jam in a golden, flaky puff pastry, creating an irresistible appetizer perfect for any gathering. Simple to prepare with minimal ingredients, it's an elegant, crowd-pleasing dish that can be made ahead for easy entertaining.
Ingredients
1

8-12 oz

brie wheel

do not remove the rind

1

sheet

puff pastry

they usually come 2 in a 17.3oz box

2

tablespoons

jam of choice

quince jam, marmalade, cranberry or berry jam, apricot preserves

1

egg

for egg wash
Instructions
Preheat your oven to 375°F (190°C).

Thaw the puff pastry for 15 minutes until it's easy to unfold.

Place the Brie round (rind on) in the center of the unfolded pastry.

Spread your favorite jam generously on top of the Brie.

Gently bring the pastry edges up over the Brie, sealing it by pinching the dough at the top.

Optional: Use a cookie cutter to create decorative shapes from excess pastry and arrange them on top.

Brush the pastry with a beaten egg for a golden finish.

Bake on a parchment-lined baking sheet for 20 minutes, or until golden brown.

Serve warm with crackers and fresh fruit.
Notes:
Cheese Selection: Full-sized Brie rounds are ideal, but smaller ones can be used for individual servings.
Jam Varieties: Feel free to experiment with different jam flavors like apricot, fig, or pepper jelly.
Decorative Touches: Decorative pastry shapes add a festive look but are optional.
Make-Ahead Tip: Assemble the Brie En Croute a day ahead and store it in the refrigerator, or freeze for longer storage.
Serving Suggestion: For a complete appetizer, pair with a variety of crackers, apple slices, and grapes.
Leftovers: Store in the refrigerator and reheat in the oven for best results.
Nutrition Information
Calories:
89
kcal
,
Carbohydrates:
8
g
,
Protein:
1
g
,
Fat:
6
g
,
Saturated Fat:
1
g
,
Polyunsaturated Fat:
1
g
,
Monounsaturated Fat:
3
g
,
Trans Fat:
0.001
g
,
Cholesterol:
10
mg
,
Sodium:
40
mg
,
Potassium:
14
mg
,
Fiber:
0.2
g
,
Sugar:
1
g
,
Vitamin A:
15
IU
,
Vitamin C:
0.2
mg
,
Calcium:
4
mg
,
Iron:
0.4
mg
This website provides approximate nutrition information for convenience and as a courtesy only. Nutrition data is gathered primarily from the USDA Food Composition Database, whenever available, or otherwise other online calculators.
© Little Sunny Kitchen