Air fryer asparagus makes a great side dish to be served on the side of any meal! Cooked to perfection in just 8 minutes, this recipe is easy, quick, and requires very minimal effort.
This post explains how you can make air fryer roasted asparagus with olive oil and seasoning, as well as asparagus and mushrooms with almonds!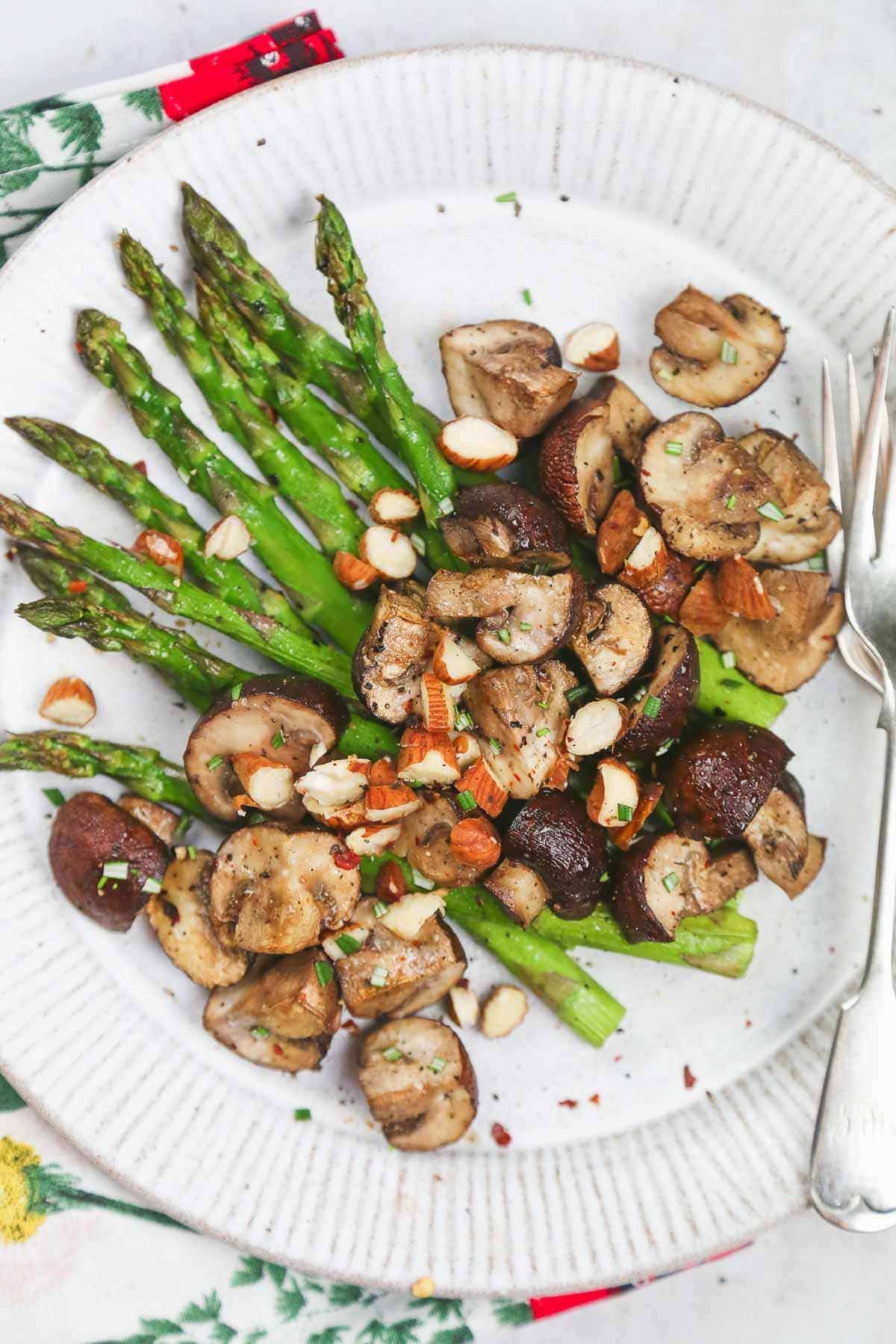 Sometimes the simplest dishes are the best, and this air fryer roasted asparagus is one of the easiest side dishes that you can make that goes very well on the side of your protein.
Air fryer roasted asparagus is a very tasty side dish, but if you want to jazz this side dish up a little just add some mushrooms to your frying basket!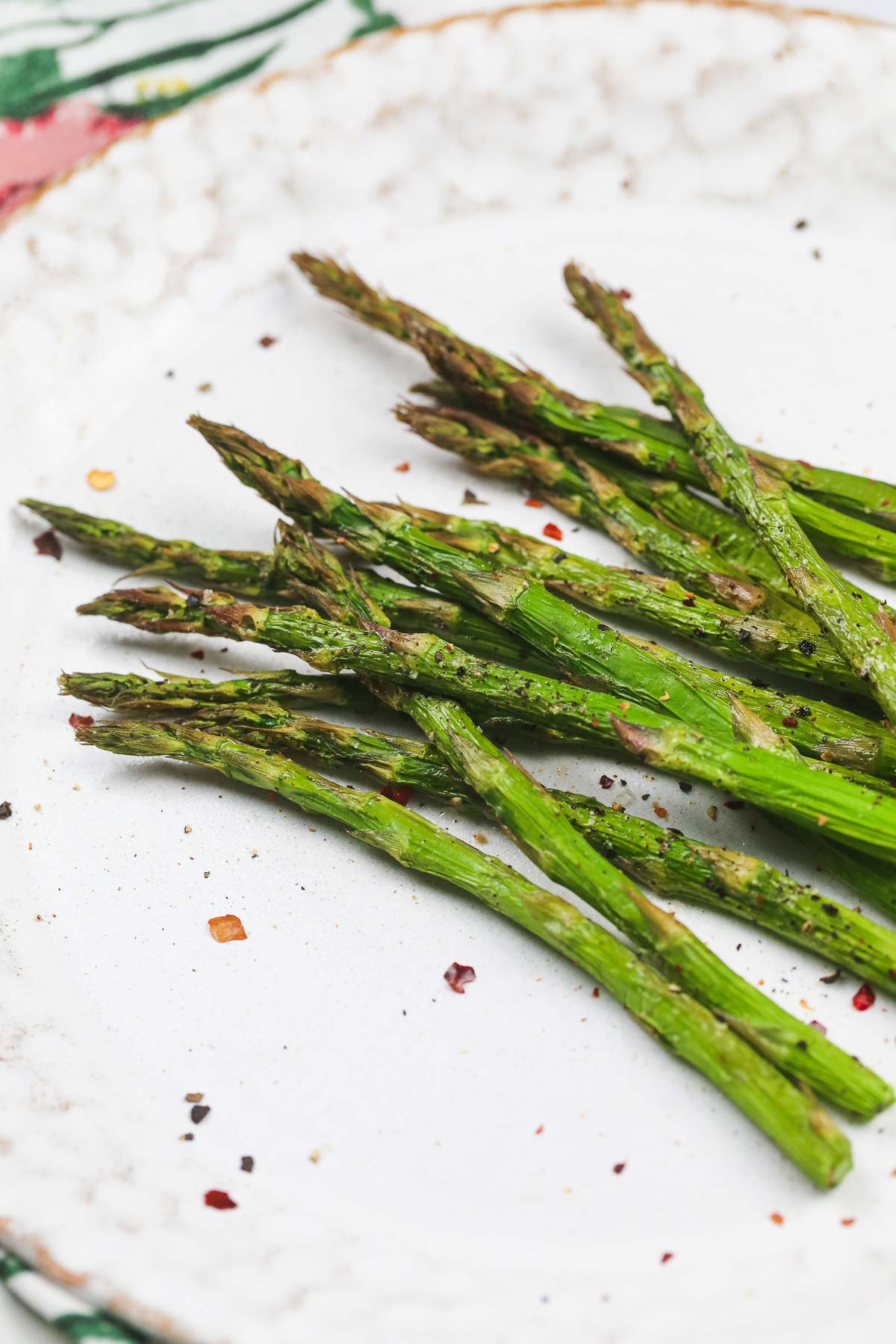 Air Fryer Asparagus Recipe
The asparagus always comes out soft and tender from the inside when cooked in the air fryer, but with crispy ends. And these crispy ends is what makes this method of cooking so special. I could even devour a plate of this asparagus on my own, I just sprinkle some extra nutritional yeast flakes and Oh my God how can anyone resist?!
Recommended Tools
How to Make Simple Air Fryer Asparagus
This is so easy, and can be summed up in just 2 sentences. But I will explain in detail for you to achieve the perfect crispiness that I'm sure that you want and just in case you might have any questions, I'll do my best to answer them below.
Step 1.
Prepare asparagus for air frying: start by washing the asparagus, and trimming the ends off. The ends tend to be a bit dry and woody, so you need to get rid of those. Trim about 2 inches, but this also depends on how fresh your asparagus is.
Scatter the asparagus stalks in your air fryer basket.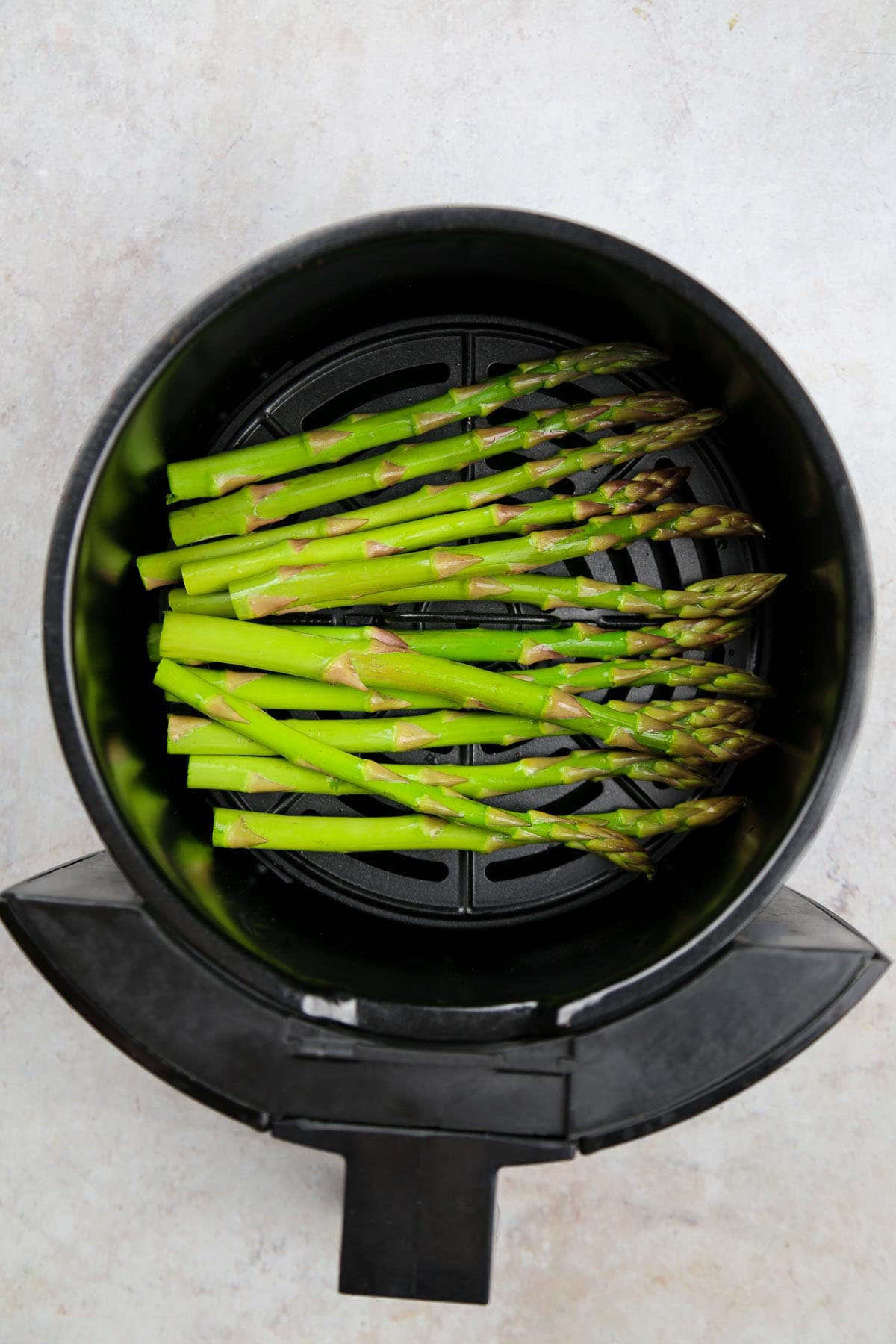 Step 2.
You will need an oil mister, I have this one and I love it so much. I just fill it with olive oil and use it to spray my salads, veggies for roasting and even baking pans.
Spray the asparagus with the oil mister, and season with sea salt and freshly ground black pepper.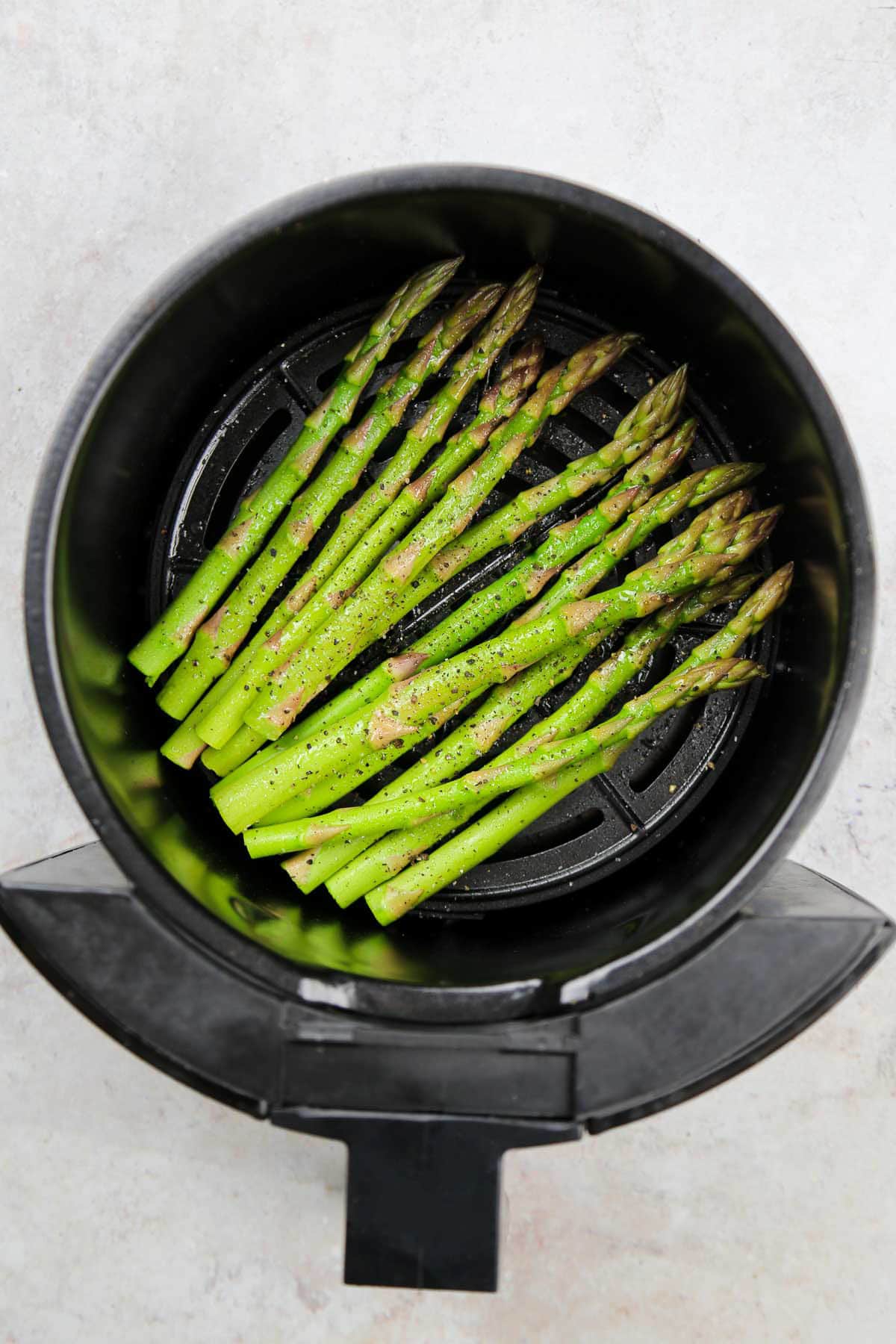 Step 3.
Insert the frying basket into the air fryer, and cook on 390°F (200°C) for 8 minutes.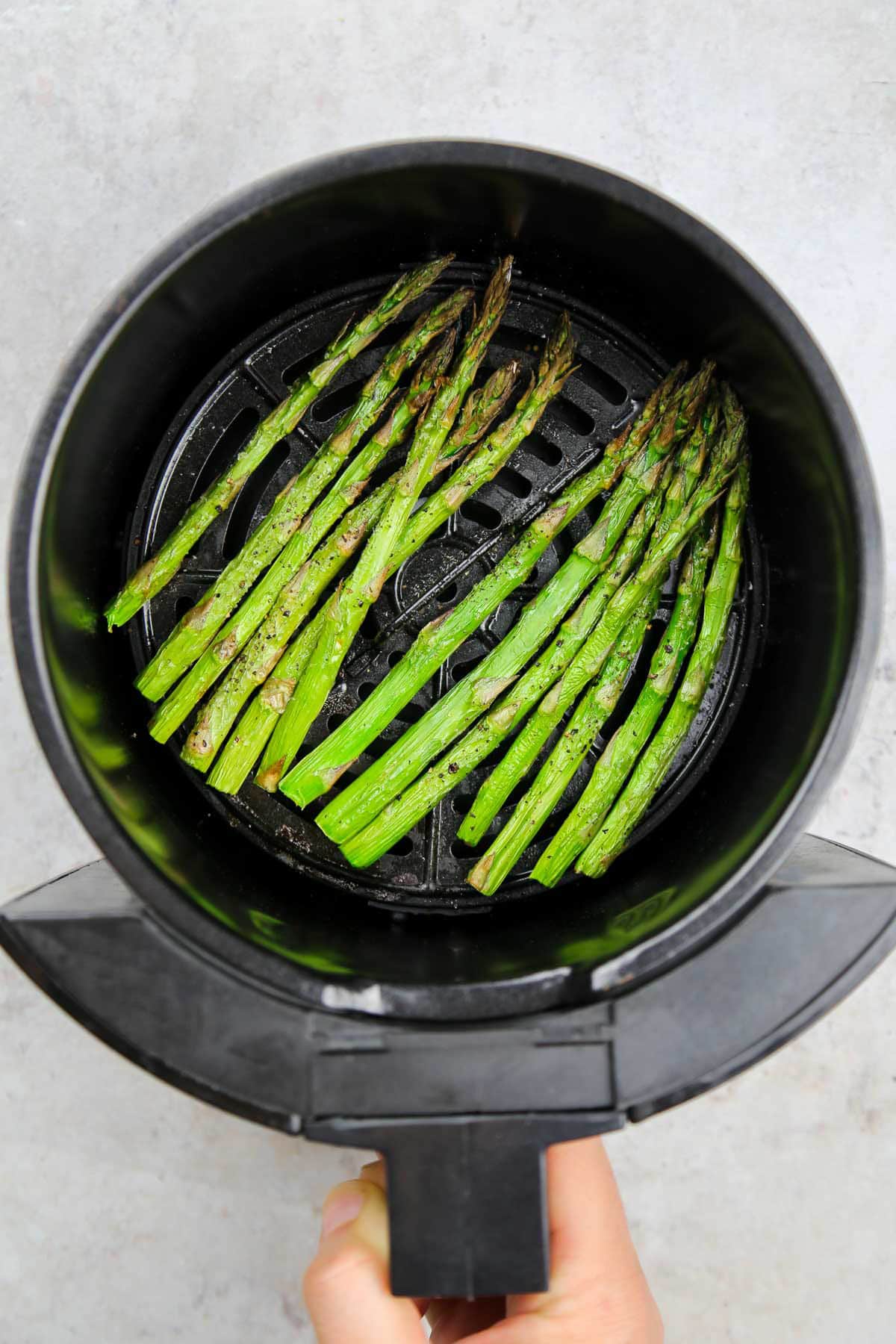 Now that the asparagus is ready, serve it immediately as a side dish and enjoy!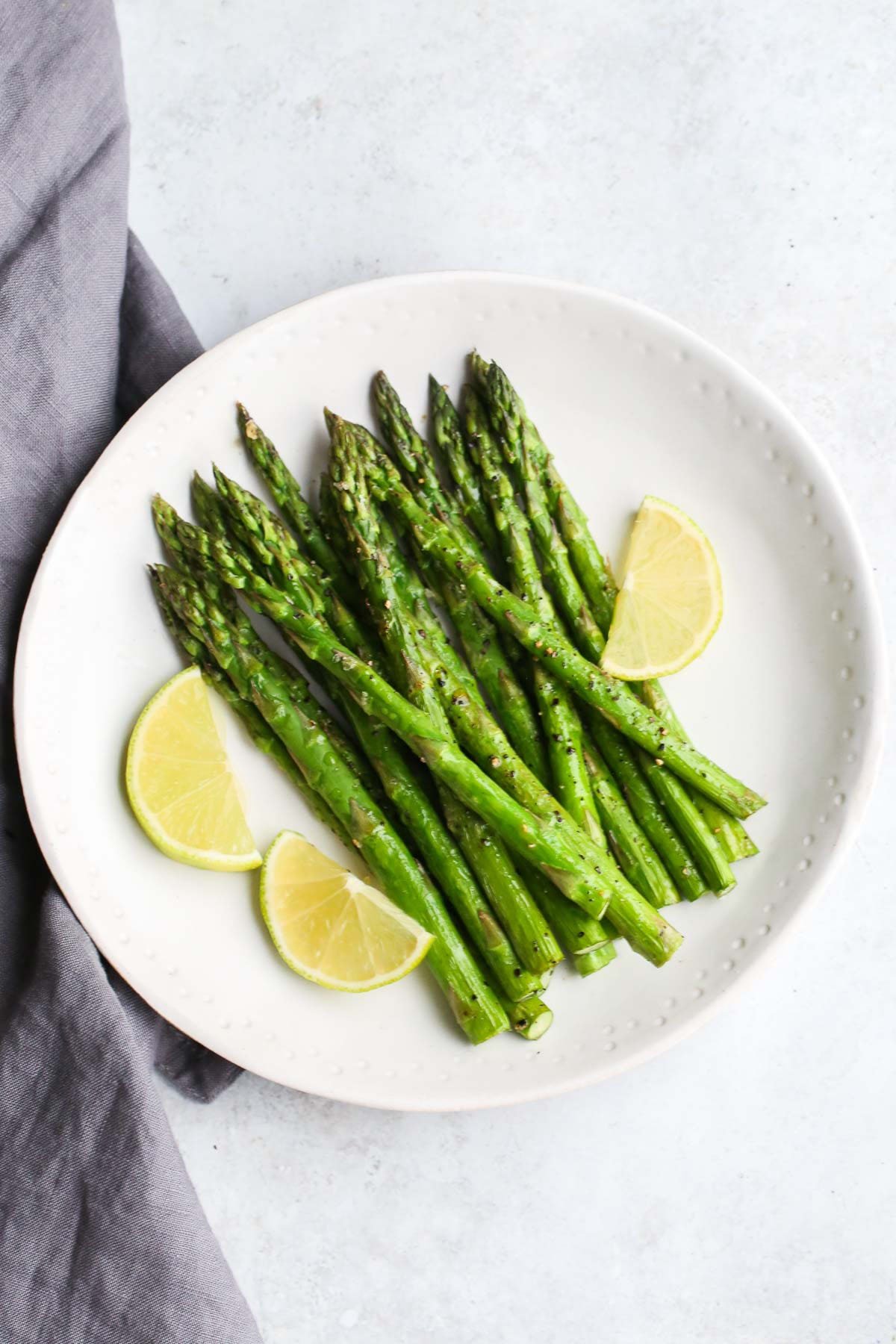 What to Serve With
Now comes one of my all-time favorite air fryer recipes, asparagus with mushrooms and almonds!
How to Make Air Fryer Asparagus and Mushrooms
To make this simple and tasty dish, you will need:
Fresh asparagus, mushrooms, and almonds.
Olive oil, fresh rosemary, salt, and pepper.
For an Air Fryer mushroom and garlic recipe, follow this link.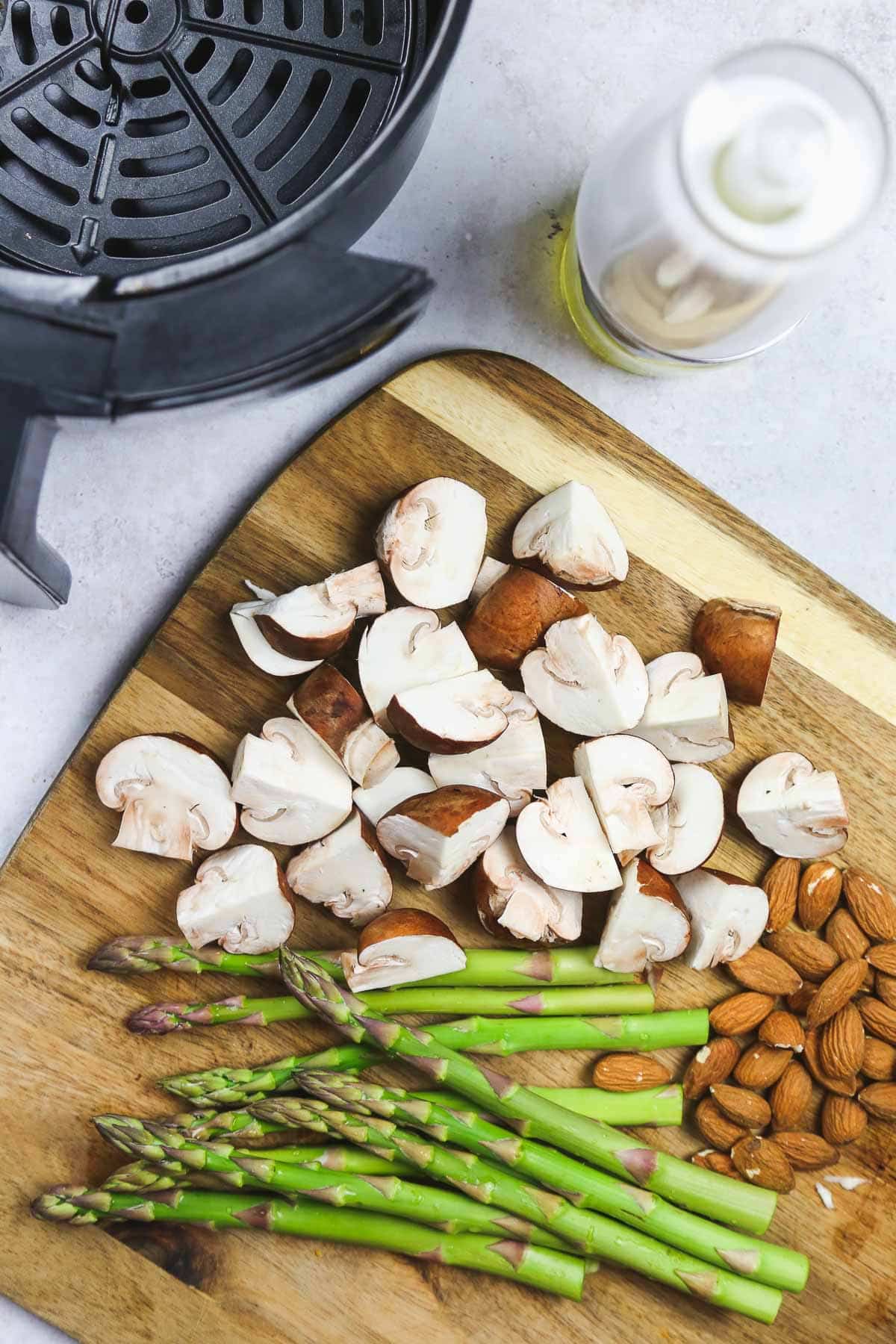 Step 1.
As done above, wash and trim the asparagus stalks and slice the mushrooms into quarters. Place in the air fryer, spray with olive oil using an oil mister, season and cook on 390°F (200°C) for 8 minutes.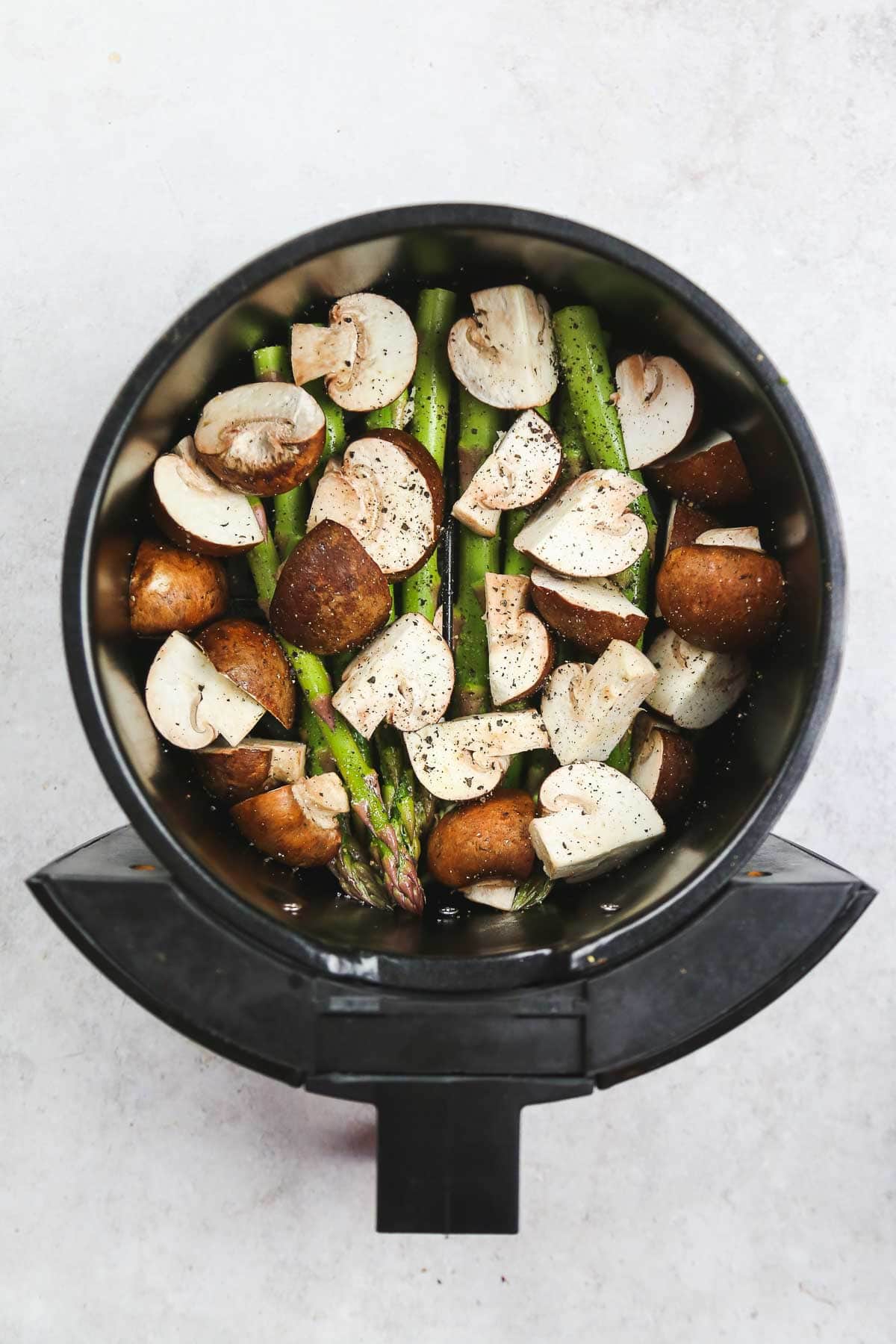 Step 2.
Meanwhile, soak some unblanched almonds in warm water. This will help them soften a little (the almonds will still be crunchy but just easier to eat and this texture goes better with the crispy asparagus).
Once you take them out from the water, roughly chop them and set aside..
Step 3.
After 8 minutes, your asparagus and mushrooms will be ready.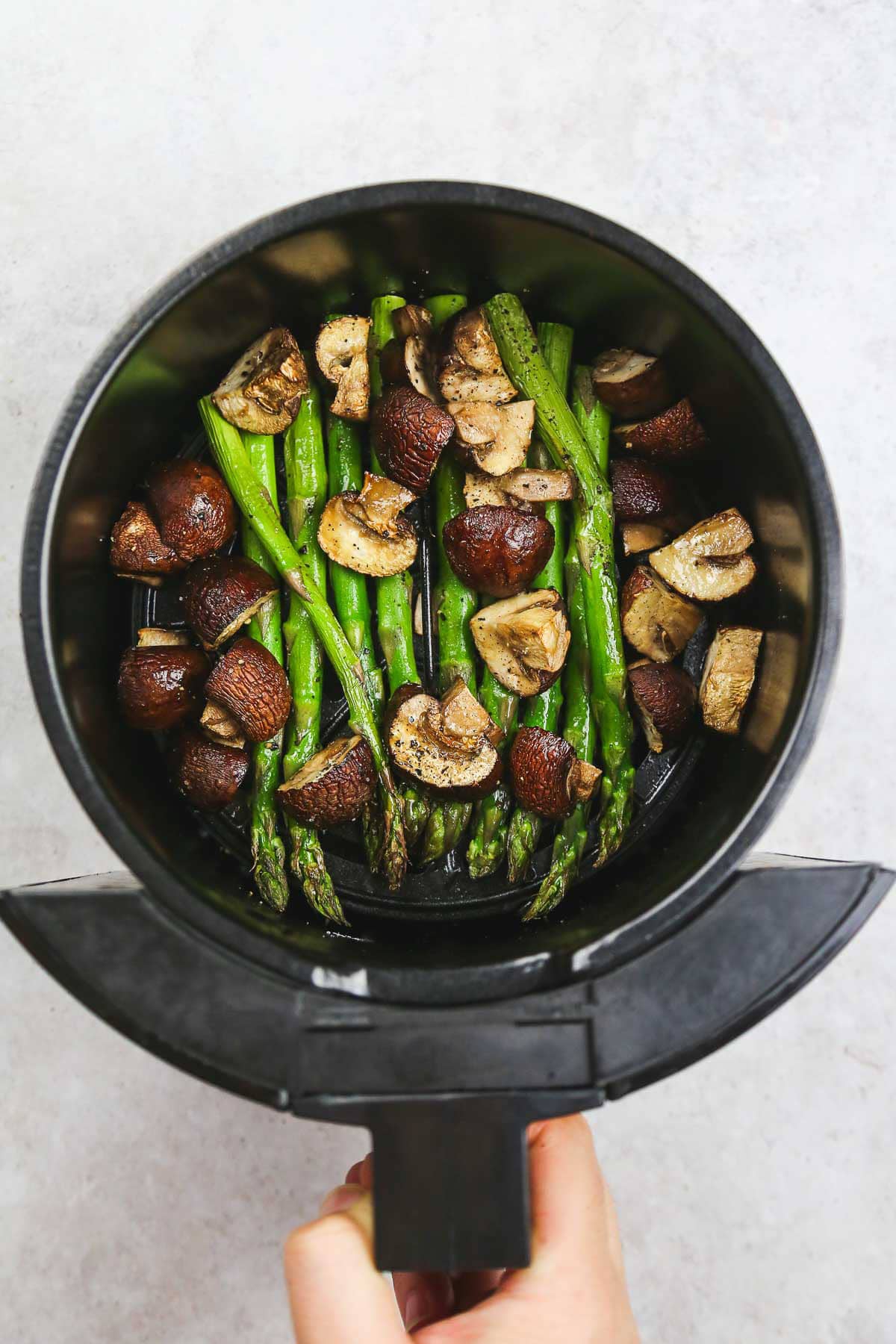 Arrange in a serving plate, top with chopped almonds, season with salt and pepper.. and enjoy!
More Seasoning Ideas
Sprinkle with a handful of freshly grated parmesan cheese or nutritional yeast
Zest and juice of a lemon
Sprinkle with chili flakes
Melted garlic butter
Top with toasted pine nuts or cashews
Fresh mint leaves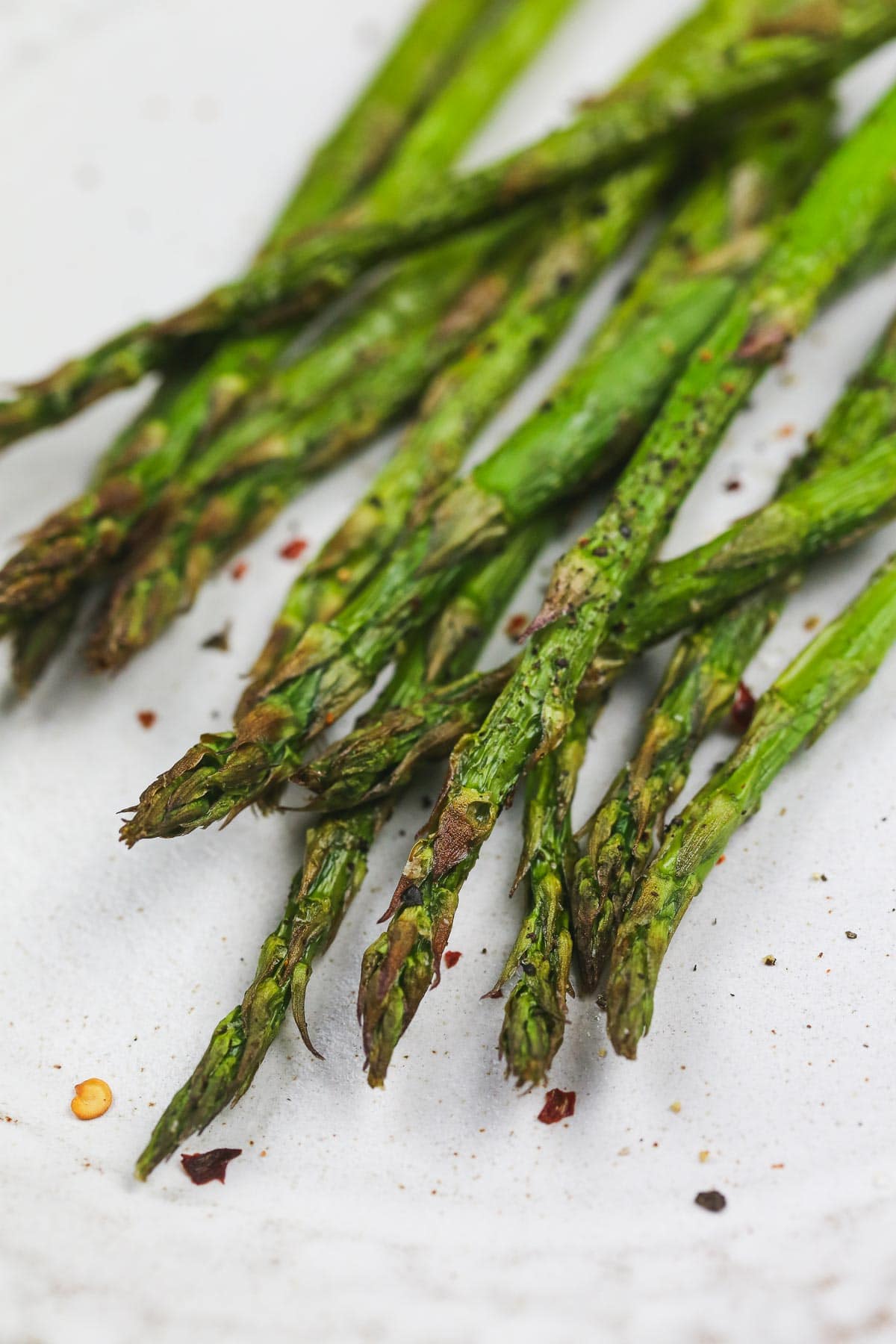 Join our private Instant Pot and Air Fryer Facebook group where we share exclusive recipes, and answer all of your IP and AF questions! We hope to see you there!
Instant Pot and Air Fryer Recipes and Hacks
Private group · 15,000+ members
Welcome to the Instant Pot and Air Fryer recipes and hacks group! In this group we share great and some exclusive recipes that you can make in your In…
Subscribe to my Newsletter, and follow me on Facebook, Instagram, and Pinterest for more tasty recipes!
I don't feel like I say this often enough, or that I could ever thank you enough. But THANK YOU for all of your support, for visiting my blog, commenting, and sharing my recipes with your friends and family. I am SO thankful for you!
If you make this recipe or any of my recipes, then don't forget to rate it and leave a comment below. I would LOVE to hear about your experience and your comments just make my day!
I hope that you love every recipe that you make! – Diana x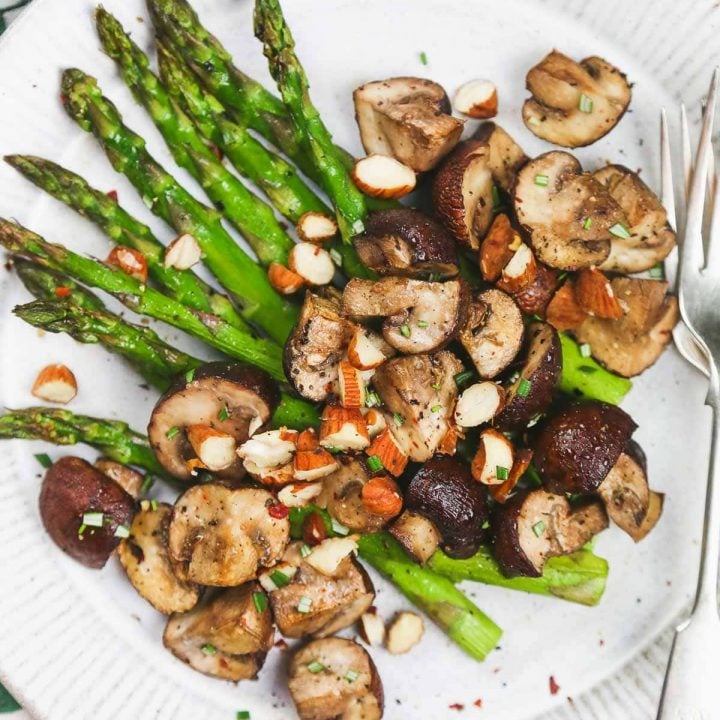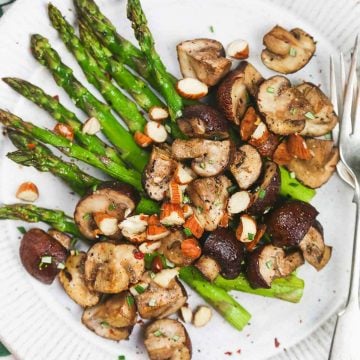 Air Fryer Asparagus
Easy air fryer asparagus side dish that cooks in just 8 minutes. Sprinkled with ground black pepper, salt and nutritional yeast for a lovely flavor!
Print
Pin
Rate
Ingredients
2 cups

(200 grams)

Fresh Asparagus

with the ends trimmed (about 2 inches)

1

tbsp

Olive oil

Spray

Salt and ground black pepper

Nutritional yeast

optional
If making with mushrooms
⅔ cup

(50 grams)

mushrooms

sliced into quarters

⅛ cup

(20 grams)

almonds

soaked in warm water for at least 15 minutes

1

tsp

rosemary

chopped
Instructions
Start by washing and trimming the ends of the asparagus (about 2 inches just to get rid off the woody part).

Spray with olive oil, and sprinkle with salt and ground black pepper.. If using mushrooms, add the chopped mushrooms as well.

Cook in the air fryer basket for 8 minutes at 390F (200c). When ready, serve. If you're making asparagus with mushrooms, then arrange the asparagus and mushrooms in a plate, top with chopped almonds and rosemary.
Notes
If you're avoiding oil, use low sodium soy sauce instead.
Nutrition
Calories:
63
kcal
|
Carbohydrates:
1
g
|
Protein:
1
g
|
Fat:
6
g
|
Potassium:
75
mg
|
Vitamin C:
0.2
mg
|
Calcium:
17
mg
|
Iron:
0.3
mg