A classic Tuscan Italian recipe, Panzanella is a simple mixture of crusty bread, juicy tomatoes, and an olive oil vinaigrette that makes the perfect light, summery side dish. We're adding thinly sliced red onion, fresh basil, and fresh mozzarella pearls to complete the recipe, and will give you other variations to try too!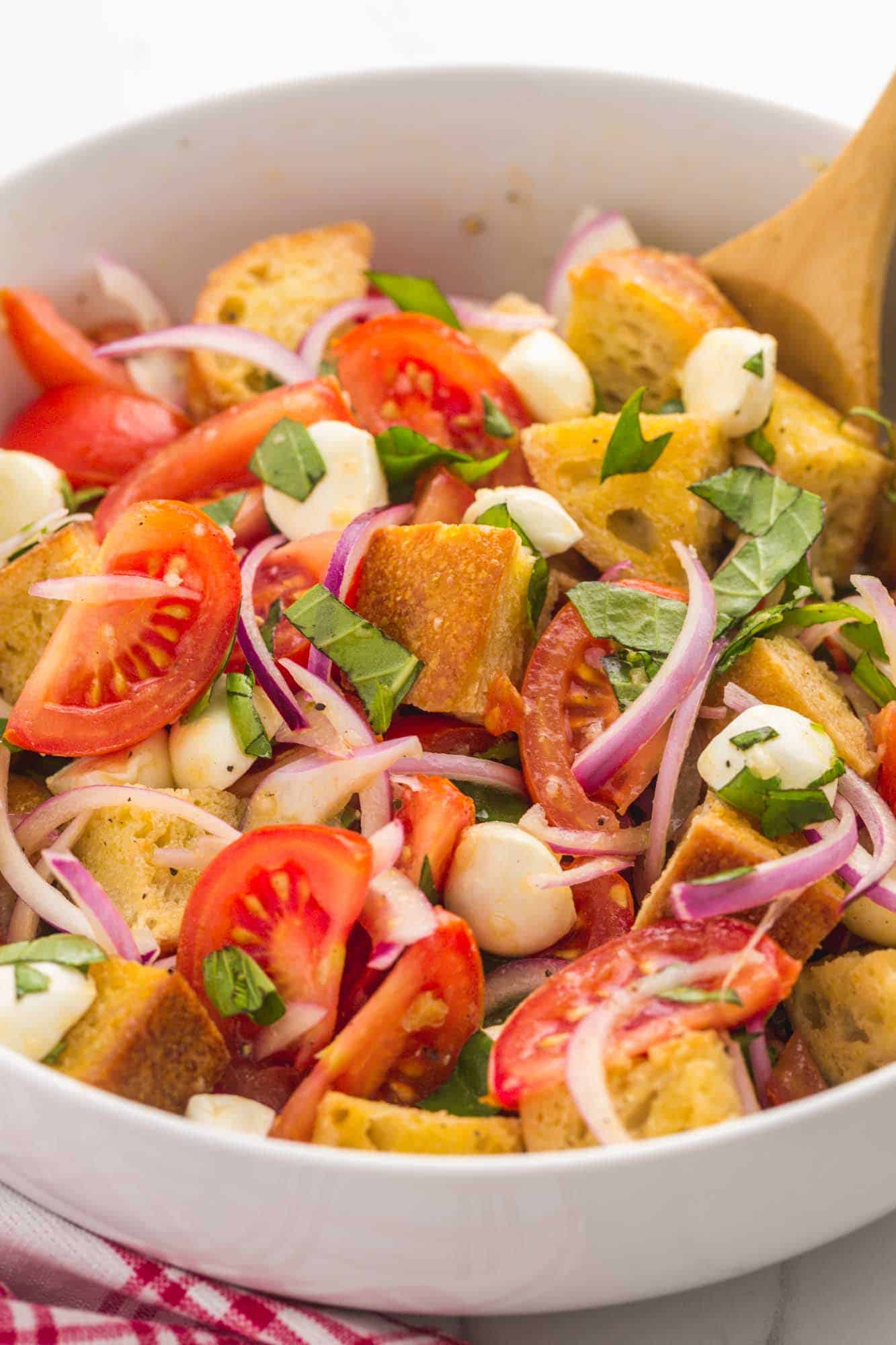 In Italian, the word Panzanella means "bread salad", and that's exactly what we're making here!
In Tuscany, a mixture of stale, dried bread is softened with juices from fresh tomatoes and lots of olive oil as a way of making the best of a bad situation. Panzanella brings new life to old bread, and it's rich and delicious too.
Traditional Italian Panzanella is often a soft, mushy dish, but in this modern version, the bread stays firm and slightly crisp.
Instead of lettuce, this salad uses dry bread as the base. It's dressed with a tasty and simple olive oil vinaigrette that you could also enjoy on greens.
Although, I'm not sure why you would eat lettuce after you've realized that you can eat a salad packed with bread! I'm kidding (sort of), but even though this salad is more carb-heavy than most salads, it's also a great way to pack in some extra veggies to your day.
My perfect Panzanella salad has tomatoes, onions, and fresh basil, but yours can include cucumbers, baby spinach, bell peppers, or any fresh vegetables you enjoy.
If you like this Italian-inspired salad, you'll want to make a Burrata Caprese Salad, my traditional Caprese Salad, or a classic Caesar Salad next! Tortellini Pasta Salad is another favorite.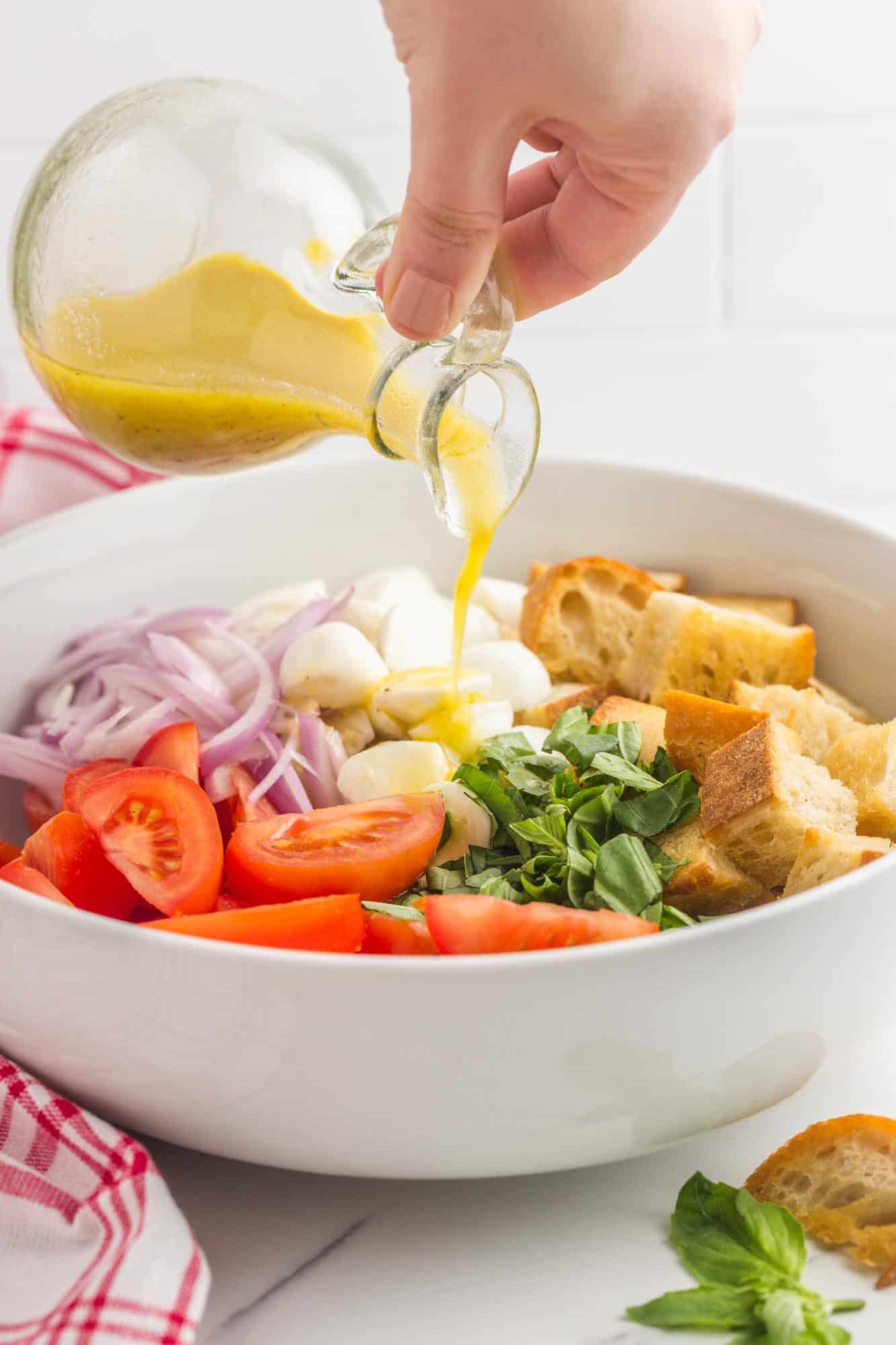 Why You'll Love This Recipe
The Best Summer Salad– Panzanella is the perfect pairing with any grilled dishes. It's delicious during other months too, but I love it best when I can use garden-fresh tomatoes in the hot months.
Tasty Tomatoes – The trick to making tomatoes extra juicy and flavorful is salting them! I learned this trick from Kenji at Serious Eats, and it's one of the best cooking tips ever! This step gives you more tomato liquid and intensifies the flavor of the tomatoes by removing some of the moisture from them.
Budget Friendly – This classic Italian dish is designed to make good use of food that might otherwise be tossed out. Stale bread and overripe tomatoes can even make this salad tastier than if you used fresh ingredients.
Versatile Recipe – You can add any of your favorite salad veggies or toppings to Panzanella. It's great for cleaning out the fridge or tossing with some deli meats or dinner leftovers to create a brand new meal.
Ingredients In Panzanella
Here's what you need to make this simple, rustic bread salad.
Complete list of ingredients and amounts can be found in the recipe card below.
Bread Cubes: Crusty bread cubes make the best Panzanella salad. Here I'm using airy sourdough bread. Italian Bread, french bread, or homemade no-knead bread works really well too. Try not to choose bread that has a very dense or very light crumb. You can use fresh bread or slightly stale bread in Panzanella.
Olive oil: Before we mix up this salad, we'll first bake the bread cubes drizzled with a bit of olive oil to dry them out.
Tomatoes: I think that tomatoes might be the most important ingredient in Panzanella after the bread! They add moisture, and a bright, fresh flavor.
Onion: I prefer to use thinly sliced red onion, as I like the bite that it has. Sliced green onion can also be used to give a milder onion flavor.
Basil: Fresh basil leaves add a beautiful color and herby flavor to the salad. Coarsely chop the basil or slice it into ribbons.
Fresh Mozzarella Pearls: I love these little mozzarella balls! They make salads like this one super easy to throw together. You can use a larger ball of fresh mozzarella if you prefer. Whichever you use, slice the cheese into thin slices about the same size as the bread cubes.
Vinaigrette: A perfect balance of oil, vinegar, and simple seasonings makes a dressing for Panzanella salad. You'll want to use your best extra virgin olive oil, wine vinegar (red or white), Dijon mustard, and fresh garlic, plus a bit of salt and pepper.
How To Make a Panzanella Salad
Sweat the tomatoes: Add sliced tomatoes to a colander sitting over a bowl and salt them with 2 teaspoons of coarse kosher salt or 1 teaspoon of regular table salt. Allow them to sit for 10-15 minutes. While you wait, preheat the oven to 350°F/180°C.
Dry the Bread: Add the bread cubes to a rimmed baking sheet, drizzle with a couple of tablespoons of olive oil, and toss until evenly coated. Bake for 15 minutes in the preheated oven, shaking twice until the bread is dry and crisp but not browned. Allow the bread to cool before adding it to the salad.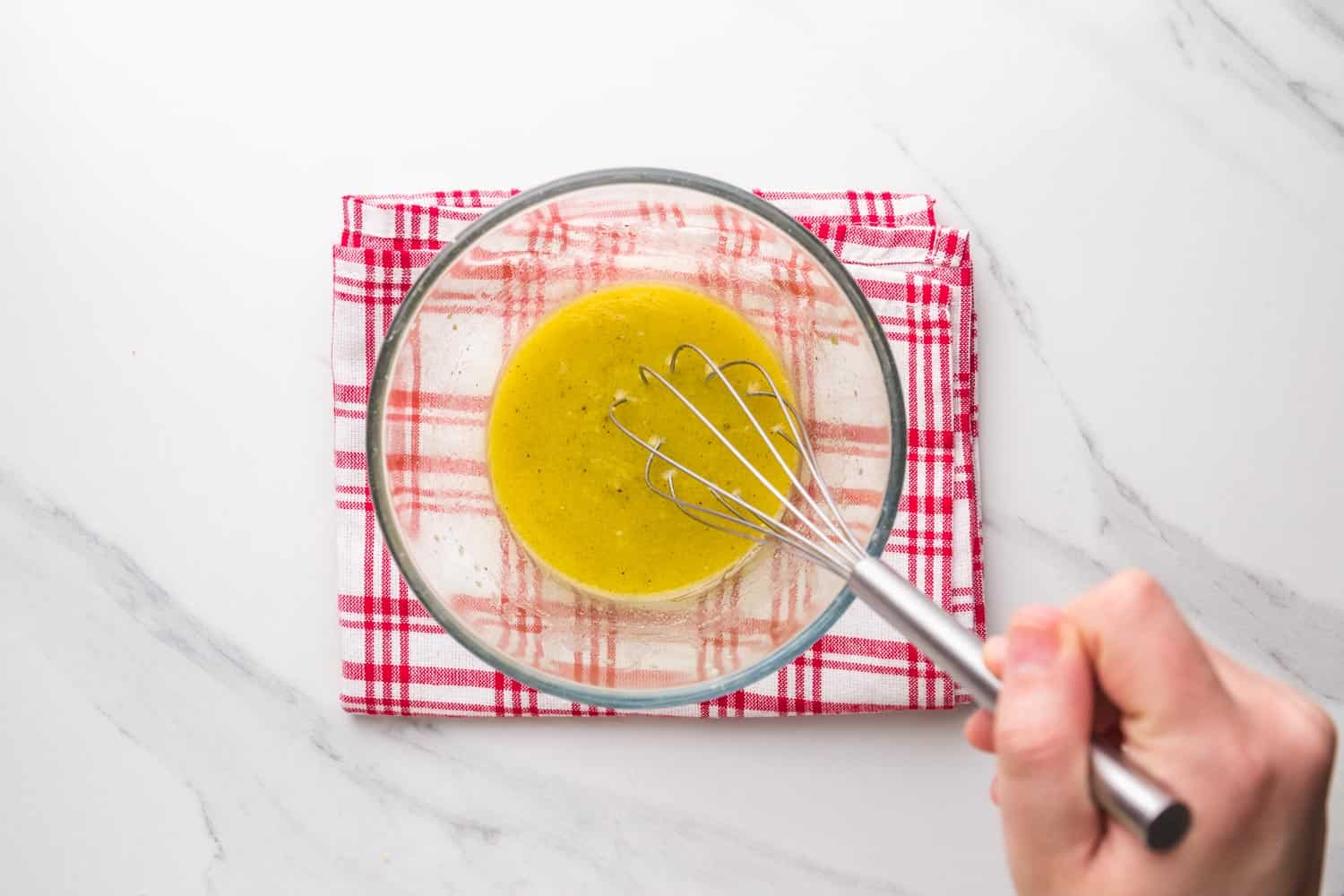 Make the Vinaigrette: Whisk together all of the vinaigrette ingredients plus the tomato juice produced when sweating the tomatoes earlier. You can also add the ingredients to a jar with a lid and shake until it's well mixed.
Mix the Salad: In a bowl, combine the tomatoes with cooled bread, red onion, mozzarella pearls, and chopped basil. Dress the salad and gently toss.
Rest Before Serving: Allow the salad to sit at room temperature for 20 minutes before serving, tossing once or twice to help the bread absorb the dressing.
Tip!
Don't overcook the bread! The goal is to dry it out, not toast it or turn it into croutons.
Recipe Tips
Save the Tomato Juice! Be sure that there is a bowl underneath your colander while the tomatoes are sweating. That delicious tomato juice is added to the vinaigrette.
Choose Ripe Tomatoes. Because the tomatoes are the star of this salad, choose the very best ones you can find. Large, ripe, juicy tomatoes will be the most delicious.
Don't Skip Drying the Bread. Removing moisture from the bread cubes is key. We want to replace that moisture with tons of flavor from the dressing. If you skip this step, your salad will be SOGGY, and that's not ideal.
Vinaigrette Ratio. There is a sweet spot when it comes to the ratio of oil to vinegar in vinaigrettes. It should be 3 parts oil to 1 part vinegar to get a creamy vinaigrette that won't separate. Once you have that part right, adding your favorite flavors comes next.
Make Panzanella Whenever You Like. There's no need to wait for your bread to go stale before making this dish. In fact, I don't recommend using stale bread for Panzanella as it tends to get leathery and tough. This method of drying fresh bread in the oven means that you can start cooking as soon as you get home from the store or bakery.
Have more bread to use up? Learn how I make homemade salad croutons!
Other Additions to Panzanella Salad
The recipe I'm sharing today can be a starting point for all sorts of Panzanella salad varieties! Try adding some of these ingredients, or create your own tasty combinations.
Pitted Olives
Capers, pickled peppers, or other pickled veggies
Cucumbers
Bell Peppers
Fresh Corn
Greens like arugula or baby kale
Other fresh herbs
Fruit! Peaches, pears, or blueberries would be delicious
Sunflower Seeds, slivered almonds, or other nuts and seeds
Shaved parmesan cheese
Prosciutto
Storing Tips
The bread in your Panzanella will get softer the longer it sits, so it's best to enjoy it within a few hours of mixing it up. That said, you can store leftover Panzanella in the fridge for up to two days, but you may not enjoy the texture of it later on.
Can Panzanella be Made Ahead of Time?
If you want to prep the salad the day before, there are parts of this Panzanella recipe that can be made ahead of time. Combine all of the ingredients with the dressing just 20-30 minutes before serving.
Bread: You can cut the bread into cubes and dry it out in the oven 1-2 days before you plan to make this salad. Store them in a ziploc bag at room temperature.
Dressing: Make the vinaigrette using all of the ingredients except for the tomato juice. You can add that in later. This will keep in a jar in the fridge for up to 3 days.
When it's time to make the salad, salt the tomatoes, finish the dressing, and toss everything together!
What To Serve With Panzanella Salad
Enjoy this salad as a light meal with your favorite protein either mixed in or alongside. Canned tuna or sliced prosciutto both pair beautifully with this simple dish.
Panzanella also makes an excellent side dish. It's great in the summer served at barbecues or with grilled meats. Try some of my favorite summer dinners like Grilled T-Bone Steaks, Grilled Spatchcock Chicken or Grilled Tilapia.
Easy stovetop dinners like Creamy Garlic Shrimp or Pan Fried Tilapia are also delicious with this salad.
Other fresh sides for warm weather meals that you should try: Watermelon Salad with Feta or Three Bean Salad.
FAQs
Can I make Panzanella gluten free?
Just use your favorite medium-dense gluten free bread, and this salad can be easily gluten free.
Is Panzanella good the next day?
The flavors of this bread salad will intensify overnight, so Panzanella will be delicious the next day. Keep in mind though that the bread will absorb more water as it sits, so it might get mushy. You'll have to decide if you enjoy the texture of leftover Panzanella or not!
Is it best to use fresh or stale bread for Panzanella?
I find that I get the best texture if I use fresh bread that I've dried in the oven to make this salad. Stale bread can be used, but it can sometimes be tough and almost leathery.
The best way to feature beautiful, juicy tomatoes is in this easy Panzanella Salad. Pin the recipe so you can make it for your next cookout!
Did you make this? Be sure to leave a review below and tag me on Facebook, Instagram, or Pinterest!
Recipe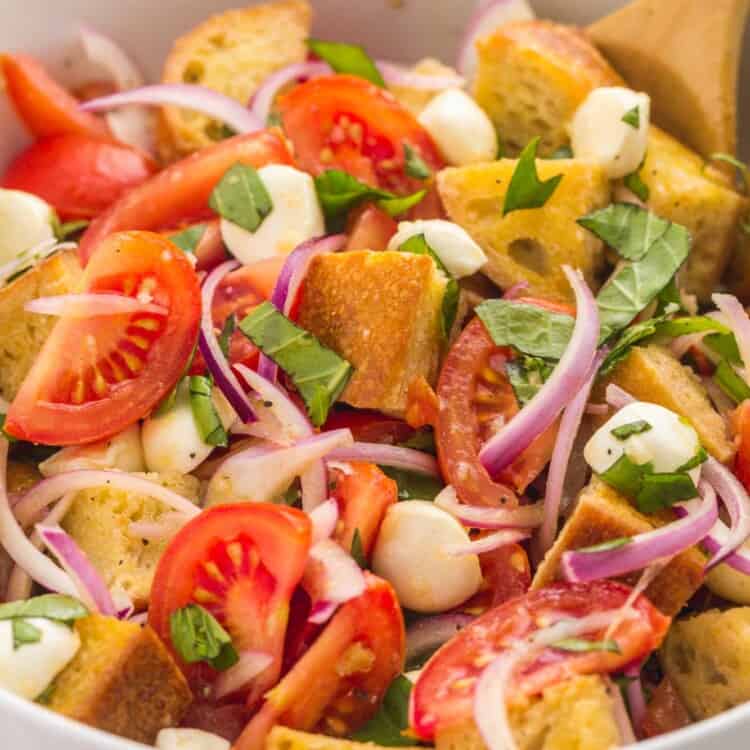 (Click stars to rate!)
Panzanella Salad
Cubes of bread and juicy, fresh tomatoes combine with a tasty vinaigrette and fresh mozzarella to create a classic, rustic Panzanella Salad.
Cubes of bread and juicy, fresh tomatoes combine with a tasty vinaigrette and fresh mozzarella to create a classic, rustic Panzanella Salad.
Ingredients
6

cups (6 ounces, 180g)

1-inch bread cubes

crusty, medium-dense bread such as sour dough, French, or Italian

2

tablespoons

olive oil

extra virgin

1

pound

tomatoes

cut into ½-inch pieces

2

tablespoons

coarse kosher salt

or 1 tablespoon of table salt

½

red onion

thinly sliced, or use 5 sliced green onions

½

cup

packed fresh basil leaves

coarsely chopped

8

ounces

fresh mozzarella pearls

sliced if desired
For the Vinaigrette
8

tablespoons

olive oil

extra virgin

2

tablespoons

red or white wine vinegar

½

teaspoon

Dijon mustard

2

cloves

garlic

minced, about 2 teaspoons

½

teaspoon

salt

¼

teaspoon

ground black pepper
Instructions
Preheat the oven to 350°F/180°C.

Add the tomatoes to a colander fitted onto a bowl, and salt them with two teaspoons of coarse salt . Allow them to sit for 10-15 minutes to "sweat".

Add bread to a rimmed baking sheet, drizzle with olive oil and toss until coated. Bake for 15 minutes shaking twice until the bread is crisp but not browned (we are not making croutons). Allow to cool before adding to the salad.

To make the viniagrette, whisk the olive oil, vinegar, dijon mustard, minced garlic, salt, and pepper in a bowl along with the tomato juice that was produced when sweating the tomatoes. You can also add the ingredients to a jar with a lid and shake until it's well mixed.

In a bowl, combine the tomatoes, with cooled bread, red onion, mozzarella pearls, and basil. Dress the salad and gently toss.

Allow the salad to sit for 20 minutes before serving tossing once or twice to help the bread absorb the dressing.
Notes:
To store: Leftovers can be stored in the fridge for up to two days. For best taste and texture, enjoy your Panzanella salad the same day that you make it.
This recipe serves six people as a side dish and 2-3 as an entree.
Fresh mozzarella pearls can be left whole, or sliced if you like. A larger ball of mozzarella can also be used, just cut it into bite-sized pieces.
Other vegetables and toppings can be added. Try corn, peaches, sunflower seeds, pitted olives, shaved parmesan, or anything else you can imagine.
Fresh bread or day-old bread is best in this recipe. Stale bread will be tough and leathery.
Salting the tomatoes intensifies their flavor, and helps draw the moisture out. Save that liquid to add to the dressing.
Drying out the bread cubes is key to getting the texture of this salad right. Don't cook them for too long though, or you'll end up with crunchy croutons.
Nutrition Information
Calories:
989
kcal
,
Carbohydrates:
117
g
,
Protein:
35
g
,
Fat:
43
g
,
Saturated Fat:
10
g
,
Polyunsaturated Fat:
7
g
,
Monounsaturated Fat:
21
g
,
Trans Fat:
1
g
,
Cholesterol:
30
mg
,
Sodium:
3885
mg
,
Potassium:
569
mg
,
Fiber:
11
g
,
Sugar:
16
g
,
Vitamin A:
997
IU
,
Vitamin C:
12
mg
,
Calcium:
504
mg
,
Iron:
9
mg
This website provides approximate nutrition information for convenience and as a courtesy only. Nutrition data is gathered primarily from the USDA Food Composition Database, whenever available, or otherwise other online calculators.
© Little Sunny Kitchen