Don't you hate it when you find a delicious looking recipe, but after you make it, it doesn't taste as delicious as you thought it would?
Truth be told, it may not be the recipe, but the way you are measuring the ingredients. Did you know that you should measure dry ingredients and wet ingredients differently? You may have never learned how to measure ingredients for baking, but don't be dismayed because I'm going to show you how!
Remember your chemistry classes in high school? Well, when it comes to baking, it's all about chemistry. Each ingredient has to be precise in order for the desired chemical reaction to take place.
If you aren't using the same technique as the person who created the recipe, you won't get the same results. So, let's break down some measurements for you.
Volume Vs Weight Measurements
You can measure your ingredients by volume or by weight. However, they aren't the same! For example, fluid ounces is measured in volume, but ounces is a measurement of weight. You have to keep an eye out on the recipe to make sure whether it's calling for volume measurements or weight measurements.
Volume Measurements
Most recipes will use volume measurements over weight measurements. This is because, in the US, most people don't have a scale laying around their kitchen, and it's much easier to measure things out with measuring cups and spoons. But, you need a good set of measuring utensils. A coffee cup, tea cup, or the spoon you mix your coffee with is not an accurate measurement when it comes to recipes. If you don't have them, get the following measuring tools: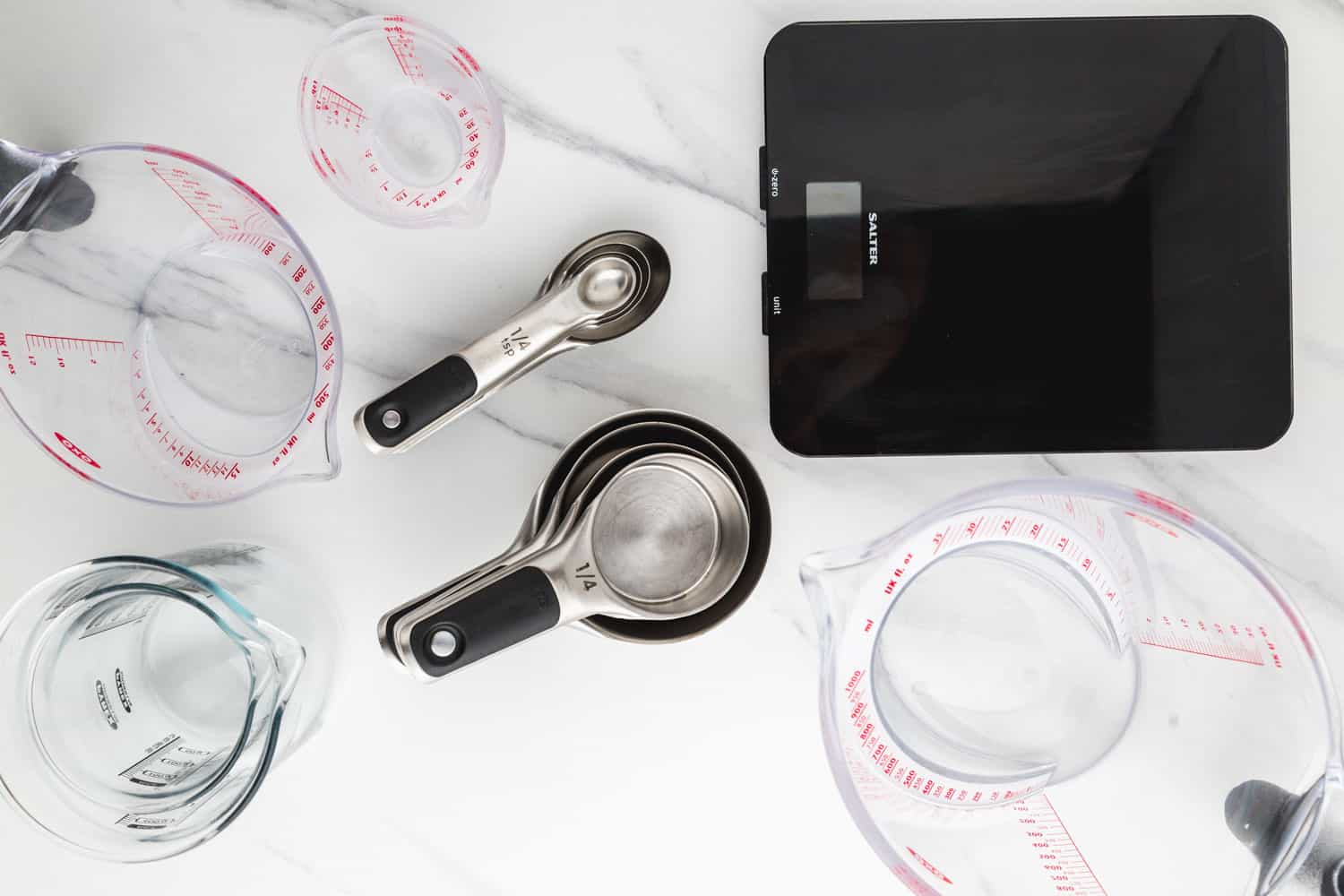 Weight Measurements
If you want to get serious about your baking, you can measure by weight. It's less messy and much more accurate. However, keep in mind that most recipes don't have you measuring this way. If you want to be precise, you will need to get a good Digital Scale. You will know you need a scale if the recipe uses measurements like:
Ounces
Grams
Pounds
Kilograms
To measure using weight, set your bowl or measuring tool on the scale, zero it out before adding your ingredients. Then, add the ingredient until the scale shows the exact weight you need.
How to Measure Dry Ingredients
If you aren't using the weight method, you want to be sure you are measuring your ingredients precisely. Most dry ingredients can be measured in the same way using your dry ingredient measuring cups and spoons, but let's break it down for you!
Flour
When measuring flour, it depends on the terms used in the recipe. A recipe may call for "flour, sifted" or "sifted flour". This is important because sifting aerates the flour to make it light. For example, 1 cup of unsifted flour weighs 5 ounces, but 1 cup sifted flour weighs 4 ounces.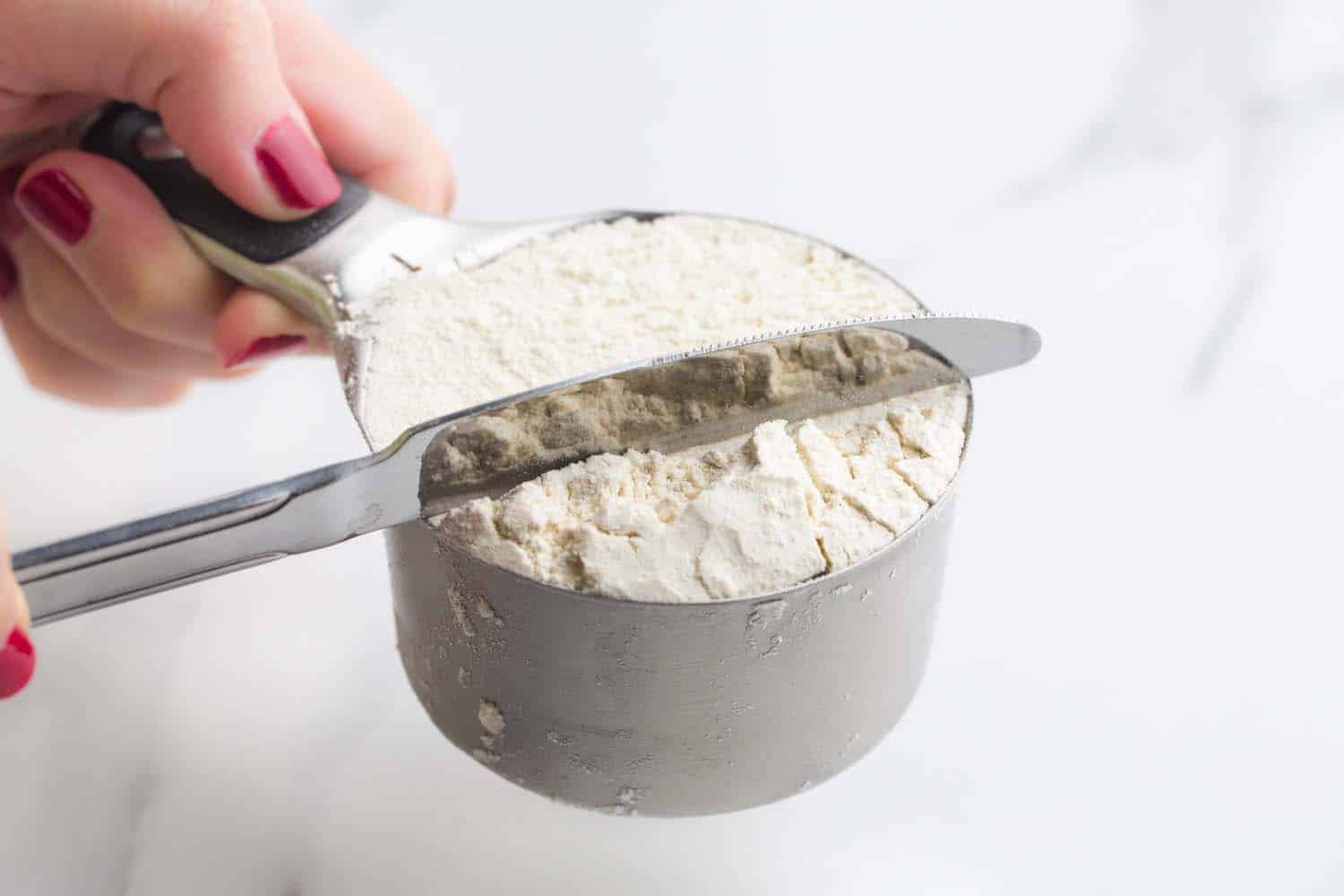 If a recipe calls for flour, sifted, you will spoon the flour into your measuring cup. Do not pack the flour or tap the cup! Then, you will use the back of a butter knife to level off the top of the measuring cup. This is called the spoon & level method. Once you have measured it, you will then sift it into a bowl.
If a recipe calls for sifted flour, you will sift the flour first, and then you will measure it using the above directions.
Oats
When measuring oats, you will use the same spoon & level method that you use when measuring flour.
Baking Powder and Soda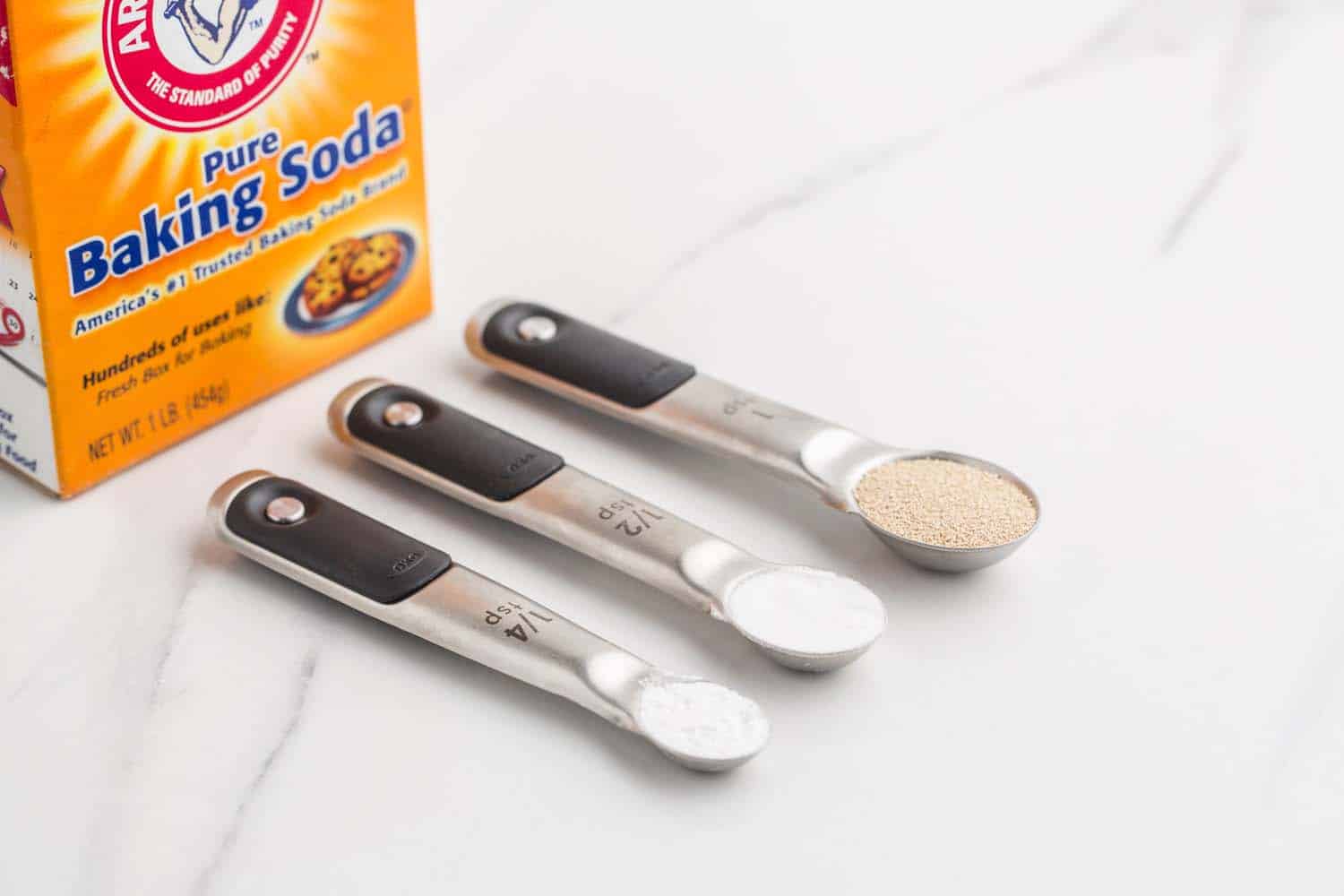 Baking soda and baking powder will settle in their containers over time. Before you begin measuring them, be sure to shake the container first. Then, you can scoop it out of the container with a measuring spoon and level it off like you would with flour or oats.
Yeast
You can find yeast in standard packets that hold 2 ¼ teaspoons of yeast. If that's what the recipe calls for, you can just use the packet without measuring. However, if you don't have the packet or your recipe calls for a different measurement, measure yeast the same way you would measure baking soda and baking powder.
Sugar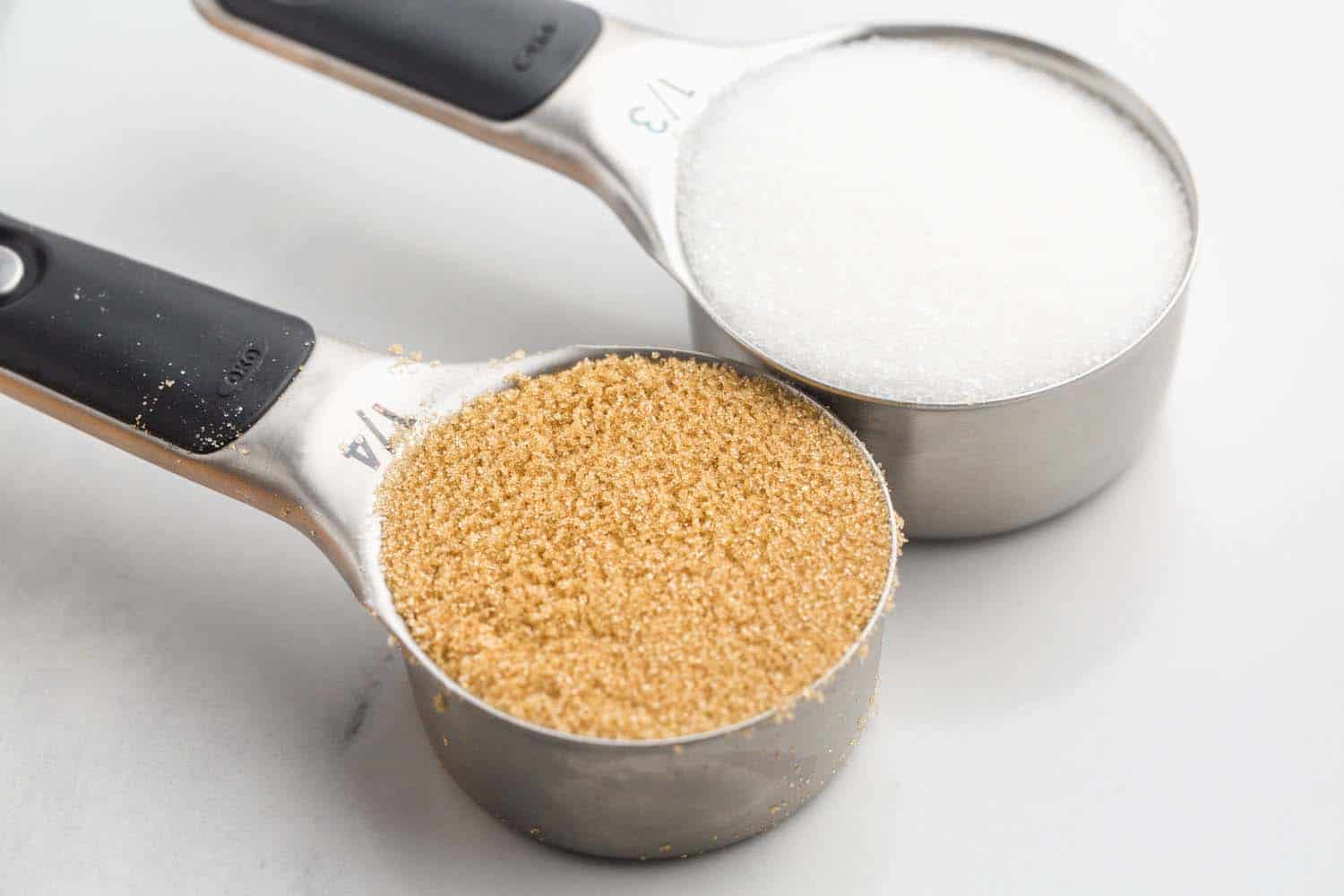 Because sugar is heavier than flour, it is less likely to pack down. This means that you can scoop the sugar out of the container using your measuring cup until it is overflowing, and then level it off with a knife. This method works for granulated sugar.
If you are measuring confectioners' sugar, you would use the same spoon & level method that you use for flour.
Brown sugar is a little different because it has molasses in it, it's moist and clumpy. The best way to measure it, is by using measuring cups where you have to press it with your fingers or a bottom of a measuring cup to get an accurate measurement. Scoop brown sugar in a cup, then lightly apply pressure to pack it. Don't overdo it, you should press just enough until it no longer compresses easily.
Semi Liquids Like Butter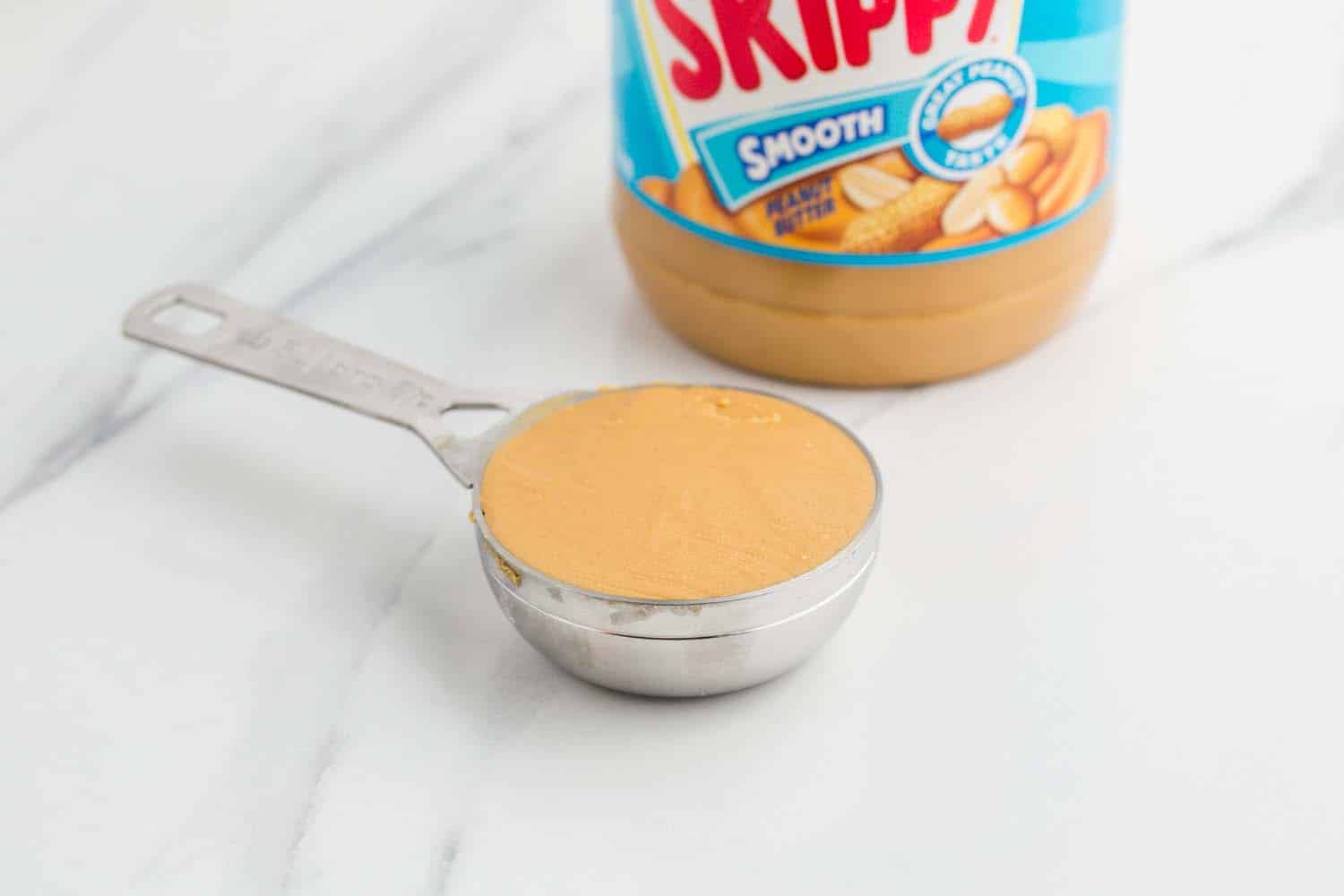 There are a variety of semi-liquids including things like sour cream, yogurt, butter, shortening, peanut butter, etc. You would measure these semi-liquid ingredients using the dry ingredients measuring cups. You would use the spoon & level method just as you would for flour. Then, use a rubber spatula to get all of it into the mixing bowl.
Cocoa Powder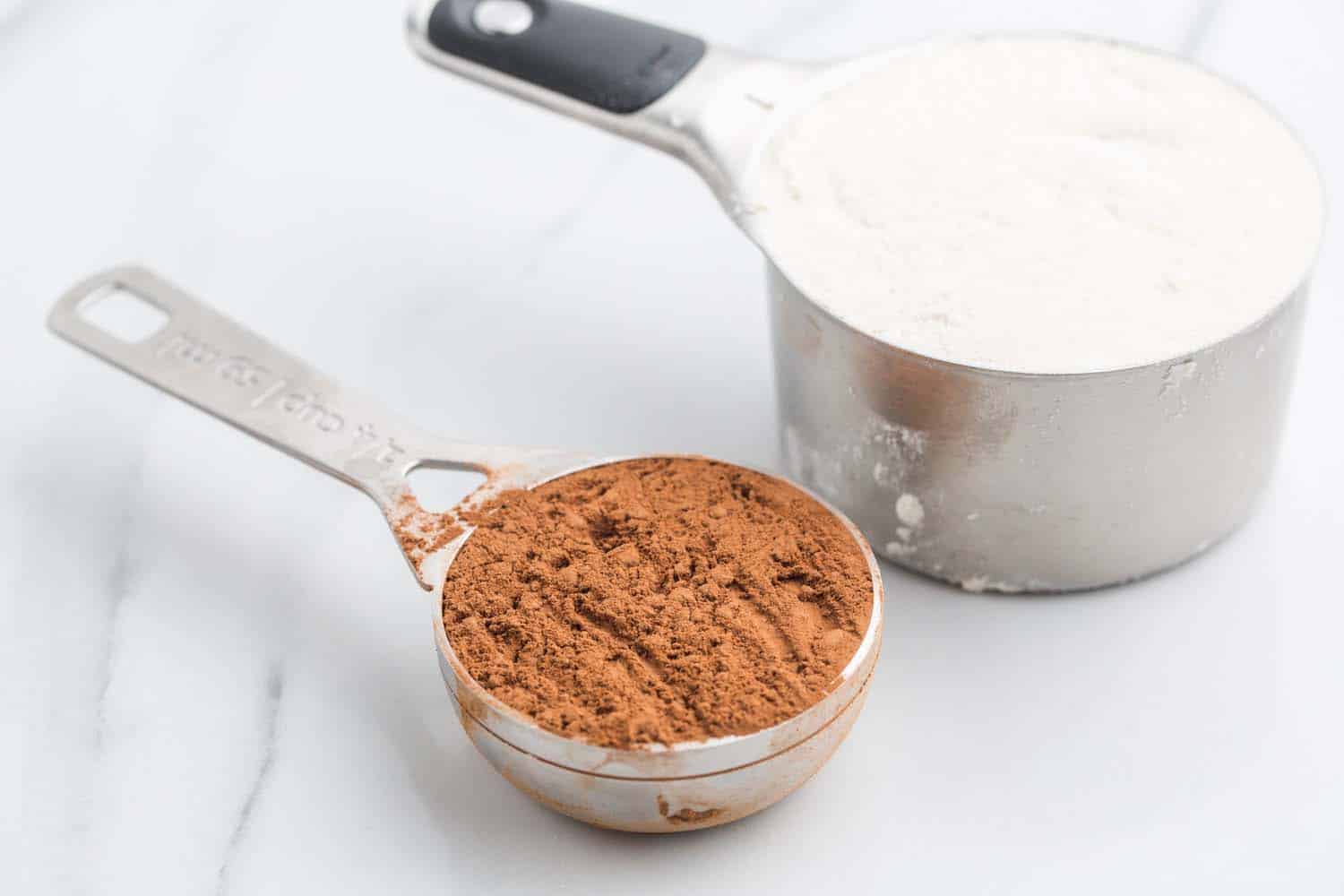 Like flour, semi liquids, and oats, you will spoon the cocoa powder into the measuring tool, and then level it off with a butter knife.
Other Solid Ingredients
To measure out other solid ingredients that you use in baking such as chocolate chips, and sprinkles, dip the measuring cup or spoon into the container of chocolate chips or sprinkles, and level off with the back of a knife.
How to Measure Liquid Ingredients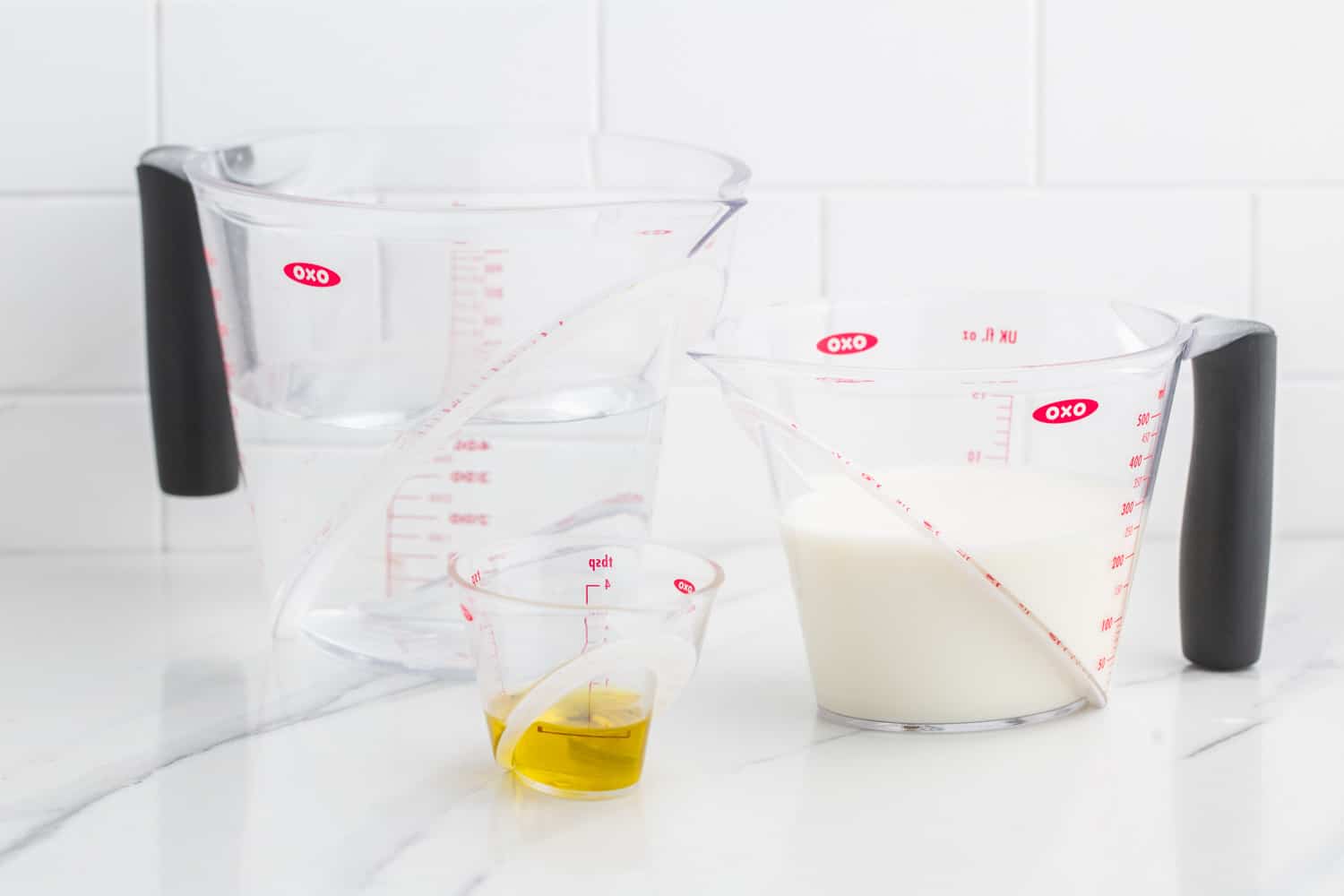 When measuring liquid ingredients, you will have to use the bigger liquid measuring cups for accuracy. You cannot use your dry measuring cups because you would have to fill the liquid to the rim and try to get it in your bowl without spilling any of it. This is a challenge, so use the liquid measuring tools instead.
When measuring liquid ingredients such as milk, water, or oil, you want to measure it at eye level. Using a liquid measuring cup, you will pour the liquid into the cup. Then, you want to bend down to make sure the liquid is exactly at the level you need it to be for the recipe.
Ingredient Conversions
Let's say you are missing a measuring spoon or a cup, then what do you do? Check out the tables below to familiarize yourself with ingredient equivalents.
Dry Ingredients
Use the chart below to help you measure dry ingredients.
| | |
| --- | --- |
| Measurement Needed | Equivalent |
| 1 tablespoon | 3 teaspoons |
| ⅛ cup | 2 tablespoons |
| ¼ cup | 4 tablespoons |
| ⅓ cup | 5 ⅓ tablespoons |
| ½ cup | 8 tablespoons |
| ⅔ cup | 10 ⅔ tablespoons |
| ¾ cup | 12 tablespoons |
| 1 cup | 16 tablespoons |
Liquid Ingredients
Use the table below to help you measure liquid ingredients.
| | | |
| --- | --- | --- |
| Measurement Needed | Equivalent | Equivalent |
| 1 cup | 8 fluid ounces | ½ pint |
| 2 cups | 16 fluid ounces | 1 pint |
| 4 cups | 32 fluid ounces | 2 pints |
| 8 cups | 64 fluid ounces | 4 pints |
| 4 quarts | 128 fluid ounces | 1 gallon |
Wondering how many cups are in a pint, gallon, or quart? Check out this post with a free printable to hang on your fridge!
Easy Baking Recipes to Try
Now that you know how to properly measure ingredients for baking, it's time to get started! Check out some of my easiest baking recipes, below.
Baking is all about the perfect chemistry. To get that chemistry right, you have to make sure you are measuring the ingredients correctly. Hopefully this post helps with your baking needs. Happy baking!