This Grilled Pineapple recipe transforms a whole, fresh pineapple into a beautiful summer side dish, appetizer, snack or unique dessert. The pineapple is sliced into spears or slices and brushed with a mixture of melted butter, brown sugar, and cinnamon. It's then grilled until it reaches a perfect golden color.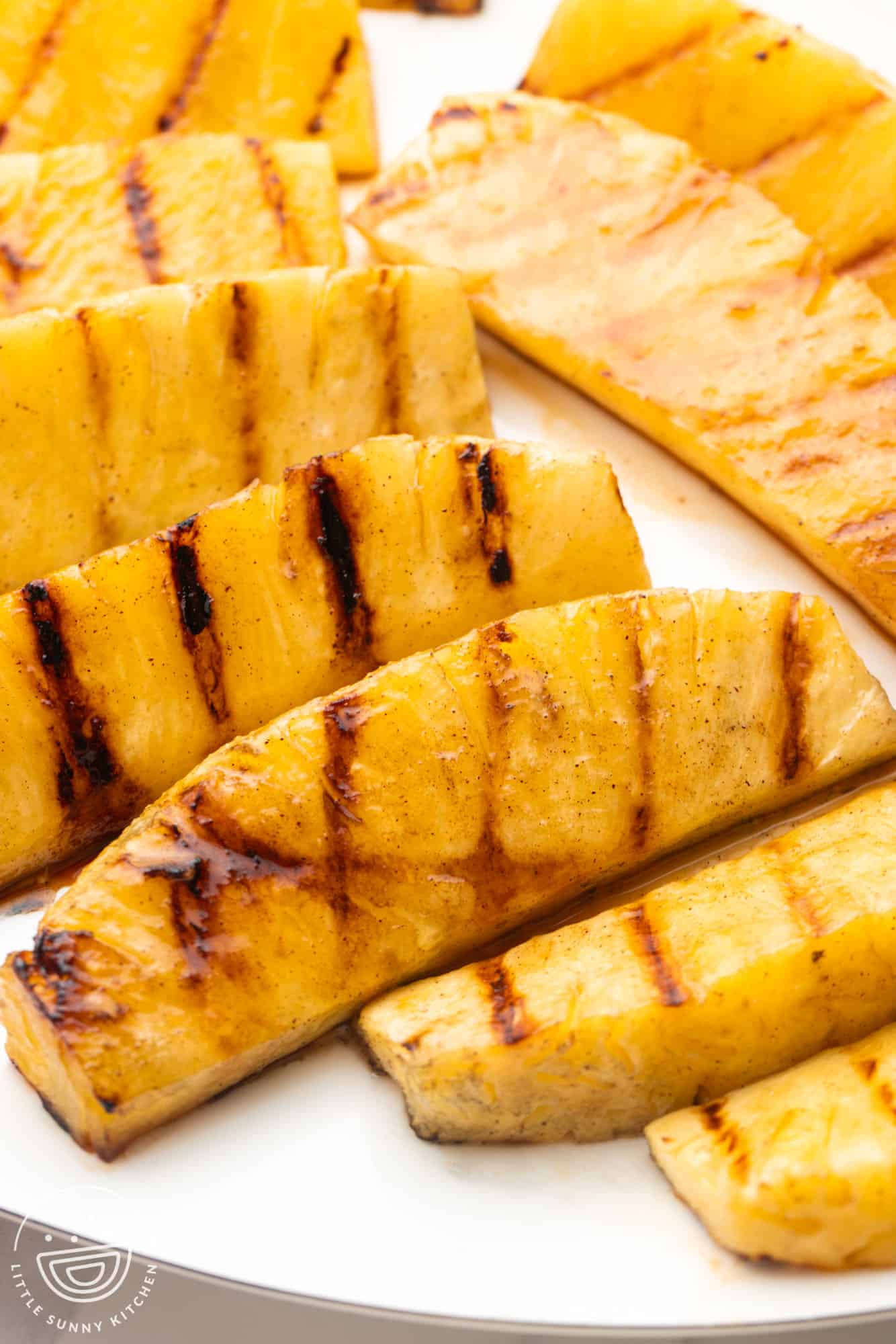 I absolutely enjoy grilling outside! This grilled pineapple pairs wonderfully with many of my recipes, like these Grilled Chicken Tenders, BBQ Chicken, or even a Juicy Grilled Steak. It also adds a sweet twist when tossed into salads or salsas (try it in my Pineapple Salsa). Of course, you can't go wrong with serving it as a dessert topped with some ice cream.
Ingredients Needed
You only need four simple ingredients to make this delicious grilled pineapple!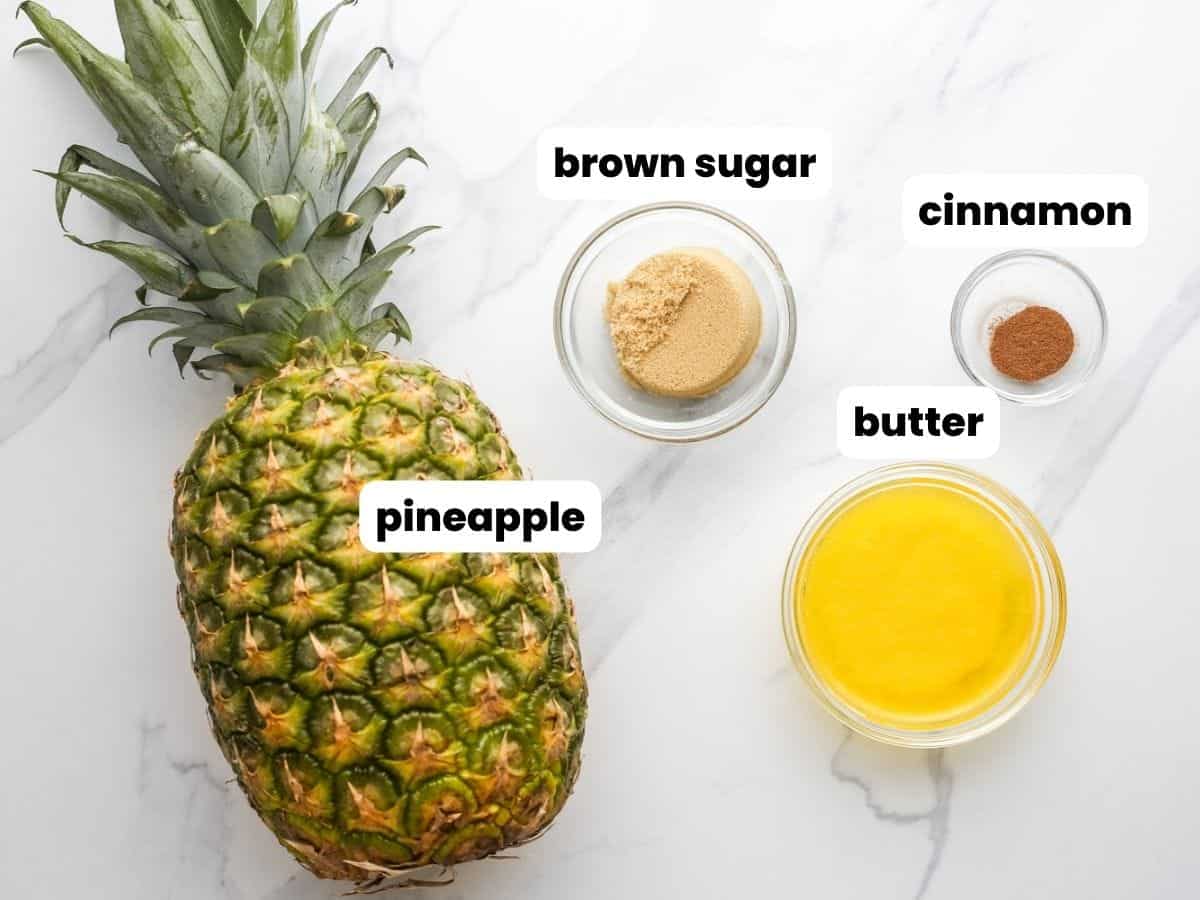 Pineapple: For the best result, choose a pineapple that's ripe but still firm. A ripe pineapple has a sweet aroma at the base and the skin will give a little when you press it. But remember, it should still be firm enough to hold up on the grill.
Unsalted Butter: It brings a rich balance to the sweetness of the pineapple. Melt the butter in the microwave in 15-20 second increments until fully melted.
Brown Sugar: Important for achieving that caramelization. You can use light or dark brown sugar. Or substitute the brown sugar with honey or maple syrup.
Cinnamon: This is an optional ingredient. It enhances the flavor of the pineapple and adds some warmth to the overall flavor of the dessert.
Complete list of ingredients and amounts can be found in the recipe card below.
How To Grill Pineapple Spears or Slices
Start by preparing your grill. Set it to medium heat to ensure that your pineapple doesn't cook too quickly and become too charred. We want it perfectly caramelized and golden, not burnt. Make sure that the grill grates are clean.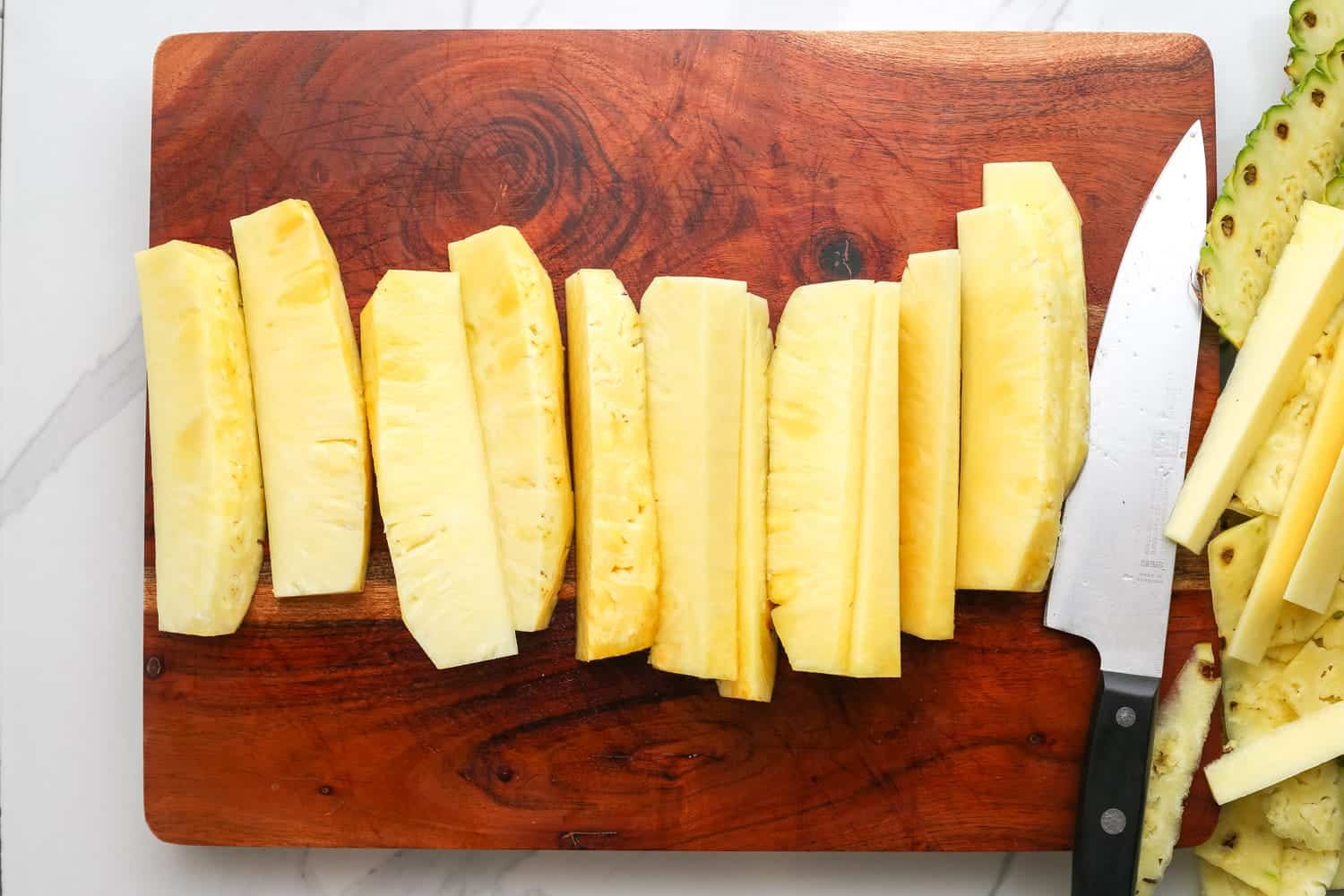 While the grill is warming up, prepare the pineapple. Cut off the top and bottom to create a stable base. Stand the pineapple up and slice down the sides to remove the skin and the tiny seeds. Once the skin is removed, cut the pineapple into quarters, and then cut out the tough core from each piece. Now slice each quarter into two or three spears.
In a small bowl, mix the melted butter, light brown sugar, and cinnamon.
Brush this mixture onto all sides of your pineapple spears.
Place the coated pineapple spears on the preheated grill. Cook for about 7-8 minutes on each side until they are golden brown.
Serve the grilled pineapple slices as a side dish with grilled chicken or meat, or as a dessert, pair with a scoop of vanilla ice cream, fresh raspberries, mint leaves, or roasted peanuts.
Tip!
Double the butter and sugar mixture for extra glaze and a sweeter flavor.
Recipe Tips
Spice it Up: If you're a fan of heat, add a touch of cayenne pepper or hot sauce to the butter and sugar mixture. It'll give your pineapple an unexpected kick that's deliciously exciting! Alternatively, a sprinkle of Tajin at the end can also do the trick.
Honey Glaze: Want a sweeter glaze? Swap out the brown sugar for honey. If you still want a hint of the molasses-like flavor of brown sugar, do half honey and half brown sugar.
Citrus Infusion: For an exciting twist, add some fruit juice to the mix. Lime, orange, or lemon juice will infuse the pineapple with a bold, citrusy flavor that's truly refreshing. This is especially good if you're planning to serve the pineapple with a scoop of coconut ice cream!
On Skewers: To make handling easier, cut the pineapple slices into wedges and thread them onto skewers before grilling. It makes flipping and grilling much more manageable!
Storing Tips
Store leftover grilled pineapple in an airtight container in the refrigerator for up to three days.
To reheat, simply place the slices on a hot grill for a couple of minutes or warm them in a microwave.
How to Serve Grilled Pineapple
The real fun of this grilled pineapple recipe is its versatility. Its sweet and smoky flavors can fit into almost any meal. Here's how you can add this star to your table:
Appetizer: Kick off your meal with a skewer of grilled pineapple pieces. It's an interesting start that your guests will love.
Snack: Grilled pineapple makes for a great snack on its own. Just grab a slice and enjoy as you wait for the rest of the BBQ.
Pizza Topping: If you love pineapple on pizza, try adding grilled pineapple next time. Its smoky flavor adds a new dimension to your classic pizza.
Burger Filling: Add a slice of grilled pineapple to your burger. Its sweetness will perfectly balance the savory flavor of the meat.
Side Dish: Pair it with your grilled dishes. Whether you're cooking chicken, steak, or fish, grilled pineapple will make a great side.
Salad Ingredient: Mix it into your salad. Grilled pineapple chunks add a surprising smoky sweetness to any salad.
Salsa Addition: Add chopped grilled pineapple to your salsa. It will lend a sweet, tangy twist to the classic recipe.
Dessert: I love to serve grilled pineapple slices with a scoop of vanilla ice cream, fresh raspberries, and a sprinkle of mint leaves for a refreshing contrast. If you're in the mood for something different, try adding some roasted crushed peanuts on top. The crunchiness of the peanuts complements the soft and juicy pineapple, making for an exciting mix of textures in every bite.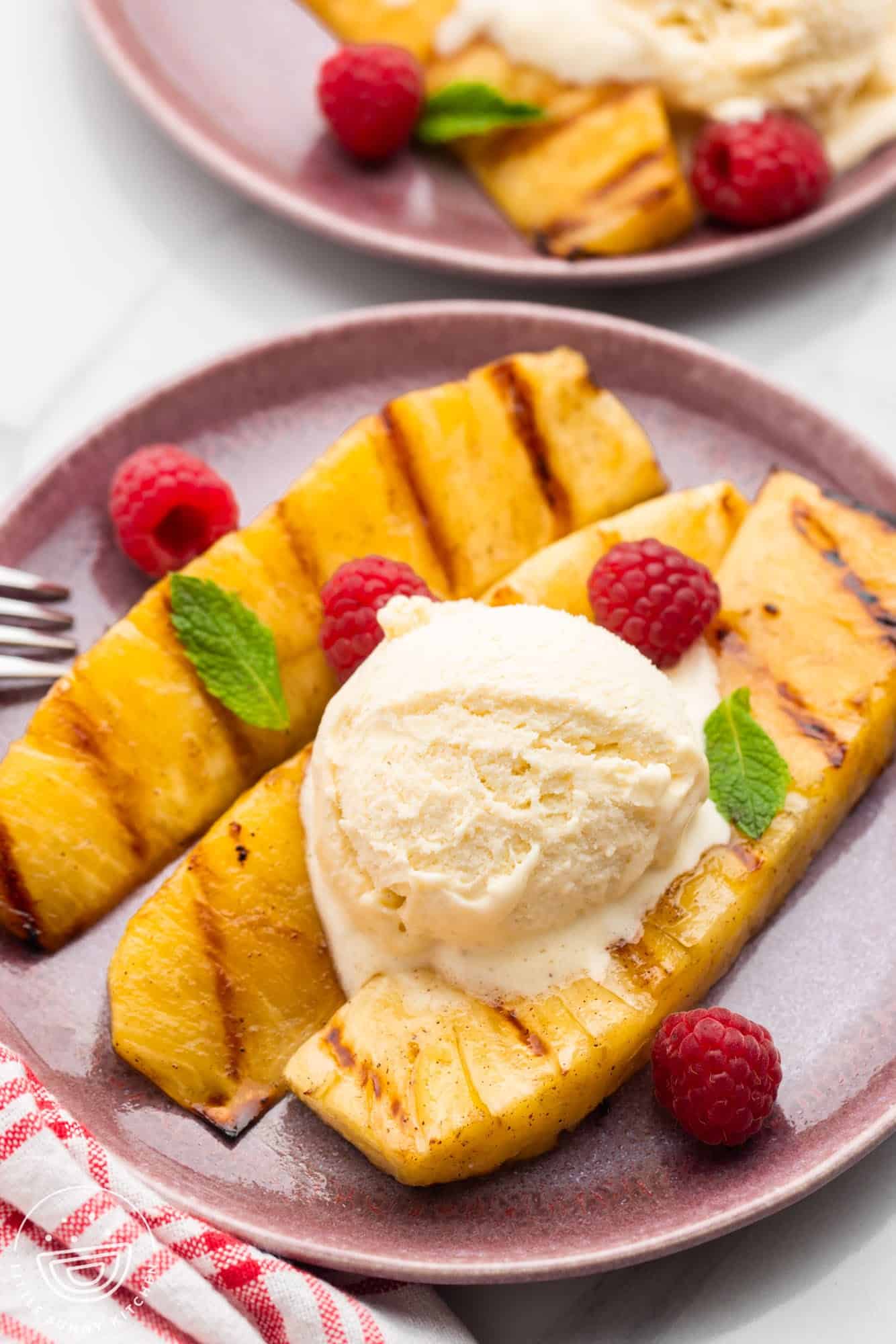 Recipe FAQs
Can I use canned pineapple slices for this recipe?
Yes, but fresh pineapple will give you a better result due to its superior flavor and texture. Canned pineapple may turn out to be too soft or overly sweet when grilled.
Can I use a different type of sugar?
The most suitable sugar for the pineapple to beautifully caramelize is brown sugar (you can use light or dark). If you don't have brown sugar, white sugar can work but it will have a different flavor.
How do I know when the pineapple is done grilling?
Look for a golden-brown color and slightly charred edges. This indicates your pineapple is perfectly caramelized and ready to be served.
Can I use other fruits in this recipe?
Yes, you can grill other fruits like peaches or bananas following this same method.
I would love to hear your thoughts on the recipe. After you've given it a try, please take a moment to rate and review it. Your feedback helps me create recipes that you and your family will love.
Did you make this? Be sure to leave a review below and tag me on Facebook, Instagram, or Pinterest!
Recipe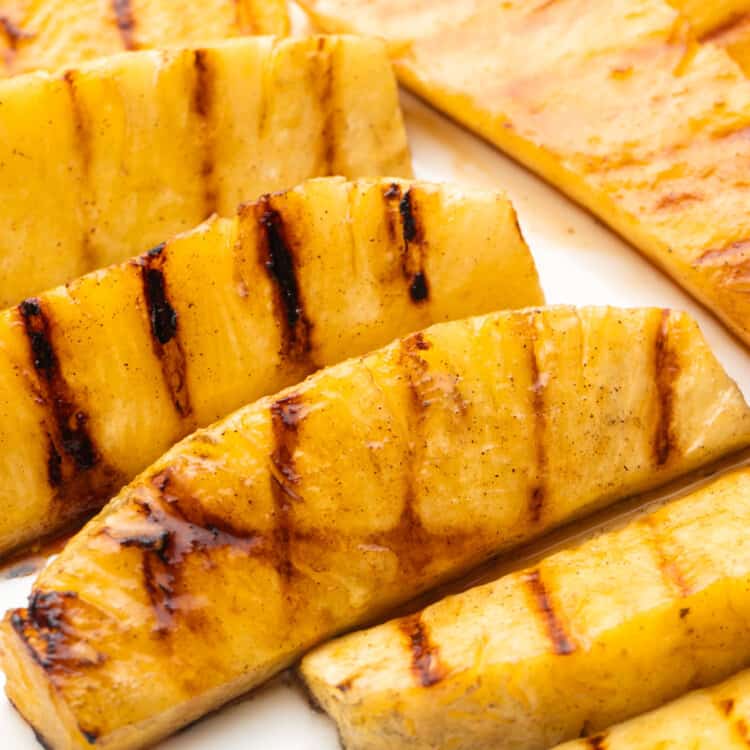 (Click stars to rate!)
Caramelized Grilled Pineapple
Whip up a delicious batch of Caramelized Grilled Pineapple with this easy recipe. It's the perfect blend of sweet and smoky that everyone will love!
Whip up a delicious batch of Caramelized Grilled Pineapple with this easy recipe. It's the perfect blend of sweet and smoky that everyone will love!
Ingredients
1

whole pineapple

2

tablespoons

unsalted butter

melted

¼

cup

light brown sugar

½

teaspoon

cinnamon
Instructions
Preheat your grill on medium heat.

Peel the pineapple and cut it into spears.

In a small bowl, mix together the melted butter, light brown sugar, and cinnamon.

Brush the pineapple spears with the butter and sugar mixture.

Grill the pineapple spears for about 7-8 minutes on each side, until they're golden and caramelized. Remove from the grill and serve.
Notes:
Choose a ripe but firm pineapple for grilling.
Prepare your grill and maintain medium heat for optimal caramelization.
Substitute brown sugar for honey or use half of each for a sweeter glaze.
Add a bit of cayenne pepper to the butter and sugar mixture for a spicy kick, or sprinkle with Tajin at the end.
Infuse your pineapple with citrus flavor using lime, orange, or lemon juice.
Double the butter and sugar mixture for extra glaze and a sweeter flavor.
Be creative with serving: try with yogurt, top with granola, or use in a salsa or salad.
Nutrition Information
Calories:
216
kcal
,
Carbohydrates:
43
g
,
Protein:
1
g
,
Fat:
6
g
,
Saturated Fat:
4
g
,
Polyunsaturated Fat:
0.3
g
,
Monounsaturated Fat:
2
g
,
Trans Fat:
0.2
g
,
Cholesterol:
15
mg
,
Sodium:
7
mg
,
Potassium:
268
mg
,
Fiber:
3
g
,
Sugar:
36
g
,
Vitamin A:
307
IU
,
Vitamin C:
108
mg
,
Calcium:
45
mg
,
Iron:
1
mg
This website provides approximate nutrition information for convenience and as a courtesy only. Nutrition data is gathered primarily from the USDA Food Composition Database, whenever available, or otherwise other online calculators.
© Little Sunny Kitchen