Sour Cream Mashed Potatoes are rich, creamy, and have that extra zing that makes everyone ask for seconds. If you're looking for an easy-to-make dish that goes great with almost any main course, these mashed potatoes are it! They are especially popular during the holiday season when everyone wants comfort food that's a notch above the usual.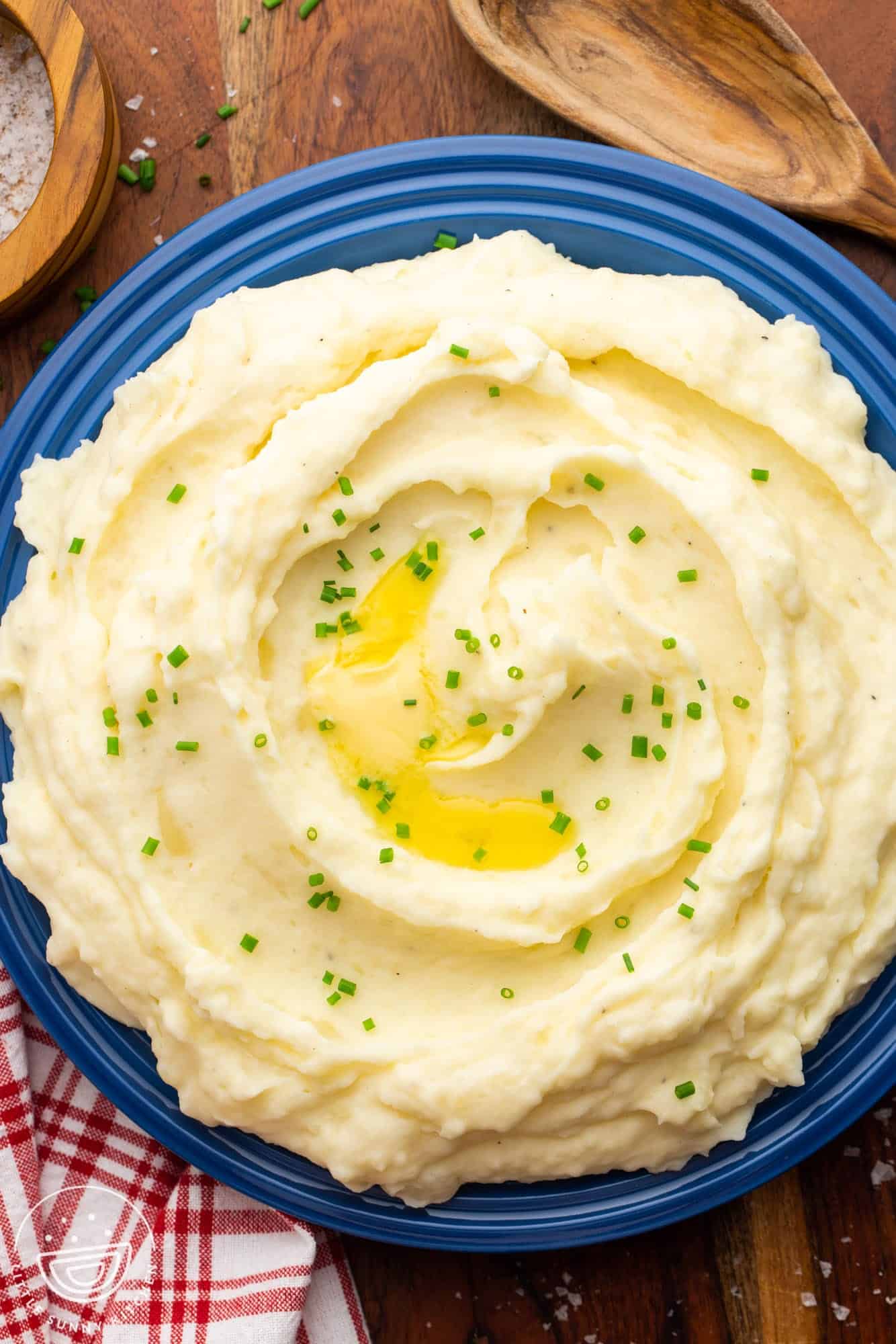 Why This Recipe is So Good
Effortless to Make: Seriously, if you can boil water, you can make these mashed potatoes. This is especially helpful for busy parents juggling a lot between work, kids, and getting dinner on the table.
Big on Flavor: Sour cream isn't just there for show – it actually gives a great tangy flavor that makes these mashed potatoes stand out.
Smooth as Silk: The texture is so creamy and smooth that it almost melts in your mouth. It's the perfect companion for hearty meats and gravies.
Versatile for Any Occasion: These mashed potatoes fit in just right, be it a festive holiday meal or a simple weeknight dinner.
If you're looking for different variations, you can check out other options like Boursin Mashed Potatoes for cheesy and herby goodness, Crockpot Mashed Potatoes which are a lifesaver when you need to free up oven space, or Parsnip Puree for a low-carb alternative. For those who love a bit of greens in their mash, Colcannon is a personal favorite!
Key Ingredients and Substitutes
Yukon Gold Potatoes: These are the creamiest and the best for mashing. If you can't find them, Russet potatoes will work too.
Unsalted Butter: You get to control the salt, which is always a good thing. If you only have salted butter, just add less salt.
Sour Cream: This adds creaminess and a special tangy kick. This is a sour cream mashed potato recipe, but if you need a substitute then plain Greek yogurt or creme fraiche work.
Milk: I use Whole milk or 2% milk. If you're in a pinch, you could use skim milk, but you'll lose a bit of the creamy texture.
Chives: These add color and a mild, onion-like flavor. No chives? Finely chopped green onions work too.
Bonus Add-ins
If you're looking to give your mashed potatoes an extra kick, here are some more suggestions:
Garlic: A clove or two of minced garlic will give a subtle, aromatic undertone.
Herbs: Fresh herbs like rosemary, thyme, or even a sprinkle of parsley can add a burst of flavor.
Spices: A dash of paprika or a hint of nutmeg can add a new layer of taste to your dish.
Complete list of ingredients and amounts can be found in the recipe card below.
How To Make Creamy Sour Cream Mashed Potatoes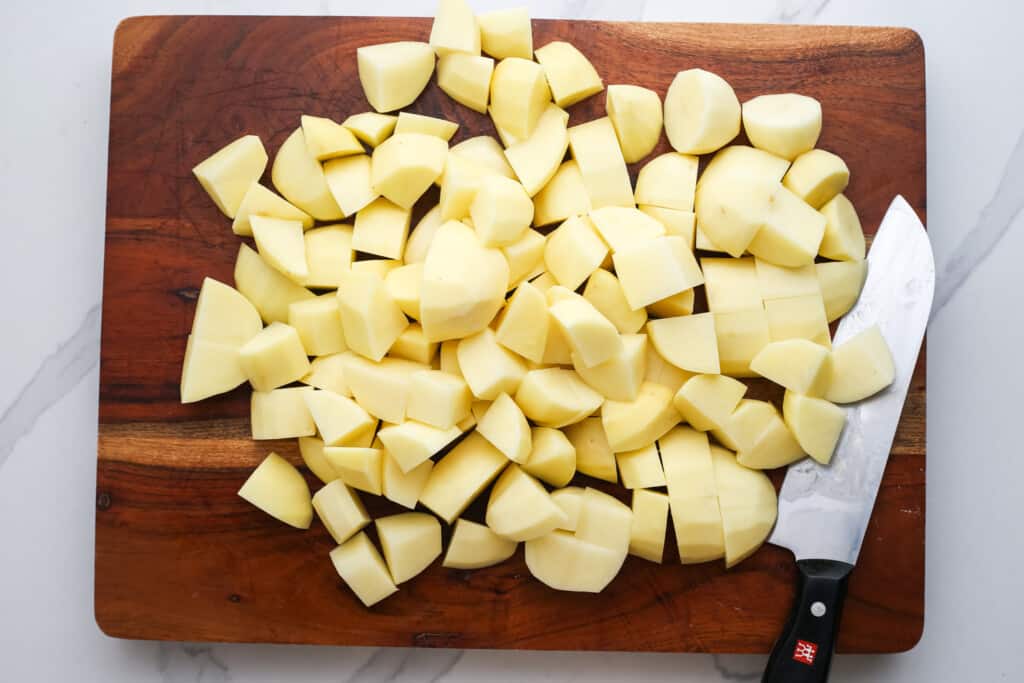 Peel and Cut: Start by peeling the potatoes. Cut them into equal 1-inch pieces.
Boil: Place them in a big pot, fill it with enough water to cover them, and then turn the stove to medium-high heat.
Cook: Once the water boils, reduce the heat and simmer the potatoes for about 10 minutes, until they're soft enough to be poked easily with a fork.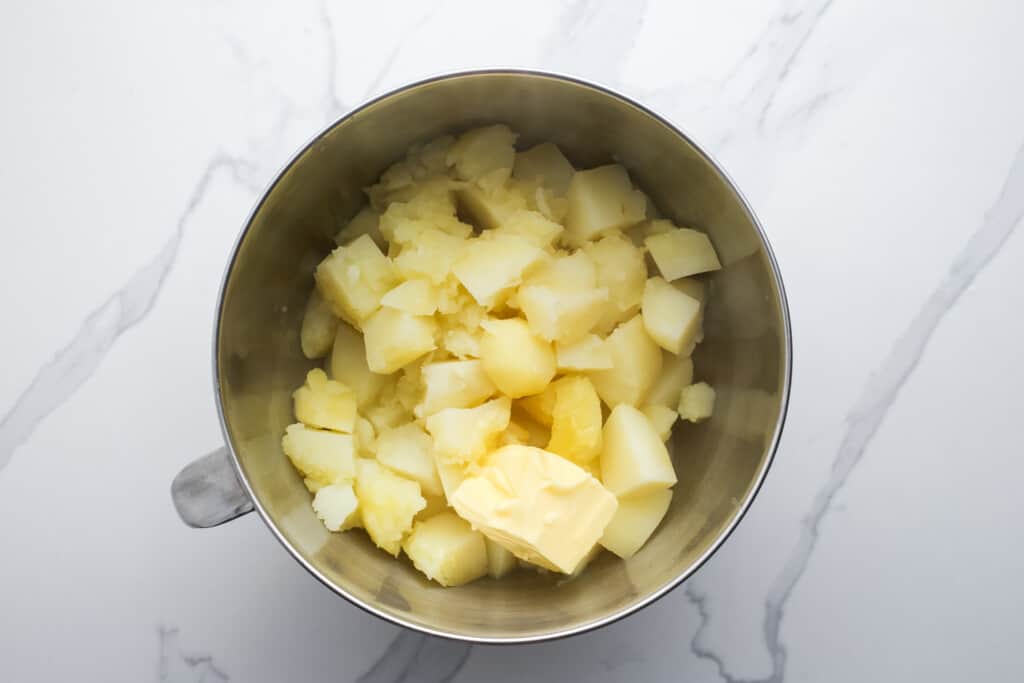 Drain and Mash: Drain the water out and place the potatoes in a mixing bowl. Use a potato masher or a mixer on low speed to mash them up.
Mix in the Good Stuff: Add the butter, sour cream, salt, and black pepper to the bowl.
Whip it Up: With a mixer on medium speed, start whipping while gradually adding up to 3/4 cup of milk. Stop when it's creamy (over-whipping can make the mashed potatoes gummy). Finally, sprinkle chives on top before serving.
Tip!
For the fluffiest and creamiest mashed potatoes, stick with starchy varieties like Yukon Gold in the United States or Maris Piper if you're in the UK. It's best to steer clear of waxy potatoes, as they can turn out gummy when mashed.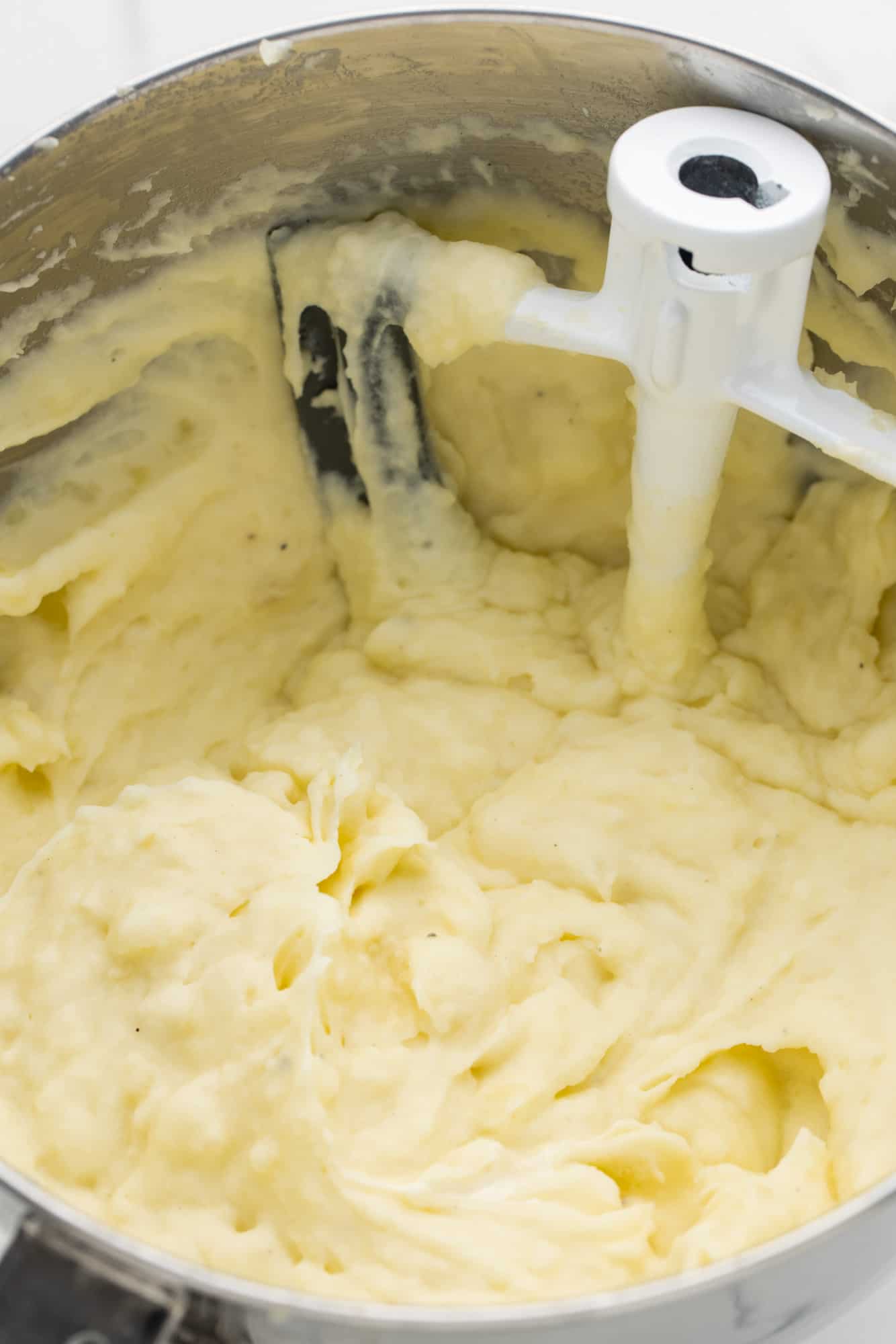 Recipe Tips
Well-Drained Potatoes: One of the secrets to getting super creamy mashed potatoes is to make sure you drain your potatoes really well. Any leftover water can make your mash soggy. So give those boiled potatoes a good shake in the strainer or colander to remove excess water.
Milk Alternatives: If you're out of milk or prefer a dairy-free option, you can replace the milk with vegetable stock. It'll still make your mashed potatoes super flavorful.
Flavor Boosters: Want to jazz up your mashed potatoes? Feel free to mix in some shredded cheese or crumbled bacon. It'll add a little something extra that'll make your mashed potatoes the star of any meal.
Temperature Matters: Always add your butter, sour cream, and milk to the potatoes while they're hot. This helps everything melt together smoothly, making your mashed potatoes extra creamy.
Slow and Steady: While mashing or whipping, take it easy. Overmixing can turn your potatoes into a gummy mess. So keep an eye on the texture as you go.
Taste Test: Before you serve, taste the sour cream mashed potatoes to see if you need to add more salt or pepper.
Last-Minute Chives: Add the chives right before serving to keep their fresh, green look.
Storing, Making Ahead, and Reheating Tips
Make Ahead and Freeze
Busy parents and home cooks, listen up! You can make these Sour Cream Mashed Potatoes ahead of time and freeze them. Use a freezer-friendly, airtight container and place a sheet of plastic wrap right against the potatoes. This keeps the air out and the yumminess in! Breaking them into smaller portions in separate containers can make thawing a breeze. You can freeze them like this for up to two months.
How to Thaw
Okay, so the day has come to enjoy your frozen mashed potatoes. The trick is to move them from the freezer to the fridge the day before you plan to eat them. This slow thaw keeps the texture and flavor on point.
Reheating Options
Oven Method
For reheating in the oven, transfer your thawed mashed potatoes into a casserole dish. Warm your oven up to 350°F (180°C) and slide the dish in. In about 20 minutes, they should be nice and hot. Just give them a quick stir halfway through to make sure they heat evenly.
Stovetop Method
If you're more of a stovetop person, that works too. Pour your thawed mashed potatoes into a big pot. Turn the heat to medium-low and stir every so often. They should heat up nicely. If they're looking a little dry, don't hesitate to add some extra milk or butter.
Microwave Method
Short on time? The microwave's got you covered. Take your mashed potatoes and put them in a microwave-safe bowl. Cover the bowl and set your microwave to half-power. In about 4 to 5 minutes, they should be hot. Remember to pause and stir at the 2-minute mark to get that even heat.
With these make-ahead, storing, and reheating tips, your Sour Cream Mashed Potatoes will be a hit any time you decide to serve them – holidays, special events, or just a regular dinner.
Recipe FAQs
Can I use low-fat sour cream?
You can, but the texture may be less creamy. The taste will also be a bit different, so keep that in mind.
Is a hand mixer okay to use?
Absolutely, a hand mixer will work just fine for this recipe. Just make sure not to overmix.
Can I substitute chives with something else?
If you don't have chives, chopped parsley or a sprinkle of dried thyme can also add a nice touch.
Creamy, tangy, and so easy to whip up, these Sour Cream Mashed Potatoes are a must-have on any dinner table, especially during the holidays. Make the best mashed potatoes ever with this simple recipe, and you'll be the star of any meal. Be sure to pin this recipe – you won't want to forget it!
Did you make this? Be sure to leave a review below and tag me on Facebook, Instagram, or Pinterest!
Recipe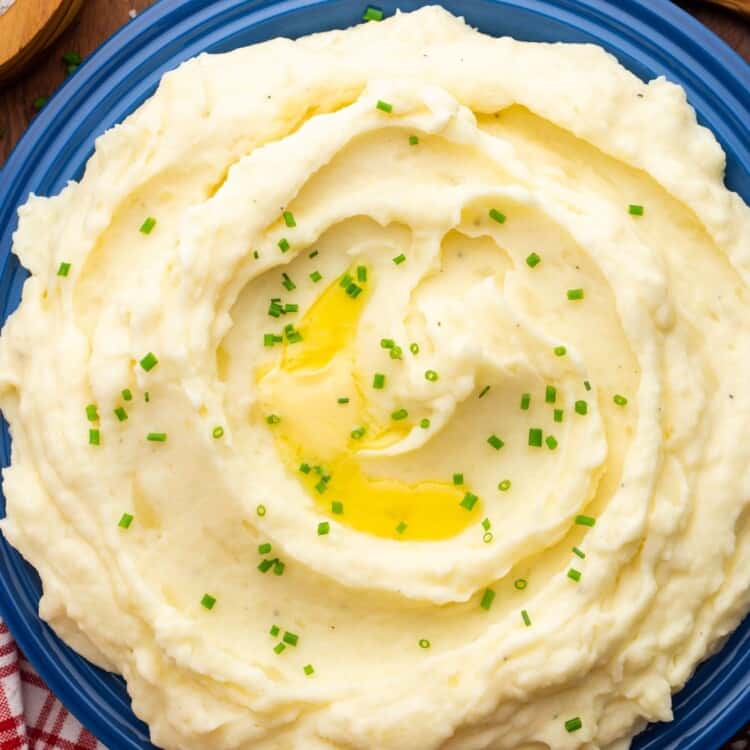 (Click stars to rate!)
Sour Cream Mashed Potatoes
These Sour Cream Mashed Potatoes are super easy to make, really creamy, and full of great flavor. They're awesome for holidays, special dinners, or just because you want something good to eat. We've even got tips for making them ahead of time and reheating, so they're perfect for busy days too!
These Sour Cream Mashed Potatoes are super easy to make, really creamy, and full of great flavor. They're awesome for holidays, special dinners, or just because you want something good to eat. We've even got tips for making them ahead of time and reheating, so they're perfect for busy days too!
Ingredients
3

pounds

Yukon Gold potatoes

4

tablespoons

unsalted butter

room temperature

½

cup

sour cream

room temperature

¾

cup

milk

whole or 2%, room temperature (start with less and add as needed)

1

teaspoon

salt

¼

teaspoon

ground black pepper

1

tablespoon

chopped chives for garnish
Instructions
Begin by peeling the potatoes. Once peeled, dice them into approximately 1-inch chunks.

Place the diced potatoes into a large pot and fill it with enough water to cover the potatoes. Place the pot on medium-high heat and bring the water to a boil. Once boiling, reduce the heat to a simmer. Cook the potatoes uncovered for about 10 minutes, or until they can be easily pierced with a fork.

Once the potatoes are cooked, drain the water using a colander.

Immediately transfer the drained potatoes to the bowl of a stand mixer (if you don't have a stand mixer, you can keep them in the pot). Mash the potatoes using a masher or the paddle attachment of the stand mixer on low speed. It is crucial to mash the potatoes while they are still hot to prevent them from turning gummy.

Add butter, sour cream, half of the milk, salt, and ground black pepper to the mashed potatoes.

Switch the stand mixer to medium speed and whip the potatoes until they are just smooth. Gradually add the remaining milk as needed. Be cautious not to overwhip the potatoes, as this can make them gluey.

If not serving immediately, cover the bowl with a lid or plastic wrap to keep the mashed potatoes warm. When ready to serve, garnish with chopped chives.
Notes:
Make sure that the butter, sour cream, and milk are at room temperature. This helps in achieving a smooth texture.
The potatoes should be mashed when they are hot; otherwise, they can turn gummy.
Be careful not to overwhip the potatoes; it's better to have a slightly chunky texture than to end up with gluey mashed potatoes.
You can adjust the salt and pepper according to your taste.
This website provides approximate nutrition information for convenience and as a courtesy only. Nutrition data is gathered primarily from the USDA Food Composition Database, whenever available, or otherwise other online calculators.
© Little Sunny Kitchen