Shrimp Ceviche is a light and delicious appetizer recipe everyone will love! Succulent shrimp are marinated in fresh citrus juice and surrounded by fresh vegetables and creamy avocado. Ready in around 30 minutes!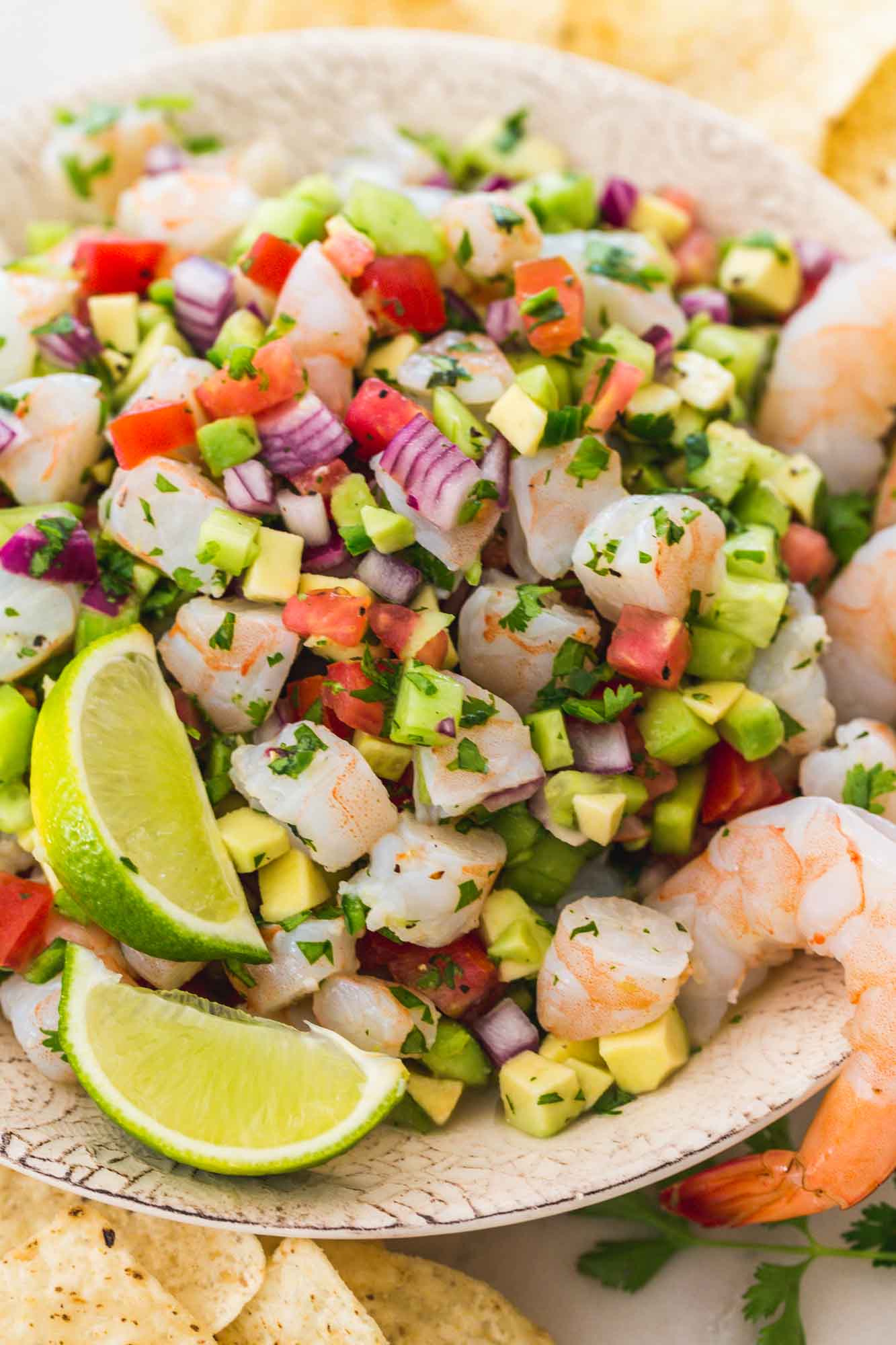 I love every and all shrimp recipes — the easier the better! This Shrimp Ceviche recipe is one of the easiest with so much fresh and light flavor. Made with lemon juice and lime juice, it's a great dip with tortilla chips just like pico de gallo.
Whenever I'm craving shrimp, I make this. It's packed with tons of veggies, but the shrimp is truly the star of the dish. Try this fresh seafood recipe for your next party or seafood dinner spread (Also perfect for Cinco de mayo, Superbowl, or the Holidays!). Your guests will LOVE it!
Why You'll Love this Recipe
Fresh and flavorful. This fresh shrimp ceviche is bursting with flavor from the roma tomatoes, creamy avocado, sharp red onion, and spicy jalapeños! Plus, the classic tang of lemon and lime juice on everything.
Easy to make. This recipe only has three steps: poach, chop, and mix! If you use pre-cooked shrimp, you can make this dish even easier and keep the stove off completely.
Perfect for parties. I love serving this at all my summer cookouts and pool parties for a light but flavorful appetizer dish.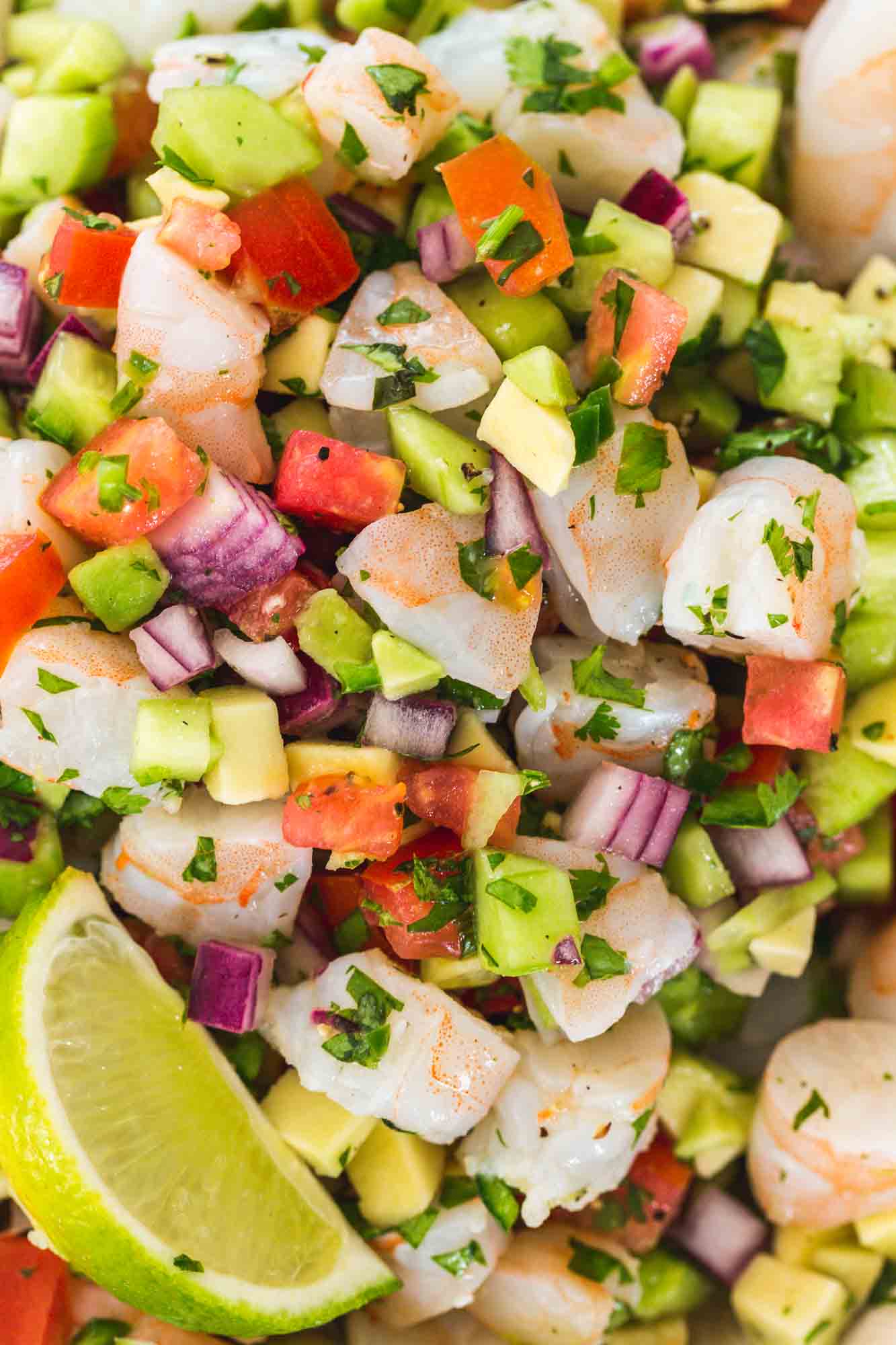 What is Ceviche?
I love eating fresh and flavorful summer dishes, and ceviche is one of my favorites! It's a traditional Latin / Peruvian dish typically served as a light tapas-style meal or fish appetizer. Think of it as a seafood salad!
Traditionally, ceviche is made from raw fish cured in fresh citrus juice, most commonly lemon juice or lime juice. For this recipe, I cook the shrimp or use pre-cooked shrimp because it's safer, but I still keep the citrus flavors!
The reason why I like to poach shrimp is that traditionally very fresh shrimp is used that is caught on the same day and then turned into a ceviche. But in real life, most of us can only buy frozen shrimp (unless you live by the coast!), so it's safer to just poach the shrimp or use the pre-cooked stuff.
When eaten as a main dish, ceviche is often served with sweet potatoes, lettuce, corn, avocados, or plantains.
Ingredients Used
Shrimp: Most ceviches start with raw fish, but I like to poach mine for the perfect cook. I use about 2 dozen jumbo shrimp (21-25 count) because I like how meaty it is when all chopped up.
Roma tomatoes: Be sure to dice all your veggies small and uniformly for the best fresh fish ceviche. I like the taste of roma tomatoes, but you could always use a different type.
Cucumber: The cool crunch of cucumbers is perfect in this ceviche recipe. I like to peel my cucumbers before dicing, too. You can leave the skin on, it's just a personal preference.
Avocado: Be sure to add the avocado within an hour or 2 of serving. The lime juice will keep it from browning quickly, too.
Red onion: The sharp flavor of raw red onions is an acquired taste, but I definitely have it! You can use a milder onion or no raw onion at all, if you prefer. I also love the crunch that the onion adds to the ceviche.
Jalapeño: Don't forget to deseed your jalapeño! I also remove the white ribbing inside for a less spicy pepper.
Fresh citrus juice: It's not ceviche without citrus juice! I use lemon and lime juice in this recipe, but you could also use orange juice or even grapefruit juice! Just make sure it's fresh.
Complete list of ingredients and amounts can be found in the recipe card below.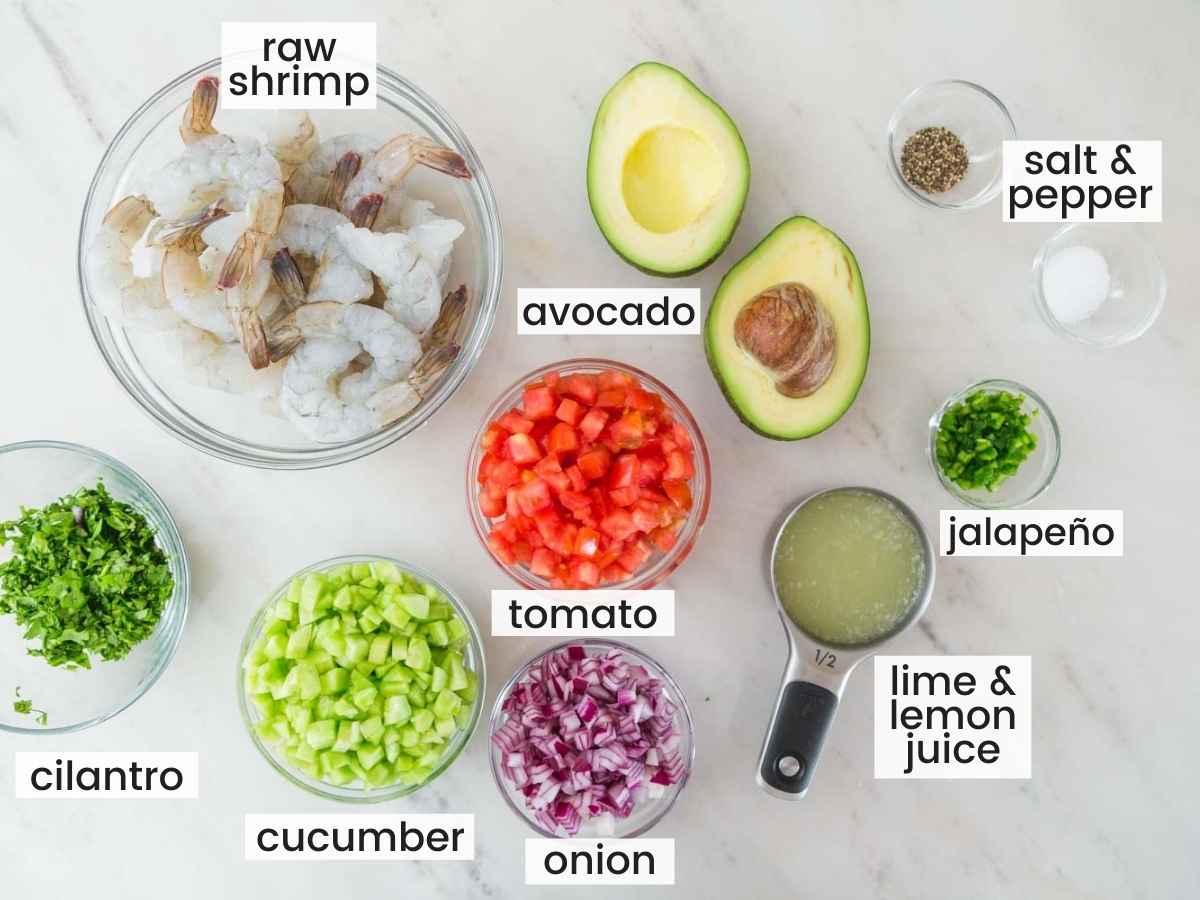 How to Make Shrimp Ceviche
Follow these steps for the best fresh shrimp ceviche ever:
Make poaching liquid. First, poach the shrimp if you're using raw shrimp. Bring a mix of sugar, salt, and water to a boil. Add some fresh lemon juice, then throw the lemons in the pot, too.
Remove from heat and add shrimp. Once the liquid is boiling, remove it from the heat and immediately add the shrimp.
Poach shrimp. Let them poach for a minute or 2 until opaque and pink.
Shock shrimp. Then, immediately shock with ice. Let the shrimp sit in the cold water for about 15 minutes.
Dry and peel shrimp. Now, set the poached shrimp on a paper towel to dry before peeling. Be sure to get all the bits of shell, legs, and tail!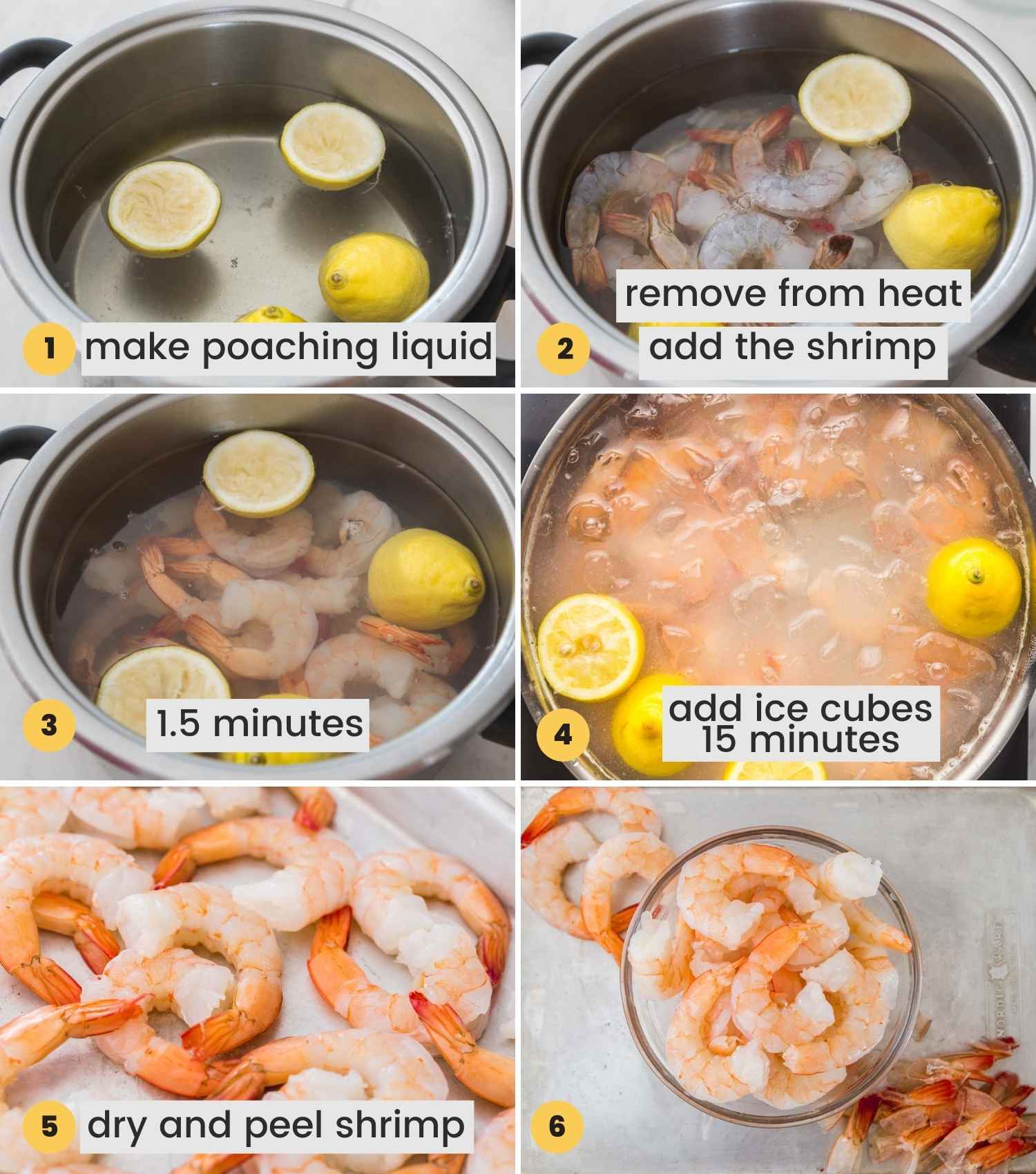 Chop and mix ceviche. Finally, chop the shrimp into small pieces. Combine it with the diced tomatoes, cucumber, red onion, jalapeño, lime juice, and lemon juice. If serving immediately, add the avocado, too. Give it a toss, and season to taste with salt and pepper. Cover and refrigerate until it's time to serve.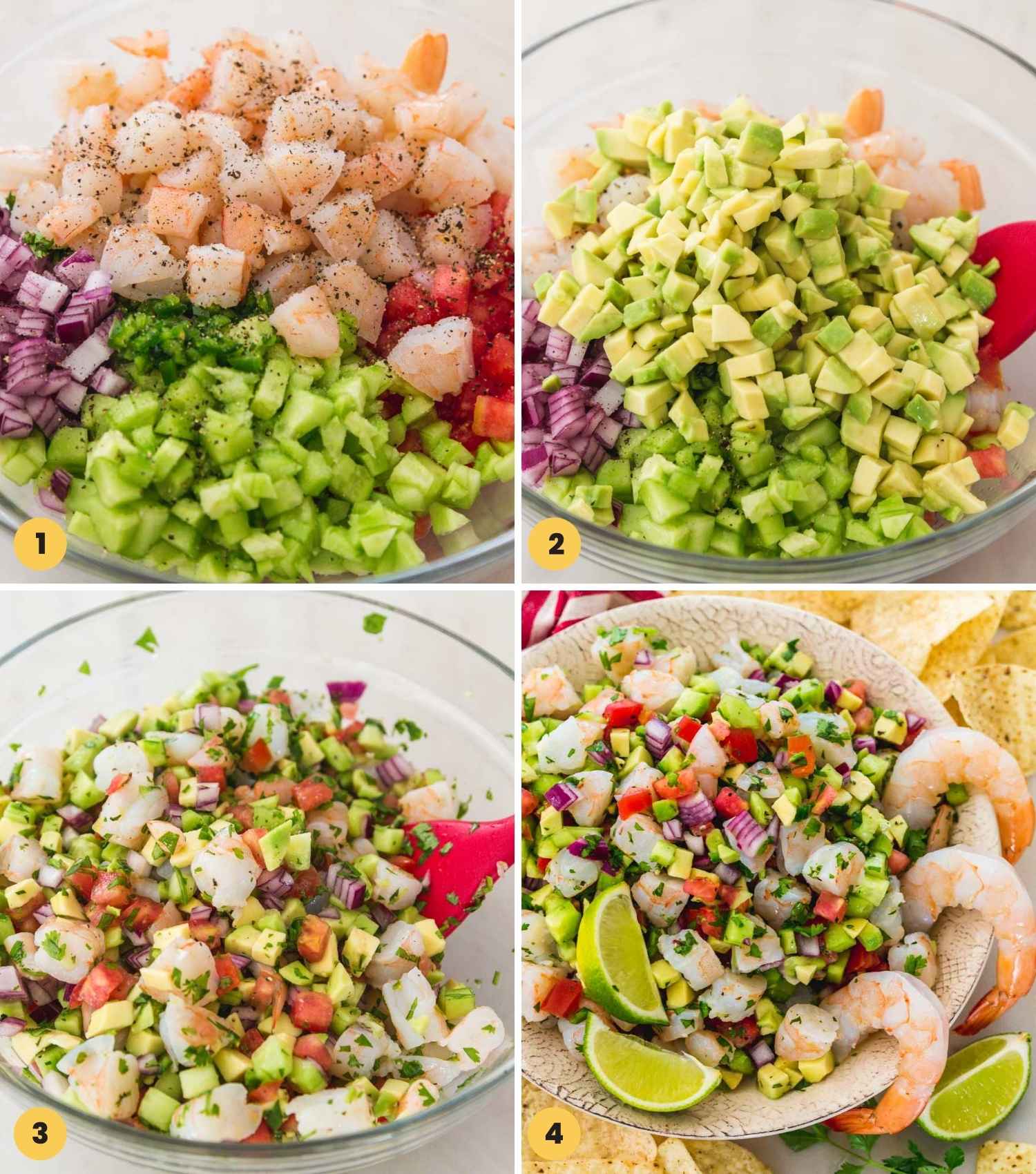 Tips and Tricks
I love this simple ceviche recipe, but there's tons of ways to enhance it. Here's all the tricks you'll need to make the best ceviche:
Keep it simple. I make this a lot in the summer as an excuse to get fresh raw shrimp. However, you can always buy pre-cooked shrimp and make this a no-cook dish all summer long!
Make it ahead. It's hard to make raw fish ceviche in advance (if you don't poach the shrimp or fish and you're making it ahead, you will risk getting food poisoning! So be sure to cook the seafood first). This cooked recipe can be served up to 24 hours later! If you're making it ahead, don't forget to save the avocado for serving time to keep it bright and green.
Change up the protein. I love succulent shrimp, but you can make this recipe with mahi mahi, sea bass, or most any other fresh fish you love!
Add more flavors. If you want to switch up the veggies, feel free! The only requirements for ceviche are the fish/shrimp and fresh citrus juice. I've also used white onions, cilantro, orange juice, habanero peppers, and even mango!
Pick fun dippers. You can always eat ceviche plain with a fork, but what fun is that? I love to serve it on crunchy bruschetta, over tostadas, lettuce leaves, or with corn tortilla chips for even more flavor and texture!
Frequently Asked Questions
Is ceviche raw or cooked?
Unlike sushi, ceviche is completely cooked! Some recipes don't use heat, but the enzymes in citrus juice cook the raw fish or shrimp.
How long should shrimp sit in lime juice?
When you're cooking raw shrimp in lime juice, you only need about 15 minutes before it's cooked — seriously! I like poaching mine on the stovetop instead, but traditional ceviche cooks the fish/shrimp in citrus juice instead of with heat.
How long does leftover shrimp ceviche last?
Traditional ceviche that's cooked in fresh citrus juice needs to be eaten immediately and isn't safe for leftovers. However, since this recipe is poached instead, it's safe for at least a day! The avocado might turn brown though, so I recommend adding it immediately before serving if making this dish ahead of time.
How do you know when shrimp is done?
Shrimp is done when it's no longer translucent or gray, it should turn white/pink and opaque and have a perfect "C" shape. Make sure not to overcook the shrimp as it can easily turn rubbery.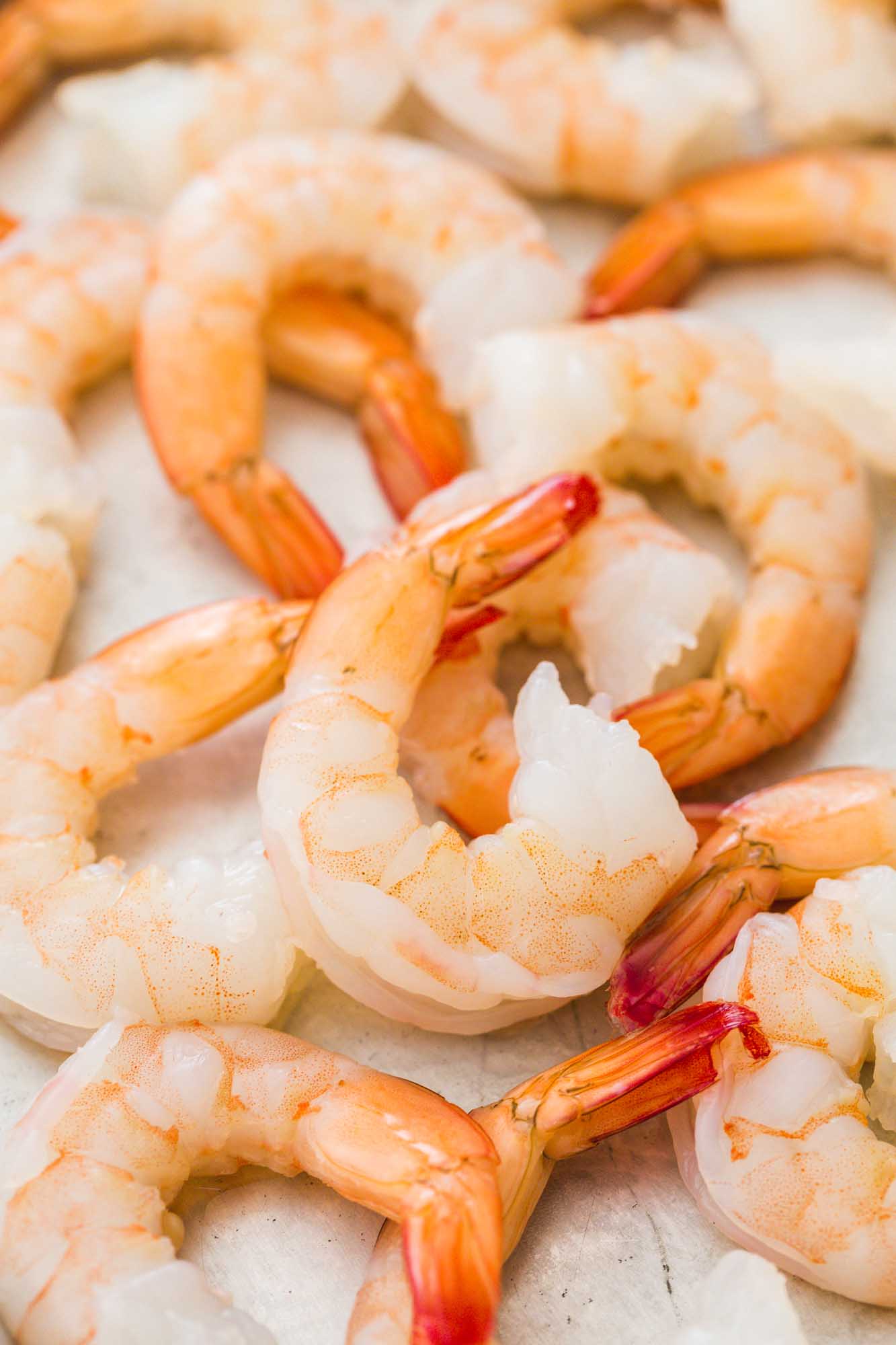 Now that you're a pro at making this shrimp ceviche, you're ready for all the summer parties! Change it up with different veggies or switch out the citrus juices for a different flavor. Make sure to Pin this recipe so more people can enjoy it too!
Did you make this? Be sure to leave a review below and tag me on Facebook, Instagram, or Pinterest!
Recipe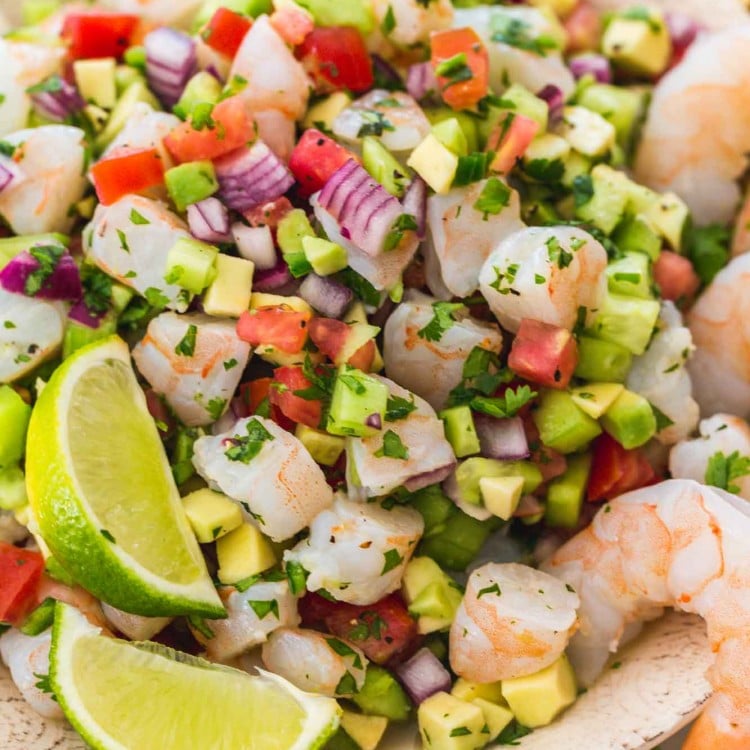 (Click stars to rate!)
Shrimp Ceviche
Shrimp Ceviche is the best light and delicious summer appetizer! Succulent shrimp are marinated in fresh citrus juice with fresh veggies and avocado.
Shrimp Ceviche is the best light and delicious summer appetizer! Succulent shrimp are marinated in fresh citrus juice with fresh veggies and avocado.
Ingredients
1 lb

(450g)

shrimp cooked or raw, if raw see how to poach shrimp post

2

roma tomatoes

diced

½

cucumber

peeled and diced

1

avocado

diced

1

medium

red onion

diced

1

jalapeño

deseeded and diced

¼

cup

lime juice

¼

cup

lemon juice
salt and pepper

to taste

Corn tortilla chips

for serving
Instructions
For raw shrimp: If using raw shrimp, then poach it. Make the poaching liquid by combining water with sugar and salt. Bring to a boil, squeeze a lemon, and then toss the lemons in the saucepan/pot.

Remove from heat, and add the raw shrimp to the hot poaching liquid. Poach for 1-1.5 minutes or until the shrimp is opaque and no longer transparent/gray.

Immediately shock with ice. Allow the shrimp to sit in cold water for 15 minutes, then remove onto paper towels to dry it and peel it. See how to poach shrimp blog post.

For cooked shrimp: Chop the shrimp into small pieces (about ½ inch).

In a large bowl combine the shrimp with tomatoes, cucumber, avocado, red onion, jalapeño, lime juice, and lemon juice. Give it a toss, and season with salt and pepper.

Cover with plastic wrap, and chill in the fridge for at least 30 minutes before serving. Serve with tortilla chips or over tostadas.
Notes:
I used jumbo shrimp (21-25 count) as I like the meaty texture when it's chopped up, but feel free to use smaller shrimp.
Make sure not to overcook the shrimp.
Only add the avocado up to 2 hours before serving.
Serve in the fridge covered for up to 24 hours.
Nutrition Information
Calories:
112
kcal
,
Carbohydrates:
6
g
,
Protein:
13
g
,
Fat:
5
g
,
Saturated Fat:
1
g
,
Polyunsaturated Fat:
1
g
,
Monounsaturated Fat:
3
g
,
Cholesterol:
143
mg
,
Sodium:
444
mg
,
Potassium:
271
mg
,
Fiber:
2
g
,
Sugar:
2
g
,
Vitamin A:
203
IU
,
Vitamin C:
16
mg
,
Calcium:
94
mg
,
Iron:
1
mg
This website provides approximate nutrition information for convenience and as a courtesy only. Nutrition data is gathered primarily from the USDA Food Composition Database, whenever available, or otherwise other online calculators.
© Little Sunny Kitchen