With a beautiful golden color on the outside and a soft buttery inside, our Roasted Fingerling Potatoes recipe is a winner. The yummy garlic flavor combined with the light crunchiness makes these potatoes a great side dish for your meals. They are just right for any occasion, be it a simple weekday dinner or a big holiday celebration.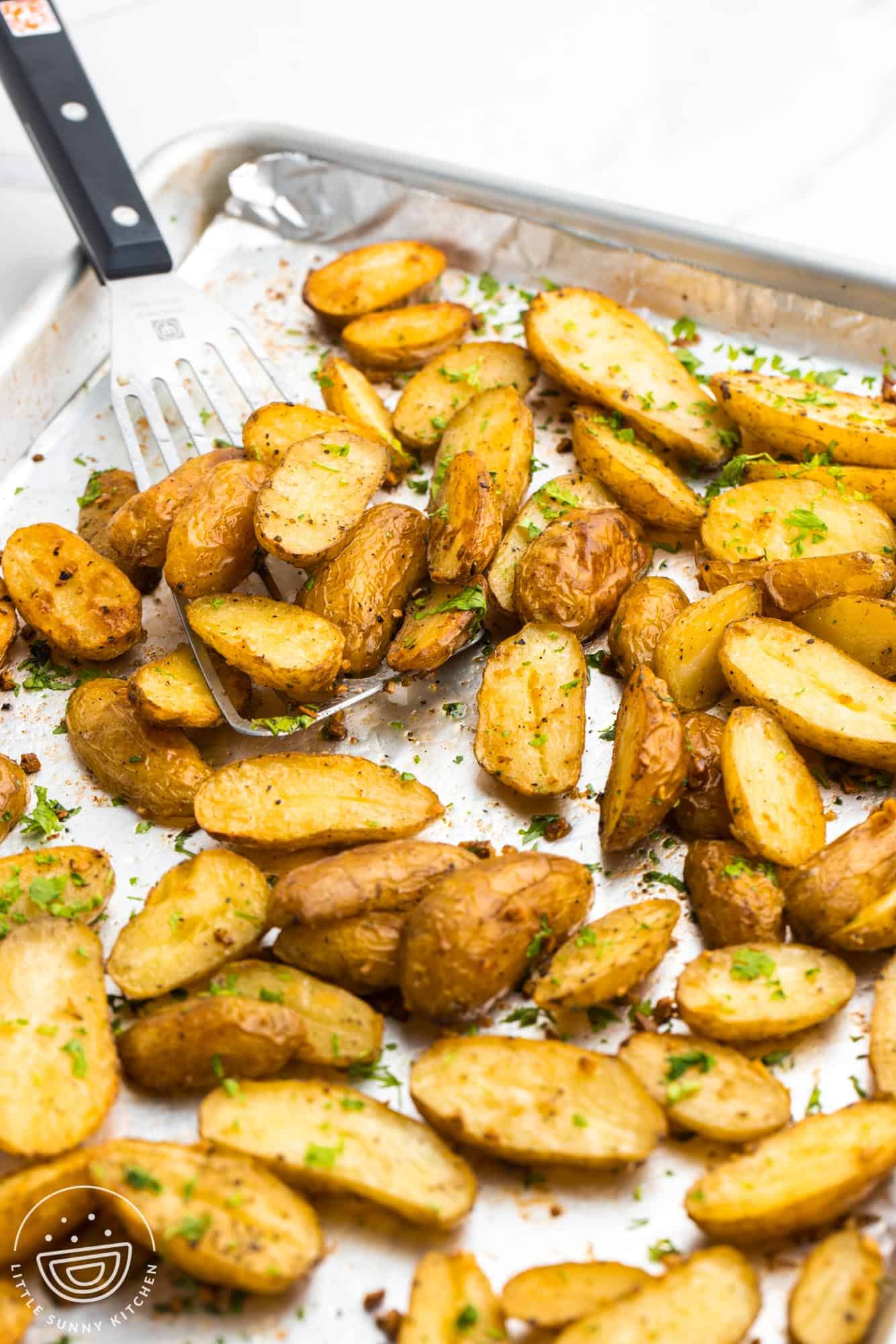 What are Fingerling Potatoes?
Fingerling potatoes are small, shaped like fingers, and a great choice for many tasty dishes. Their size is natural, and they're well-known for their lovely thin skin and unique shape.
When these potatoes are cooked, especially roasted, they change into a nice golden color. Their thin skin becomes crispy while the inside remains soft and creamy. One great thing about fingerling potatoes is you don't have to peel them. This not only saves time but also keeps all the good stuff that's usually lost when peeling.
Another thing to know about fingerling potatoes is that they cook fast because of their small size. This makes them a popular choice when you need to whip up a quick meal.
In terms of flavor, fingerling potatoes are pretty mild. This means they can take on a lot of other flavors from spices or herbs that you cook them with. Whether you like simple salt and pepper or favor herbs like rosemary, these potatoes can take it all in and still taste great.
When you go to a store to buy fingerling potatoes, you'll find a few different types. You might see red, purple, yellow, and golden ones, or even a mix of these. While they might look a little different, any of them can be used to make this Roasted Fingerling Potatoes recipe.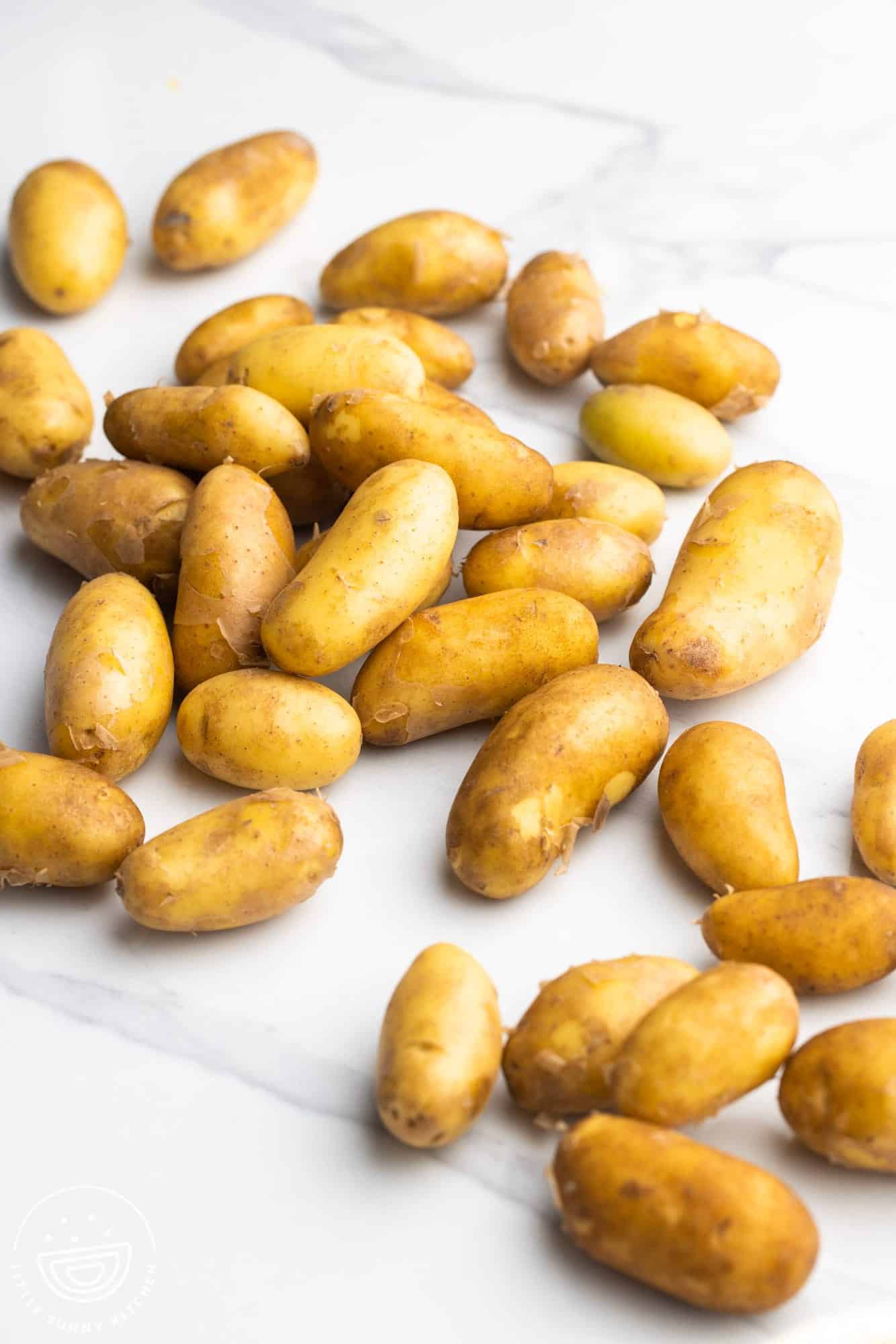 Ingredients Needed
Fingerling Potatoes: The main ingredient. These potatoes are waxy with low starch content, but they still have creamy centers when roasted. If you can't find them, baby potatoes are a good substitute and work fine in this recipe.
Unsalted Butter and Olive Oil: We use a mix of butter and olive oil to give the potatoes a nice color and to keep them from drying out. Don't use extra virgin olive oil – regular olive oil can handle high heat better.
Garlic: For best results, always use fresh and finely minced garlic. You can always use a garlic press.
Salt and Pepper: Adjust according to taste.
Complete list of ingredients and amounts can be found in the recipe card below.
How To Roast Fingerling Potatoes
Roasting fingerling potatoes isn't hard, but there are a few steps to follow to make sure they come out just right.
First, you need to heat up your oven and get your baking sheet ready. Then, wash and dry your potatoes. There is no need to peel these potatoes, and prep is very minimal. Just cut them in half lengthwise to help them get crispy and brown.
Next, mix the potatoes with melted butter, olive oil, and minced garlic. The butter and oil help the potatoes get crispy and golden. Once the potatoes are coated, add salt and pepper. Then, put them on your baking sheet with the cut side down.
Now it's time to roast the potatoes. You need to flip them over halfway through so they get brown on both sides. After about 25-30 minutes, the potatoes should be soft on the inside and crispy on the outside. You can add fresh parsley or grated parmesan on top if you like before you serve them.
Recipe Tips
Pick the Right Potatoes: Fingerling potatoes work best for this recipe, but you can also use baby potatoes. If you're using regular potatoes, pick smaller ones and roast them for a bit longer.
Prepare the Potatoes Properly: Always wash and dry your potatoes before you roast them. If they're wet, they won't get as crispy.
More Surface Area: Cut the potatoes lengthwise to get more surface area. This helps more of the potato get in contact with the heat, leading to better browning.
If you want to try another flavor, you can switch the garlic for other spices or herbs. Try smoked paprika, garlic powder, onion powder, Italian seasoning, or cajun seasoning.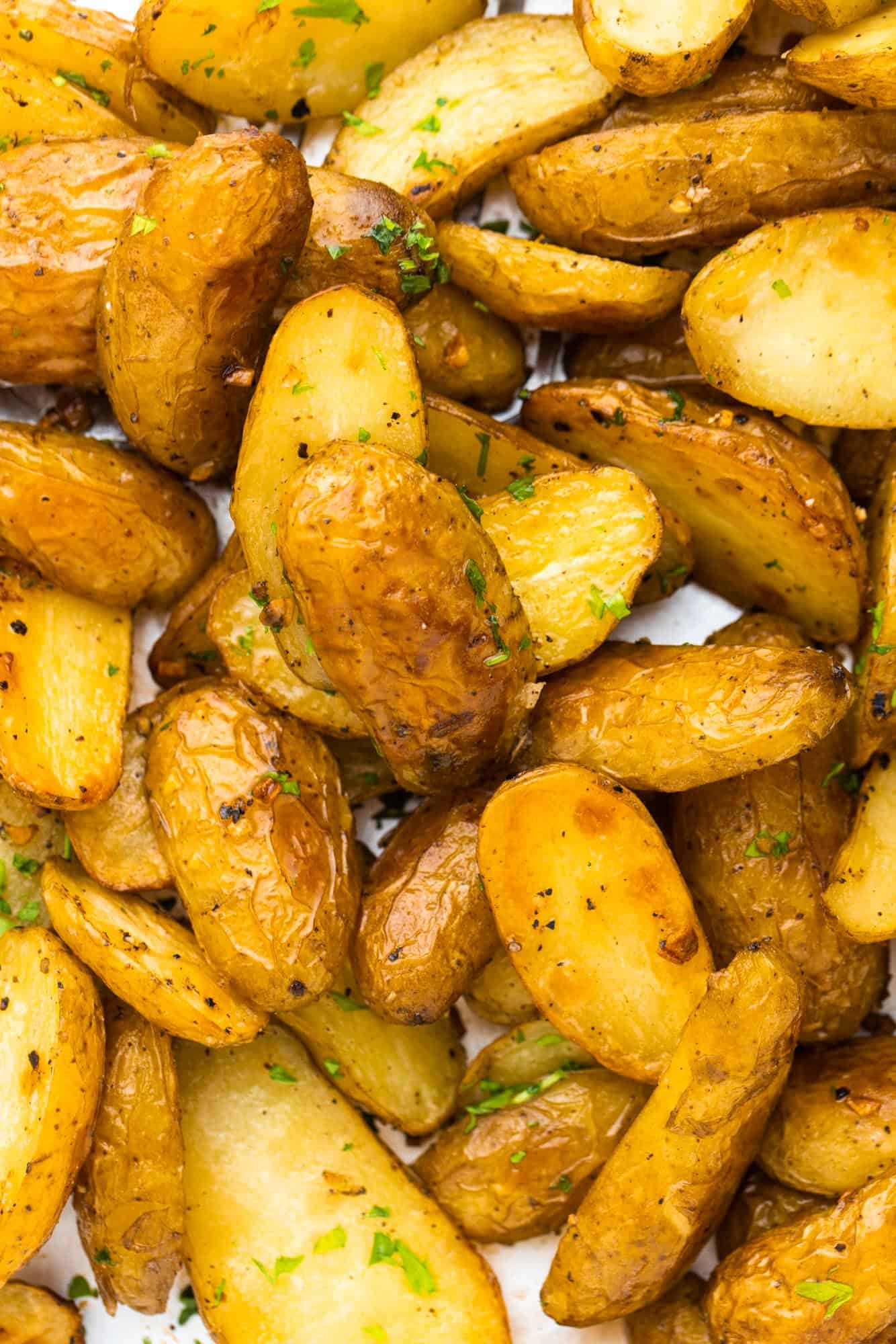 Storing Tips
Roasted Fingerling Potatoes are best enjoyed fresh from the oven, but if you happen to have leftovers, they can be stored in an airtight container in the refrigerator for up to 4 days. To reheat, simply place them in a preheated oven or a toaster oven until they're warm and the exteriors crisp up again.
You can also use the microwave, but keep in mind that they won't be crispy when reheated in the microwave.
I don't recommend freezing waxy potatoes, as their texture can become mealy and grainy when frozen.
Recipe FAQs
Can I use regular potatoes instead of fingerling potatoes?
Yes, you can substitute with baby potatoes or small-sized regular potatoes, just adjust the baking time accordingly.
Can I roast the potatoes without using oil?
While you can roast without oil, using butter and oil helps to brown and crisp the potatoes, enhancing the overall texture and taste.
What can I do if I don't have fresh garlic?
If you don't have fresh garlic, you can use garlic powder instead. Use about 1/4 teaspoon of garlic powder for each clove of garlic.
Do I need to peel the potatoes?
No, you don't. The skin of fingerling potatoes is thin and gets nice and crispy when you roast them.
How to know if the potatoes are cooked?
Your potatoes are done when they can be easily pierced with a fork.
Can I make these ahead of time?
Yes, you can roast the potatoes ahead of time and then reheat them when you're ready to eat. Just make sure they're stored in an airtight container in the fridge.
What can I serve these potatoes with?
These Roasted Fingerling Potatoes can complement any main dish, from steak to chicken or even fish.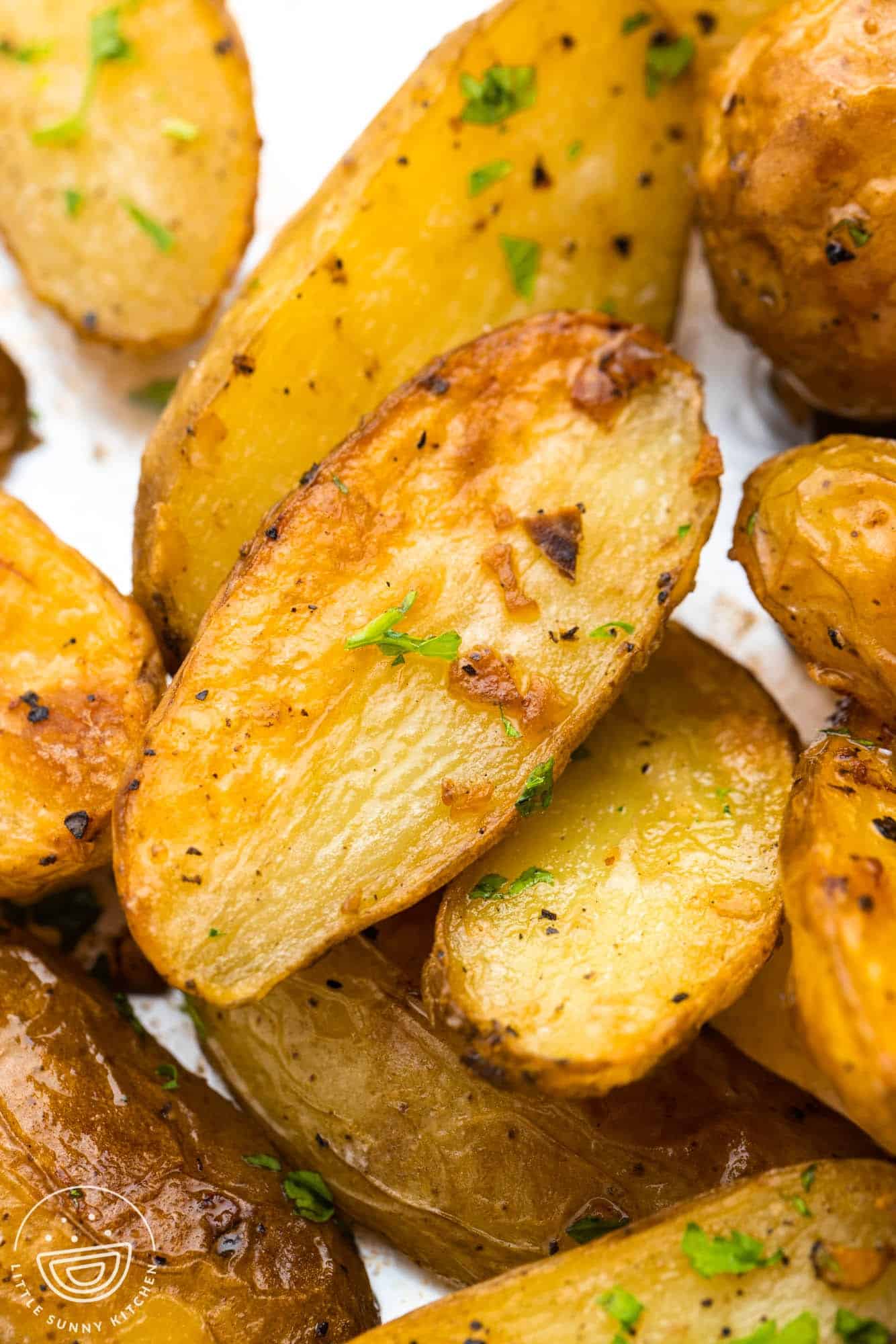 This easy fingerling potatoes recipe is not just delicious, but it also fits into any meal plan with ease. And if you're a potato lover, you might also enjoy Twice Baked Potatoes, Batata Harra – a Middle Eastern version of roasted potatoes, and Air Fryer Roasted Potatoes. If you're looking for a fun twist on this recipe, try using it to make Smashed Fingerling Potatoes.
I hope that you love this potato recipe as much as we do! If you try the recipe don't forget to rate and review it. And save it to your Pinterest boards so easily find it later!
Did you make this? Be sure to leave a review below and tag me on Facebook, Instagram, or Pinterest!
Recipe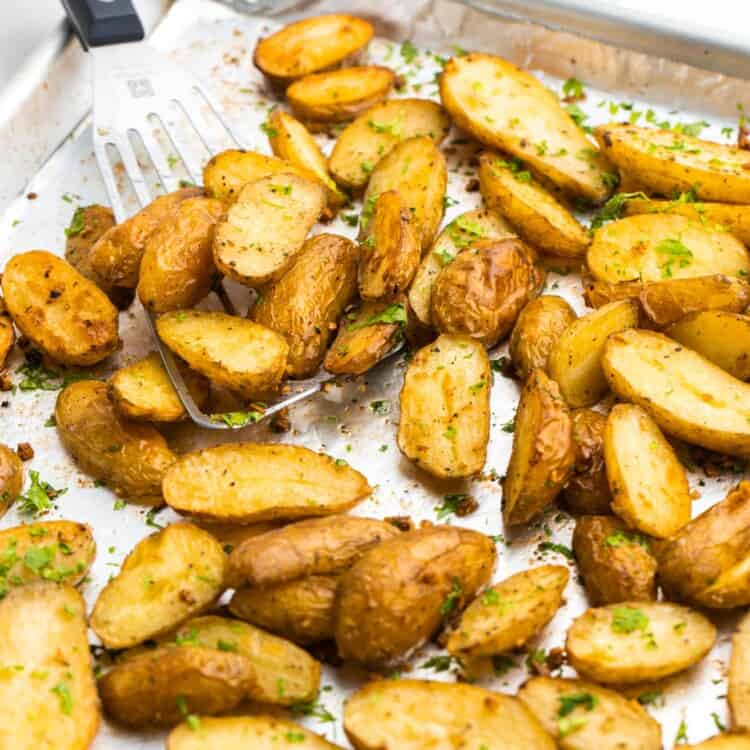 (Click stars to rate!)
Roasted Fingerling Potatoes
Crispy, buttery, and full of flavor, these Roasted Fingerling Potatoes are the ultimate side dish that's easy to make and always a crowd-pleaser.
Crispy, buttery, and full of flavor, these Roasted Fingerling Potatoes are the ultimate side dish that's easy to make and always a crowd-pleaser.
Ingredients
2

pounds

(

900

g

)

fingerling potatoes

2

tablespoons

(

28

g

)

unsalted butter

melted

2

tablespoons

(

30

ml

) olive oil

4

cloves

garlic

finely minced

Salt and pepper

to taste
Instructions
Preheat the oven to 400°F (200°C). Line a large baking sheet with aluminum foil or parchment paper.

Wash, dry, and slice the potatoes in halves lengthwise. Transfer them to the baking sheet.

Drizzle the potatoes with melted butter and oil. Add the minced garlic, and season with salt and pepper.

Toss well to combine. Arrange the potatoes in a single layer, cut side down, on the baking sheet.

Bake for 25-30 minutes, flipping halfway through, until they're easily pierced with a fork.

Optional: Garnish with fresh chopped parsley or grated parmesan before serving.
Notes:
If you can't find fingerling potatoes, baby potatoes are a suitable substitute.
Nutrition Information
Calories:
194
kcal
,
Carbohydrates:
27
g
,
Protein:
3
g
,
Fat:
9
g
,
Saturated Fat:
3
g
,
Polyunsaturated Fat:
1
g
,
Monounsaturated Fat:
4
g
,
Trans Fat:
0.2
g
,
Cholesterol:
10
mg
,
Sodium:
10
mg
,
Potassium:
646
mg
,
Fiber:
3
g
,
Sugar:
1
g
,
Vitamin A:
120
IU
,
Vitamin C:
30
mg
,
Calcium:
23
mg
,
Iron:
1
mg
This website provides approximate nutrition information for convenience and as a courtesy only. Nutrition data is gathered primarily from the USDA Food Composition Database, whenever available, or otherwise other online calculators.
© Little Sunny Kitchen