The La Scala Chopped Salad, packed with delicious ingredients like salami, mozzarella, and chickpeas, is not just a salad – it's a meal! This dish has been a hit for years at La Scala, a famous restaurant in Beverly Hills and apparently, this salad is the Kardashians' favorite!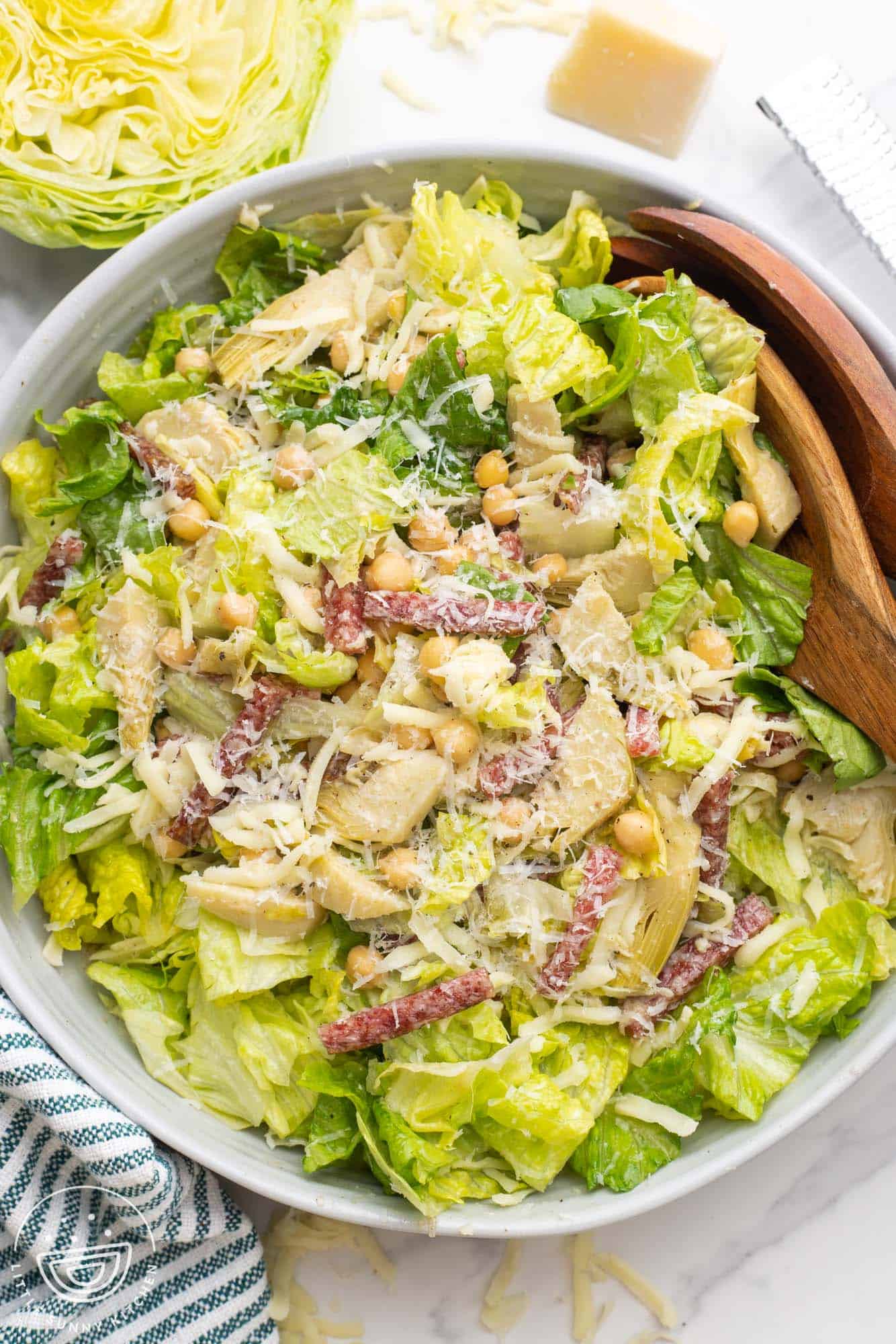 What is La Scala Chopped Salad?
The La Scala Chopped Salad is a special dish that lots of people talk about on social media. But did you know it's actually really old? It was made by a man named Jean Leon back in the 1950s, at his restaurant called La Scala in Beverly Hills.
Over the years, lots of people have come to love this salad. Even famous people like the Kardashians like to eat it! This salad has ingredients like salami, mozzarella cheese, chickpeas, and a special dressing made with mustard.
The restaurant serves it with finely chopped lettuce and chickpeas on top, and some extra stuff like cucumbers, tomatoes, and artichokes on the side that you can add if you want. I made my recipe a bit easier. I still used artichokes but didn't use cucumbers or tomatoes. And I didn't chop the lettuce really small. It's a quick and easy salad that you can make at home, and it's just as tasty as the one at the restaurant.
And hey, if you've caught the salad-making bug and want to try more healthy and easy salads, I've got you covered. You should definitely check out some of my other favorite salad recipes.
If you love interesting textures, you might enjoy the Shaved Brussels Sprout Salad. For a vibrant, colorful dish, try my Beet Salad. If you're in the mood for something sweet and crunchy, my Pear Salad is a must-try. For a salad that's a meal in itself, go for the Wild Rice Salad. And of course, who can resist a classic like my Caesar Salad? Each of these salads brings something unique to the table, and I think you'll really enjoy trying them all.
Why You'll Love This Recipe
Easy to make and clean up: This salad comes together quickly in just one bowl, making it perfect for a weeknight meal or a last-minute side dish. Plus, with only one bowl to wash, clean-up is a breeze.
Loaded with flavor: With ingredients like Italian salami, mozzarella cheese, marinated artichokes, and a tangy dressing, every bite of this salad is packed with different flavors and textures. It's definitely not your average, boring salad!
Flexible: While the recipe gives a specific list of ingredients, it's quite flexible. You can add more of what you love or leave out what you don't. It's also a great way to use up any leftovers you might have in your fridge.
Ingredients Needed
Here's what you need to make it: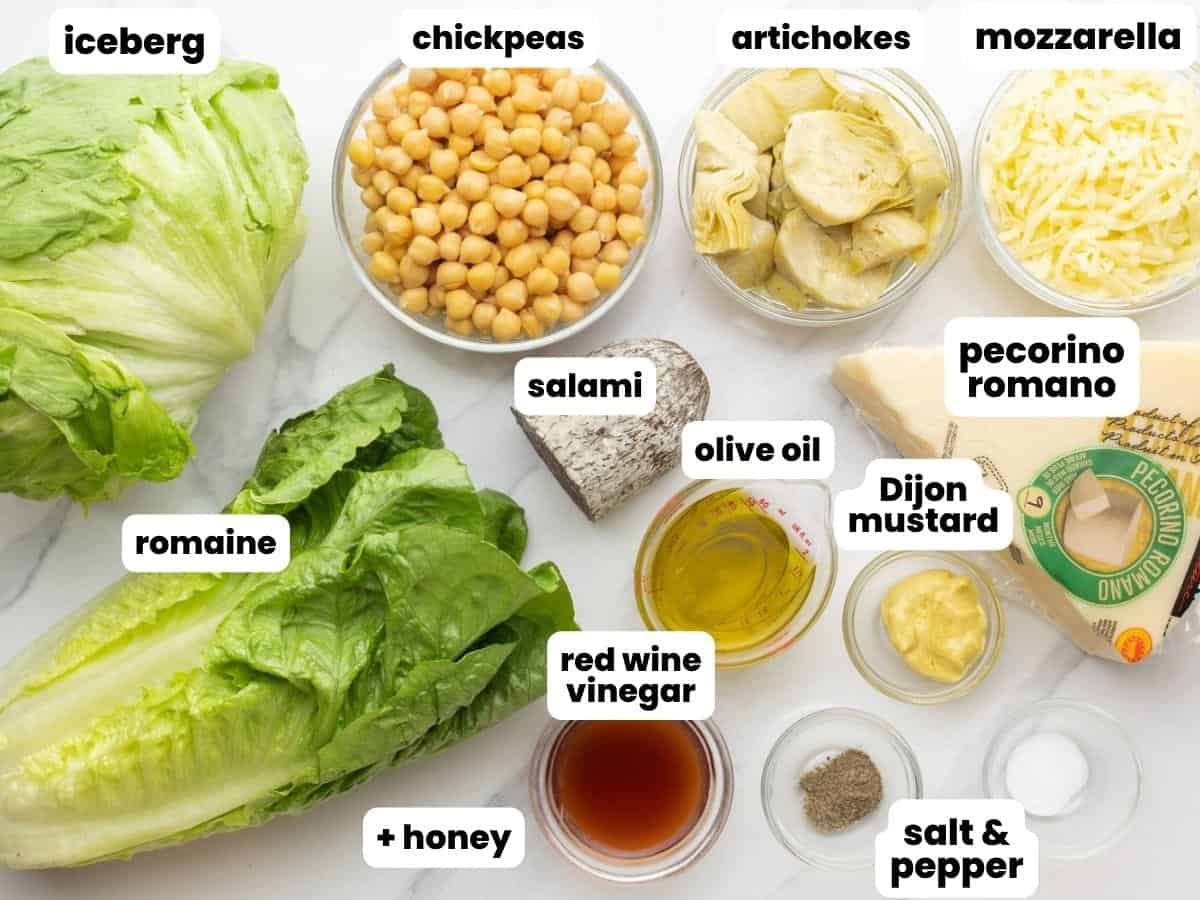 Iceberg and Romaine lettuce: These two types of lettuce provide a great base for the salad due to their crisp texture. They also add a nice crunch and a mild flavor, and that's what is used at La Scala restaurant when they make their chopped salad.
Chickpeas: Also known as garbanzo beans. Use a can of cooked chickpeas, drain, and rinse before adding to your salad. You can also cook chickpeas from dried and will need around 1.5 cups of cooked chickpeas, or 3.5oz/100g of dried chickpeas.
Italian salami: Italian salami is a type of cured sausage that adds a nice salty and slightly spicy flavor to the salad. Remember that the casing is usually in edible, so remove it and then slice or julienne the salami.
Mozzarella cheese: We are using low-moisture shredded mozzarella. It's creamy and adds a mild flavor to the salad.
Extra virgin olive oil: Use extra virgin olive oil for the dressing. Its rich flavor will enhance the overall taste of your salad.
Red wine vinegar: This vinegar has a tangy taste. If you don't have red wine vinegar, apple cider vinegar could also work.
Dijon mustard: Dijon mustard helps bind the dressing ingredients together. Plus, it adds an extra pop of flavor to the salad.
Pecorino cheese: Pecorino is a hard, salty Italian cheese. It adds a sharp flavor to the dressing. If you don't have pecorino, you can use grated parmesan instead.
Honey: A touch of honey in the dressing provides the perfect balance to the tanginess of the vinegar and mustard.
Marinated artichokes (optional): Marinated in oil and herbs, these artichokes have a unique tangy, briny flavor. Just remember to drain them well before adding them to your salad.
Complete list of ingredients and amounts can be found in the recipe card below.
How To Make La Scala Chopped Salad
Make the dressing. Grab a medium-sized bowl. Pour in the olive oil, red wine vinegar, Dijon mustard, a pinch of salt, some black pepper, and pecorino cheese. Don't forget the honey – it gives a sweet balance to the tangy vinegar and mustard. Whisk everything together until it's well mixed.
Now, add the lettuce. Get your lettuce – both the iceberg and romaine. You'll want to chop it up but not too finely. Toss it into the bowl with your dressing. Then, add your chickpeas – they're what makes this salad really filling and give it a nice, nutty flavor.
Next, take your salami and mozzarella cheese. You'll want to julienne your salami (which means cut it into thin strips) and shred your mozzarella. Add them to the bowl. Remember those marinated artichokes I mentioned? They go in next. Just make sure to chop them up and drain them well before adding them.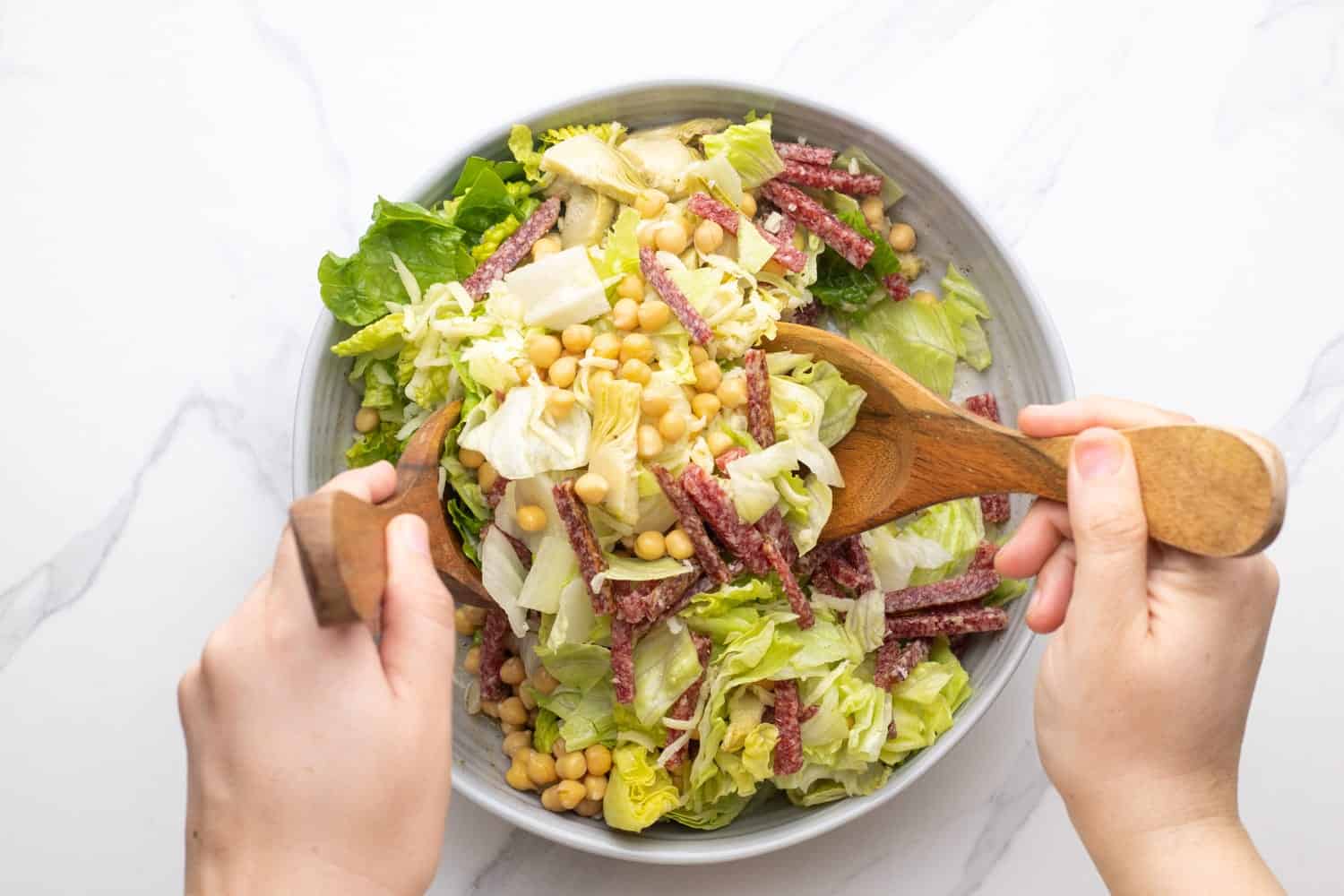 Give everything a good mix so that all the ingredients get coated with the dressing. You're looking for every bite to have a bit of everything – lettuce, chickpea, salami, mozzarella, and artichoke.
Tip!
Keep the dressing and the salad separate until you're ready to eat. Then, just pour the dressing over the salad and give it a quick toss. This way, the lettuce doesn't get soggy and everything stays nice and crisp! This is especially helpful if you're bringing the salad to a potluck or picnic, or if you're meal prepping for the week.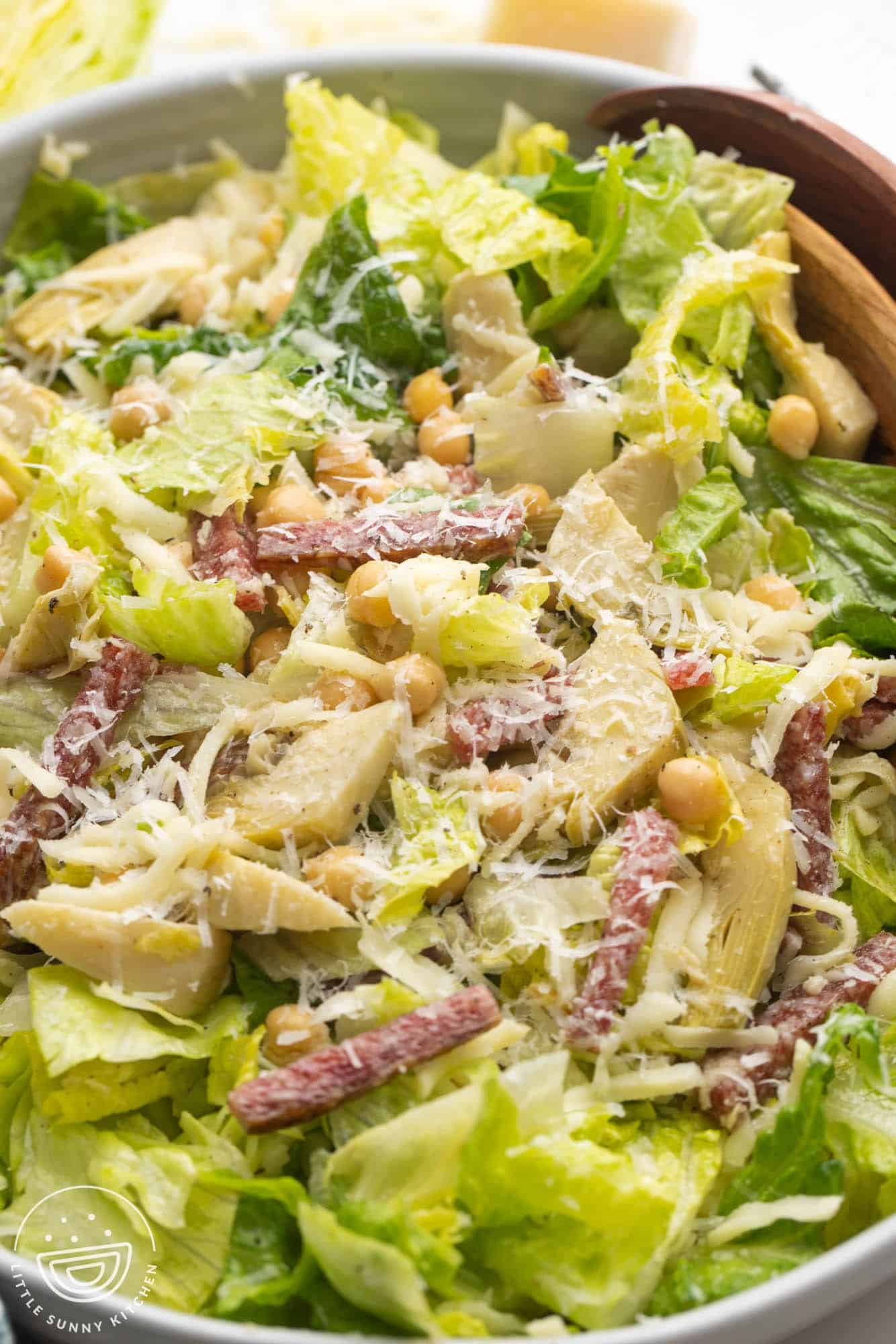 Storing Tips
Salad: If you have extra salad, put it in a container with a lid and put it in the fridge. It should be good for about 2 days, but the lettuce might get a bit soft and it won't be as crunchy.
Dressing: If you made too much dressing, put it in a jar with a lid or a container that you can seal tight. Keep it in the fridge. You can use it for up to a week. Just make sure to shake it up before you use it again.
Make ahead: You can get ready to make this salad ahead of time. Cut up the lettuce, salami, and cheese and keep them in separate containers in the fridge. You can also mix the dressing ahead of time and keep it in the fridge. Then, when it's time to eat, just put everything in your bowl and mix it all up.
But remember, this salad is best when you mix it up and eat it right away.
Recipe FAQs
Can I substitute another type of cheese for the mozzarella?
You can use other types of mild, semi-soft cheese if you'd like. Just keep in mind that the flavor may change slightly. Provolone or Monterey Jack would work well in this salad. If you want a bit more flavor, try a mild cheddar or Colby.
I'm vegetarian. What can I use instead of salami?
For a vegetarian version, you can leave out the salami. You might want to add some extra veggies, cannellini beans, or even some grilled tofu for a bit of protein.
And there you have it! Now you know how to make your very own copycat La Scala Chopped Salad. Whether you're a fan of the Kardashians or just love a good, hearty salad, this is a recipe you'll want to try. It's got a little bit of everything – crunch from the lettuce and chickpeas, saltiness from the salami, creaminess from the mozzarella, tang from the artichokes, and a dressing that ties it all together.
I hope you enjoy making and eating this salad as much as I do. Don't forget, if you love this recipe, please rate and review it. And if you're a Pinterest user, don't forget to pin this recipe so you can easily find it again. Now go ahead, whip up this delicious salad, and enjoy a meal fit for a Kardashian!
Did you make this? Be sure to leave a review below and tag me on Facebook, Instagram, or Pinterest!
Recipe
(Click stars to rate!)
La Scala Chopped Salad
The La Scala Chopped Salad is a refreshing and hearty dish that combines romaine and iceberg lettuce with salami, mozzarella, and chickpeas, all tossed in a homemade vinaigrette. This one-bowl recipe is easy to prepare and perfect for any occasion.
The La Scala Chopped Salad is a refreshing and hearty dish that combines romaine and iceberg lettuce with salami, mozzarella, and chickpeas, all tossed in a homemade vinaigrette. This one-bowl recipe is easy to prepare and perfect for any occasion.
Ingredients
For the Dressing:
¼

cup

(

60

ml

) extra virgin olive oil

3

tablespoons

(

45

ml

)

red wine vinegar

1

tablespoon

(

15

ml

)

honey

1

tablespoon

(

15

ml

)

dijon mustard

¼

cup

(

25

g

)

grated pecorino romano

or parmesan cheese

½

teaspoon

(

2.5

g

)

salt

½

teaspoon

(

2.5

g

)

ground black pepper
For the Salad:
½

head

iceberg lettuce

chopped

1

heart

romaine lettuce

chopped

1

cup

(

170

g

)

marinated artichoke hearts

chopped, optional

¼

lb

(

115

g

)

Italian Salami

julienned

¼

lb

(

115

g

)

shredded mozzarella cheese

15

oz

(

425

g

)

canned chickpeas

drained and rinsed
Instructions
In a large bowl, combine the olive oil, red wine vinegar, honey, Dijon mustard, pecorino romano, salt, and pepper. Whisk until the ingredients are well combined to create the dressing.

Add finely chopped iceberg and romaine lettuce to the bowl with the dressing.

Add julienned Italian salami, artichokes, and shredded mozzarella cheese to the mix.

Incorporate the drained and rinsed chickpeas.

Toss everything well to ensure all the salad ingredients are evenly coated with the dressing.

Top the salad with extra grated Pecorino cheese.

Serve immediately, or if preferred, refrigerate for up to 2 hours before serving for a chilled salad.
Notes:
Consider adding more vegetables as toppings, such as chopped tomatoes, cucumbers, or olives for additional flavor and texture.
The salad can be stored in the refrigerator for up to 2 days, but for optimal crispness of the lettuce, it's best served immediately after adding the dressing.
If Italian salami isn't available, any hard, cured salami can be used as a substitute. Similarly, if Pecorino cheese isn't available, Parmesan can be used instead.
Adjust the amount of Dijon mustard in the dressing to suit your taste.
Nutrition Information
Calories:
523
kcal
,
Carbohydrates:
25
g
,
Protein:
21
g
,
Fat:
38
g
,
Saturated Fat:
11
g
,
Polyunsaturated Fat:
4
g
,
Monounsaturated Fat:
17
g
,
Cholesterol:
51
mg
,
Sodium:
1719
mg
,
Potassium:
399
mg
,
Fiber:
7
g
,
Sugar:
7
g
,
Vitamin A:
1098
IU
,
Vitamin C:
13
mg
,
Calcium:
278
mg
,
Iron:
3
mg
This website provides approximate nutrition information for convenience and as a courtesy only. Nutrition data is gathered primarily from the USDA Food Composition Database, whenever available, or otherwise other online calculators.
© Little Sunny Kitchen