Looking for the ultimate corn fritters recipe? Discover the joy of making sweet corn fritters with this easy and quick recipe. Perfect as a snack, side dish, lunch, or even a delicious breakfast, these corn fritters can be made ahead of time and can easily be adjusted to suit vegan and gluten-free diets.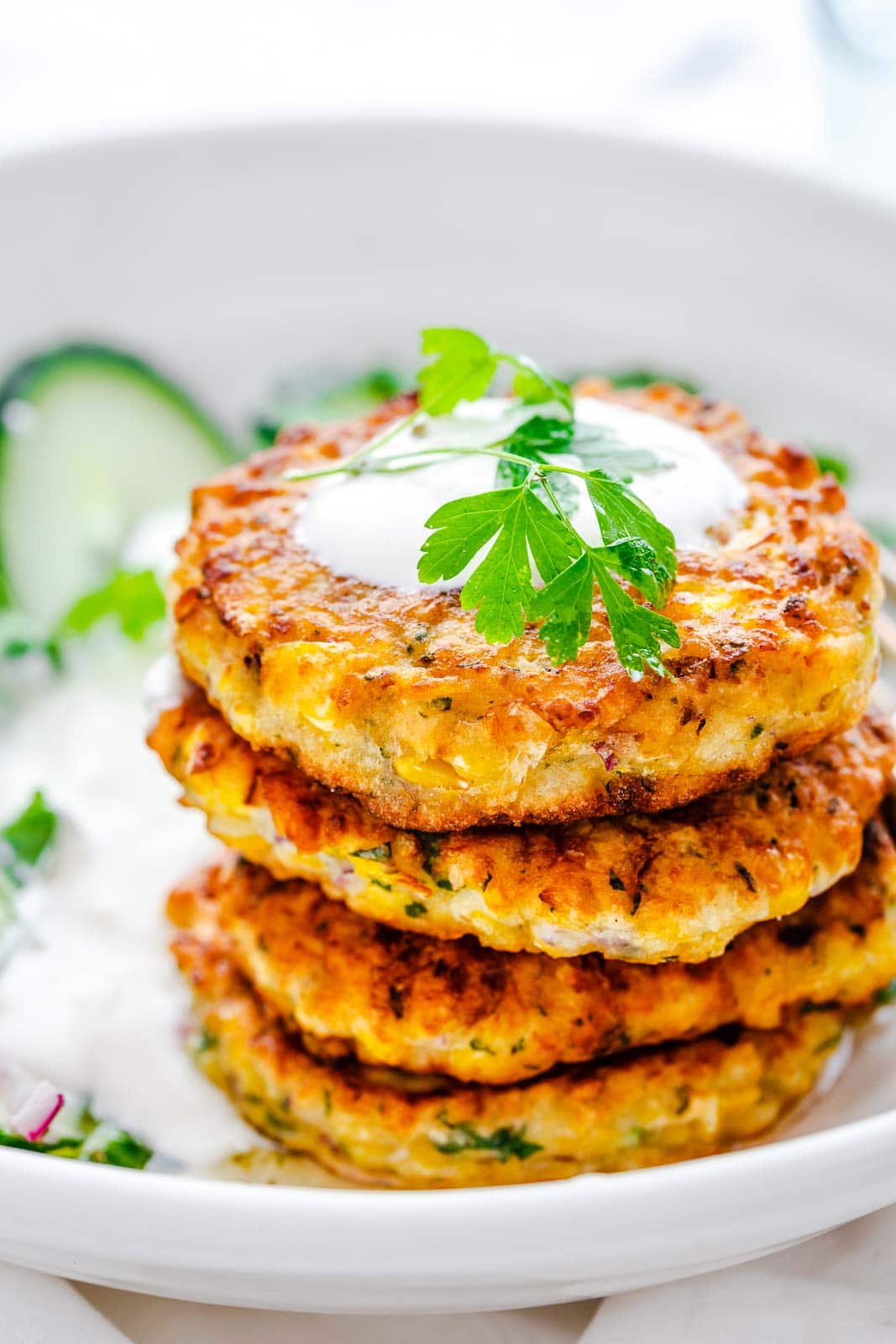 We love corn fritters in my family, and I'm going to share with you how to make corn fritters that are quick, easy, and delicious. Made from a flavorful batter with sweet corn kernels, they're gently shallow-fried in oil for a crispy exterior and a tender, moist center. This recipe is a savior on days when you're unsure of what to cook, offering a light but hearty option for snack, breakfast, lunch, or even dinner.
Key Ingredients
The process of creating sweet corn fritters is simple, and here are key ingredients you will need to make them:
Corn: I recommend that you use either fresh corn, or canned or frozen corn kernels. If you have a fresh ear of corn, you will get a fresher flavor but to be able to make them all year round I just go for frozen or canned corn.
Eggs: Eggs are important to bind the mixture together, I also tested this recipe with chia eggs and it turned out great. For a chia egg, you need 3 tablespoons of water and 1 tablespoon of ground flaxseed.
Onion: For taste and crunch. I usually go for red onion for color, but you can use yellow or white onion if you prefer.
Flour: I use all-purpose flour (plain from the UK) to help bind the ingredients, and turn them into a fritter that holds its shape well. Gluten-free flour also works here.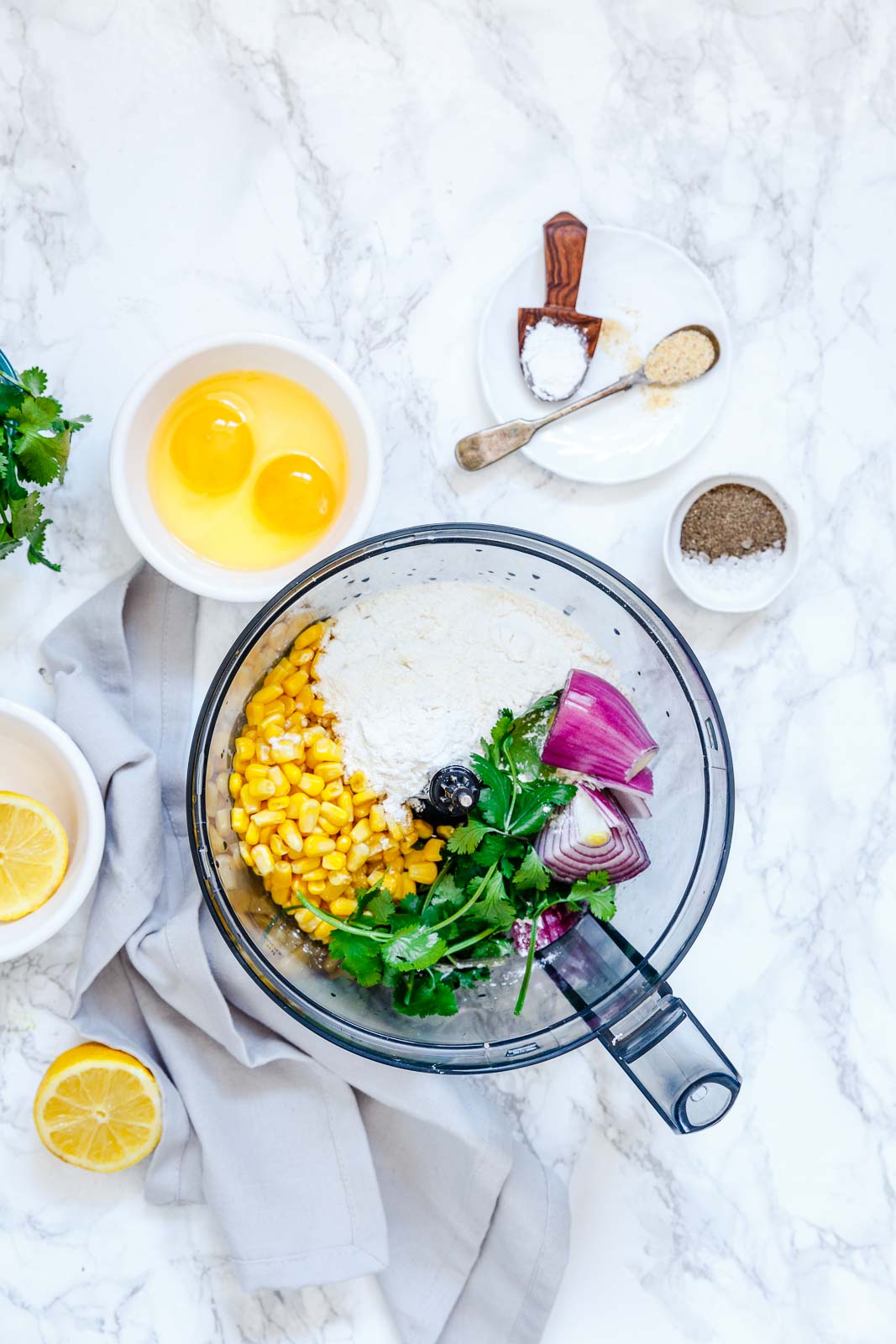 How To Make Corn Fritters
Prepare the Corn: Begin with your corn kernels. If you're using fresh, canned, or frozen corn, make sure it's ready to go. Remember to keep half of the kernels whole for texture in the fritters.
Blend the Ingredients: Take your food processor and add in all your ingredients, but only half of the corn kernels. Blend this mixture for about 30 seconds or until it forms a chunky batter. The texture doesn't need to be super fine.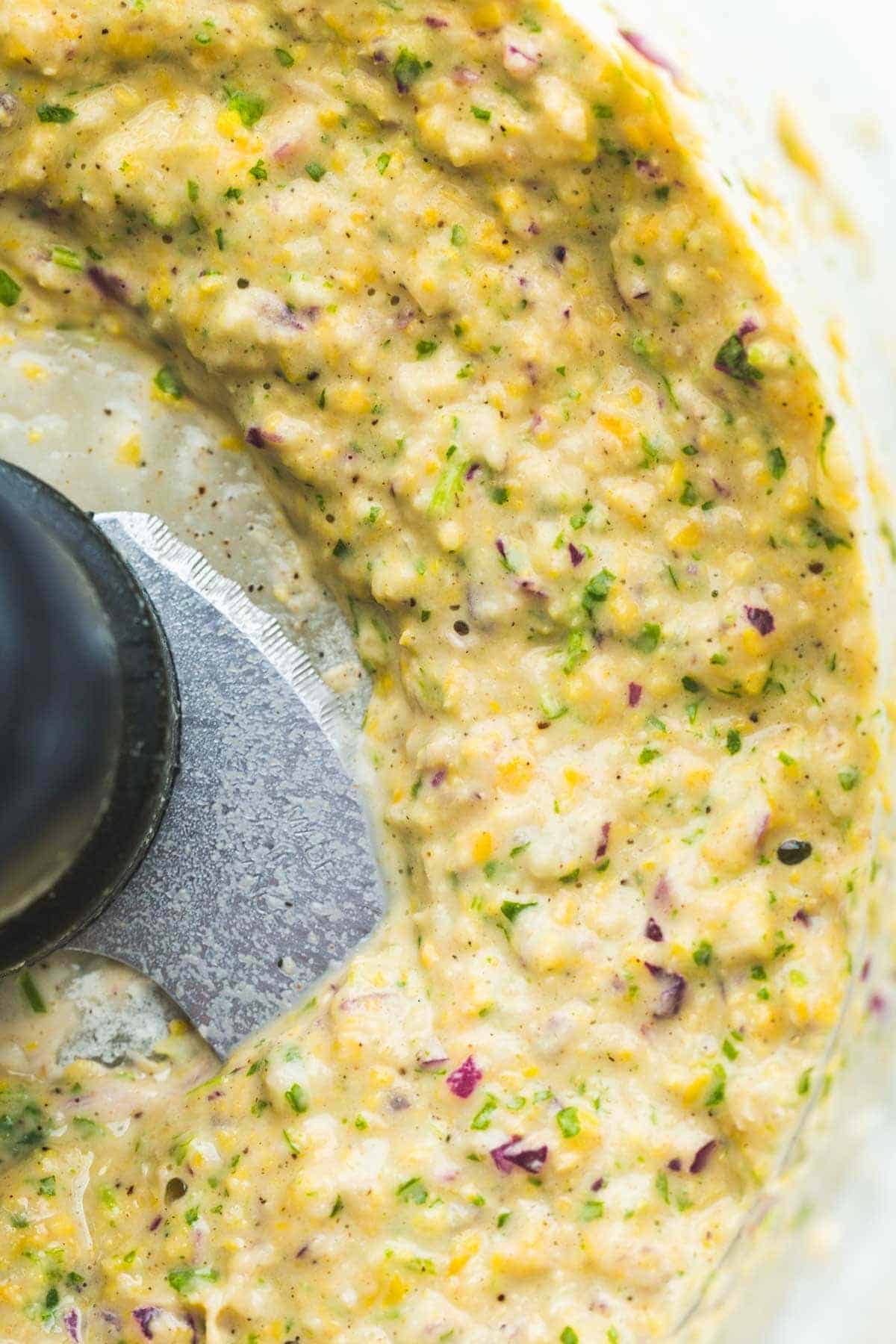 Stir in Remaining Corn: Now, mix in the rest of the corn kernels. This step is important for adding that delightful corn texture to the fritters. If you prefer, you could blend all the ingredients and corn together, but this will result in a smoother fritter with less texture.
Prepare the Frying Pan: The fritter batter will be quite sticky, and that's perfectly fine. Heat up some oil in a frying pan over medium heat.
Form and Fry the Fritters: When the oil is hot, using an ice cream scoop, a cookie scoop, or a 1/4 measuring cup, drop the batter into the hot oil, forming the fritters. Lightly flatten them with a spatula. Aim to fry about 3 fritters at a time to avoid overcrowding the pan.
Cook Each Side: Let the fritters cook for about 3 minutes on one side, then flip them over and cook for an additional 2 minutes or until they're golden brown and look thoroughly cooked. Repeat this process with the remaining batter.
Tip!
It's crucial to maintain a medium heat level while frying the fritters. High heat might make the fritters appear done on the outside while leaving them raw on the inside. Since this recipe includes eggs, ensuring complete cooking is essential for food safety.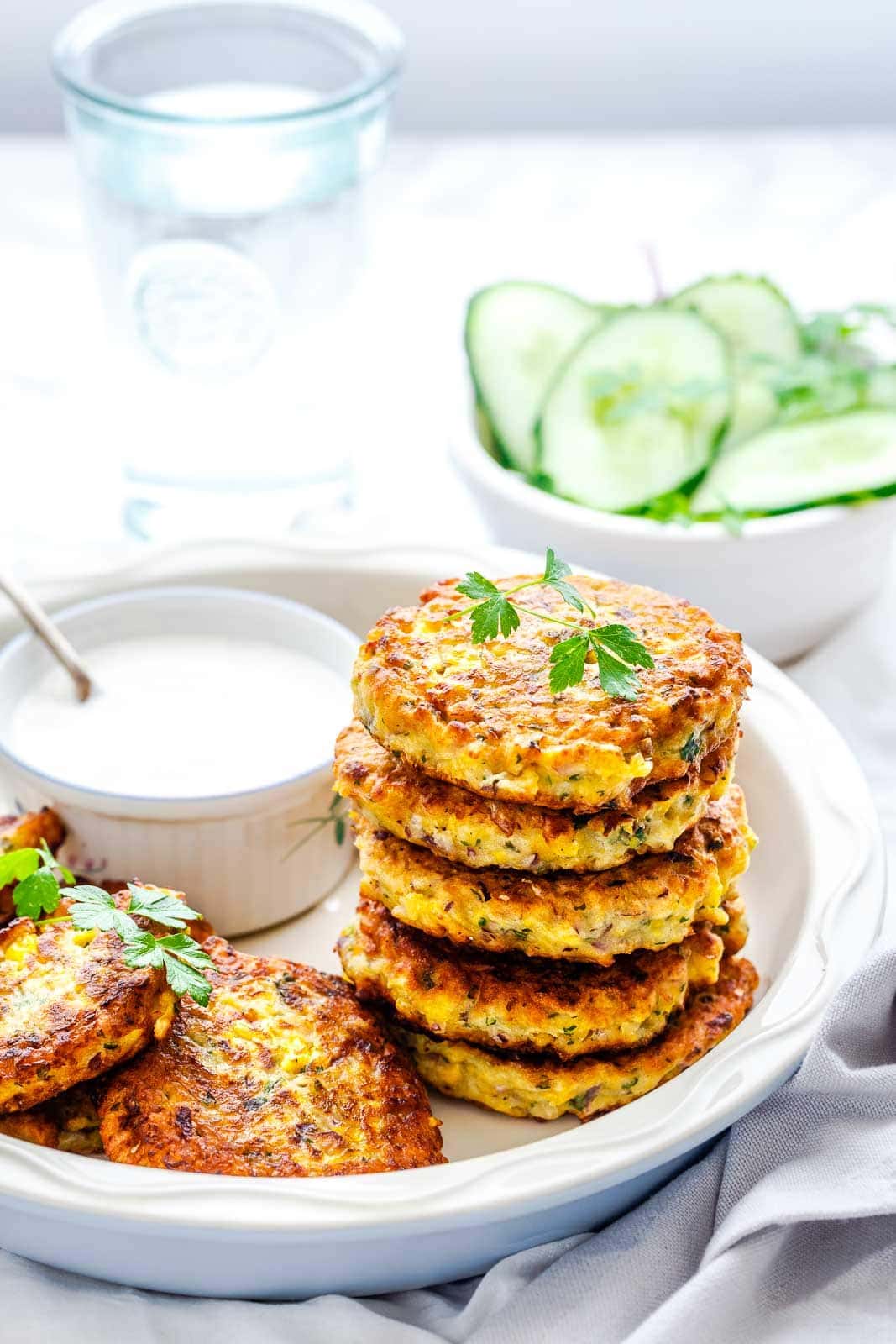 Recipe Tips
Add more spice – Want to give your fritters a little extra kick? Don't hesitate to toss in your favorite dried herbs or spices. Cumin, cayenne, garlic powder, onion powder, smoked paprika, dried parsley – they all work great! And if you've got some fresh herbs like dill or green onions, throw them in there too.
Hot oil: Make sure your oil is hot before you start dropping in the fritter batter. Even though we're not deep-frying these fritters, hot oil is key to getting that crisp exterior and tender, melt-in-your-mouth interior. Cold oil just won't do the trick.
No high heat! If you cook on very high heat, the outside of your fritters will get all crispy and brown before the insides have a chance to cook fully. And hey, remember you've got raw eggs in the mix, so it's really important to get those fritters cooked all the way through!
Fry in Batches: Depending on your pan size, I usually fry about three fritters at a time. Got a smaller pan? No problem, just do two at a time. Make sure they've got some space and aren't touching. Oh, and don't forget to gently flatten them with your spatula while frying.
Drain the Excess Oil: After frying, set your fritters on a plate lined with kitchen towels or a wire rack. This helps to get rid of any leftover oil.
Try Grilled Corn: Feeling adventurous? Give these corn fritters a smoky twist by using grilled corn!
Serve it Up: Once you've got your golden, crispy fritters ready, serve them up warm or at room temperature. They're amazing with a dollop of sour cream or a drizzle of yogurt sauce, and a side of cucumber salad. Check out the recipe card below for those extra bits!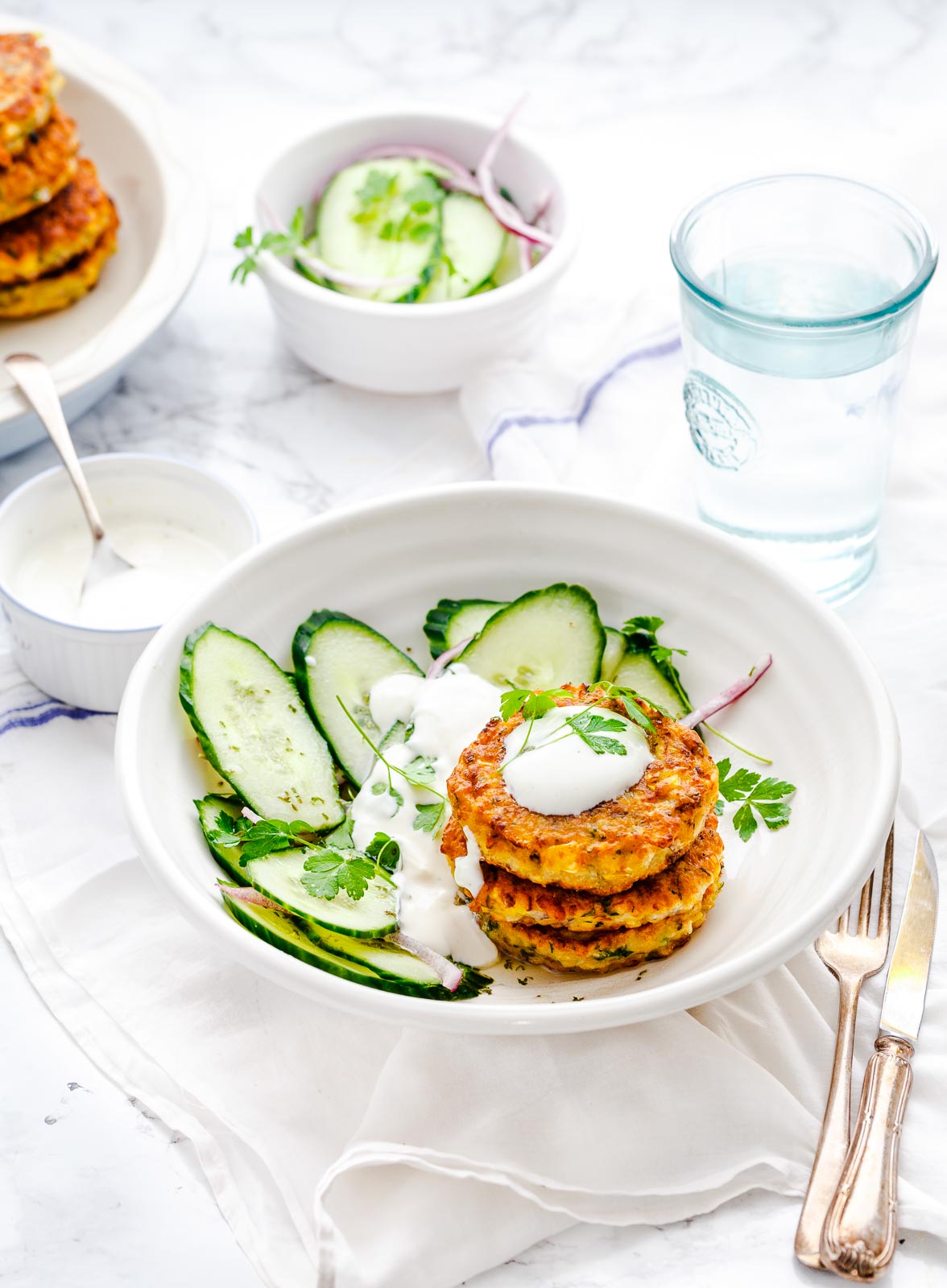 Storing Tips
Storing your homemade corn fritters properly will ensure you can enjoy them at a later time.
Prep in Advance: If you're thinking ahead, you can prepare the corn fritters batter a day before you plan to cook them. This is especially handy if you fancy having these fritters for breakfast.
Fridge Storage: Got leftovers? No worries! Tuck them into an airtight container and they'll keep in the fridge for up to 3 days.
Freezer Storage: If you've cooked more fritters than you can eat, just freeze them! They'll stay good in the freezer for up to 3 months. When you're ready to enjoy them again, reheat in your toaster oven or in a pan for a quick meal. Just remember, if you use the microwave to reheat, they might lose some of their crunch.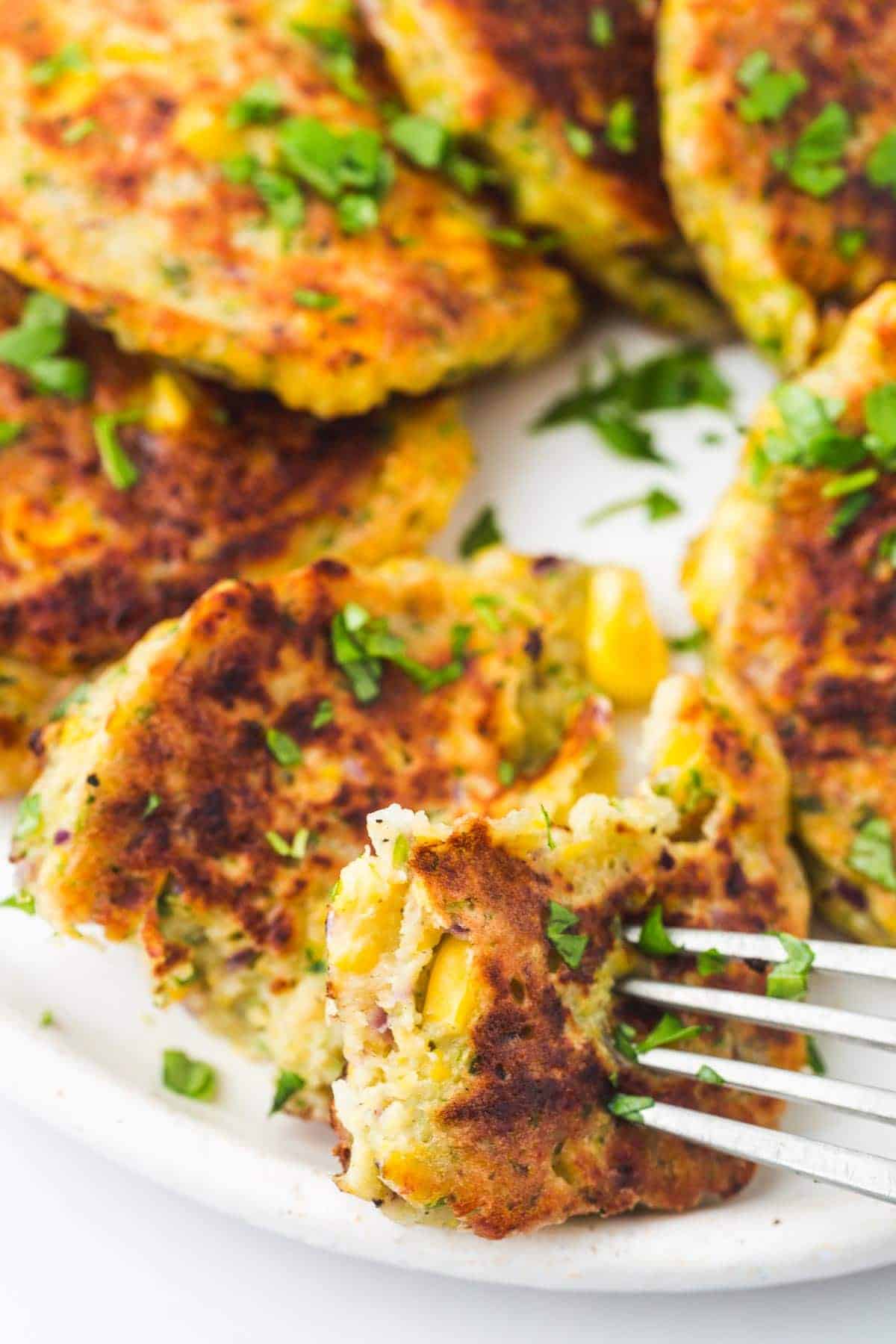 Recipe FAQs
Can I use canned corn instead of fresh corn for the corn fritters?
Absolutely! Canned corn works perfectly well for this recipe. Just make sure to drain it thoroughly before adding it to the batter.
How can I make my corn fritters crispier?
For extra crispiness, make sure your cooking oil is hot before dropping in the fritters. Also, refrain from flipping the fritters too soon; let them cook undisturbed for a few minutes to develop a crispy exterior.
Is there an egg substitute that I can use for this recipe?
Yes, if you're looking for a vegan alternative, you can substitute eggs with flax eggs in this recipe. For each egg, mix 1 tablespoon of ground flaxseed with 3 tablespoons of water and let it sit for about 10 minutes to thicken before using.
Can I make the corn fritters spicier?
Definitely! If you want to spice up your corn fritters, consider adding a pinch of cayenne pepper, diced jalapenos, or a bit of hot sauce to the batter.
Recommended Tools for This Recipe
Non-stick frying pan. I like to shallow fry fritters and vegetable cakes on a good quality wide non-stick heavy-bottomed pan, it ensures that the fritters never stick to the pan and they always cook evenly.
Food processor. This is the food processor that I love and recommend!
Glass bowl. This is the set that I have and use for everything from baking to cooking.
Stainless steel measuring spoons. I've had this set for so long now, honestly, the quality is amazing and they will last you for ages!
Turner. Always make sure that the turner that you're using is heat-resistant!
Did you make this? Be sure to leave a review below and tag me on Facebook, Instagram, or Pinterest!
Recipe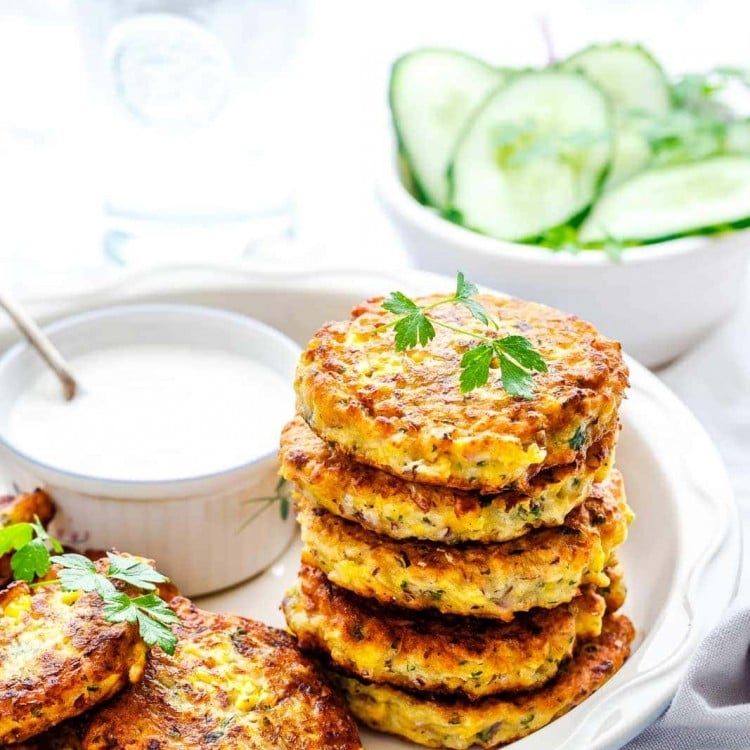 (Click stars to rate!)
Corn Fritters
These easy corn fritters make a wonderful quick breakfast, snack, or lunch. They're made with just a few simple ingredients and can be made ahead of time. Great for meal prep, and can be easily made vegan and gluten-free.
These easy corn fritters make a wonderful quick breakfast, snack, or lunch. They're made with just a few simple ingredients and can be made ahead of time. Great for meal prep, and can be easily made vegan and gluten-free.
Ingredients
Corn Fritters
3

cups

(

400

g

)

frozen corn kernels

2

medium

eggs

1

medium

red onion

1

cup

(

120

g

) all-purpose flour

½

teaspoon

baking powder

1

teaspoon

garlic powder

3

tablespoons

lemon juice

⅓

cup

cilantro

1½

teaspoons

salt

½

teaspoon

ground black pepper

1

tablespoon

oil

vegetable, corn, sunflower, or canola – for frying
Yogurt Sauce
½

cup

(

150

g

)

Greek yogurt

1

tablespoon

lemon juice

½

teaspoon

garlic powder

or granules

Salt and pepper

to taste
Cucumber Parsley Salad with Lemon Dressing
1

cup

(

100

g

)

cucumber

sliced

2

tablespoons

chopped fresh parsley

⅓

cup

(

50

g

)

red onion

thinly sliced
Lemon Dressing
2

tablespoons

olive oil

3

tablespoons

lemon juice

1

tablespoon

balsamic vinegar

½

teaspoon

dried parsley

Salt and pepper

to taste
Instructions
For the corn fritters:
If using frozen corn, no need to thaw as these can directly go in the batter. Place fresh or frozen corn kernels in a glass bowl.

Place half of the corn in the food processor jug with the rest of the ingredients, and blend to get a coarse mixture.

Transfer the mixture to the bowl with the rest of the corn, and mix it with a spatula so that the corn kernels are mixed in with the blended mixture (do not overmix the mixture).

Heat the oil in a pan or a cast-iron skillet on medium heat. When the oil is hot, using a cookie scoop, drop the fritter mixture onto the skillet and lightly flatten with a spatula or the back of a spoon.

Add 2 more scoops of fritter mixture at a time, slightly spaced. Cook the fritter on medium heat for around 3 minutes or until the bottom is golden brown, then flip over and cook for 2 more minutes. Or until corn fritters are golden brown and cooked through. If using frozen corn, it might take 1-2 minutes longer.

Repeat the process 2 more times until all the corn fritter mixture is used up.
For the yogurt sauce:
Add all the ingredients in small bowl and stir well to combine.
For the cucumber salad:
In a small bowl, whisk together all the ingredients for the lemon dressing.

In a large bowl, add cucumber, parsley, red onions, and lemon dressing. Gently toss to combine.
To serve:
Divide corn fritters and cucumber parsley salad between the plates/bowls. Spoon the yogurt sauce on the corn fritters or use it as a dip.
Notes:
You can use fresh, frozen, or canned (drained) sweet corn kernels to make the fritters.
Add spices – To add more flavor, feel free to add any dried herbs or spices that you like. You can add cumin, cayenne, garlic and onion powders, smoked paprika, and even dried parsley.
Only drop the mixture in the pan when the oil is hot – Although these fritters are shallow fried (not deep-fried), the oil needs to be hot when you cook the fritters. This will ensure that the fritters turn out crispy from the outside, soft and tender from the inside. If you drop the mixture into cold oil, the fritters won't hold their texture.
Do not fry at very high heat – If the heat is too high, the outside will brown too quickly and that means that the fritters won't cook through. Don't forget that there are raw eggs in the mixture, so you need to make sure that the fritters and cooked through.
Depending on the size of your pan, but I usually fry in batches of 3. If you're using a smaller pan, fry 2 at a time in a few batches and make sure that your fritters are not touching each other. When frying, gently flatten the fritters with a spatula.
Serve warm or at room temperature with sour cream, or yogurt sauce and a cucumber salad (recipes are in the recipe card below).
Nutrition Information
Serving:
1
fritter
,
Calories:
104
kcal
,
Carbohydrates:
18
g
,
Protein:
4
g
,
Fat:
3
g
,
Saturated Fat:
0.5
g
,
Polyunsaturated Fat:
1
g
,
Monounsaturated Fat:
1
g
,
Trans Fat:
0.01
g
,
Cholesterol:
31
mg
,
Sodium:
303
mg
,
Potassium:
146
mg
,
Fiber:
1
g
,
Sugar:
2
g
,
Vitamin A:
175
IU
,
Vitamin C:
4
mg
,
Calcium:
17
mg
,
Iron:
1
mg
This website provides approximate nutrition information for convenience and as a courtesy only. Nutrition data is gathered primarily from the USDA Food Composition Database, whenever available, or otherwise other online calculators.
© Little Sunny Kitchen