These crispy corn fritters served with cucumber parsley salad and yogurt sauce are bursting with flavor! They make a hearty dinner, breakfast or even snack!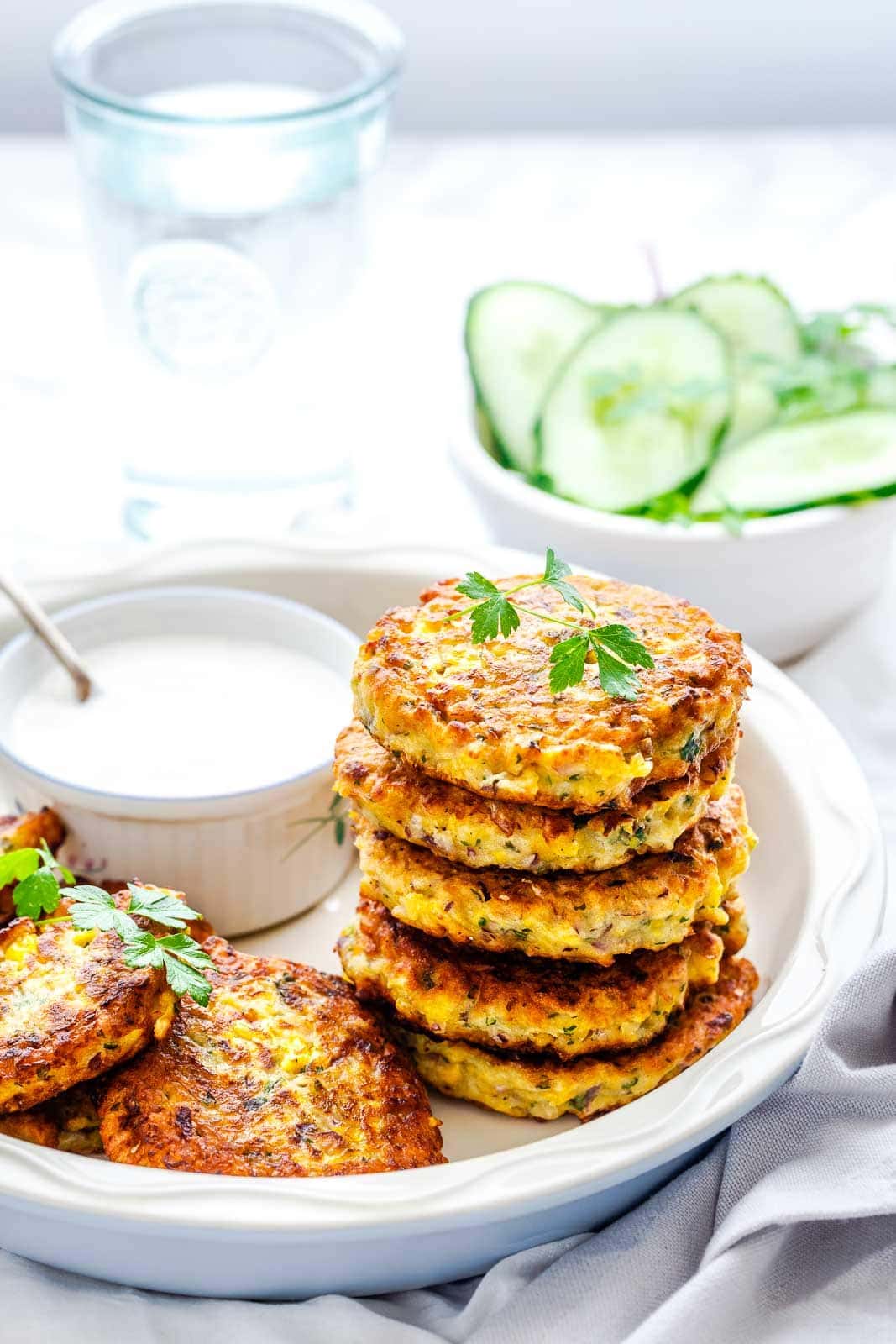 We love corn fritters in my family, they're quick and easy to make, healthy and delicious! Comfort food at it's best! These corn fritters only take 25 minutes to prepare and cook, and you will fall in love with how crispy these corn fritters are from the outside, but tender and soft from the inside.
HOW TO MAKE CORN FRITTERS
To make corn cakes or fritters you need the following ingredients:
Corn – I recommend that you use fresh corn kernels, but you could also use frozen or canned corn kernels. For maximum flavor use fresh corn, but for convenience, you can use either frozen or canned corn.
Eggs – eggs are important to hold the mixture together
Onion – for taste and crunch
Flour, baking powder, spices and herbs
And finally, corn oil – I like to use Mazola corn oil because it's high quality 100% pure corn oil
To make corn fritters, simply add all ingredients to a food processor and make the mixture. The mixture will be sticky and that's ok. Heat a little bit of corn oil in a frying pan. Then you can either use ice cream scoop or a spoon, and scoop out 2 tablespoons of mixture for each fritter to your frying pan. Or by greasing your hands with a little bit of oil, take 2 tbsp of mixture and create flat patties between your palms. These fritters use the method of shallow frying, and that means that you will have to cook the fritters with a little bit of corn oil for around 3 minutes on one side, then flip over and cook for 2 more minutes.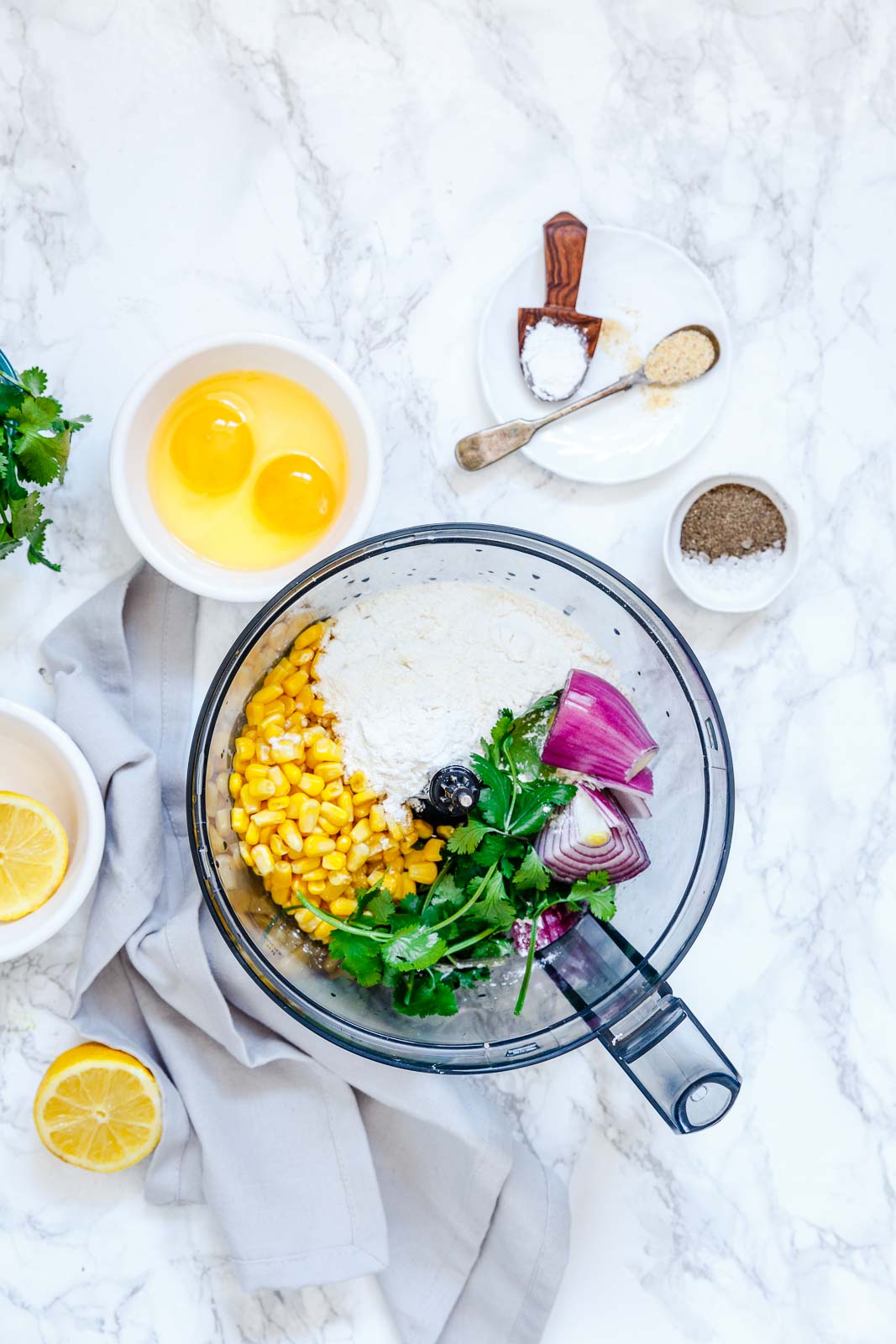 SERVE CORN FRITTERS WITH CUCUMBER PARSLEY SALAD AND YOGURT SAUCE
You can, of course, serve these corn fritters on their own, but for extra flavor try serving them with this really tasty cucumber parsley salad and yogurt sauce. The cucumber yogurt salad is very light and refreshing, and you can even serve this as a meal, not just an appetizer!
To make the salad and the sauce, simply slice some cucumbers and red onion, add some fresh parsley leaves and make the sauce and the dressing.
To make the yogurt sauce all you need is to combine greek yogurt with lemon juice, garlic powder, salt, and pepper. And finally make the lemon dressing by mixing corn oil (I used Mazola), with freshly squeezed lemon juice, balsamic vinegar, dried parsley, ground black pepper, and salt.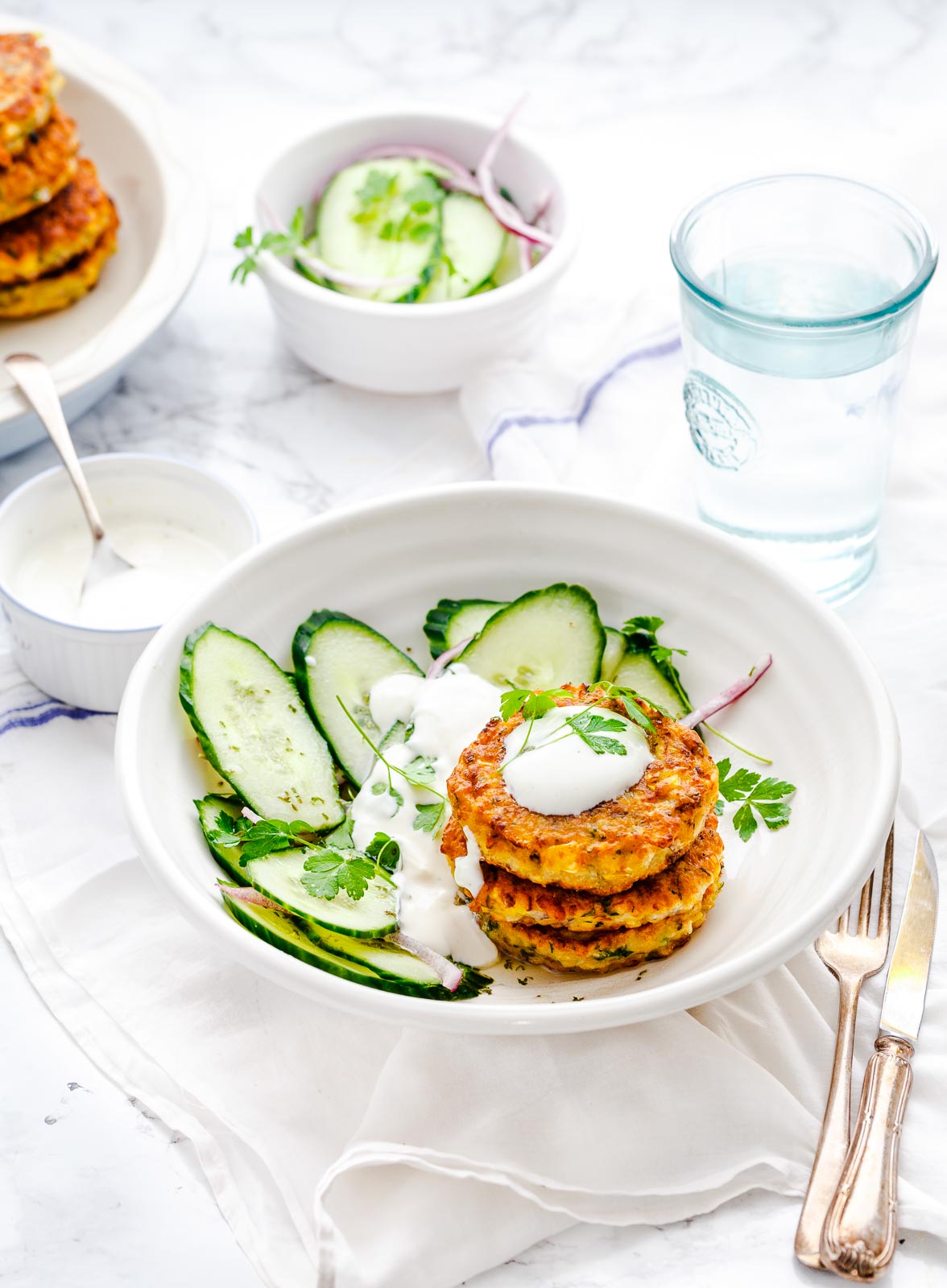 To serve, divide corn fritters & cucumber parsley salad between 3 plates/bowls. Spoon the yogurt sauce on the corn fritters or use as a dip.
FREEZE AND REHEAT CORN FRITTERS
Corn fritters freeze very well. You can make the corn fritters mixture a day in advance and use it on the next day, this comes very handy when I want to make these corn fritters for breakfast.
Cooked corn cakes can stay in the freezer for up to 3 months. Reheat in your toaster oven or quickly in a pan and enjoy!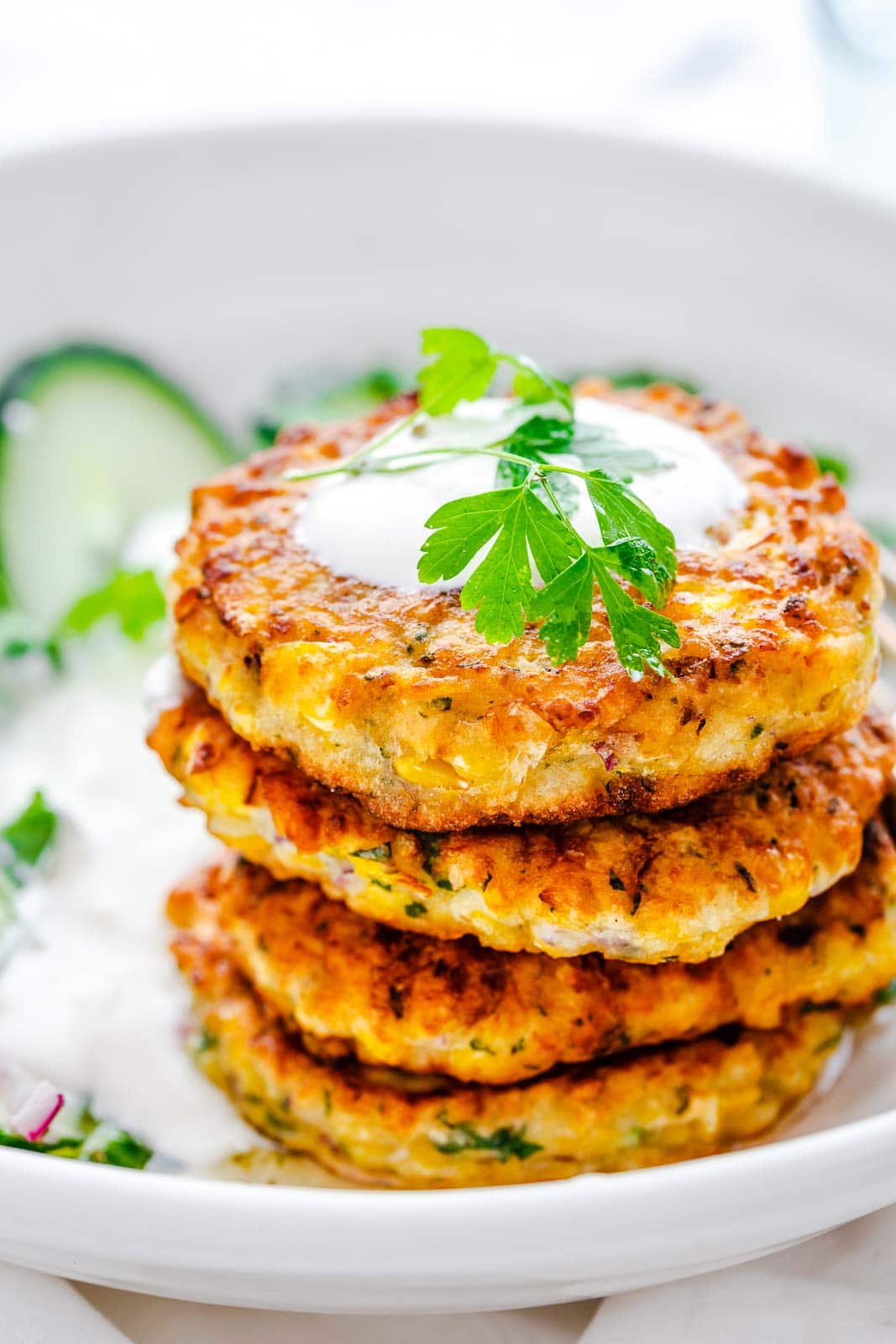 MORE TIPS ON HOW TO MAKE CRISPY CORN FRITTERS THAT ARE TENDER AND MOIST FROM THE INSIDE
Add spices: To add more flavor, feel free to add any dried herbs or spices that you like. You can add cumin, cayenne, garlic and onion powders, smoked paprika or even dried parsley.
If you feel like the batter is way too sticky, you add a little bit of cornmeal, this will help the mixture hold together and will add a crisp exterior to your corn fritters.
Use high-quality hot corn oil to fry the corn fritters. Although this is shallow frying, not deep-frying, the oil needs to be hot when you first start cooking the fritters. This will ensure that the fritters turn out crisp from the outside, soft and tender from the inside.
Depending on the size of your pan, but I usually fry in batches of 5. If you're using a smaller pan, fry 3 at a time in 3 batches and make sure that your fritters are not touching each other. When frying, gently flatten the fritters with a spoon.
If you make these corn fritters, don't forget to rate this recipe and share a picture on social media. Tag #LittleSunnyKitchen in your posts as I would really love to see your creations!
Corn Fritters with Cucumber Parsley Salad & Yoghurt Sauce
Quick and easy corn fritters served with cucumber parsley salad, yoghurt sauce and lemon dressing...
Print Recipe
Ingredients
Corn Fritters
400

g

Fresh corn kernels

2

Eggs

Medium sized

1

Red Onion

130

g

Flour

1/2

Tsp

Baking Powder

1/2

Tsp

Garlic Powder

3

Tbsp

Lemon Juice

4

Tbsp

Coriander Leaves

Sea Salt & Black Pepper

4

Tbsp

Corn Oil
Yogurt Sauce
100

g

Greek Yoghurt

1

Tbsp

Lemon Juice

1/2

Tsp

Garlic Powder

Salt & Pepper to Taste.
Cucumber Parsley Salad with Lemon Dressing
300

g

Cucumber

sliced

20

g

Parsley Leaves

50

g

Red Onion

sliced thin
Lemon Dressing
2

Tbsp

Corn Oil

3

Tbsp

Lemon Juice

1

Tbsp

Balsamic Vinegar

1/2

Tsp

Dried Parsley

Sea salt & Pepper as needed.
Instructions
Make Corn Fritters
If using frozen corn kernels, add 2 Tbsp water to the corn. Cover and cook for 3 minutes in the microwave. If you are using fresh corn, you don't need to do anything before you start making the fritters.

Place all the ingredients in the food processor and whizz until well mixed. Season with salt and pepper as desired. The mixture will be sticky. Either use an ice-cream scooper to pick the mixture with your hands but make sure to grease your palms with oil. Take 2 tbsp of mixture between your palms and flatten the fritters into round patties

Heat 11/2 Tbsp oil in a skillet. Using an ice-cream scooper, drop the fritter mixture onto the skillet. Add 2 more scoops of fritter mixture at a time, slightly spaced. Cook the fritter in medium heat for around 3 minutes, flip over and cook for 2 more minutes. Or until corn fritters are golden brown.

Repeat the process 2 more times until all the corn fritter mixture is used up.
Make Yogurt Sauce
Add all the ingredients in small bowl and stir well to combine.
Make Cucumber Parsley Salad with Lemon Dressing
In a small bowl, whisk together all the ingredients for Lemon Dressing until salt and sugar are dissolved. Season well with sea salt and pepper.

In a large bowl, add cucumber, parsley, red onions and lemon dressing. Gently toss to combine.
To serve
Divide corn fritters & cucumber parsley salad between the plates/bowls. Spoon the Yoghurt sauce on the Corn fritters or use as a dip.
Nutrition facts
Calories:
100
kcal
|
Carbohydrates:
20
g
|
Protein:
4
g
|
Fat:
10
g
|
Sodium:
9
mg
|
Potassium:
267
mg
|
Fiber:
1
g
|
Sugar:
3
g
|
Vitamin A:
375
IU
|
Vitamin C:
15.9
mg
|
Calcium:
47
mg
|
Iron:
1.4
mg
This post is sponsored by Mazola. Thank you for supporting the brands that make Little Sunny Kitchen happen. All opinions are my own.