This kid-friendly pasta salad is packed with lots of fresh veggies, which makes it a healthy, filling, colourful and delicious meal that your child will love!
This pasta salad is great to be served for lunch or dinner, also perfect for picnics and lunchboxes.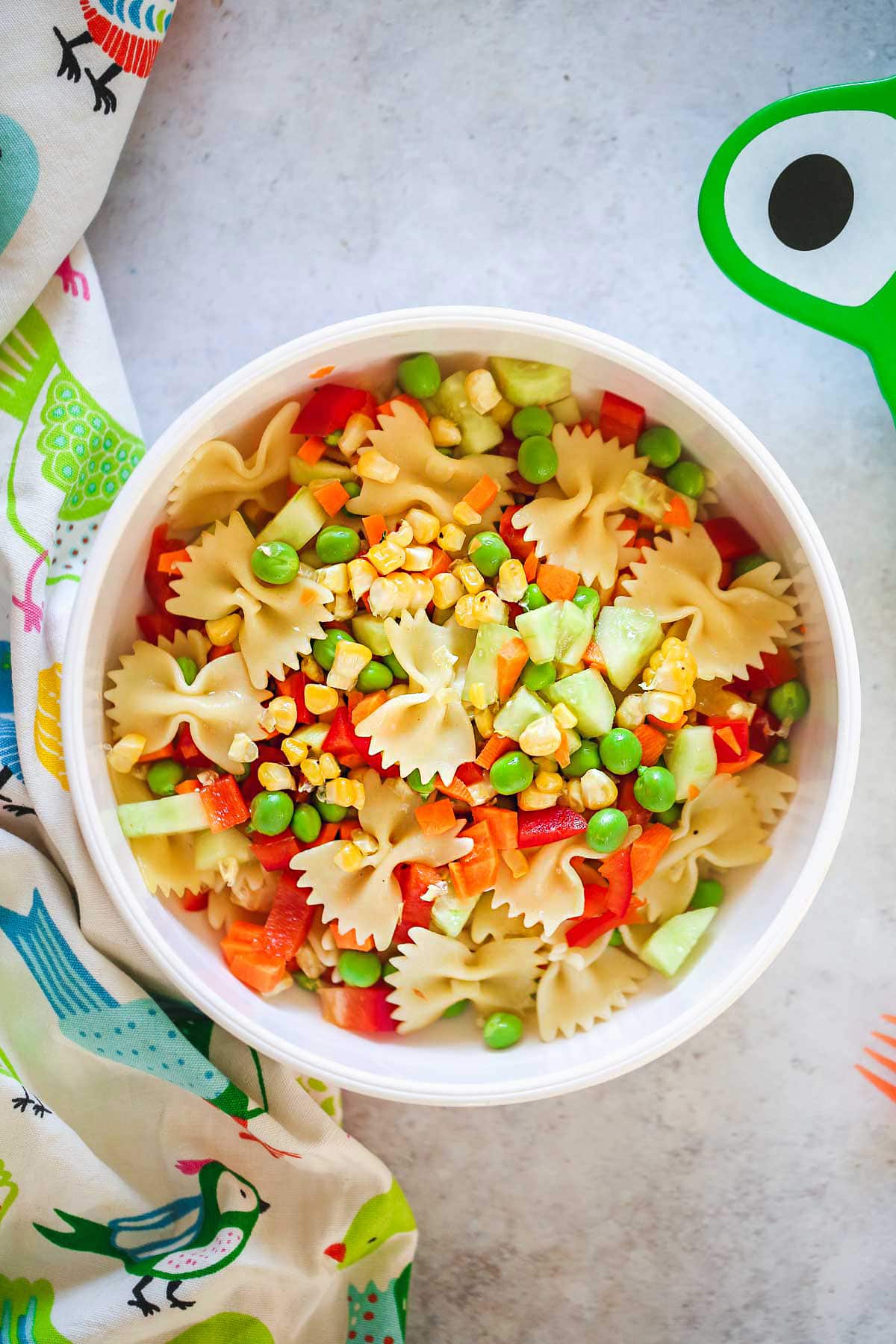 KID FRIENDLY PASTA SALAD
Is your child a picky eater? My niece is one of the pickiest kids ever when it comes to food. She loves to eat but only eats a few ingredients and refuses to try anything new. It can get difficult when dealing with a picky eater, and that's when the role of "fun and colorful" food comes in!
A few months ago, I was cooking dinner for my family and didn't know what to make for my niece. She always seems to just want to eat a piece of bread, plain pasta, cheese, and apples. Nothing else!
So I told her that I was going to make pasta salad for her and that she can choose the ingredients for the salad as she's the one who will eat it. Of course, she got super excited and enjoyed helping me make it for her. Now, it's her absolute favourite salad! This pasta salad is healthy, packed with veggies and can be served to a child as the main dish for lunch or dinner.
Below are a few tips to help you make food that your kids will really enjoy:
#1. Choose a fun pasta shape
The kids in our family LOVE farfalle (bow tie or butterfly) pasta. So that's the first step to get them to eat the pasta.
Other fun pasta shapes are: Radiatori, Stelle, Cavatappi, Rotelle, and macaroni. We also buy animal shaped pasta and other fun shapes such as hearts and holiday-themed pasta.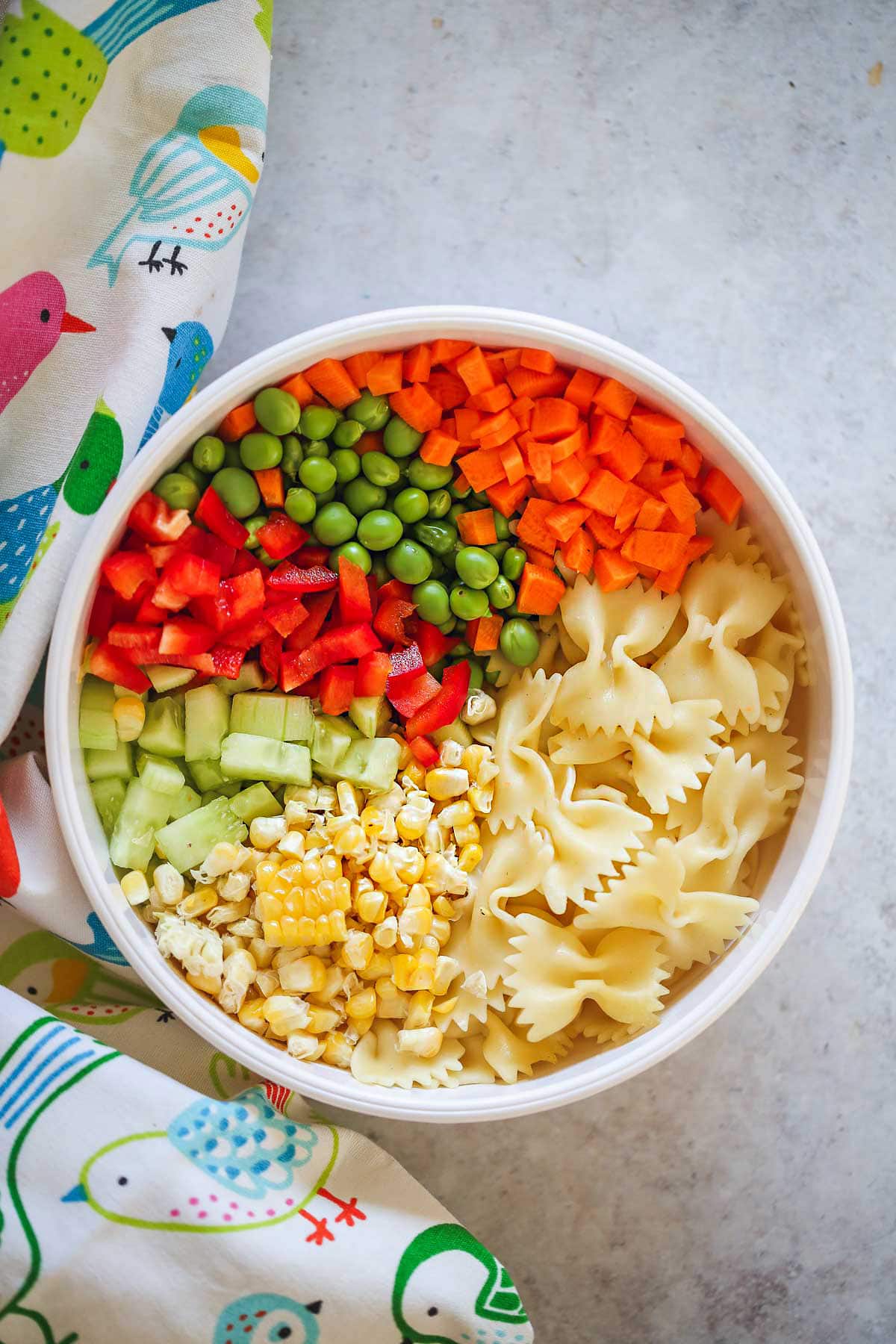 #2. Choose veggies that your child likes
Just as I let my niece choose the veggies that went into her salad, let your kid do the same! They will feel like they contributed to making this pasta salad and will be more excited to eat it.
Does your kid hate peas? Leave them out! Loves broccoli? Bring it on!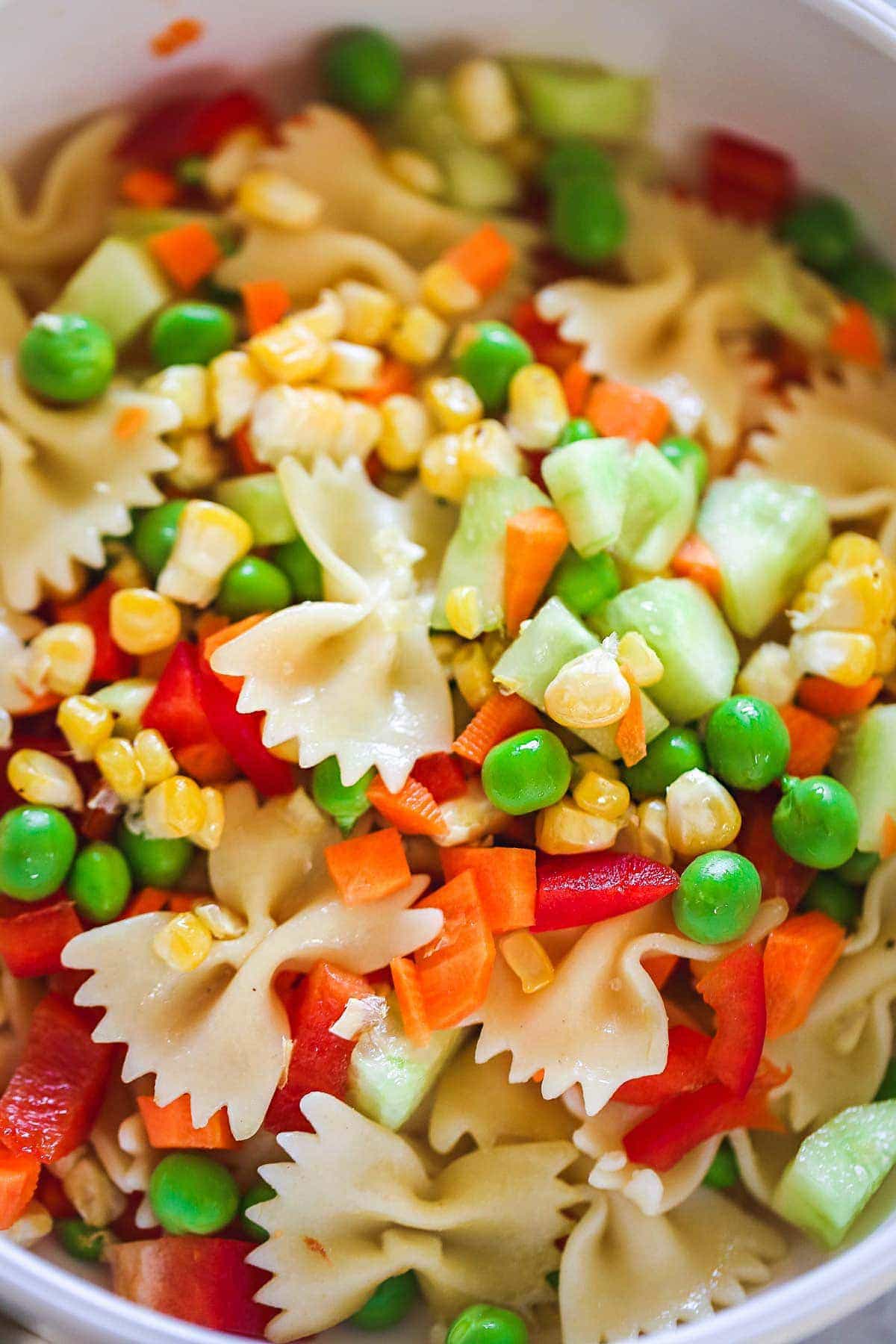 #3. Depending on your child's age, decide whether you will steam the veggies or keep them fresh.
If you're cooking for a young child, you might want to grate the carrot or steam it, you might also want to steam the peas. My nieces are 4 and 8, and they eat this pasta salad with fresh vegetables.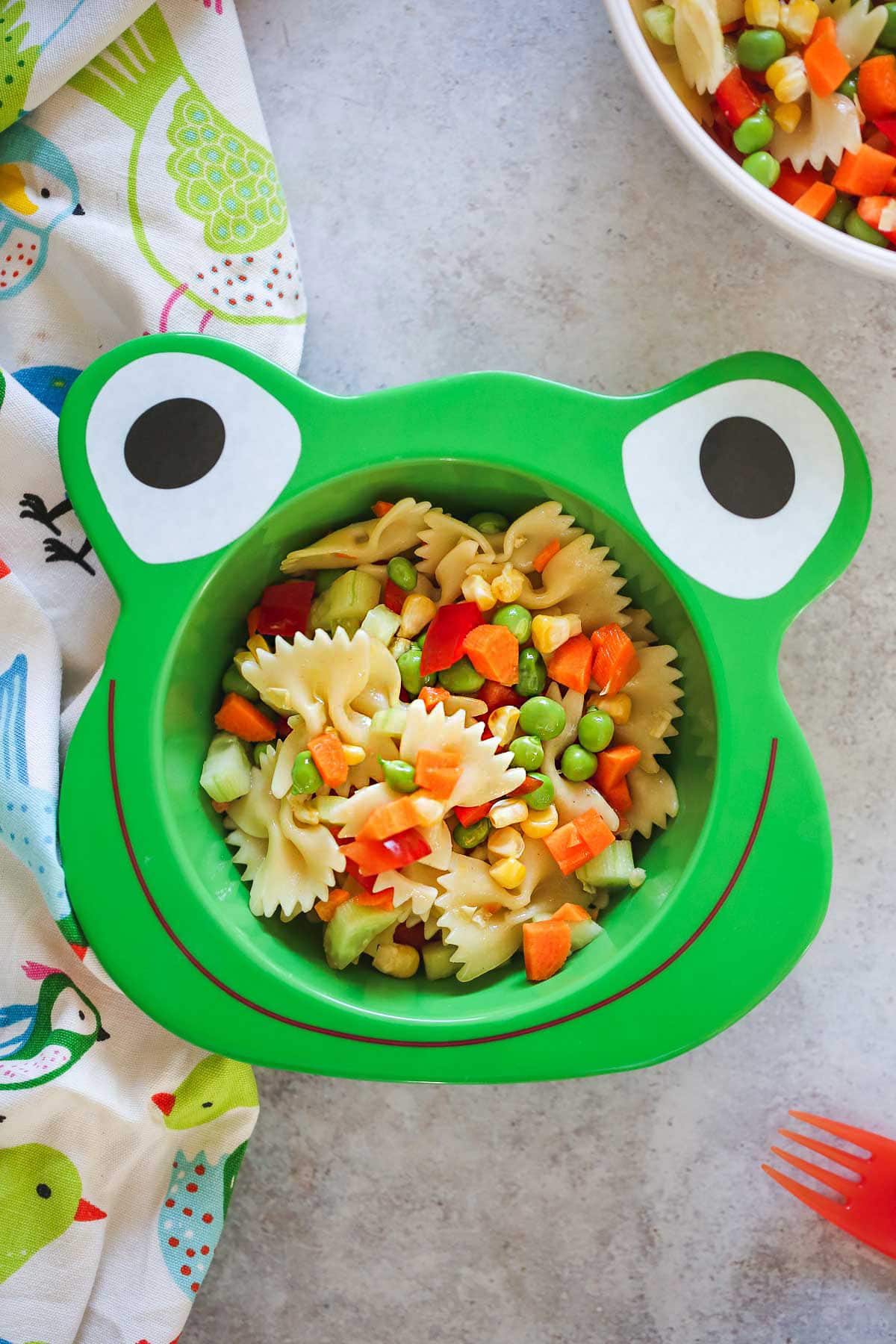 #4. Does your child like lemon juice?
One of my nieces loves lemons and would take a lemon wedge and suck out all the juice. She's only 4 and has been doing this ever since she started eating solid food. On the other hand, my other niece (who is now 8) asked me to leave out the lemon juice in her pasta salad.
Does your child like lemon juice?
#5. Chop things up small!
As I said before, consider grating the carrot if that's easier for your child to eat. Or dice it really small, and do the same with the bell pepper. It will be easier for your kid to eat the veggies, and they'll be more likely to finish up their portions.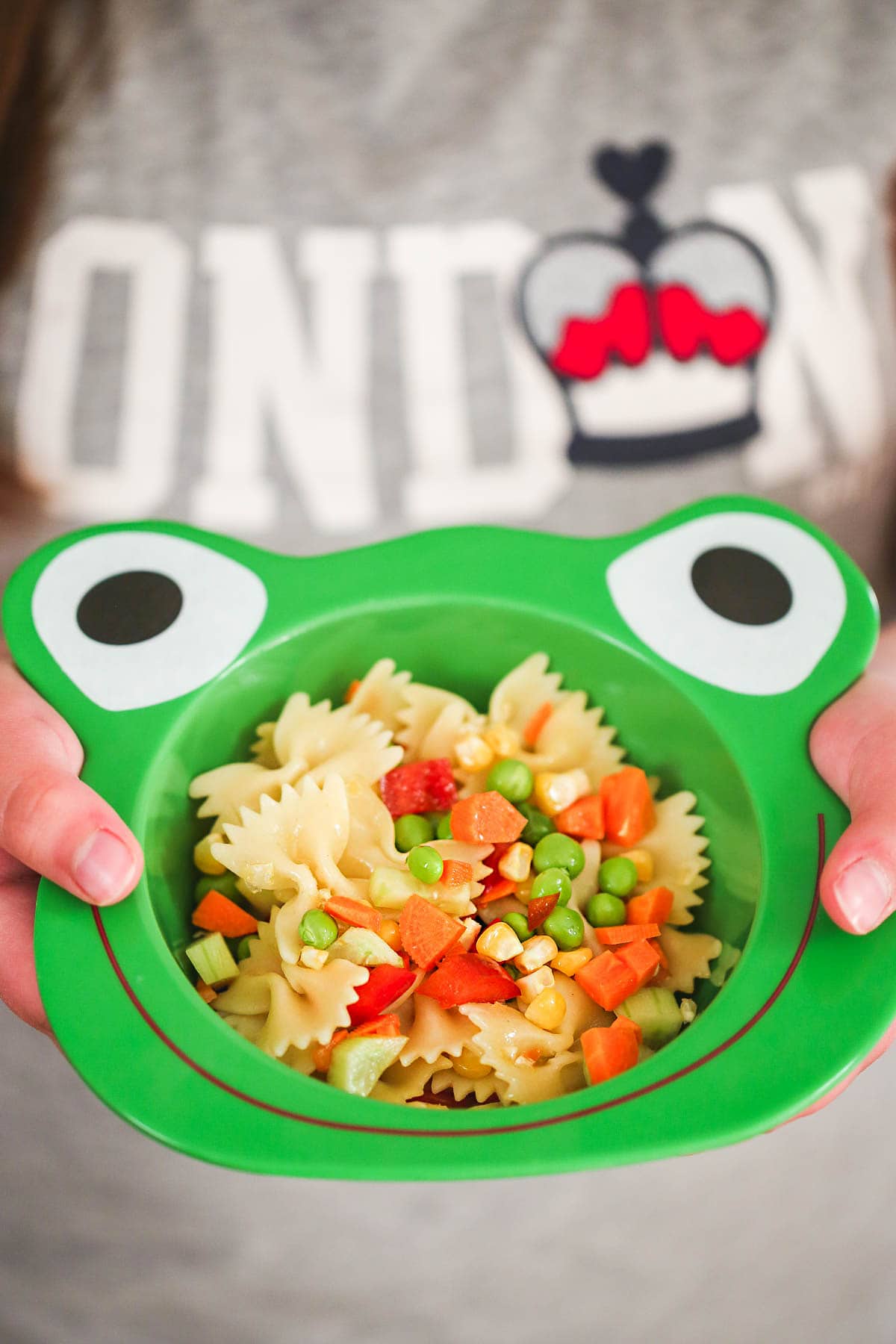 #6. Get them involved!
Kids LOVE helping in the kitchen.
Go to a local farmers market together, and let your child help you pick the veggies and fruit that they like.
Get kitchen safe knives for kids, and get your child help you chop up the veggies and mix the salad.
WHAT IS THE RECOMMENDED PASTA PORTION PER CHILD?
According to healthychildren.org, the recommended pasta portion per child aged 1-3 is 1/4 cup (of cooked pasta), 1/3 cup for ages 4-6, and 1/2 cup for ages 7-10.
Want more pasta recipes?
Try my Caesar pasta salad, and this Caprese pasta bake. Both recipes are kid friendly if you omit the garlic and black pepper.
If you make this kid friendly pasta salad, please don't forget to rate this recipe and share a picture on social media. Tag #LittleSunnyKitchen in your posts as I would really love to see what you make! Thank you for supporting Little Sunny Kitchen, so I can keep sharing my tasty recipes with you for free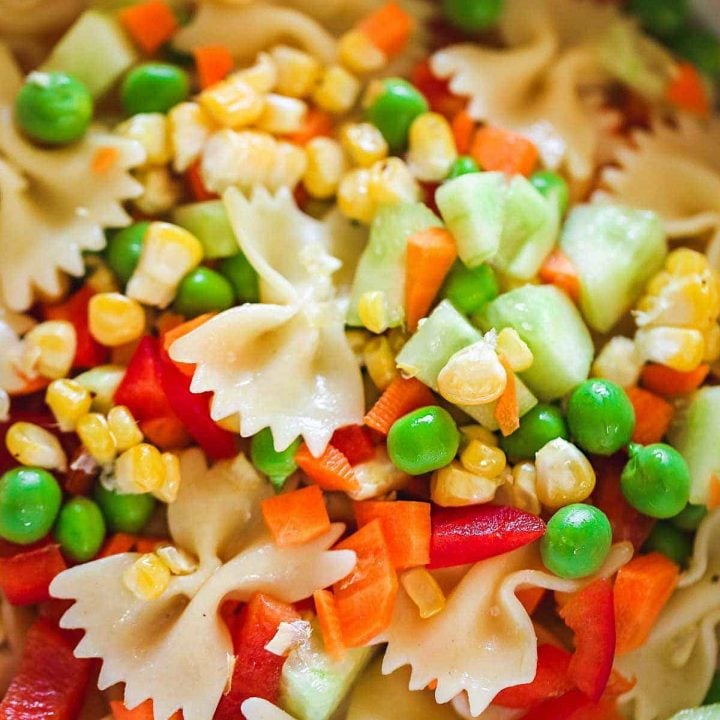 Kid Friendly Pasta Salad
This kid-friendly pasta salad is packed with lots of fresh veggies and pasta, which makes it a healthy, filling, colourful and delicious pasta salad that your child will love!
Print Recipe
Ingredients
1/2 cup

(50 grams)

uncooked farfalle pasta

or 1 cup of cooked pasta

1/4 cup

(40 grams)

fresh peas

1

carrot

diced

1/2

cucumber

peeled and diced

1/2

red bell pepper

diced

1/4 cup

(40 grams)

steamed corn kernels

1

tbsp

extra virgin olive oil

2

tbsp

lemon juice

optional

1/2

tsp

salt
Instructions
Cook pasta in salted boiling water for 10 minutes, adding 1 tsp of olive oil to the water.

Mix the pasta with the rest of the ingredients in a bowl and serve at room temperature or cold.
Nutrition facts
Calories:
177
kcal
|
Carbohydrates:
23
g
|
Protein:
4
g
|
Fat:
7
g
|
Saturated Fat:
1
g
|
Sodium:
605
mg
|
Potassium:
285
mg
|
Fiber:
2
g
|
Sugar:
4
g
|
Vitamin A:
6080
IU
|
Vitamin C:
48
mg
|
Calcium:
21
mg
|
Iron:
1
mg